FatCow may seem like a robust, small-business hosting service that provides all the features you need, but all it takes is a serious competitor like DreamHost to change the picture. To compare DreamHost and FatCow, I researched and tested both hosts based on five different aspects of their services. There's no two ways about it:
DreamHost is the winner of this FatCow vs DreamHost duel.
With DreamHost, you get better features for lower prices, not to mention superior website performance and customer support. However, DreamHost has its own faults, and I wouldn't choose either of these hosts – I'd go with
Hostinger
 instead. Read on to find out why.
1.   Plans and Pricing
Both Hosts Are Affordable, but DreamHost Gives You More Value
At a glance, DreamHost and FatCow's pricing seems similar, since both web hosts offer good discounts on long-term contracts. When looking beyond the attractive entry deals, however, I discovered some major differences. It's not just that DreamHost will save you more money in the long run, but it also gives you more tools. For example,
DreamHost's WordPress Starter is not only cheaper than FatCow's equivalent plan, but there are also no high renewal prices like with FatCow.
With DreamHost, you get the benefit of SSD storage, automatic WordPress updates, automatic daily backups, and free domain privacy, none of which are included in FatCow's plan. DreamHost's advantage over FatCow is just as clear on VPS plans. On FatCow's Basic VPS, you get 40 GB of storage, 1 GB RAM, and 1 TB of bandwidth, while DreamHost's Basic is 30 GB SSD, 1 GB RAM, unlimited bandwidth and unlimited email accounts for roughly half the price. You also get WordPress pre-installed. In addition,
FatCow's renewal prices for VPS are 20% higher,
while the discount applies only for your initial term. With DreamHost VPS, for instance, there is no hiked renewal. What you sign up for to begin with is what you'll pay for.
On shared plans, DreamHost offers a generous 97-day money-back guarantee.
FatCow's policy is a standard 30-day guarantee, which might not always be enough time to find out whether the host is right for you, especially if you're just starting out. Unfortunately, both FatCow and DreamHost engage in a fair share of upsells during checkout. If you're looking for a more straightforward, transparent, and affordable host, you're better off going with
Hostinger
.
2. Support
FatCow Has Basic, Outsourced Support, while DreamHost Has In-House Experts
While I wouldn't choose a web host based solely on its support, there's a clear winner here as well. For starters,
both hosts offer 24/7 live chat and a knowledge base.
FatCow also has phone support, while DreamHost has email. If you want to talk to someone on the phone, DreamHost will charge you extra. To test the quality of the support, I interacted with agents from both companies. I discovered that if need be,
DreamHost can put you in touch with an expert team for technical support, while FatCow… not so much.
Ever since FatCow became a part of the EIG group, its support was downgraded to outsourced teams with limited technical knowledge. Still, FatCow's live chat agent answered my questions in a timely manner. There were no copy-and-paste responses and he was clear in terms of what the support crew could and could not do for me.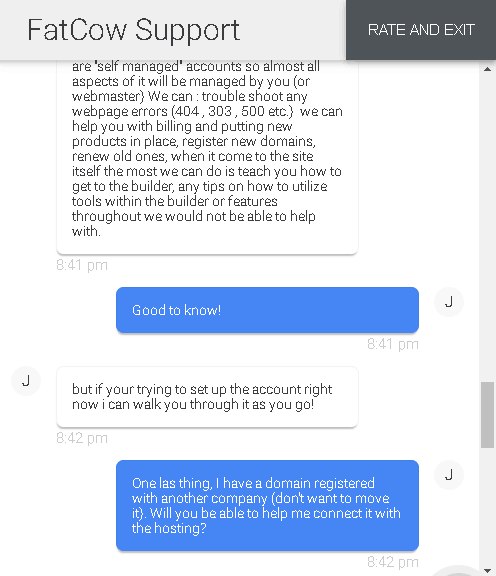 However, when I requested more specific information regarding setting up the nameservers, Jarod tried to speed-walk through what needed to be done. Since I already know the process, I didn't mind, but
if you're a beginner, you'll need a bit more than that.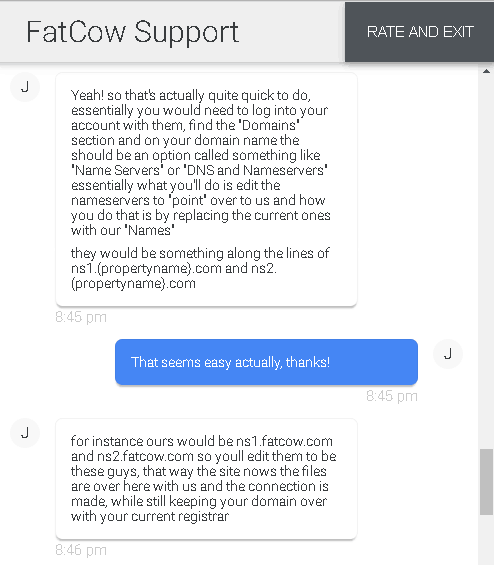 On the other hand,
DreamHost prides itself with a 100% US-based, in-house team of experts that's ready to help you out every step of the way.
Maria, DreamHost's live agent who chatted with me, took the time to ask me about what my needs were before recommending a hosting plan. This is a personal touch you'll rarely see with companies that outsource support to cheap call centers, including FatCow.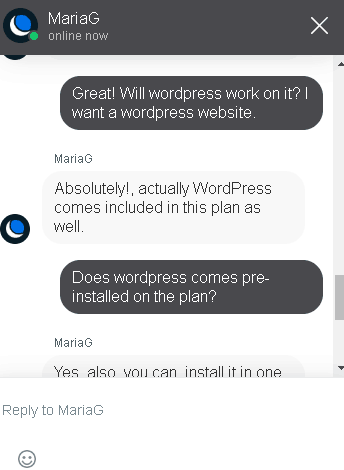 In addition, she directed me to a few guides in DreamHost's knowledge base that I could rely on to solve my issue with setting-up the DNS. You might think that Jarod's answer was better, since he explained the process, but
his explanation was general and wouldn't be much help to a beginner.
DreamHost's step-by-step tutorials are accessible and easy to follow. The downside is that live chat agents are usually available only from 5:30 AM to 9:30 PM Pacific Time.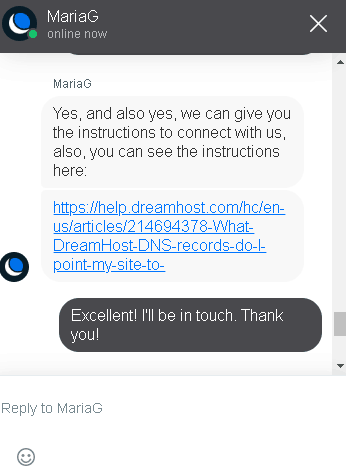 This brings me to my last important point: DreamHost's knowledge base is thorough and extensive, especially compared to FatCow's sparse articles on general topics. DreamHost also offers community discussion forums, where experienced users and company representatives provide thorough help.
3. Features
DreamHost Leaves FatCow in a Cloud of Dust
In terms of features, DreamHost definitely has the upper hand, although FatCow does put up a good fight.
To compare the hosts in this category, I looked at what each one provides on its cheapest shared plan. Even though
FatCow's Original plan
 gives you unlimited storage and email accounts to begin with, it costs nearly double DreamHost's Shared Starter. You can add email on DreamHost's Shared Starter plan for just a few dollars, but I'd recommend the
DreamHost Shared Unlimited plan
, because it includes unlimited storage and emails for an overall price that is actually on par with FatCow's basic shared plan. Also keep in mind that DreamHost's Shared Unlimited renewal price is 2x cheaper than the Original FatCow plan.
DreamHost pulls ahead with SSD storage, pre-installed WordPress, automatic daily backups, and free domain privacy on both shared plans. FatCow has none of these.
If you want automatic daily backups with FatCow, you have to learn how to use its Site Backup & Restore add-on on your own. FatCow's control panel is a modified version of vDeck, whereas DreamHost's customized cPanel is even easier to use than the original cPanel. I had an odd interaction with one of FatCow's support agents where the agent told me FatCow offers cPanel, but when I pressed the matter, he confirmed the setup is actually based on vDeck. The important thing to remember is that
FatCow's adapted vDeck solution is not easy to navigate and it includes quite a number of upsells.
You can use several features on a trial basis, but they're not actually part of your plan unless you purchase them as add-ons. Lastly, FatCow's website builder will set you back the cost of two full subscriptions per month.
DreamHost includes a free WordPress website builder that features an easy drag-and-drop editor, as well as over 200 templates to help get you started.
| | | |
| --- | --- | --- |
| Feature | FatCow | DreamHost |
| Hosting Type | Shared, VPS, WordPress, Dedicated | Shared, VPS, WordPress, Managed WordPress, Cloud and Dedicated |
| Free Domain | Yes | Yes |
| Free SSL Certificate | Yes | Yes |
| Disk Space | Unlimited | 50GBs to Unlimited |
| Bandwidth | Unmetered | Unmetered |
| Automatic Backups | Paid | Free |
| Control Panel | Customized vDeck | Proprietary control panel |
| Email Accounts | Unlimited | Unlimited on higher plans |
| Free CDN | Yes | No |
| Free Site Migration | No | No |
| Money-Back Guarantee | 30 Days | 97 Days |
4. Performance
FatCow Is Generally Reliable, but DreamHost Has Some Special Features
If performance is the most important aspect for you in this FatCow vs DreamHost matchup, DreamHost is very likely to win because it has more to offer. Although both web hosts have two data centers in the US, DreamHost's are better configured and geographically spread, while FatCow's are both on the East Coast. Even within the US, you're more likely to get better speeds with DreamHost. DreamHost does not offer a free CDN, so you'll have to configure the free version of CloudFlare yourself if you want your website to load faster for visitors from around the world. FatCow, on the other hand, has an integrated version.
DreamHost offers an excellent, 100% uptime guarantee, while FatCow does not offer any assurance whatsoever.
FatCow's support will say that you get 99% uptime, but the company is not bound by a service-level agreement, which is worrisome. Don't get me wrong: DreamHost isn't perfect either, but it will provide you with up to 10% of your monthly costs for extended periods of website downtime. (Neither of these hosts will give you anything near the superb performance you get from Hostinger. See the results of our performance tests in our
expert Hostinger review
.) Regarding server configuration, I had another odd interaction with FatCow's support. When asked whether they offer SSD or HDD technology, the live chat agent kept insisting that FatCow offers storage area network (SAN) – which makes no sense, since SAN refers to a way of connecting hard drives together to increase performance, not the hard drive technology itself. Even when I pressed the matter, the agent would not change his "expert-informed" answer. On shared hosting, I was told that FatCow offers HDD. With DreamHost, on the other hand, there's no doubt about what you get. On shared, VPS, WordPress, and cloud, there's only SSD, while dedicated solutions can be either HDD or SSD.
Despite its SSD servers, DreamHost didn't do so well on our performance tests. To find out what went wrong, you can read our
expert DreamHost review
. We've yet to test FastCow's performance as much as we'd like. However, if you want to learn more about its performance-enhancing features, you can go to our
in-depth FatCow review
.
5. Security
Both Hosts Offer Basic Security, but Advanced Protection Comes at a Cost
DreamHost and FatCow include free SSL certificates from Let's Encrypt on all plans. However, you can expect the process of configuring your SSL to be more straightforward with DreamHost thanks to its clean control panel interface.
FatCow throws in an automatic spam filter. DreamHost gives you access to free domain privacy,
which means your personal information as the official owner of the website is masked by DreamHost's proxy. One thing that's not mentioned on DreamHost's homepage is that
all emails hosted by DreamHost are actually filtered through Vade,
a cloud-based AI software that specializes in countering malware, ransomware, phishing, spam, and more. Given Vade's pricing, this is a pretty nice deal. For more advanced options, you have to turn to FatCow's SiteLock and Site Backup add-ons or to DreamHost's DreamShield Protection. If you have a WordPress site on DreamHost, the team ensures its core and security updates, which is a great touch. To be fair, I would have liked to see more security add-ons from both web hosts, but what they do have is enough to put my mind at ease.
DreamHost Offers Better Value and Performance Than FatCow
DreamHost is the overall winner in this comparison, since it offers better prices, superior infrastructure, and more tools.
Two decades ago, FatCow might have been a viable choice. However, ever since the company was acquired by the EIG conglomerate, its proficiency and stand-out features were traded for a well-known formula we see in other EIG hosts. Despite the fact that DreamHost is the better choice here, I wouldn't rush to sign up.
Hostinger offers even better value plans with similar features
, so make sure to check it out before opening your wallet. Neither DreamHost nor FatCow landed in our top 10 list. If you'd like to compare the two with the companies that made the cut, you can browse through our list of
the best web hosting services
.
Plans and Pricing
Average prices with high renewal hikes and average value
Low prices with acceptable renewals and good value purchases
Key Features
Unlimited bandwidth, unlimited storage, unlimited emails, vDeck control panel
Unlimited bandwidth, 50 GB to unlimited storage, proprietary control panel, website builder
Performance
HDD storage, no uptime guarantee, US-based servers
SSD storage, 100% uptime guarantee, US-based servers
Security
Free SSL certificates, paid-for backups, additional security bundle available for purchase
Free SSL certificates, free Domain Privacy, free automatic daily backups, advanced security add-on available
Support
24/7 support via live chat and phone, meager knowledge base
24/7 support via live chat and email, comprehensive knowledge base, phone callbacks available for an extra fee
FAQ
Is FatCow better than DreamHost?
The simple answer is no. FatCow offers less value and worse performance, all at a higher cost compared to DreamHost. In my research, I couldn't find one category where FatCow hosting was better than DreamHost. That being said, I'm not fully sold on DreamHost either. If you're trying to choose between the two, the best recommendation I can give you is to keep looking because there are hosting solutions better than both.
Is FatCow owned by EIG?
Yes. Although EIG makes it a point not to tout its acquisitions and maintain the image of the individual brands it acquires, we know FatCow was bought by EIG somewhere in the mid-2000s. Unfortunately, I can't say that FatCow is all the better for it. At a closer analysis, its service is less competitive than it used to be, not to mention the fact that it lost the allure of a small business with great customer service.
Does FatCow offer SSD?
FatCow's shared hosting, VPS hosting, and WP Starter plans do not have SSD infrastructure. FatCow only offers SSD on its WP Essential plan and possibly on custom dedicated servers. When talking to support agents, they might pitch the SAN storage idea, especially for VPS plans. Don't buy into it. It's essentially a cop-out from the actual question and it doesn't tell you whether FatCow's VPS servers are HDD or SSD. You're better off choosing a host from our list of The Best and Cheapest SSD Hosting Services. 
Is DreamHost good for VPS hosting?
DreamHost is not a bad option for VPS hosting. You get full SSD on all plans, automatic software updates, a control panel, and more. It isn't, however, among the best VPS options out there. If you'd like to browse some of the best web hosting services for VPS, I suggest you check out our list of the most affordable and reliable VPS hosts.