Bluehost seems to top a lot of the lists of recommended web hosts – but it's not for the reason you think. It's certainly not the best hosting provider around. What really sets it apart is how well it pays affiliates to write positive reviews.
Fortunately, I'm not being paid by Bluehost to recommend its hosting plans, so I'll tell you right away that when it comes to FastComet vs Bluehost, FastComet is my number one choice every time. There are plenty of reasons FastComet is better all-around – in part because it uses cloud servers to power its hosting services.
I tested Bluehost vs FastComet by signing up for their basic shared hosting plans, comparing page loading speeds, and trying out their customer support. Ready to find out the results? Read on, or click here to see FastComet's best plans.
Performance
FastComet's Cloud Servers Outperform Bluehost's Overcrowded Servers
There are two main things I look at when I'm testing a web host's performance – speed and reliability. In my tests of FastComet vs Bluehost, it was immediately obvious that FastComet's cloud servers give a speed advantage over Bluehost. Coincidentally, Bluehost has recently discontinued its cloud hosting packages.
When testing web hosts, I either use my own test websites or select websites that are configured similarly in terms of WordPress plugins and content. With my test websites, I utilize the speed-boosting tools the hosts provide, such as caching tools and CDNs (content delivery networks), to demonstrate how these value-added features can make a big difference for page loading speeds.
Many people (me included) do a large amount of internet browsing on mobile devices like smartphones and tablets – and research shows that when we're browsing on the move, we're more impatient than ever, so we're much more likely to click away from a website that's slow to load.
Google's recommendation is a maximum of three seconds for load time – but as you can see in the screenshot below, Bluehost's page loading speed was more than double that! FastComet's page loading speed came in at 2.5 seconds, which isn't the fastest but is definitely better than Bluehost. (If you're looking for faster page loading speeds, SiteGround and Flywheel have really impressive speeds!)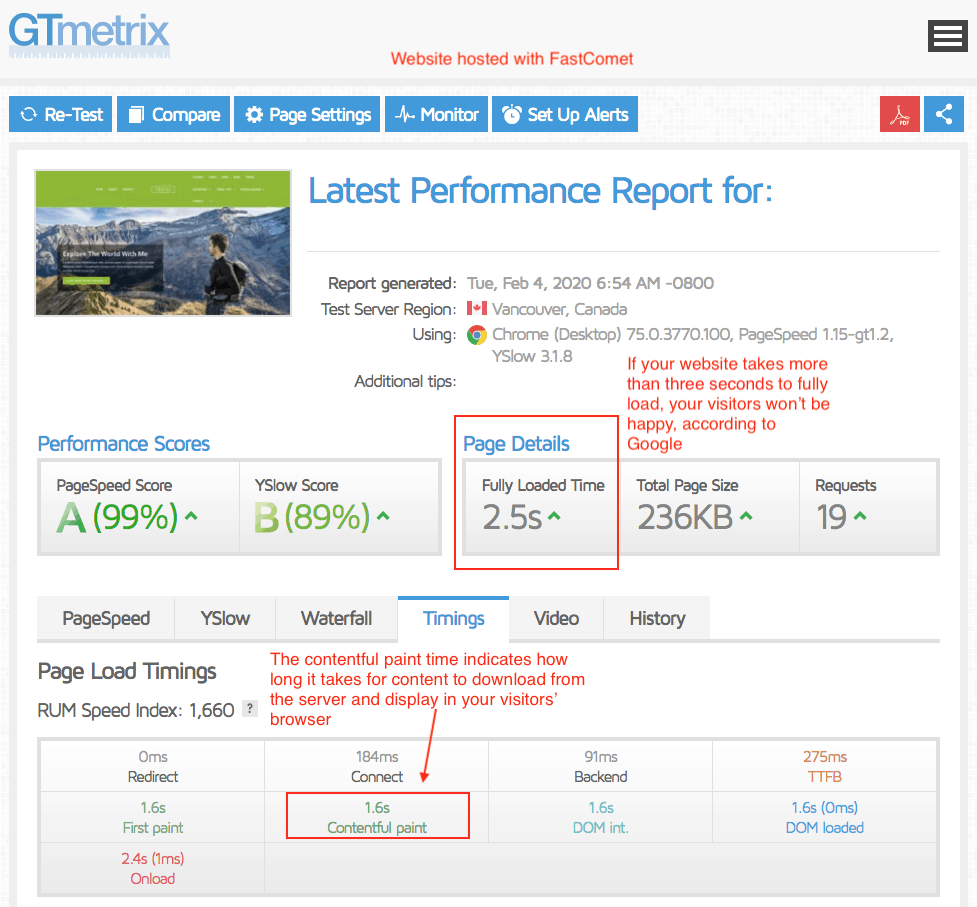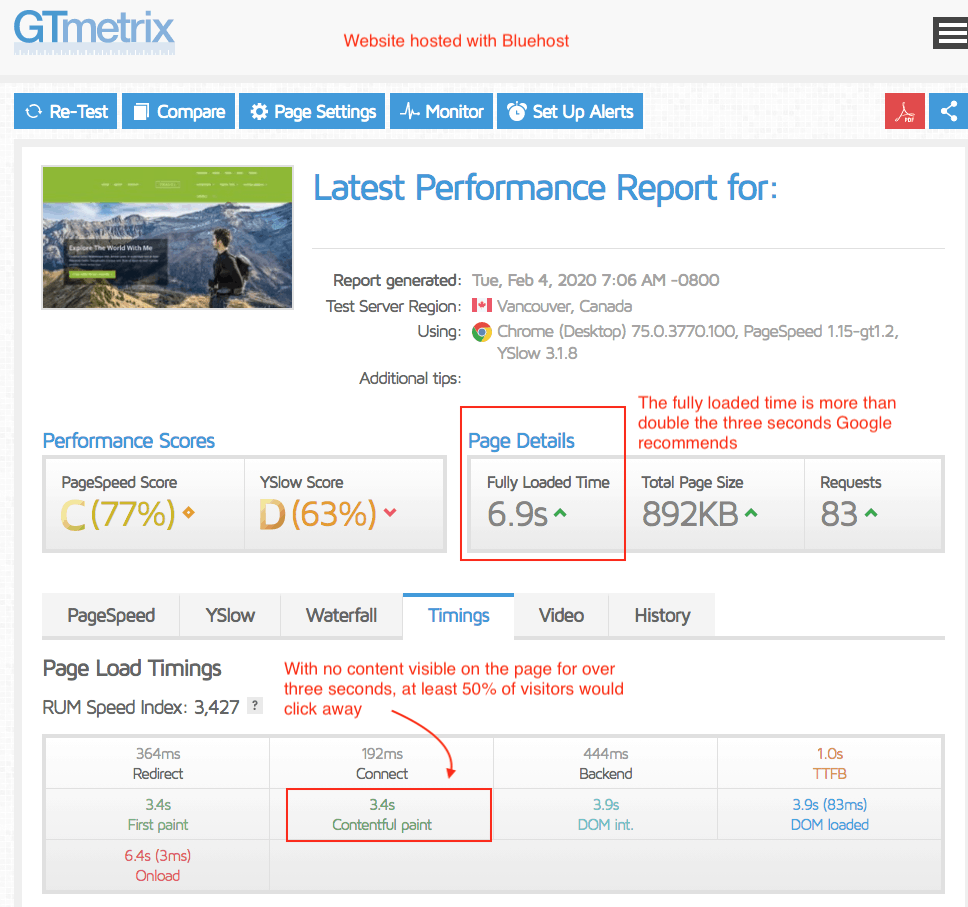 One possible reason for poor performance from Bluehost is that it is notorious for overcrowding its servers. That means your website is more likely to be affected if another website on the same server is hogging the server's resources. Bluehost does support Cloudflare CDN, but in this case, the CDN didn't really seem to help.
FastComet uses a number of speed-boosting optimizations for its servers, as well as providing caching features, such as:
Cloudflare CDN – A CDN delivers content from the server closest to your visitors.
Browser caching – This allows content to be stored locally so repeat visitors experience faster page loading times.
JavaScript bundling – Bundling helps reduce the number of requests made to the server (a number of JS scripts are combined into a single request). You can see the difference in the screenshots – the website on FastComet makes 19 requests compared to 83 on Bluehost.
"Aggressive GZIP" – This reduces the size of webpages. You can see the impact of Aggressive GZIP on the page size difference (for the same content) between FastComet (236 KB) and Bluehost (892 KB).
Multiple server locations – You get the option to choose the server closest to your target audience. There are three servers in the US, one in Canada, two in Europe, one in London, three in Asia, and one in Australia.
Reliability is almost as important as speed – especially if your website is for your business. FastComet has a 99.9% uptime guarantee, and if its uptime falls below 99.9%, you'll get a credit of 10% of your monthly hosting fee for each hour of downtime. Looking at FastComet's uptime history, though, it rarely falls below 99.97%.
Bluehost, unfortunately, doesn't have an uptime guarantee – although it does vaguely promise to deliver the maximum possible uptime. Its uptime record has been improving steadily (after a really shaky period where its uptime regularly fell below 99.9%), but without any compensation for excessive downtime, it doesn't offer the same reassurance as FastComet.
As you can see in our full FastComet review, FastComet scored 4.5 out of 5 on our performance tests. It's not the greatest score, but it's not bad either – especially compared to Bluehost, who scored only 2 out of 5. To see what went wrong there, read our full Bluehost review.
Plans and Pricing
FastComet Doesn't Force You into Long-Term Plans to Get Promotional Pricing – Bluehost, on the Other Hand…
Both FastComet and Bluehost have a variety of hosting types. Whether you want to create a simple website or blog or you need to build a large e-commerce site that requires more power and resources, there are hosting plans to meet your needs.
The hosting types available include:
| | | |
| --- | --- | --- |
|   | FastComet | Bluehost |
| Shared Hosting | | ✔ |
| Shared Cloud Hosting | ✔ | |
| Non-Managed WordPress Hosting | | ✔ |
| Managed WordPress Hosting | ✔ | ✔ |
| VPS Hosting | | ✔ |
| Cloud VPS Hosting | ✔ | |
| Dedicated Server | ✔ | ✔ |
Package pricing can be more complicated than it looks, especially with shared hosting plans. Those prices on the sales pages aren't necessarily what you'll end up paying, so it's worth double-checking before you commit.
Many web hosts like to lure you in by advertising super-low prices – then hit you with conditions and automatically selected "extras" when you're ready to pay. Renewal prices also tend to be much higher than the price you pay for the initial term.
I've put the details in a table to make it easier to see exactly what happens when you reach checkout. (These details relate to shared hosting.)
| | | |
| --- | --- | --- |
| Tactic | FastComet | Bluehost |
| Plan-Length Pricing | No – the promotional price is the same no matter the length of your plan | Yes – to get the advertised prices with Bluehost, you'll need to pay upfront for three years |
| High Renewal Rates | Yes – the renewal price is more than double the promotional price for some plans | Yes – renewal prices are double the promotional price on most plans |
| Automatically Added "Extras" | Yes – domain privacy is automatically added at checkout | Yes – domain privacy, SiteLock Security, and CodeGuard Basic are all automatically checked (CodeGuard Basic is free on the most expensive plans) |
Features
Bluehost's Features Are Adequate – But FastComet Gives You More
With budget shared hosting, you tend to get a similar set of features that often makes it difficult to decide between two hosts. While FastComet's and Bluehost's feature lists are quite similar, there are still some stand-out extras that put FastComet in the lead.
Free backups on all plans. Where Bluehost only provides the CodeGuard backup feature on its higher-priced plans, FastComet includes daily and weekly backups for free, in addition to on-demand backups that you can manage yourself.
PHP 7.3 on all new hosting accounts. The PHP version your server space uses can affect the security and reliability of your website. FastComet automatically uses the latest/most stable version of PHP 7 on all hosting accounts. Bluehost supports PHP 7, but your hosting account will be set up on PHP 5.6 unless you manually change this in your control panel.
Free website builder. FastComet has partnered with SitePad to give you a simple drag-and-drop website builder that's like WordPress but much easier to use. Bluehost will preinstall WordPress but doesn't offer a simple website builder option.
Bluehost does offer some things that FastComet doesn't – like a free domain name for the first year – but FastComet discounts domain names purchased at the same time as hosting.
For the other shared hosting features the hosts offer, I've put the details in an at-a-glance table:
| | | |
| --- | --- | --- |
|   | FastComet | Bluehost |
| Storage Space | Up to 35 GB SSD storage depending on the plan | 50 GB SSD storage on Basic; unlimited on all other plans |
| Bandwidth | Unmetered | Unmetered |
| Free Domain Name | No | Yes, for the first year |
| Free Website Transfer | Yes | No |
| Free SSL | Yes, Let's Encrypt | Yes, Let's Encrypt |
| Backups | Yes, daily and weekly backups are included free | CodeGuard Basic is included with Choice Plus and Pro plans |
| One-Click App Installation | Softaculous | Mojo Marketplace |
| cPanel | Yes | Yes |
| Email Accounts | Unlimited | Unlimited + free Office365 email for 30 days on most plans |
| Free Website Builder | Yes – SitePad | No |
| SSH Access | Yes | Yes |
| PHP 7 | Yes – PHP 7.3 automatically used for new hosting accounts | PHP 7.3 is supported but not automatically used with new accounts |
| Money-Back Guarantee | 45 days | 30 days |
Security
FastComet Has Built-In Security – Bluehost Charges You Extra
As more and more web hosts seem to be charging you extra just for the essential security your website needs, it's a refreshing change to come across a budget host that doesn't make you pay for protection.
FastComet's built-in security features include:
DDoS (distributed denial of service) protection
BitNinja server security
Web application firewall
Malware scanning
Malware and exploits protection
Hotlink and password protection
24/7 server monitoring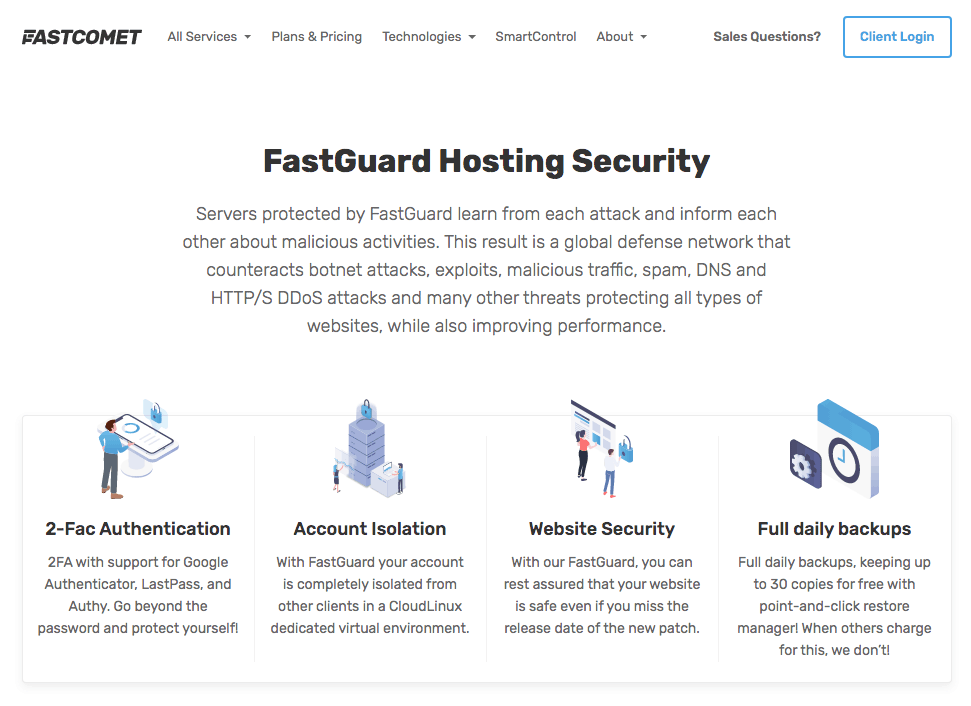 Bluehost is one of the many hosts that like to exploit your need for website security by forcing you to pay extra for it. Security is available via SiteLock Security add-ons, which can double the price of your hosting plan.
To get the same level of security provided by FastComet, you'd need to upgrade to a higher-priced SiteLock plan after you complete your purchase. Only SiteLock Security – Essential is available during checkout, but other SiteLock products can be purchased from your account control panel.
Support
FastComet's Support Is Fast and Helpful – Bluehost Leaves Questions Unresolved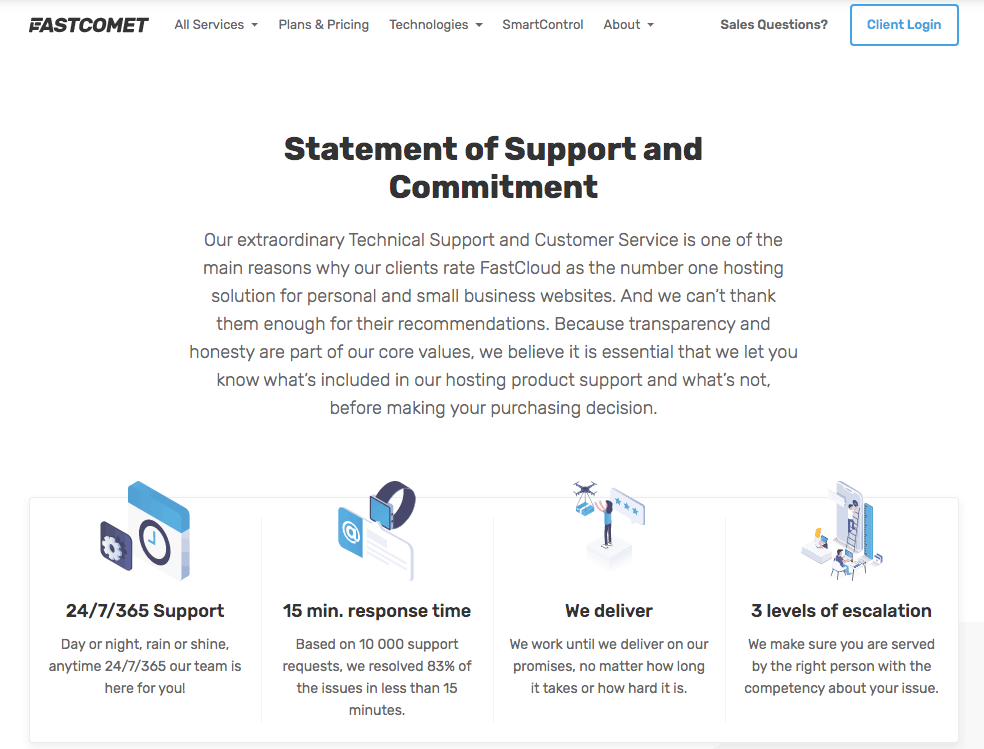 Both FastComet and Bluehost offer 24/7 support via live chat, ticket, and phone. They both have knowledge bases, too, if you want to try to find a solution to your issue yourself. In addition, FastComet has tutorials to walk you step by step through setting up your website. The big difference between the two, though, is in the quality of the support.
I tried out the live chat support for Bluehost and FastComet and found that while I was connected to a support agent quickly in both instances, FastComet's support team also responded to my questions quickly. In fact, the issue I was having with my WordPress installation was completely resolved in the time it took Bluehost to actually answer my question!
With Bluehost, I wasn't even able to take a screenshot of the interaction because the chat was "closed due to inactivity" while I was waiting for the support agent to clarify their response. The Bluehost support agent didn't seem to know the answer, so perhaps they just decided it was best not to respond at all.
Forget Bluehost – FastComet Is Better All Around
Ladies and gentlemen, we have a clear winner! You can see now why I recommend you avoid Bluehost (and all those inaccurate reviews recommending it) and choose a host like FastComet that helps you keep your website safe for free rather than holding it ransom like Bluehost does.
FastComet is great for all kinds of websites – such as blogs, business websites, and online stores – and even though it does have some storage restrictions, it has cloud VPS hosting if you outgrow your shared hosting plan. Because it's cloud-based, its shared hosting plans aren't subject to the same overcrowding issues that Bluehost has, so you can expect your website to perform well no matter what.
To see what our hosting expert thought, read our in-depth FastComet review.
Just keep in mind that neither FastComet nor Bluehost made it to our top 10 list. Before you make your final decision, I'd recommend reading our list of the best web hosting services.
| | | |
| --- | --- | --- |
| | FastComet | Bluehost |
| Performance | Speed-optimization features boost page loading speeds without you having to configure anything | Supports Cloudflare CDN but overcrowded servers still cause problems with page loading speeds |
| Price | Clear pricing so you pay the same price whether you sign up for one, two, or three years – and its features make it better value overall | Add-ons that are automatically selected at checkout can more than double the cost of your hosting plan, so watch out before you enter your credit card details |
| Features | Daily and weekly backups, an easy drag-and-drop website builder, and free website migrations | Free domain name for the first year and unlimited storage |
| Security | Security features are built into your hosting package, so you won't have to pay extra to keep your website protected | Security features are an optional add-on, forcing you to pay extra (up to twice the cost of your hosting) for basic security from SiteLock |
| Support | Knowledge base and 24/7 live chat, phone, and email support that is efficient and resolves your issues quickly | 24/7 live chat, phone, and email support that's not great at actually answering your questions or resolving your issues |