Bluehost tops many recommended web host lists, but that's because it pays reviewers to make sure you keep seeing it at number one. On the other hand, FastComet invests in using cutting-edge cloud servers to power its hosting solutions, which are also cheaper and more feature-packed than Bluehost. To compare FastComet and Bluehost, I signed up for the basic shared hosting plans, compared page loading speeds, and tested the customer support. I found that Bluehost delivers better performance, but FastComet is better all-around.
Click here to see FastComet's latest deals
or keep reading to see what makes FastComet the winner of this comparison.
1. Plans and Pricing
Unlike Bluehost, FastComet Doesn't Force You into Long-Term Plans to Get Promotional Pricing
FastComet offers shared cloud hosting, cloud VPS, WordPress hosting, WooCommerce, CMS hosting, and dedicated servers. Bluehost, on the other hand, provides shared, VPS, WordPress, and e-commerce hosting, as well as dedicated servers. Bluehost has four shared hosting plans that renew at a higher price than FastComet's three shared cloud plans. Also, with Bluehost, you'll need to pay upfront for three years to get the advertised prices, whereas the promotional price is the same no matter the length of your plan with FastComet.
A free domain name is included with some hosting plans from Bluehost
While FastComet doesn't provide a free domain, it offers free website migration and a 
45-day money-back guarantee
. All plans also come with some nice extras, such as a 30% discount on SE ranking, a 20% discount on Sitecake, a 10% discount on iSenseLabs, and a $75 Grasshopper credit.
With Bluehost, you get a free domain for the first year with annual subscriptions, and it also has a 30-day money-back guarantee. However, you won't have access to free website migration. One cool perk you get with Bluehost is a $100 advertising credit for Microsoft Advertising and Google Ads when you spend your first $25.
That said, FastComet offers better value for money, making it the winner of this round.
2. Features
Bluehost Is Fairly Standard, FastComet Has More to Offer
While both FastComet and Bluehost have similar shared hosting features, some stand-out extras put FastComet in the lead. With FastComet's three plans (FastCloud, FastCloud Plus, and FastCloud Extra), you can host from 1 to unlimited websites. You also get from 15 GB to 35 GB SSD storage, unlimited email accounts, unlimited FTP accounts, and unlimited MySQL databases. All FastComet's plans include cPanel, Softaculous, daily backups, a free SSL certificate, free CDN, free SitePad website builder (with 350+ free templates), 1-click WordPress install, and Attracta SEO tools. With FastCloud Plus and FastCloud Extra, you also get free private DNS, free GlobalSign SSL, free dynamic SSL seal. In contrast, with Bluehost's four shared hosting plans (Basic, Plus, Choice Plus, and Pro), you get 1 to unlimited hosted websites, from 50 GB to unlimited SSD storage, and a free SSL certificate. While these features may seem comparable, Bluehost only includes SiteBackup with the highest plans and doesn't have a free website builder. Explore more differences between FastComet and Bluehost using the following comparison table:
| | | |
| --- | --- | --- |
| | FastComet | Bluehost |
| Hosting Types | Cloud shared hosting, cloud VPS, WordPress hosting, WooCommerce hosting, OpenCart hosting, Magento hosting, dedicated servers | Shared, VPS, WordPress hosting, e-commerce hosting, dedicated servers |
| Free Domain | ✘ | ✔ |
| Free SSL Certificate | ✔ | ✔ |
| Disk Space | 15 GB – 640 GB | 30 GB – Unlimited |
| Bandwidth | 2 TB – Unlimited | 1 TB – Unlimited |
| Automatic Backups | ✔ | ✔ |
| Control Panel | cPanel | cPanel |
| Email Accounts | Unlimited | 5 – Unlimited |
| Free CDN | ✔ | ✔ |
| Free Site Migration | ✔ | ✘ |
| Money-Back Guarantee | 45 days | 30 days |
3. Performance
Bluehost Has Better Uptime and Faster Loading Speeds
FastComet operates via a global network of servers, including data centers in the U.K., the Netherlands, Singapore, Japan, Germany, and the U.S.A. Bluehost, on the other hand, only has servers in the U.S.A. All of FastComet's plans are powered by 
SSD storage
, while Bluehost only uses SSD with specific plans. SSD storage improves the loading speed of your website and its overall performance compared to traditional HDD storage. Another performance-boosting feature is a CDN or Content Delivery Network. A CDN boosts your website's loading speed from different locations around the world by placing it on a global network of cloud servers. 
FastComet includes a free CDN
with all its plans, but Bluehost only has it with some plans. FastComet promises a 99.9% uptime guarantee, while Bluehost commits to just 99%. Sadly, FastComet dropped below its promise in our tests. On the flip side, Bluehost even exceeded FastComet's 99.9% uptime declaration. I expected off the charts page loading speeds with FastComet's widespread server locations and its impressive performance features. To my surprise, this wasn't the case. Most locations showed slow load times, with just a few hitting the promised numbers. Check out all the numbers in this detailed
FastComet review
.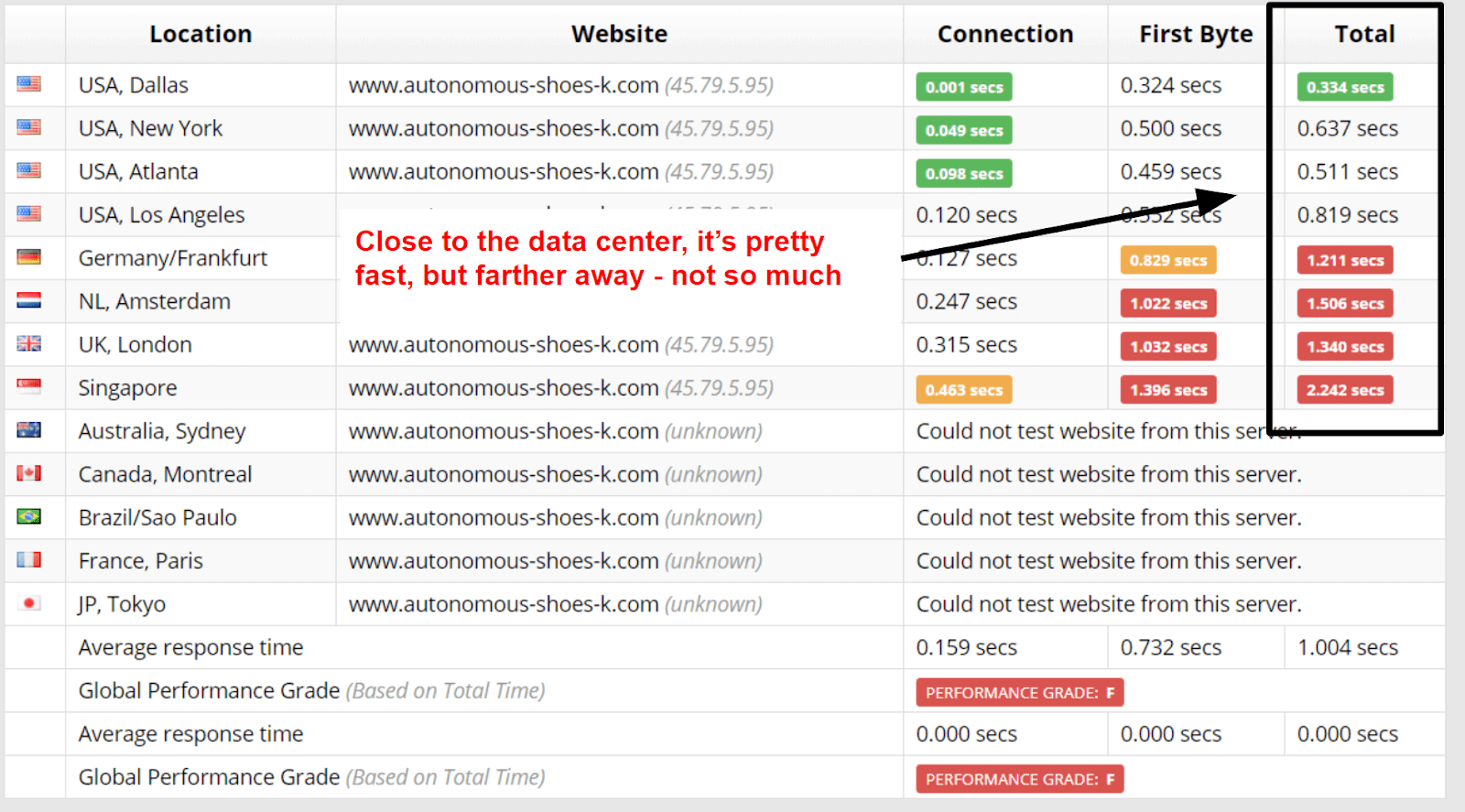 On the contrary, I didn't have high expectations for Bluehost's loading speeds and was surprised to see most locations showing promising figures. See the detailed test results in our expert's full
Bluehost review
.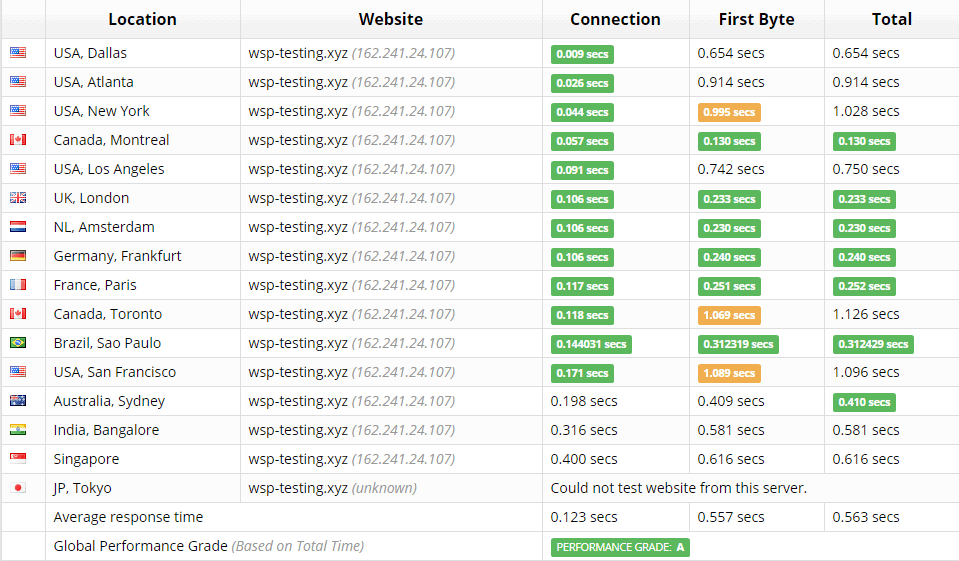 Despite FastComet offering more performance features, Bluehost outperformed it in the speed-testing field, making Bluehost the performance round winner.
4. Security
Bluehost Can't Beat FastComet's Wide Range of Security Features
All FastComet's plans come with a range of security features, including; 24/7 server monitoring, network firewall, Web Application Firewall (WAF protects against DDoS attacks), Brute-Force protection, exploits and malware protection, hotlink and password protection, Two-Factor Authentication (2FA), BitNinja Server Security, CageFS Security, and ModSecurity Manager. Unlike FastComet, most of Bluehost's security features are optional paid add-ons. These include SiteLock, CodeGuard, and Spam protection. FastComet runs all its Linux-based shared servers on CloudLinux OS. CloudLinux OS securely isolates each account on a shared server, protecting you against breaches of other users. It also ensures the fair allocation of server resources. Bluehost uses a similar system for equitable resource allocation, called Resource protection. Both FastComet and Bluehost include 
free SSL certificates
 with all plans, but 
only FastComet provides automatic daily backups.
 They are an optional paid add-on with higher-value plans if you choose Bluehost. Based on numerous security features, it's clear that FastComet takes your website security more seriously than Bluehost. In other words, FastComet wins the security round.
5. Support
It's Easier to Get Help from FastComet
FastComet and Bluehost both have 
comprehensive and well-organized knowledgebase sections
 with numerous articles and tutorials.
FastComet's support is available 24/7
 via live chat, phone, email, and support ticket. I tried the live chat option and was connected instantly. The agent was professional, knowledgeable, polite, honest, and helpful. I couldn't have asked for more.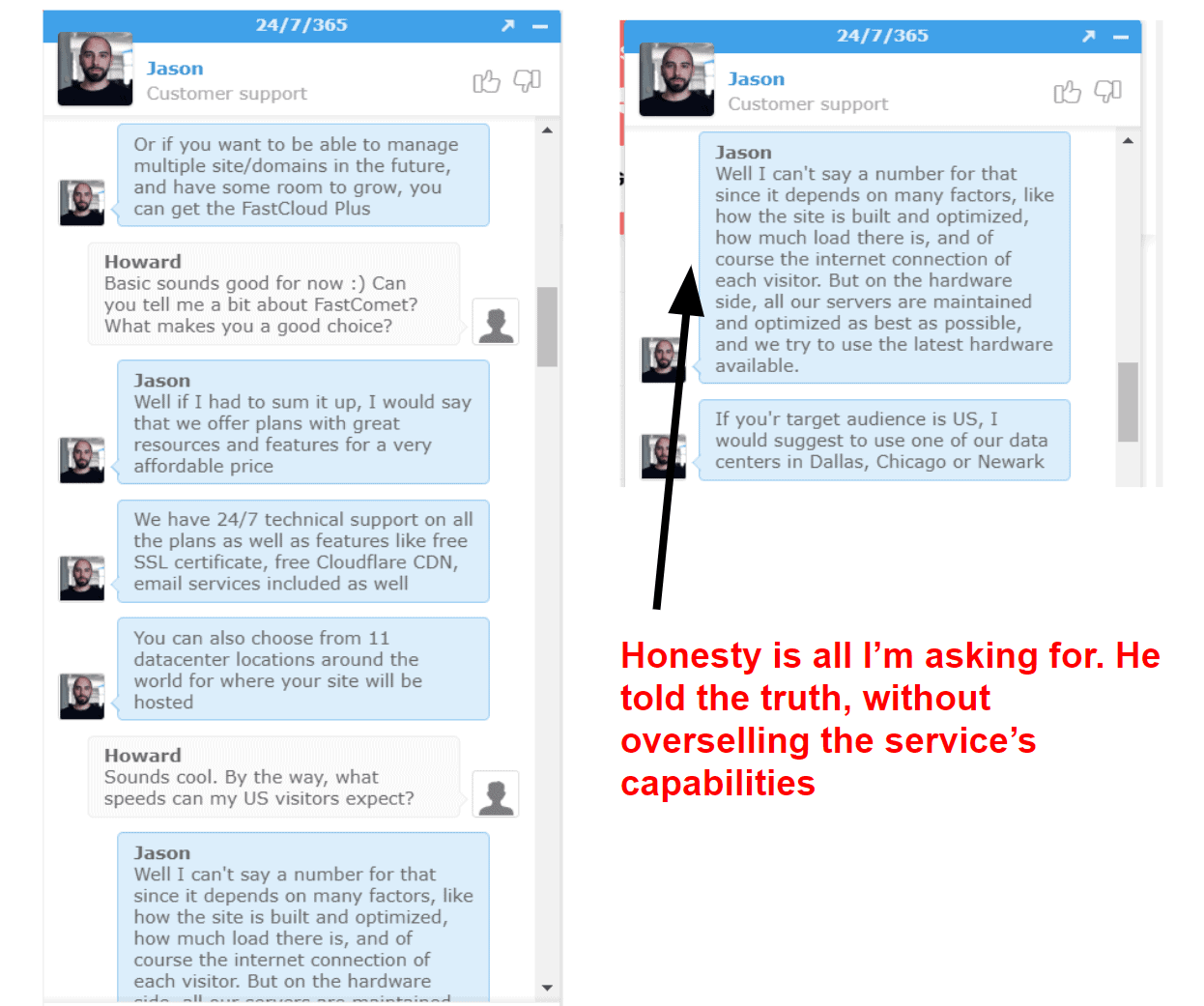 Bluehost offers 24/7 support through live chat and phone. Although I quickly connected with a live chat agent, there were intermittent delays between questions and answers. Additionally, the agent's level of knowledge was not as comprehensive as I had anticipated.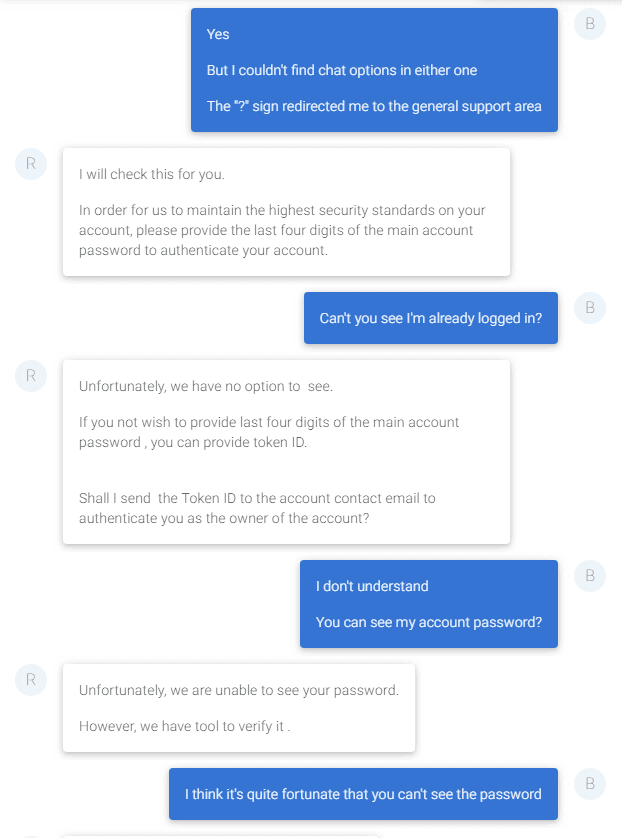 FastComet wins again with its more responsive and reliable customer support.
Bluehost Loses Out to FastComet
In this FastComet vs. Bluehost battle, FastComet crushed Bluehost in four out of five categories. While Bluehost held its own when it comes to performance,
FastComet offers better value
for money (transparent pricing and more freebies), better customer support, feature-packed plans, and increased security.
FastComet is also recommended by our experts as one of
the best web hosting services
on the scene today.
Plans and Pricing
Cheaper plans. 45-day money-back guarantee
More paid add-ons and expensive plans. 30-day money-back guarantee
Key Features
Free website builder, free website migration, SSD storage, free SSL certificate, unlimited email accounts
Free domain, SSD storage, free SSL certificate, unlimited email accounts
Performance
SSD storage, global server network, free CDN, 99.9% uptime guarantee, fewer downtimes, slower loading speeds
99% uptime guarantee with downtimes, faster loading speeds
Security
Free daily backups, CloudLinux OS, 24/7 server monitoring, network firewall, Web Application Firewall (DDoS protection), Brute-Force protection, exploits and malware protection, hotlink and password protection, Two-Factor Authentication (2FA), BitNinja Server Security, CageFS Security, ModSecurity Manager
Free SSL certificates, DDoS protection, Domain Privacy and Protection (add-on), SiteLock (add-on), CodeGuard (add-on), Spam protection (add-on)
Support
Comprehensive knowledgebase, video tutorials, 24/7 live chat, phone, email, and ticket support, highly responsive
Less comprehensive knowledgebase, 24/7 live chat and phone support, agents not as knowledgeable
FAQ
Is FastComet better than Bluehost?
Yes, it is. To get the best features from Bluehost, you'll have to sign up for its most expensive plan. This isn't the case with FastComet. All plans come with more useful features, better security measures, and you get free extras that aren't provided by Bluehost or require paid add-ons. FastComet is also listed among the top 10 best web hosting services while Bluehost isn't.
Does FastComet offer VPS hosting?
Yes. FastComet has four fully-managed cloud VPS plans for growing businesses. FastComet for VPS gives you from 50 GB to 320 GB SSD storage, from 2 TB to 8 TB bandwidth, from 2GB to 16 GB RAM, and a 7-day money-back guarantee. FastComet is also featured in our list of cheap and reliable VPS services.
Who owns Bluehost?
Like other major web hosting companies, the notorious Endurance International Group (EIG) owns Bluehost, handling all billing and transaction data. Bluehost does, however, offer domain privacy with a few of its plans free of charge.
Does Bluehost offer cloud hosting?
No, Bluehost doesn't have cloud hosting plans. It does offer VPS hosting, though. If you're looking for a reliable and affordable cloud hosting service, take a look at our list of trusted cloud hosting services.