Namecheap is not only much cheaper, but also more reliable and significantly faster than DreamHost.
I did my research and tested both hosts. Namecheap came out on top overall, but DreamHost put up a decent fight. For example, Namecheap's WordPress experience can feel restrictive compared to DreamHost's WordPress hosting plans.
Click here to see Namecheap's latest deals
, or read on to learn more about the pros and cons of each host.
1. Pricing and Plans
Namecheap Lives Up to Its Name, while DreamHost Wants Long-Term Commitments
However you look at it, Namecheap is the clear winner of this category, with prices starting as low as

$

1.88

.
Whether you want shared hosting, managed WordPress hosting, VPS, or a dedicated server, Namecheap is more affordable across the board.
A free domain name is included with some hosting plans from Namecheap
DreamHost advertises some attractive prices, starting at
$
2.95
 for shared hosting. But the catch is that you only get the best offers if you are willing to commit to a three-year billing cycle. You can choose to pay yearly or monthly, which is great, but if you go for either of these options, you can expect prices to spike by at least 50%.
A free domain name is included with some hosting plans from DreamHost
DreamHost's and Namecheap's renewal fees are up to double the initial cost on some plans. This sounds bad, but
Namecheap is still more affordable than DreamHost, even after the renewal fees.
You might think you're missing out on important features in exchange for the lower cost, but as you'll see in
the feature section of this comparison
, that's not the case.
Plus, DreamHost does its fair share of upselling, but Namecheap does not.
 When you check out with DreamHost, a domain email and the DreamShield Protection add-on are both automatically added to your cart for the shared hosting Starter plan. If you don't cancel them, they effectively double your total cost. Namecheap does not automatically add any extras during checkout. In addition, you can easily set up your auto-renewal preferences for every product added to your cart, including the hosting service itself. This is a nice touch that most providers don't bother with.
2. Support
DreamHost Has Decent Response Times, Namecheap Is Painfully Slow
Web hosting services always promise excellent customer support, but in some cases, this isn't what you get as a paying client.
Having tested the live chat option for both DreamHost and Namecheap, I can safely say that DreamHost offers better customer support.
First things first.
Both providers give you the option to get in touch 24/7 through live chat.
DreamHost also offers email support, and Namecheap lets you submit questions through its ticket system. Neither of the two provides a direct phone number. The problem with Namecheap is that customer support is very slow, to put it mildly. During my testing, the agent took up to ten minutes to respond to simple pre-sales questions. Even when I asked about the location of Namecheap's servers, they needed "a few minutes" (six, to be precise) to provide an answer.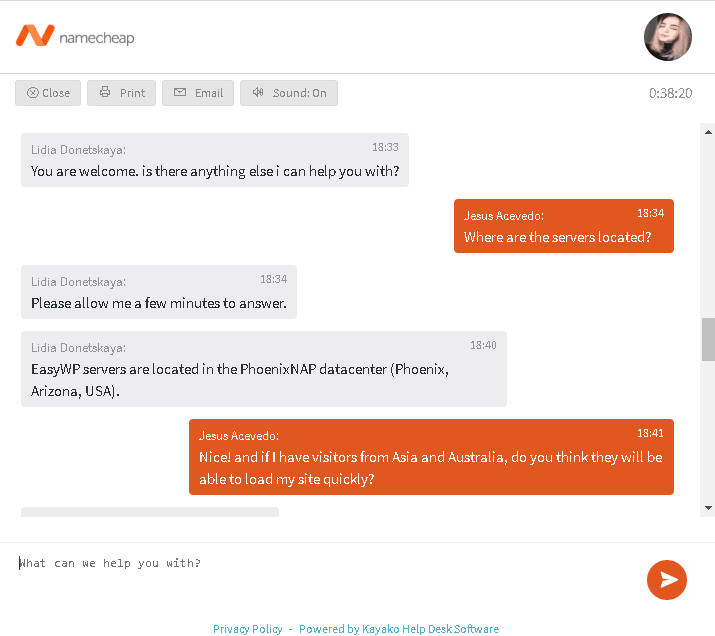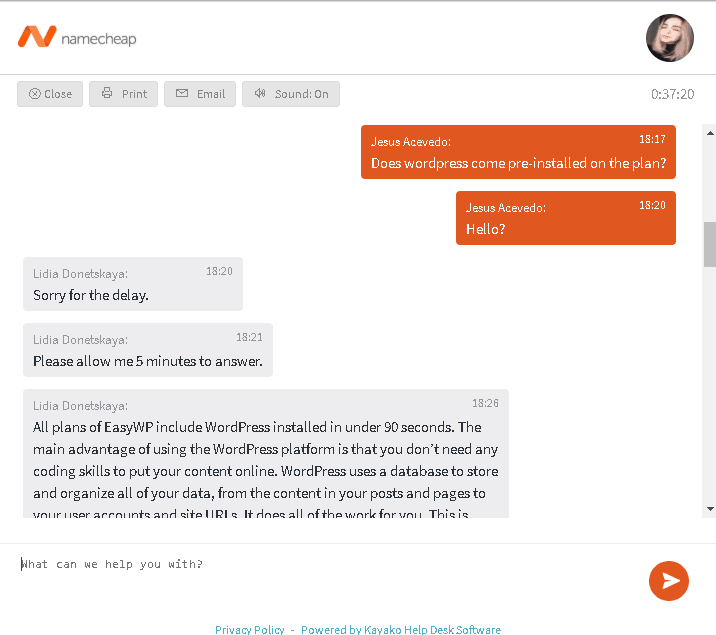 Several questions later, I realized that most of the answers were copy-pasted, which made me question whether a chat bot wouldn't do a better job. Either the support agent was new or very busy, but
the entire conversation made me feel like it might take a long time to resolve an actual issue.
The agent also immediately recommended a managed WordPress plan, when I specifically asked for a service that would support a simple landing website. Maybe they were trying to upsell me, but Namecheap's basic shared hosting plan would be cheaper, and do fine.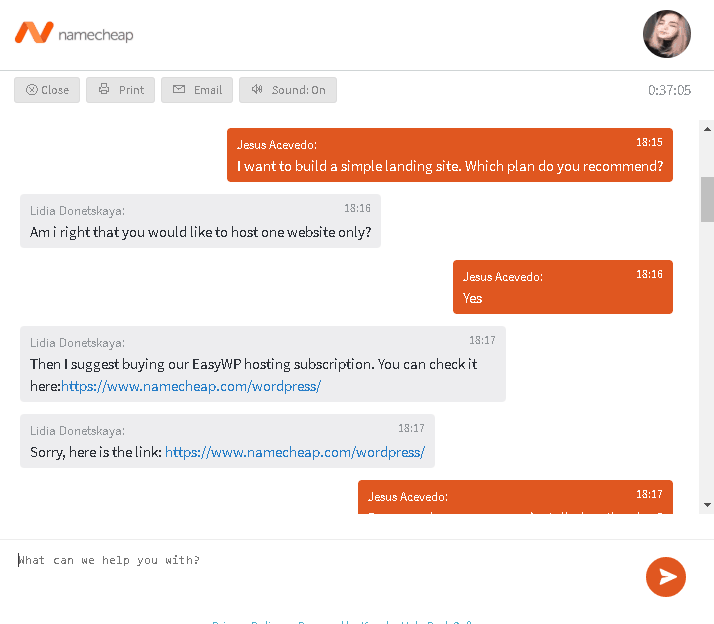 I had a much better experience with DreamHost, although I did have to go through its somewhat clunky DreamBot to get to a real agent.
 I didn't feel like the agent was trying to upsell features I didn't want. She asked me several questions regarding my specific needs and ultimately recommended DreamHost's starter plan.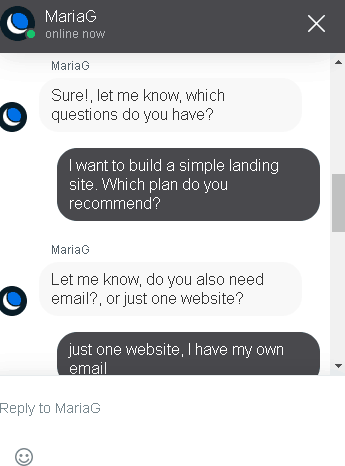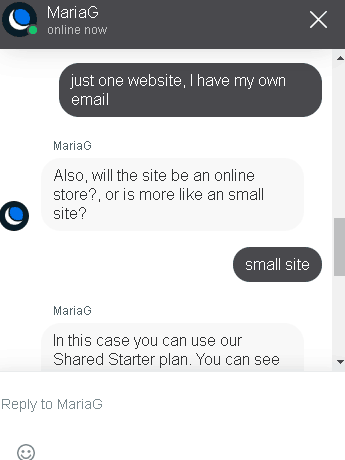 When I asked about loading speeds, the support agent was honest about how these might vary based on my visitors' locations and the content of my website. She recommended a number of steps that I could take to optimize my WordPress site.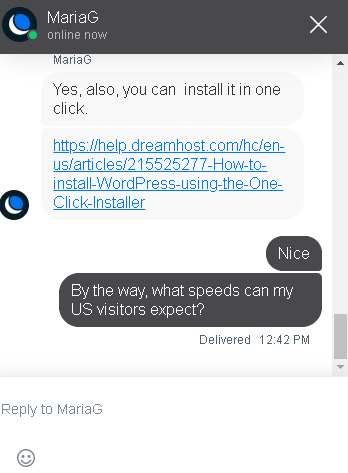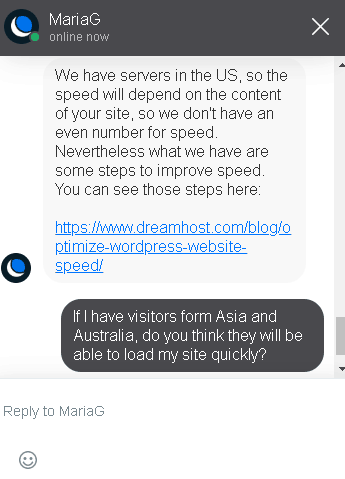 Both DreamHost and Namecheap have
extensive knowledge bases
 with tutorials and guides. DreamHost even has its own discussion forum where you can seek answers from other customers and company representatives.
3. Features
Namecheap Gives You Freebies, DreamHost Gives You the Basics
When it comes to shared hosting, Namecheap and DreamHost both have fairly standard offers, but
Namecheap has a slight advantage thanks to a few extra free features.
 For example, you get 30 free email addresses even on the most basic plan, whereas DreamHost charges an additional fee per mailbox if you don't upgrade to a higher-tier plan. In case you already have a website, DreamHost provides a plugin for automatic migration, but you're on your own from there.
Namecheap, on the other hand, manages your migration and guarantees that your website will have no downtime while it's underway.
In terms of shared hosting, Namecheap is the better alternative, since its plans are more affordable. However, this is not necessarily the case with managed WordPress hosting.
Namecheap's WordPress hosting plans come with an incredibly easy-to-use platform, but depending on what you intend to do with it, you might find it restricting.
 For instance, the EasyWP Starter plan does not support a CDN or provide an SSL certificate.
For a similar price, DreamHost's managed WordPress hosting plans give you more storage space and impose none of the limitations you have with Namecheap.
In other words, if you're looking for a streamlined WordPress platform that is super easy to navigate, Namecheap could be the ideal service for you. But if you need any of the more advanced features that are not included in its plans, you're better off with DreamHost. (Actually, you'd be best off with a specialized WordPress hosting service like SiteGround – read our
full SiteGround review
 for more information). To help you quickly compare DreamHost's and Namecheap's shared hosting plans, I've summarized their most important features in the table below:
| | | |
| --- | --- | --- |
| | DreamHost | Namecheap |
| Hosting Type | Shared, Managed WordPress, VPS, Cloud, Dedicated Servers | Shared, Managed WordPress, VPS, Dedicated Servers, Reseller Hosting |
| Free Domain | Yes, for 1 year on all yearly plans | Yes, for 1 year, but only for one .website domain |
| Free SSL Certificate | ✔ | ✔ |
| Disk Space | 50 GB to Unlimited | 20 GB to Unlimited |
| Bandwidth | Unmetered | Unmetered |
| Automatic Backups | Yes, daily | Yes, twice a week on the basic plan, daily on all other plans |
| Control Panel | Proprietary control panel | cPanel |
| Website Builder | ✔ | ✔ |
| Email Accounts | Paid add-on for Starter plan, unlimited on the Unlimited plan | 30 to Unlimited |
| Free CDN | ✘ | ✘ |
| Free Site Migration | ✔ | ✔ |
| Money-Back Guarantee | 97 Days | 30 Days |
4. Performance
Namecheap Is Fast and Reliable, DreamHost Struggles to Perform
DreamHost vs Namecheap has been a close race so far, but the two are clearly set apart in performance.
Although both hosts give you SSD storage on all plans, there are few other similarities between them.
DreamHost only has servers in the US, while Namecheap gives you the option to choose between a US and a UK data center.
 You have to pay a fee if you want your website to be hosted in Europe, but at least you know that it will load faster for your target audience. Both Namecheap and DreamHost offer solid uptime guarantees backed by an SLA (service level agreement). Namecheap guarantees 99.9% uptime, and DreamHost has a 100% uptime guarantee. Sounds like DreamHost has this one in the bag, right? Not really.
While DreamHost offers a better guarantee, this is not reflected in their actual uptime history.
 In fact, your website is more likely to be available 24/7 with Namecheap. Then there's the issue of speed. Neither hosting service offers an integrated CDN on shared hosting plans, although you can use their tutorials to install the free version of Cloudflare. With or without plugins, however,
DreamHost just can't compete with Namecheap's loading speeds.
DreamHost is definitely out of the race when it comes to performance.
5. Security
Namecheap Is More Secure than DreamHost, but Not by Much
Both Namecheap and DreamHost ensure standard security for your website and domain. They don't force you to buy essential security upgrades, which is nice, but they don't go out of the way to keep your site safe, either. Not for free, anyway. Both hosts run Mod_Security – a standard web application firewall supported by Apache servers – to ensure that your website is defended against brute force attacks and malicious traffic.
In addition, they both include free Privacy Protection on all plans to mask your domain information, reduce spam, and deter hackers.
 For Namecheap, this service appears as WhoisGuard on checkout.
One slight advantage for DreamHost is that it provides free daily backups with all plans,
 whereas Namecheap's basic shared hosting bundle includes only two backups per week. But this isn't enough to set the two hosts apart. What does make the difference between them, in terms of security, is their approach to SSL certificates. If you want to rank better in search engines, and especially if you intend to run an e-commerce store, you need to make sure that your website is padlock protected and that your users' information is safe. This is what SSL certificates are for.
DreamHost includes free SSL certificates from Let's Encrypt on all offers, although you have to set them up yourself for the basic shared hosting plan.
 The thing is, SSL certificates from Let's Encrypt are free to begin with and, with a bit of patience, you can install them through any hosting service, including Namecheap.
Namecheap, on the other hand, provides Positive SSL certificates from Comodo with all shared hosting plans.
 You get these for free for up to 50 websites during your first year with Namecheap, but starting with the second year, you have to pay a small renewal fee. Now, whether or not Comodo SSL certificates are worth it depends on your needs. These use the exact same encryption algorithms as Let's Encrypt, so they won't make your website any safer by comparison. However, you do gain access to Comodo's customer support and a $10,000 warranty, in case anything goes wrong. Thanks to its superior SSL certificates, Namecheap wins in security, but not by much.
Go with Namecheap for Better Value, Features, and Speed
DreamHost
 has the advantage of superior customer support and better managed WordPress plans, but it loses ground where it matters the most: features and performance.
For a website that loads faster and has an excellent uptime record, Namecheap is the better hosting service.
Namecheap's managed WordPress plans have a few unique limitations that users encounter as a trade-off for the platform's user-friendly nature. However, you have the option to bypass these restrictions entirely by opting for one of Namecheap's shared hosting plans. As you weigh your options, keep in mind that neither DreamHost nor Namecheap made it into our
top 10 best web hosting services
. Before you decide, it might be a good idea to check out some of the hosts that did.
Plans and Pricing
Fairly low prices, but only for 3-year commitments, more expensive overall
Very low prices on 1-year plans and better value for your money on most plans
Key Features
Unlimited storage and bandwidth on the Shared Unlimited plan, 97-day money-back guarantee
Unlimited storage and bandwidth on the Stellar Plus plan, free website transfer, free email even on the basic plan
Performance
SSD storage, 100% Uptime guarantee backed by an SLA
SSD storage, 99.9% Uptime guarantee, excellent uptime record, superior loading speeds, US and UK data centers
Security
Free SSL certificates from Let's Encrypt, free Domain Privacy, ModSecurity, anti-malware add-on for an extra fee
Free Positive SSL certificates from Comodo for 1 year, free Domain Privacy, ModSecurity
Support
24/7 support via email and live chat, extensive knowledge base, discussion forum
24/7 support via live chat and tickets, extensive knowledge base
FAQ
1. Which Host Is Better, DreamHost or Namecheap?
Namecheap is a better host overall thanks to its lower prices, solid uptime record, and faster loading speeds. Plus, Namecheap gives you upwards of 30 free email addresses and a free website transfer on even the most basic plan. Still, Namecheap does have its disadvantages, such as the fact that its managed WordPress plans are subjected to a few unusual limitations. For example, the EasyWPStarter plan does not support a CDN. If you haven't decided on a host, you can always check out our list of the best web hosting services for ideas.
2. Does Namecheap offer WordPress hosting?
Yes, Namecheap offers three managed WordPress plans that are hosted on cloud. The main advantage with either of these bundles is Namecheap's incredibly easy-to-use WordPress platform, which can help you set up a website in a matter of minutes. The trade-off is that there are some serious limitations. You can't use any other CMS (content management system) or connect a domain that you haven't purchased from Namecheap. For the EasyWP Starter plan, you don't get an SSL certificate and you can't set up a CDN (content distribution network). If you need a more professional solution, don't miss our list of the best managed WordPress hosting services.
3. Is Namecheap cheaper than DreamHost?
Yes, Namecheap lives up to its name when it comes to pricing. Not only is it more affordable than DreamHost, but its shared hosting plans are cheaper than with most other hosts. Plus, you get a lot of features for your money, including unlimited SSD storage on the Stellar Plus plan and a free website transfer with all plans.
4. Does DreamHost use cPanel?
No, DreamHost does not support third-party control panels like cPanel, but this is not necessarily a bad thing. While cPanel is a powerful tool, it's not the easiest to use. DreamHost's control panel is more intuitive and allows you to do most of the things you can do in cPanel.