For decades, DreamHost has been catering to a huge number of customers spread across over a hundred countries. Though Hostwinds is a much younger web host, it has successfully made its mark as a reliable hosting provider as well. Now, if you need to choose any particular one among these two, how will you pick the one best for you? Going by popularity only won't be prudent for sure.
The only option is to thoroughly compare Hostwinds and DreamHost and review each of the critical components like pricing, features, performance, etc. I did this to make your job a bit easier and after reviewing the results, I can assure you that Hostwinds would help you get maximum value for your money. If you want to review each factor of the comparison yourself, continue reading, or you can click here and see Hostwinds' latest deals right away.
1. Plans and Pricing
Hostwinds offers unparalleled flexibility coupled with affordability
Whether you're an individual or an established business, you'd likely find a suitable hosting plan from both DreamHost and Hostwinds.
With DreamHost, your options include shared hosting, VPS hosting, managed WordPress hosting, dedicated servers, and cloud hosting.
Hostwinds offers a more diversified range of solutions including shared hosting (regular and business plans), VPS hosting (managed and unmanaged), cloud hosting, dedicated servers, and reseller hosting.
A Free Domain is included when purchasing any hosting service from DreamHost
Hostwinds Web Hosting
A Free Domain is included when purchasing any hosting service from Hostwinds
Apart from more Hostwinds shared hosting packages, there're two aspects where I'd keep it ahead of DreamHost. First, it offers quarterly and semi-annual packages and that too with discounts. And second, even if you opt for its monthly billing cycle, the price would be significantly cheaper than that of DreamHost. Similarly, Hostwinds lets you enjoy a cheaper monthly price by having you signed up for thirty-six months than you'd with DreamHost.
2. Features
Need high-end features for free – go for Hostwinds
As long as your needs revolve around standard features like 1-click app installer, SSD storages, free SSL certificates, free website builder, free domain (annual billing), automated backups, etc., you'd be doing equally good with DreamHost and Hostwinds.
Though Hostwinds charges a little for backups, it offers the latest version of cPanel regardless of the billing cycle you choose to go with. In addition to this, you can get advanced features like LiteSpeed Web Server, optimized MySQL, etc by choosing a business shared hosting plan.
Additionally, Hostwinds offers both Linux and Windows VPS solutions (managed and unmanaged) – this flexibility isn't offered by DreamHost.
Take a look at this table to quickly understand the key features of these web hosts.
| | | |
| --- | --- | --- |
| | DreamHost | Hostwinds |
| Hosting Types | Shared hosting, managed WordPress hosting, VPS hosting, cloud hosting, dedicated servers | Shared hosting (regular and business plans), VPS hosting (Linux and Windows), cloud hosting, reseller hosting, dedicated servers |
| Free Domain | ✓ (annual billing) | ✓ (annual billing) |
| Free SSL Certificate | ✓ | ✓ |
| Disk Space | Unlimited | Unlimited |
| Bandwidth | Unlimited | Unlimited |
| Automatic Backups | ✓ | ✓ (chargeable) |
| Control Panel | DreamHost Control Panel | cPanel |
| Email accounts | Unlimited (plan-dependent) | Unlimited |
| Free CDN | ✓(managed WordPress hosting) | ✓ |
| Free Site Migration | ✓ | ✓ |
| Money-Back Guarantee | 97 Days (credit and debit card payments) | 30 Days (annual billing cycles), 48 hours (monthly, quarterly, and semi-annual billing cycles) |
3. Performance
Stay miles ahead of your competitors with Hostwinds
Features like a CDN and SSD storages come with both DreamHost and Hostwinds. And if you prioritize performance more, you can get the benefits of LiteSpeed Web Server for free by opting for any of Hostwinds' business shared hosting packages. You can also purchase Windspeed to optimize your server's speed and performance.
DreamHost has multiple datacenters in the U.S. whereas Hostwinds operates three server locations spread across the U.S. and the Netherlands.
DreamHost offers a SLA-backed 100% uptime guarantee.
Hostwinds offers a 99.9999% uptime guarantee.
When put to test, DreamHost came out with pretty alarming average website loading speed, whereas Hostwinds did well. If you want to learn more about how Hostwinds excelled in the test, see our expert Hostwinds review. You can also take a look at our expert DreamHost review to understand what went wrong with it.
4. Security
For Hostwinds, your online security is one of their top priorities
You get a standard number of security features including 24/7 monitoring and free SSL certificates  with both DreamHost and Hostwinds. Though automatic backups are chargeable with Hostwinds, it helps secure your online activities in a better way than DreamHost does.
First of all, you can buy a robust security tool namely Windshield to protect your servers against various online attacks. It also offers a paid SSL certificate to help improve your site's security. And if you choose any of the business shared hosting packages, the LiteSpeed Web Server will help you get protection from DoS and DDoS attacks, and other online threats by default.
Also, if you want to get VPS hosting from Hostwinds, unmanaged solutions would bring more security your way than DreamHost's managed solutions.
5. Support
With Hostwinds' lots of support channels, resolving issues becomes a child's play
While both DreamHost and Hostwinds offer 24/7 support, they appear with some major differences. DreamHost lets you connect to its support team through a customer support chat (office hours) and a help chatbot (round the clock). With Hostwinds, your options include phone, live chat, email, and support ticket.
I decided to test their support to see how they actually work. With DreamHost, my experience was pretty nice once I got to connect to a human.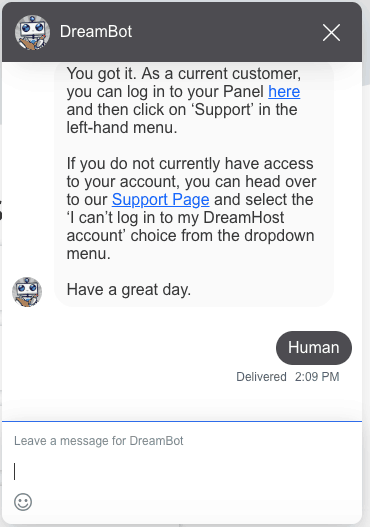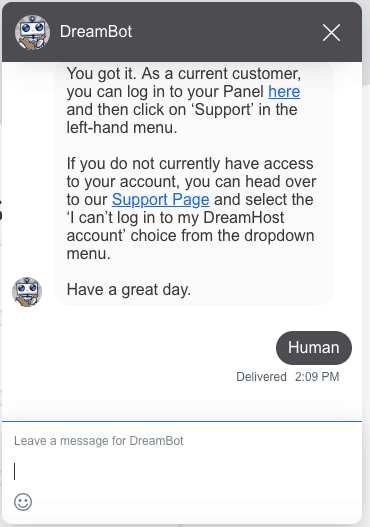 While Hostwinds' human support agents responded instantly on the live chat, they didn't seem to be fully knowledgeable (at least in my case). I also tried the support ticket and email, both of which returned pretty quickly with useful replies.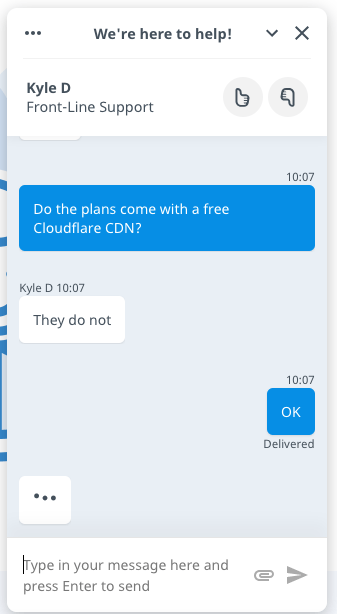 If you belong to the league of self-help enthusiasts, Hostwinds' knowledgebase and blog would be highly useful for you. While DreamHost also has a knowledgebase, a blog, as well as, a discussion forum, they may not be able to offer much help.
Want the Best Value for Your Money – Sign Up With Hostwinds
As you've already seen in the above DreamHost vs Hostwinds battle, Hostwinds is a much better web host than DreamHost in all respects. From affordable and highly-flexible solutions and free advanced features to outstanding performance, top-tier security features, a broad range of support channels, and industry-leading self-help resources – Hostwinds has taken care of all the aspects to help you get an incredible hosting experience.
For me, there's only one factor where DreamHost is better, and that's its managed WordPress hosting solutions. Hostwinds' regular shared hosting solutions are optimized for WordPress but it doesn't offer any specialized solution like DreamHost does.
Finally, when it comes to picking any particular one among these web hosts, I'd surely suggest you sign up with Hostwinds despite the fact that it has not been able to secure a place in our list of the top 10 web hosts.
Comparison Table
Plans and Pricing
Standard range of affordable solutions, discounts start from annual packages
More affordable options than DreamHost, discounts start from quarterly packages
Features
Standard features, conditional money-back guarantee
Standard and advanced features, unconditional money-back guarantee
Performance
100% uptime guarantee (SLA-backed), disappointing performance test results
99.9999% uptime guarantee, excellent performance test results
Security
Standard security features
Standard and advanced features
Support
24/7 helpful support through two channels, average self-help resource
24/7 support through four channels, industry-leading self-help resources
FAQ
Is DreamHost better than Hostwinds?
When I tested both these hosts, I found that Hostwinds is actually better than DreamHost. I was impressed by its performance and all its added features, so it would be my recommendation. However, before you make any final decisions, you should check our list of the best web hosting services right now.Does Hostwinds offer WordPress hosting?
No, Hostwinds doesn't offer any special hosting plans for WordPress, but you can still install WordPress and host your site on its servers. If you don't want to go to all the trouble and you'd rather have a web host that takes care of the technical side of things for you, I recommend you go with one of the best managed WordPress hosting providers.Does DreamHost offer VPS hosting?
Yes, DreamHost does offer VPS hosting plans for a reasonable price. If shared hosting is no longer sufficient for you and you're looking for a more professional solution, DreamHost could be a good choice. But if you want to make sure you're getting the best VPS hosting for a low price, don't miss our list of the best cheap VPS hosting services.