But can you guarantee a better overall performance based on longevity alone
? Certainly not! Because there're some critical factors that have to be considered thoroughly to define a web host's overall performance. To understand which one would be a better option to serve you in the long-term, I decided to
compare DreamHost and FastComet
based on the key parameters like pricing, features, and support. And the results of the comparison clearly indicate that it's FastComet you should go with. If you want to learn more about the comparison, continue reading, or directly
click here to see FastComet's latest deals
.
1. Plans and Pricing
Choose what you precisely need with FastComet
Both DreamHost and FastComet offer a good range of affordable options. Dreamhost lets you take your pick from
shared hosting, managed WordPress hosting, VPS hosting, cloud hosting, and dedicated servers
. And with FastComet, you get options including
shared hosting, cloud VPS hosting, and dedicated servers
. You may note that though FastComet's website mentions that it offers managed WordPress hosting, I found that it actually directs you to the shared hosting packages. But, I think, it'll only matter if you've got specific requirements for managed WordPress hosting. While the minimum monthly pricing of these web hosts matches closely,
the biggest factor that sets FastComet a class apart from DreamHost is the flexibility it offers
. With DreamHost, you've to sign up for thirty-six months to get the minimum monthly price whereas FastComet lets you get similar pricing no matter if you sign up for just a month or three years.
A free domain name is included with some hosting plans from DreamHost
However, there's one thing you should note about DreamHost. With its shared hosting packages, you get
unlimited storage and bandwidth
whereas FastComet offers them as limited and Fair Usage.
2. Features
Rise above the competition with robust features from FastComet
You get a good number of standard features from both DreamHost and FastComet. These include
SSD storages, 1-click app installer, free SSL certificates, free domain, automated backups, free website builder
, among others. However, there're some crucial factors that make FastComet a much better option than DreamHost. For instance, you get powerful
Attracta SEO tools
,
SE Ranking software
, and more for free. This comparison table should help you understand the main difference between the features of these web hosts.
| | | |
| --- | --- | --- |
| | DreamHost | FastComet |
| Hosting Types | Shared hosting, VPS hosting, managed WordPress hosting, cloud hosting, and dedicated servers | Shared hosting, cloud VPS hosting, and dedicated servers |
| Free Domain | ✓ | ✓ |
| Free SSL Certificate | ✓ | ✓ |
| Disk Space | Unlimited | 15GB-35GB |
| Bandwidth | Unlimited | Fair Usage |
| Automatic Backups | ✓ | ✓ |
| Control Panel | DreamHost Control Panel | cPanel |
| Email accounts | Unlimited (plan-dependent) | Unlimited |
| Free CDN | ✓(managed WordPress hosting) | ✓ |
| Free Site Migration | ✓ | ✓ |
| Money-Back Guarantee | 97 Days (credit and debit card payments) | 45 Days |
3. Performance
FastComet helps transform your site from average-performing to high-performing one
In terms of performance-boosting features,
SSD storages
and
a CDN
are commonly offered by both DreamHost and FastComet. In addition to these, FastComet offers various
caching and speed optimization tools
for free along. DreamHost operates
multiple datacenters in the U.S.
whereas FastComet has
eleven datacenters spread across the globe
, which would certainly help to optimize your site's performance.
FastComet has an SLA-backed 99.9% uptime guarantee.
DreamHost boasts a 100% uptime guarantee, also SLA-backed.
I tested both web hosts to get an idea of their performance. FastComet came out with outstanding average response time whereas DreamHost's results were pretty poor. You can check out our
detailed FastComet review
to see its location-wise results in the test. Also, our
expert DreamHost review
 would let you check what went wrong with it.
4. Security
Take your online security quotient to the next level with FastComet
Both of these web hosts bring a good number of industry-standard security features like
free SSL certificates, automatic backups, and 24/7 server monitoring
to its users. But when it comes to maximizing your online security, I found FastComet is a much better option than DreamHost. For instance, you get access to
various SSL features
to prevent online attacks. In addition to this, it offers a host of advanced security features for free. From
Web Application Firewall, two-factor authentication, and malware protection to BitNinja server security tool, CloudLinux OS, CageFS, spam and virus protection
, and more – FastComet seems to have taken online security as a serious business.
5. Support
Think unparalleled support – think FastComet
Though almost every web host these days claims to offer reliable
24/7 support
, a lot of them often fail terribly when it comes to actually providing it and this is somewhat true with DreamHost. It offers support through a
help bot
(chat) and a
customer support chat
(limited time). On the other hand, FastComet brings a broad range of options your way including
phone, live chat, email, contact us form, and support ticket
. When put to test, DreamHost's help bot offered me an average experience initially but once I got to communicate with a human agent, it was highly helpful.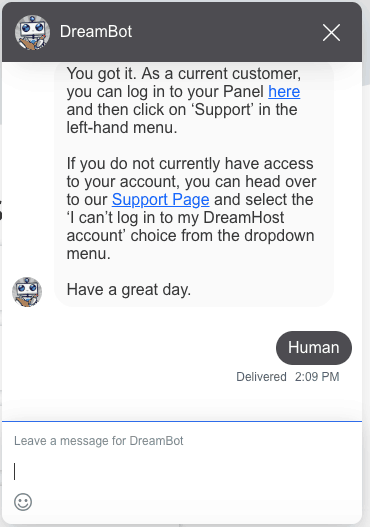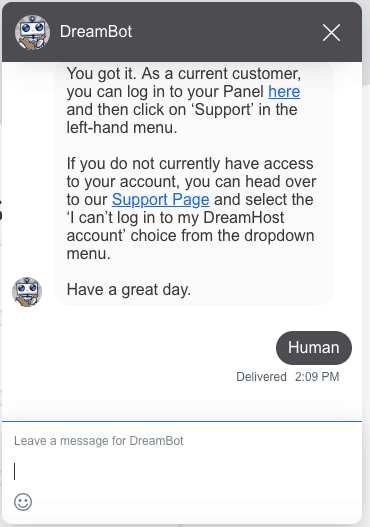 For FastComet, I tried live chat, support ticket, and email and in every instance, I got speedy support from the agents.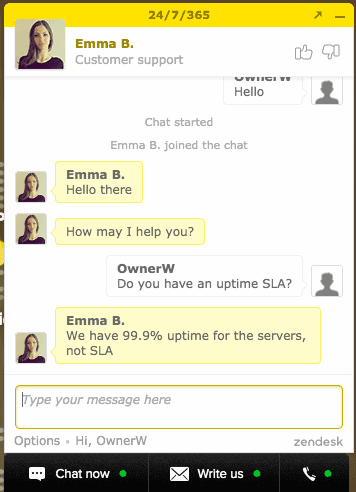 In terms of self-help resources, DreamHost offers an average
knowledgebase
, a
blog
, and a
discussion forum
. With FastComet, you can consult a robust
knowledgebase
, several
useful tutorials
, and a
massive blog
.
Get FastComet – Get the Maximum Value for Your Money
The results of the above DreamHost vs FastComet clearly shows that FastComet is the best web host. Whether you need
affordable feature-rich solutions without having to sign up for a long-term plan
, an array of performance optimization tools, robust online security, or round the clock efficient support – FastComet has got you covered. However, I think there're two instances where opting for DreamHost might be prudent. First,
if you're looking for unlimited space and bandwidth, DreamHost is a better option
. And second, if you need a long-term money-back guarantee (you need to pay through credit or debit card though). Though none of these web hosts have made it to our list of the
top 10 web hosts
, FastComet would surely be a much better option than DreamHost in all respects.
Comparison Table
Plans and Pricing
Standard range of affordable solutions, long-term commitment to get the lowest price
Relatively lesser number of affordable solutions, no long-term commitment
Features
Standard features, conditional money-back guarantee
Standard and advanced features, money-back guarantee
Performance
SLA-backed 100% uptime guarantee, U.S. datacenters, poor performance test results
SLA-backed 99.9% uptime guarantee, eleven datacenters across the globe, excellent performance test results
Security
Standard security features
Robust pool of advanced features
Support
24/7 helpful support through two channels, average self-help resources
24/7 prompt and efficient support through five channels, excellent self-help resource
FAQ
Is DreamHost better than FastComet?
When I tested both these hosts, I found that FastComet is actually better than DreamHost. I was impressed by its performance and all its added features, so it would be my recommendation. However, before you make any final decisions, you should check our list of the best web hosting services right now.
Does DreamHost offer WordPress hosting?
Yes, DreamHost offers managed WordPress hosting solutions, which means that the DreamHost team will take care of all the technical aspects of WordPress for you, including updates and security. If you're not sure if DreamHost is the right option for you, you should read our list of the best managed WordPress hosting providers before you make your final choice.
Does FastComet offer VPS hosting?
Yes, FastComet does offer VPS hosting plans for a reasonable price. If shared hosting is no longer sufficient for you and you're looking for a more professional solution, FastComet could be a good choice. But if you want to make sure you're getting the best VPS hosting for a low price, don't miss our list of the best cheap VPS hosting services.