DreamHost VPS Hosting at a Glance
DreamHost has so far established itself (with us) as a decent host with sometimes spotty customer service. But hey, things change, and even within a single company, different departments can provide completely different experiences. Enter DreamHost's VPS plans. This product is actually something of an interesting beast. See, most VPS hosts will either let you do
all
 the work of managing your server, or charge beginners a fair bit of cash to have the company itself manage the server.
DreamHost does a bit of both, with only one set of payment plans, while trying to cater to beginners and pros alike.
So I dove in to test the servers themselves, and to find out if this sort of hybrid service could be right for your business. Or anyone's business, really. And honestly? It's pretty good for beginners. Read on to see exactly how it all works.
GTmetrix performance score
A
Free SSL?

✔

Uptime guarantee
100%
Money-back guarantee
30 days
Starting price

$

15.00
Features
Beginners Take Note, Pros Should Consider Other Options
FEATURES SCORE: 4.5 out of 5
DreamHost's VPS service is built around its very own control panel (I'll get into that later), which is designed to greatly simplify the server management experience.
That simplicity is reflected in everything from the UI, to the marketing, to the restrictions placed on the VPS. So yeah… about those restrictions: first, the only server OS seems to be Ubuntu. A solid choice, though not what I'd go for myself. Second, you don't get root access. You
can
 access your VPS via the command line, but your ability to customize it is held back by, you know, not being the root user. On the upside you can upgrade RAM and storage "in under 10 seconds" according to DreamHost.
There are several plans, the cheapest of which nets you 1GB of RAM and 30GB of SSD storage.
 The most expensive will provide 8GB of RAM, and 240GB of SSD storage. All plans get you unlimited bandwidth. These are 100% dedicated resources, so you never need to worry about your VPS getting slow because someone else's site got hit with tons of traffic. But notice how the only resources listed are RAM and storage. The control panel doesn't tell you how many CPU cores you get, the documentation doesn't tell you, and a forum post on the subject was never answered.
This leads me to believe that the CPU core count across all plans is
low
.
Lastly, there is no built-in backup solution. DreamHost does provide a guide that suggests several manual (read: very nerdy) ways to make backups yourself, which is
not
 very beginner-friendly.

And now, we go into some of the stand-out features:
The Servers Are Almost Completely Managed
Backups aside, everything related to basic server management is taken care of by DreamHost.
Server updates, security, maintenance, and general fixes can all be handled by the support agents, and my experience with them was pretty decent. (More on that below.) This can be a pretty good deal for beginners to VPS hosting, as that more technical stuff can get confusing when – and it's "when", not "if" – things go wrong. In essence, this is the tradeoff you get for having almost no control over how the VPS is set up. DreamHost does more to handle the server, so you worry less.
You Can Get A Separate MySQL VPS
So, when you order a VPS you can actually pay extra for a separate MySQL VPS.
MySQL is a database technology that powers most of the big CMS options out there, such as WordPress. Simply put, you can put your actual website on one server, and the content and configuration data on another server. One benefit is that you have a redundancy in place. If something bad happens to your main VPS, your actual content and website configuration data should remain unaffected. But really, that's what backups are supposed to be for. As such, I suspect there's another use for these VPS servers: processing power. If my guess about the CPU cores is true, then having a separate server for MySQL databases could drastically improve the loading speed of your site.
However, I don't like this idea, as it seems like the VPS plans are artificially downgraded to sell extra services.
There Are Built-in Statistics (In Theory)
So yeah, I couldn't actually get this feature to work, hence the distinct lack of screenshots.
 But how it's supposed to work is this: you activate the stat tracking, and you get daily and monthly reports. All it takes is some manual configuration with .htaccess files and such that I couldn't figure out myself. So that's… not great.
There's a Focus on Features for Devs
While the limitations of the VPS do chafe a bit, there
are
 some options included for any developer who's willing to endure the hand-holding required to build on a DreamHost VPS.
Namely, you get your choice of Apache or NGINX for a basic web server, and you can install NodeJS or Ruby.
You can also
set up your VPS
 to use SVN for version control. (I kind of wonder why Git isn't an option, but there you go.) Lastly, every VPS gets a unique IPv4 address by default, and unlimited IPv6 addresses, which is cool.
Ease of Use
It's Very Easy Once You Get Used to It
EASE-OF-USE SCORE: 4.8 out of 5
I was genuinely confused by the UI because it was too easy. No, really. I'm not kidding. Uh, let me explain:
Dreamhost Custom Control Panel
See, the dashboard separates websites and their control panels from the VPS.
 You can create a website, assign it a domain (from DreamHost or a third party), and
then
 assign that website to a specific hosting package you bought. This keeps website and server management separate from the actual server, and makes a lot of sense to me. The actual website management tools simplify things like managing domains, SSL certificates (free from Let's Encrypt), malware scans, and quite a bit more. While there isn't as much information at a glance as I would like,
anyone
 could learn this interface in an hour, maximum.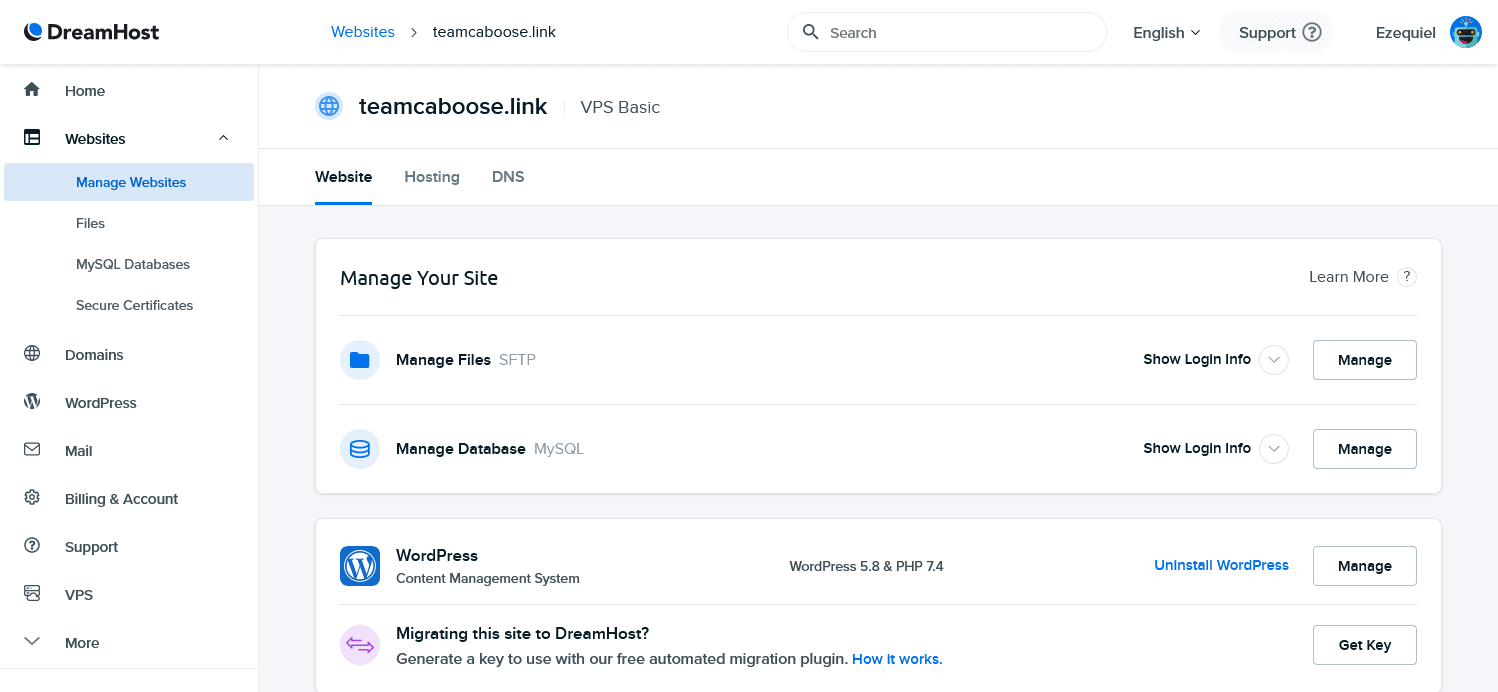 I got confused because this is so unlike the usual "make a server, install a control panel, log in, make a website account, log in to that" process we know so well from cPanel and the like. But to me, this makes more sense.
This is genuinely one of the few VPS management experiences I could recommend to an absolute beginner.
 I mean, there'd still be stuff to learn, but it would be fairly easy compared to some alternatives.
You Can Install WordPress Easily
So DreamHost advertises an "auto app installer" but that's a misnomer. It's a WordPress installer, plain and simple.
 It gets WordPress onto your hosting space with no muss and no fuss. It can even install themes, standard plugins, and make tweaks to the security configuration for you. Also available is the WP Website Builder, which makes drag-and-drop website design easier to accomplish with WordPress. Well, at least until WordPress replaces all of that functionality with its own (which is something WordPress is totally doing).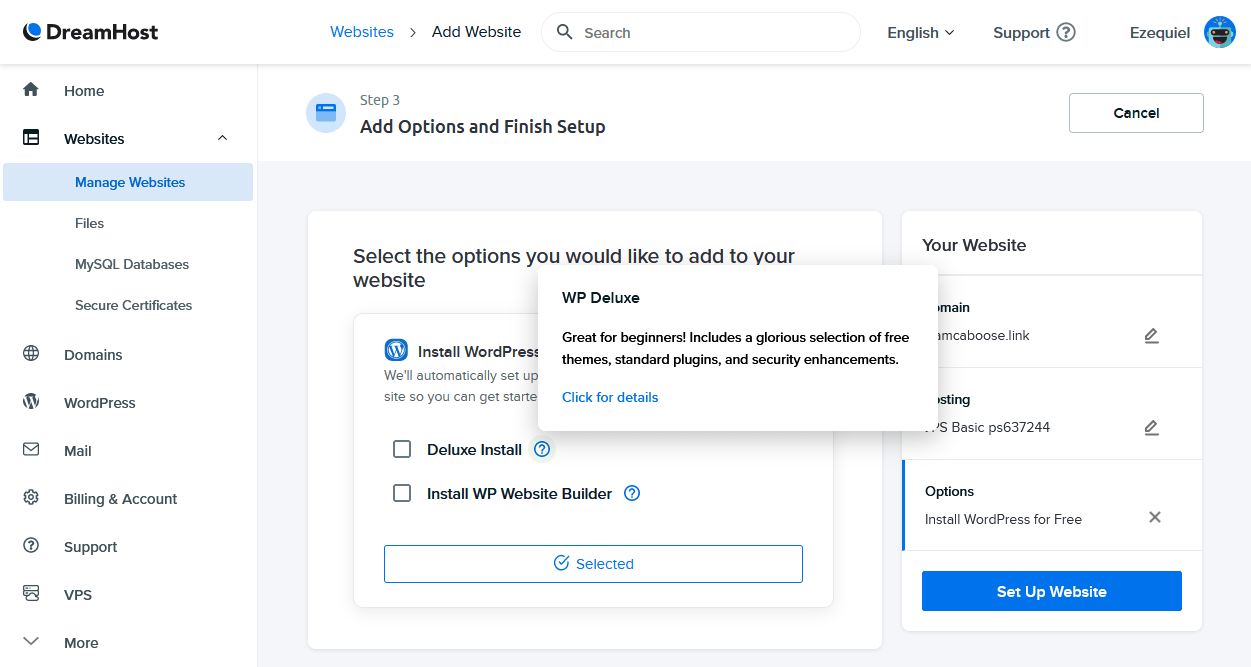 Knowledge Base and Community Forum
If you want to learn more about how to manage your server, you've got two options: the knowledge base, and the forum.
The DreamHost knowledge base is actually pretty full of stuff, including some advanced tutorials
for people who are logging into their servers via the terminal. And then there's plenty of basic tutorials for beginners. In other words, you're covered. The forum is exactly what you'd expect: a bunch of DreamHost customers asking and trying to answer each other's questions. No more, no less.
Performance
Server Performance Varied Wildly
PERFORMANCE SCORE: 4.3 out of 5
So this is where I have to be real disappointed in DreamHost. See, I always install WordPress with a fancy theme to get a realistic picture of how fast the servers are. And, well… One of the main reasons to get a VPS is stability,
but the tests I ran did not reflect stability at all.
Both of DreamHost's data centers are in the US (Ashburn, Virginia, and Hillsboro, Oregon), and so are the testing servers I used. But even this proximity couldn't save the test results:
The average page load time was 1.85 seconds, which is better than the recommended maximum of 2s. However, load times varied wildly over the course of my tests (see below). Uptime stayed at 100% over a short testing period.
Now, I'm going to throw in some more details. Check those out if you like, or head on down to the
support section
.
GTmetrix
We run GTmetrix on our test sites several times to see how long pages take to load overall, and where the loading might get stuck.
While the fastest page load time was a whopping .915 seconds, the slowest was a glacial 3.9s.
That indicates serious instability, and makes the average of 1.85s seem less impressive than it should be.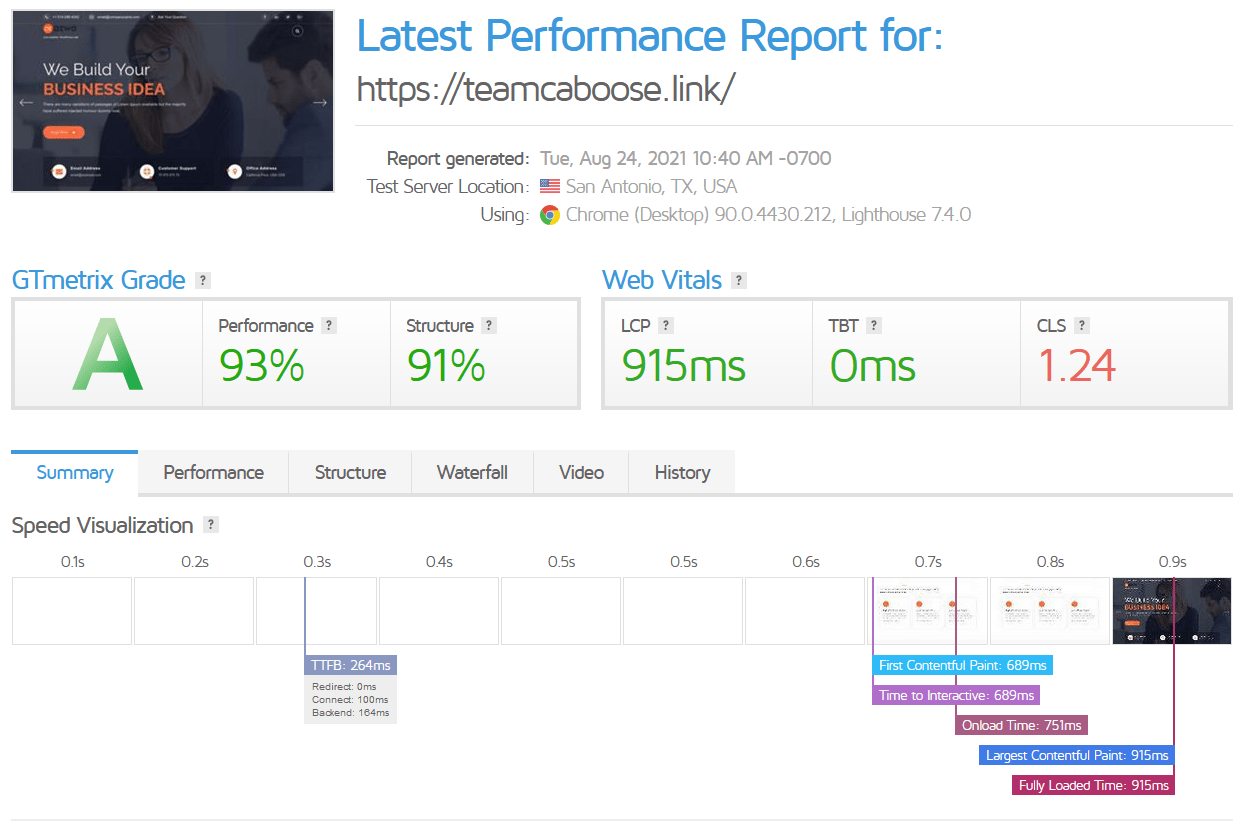 UptimeRobot
We measure site uptime with, you guessed it, UptimeRobot. 100% uptime over this admittedly short testing period isn't bad at all, and the lag spikes in the ping rate aren't the worst that I've seen.
This is good in general, but it means that the performance issues mentioned above are probably hardware-related, not connection-related. That's bad.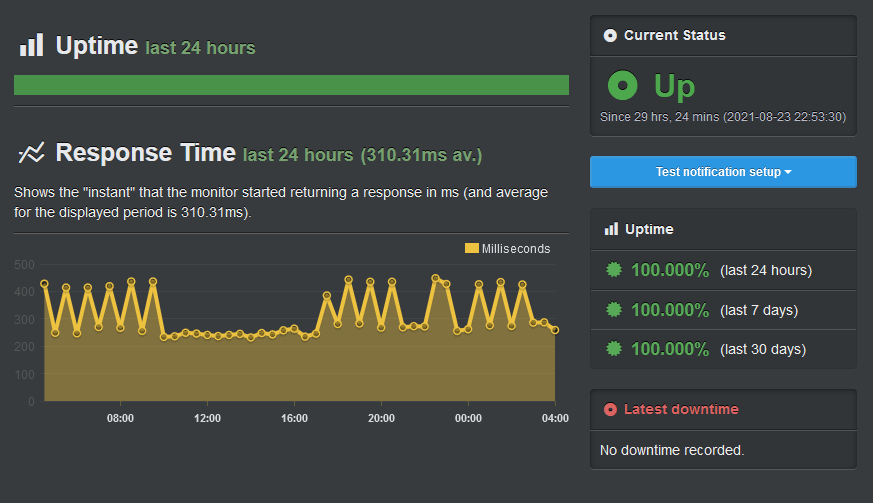 Support
I Had a Good Experience with Support, at Least
SUPPORT SCORE: 4.5 out of 5
If the aforementioned knowledge base and forum aren't enough to help you solve your problems, you'll actually have to talk to some people. I know, I know, but it'll be okay.
The support people I spoke to were helpful, polite, and fairly prompt.
The 24/7 support comes in two main flavors: live chat and the ticket/email system. You can also request a callback, but only in the US and Canada. It also costs money… So I just went with the live chat and tickets.
Live Chat
So remember how I was having trouble figuring out the UI at first? It's because I was trying to figure out how to connect a third-party domain to my VPS in order to use the WordPress installer. It took about 10 minutes to get my answer, and the agent diagnosed my problem immediately.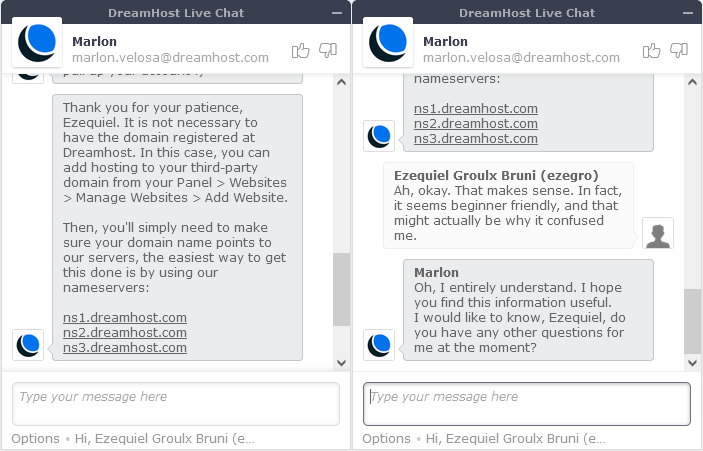 Then, I had some "site not found" errors when I tried to see my WordPress install. I got a solution in 4 minutes, and the problem turned out to be DNS propagation after installing my SSL certificate… in other words, I just had to wait for the problem to sort itself out.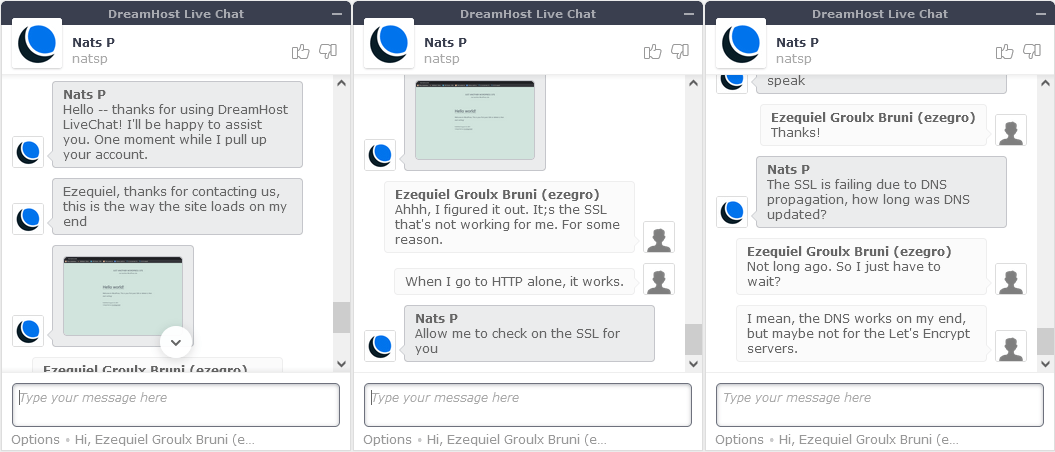 Ticket (Email)
Lastly, I submitted a ticket with a simple question: How would I install a NodeJS app if I wanted to? About 4 hours later, I got an email response with a link to a guide on how to install NodeJS on DreamHost. Actually installing the app would be up to me to figure out. Well… fair enough.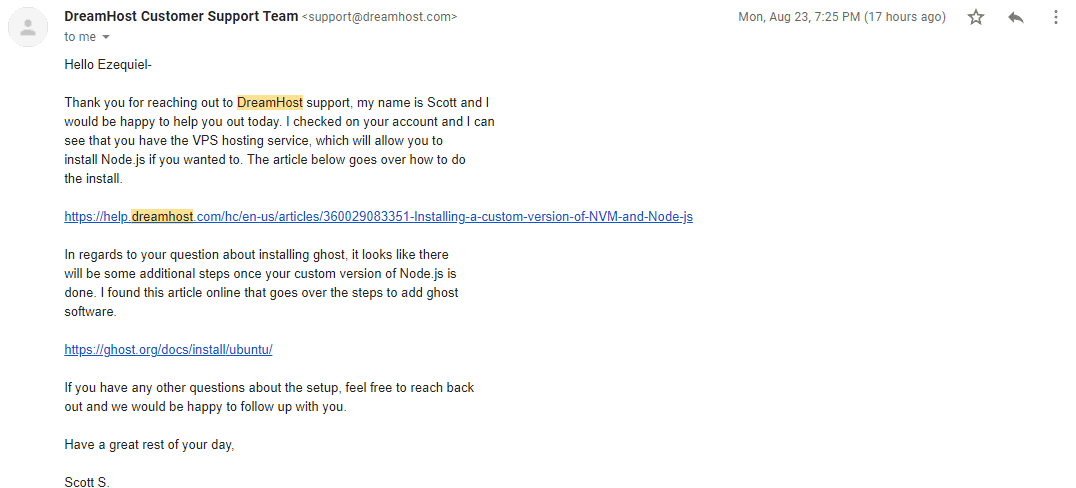 Pricing
Mostly Fair Pricing, for What You Get
PRICING SCORE: 4.5 out of 5
The plans are not cheap, as such. The lowest starts at
$
15.00
per month, if you pay for 3 years in advance. And yes, you get the biggest discounts by paying for three years at a time.
The prices mostly seem fair for the features you get, but the server performance and technological restrictions will be a definite turn-off for many.
And it seems a bit shady to not know how much processing power you get with a
VPS plan
.
But if you're not a developer, you'll benefit from the partially-managed service, and you can pay with any major credit card.
A free domain name is included with some hosting plans from DreamHost
Cancellations & Refunds
Cancelling a product is easy. Just go to your services dashboard, and
Delete
 the VPS in question.
Now, there are no refunds on monthly plans. At least, that's what the policy says. Somehow, I
did
 get a refund, though I wouldn't count on that sort of thing. You
definitely
 get a refund if you pay for at least a year in advance, and cancel within the first 30 days. It's not the best refund policy I've seen, but at least you're not locked into a long commitment if you're truly unhappy with the service right from the start.
The Bottom Line
Not Bad… If You're Not a Pro User
OVERALL SCORE: 4.5 out of 5
In the end, I think DreamHost's
VPS plans
 are best suited to beginners with medium-sized, WordPress-based websites. The problems with server performance might be offset by the relative convenience of the service, and the support you can get. Maybe. That wildly varied server performance is a killer, though, and pros who want to customize their servers will absolutely want to go for the cloud hosting service, or another provider entirely. In general,
Hostinger
and
InterServer
both provide better, more configurable servers, for less money.
GreenGeeks
gives better customer service and managed VPS plans, and
Kinsta
gives the best (though most expensive) WordPress experience.
FAQ
Do I need VPS hosting?
That largely depends on what you're doing. A regular five-page website about your business with some contact info and maybe a booking form doesn't need the sort of processing power you get with a VPS. If all you need is a starter website, then most shared hosting options will be just fine for you – such as the ones on our list of the 10 top web hosts for 2023. However, the moment you expand beyond that into a high-traffic website, or a high-powered web app, a VPS starts looking real good. They're also great for when you want to control every aspect of your server's environment, base operating system, and software in the background.
Is VPS hosting better than cloud hosting?
Generally speaking, yes. You get a dedicated amount of processing power reserved for your website(s) alone. And because each VPS is a self-contained server environment, what happens to one VPS on a physical server is unlikely to affect what happens to the rest. So, if someone else's site on DreamHost gets hacked, or hit with a ton of traffic, your VPS should be unaffected. The tradeoff, of course, is a higher price for the service. Cheaper VPS options abound, but cheaper plans are usually unmanaged, meaning you have to configure everything yourself. You can usually get started at a lower price if you check out our coupon page with the best hosting deals for 2023.
Does DreamHost have managed VPS hosting?
The advantage of DreamHost is that all of its plans are partially managed, and the prices are still reasonable. The team will take care of server maintenance, updates, fixes, and maybe even some application installs if you ask very nicely. If you're looking for fully-managed VPS hosting, our list of the top 8 managed VPS hosts in 2023 would be a good place to begin.
Is DreamHost VPS hosting worth it?
Honestly? Sort of? Maybe… but only for VPS beginners. For anyone who needs a basic CMS-based website (WordPress or otherwise), and the stability of a VPS, DreamHost provides a fairly simple package and a gentle learning curve. Combine that with great customer service, and decent documentation, this is one of the first great VPS options for beginners that I've seen. Pros, however, will want to go for the cloud computing service, or another provider altogether. The lack of root access on a VPS makes it hard to customize everything to be exactly the way you want it, which is something that developers often want to do. If you want to handle all the configuration yourself, InterServer has a great balance of price and features, while Hostinger has very cheap starting prices.