Monograms may seem simple, but creating one that captures your brand's essence is no easy feat.
This is your business we're talking about – you don't want to end up with a generic logo that no one pays attention to. What worked for another might not work for you. A good-looking logo isn't enough because your brand is more than just visuals. It's a story, a message, a mission. And
an actual human can help you tell that story with a well-crafted monogram.
Sure, automated logo makers have their merits, but I found that the touch of a skilled designer isn't something an AI logo tool can easily match. Keep reading to find out exactly how to make a monogram logo that stands out.
21 Best Monogram Logos
Let's dive right in. I handpicked visually appealing designs, but I also took a good look at each seller's profile. I wanted to make sure the logos I showcase here are created by versatile artists who are natural storytellers.
The Best Way to Get a Monogram Logo
I experimented with many services and even tested a few popular logo makers. Fiverr is now my go-to platform for commissioning monogram logos online, mainly due to its:
Bespoke Designs. Monogram logos, like all logos, should be personal. Top Fiverr sellers create custom-made designs tailored to your brand, ensuring your logo isn't just another template.
Affordable Rates. Traditional agencies can charge thousands of dollars for a single design. With Fiverr, you can get quality designs without burning a hole in your pocket.
Quick Turnaround. Most Fiverr sellers will deliver your logo in less than 3 days. If you want your design ASAP, most offer a 24-hour delivery add-on with their packages for an extra cost.
Diverse Pool of Talent. Diversity sparks creativity. Fiverr houses a vast pool of designers from different backgrounds, so you won't have trouble finding a style that fits your industry.
Secure Payments. The money you pay when ordering a logo isn't released immediately. If you're unhappy with the result (or your seller is unresponsive), you can easily claim it back.
How To Make Your Own Monogram Logo With Fiverr
Hiring someone to create your monogram for you is usually better if this is your first logo (or you already have a logo and want to make a monogram out of it). But Fiverr is unique because it doesn't limit you to hiring designers directly.
If you have experience or you'd rather work alone, you can take advantage of its DIY logo maker.
It's easy to use with one of the most extensive libraries of designer-made icons, elements, and font styles.
1. Do It Yourself With Fiverr's Logo Maker: Step-by-Step Guide
All you need to get started with Fiverr's Logo Maker is a company name, a rough idea of your logo's style, and more info about your company's personality.
The tool will automatically adjust existing, high-quality designs to fit your given requirements – you can then edit those to your heart's content. Note that
Fiverr Logo Maker is primarily used for ideation and crafting new designs
from scratch. It can't help you come up with a monogram of an existing logo. And some suggestions might not even contain a monogram at all. The good news is that there are thousands of options, so you're bound to find something you'll like.
Head to the official logo maker page
and click the "
Make Your Logo"
button. From there, just follow the on-screen instructions. Add your brand name, select your industry, and type any visual elements you want your logo to include. Since we're looking mainly for monogram designs, I recommend leaving this field empty.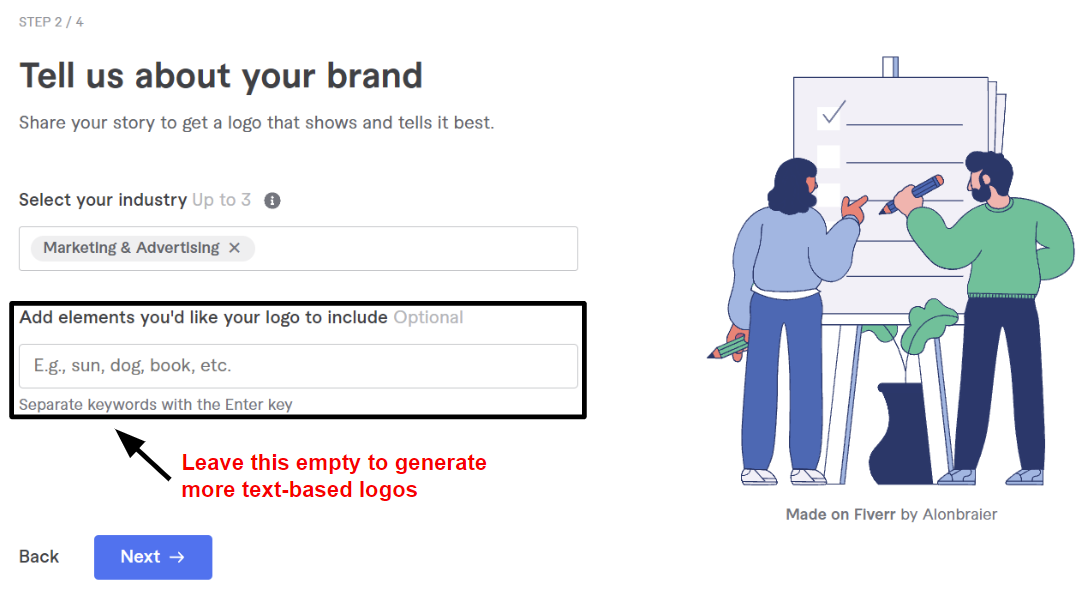 Next, choose a logo style, use the sliders to define your brand's personality, and hit the "
Make My Logo
" button when ready. At this point, Fiverr will prompt you to create a new account if you don't have one already. You can sign in with email or connect to your Google, Apple, or Facebook account. Scroll through the results until you find something you like. Pick one that stands out.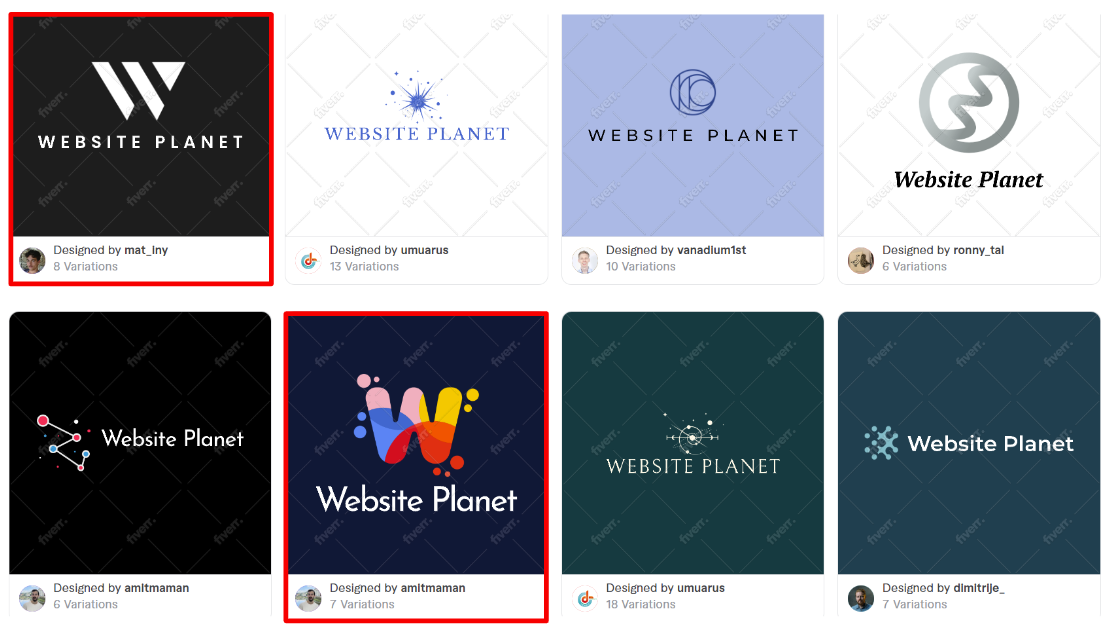 Choose a design variation and click the "
Customize This Design
" button. You can then play around with the colors, fonts, backgrounds, shapes, and layouts. The menu interface is pretty straightforward, and the editor is responsive, so you'll quickly get the hang of things.
You can delete the company name text if you just want a monogram.
Move the design to the center of the frame by dragging it down, and adjust its size if you have to. The pink editing lines should form a cross when everything's perfectly aligned.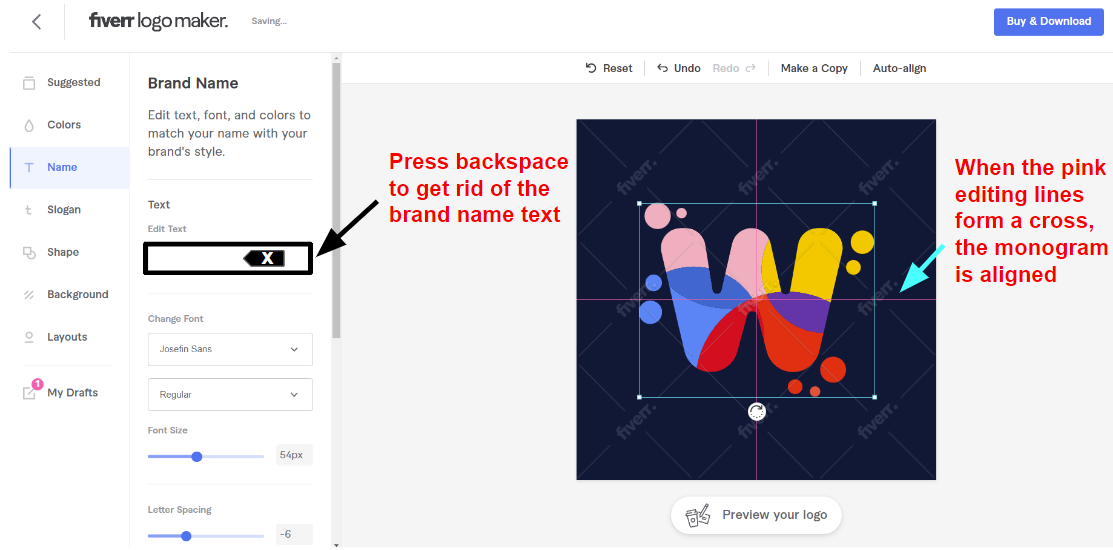 Preview your logo, and click the "
Buy & Download
" button in the top right corner. Choose a package, and you're good to go! The whole process shouldn't take more than a few minutes.
2. Hire a Professional Logo Designer
If you already have a clear idea of what your monogram should look like, you might want to hire a professional designer instead.
Fiverr's Logo Maker is good, but interacting with an actual human means more room for unique ideas and experimentation. Fiverr has simplified the process, allowing you to hire skilled professionals without breaking the bank. Once on Fiverr's homepage, you'll notice a prominent search bar at the top. Simply input keywords related to your desired service, like "monogram logo." Instantly, a list of freelancers specializing in that area will appear. To refine your search, use the filters on the left side. These can help you sort by budget, delivery time, seller level, and more, ensuring you find a designer that fits your needs.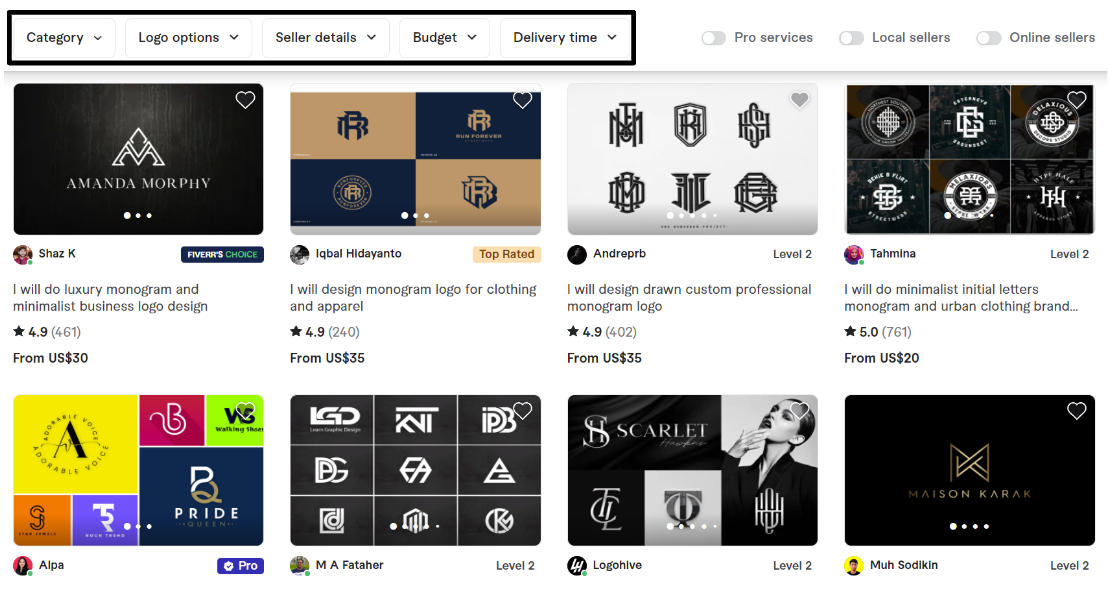 By clicking on a freelancer's profile, you can view their gig details, which typically include a description of services, pricing tiers, and delivery timelines.
More expensive packages usually include more file types, social media kits, 3D mockups, and more.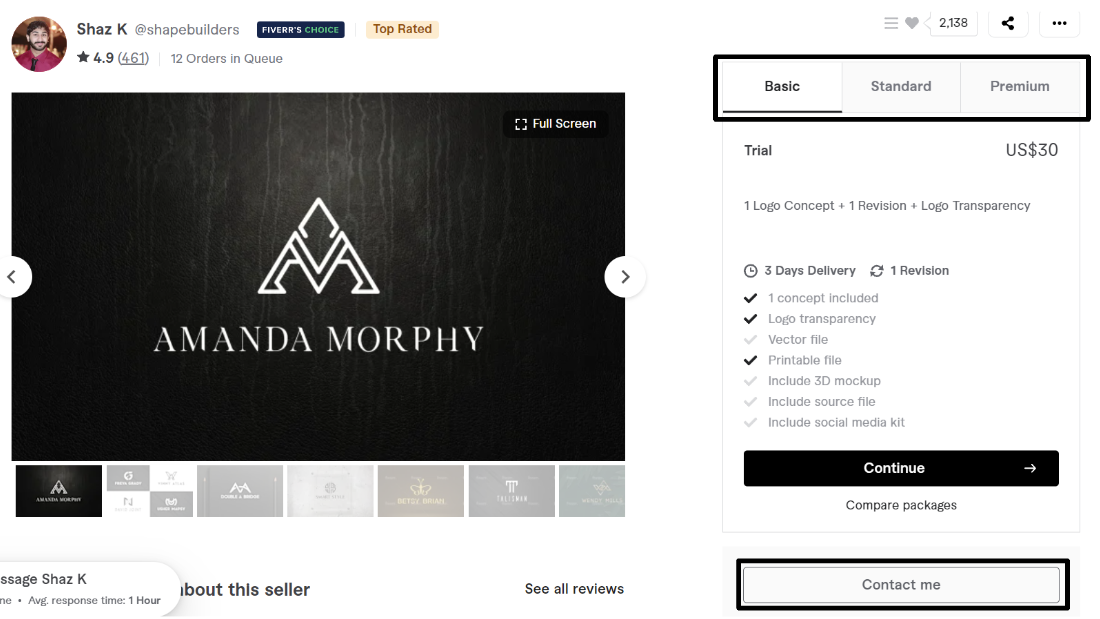 Before placing an order, make sure you click the "
Contact Me
" button. This opens a direct messaging portal where you can inquire about the freelancer's services, discuss your project specifics, or address any concerns. Placing an order is a breeze.
Select the package that best suits your needs on the gig page and click "
Continue
."
On the checkout page, you can review your order, input specific instructions, and proceed with payment.
3 Best Monogram Logo Services
Fiverr is my go-to choice for all logo-related tasks. I can use the advanced logo maker when I need something quickly. And if I'm looking for something specific and have more time, I can always
turn to a skilled professional
. That said, Fiverr isn't your only choice.
I've tested all the popular logo services, and a few deliver equally great results.
Wix's most compelling feature is its vast customization potential.
The platform provides unparalleled design freedom, ensuring every detail of your monogram resonates with your vision.
It also offers a free low-resolution sample to use as you please, which not many logo services do. Beyond crafting logos, Wix is also an excellent solution for crafting your website and marketing your business. And, much like Fiverr, it can connect you with professional designers if you need something more bespoke.
Most of Looka's icons and elements look great. Rather than leaving it to chance, the designers at Looka have diligently crunched the numbers, so you won't end up with something terrible – even if you try. That does come with slightly less design freedom, but it shouldn't be a huge issue if you're new to logo design.
Looka offers many add-ons, including a website builder, business card designs, and a handy social media kit for various platforms.
I also love how it lets me edit my logo for 72 hours after purchase – most competitors charge extra for that.
DesignCrowd doesn't offer a logo maker.
Still, with a community of over 700,000 designers, you can tap into a vast pool of creativity.
While the size isn't the largest in the industry, it offers an impressive breadth and depth of talent. With the "Top Designers" add-on, you can filter your contests so that only the best on the platform can participate. DesignCrowd also lets you keep your projects under wraps, safeguarding them from prying eyes with features like search engine blocking, NDA protections, and more.
The Best Monogram Logo Services in 2023
Creating a unique monogram logo online doesn't have to be complicated. Depending on your needs, you'll want to hire a professional designer on Fiverr or use a top logo maker that delivers excellent results. If you're looking for a flexible and reliable platform to get your monogram logo ASAP,
Fiverr is my top recommendation
.
It features a decent logo maker but truly shines with its massive gig selection. The packages are affordable, orders are always delivered on time, and the quality of the designs is unmatched. If you already have design experience and want to create something yourself,
Wix's Logo Maker is a great alternative
.
There are thousands of monogram styles and fonts to choose from, and you can customize your design to your heart's content.
FAQ
Are monogram logos good?
Monogram logos are effective because they provide a clean and recognizable brand representation. They're popular among businesses aiming for a professional and minimalist identity.
What makes a good monogram logo?
A good monogram logo creatively combines letters, making the brand easily identifiable. The design should be simple, memorable, and relevant to the brand's identity. Here are some great examples.
How do you make a unique monogram?
Consider incorporating design elements that reflect the brand's personality. Using distinctive fonts or symbols can also set your monogram apart. A top Fiverr seller can help you get all these right.
Why is a monogram better than a logo?
Monograms are not necessarily better than logos but are a specific type of logo. They're often chosen for their simplicity and ease of recognition, especially for brands with long names or wanting a refined look.