Constant Contact and ConvertKit are two email marketing services (EMS) that promise basic, easy-to-use email marketing tools. Since Constant Contact targets small business owners and ConvertKit was built for bloggers,
there's quite a lot of overlap in their audiences – but which one is better?
After thoroughly testing each service, I found some things I liked about both, but also a few problems – including
some important features that were missing altogether
. Overall, I preferred Constant Contact. In spite of missing a few essential features,
it's easier to use and Constant Contact offers better features for your money
. ConvertKit just can't match up with its flimsy email builder and lower deliverability.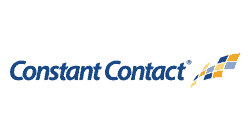 Constant Contact is now only $20.00 per month!
Sign up for an annual plan and enjoy the savings.
87 users used this coupon!
Features
Limitations Hurt Both Services, but Constant Contact Offers More
The first thing an email campaign needs is, well, an email.
Constant Contact offers over 300 email templates
, which is a pretty impressive collection. I found some designs outdated, but there are enough options to make up for the weaker templates. This also
vastly
outnumbers ConvertKit's measly 9 templates, all of which are pretty meh.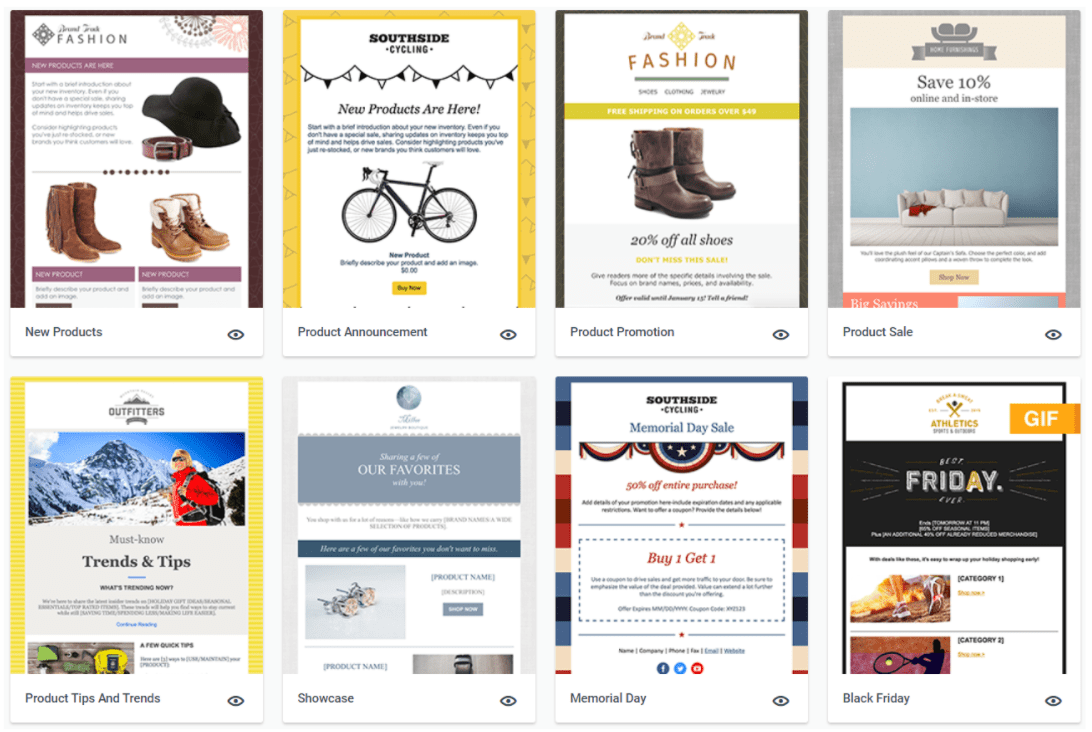 After comparing ConvertKit vs Constant Contact, Constant Contact is also the better pick when it comes to segmentation. True, ConvertKit lets you add tags based on contact behavior (links clicked and pages visited), which Constant Contact does not. But
you only get segmentation with ConvertKit's Creator Pro plan, which starts at

$

59.00

 per month.
That's seriously too much. Especially when you consider that Constant Contact's Email plan starts at
$
35.00
per month and gives you almost the exact same features – minus the contact behavior tags.
Constant Contact also offers quite a few unique tools.
It has an online store builder and an event manager that lets you organize webinars, product demos, lessons, and meetings. Plus you can set up local SMS campaigns through EZTexting – it'll be separate from your email campaigns, but it's nice to have the option. By comparison,
ConvertKit doesn't really do anything different from other services.
Only one tool stood out to me: a newsletter referral system that lets you reward people who bring in new sign-ups. Kinda cool, but not enough to make it better than other options out there.
Where ConvertKit
does
do better than Constant Contact is with automation
. You can make automation funnels, if/then statements, or generate emails by your RSS feed. It also allows you to set up promos and send emails to contacts with specific tags.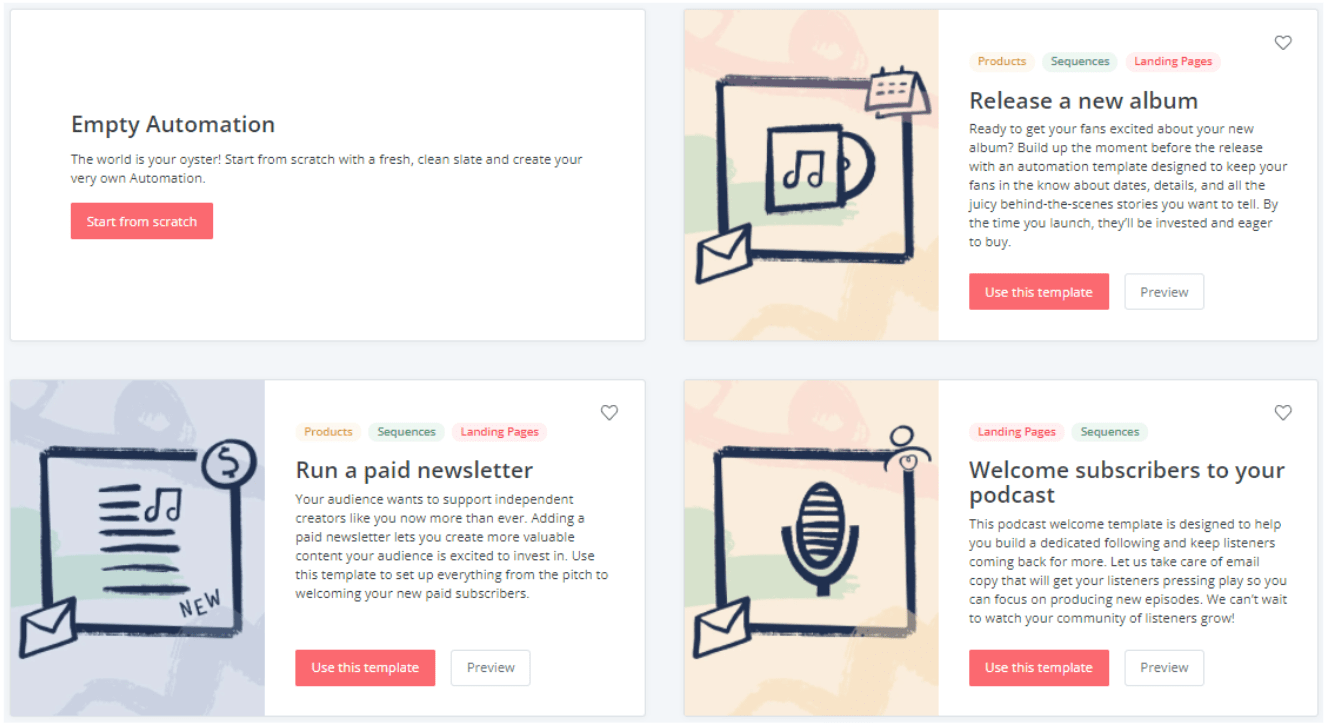 Given that Constant Contact had been doing pretty well up until now,
I was seriously disappointed with Constant Contact's limited automation tool
. You can only set up 3 types of automations: welcome, birthday, and anniversary. You can't send abandoned cart messages, deals for repeat customers, or set up a timed newsletter. Personally, I consider email automation an essential feature for any EMS… But, even allowing for that, I still think
Constant Contact overall offers a better set of features than ConvertKi
t. If you're sure you won't need complex automation sequences, Constant Contact isn't a bad choice. And if you
do
have more complex email marketing needs, ConvertKit's uninspiring templates probably aren't going to do it for you either – so I'd recommend looking elsewhere.
ActiveCampaign offers the gold standard in automation
, so that would be my pick. Beyond that, ActiveCampaign offers plenty of modern templates, impressive personalization options, and advanced segmentation. There's a reason it consistently comes out top in our list of the best email marketing services.
Ease of Use
Constant Contact Makes Sending Emails a Breeze
Constant Contact and ConvertKit are fairly easy for beginners to figure out
. The interfaces are easy to navigate, using the drag-and-drop editors is a breeze, and there's plenty of documentation to guide you when you need it. First, I took a look at the email editors Constant Contact and ConvertKit offer.
Constant Contact has a simple drag and drop editor
 that allows for a fair bit of customization. In addition to the email editor, Constant Contact gives you tools to
quickly build landing pages, sign-up forms, and online stores
. Since Constant Contact is partnered with Shutterstock, you can access millions of royalty-free images.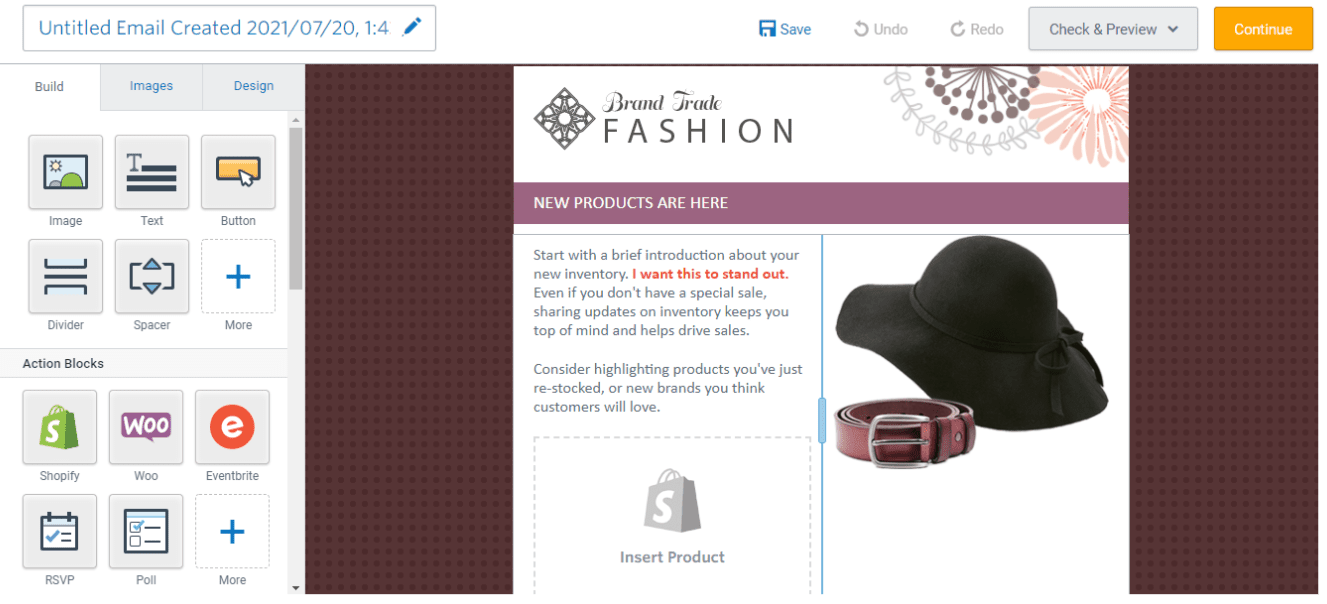 While I had a pleasant enough time using Constant Contact's email builder,
ConvertKit's email builder suffered from frustrating limitations.
It's annoying enough that you only have 9 templates to start with – but you don't get to customize much beyond that, either. All you can do is place text and images in a column layout, so don't expect to push boundaries with custom designs.
One nice thing about ConvertKit's email editor is its integration with Instagram and Unsplash
. I like that you can directly insert your Instagram pics into your emails, saving a lot of time! If you want to save time setting up your contact list, it's always worth checking out the options for importing your list.
Constant Contact does well here – you can import mailing lists from .csv, Microsoft Excel (.xls and .xlsx), .vcf, and comma-separated files.
ConvertKit only lets you import .csv files, or will transfer your list from the following services: Mailchimp, Drip, Infusionsoft, AWeber, ActiveCampaign, and MailerLite. That's great if you're migrating from one of these services. If not, you don't have a lot of options. Ultimately,
I found Constant Contact much easier to use than ConvertKit and the better service for beginners.
Deliverability
Constant Contact's Strong Anti-Spam Policy Puts It Ahead
If anyone tries to sell you a line promising "85% email delivery!", don't listen. There's no accurate way to pinpoint exact percentages like that.
We've put together an
in-depth guide on how to
really
boost your deliverability
, as well tips to boost your rates. In short, it's better to focus on the concrete things that we
know
affect deliverability: anti-spam policy, affiliate marketing policy, domain authentication, and dedicated IP availability. So, how does it compare when we look at ConvertKit vs Constant Contact? ConvertKit has a simple anti-spam policy. If you spam, you're banned. Straightforward, sure, but I prefer Constant Contact's more specific approach.
If over 0.1% of your emails get marked as spam, Constant Contact freezes your account and puts it under review.
This kind of policy makes me feel a lot more comfortable than ConvertKit's wait-and-see approach.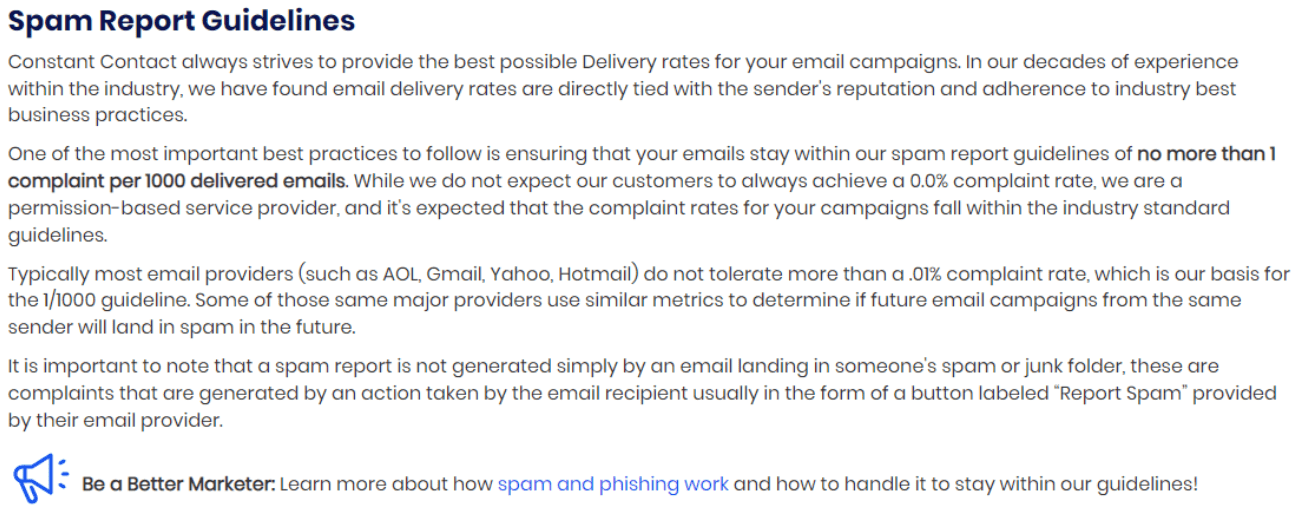 Constant Contact prohibits affiliate marketing, so you can rest assured that your server won't get flagged by spammy marketing tactics. However, if you're an affiliate marketer, this option may not be suitable for you. In that case, consider using ConvertKit, as it does allow affiliate marketing.
Both ConvertKit and Constant Contact have DKIM authentication
and even offer step-by-step guides to help you set it up. If you have a big business and/or send a lot of emails, you could benefit from getting a private IP, so you don't have to worry about sharing a server with others who might get it flagged as spam. Unfortunately, Constant Contact doesn't offer this option.
ConvertKit does provide dedicated IPs
, but only if you send 150,000+ emails per week. While I do like that ConvertKit offers private IPs, this is only useful if you've got a really big mailing list. Overall, I found
Constant Contact has higher deliverability overall thanks to its impressive anti-spam response and ban on affiliate marketing
.
Reporting and Analytics
Lackluster Reports Leave Much To Be Desired
Good reporting can make or break your marketing campaign. Unfortunately, I wasn't impressed with either Constant Contact or ConvertKit's analytics. First off,
Constant Contact's reports are all but useless
. These give you data on open rates, click rates, and what devices people were using. And that's it. No heatmaps, no geographical data, no information on time, no knowledge of which platform or email client the user was on… Nothing that can actually help you improve your campaign. So how about ConvertKit? Unfortunately, if you're on the free plan you only get reports on sign-up forms and unsubs.
You have to pay for the Creator Pro plan to get advanced reporting
if you want to track user engagement, clicks, and overall email deliverability. Which, spoiler alert, you should want to.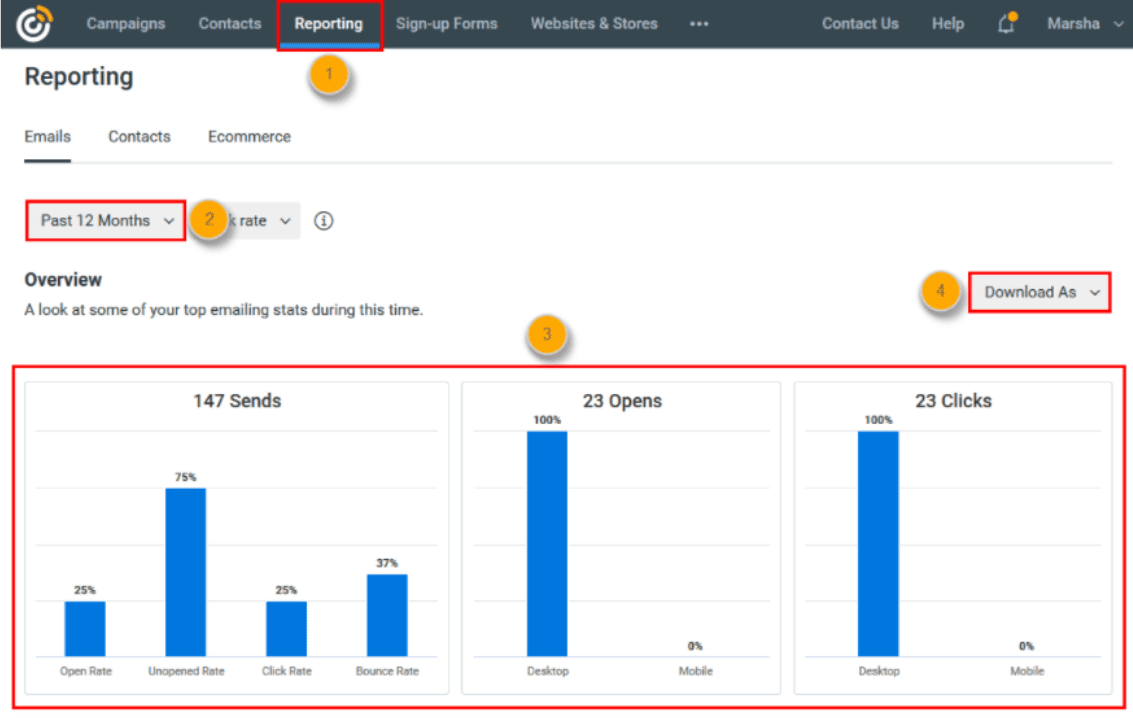 Constant Contact just wins out in this comparison, for the sole reason that you don't have to pay to access reports.
Constant Contact also includes campaign reports, so you can compare how well your campaigns did against each other, which ConvertKit doesn't have at all. Still, if choosing between Constant Contact vs ConvertKit feels like picking the best of a bad bunch, you might want to consider a different EMS altogether. If you want real insights that include worthwhile data, I again have to recommend
ActiveCampaign, which has some of the most advanced analytics available
. You can get reports on campaigns, contacts, automation workflows, and even self-defined goals.
Pricing
Constant Contact Wins – Just – For Better Features on Its Paid Plan
To be honest, neither ConvertKit nor Constant Contact offer the best prices for what you get.
Unlike ConvertKit, Constant Contact doesn't have a free plan at all.
You have to pick between its Core plan starting at
$
12.00
per month or its Email Plus plan starting at
$
35.00
per month. But on the other hand, when it comes to paid plans, Constant Contact offers more for your money. ConvertKit's prices are comparable – the Creator plan starts at
$
29.00
per month, and the Creator Pro plan at
$
59.00
per month – but you get far fewer features.
Here's What You Get for Free
Constant Contact doesn't offer a free plan, although you can check it out using the 30-day free trial when you first sign up.
If you're in the US, you get a 60-day free trial
, which is the longest trial period I've seen from any EMS. But that's where the freebies end.
ConvertKit has a decent free plan.
You don't have a limit on email sends, which is great if you're expecting to send a lot. Your number of contacts is restricted to 1,000, which is double the usual 500 I see with most free plans. A pretty great choice if you need the basics – but you'll have to pay to get handy features like automation and reporting.
Here's What You Get If You Pay
ConvertKit has slightly cheaper starting prices
,
but I still feel the Creator Pro plan is too expensive
for the features you get. You get "advanced reporting" (which isn't even advanced), subscriber scoring, and the newsletter referral feature.
Constant Contact's Email plan gets you pretty much everything you need to run a successful campaign.
But there's a few things missing, like surveys and new sign-up automations – which you'll have to pay significantly more to unlock with the Email Plus plan. It still doesn't feel like the best value given that some very crucial features are missing, but for me,
this is enough for Constant Contact to win this round – just
. To help you decide which plan is best for your budget, check out this comparison of Constant Contact and ConvertKit's two most similar plans.
ConvertKit Creator plan
Constant Contact Core plan
Starting Price

$

29.00

$

12.00

Automation

Yes

Partial

Segmentation

Yes

Yes

A/B Testing

Subject line testing

Subject line testing

Native Marketing CRM
No
No
Landing Page Builder

Yes

Yes

Support

Live chat and email

Live chat, phone support, and email
Support
ConvertKit Has Imperfect Yet Slightly Better Support
Constant Contact has phone support and a live chat available Monday through Thursday, 3 a.m. to 10 p.m., and on Fridays from 3 a.m. to 9 p.m. (ET). However,
I couldn't get live chat to work.
This could have been a one-off issue – my colleague praised the live chat support in his
Constant Contact review
. But when I tested it, clicking on the live chat option did nothing. Not such a constant contact, eh? (Sorry, I'll stop.) I did get in touch with an agent over the phone. The support agent picked up immediately and was able to answer my questions about importing my mailing list in a friendly manner. ConvertKit support was kind of hard to find.
It offers live chat and email support, but no phone support.
I went the email route.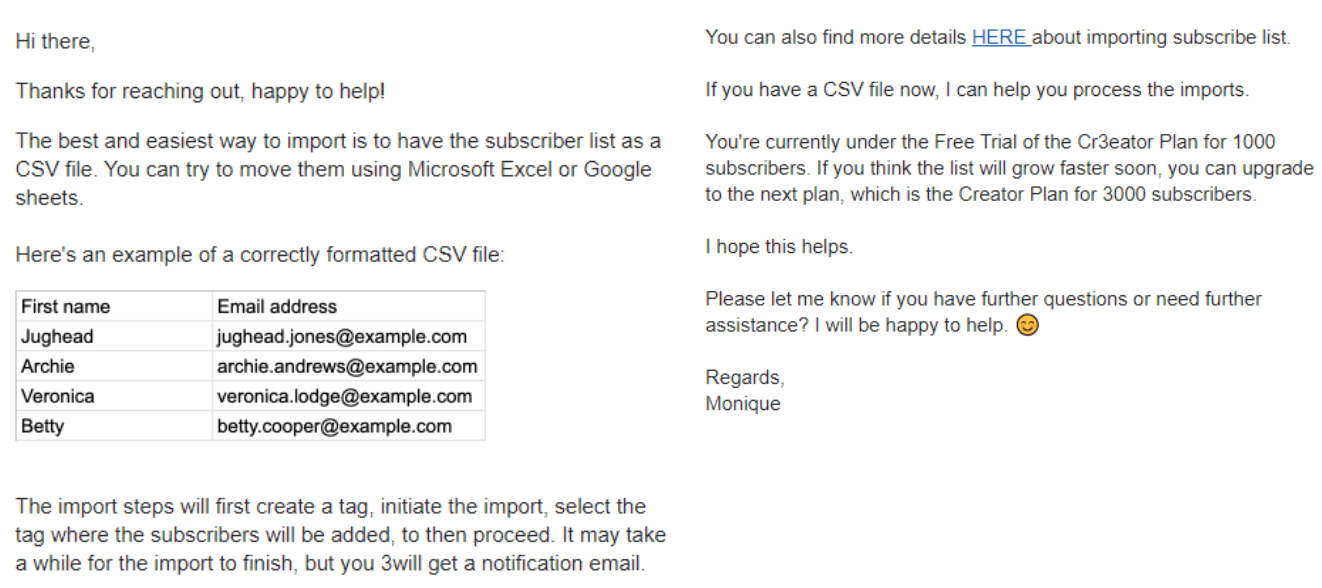 I was really impressed with how quickly ConvertKit responded to my email
(in under 20 minutes!), and the agent was thorough with their response. While the answer about importing my mailing list from a Word doc wasn't what I wanted to hear, they still offered helpful information. Neither support experience was perfect, but I was more disappointed by Constant Contact's broken live chat.
Since ConvertKit seems to have functional support and their agent responded to me extremely quickly, it gets my vote for this round
.
Constant Contact Is Overall Better Than ConvertKit
Overall, I'd recommend Constant Contact over ConvertKit for its ease of use, better deliverability, and wider range of features for the price. Based on my experience,
you'll get a better experience with Constant Contact
.
But honestly,
I wasn't blown away by either Constant Contact or ConvertKit.
It's frustrating – I feel if I could mash the best parts of each, I'd get a great service! As mentioned earlier, Constant Contact has a few significant drawbacks. If you intend to engage in complex automation sequences and plan to regularly analyze your campaigns, opting for an alternative EMS is advisable. For me, that's got to be ActiveCampaign. As well as offering some of the most advanced automation and reporting that's out there,
ActiveCampaign is a solid all-rounder that we consistently rank as
the best EMS currently available
. Want a quick overview of everything I've discussed above? Take a look at the comparison of the features you get with Constant Contact vs ConvertKit, which lays out why I think Constant Contact is slightly better:
ConvertKit
Constant Contact
Templates
300+ templates with clean and simple designs
Automation
Yes
Yes, but severely limited
Native SMS Automation
No
Yes
Apps and Integrations
Over 3,000 apps through Zapier
Over 3,000 apps through Zapier
Landing Page Builder
Layout limited to the template you select
You can easily create a landing page in minutes
A/B Testing
You can only split test subject lines
You can only split test subject lines
Unique Features
Newsletter referral system
Event manager, online store builder, and EXTexting
Ease of Use
Can be tricky to navigate and find everything
Very easy to use and beginner friendly
Deliverability
Less than ideal anti-spam policy
Strict, hands-on anti-spam team
Reporting and Analytics
Limited reporting hidden behind a paywall
Limited reporting, but included in the cheapest plan
Pricing
Free plan, or paid plan starting at

$

29.00
No free plan, or paid plan starting at

$

12.00
Support
Email support and live chat
Live chat and phone support
FAQ
Is ConvertKit any good?
ConvertKit is decent if you're looking for a free plan, but it quickly becomes too pricey for the features it offers. It'll do the basics, but it lacks solid reporting and the deliverability you'll get with an EMS like ActiveCampaign.
What is Constant Contact used for?
Constant Contact is an email marketing service. You use it to send email campaigns to promote your business. It has a whole host of features including an online shop builder, so you can use it to sell products. You can also use it to host webinars with its event management tool.
What is the purpose of ConvertKit?
ConvertKit is an email marketing service that covers the basics. You can use it to send emails to advertise products, keep contacts up to date with newsletters, and make announcements. However, I can't say it's the best at what it does. You can get the same and more from any of our top-picked email marketing services.
Can you use ConvertKit for affiliate marketing?
Yes, ConvertKit allows affiliate marketing. You can also join the ConvertKit affiliate program to make commissions when people sign up to ConvertKit through your link.