Constant Contact is one of the best, original email marketing services – which means its templates range from shiny and new to tired and out-of-date.
I tested out all the available email templates and found several options where I could feature my own branding, customize the designs and include easy integrations for my clients.
You can try them all out with Constant Contact's free trial.
While Constant Contact has a wide range of mobile-friendly, highly customizable designs,
there's also a handful of layouts I'd avoid
. I know how time-consuming it is to add your own branding to emails, and it's hard to create something truly unique when you're using a template. That's why I've also included a list of my favorite Fiverr designers who specialize in templates for Constant Contact. You can
get professional, one-of-a-kind designs for a surprisingly low price – as little as $5
.
Get Your Email Templates Designed for $5
If you want to avoid using the same templates every other Constant Contact customer is using, plus save yourself time and hassle, I'd consider hiring a freelance designer instead – you'd be surprised how inexpensive it is.
Thousands of experienced designers offer their services through Fiverr, and some charge just $5 for a template
. Many even specialize in Constant Contact designs, so you can rest assured that your layout will fit seamlessly into your email marketing campaigns. These are the Fiverr designers I would recommend: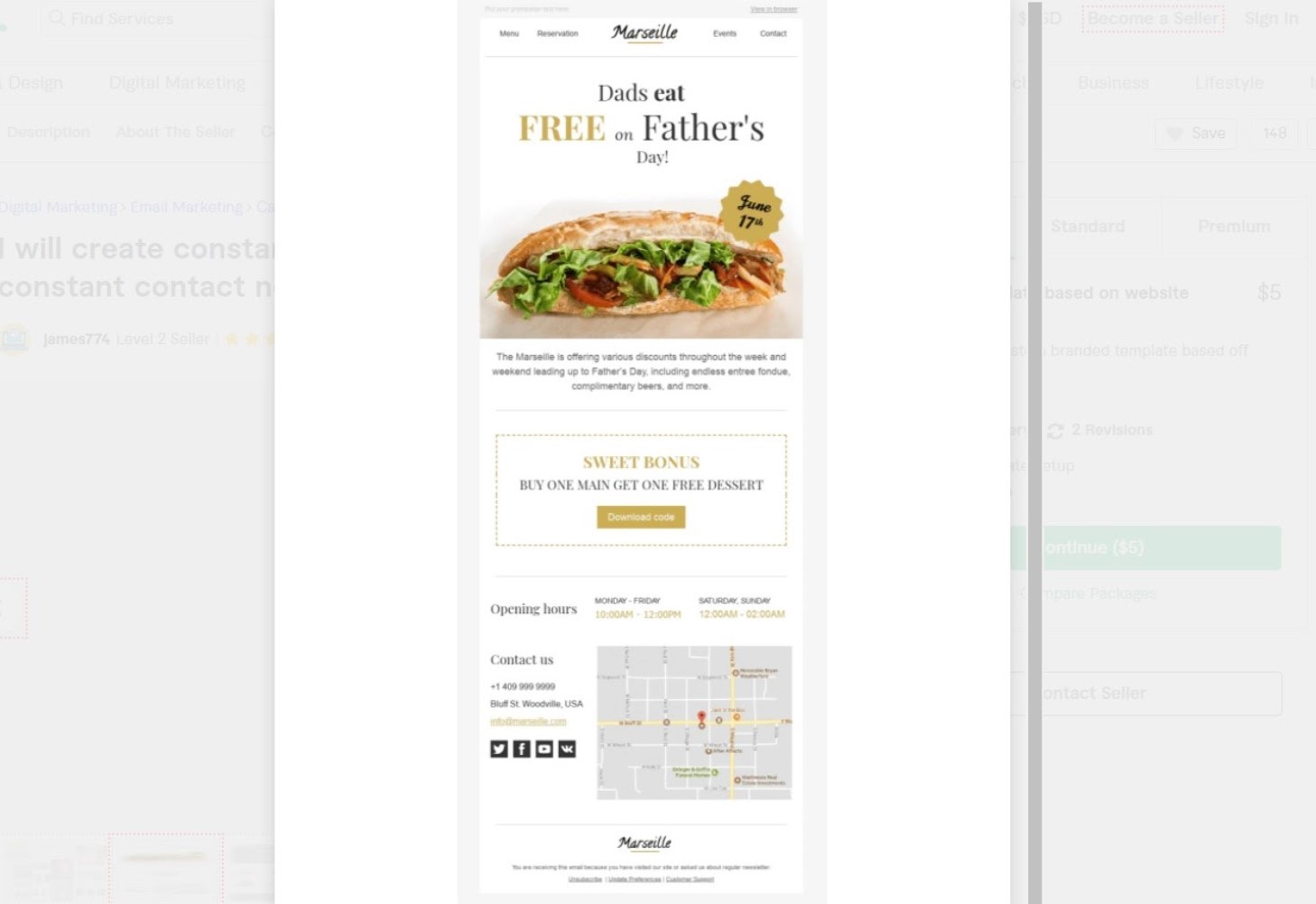 James774 offers email templates for just $5, including unlimited revisions and unique layouts to help your business stand out, all delivered within two days.
As a Level One Seller, he's received  consistently good reviews, maintaining at least a 4.7 star rating over the course of 60 days, so you can rest assured he's proven himself as a high-level designer. James774 also works in more than 40 different languages If you've got the same concerns about setting up automations for your Constant Contact campaigns,
James774 also offers to set up email automations for $10
–
 that's another headache you can say goodbye to.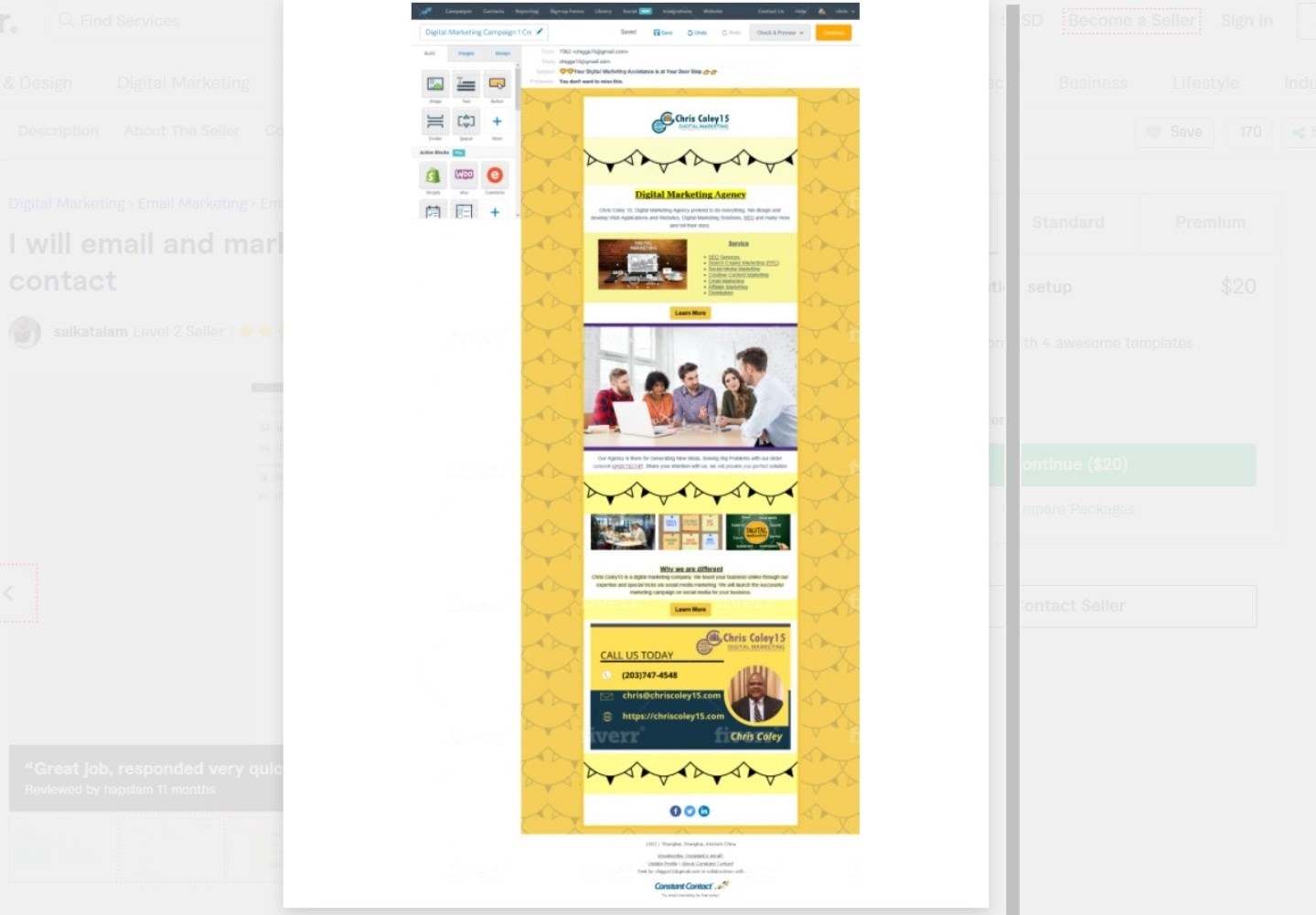 For $20, you can hire Saikatalam to create four Constant Contact templates and set up marketing automation.
This Level Two Seller (which means he's completed at least 50 orders with a rating of at least 4.7/5) can handle the entire process, from design to implementation, while helping you save time – all for
$5 per template
. Every single one of Saikatalam's reviews is five stars, and they all mention the speed in which he completes gigs.
I also love that he offers a free 20-minute consultation to help you with your marketing strategy.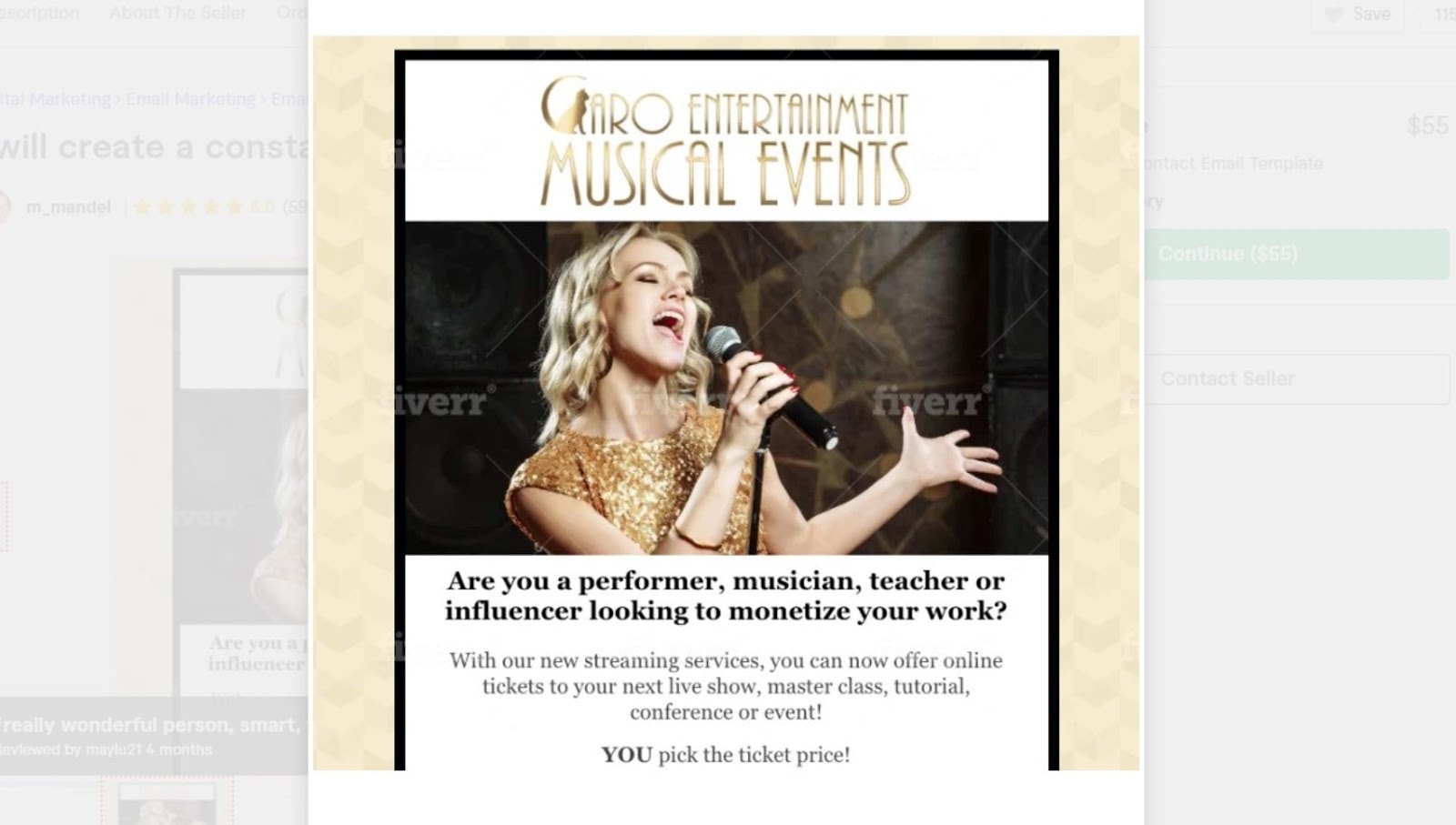 If you have a slightly larger budget, you may be able to hire an experienced digital marketer.
M_mandel creates professional templates that can include call-to-action buttons, logos, links, and other elements that drive results for your business.
If you're under a tight deadline, you pay an extra $5 and M_mandel will deliver your email template within two days instead of three. She also offers
another gig on Fiverr
 where she'll be your 'Constant Contact assistant' for $10. She can help you with editing existing email templates, scheduling campaigns and uploading contact lists.
What Built-In Constant Contact Email Templates Are Available?
With more than
100 email templates available
, I found that Constant Constant had plenty of choice to meet my needs without overwhelming me.
All templates are mobile-responsive and have adjustable columns and layouts
, which gave me confidence that I could make almost any option into a professional-looking email.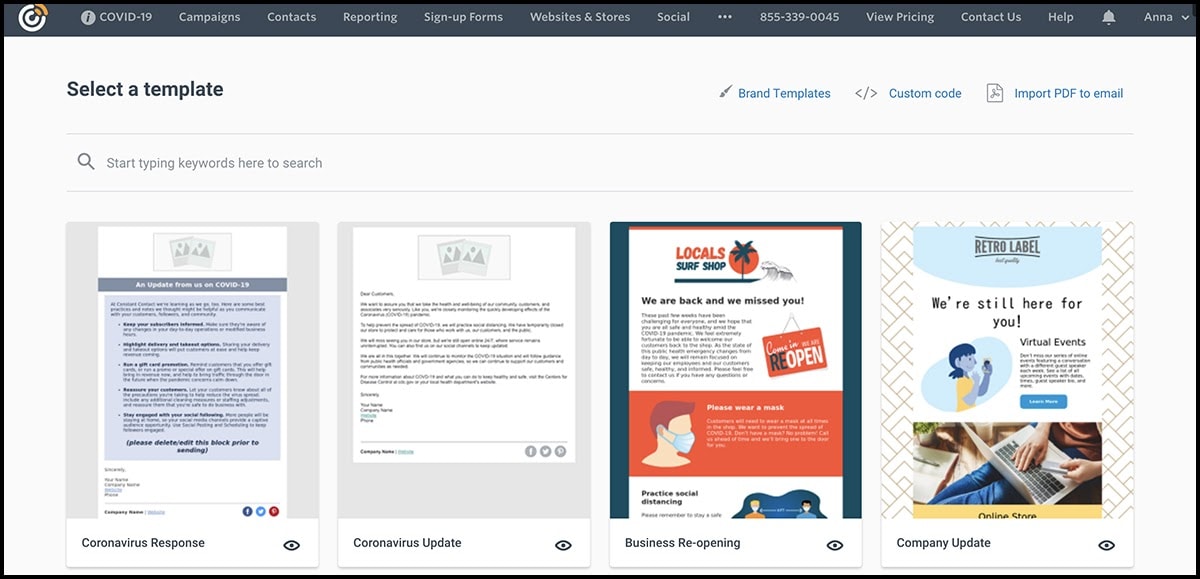 One minor downside to the Constant Contact template gallery is that it doesn't have preset categories aside from "basic" and "holiday." Yet it does have a search engine, so I could find newsletter templates and other layouts easily. The holiday category had the most options by far, but my searches also turned up dozens of newsletter and e-commerce templates.
Some third-party marketplaces like
ThemeForest
and TemplateMonster have several email templates for Constant Contact
, which can be good if you need additional premade options and you're in a hurry. I would probably choose the built-in options for simplicity, but I was pleased to see that Constant Contact has options allowing for more customization.
If you're an experienced designer, you can code an HTML template from scratch, or you can upload a PDF and send it as an image-based email
.
The Best Constant Contact Templates
After making my way through the Constant Contact template gallery, I found several designs that I thought were good enough to add to my regular rotation. Check out five of my favorites for newsletters, e-commerce, and more.
1. Brand Templates – The Best Template for Showcasing Your Business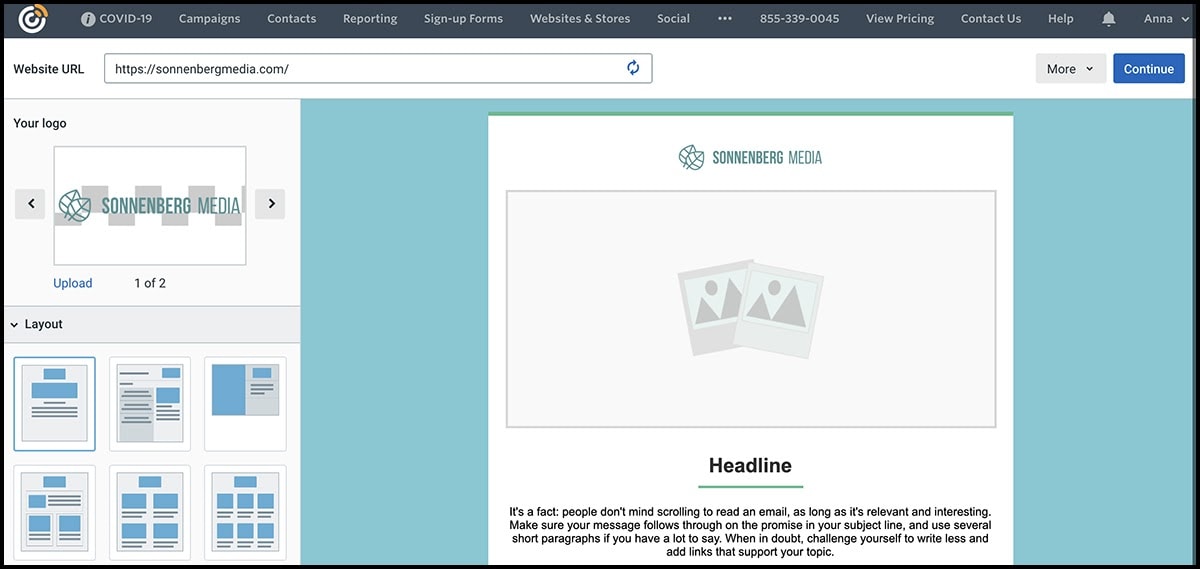 Taking time to upload my logos and brand colors is one of my least favorite parts of using a new software platform. I was happy to find that
Brand Templates
 did this part for me.
After entering my agency's URL, Constant Contact automatically imported my logo and brand colors.
The default
Brand Templates
 look is pretty basic, but it would work well for a welcome email or an announcement. If you need to add more information to my email,
you can change the layout to one of the two- or three-column options with a single click
. You can also choose a color scheme based on your website or logo — or opt for a completely different set of colors.
2. Basic Newsletter – The Best Template for Company Updates
Because I send out weekly and monthly newsletters, I need good templates for routine updates.
Basic Newsletter
 makes a great choice for updates since its layout is ideal for news. I like the prominent headline at the top of the email and the smaller slots for events and blog posts that follow.
I also appreciated that I could easily add more sections to this template using Constant Contact's drag-and-drop editor
– you can see how we got on with it in our in-depth
Constant Contact review
.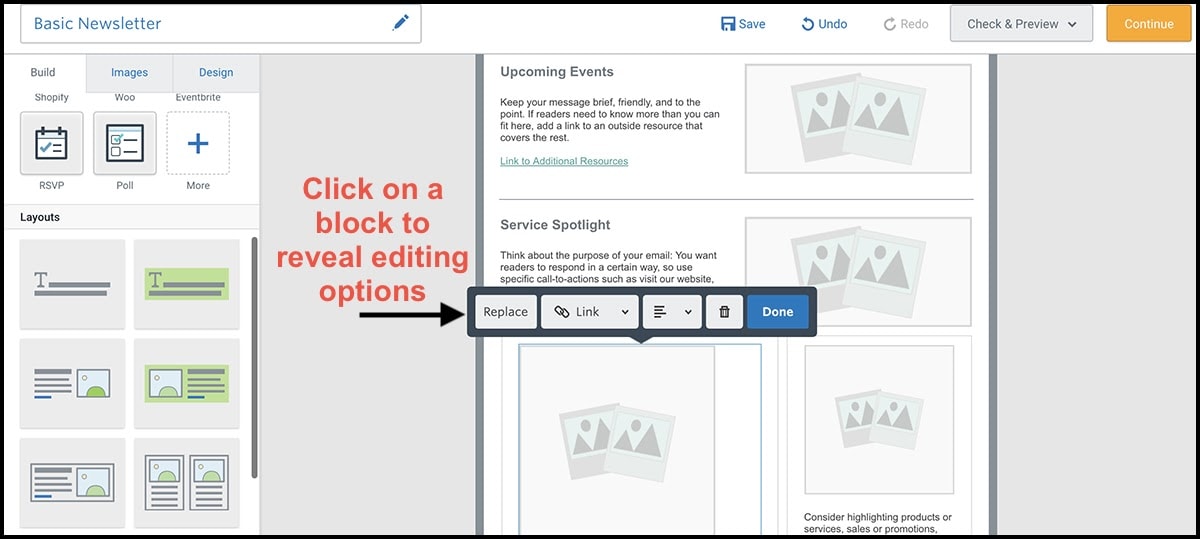 No matter what you want to add or remove,
it's easy to modify any part of the template
. By clicking on any block, you can add a link, change an image, or adjust the text alignment. I like how the available editing options appear right above the content block so you don't have to hunt for them elsewhere on the dashboard.
3. B2B Welcome – The Best Template for Orienting New Subscribers
A solid welcome email is critical for any email list since it's one of the first messages new subscribers receive. I think
B2B Welcome
 would work well for B2B and B2C clients alike, although I would replace the default graphic with a branded or stock image.
Constant Contact has thousands of free stock images, giving you plenty of options.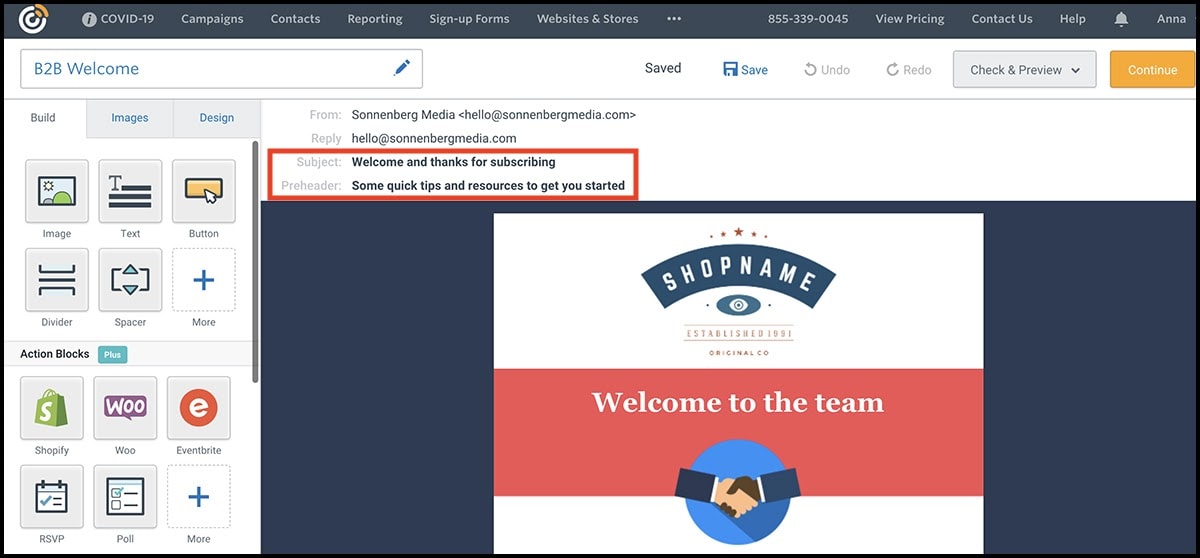 This template has placeholder text that's actually helpful.
The content blocks include recommendations that help me decide what to write and how to organize my message.
It also has a decent default subject line and preheader text to work from.
You can easily add polls to this template, too
. I often survey subscribers in welcome emails, because this process helps me understand how I can help them.
4. Exclusive Coupon – The Best Template for E-commerce Deals
Many of my agency clients have online stores, so good e-commerce email templates are a must. The
Exclusive Coupon
 template is ideal for sending out new product announcements or online coupons. I like that this template has an uncluttered layout, a clear focus on the discount, and a button subscribers can click to purchase.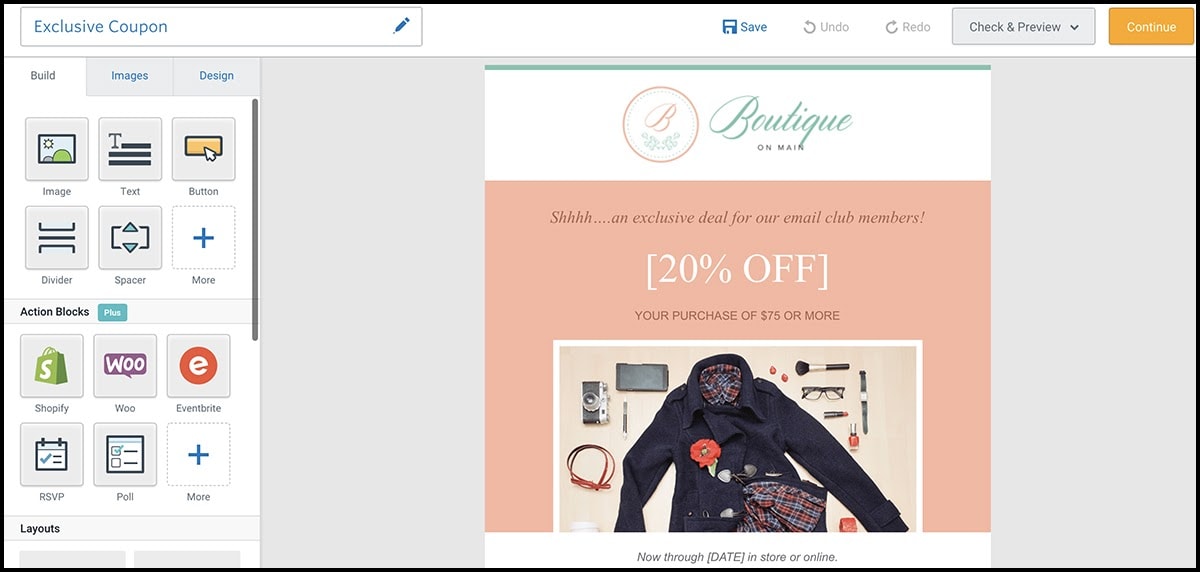 I like that
Constant Contact offers Shopify and WooCommerce integrations
, so you can connect your store and insert product links with a couple of clicks. This template would also work well in an automated series targeting new customers or frequent shoppers. While Constant Contact does allow dynamic content in this type of template, you have to sign up for the higher-priced plan to use this feature.
5. Event – The Best Template for Collecting RSVPs
My clients often host online events, which means I need a good template for promoting webinars and other virtual happenings.
Event
 is ideal for this type of messaging, thanks to its who / what / when / where layout.
 I also like that it has a built-in section for donations, which works well for nonprofit clients.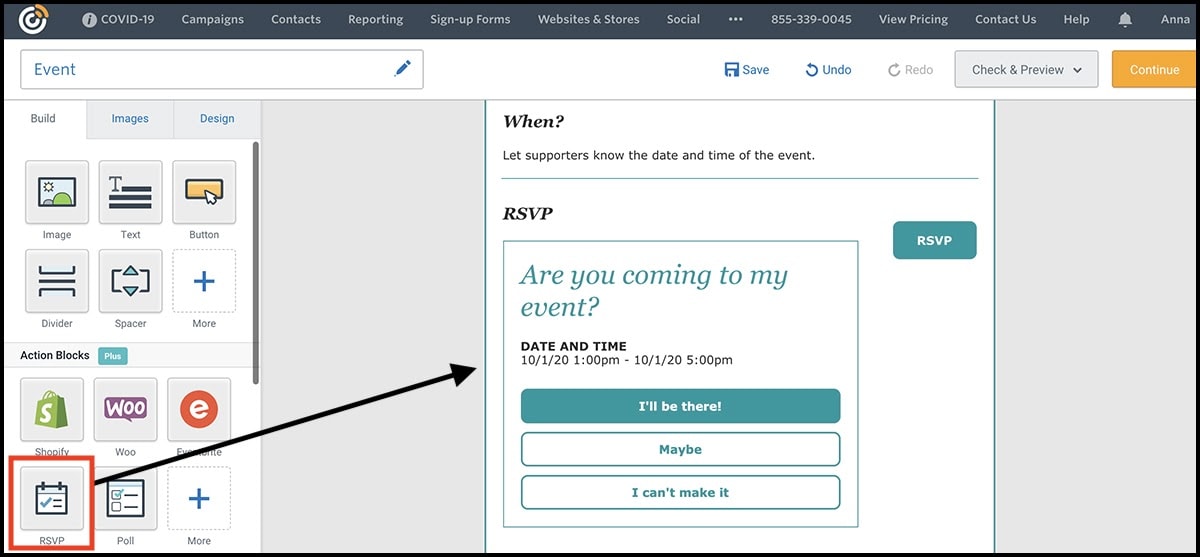 This template doesn't have an RSVP widget by default, but you can add one with the drag-and-drop editor. It's easy to change the column width and adjust the padding to make the RSVP section as attention-grabbing as possible. Curious about how my favorite templates compare to each other? I created a table highlighting each of my top picks and rating their designs and user-friendliness.
| | | | | |
| --- | --- | --- | --- | --- |
| Template | Perfect for | Design | Ease of Use | Standout Features |
| Brand Templates | Custom branded messages | 10/10 | 9/10 | Automatically imports your brand details |
| Basic Newsletter | Routine updates | 8/10 | 9/10 | Lets you highlight major news or share smaller updates |
| B2B Welcome | Automated welcome messages | 8/10 | 9/10 | Orients new subscribers and supports polls |
| Exclusive Coupon | E-commerce | 10/10 | 9/10 | Easy to integrate e-commerce site and add products |
| Event | Online and offline events | 9/10 | 9/10 | Tracks interest and registrations with RSVP add-on |
Constant Contact Templates to Avoid
Constant Contact's template gallery has many more than the five I highlighted. Yet I'd never use some of them for my agency or clients. In fact,
I would suggest avoiding the three templates below.
If you can't find what you're looking for in the gallery, I'd recommend
hiring a designer on Fiverr to create a custom template for you
.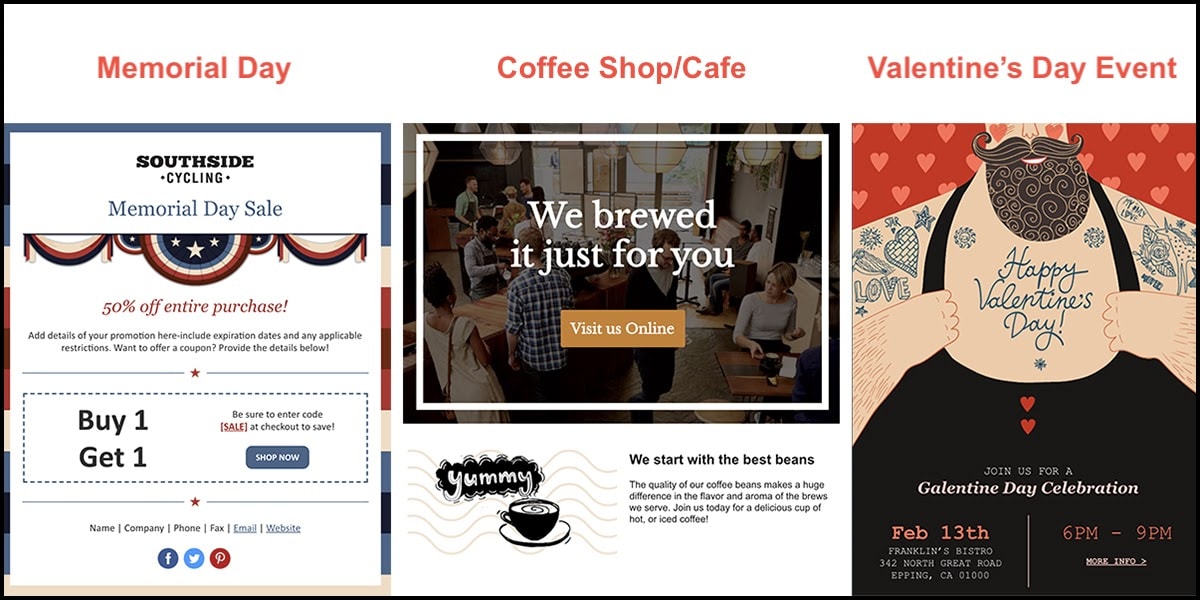 Memorial Day: While I appreciate that Constant Contact offers plenty of premade holiday email templates, many seem outdated. For example, Memorial Day is overly busy with no clear focus. I imagine it wouldn't convert well for my e-commerce clients.
Coffee Shop/Cafe: You can change virtually any element in Constant Contact templates – unless they include pre-selected stock images. That means it isn't possible to change the header image in Coffee Shop/Cafe, which would be a deal-breaker for me.
Valentine's Day Event: I always avoid image-based emails if possible since subscribers can't always download them. Although this template has a nice holiday-themed design, it relies too heavily on an image, which some subscribers may never see.
How Do You Build a Custom Constant Contact Email Template?
Constant Contact makes it easy to create a custom email template, even if your design skills are limited.
 You can start from scratch and write your own HTML template, or you can customize one of the platform's automated branded templates. If you want to make your own template, select
Blank Template
, then set design elements, like background colors, font choices, and button styles. You can then drag and drop content blocks, images, buttons, and other elements into the template.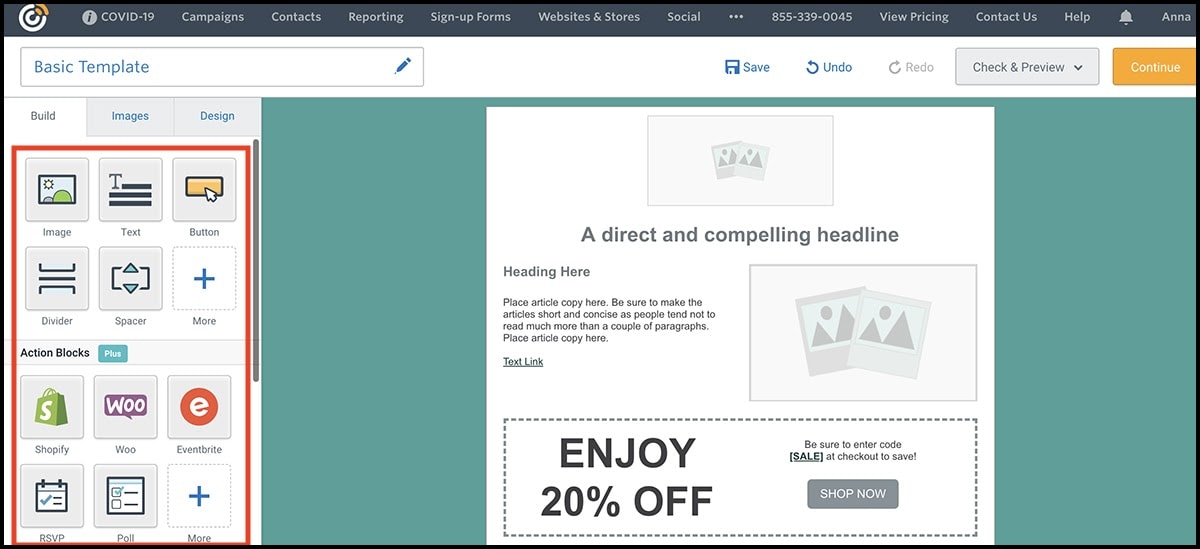 Once finished, just save your template and you can copy it when you're ready to create a new campaign. If you want to save yourself some time, and get something truly unique, I'd recommend hiring a professional designer instead.
 I was surprised to find that some freelancers charge as little as $5 to produce a branded email template.
Does Constant Contact Offer What You Need?
With more than 100 mobile-responsive templates, Constant Contact has dozens of options for almost any email campaign you need to send.
 Since Constant Contact lets you create branded designs, customize premade layouts, and add e-commerce or survey integrations, you can put these templates to work for just about any purpose. Yet Constant Contact does have some limitations. It doesn't have a standard template library where you can save your creations. Instead, you have to design blank campaigns and copy them to use as templates. Constant Contact also lacks many industry-specific and transactional options. If you need a template with a bold contemporary design or for complex e-commerce automations, I'd recommend
hiring an experienced designer via Fiverr
or trying another service like ActiveCampaign. Take a look at our
Constant Contact review
, our
ActiveCampaign review
or any of these
top email marketing services in 2023
.
Ultimately, Constant Contact is great for basic email templates and branded emails. If you need transactional email templates that work with your drip campaigns, go with ActiveCampaign, which has more tech- and e-commerce-focused designs.
FAQ
How do I create an email template in Constant Contact?
Constant Contact has a few options for creating email templates. You can customize one of the 100+ templates or build your own using the drag-and-drop editor. You can also code your own HTML template or upload a PDF, and you can try it all out with Constant Contact's free trial.
What is Constant Contact and what does it do?
Constant Contact is an email marketing service (it's even on our list of the best email marketing services in 2023)  that lets you send out newsletters, e-commerce announcements, and automated messages. It's also a marketing suite with a website builder, a logo maker, social media posting, and pay-per-click (PPC) ads. You can access most email marketing tools with Constant Contact's basic plan or upgrade to the higher-priced plan to use all of the platform's marketing tools. Make sure you look at our Constant Contact coupons first though so you can save yourself some money.
Which is better – MailChimp or Constant Contact?
Both MailChimp and Constant Contact offer email and select marketing features, yet Constant Contact is better because it has a more straightforward drag-and-drop editor, subscriber segmentation, and Shopify integration for e-commerce. Constant Contact also has a wider range of marketing tools, such as PPC ads and social media posting and monitoring.
Is there a free version of Constant Contact?
Constant Contact doesn't have a free version. All accounts are paid and priced based on your number of contacts. However, Constant Contact does offer a free trial so you can test out the service for yourself. The free trial lasts for 60 days, which is much longer than trials for most other email marketing services.