MilesWeb claims to be the number one hosting provider across the world. It's not, but don't let that put you off.
It does, however, offers premium features, 24/7 customer support, and an easy-to-navigate website.
If you've decided to give them a try (why not, there's a decent money-back period), this post will take you through the easy, ten-minute process to set up a WordPress website and connect a domain.
Step One: Log into Your cPanel
Once your account has been activated (mine needed to be verified for security reasons), you can log into your dashboard and select the hosting service. Then you can log into the cPanel, which will open in a new tab.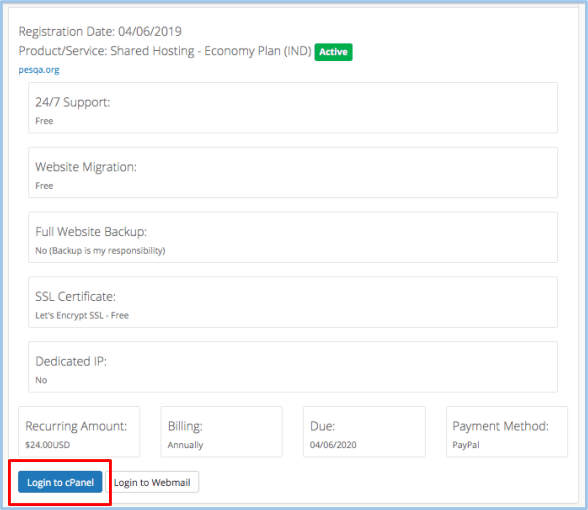 Step Two: Install WordPress
If you've used cPanel before, this process is going to be simple. Once you're inside the cPanel, scroll down to the
Software
section and click on
Softaculous Apps Installer
.

Next, you need to select
Install
on the WordPress icon. On the following page, scroll all the way to the bottom of the page and select
Install
again, leaving all of the settings in their default positions.

That's it. Now all you need to do is wait a minute or so for the installation to be complete. Once it's done, you'll see a success message on the screen.

Step Three: Map the Domain
Now that you've successfully installed your WordPress website, all that's left to do is map your domain. Of course, if you purchased one from MilesWeb, you can skip this step and start creating your site immediately. To map your domain, head to your inbox to grab the nameservers from the welcome email. Take these over to the Domain Name System (DNS) manager of your domain registrar (e.g., GoDaddy) and update the nameservers accordingly. If you have any problems, you can use your registrar's live chat. It should only take a minute or two, then you're done.
Predictable and Easy
The utilization of cPanel and Softaculous, as always, ensures the reliability and predictability of this process. Completing it takes merely a few clicks and less than ten minutes. Rest assured that if you encounter any difficulties, our 24/7 live chat support is here to assist you. If you're keen to learn more about MilesWeb, I'd recommend reading the in-depth review
here
. It digs deep into the data and the company and services, and it could help you figure out if it's the right host for you. Alternatively, if you're a developer needing a more powerful and robust feature set, I'd recommend reading about
Vultr
and
AWS
.