Although both offer great value, you have to understand what sets them apart in order to choose the best solution for your project.
 Otherwise, you might be stuck with a restrictive plan or end up paying more for features you don't really need. WP Engine is a fully managed solution that focuses entirely on WordPress. Cloudways, on the other hand, gives you the option to work with WordPress or with other popular frameworks like Magento, Joomla, PHP, and more. But Cloudways is not a fully managed service, so you have to take care of plugin updates and the overall functionality of your website or app on your own. To properly compare Cloudways and WP Engine, I've researched and tested their managed WordPress solutions. WP Engine came out on top in most categories.
Click here to see WP Engine's best plans
, or read on to see if Cloudways could be right for you.
1. Plans and Pricing
Cloudways Has Cheaper Options, but WP Engine Gives WordPress Users More Value
WP Engine offers three main plans for fully managed WordPress cloud hosting.
 All plans are built on the same infrastructure and have access to all of WP Engine's features, but you get more websites, bandwidth, monthly visits, and storage at higher tiers. With the Startup plan, for example, you get one website, 10GB of storage, 50GB of bandwidth, and 25,000 monthly visits. You get two free months of hosting if you opt for a prepaid yearly plan. Although you can choose between several frameworks with Cloudways, I've focused on managed WordPress hosting in order to make a fair comparison between the two services. Unlike WP Engine,
Cloudways lets you choose your own infrastructure and this has a significant impact on pricing.
 By opting for DigitalOcean's servers, for example, you can get a plan that costs only a third of WP Engine's Startup and includes unlimited websites, 25GB of storage, 1TB of bandwidth, and unmetered monthly visits. Though if you want to access GCP or AWS servers with Cloudways, the cheapest plan costs more than WP Engine's Startup and includes only 20GB of storage and 2GB of bandwidth – you'll pay as you go for additional data transfer.
Cloudways offers cheaper managed WordPress plans on DigitalOcean, Linode, or Vultr servers
.
 In addition to allowing unlimited websites, you are only charged for what you use, rather than a fixed monthly fee. Still, unlike Cloudways, WP Engine manages your WordPress installation in addition to your server.
WordPress comes preinstalled on all WP Engine plans and the host takes care of all core and plugin updates for you.
 You also get extra features for WordPress, such as the Genesis Framework, which I discuss in the Features section below.
2. Support
Customer Support Is Quick, Professional, and Straightforward with Both Providers
As managed WordPress cloud hosting services, Cloudways and WP Engine promise a lot in terms of support. But do they also deliver? I've taken the time to test the live chat option for both services and I was not disappointed with either.
Both Cloudways and WP Engine offer 24/7 live chat support on all plans, while additional support channels are only available for higher-tier subscriptions or as add-ons.
 With Cloudways, for example, you have to buy the Advanced Support add-on if you want priority support, or the Premium Support add-on for direct phone contact and a dedicated Slack channel. With WP Engine, you get live chat and ticket support for the entry-level Startup plan, and phone support for all superior plans. Premium plans also come with additional support options, such as the launch readiness assessment carried out by a professional team of developers to ensure that your website works flawlessly before it is published.
My conversation with a Cloudways support agent was pleasant and informative.
 I was particularly happy with the fact that the agent didn't push any unnecessary add-ons or try to sell me a more expensive plan than the one I needed. When I asked for a recommendation, the agent considered my requirements and, since I only wanted to host a simple presentation website, they suggested the entry-level plan on DigitalOcean infrastructure.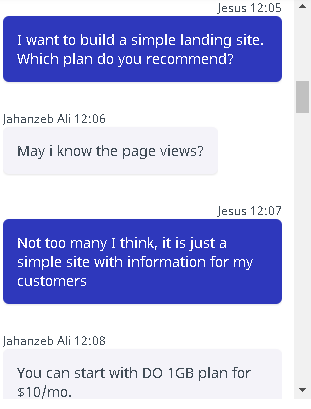 I was also concerned about website loading speeds for my non-US visitors, but the agent let me know that I could use Cloudways' integrated CDN to improve the site's performance around the world. They also took the time to explain how a CDN works.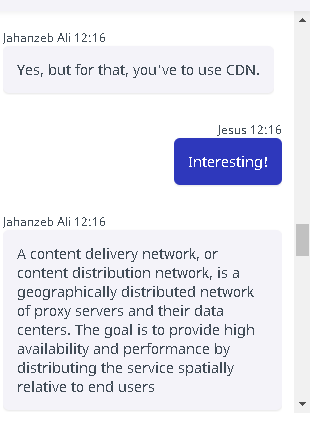 Overall, the support agent was professional and I got the feeling they were actually trying to help me out, rather than simply trying to make a sale.
 This is rare in today's web hosting industry.
I had a similar experience with the support agent from WP Engine, who was equally helpful, polite, and well-informed.
 When I asked for a plan recommendation, the agent directed me to the entry-level Startup package, which was a great fit. They never pushed any add-ons or a more expensive plan at any point during the conversation.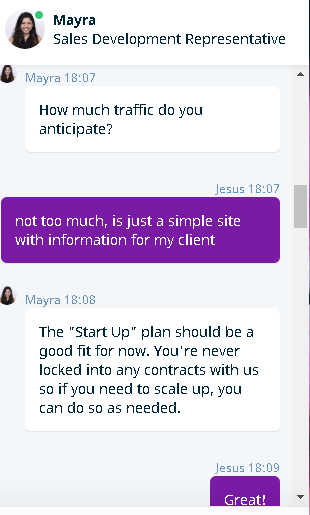 I had to press the issue a bit to get more specific details about site loading speeds for non-US visitors, but the agent eventually gave me all the information I needed.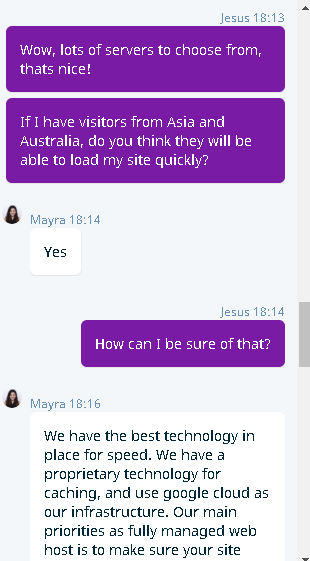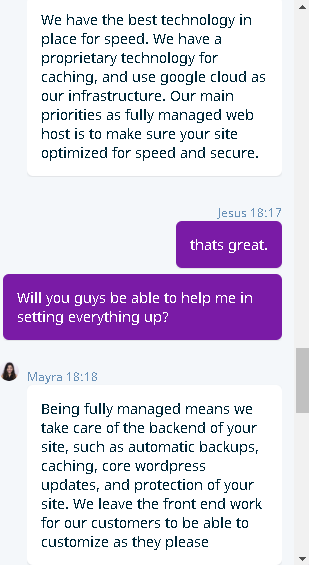 Like with Cloudways, I feel confident that WP Engine's support team would offer quick and effective assistance with most technical issues I'd encounter as a paying client.
If you're more of a do-it-yourselfer, both Cloudways and WP Engine have extensive knowledge bases with plenty of guides and tutorials.
 Cloudways even supports an active community forum where you can expect help from fellow customers.
3. Features
Both Hosts Have Excellent Features, but WP Engine Has More WordPress Tools
If you're wondering why Cloudways and WP Engine are more expensive than most shared hosting services, it's because they offer so many features. With either of these two hosts, your account is already optimized for WordPress and you have access to several specialized tools for free. For instance
, both Cloudways and WP Engine offer a free site migration plugin on all plans
 so you can easily transfer your WordPress website(s) to your new account. In case you don't want to do it yourself, you can ask the support team to do it for you. Need to change something on your website without taking it offline?
With either WP Engine or Cloudways, you have access to a one-click staging environment
 where you can clone your site and make changes without experiencing any downtime. Once you've made sure that your changes work properly, you can easily publish the new version.
You can add team members to your projects and set different permission levels for each collaborator with both Cloudways and WP Engine.
 As your projects grow, you can add more resources and storage to your account straight from your dashboard, without having to upgrade to a more expensive plan.
The advantage of working with Cloudways is that you can deploy several containerized applications on the same server.
For example, you could publish a WordPress website, a Magento website, and a PHP app using the same VM (virtual machine). WP Engine, on the other hand, focuses entirely on WordPress, so you can't use a different framework for your websites. The advantage here is that you get an impressive set of features that are optimized for WordPress and that are not available with Cloudways. For instance,
WP Engine includes the Genesis Framework and more than 30 premium StudioPress themes for free with all plans.
 With integrated SEO and security functions, the Genesis Framework offers a powerful drag-and-drop interface for WordPress that makes it significantly easier to build a professional website. Since WP Engine is a fully managed WordPress service, you also get automated WP core updates and access to a team of experts who have undergone extensive training in solving WordPress issues. It's also worth noting that Cloudways has no money-back guarantee, although it does offer a
three-day free trial
 for most plans. Granted, this sounds meager, but bear in mind that
you only pay for what you use with Cloudways.
 Basically, you can quit the service at any point without losing any money because you never pay for it in advance.
With WP Engine, on the other hand, you pay a fixed monthly (or yearly) fee, but you have a generous 60-day period to change your mind.
For a quick comparison of basic features, take a look at the table below. Neither Cloudways nor WP Engine offers email or domain registration, so you'll have to buy these services from a different provider.
| | | |
| --- | --- | --- |
| | Cloudways | WP Engine |
| Hosting Type | Managed WordPress, Magento, Laravel, Joomla, PHP, and others (cloud) | Fully Managed WordPress (cloud) |
| Free Domain | No | No |
| Free SSL Certificate | Yes | Yes |
| Disk Space | 20GB to 640GB (more storage is available on custom plans) | 10GB to 100GB (more storage is available on custom plans) |
| Bandwidth | 2GB to 7TB | 50GB to 1TB |
| Automatic Backups | Yes, on all plans | Yes, on all plans |
| Control Panel | Proprietary control panel | Proprietary control panel |
| Email Accounts | No (Rackspace email add-on available for a fee) | No |
| Free CDN | Yes | Yes |
| Free Site Migration | Yes | Yes |
| Money-Back Guarantee | No | 60 Days |
4. Performance
Cloudways and WP Engine Are Neck-in-Neck, but WP Engine's CDN Is Free
When it comes to stability and speed, you'll be hard-pressed to find a better service than Cloudways or WP Engine. Both hosts rely on massive cloud infrastructures from popular providers like GCP and AWS, which means that
you can expect your website's performance to be considerably better than with a cheaper shared hosting plan.
In addition, Cloudways offers in-built caching solutions, including Memcached, Varnish, and Breeze, to help your website load faster.
For an extra fee, you also get access to the CloudwaysCDN (content delivery network),
 which ensures that a cached version of your website is stored on servers around the world for faster delivery across multiple regions. WP Engine includes its proprietary caching solution – EverCache – designed specifically for WordPress websites.
Access to WP Engine's global CDN is free, which gives it an edge over Cloudways' similar, paid service.
Since both providers manage powerful infrastructures, you can count on SSD storage for all plans. Also,
you can choose between a wide range of data centers around the world so your website is hosted as close to your main audience as possible.
With WP Engine, you can opt for any of the 20+ locations offered by Google Cloud or Amazon Web Servers
across the US, Canada, Europe, Asia, and Australia, although some data centers are only available with a Premium or better plan.
Cloudways offers 65+ locations with five infrastructure partners,
which includes all the regions covered by GCP and AWS, and a few more. Your choices will vary depending on which infrastructure and plan you choose.
WP Engine provides an excellent 99.95% uptime guarantee backed by an SLA (service level agreement).
 For every additional hour of downtime you experience during the month, you get credits worth 5% of your subscription. Because Cloudways integrates the services of five different cloud providers, the company does not include an uptime guarantee in its SLA. Instead,
you have to check with the provider whose infrastructure you have chosen while signing up.
 If you went with Digital Ocean, for example, you can expect a 99.99% guarantee and compensation for any excess downtime.
Cloudways achieved a superb score during our performance tests. To find out more, read our
in-depth Cloudways review
. We haven't had the chance to run the same tests on WP Engine, but you can read more about its performance-enhancing features in our
expert WP Engine review
.
5. Security
Both Hosts Take Care of Your Website Security at No Extra Charge
As premium managed cloud services, Cloudways and WP Engine both promise to keep your website safe. What's more,
neither of the two will ask you to pay extra for this protection.
For instance,
 both Cloudways and WP Engine offer daily automated backups on all plans, and even let you order a custom backup when needed.
 In case something goes wrong or your site is compromised, you can easily restore a previous version with just a few clicks. In addition,
SSL certificates are integrated into your dashboard with both hosts.
To ensure your website is padlock protected, simply navigate to the appropriate tab and activate the SSL certificates. This step is crucial, especially for online store owners, as SSL certificates encrypt users' data and prevent theft. Even with a regular website, you should have SSL protection because it helps you rank higher in search engines. With Cloudways, all servers undergo regular security patches to eliminate vulnerabilities, and your website benefits from a dedicated firewall. You also get a proprietary firewall with WP Engine, but this is in addition to a malware scanner and disk write protection, which prevents malicious code from embedding itself into your website's file system.
Overall, both Cloudways and WP Engine offer excellent security features, but WP Engine has a slight edge.
WP Engine Is Better for WordPress, but Cloudways Is More Versatile
With a slight advantage in features, performance, and security, WP Engine is the winner of this matchup.
 Keep in mind, however, that this is only the case if you compare the two services from the point of view of managed WordPress hosting, rather than cloud hosting in general.
If you don't necessarily want to use WordPress or you work with several different frameworks, Cloudways is actually a better (and cheaper) option.
 You can even publish multiple projects using different frameworks on the same server, without having to provision a separate virtual machine for each. If you don't think either of these hosts is the right choice for you, you can see more options in our list of the
best web hosting services
.
Plans and Pricing
Integrates the cloud services of five popular infrastructures, including GCP and AWS; plans range from cheap to high end, but you only pay for what you use
More expensive than Cloudways' cheapest plans, but the infrastructure is GCP/AWS and you get a lot of WordPress features for the difference
Key Features
One-click installer for WordPress and other CMSs, free migration tool, staging environment, the same server can host several containerized applications
Preinstalled and optimized WordPress with automatic updates, Genesis Framework with 35+ premium themes, free migration tool, staging environment, 60-day money-back guarantee
Performance
SSD storage, CloudwaysCDN for a fee, in-built caching
SSD storage, free CDN, in-built caching, 99.95% uptime guarantee
Security
Free SSL certificates, automatic daily backups, firewall, additional security tools available for a fee
Free SSL certificates, automatic daily backups, firewall, malware scanner, disk write protection, additional security tools available for a fee
Support
24/7 support via tickets and live chat; priority and phone support available as an add-on; extensive knowledge base and community forum
24/7 support via tickets and live chat; phone support included in the Growth, Scale, and Premium plans; extensive knowledge base
FAQ
Is WP Engine better than Cloudways?
That depends on what you're looking for. If you want a fully managed WordPress hosting service that will take care of optimizations, updates, backups, and security, then WP Engine is an excellent choice. Both providers offer SSL certificates, an automated migration tool, and one-click website staging, That said, Cloudways is a better option if you need a managed cloud hosting service that supports multiple frameworks, including WordPress. Some of Cloudways' plans are also cheaper if you go with a provider other than AWS or GCP. If you're not sure if either of these hosts is right for you, be sure to check out our list of the best web hosting services.
Is WP Engine good for WordPress hosting?
Yes, WP Engine is one of the best managed WordPress hosting services. All of its plans are built on the same infrastructure, which means that even if you opt for an entry-level plan, you can expect top-notch performance. In addition, WP Engine includes an impressive kit of WordPress features on all plans. To give you just one example, the Genesis Framework comes with more than 30 premium StudioPress themes, as well as a drag-and-drop interface specifically designed for WordPress websites.
Is Cloudways cheaper than WP Engine?
At a glance, Cloudways' plans can be more affordable than WP Engine, but in reality, this depends on the type of hosting you're after. WP Engine offers fully managed WordPress hosting that integrates the cloud infrastructures of GCP and AWS. Cloudways, on the other hand, gives you the option to choose between five different cloud providers, including GCP and AWS, but is not a fully managed service. This means, for instance, that you have to take care of WordPress updates yourself. If you opt for a Digital Ocean, Linode, or Vultr plan with Cloudways, then you can get more resources for about a third of the price compared to WP Engine. If, however, you want your website to be hosted on Google's or Amazon's cloud infrastructure, you end up paying roughly the same price as you would with WP Engine, and you get fewer resources and features. Either way, before you make any long-term commitments, check our web hosting coupon page to see the best deals of 2023.
Is Cloudways good for cloud hosting?
Cloudways is a versatile service that integrates and manages the cloud infrastructures of Digital Ocean, Linode, Vultr, GCP, and AWS. In other words, if you want to tap into the reliability, speed, and scalability of popular cloud solutions, but you don't have the experience to manage your own server, Cloudways is a possible answer. If you're not yet sure whether cloud hosting is right for you, I recommend that you read our in-depth comparison of cloud and VPS solutions. The guide also includes a few suggestions for the best providers of both services.