Upwork might not be perfect, but it helped me get my money back when a freelancer overcharged me. The process was relatively painless, even though I had
signed up to Upwork for free
.
If you don't receive the work you're promised on Upwork – or if work is delivered late or hours are billed incorrectly – you should be able to apply for a refund. You might also be looking to cancel your account if you're no longer looking for a freelancer, or if you've decided to try out a different freelancer website instead. But
how easy is it to actually get a refund
, or to cancel your account? I'm happy to report there's no need to stress.
Upwork makes it easy to get your money back, and even to cancel your account
. I claimed my refund with no trouble at all. Of course, while Upwork is great simply for its sheer size – there are a
huge
number of freelancers on the platform – it might not be for everyone. Based on my experience,
a great alternative for finding top-quality freelance work is Fiverr
. Fiverr's a bit cheaper than Upwork and better if you need some quick work completed ASAP –
Fiverr has simplified the hiring process
with its intuitive marketplace interface. That means no more scrolling through hundreds of proposals to find the right freelancer for the job.
Quick Guide: How Do I Get My Money Back from Upwork?
How to Refund a Payment if You Didn't Get What You Paid For
Step 1: Log in.
Enter your account details on
Upwork's website
. You can use either your unique username or email to access your account.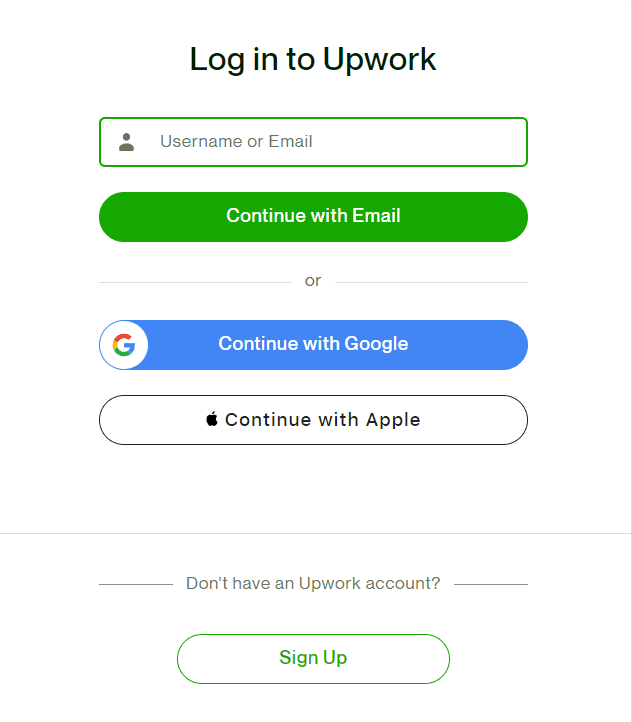 Step 2: Click on "My Jobs" through the "Jobs" tab at the top of the page.
This will bring up all your recent postings and active contracts.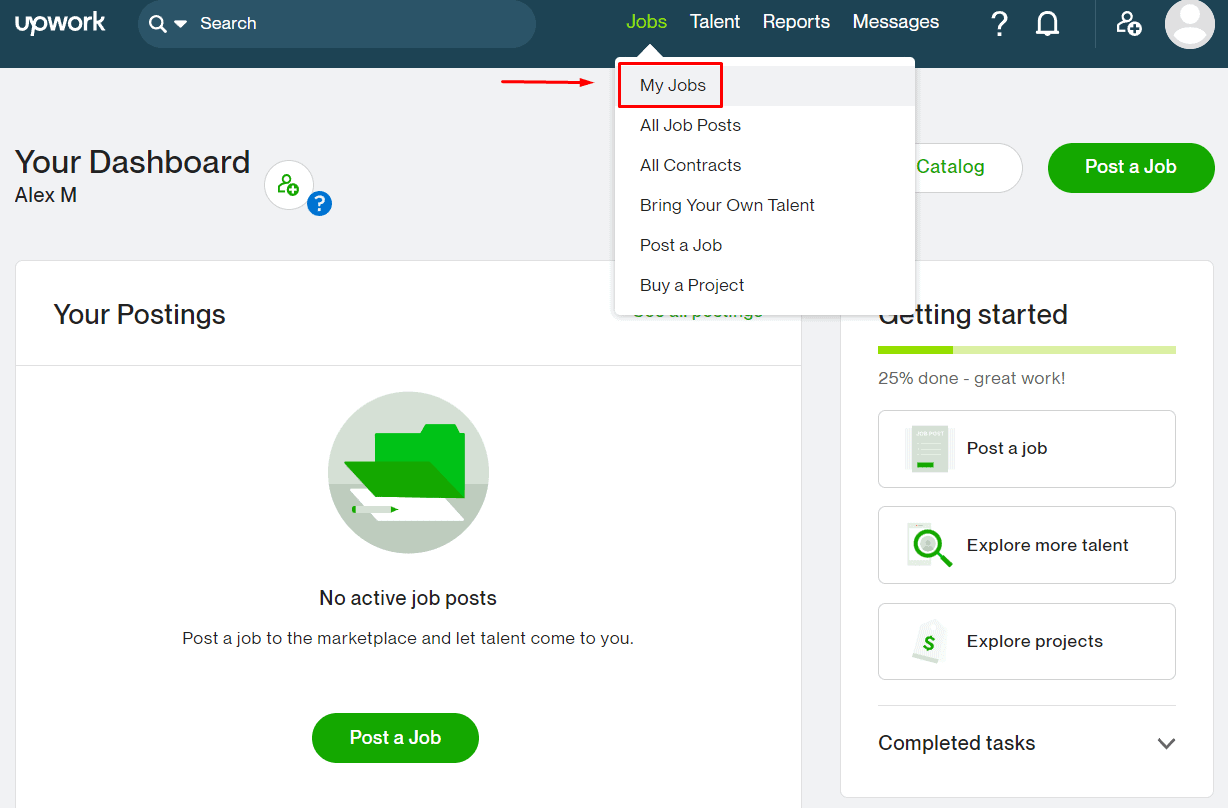 Step 3. Select the contract you want to request a refund for and click on the three little dots (…) next to the terms and settings option.
Click "Request a refund" to continue.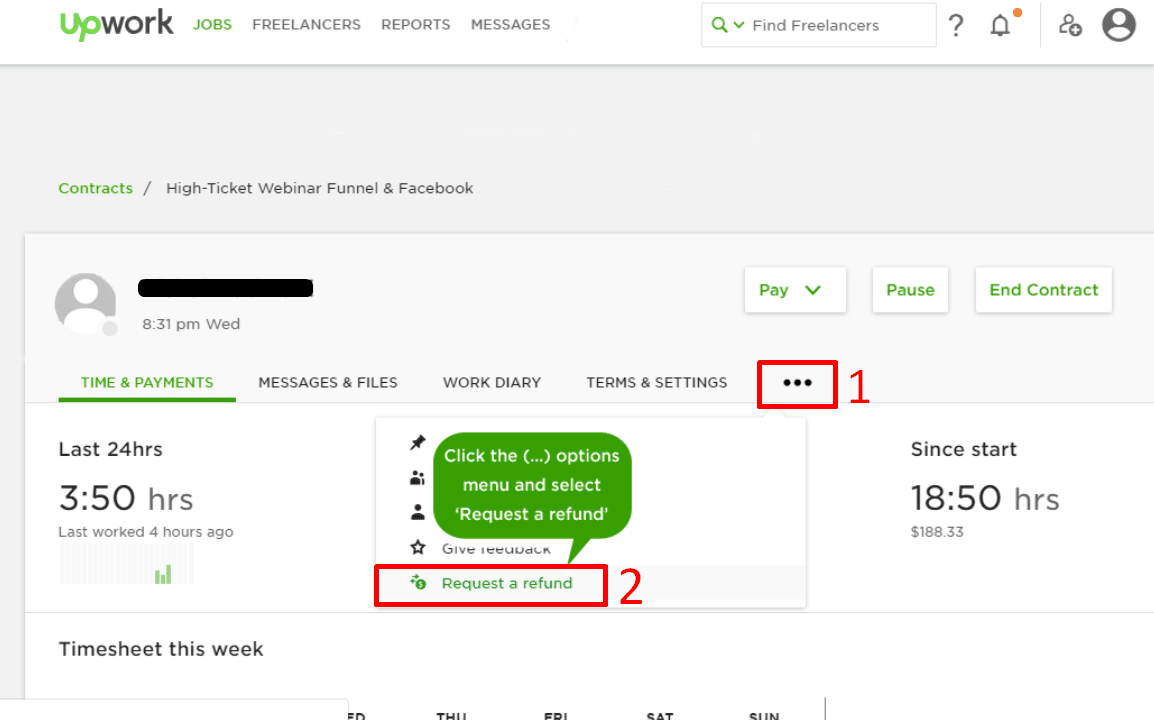 Step 4: Fill out the refund form.
Make sure you communicate the reasons behind your request as clearly as possible. If you've already requested a refund or can't reach the freelancer, you might want to consider
completing the dispute form
 instead.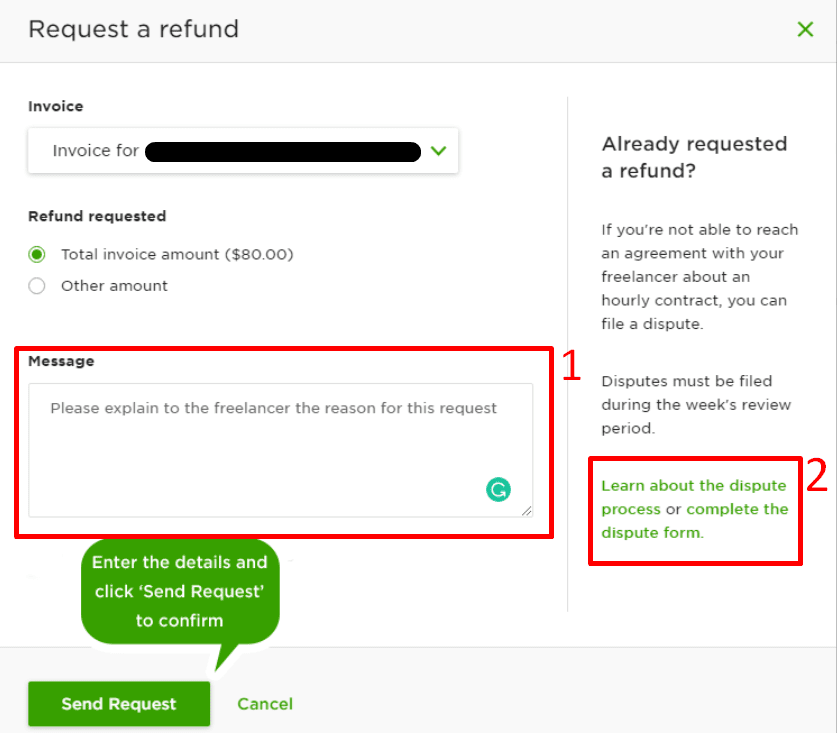 If you also want to
close your account
, you can easily do so through your profile settings.
My Experience: Here's How I Got a Full Refund from Upwork + Canceled My Account
I've been using Upwork as both a freelancer and a client for years. I've never had any issues in the past, but
when I hired a freelancer to write a short article a few weeks ago, I had to request a refund
for the first time. The article was well written and delivered on time, but the freelancer had logged more than 50 hours ($750!) for a 500-word blog post. I requested a refund immediately. It turned out the freelancer had trouble working the time-logging tool, but they were honest about it. Upwork's refund system worked like a charm, and
the money was returned to my account in less than three days.
How to Get a Full Refund from a Freelancer
The first thing you need to know is that Upwork doesn't automatically issue refunds.
You can
request a refund by following the steps mentioned above
, but freelancers can choose not to accept your request. If your freelancer is uncooperative, doesn't acknowledge your concerns, and you can't get your money back, you might want to consider
filing a dispute
.
Fixed-Price Contract Refund
If you're on a fixed-price contract and something's gone wrong, you can
end the contract immediately through the options (…) menu
. From the "My Jobs" tab, select "End contract" and choose "Pay nothing and request a refund." If the freelancer accepts the refund request, you'll receive any funds currently in escrow.
You can request a refund within 180 days
for payments already released from escrow. If that doesn't do it, you can
dispute a payment by contacting the Upwork Dispute Center
 within 30 days.
Hourly Contract Refund
If you hire someone on an hourly contract and you suspect they've been logging more hours than they've worked, you need to act quickly.
You only have five days
(Monday 12:00 UTC – Friday 00:00 UTC) to file a dispute after the billing period closes (Sunday 00:00 UTC).
Navigate to "My Jobs" through the "Jobs" tab
and choose the contract you want to dispute. Click the three dots (…) and select "Request a refund." Click "complete the dispute form" once the refund form pops up.
How to Get a Full Refund from an Agency
The process is similar if you've hired an agency
through Upwork and would like a refund. For hourly contracts that are automatically covered by Upwork's Hourly Protection, simply navigate to "My Jobs" through the "Jobs" tab and select "Request a refund" under the "Last Week" section. For refunds on agency fixed-price contracts, you need to contact customer support.
How to Get a Full Refund on a Closed Contract
You can request a full refund on any closed fixed-price contract
as long as the refund is within 180 days of the payment. Navigate to "All contracts" through the "Jobs" tab, locate the contract in question, and
follow the fixed-price contract refund steps above
.
How Do Disputes Work?
The dispute form is available through Upwork's refund form.
You can file a dispute if a) you've already requested a refund but the freelancer is unresponsive, and b) less than 30 days have passed
(5 for hourly contract disputes)
.
Hourly rate disputes are usually resolved quickly. If you dispute a fixed-price contract,
a "dispute specialist" will go over your case and make a non-binding recommendation
. If you reject that recommendation, Upwork will hire third-party arbiters to solve the case, splitting the cost ($800+) threeway. Depending on the original amount paid, this may not be worth the expense.
How to Close Your Account
If you want to close your Upwork account, click on your profile icon on the top-right side of the screen.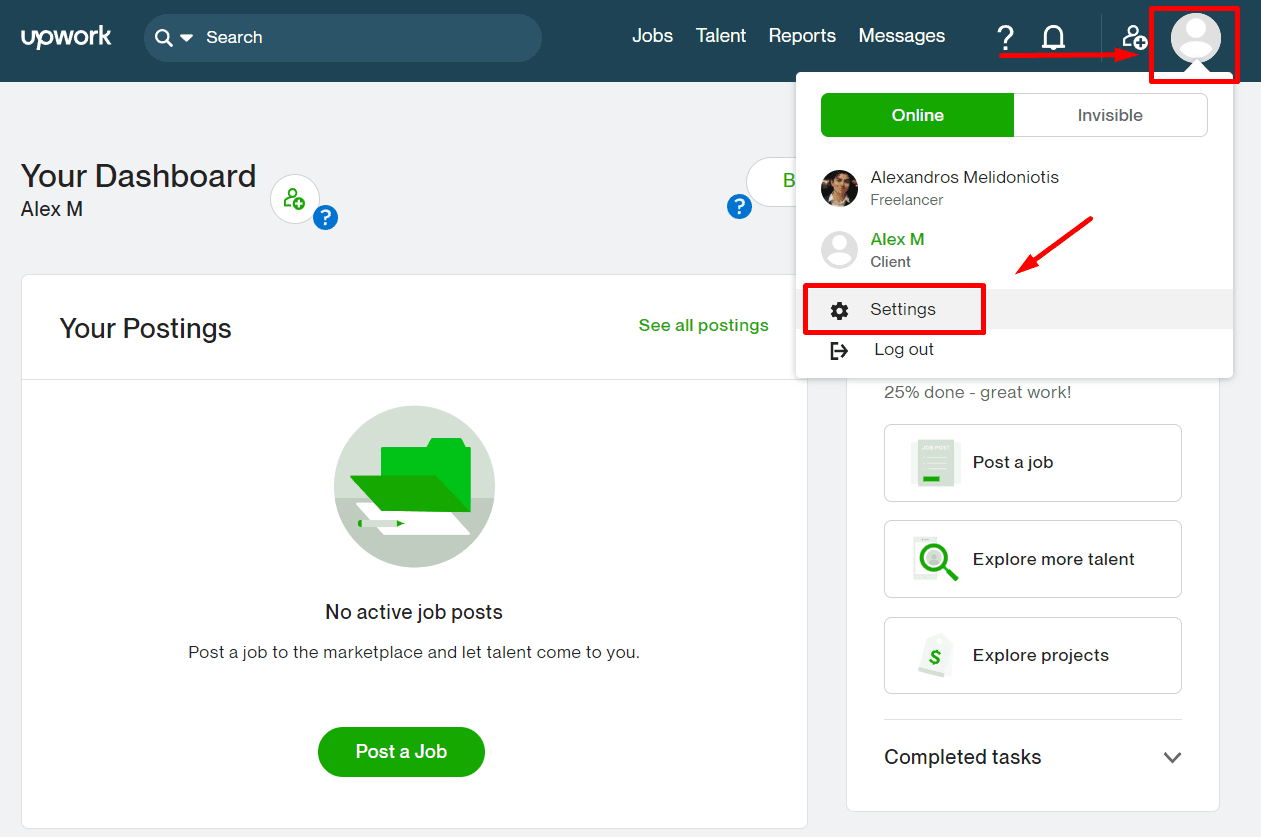 Select "Settings" and scroll down to the bottom of the "My info" page. Click on the "Close account" button, and you're good to go – literally! It's as straightforward as that.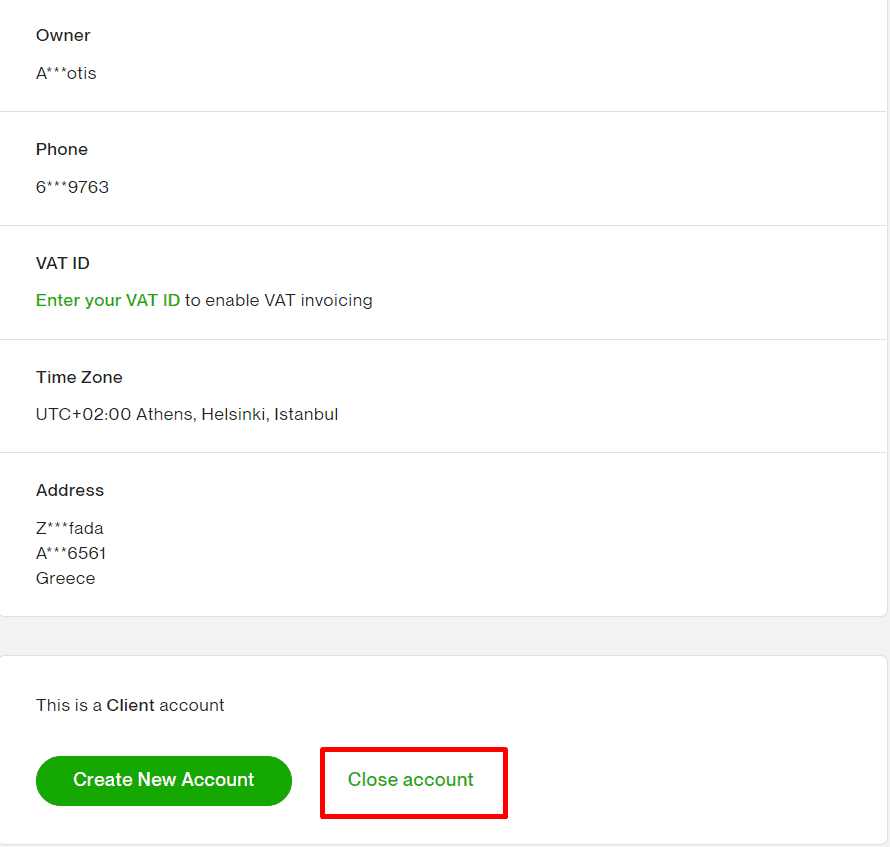 Not Happy with Upwork? Try Fiverr Instead
Upwork is a huge platform with thousands of freelancers available, but it's not without its faults. In particular,
if you're short on time, Upwork's lengthy hiring process might not appeal.
I recently switched to Fiverr, and I'm so glad I did.
I can now find the right freelancer for the job with the click of a button – no more scrolling through an endless stream of proposals. So far, I've hired six or seven freelancers, and in under three months, I've gotten more work done there than I did on Upwork over a whole year! It's now my go-to freelance platform because it's:
Easy to use. Like Upwork, there are thousands of sellers on Fiverr, but the hiring process is simplified. Fiverr's advanced filters allow you to quickly find the right freelancer for the right price.
Reliable. I've never had any major issues with the quality of work I received from Upwork. That said, Fiverr's verification standards seem more consistent, and its community-based rating system is more transparent.
Well-designed. Fiverr's user interface is modern and easy to navigate. Most of the time, you're going through individual gigs rather than user profiles, which is much more efficient.
Cost-effective. Both platforms offer similar fee structures, but Fiverr's gigs typically provide a more cost-effective option. I haven't been a big fan of hourly rates, especially since my last job on Upwork. So, I appreciate Fiverr's exclusive use of fixed-rate pricing.
You can learn more about my new favorite freelance platform by checking out our updated
Fiverr review
.
Getting an Upwork Refund and Closing Your Account Is Easier Than You Think
I recently had a less-than-ideal experience on Upwork, which led to me requesting a refund and closing my account shortly afterward.
I filled out the refund form, Upwork contacted the freelancer, and the money was back in my account in just a few days. Things can get a little bit more complicated when disputes are involved (i.e., the freelancer isn't willing to return the money), but that's to be expected.
Upwork handles disputes in a timely fashion
and can even help you take legal action if a freelancer completely ignores your messages and requests.
FAQ
How Do I Get My Money Back From Upwork?
To get your money back from Upwork, you need to find and fill out the refund form. For fixed-price contracts, you have 180 days after you've made the payment. For hourly contracts, you only have five days.
Can I Get a Refund From Upwork Connects?
If you're a freelancer looking to get hired on Upwork, you'll automatically have your connects refunded if the client closes the job or it expires without anyone being hired. Unfortunately, not getting the job yourself isn't enough to warrant a connects refund.
How Do I File a Dispute on Upwork?
You can file a dispute by heading over to the refund form and clicking on the "complete the dispute form" button that appears on the lower-right side of the screen. Always make sure you communicate your concerns with the freelancer before filing a formal dispute. Upwork may enlist the help of third-party arbiters to solve your case – which can cost you plenty of time and money.
What Is the Best Alternative to Upwork?
Fiverr is the best alternative to Upwork. Fiverr allows you to browse gigs instead of making you go through hundreds of freelancer profiles. This makes it easier for you to quickly find the right freelancer for the job. Fiverr also features a sleek interface, great prices, and consistent, high-quality services. There are quite a few more popular freelance websites that can help you get work done quickly.