In the world of freelancing, two platforms dominate the scene: Upwork and Freelancer.com. Each carries with it its own advantages and disadvantages, and knowing them can help save you a ton of time, money, and heartache. We'll take a closer look at each platform, so you can make an informed decision based on your own set of circumstances.
First, we'll cover this topic from the freelancer's perspective, and the reasons to choose one platform over the other. In the second section, we'll approach the same topic from the client's perspective (click here to skip ahead). So, if you're a freelancer looking for quality work or a client looking for quality freelancers, keep reading to find out which platform is best for your purposes!
We compared these two to other
freelance platforms
and Fiverr really was cheaper AND better than any other option available!
For Freelancers Looking For Work
As a freelancer, choosing the right platform to market your skills can be a tough choice. While you always have the option of using multiple platforms, building a solid reputation on a single platform is generally the ideal option, as positive reviews and completed jobs help your profile stand out and fill prospective clients with confidence.
Therefore, when trying to decide between Freelancer.com or Upwork, be sure to take the following into consideration.
Finding Work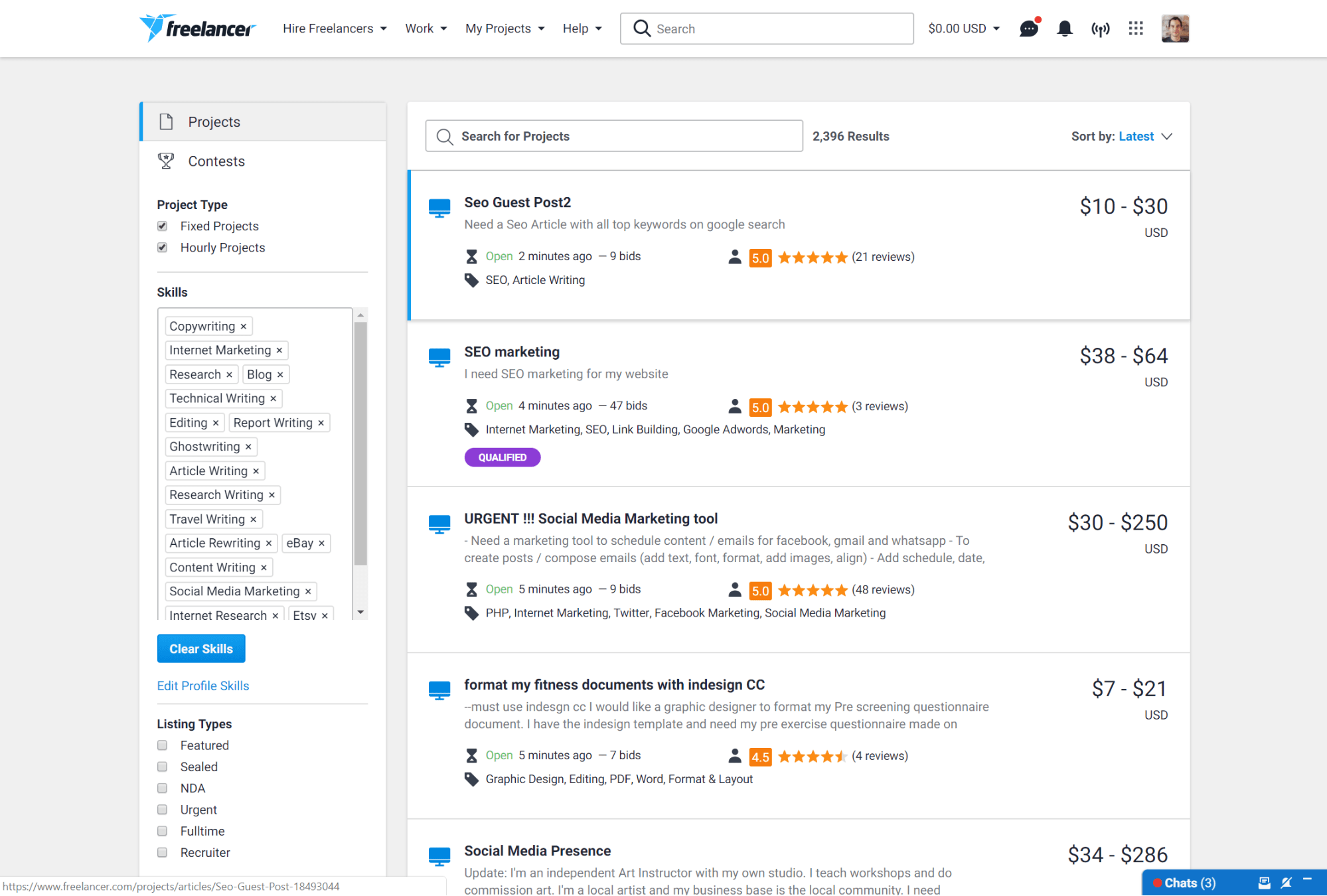 Freelancer.com makes it easy to quickly scan available job opportunities, indicating past client reviews and the current bid range for each posting
No matter whether you're using Upwork or Freelancer.com, there's a good chance that you will be able to find plenty of work. The main difference between the two platforms is the quality of work. In my experience, clients on Upwork often seem more willing to pay a fair wage, but with this higher pay rate generally come higher expectations.
At the time of writing, Upwork has around seven million registered clients, 12 million registered freelancers, and more than 100,000 jobs available (across a wide range of languages and skill sets). Freelancer.com, on the other hand, states that it has more than 45,000 active jobs. There is also much steeper competition on this platform, with more than 30 million registered freelancers.
While both platforms are good for freelancers of nearly all skill sets, it's easier to find and secure quality job posts on Upwork, as their vetting process effectively narrows down the competition by quite a bit. Anyone can open a Freelancer.com account, but to create an account on Upwork, you need to be approved.
Regardless of the platform being used, you'll need to decide on a fair, but competitive rate, which should be determined by a number of factors, such as your location, level of experience, number of positive feedbacks, and field of work, among others.
Paying Fees
In exchange for connecting you to potential clients and job opportunities, both of these platforms will charge you fairly high fees. Although, when it comes to Upwork, their fees start out high, and lower over time.
Upwork's fee structure breaks down as follows:
Upwork charges 20% on the first $500 you earn from a single client
This fee drops to 10% once you've earned more than $500 with the same client
You only pay 5% on anything earned above $10,000 with a single client
Let's look at an example of how this works if you do a job for a client for $750.
The first $500 will have a 20% associated fee ($100). The remaining $250 will only be charged a 10% fee ($25). This brings your total fees to $125 for the $750 project.
On Freelancer.com, the fee structure works a bit differently, and varies depending on the type of project. Unlike Upwork, Freelancer.com doesn't give any incentive to work with the same client, and charges the same fee regardless of the amount you've earned over time.
Here are some important things to know about the fees on Freelancer.com:
For fixed-price projects, you'll pay a fee of either 10% or $5, whichever is greater
For hourly projects, you'll pay a flat 10% fee, making this a more popular choice for smaller projects under $50, as the total fee will be lower
If you win a contest, you'll be charged either $5 or a 10% fee, whichever is greater
For services, you'll be charged a 20% fee
If you don't log into your account for six months or more, you'll be charged a maintenance fee of $10 per month—although this seemingly unnecessary fee will be refunded upon your request, or upon the reactivation of your account
If you refer an employer to the platform, you can avoid paying any fees at all. If you're able to do so, your fees will lower from 10% to 0% for all future work with that client
Working with Clients
When it comes to clients, both Upwork and Freelancer.com have their issues. While most clients are honest people simply looking to get their project completed quickly and professionally, both platforms host a fair number of scammers as well.
Other issues you may experience are clients that try and underpay you for your services, or who post a job with one budget, but upon hiring, attempt to pay far less than the agreed upon amount. This usually comes with promises of higher paying projects further down the line, which never seem to materialize.
From my experience working as a freelancer on both platforms, these issues seem to be far more prevalent on Freelancer.com. Although, this is just an unavoidable part of being a freelancer regardless of where you find your work.
In a recent survey conducted by freelancing giant Fiverr, 44% of respondents reported that a client has not paid for their services at least once during their freelance careers. Nearly half of those who had been ripped-off believe it is because companies just don't take freelancers seriously. And while Upwork and Freelancer.com both have systems in place to prevent against this, if a client does raise a dispute, the platform is more likely to side against the freelancer.
Here are some pro tips to ensure you're working with an honest and reputable client:
Only work with those that have a verified payment method, as they have proven that they have the ability to compensate you for your services
Pay close attention to a client's feedback score, and avoid those with a high number of negative feedbacks
If possible, avoid working with clients who are new to the platform, as they have yet to prove their reliability
Carefully go over your client's job description and be wary of those that are vague, confusing, poorly written, loaded with typos, or send mixed messages
With Upwork's advanced filtering system, you can easily identify clients that have verified their payment and have previously hired on the platform.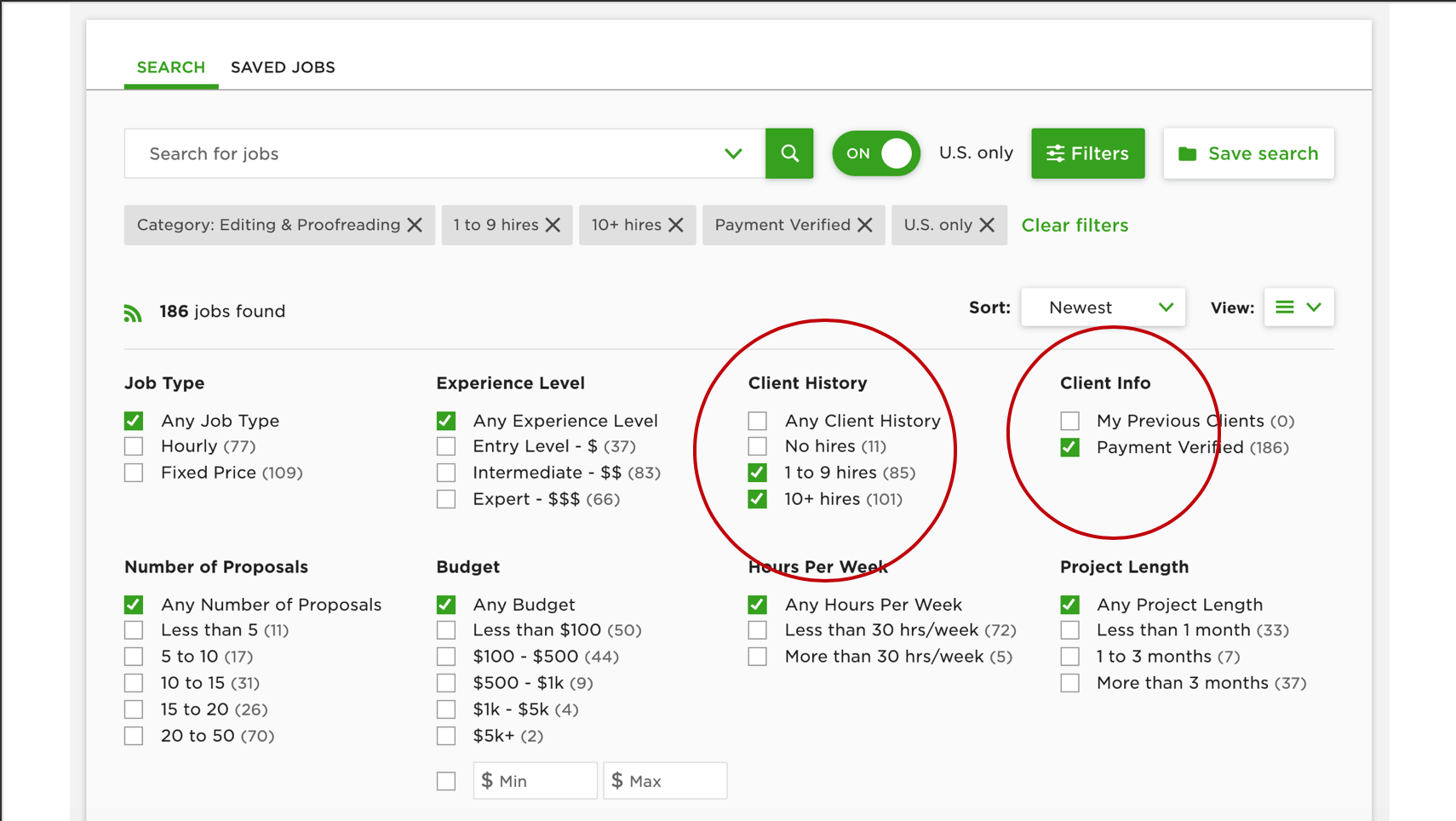 Which Platform Is Better?
Overall, for most freelancers, Upwork is the preferred choice, but it's not an option for everyone. Due to Upwork's screening process, they only allow new workers to join if there's a genuine need for their services in the marketplace. For example, if the platform has more freelance writers than writing opportunities, then new writers will not be accepted. For this reason, many opt for Freelancer.com simply by necessity. That said, there are considerations for each.
When choosing a platform, go with Upwork if:
You intend to have a long-term contract with your client, because, due to Upwork's fee structure, you'll be rewarded with lower fees the longer you maintain a relationship with the same client
You don't have the patience or experience to sift through scammers to find the honest clients, as Upwork overall seems to have fewer dishonest clients
The competition on Freelancer.com is too stiff, as Upwork's freelancer vetting process helps to lessen the competition on this platform
You're having difficulty finding projects on Freelancer.com and want to widen your search range
You should choose Freelancer.com in the following situations:
You lack experience, and just want to get some simple, low paying jobs to begin building your portfolio
Upwork denied your application, as Freelancer.com accepts everyone and is still considered one of the top platforms along with Upwork and Fiverr
You're having difficulty finding projects that match your specific skill set, as Freelancer.com generally has more active job postings than Upwork
You're interested in short-term and low-priced hourly projects, as Freelancer has lower fees in these cases
For further information, read our first-hand account of what it's like to work as a freelancer on Upwork, and check out our expert review of the platform. You can also read our account of working on Freelancer.com, as well as refer to our expert review.
For Employers Looking For Freelancers
As an employer, you want to find the best possible worker for your project, while staying within your budget.
Both Upwork and Freelancer.com can be valid choices, although, depending on the situation, one may be preferable over the other. Therefore, before you choose a platform, you should be aware of the following information.
Posting a Job and the Associated Fees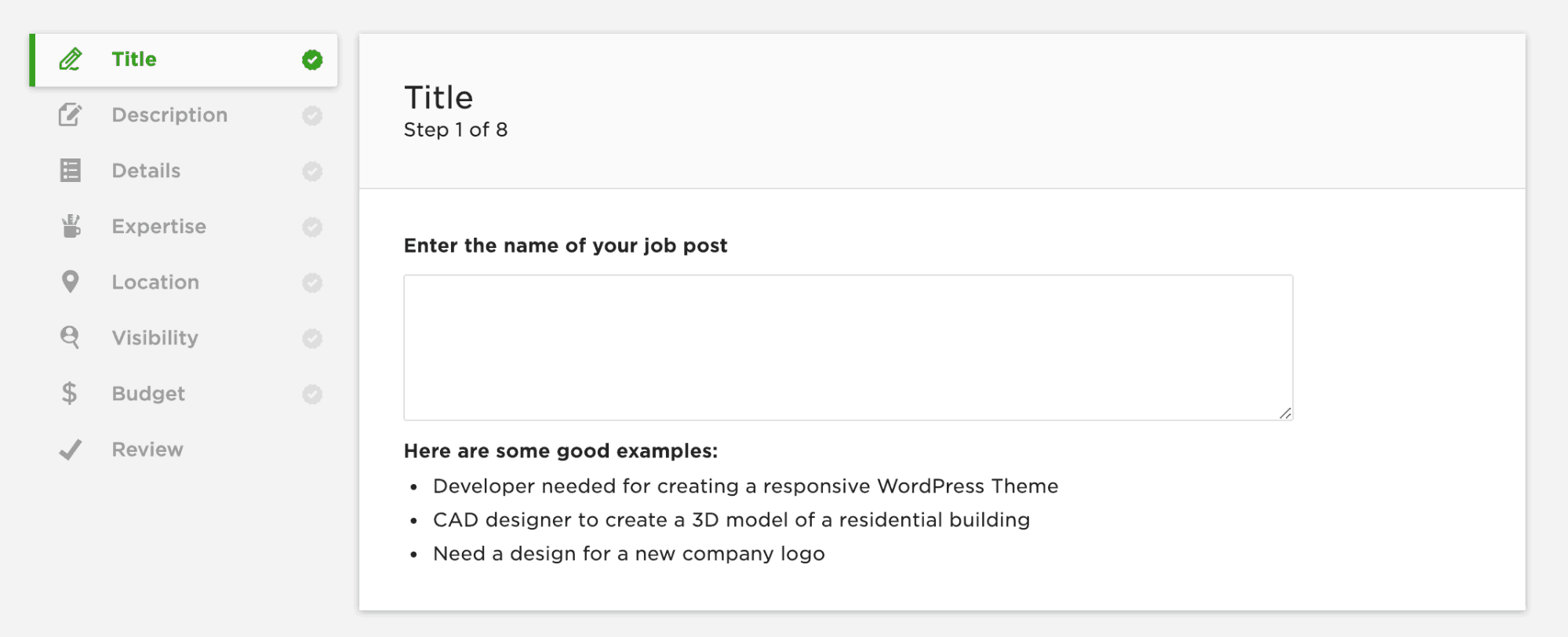 Posting jobs on both Freelancer.com and Upwork is fairly simple and straightforward. The fees charged on both these platforms are similar, and only need to be paid upon the successful completion of your project. Where these platforms differ is in the number of fees charged (Freelancer.com has many more), as well as the optional add-ons offered to clients.
There are a few situations in which Upwork charges employers fees:
If you make a hire, you'll pay a 2.75% processing fee, which is added to the total transaction amount that's paid out to a freelancer
If you are looking to fill a large job with top-tier talent, you may want to look into Upwork Pro, which involves a $500 fee per search, as well as an additional 12.75% fee that'll be added to the total project amount (more on this later)
If you work for a larger organization and have a number of freelance needs, you may want to consider an Upwork Enterprise account. The fees for this service vary, so if interested, contact Upwork for a demo
Here are some things you should know about employer fees on Freelancer.com:
Signing up and posting a project is free, although a fee is charged once a freelancer is hired; you have seven days to cancel a project to receive a full refund of all associated costs
For fixed priced projects, you'll pay 3% of the project cost or a $3 fee (whichever is greater). This is only charged once the project is awarded to a freelancer and the project terms have been accepted
For hourly projects, you'll pay a 3% fee of each payment that's made to the freelancer
For contests, you're not required to pay anything in addition to the prize money; however, you're required to pay the full amount up front, and you have 30 days from the closing of the project to request a refund if you're unsatisfied with the entries
Along with an associated fee, Freelancer.com also offers additional upgrades, including:
Featured: For a $9 fee you can "feature" your project to attract more high-quality bids
Urgent: If you need your project started within 24 hours, you can opt to list your project as "urgent" for an additional $9 fee
Private: For $19 you can hide your project details from search engine results, as well as from those that aren't logged into their Freelancer.com accounts. This is ideal for projects where confidentiality is key
Full-Time: Those looking for a full-time or commission-based freelancer can pay a $199 fee. This fee is only charged to projects whose payments exceed $5,000
Recruiter: This $9.50 fee goes toward a Freelancer.com agent who will help find the best possible freelancer for your project, eliminating much of the work involved with going through the bids you've received. This agent may also invite additional qualified freelancers to bid on your project
NDA: If an NDA is necessary, Freelancer.com will charge an additional $19, this ensures that your freelancer will keep all discussions private and shared files confidential
Intellectual Property Agreement (IP Agreement): For $19, you can have your freelancer sign an IP agreement, this will certify that all work done over the course of the project belongs to you. This is ideal when it comes to articles that are ghostwritten, custom designed logos, or any other project for which you'd like complete ownership
Sealed: Ordinarily, freelancers are able to see the bids that others have placed on your project; if you'd like to hide these bids, you can do so for a $9 fee
Priority: For $5 you can skip to the front of the project review process, allowing your project to go live almost immediately
Extend: To extend the amount of time that freelancers can bid on your project by an additional seven days, you'll need to pay a $9 fee
Quality of Freelancers
After you've developed a strong job posting, the most difficult part of the hiring process is identifying the ideal candidate. With the millions of available freelancers, and the countless bids and proposals you may receive on any given project, combing through them all can be a trying process. Fortunately, both platforms offer some tools to help narrow down the search.
Pay for an Upwork Pro Account: While this may not be the cheapest option, when finding the best of the best freelancers is vital for your project, this is an excellent choice. When you pay for Upwork Pro, a team of experts will personally sort through the best possible candidates for your project. They will screen only the top freelancers based upon your project requirements, saving you time, and matching you with a freelancer you can trust
Upwork's Rising Talent or Top-Rated Badges: Upwork assigns badges to freelancers that have performed particularly well on past projects (see image below). Look for those that have a "Top Rated" or "Rising Talent" badge and you can be reasonably assured that you're getting quality help on your project
Job Success Score (JSS): Upwork's JSS for freelancers (see image below) is calculated based upon a number of factors, such as feedback (or lack thereof), the number of rehires, and how long client relationships have lasted, among others. Those with a high JSS are more likely to perform better
Past Reviews: Both Upwork and Freelancer.com offer clients the ability to see the reviews that past clients have left in regards to the quality of a freelancer's work. Stick to hiring those with good reviews, and avoid those that have yet to earn any (unless you're on a budget, in which case you can get some amazing deals by hiring those that have yet to prove themselves, although this does come with some risk)
Freelancer.com Recruiter: As mentioned in the last section, for a small fee you can hire a Freelancer.com agent to help match you with the best possible candidate for your job
It pays to do your due diligence and make sure that you are hiring someone that you can trust to do a good job. On Upwork, this includes looking for a high JSS and positive reviews.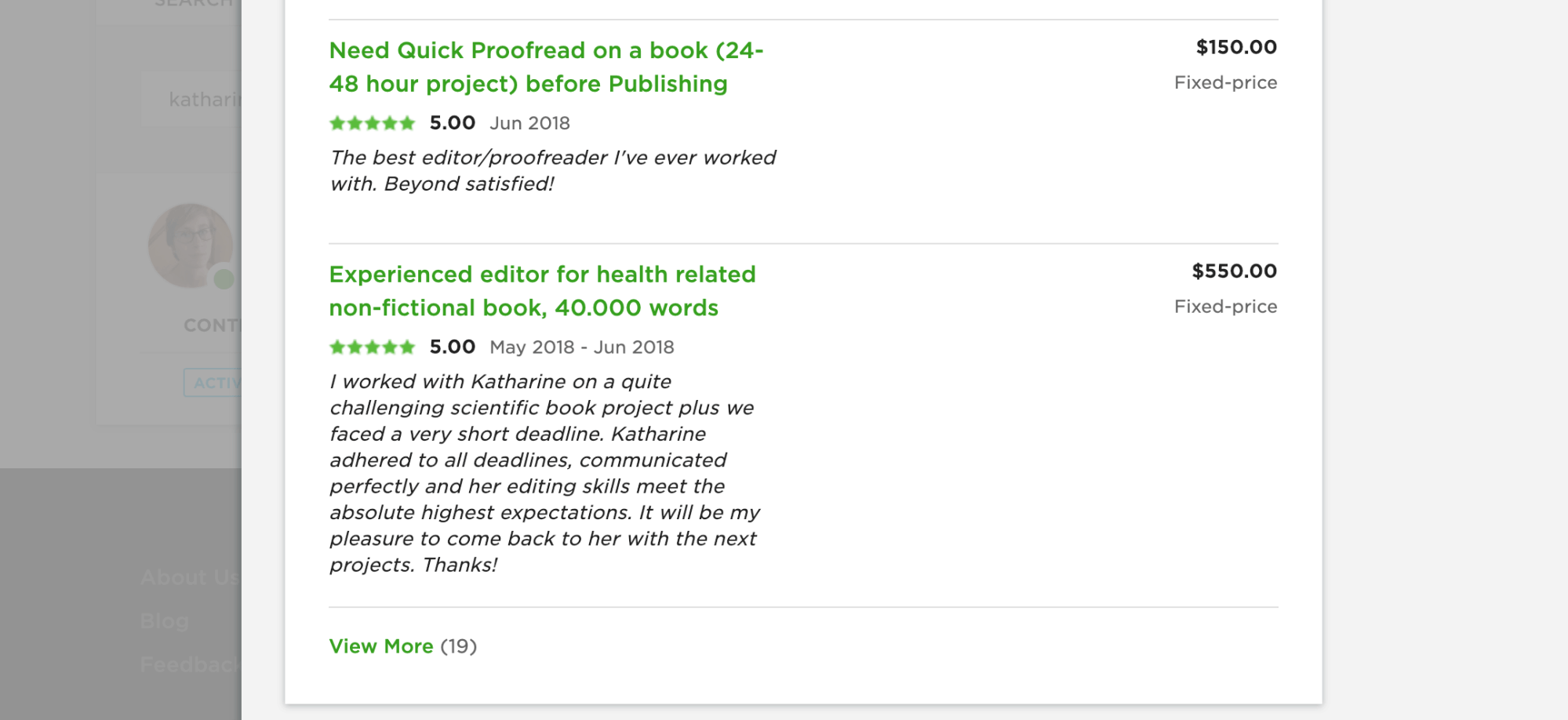 Number of Available Freelancers
Both Freelancer.com and Upwork boast millions of registered users, giving you no shortage of qualified help to choose from. Due to Upwork's vetting process, the pool of freelancers is significantly smaller, although arguably more qualified.
Freelancer.com has no such vetting process, and allows anyone to join. For this reason, it's the largest platform available in terms of user numbers, although this also means that it can take a bit more work to review the dozens—or even hundreds—of bids a project may receive.
The number of freelancers available for hire on Upwork stands at around 12 million people, while, at the time of writing, Freelancer.com has an impressive 31,464,473 registered users.
Which Platform Is Better?
As an employer, either of these options can be perfectly viable. While the fees may vary, and the formats may be different, overall, both of these platforms have thousands of highly qualified candidates that are perfectly capable of handling just about any project you can throw at them.
Although, depending on what you're looking for, it can be advantageous to choose one platform over the other, depending on several factors. Some of the factors that may sway your decision include:
Freelancer Costs: While there are great deals to be found on qualified freelancers across both of these platforms, Freelancer.com, on average, is a bit cheaper. This is mainly due to the large number of individuals from developing nations that use it. Because of this, it's entirely possible to hire workers for less than $5 per hour, although, it's important to keep in mind that you usually get what you pay for
Quality of Work: Due to Upwork's vetting process,there tends to be higher quality freelancers on the platform. That said, great workers exist on both platforms; you might just need to spend more effort looking for them on Freelancer.com
Additional Upgrades: Both Freelancer.com and Upwork offer a number of additional upgrades or account options for various fees. Upgrades such as Upwork Pro or Enterprise accounts, or Freelancer.com's Urgent or Featured Project options give you some choices that may help to sway your decision in one direction or another depending on the features that appeal most to you or your organization
Fees: The fees associated with job postings on both Upwork and Freelancer.com are rather close, with Freelancer.com being a bit more expensive at 0.25% (3% total) more than Upwork's flat 2.75% fee. Both have many optional fees and features as well, but, overall, the burden of the project fees falls mainly on the shoulders of the freelancers, regardless of the platform
So Who's the King?
Both platforms can be ideal for different situations and for different people – although generally, most freelancers prefer Upwork due to higher quality jobs and better-paying clients. However, if you are just getting started in the gig economy, Freelancer.com can provide you with great opportunities.
On the employer end, both options can be perfectly viable depending on your needs. As a rule of thumb:
If quality is what you want, choose Upwork
If budget is your primary concern, Freelancer.com may be the better option
Although, at the end of the day, quality work and workers can be found on both of these diverse platforms.
---
Sources:
https://www.upwork.com
https://www.freelancer.com
https://onlineformportal.com/top-10-freelancing-websites-for-2019/
https://www.and.co/slash-workers#intro