SiteGround may not be perfect, but it was true to its word and gave me a full refund when I cancelled my account. The process was completely hassle-free, even though I had
signed up for the cheapest plan
.
SiteGround has been one of the go-to names in the web hosting industry for quite some time now.
It's known for its ease-of-use
(especially for WordPress sites), and beginner-oriented features like free backups, access to a content delivery network (CDN), and free email accounts. However, SiteGround may not be perfect for everyone, as it's a bit more expensive than some other budget web hosts, and it might not have all the features you're looking for. In this step-by-step guide,
I'll show you how to cancel your hosting account and get a refund.
If you're canceling your SiteGround account because of the slightly higher price for shared hosting,
Hostinger is a less expensive alternative
that offers free website migrations from any other hosting provider. Or,
check out some other options
below.
Quick Guide: How To Cancel SiteGround and Get a Full Refund
Log in to your SiteGround account dashboard.
Click Services. In the top menu bar, you should see a link to Services. Click on that to be brought to a page with all of your active services.
Click the three little dots to the right of your hosting plan. This should bring up a context menu.
Click Cancel. Once you've clicked the three dots to pull up the context menu, click the Cancel option.
Choose when to cancel your service. Before you can continue, you'll be asked when you want your cancellation to take effect: immediately, or at the time of your plan's expiration.
Confirm that your websites will be deleted. If you have any websites up and running, you'll need to confirm that you understand they'll be deleted. Click the checkbox, then click Continue.
Provide a reason. You're almost there, but you'll have to provide a reason for cancellation. Select a reason, then click Continue.
Click Confirm. You'll be shown a quick screen confirming your cancellation along with the refund you can expect. If you approve, click Confirm.
My Experience: Here's How I Cancelled My SiteGround Account
Canceling my SiteGround account was honestly even quicker than when I signed up initially. I managed to complete the entire process in about five minutes, and now I want to share the steps with you. The first step is to log in to
your SiteGround user dashboard
.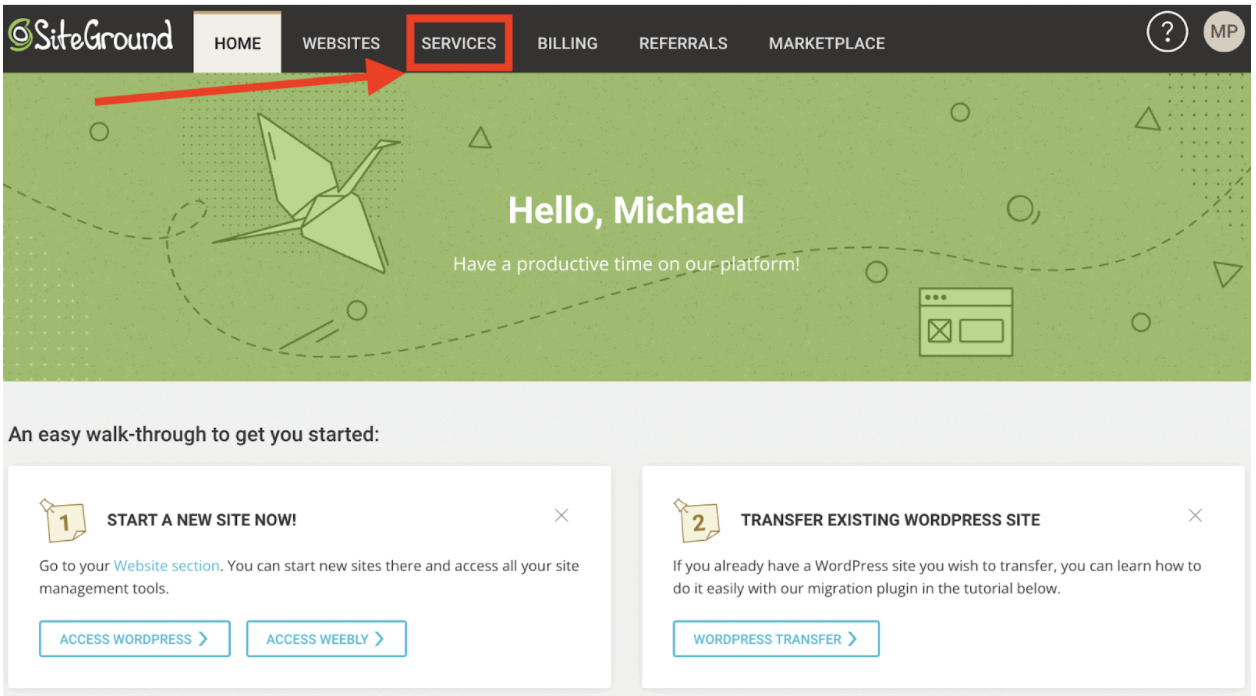 Then,
click on Services.

After clicking
Services
,
click the
Manage
button
beside your hosting product.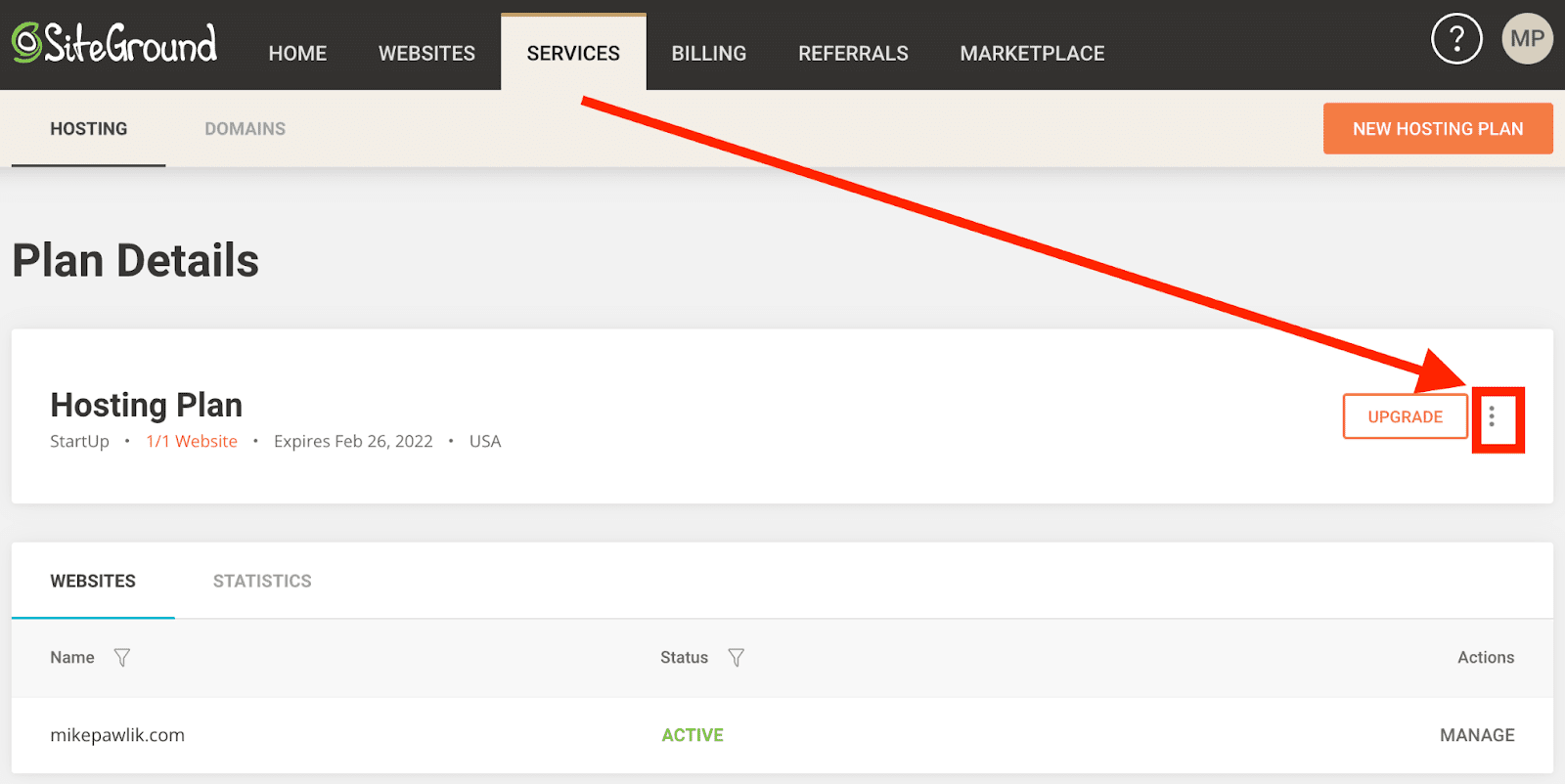 Then,
click the three little dots
all the way to the right of your hosting plan details, beside the
Upgrade
button, to bring up a context menu.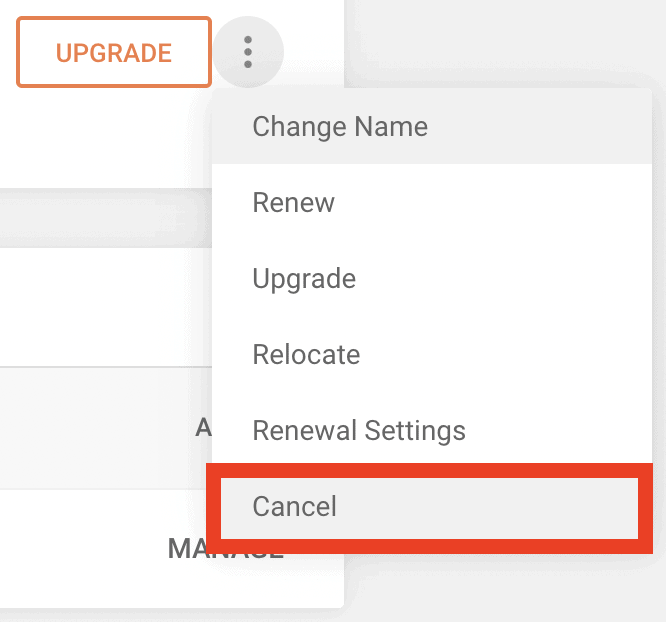 In the context menu,
click
Cancel
to bring up the next screen.

At this point, I was about half way through.
Choose when you want to cancel your services
,
then
click
Continue
yet again. In this case, I chose to cancel immediately in order to receive a refund.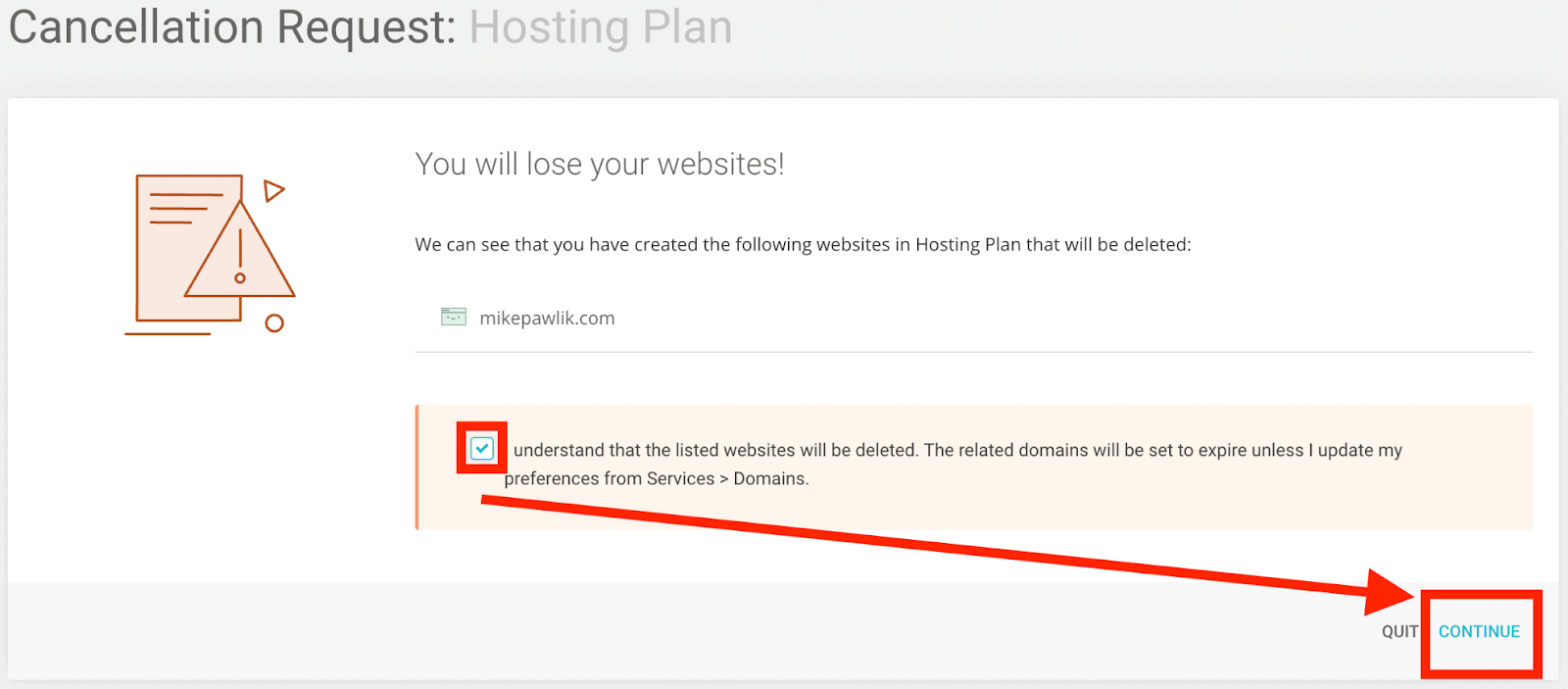 You'll be asked to confirm that you understand the risk of cancelling your services and account, as your website will be deleted.
Accept the risk by clicking the checkbox, then click
Continue
.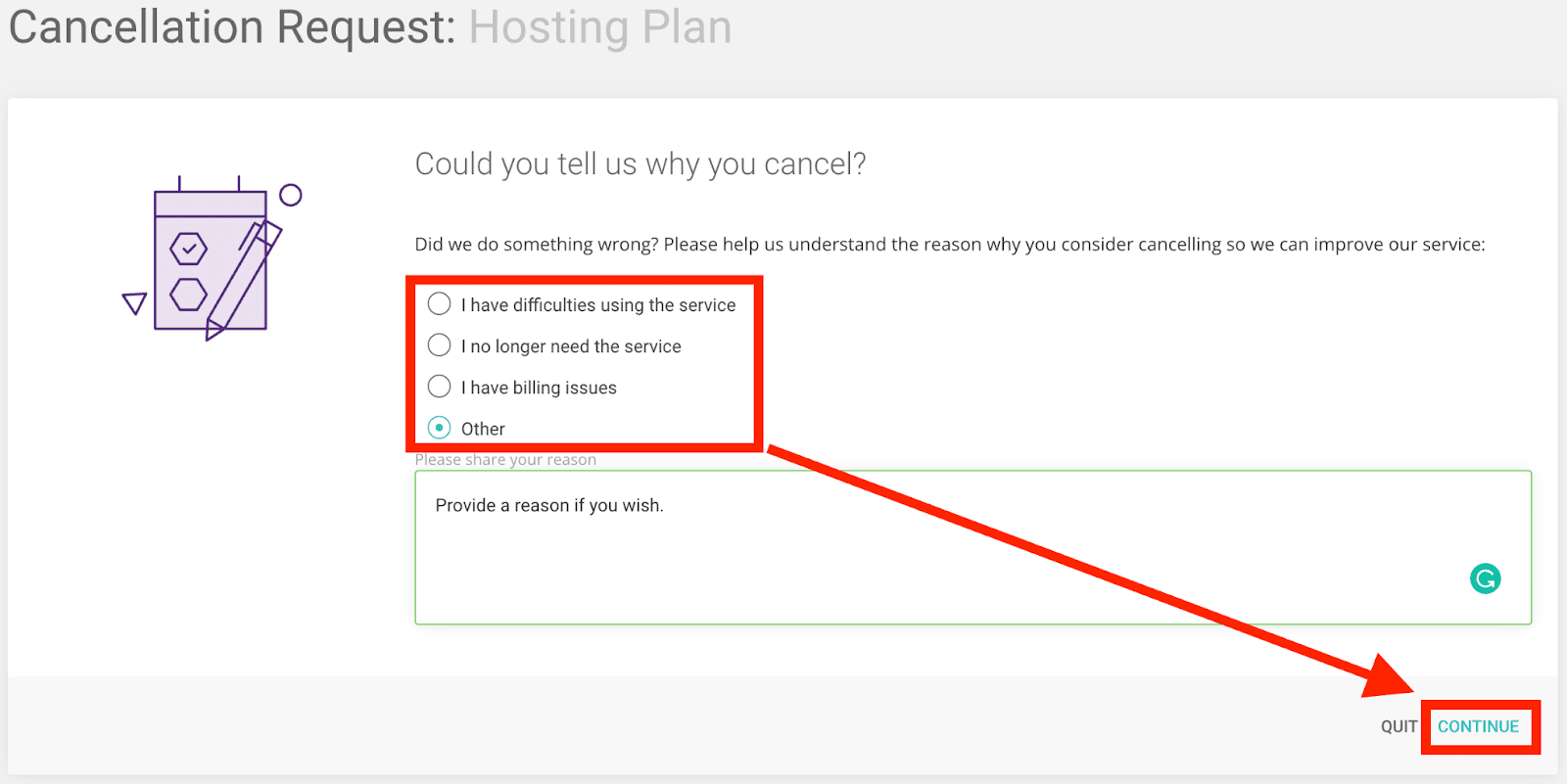 Before you can finalize your cancellation request, you must select a reason, or choose "Other" to specify one of your own (or to opt out).
Provide a reason, then click Continue again
.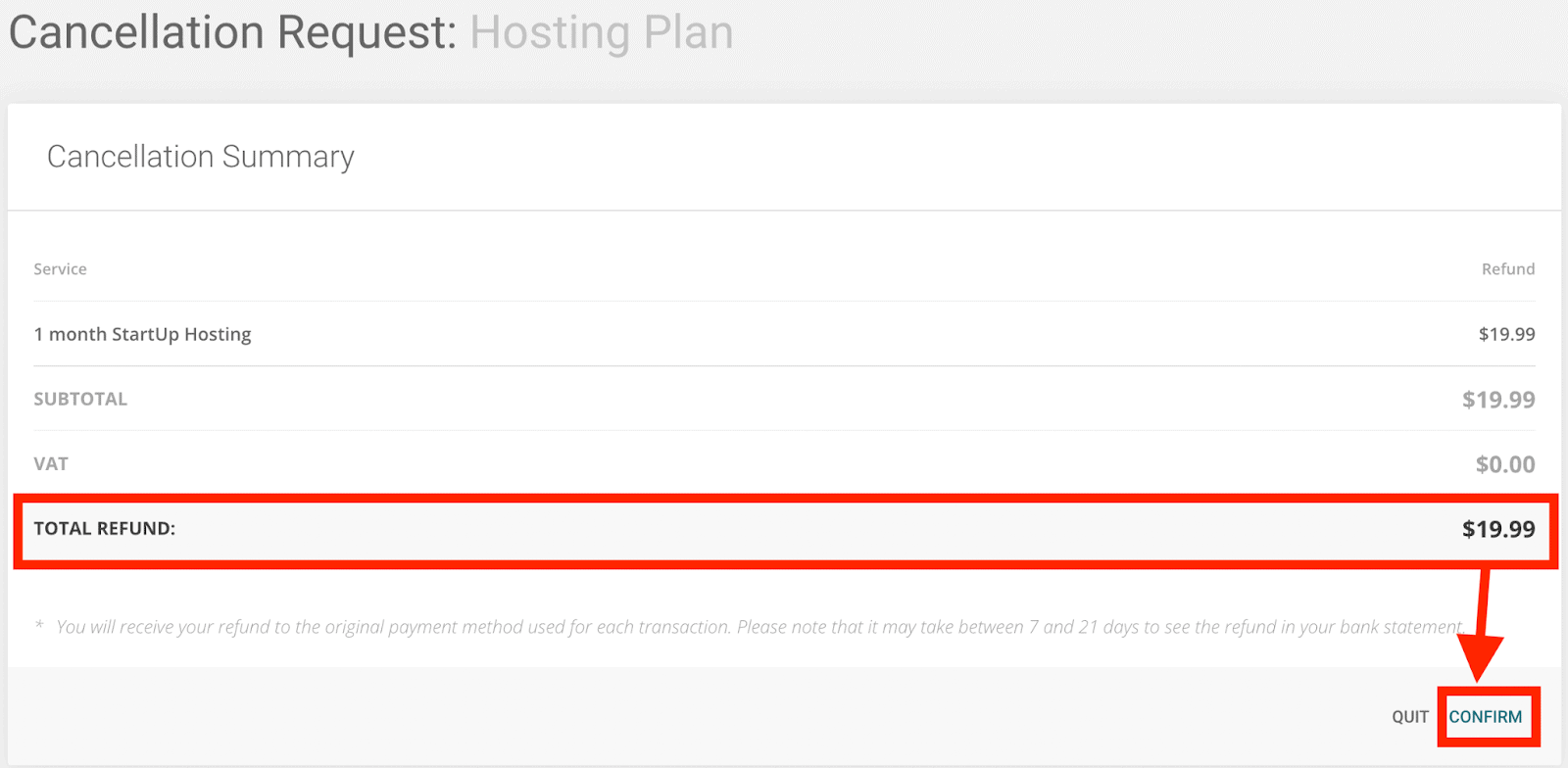 Finally, double-check your refund amount, then click
Confirm.
And you're done!

If your cancellation request was submitted successfully, this is the final screen.
3 Best SiteGround Alternatives for Shared Hosting
When it comes to shared web hosting, Hostinger consistently scores highly in our testing. The good thing is that even Hostinger's basic Single shared plan offers 30GB of data – which is three times more than the basic SiteGround StartUp plan (and cheaper, too).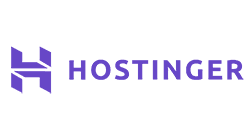 Save up to 75 % on your Hostinger plan!
Limited-time offer - Don't miss it!
7002 users used this coupon!
Nexcess is a great hosting option for e-commerce or WordPress websites, and its managed WordPress service is a notable feature. With it, you get automatic WordPress updates, malware monitoring, instant backups, and free website migrations (if you want to switch your existing one over to Nexcess).


Save up to 33 % on your Nexcess plan!
Limited-time offer - Don't miss it!
55 users used this coupon!
InterServer is an affordable shared web hosting provider with a few features that make it stand out from the competition. All of InterServer's plans include unlimited storage, bandwidth, email and accounts, with a price that remains the same even if you pay on a monthly basis.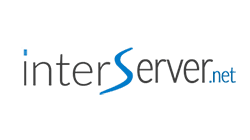 Get your first month of hosting for just $0.01!
Take advantage of this exclusive deal to try out InterServer.
424 users used this coupon!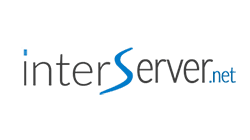 Pay $0.01 for your first month of Web Hosting
Copy and paste this code at InterServer
FAQ
Can I cancel my SiteGround hosting?
Yes, of course! You're free to cancel your SiteGround hosting account at any time. However, you'll only get a refund if you cancel your services within 30 days of purchasing them. If you're looking for a new web host, you could check out our list of the current top hosting providers.
How do I cancel my SiteGround subscription?
It's really easy to cancel your SiteGround services and account. All you need to do is log in to your account dashboard, find the service you want to cancel, then proceed with your cancellation request.
How do I delete a SiteGround website?
To delete your SiteGround website, you'll need to head over to your account dashboard. From there, you'll have to find your website, then delete it from the menu. If you're looking to build another website from scratch (and aren't sure where to start), you may want to check out our comprehensive step-by-step website-building guide.
How do I contact SiteGround?
You can contact SiteGround 24/7 via phone, chat, and support tickets if you ever need customer support.