We noticed that ever since Hostinger reduced their prices, many users are closing their accounts with SiteGround.
SiteGround has been one of the go-to names in the managed hosting industry for quite some time now. It's known for its outstanding technical support and developer-oriented features, but it's not the right host for everyone.
If you're looking for something a bit more beginner-friendly, it might be time to make use of SiteGround's 30-day money back guarantee and look for a different option.
In this step-by-step guide, I'll show you how to cancel your hosting account and get your refund.
If you're canceling your SiteGround account because of the reasons I mentioned above, then Flywheel is an excellent alternative that should be right up your alley.
Cancel Your SiteGround Account Step by Step
I have some good news for you. You can now cancel your SiteGround account automatically with a step-by-step wizard — no awkward phone conversations or chats needed.
Start by going to the Support tab in your hosting dashboard. Skip past all the suggested articles and scroll down to the bottom of the page, and click the link where it says "Proceed to contact us here."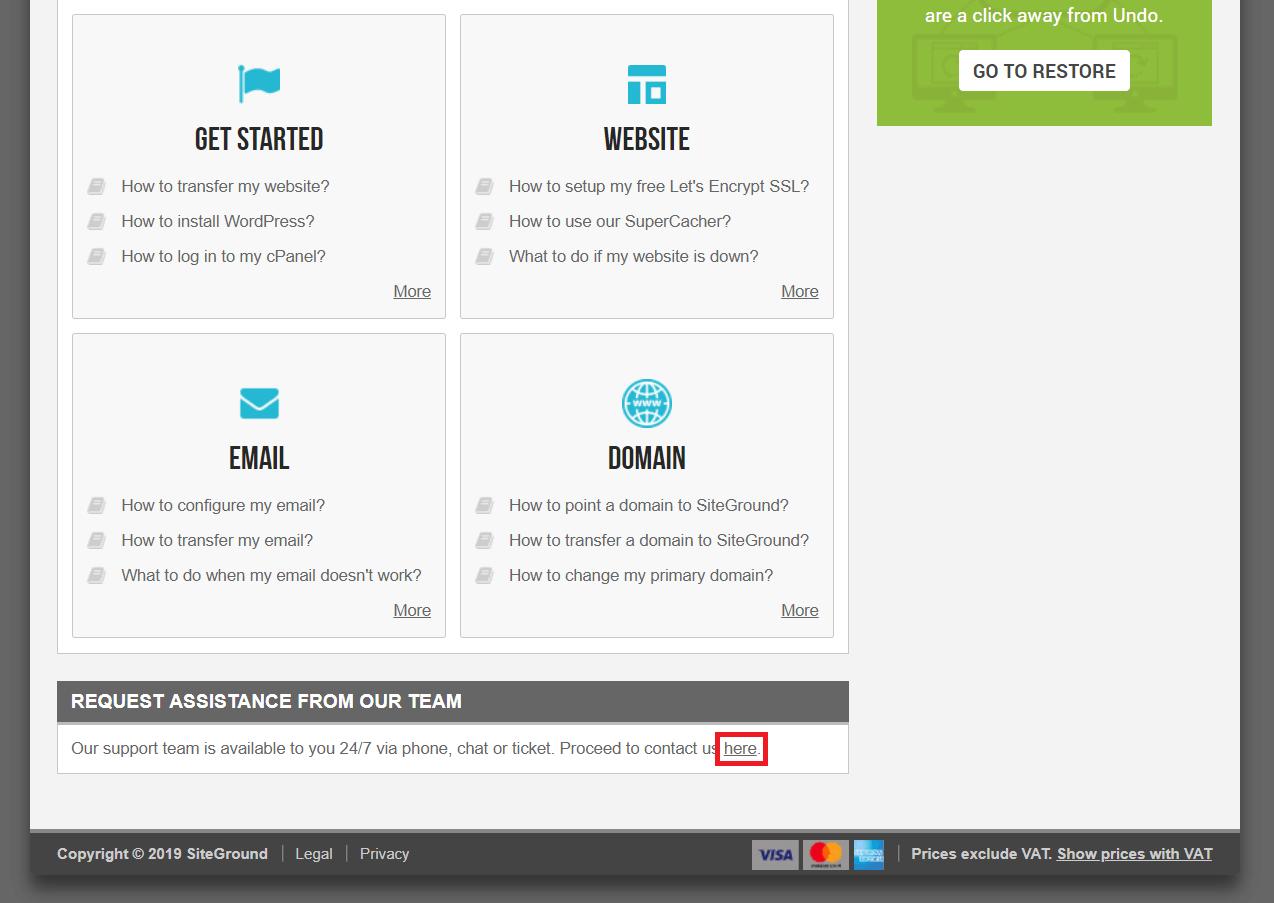 This will open up another list of support topics. You can find the cancellation link under the "Billing" section at the bottom of the page. When you click it, you'll see the options to either cancel or downgrade your account. Go ahead and choose "Cancellations":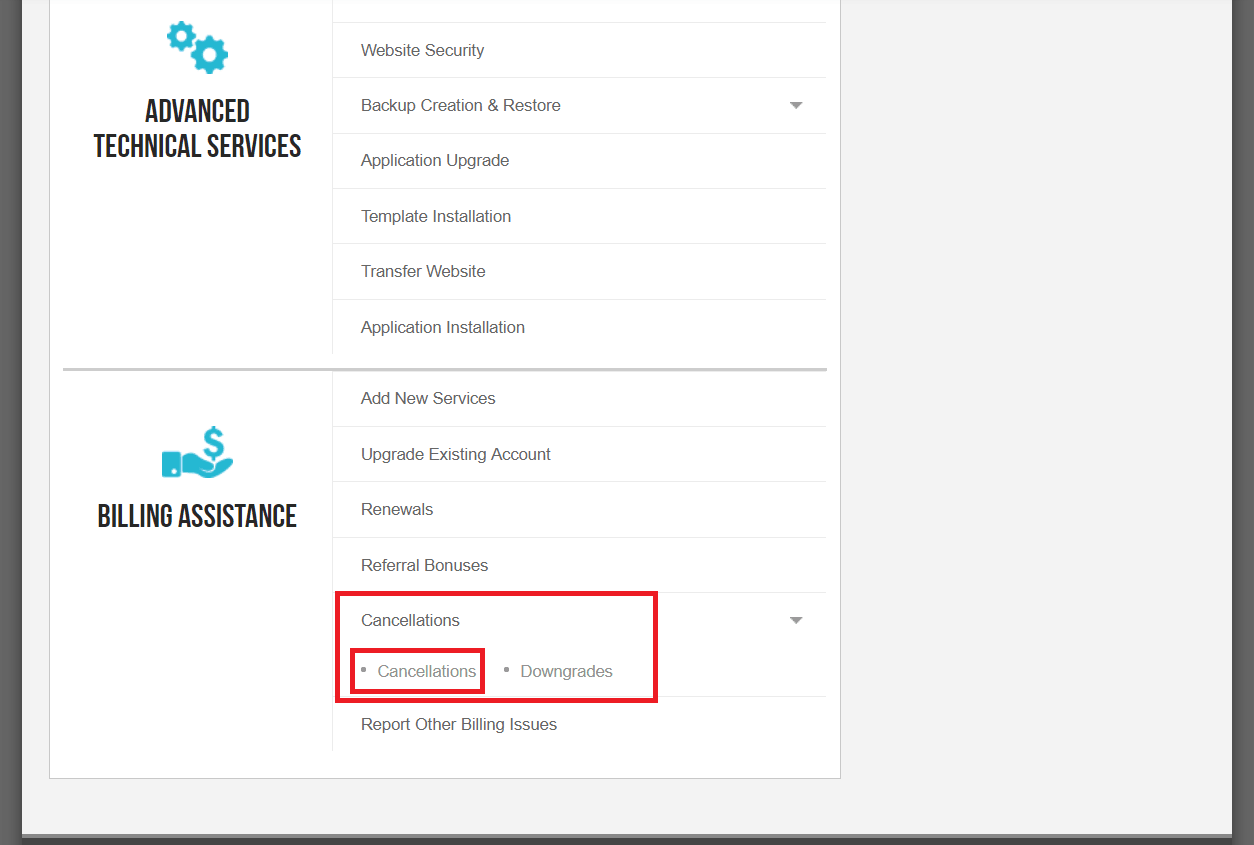 You'll get to a page that shows your subscription. If you've subscribed to multiple services, they'll all be listed here, and you can choose which ones you want to cancel.
Check the box next to your subscription and then click the button below that to proceed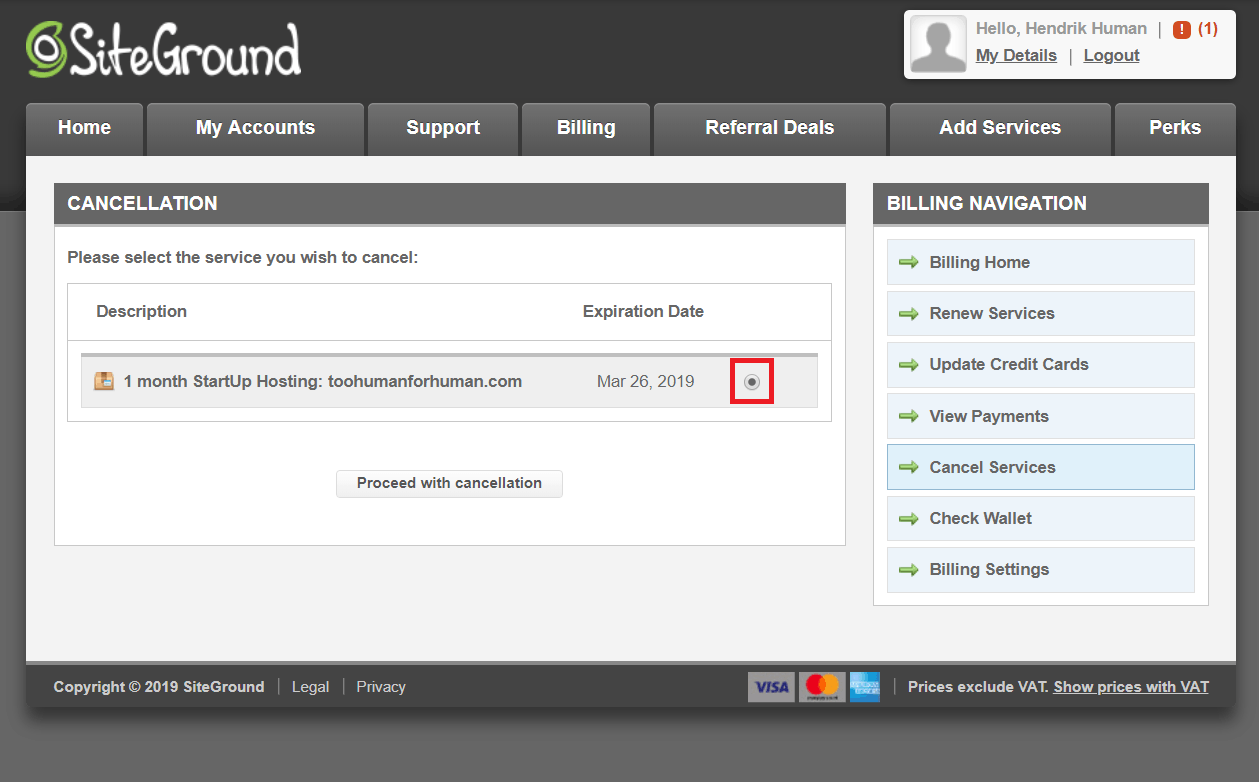 You'll need to say when you want to cancel your hosting. If you're past your money-back guarantee term, you may not want to cancel immediately, but use the rest of your billing period to get your money's worth.
Once you select an option, another box will pop up asking for the reason you'd like to cancel. You'll need to select an option in order to proceed.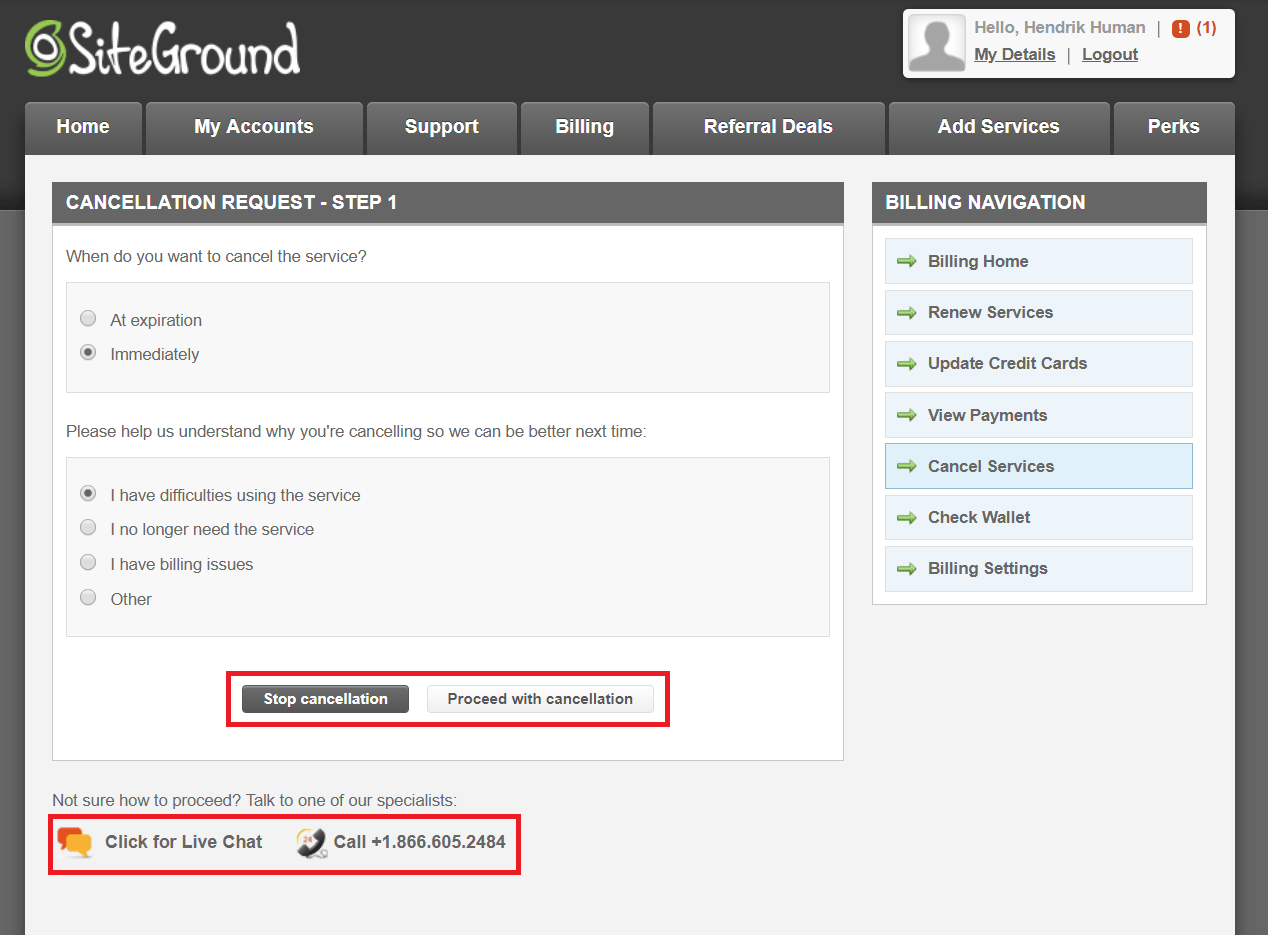 I was a bit annoyed when I had to confirm yet again that I wanted to cancel my account: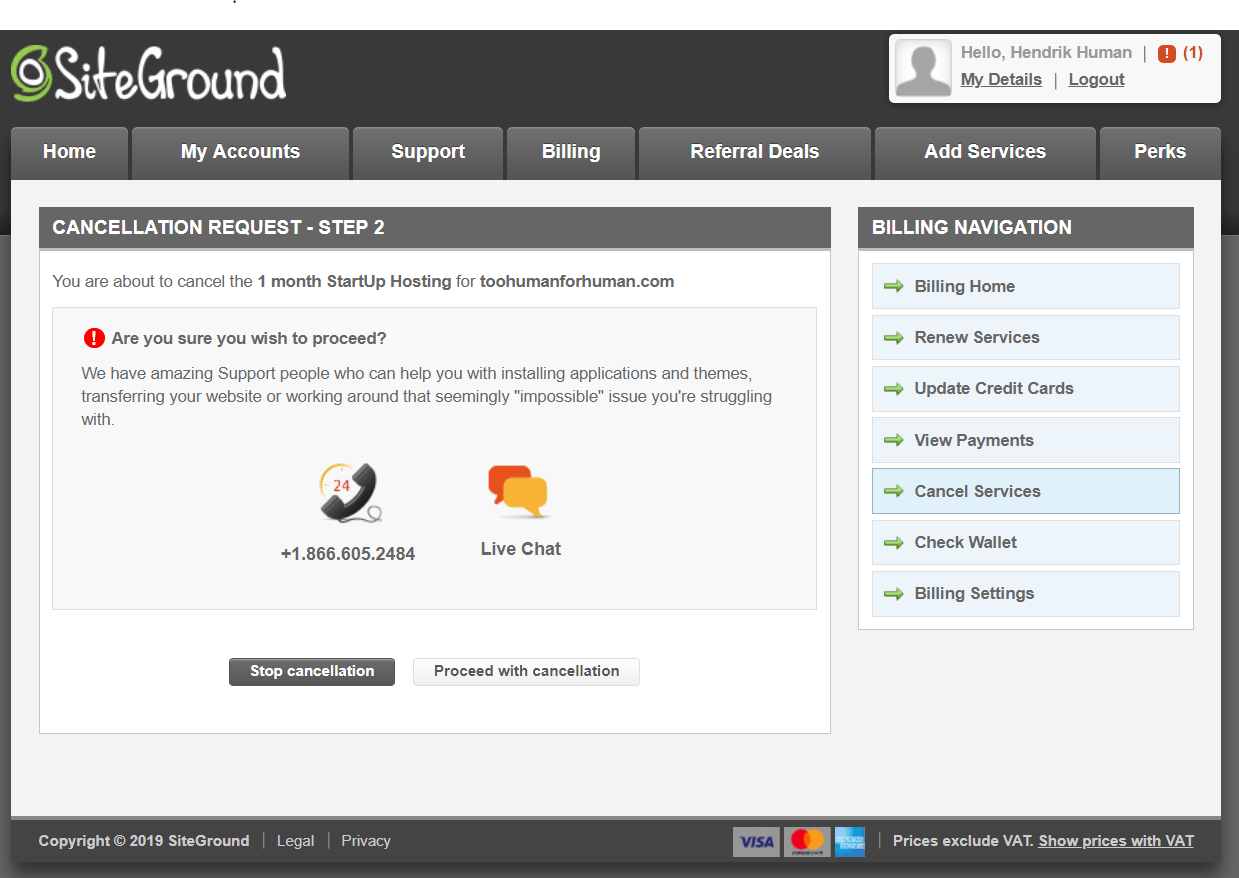 When you click 'Proceed with cancellation', you'll finally arrive at the last step. Here, you can see the total amount that will be refunded. You can also choose whether you want it refunded to your "wallet," so you can use it to purchase other hosting or services, or back to whichever payment method you used.
You're now at the point of no return! So, make sure that the compensation amount is what you expected and that you've selected the right refund method. Then, click "Confirm Cancellation."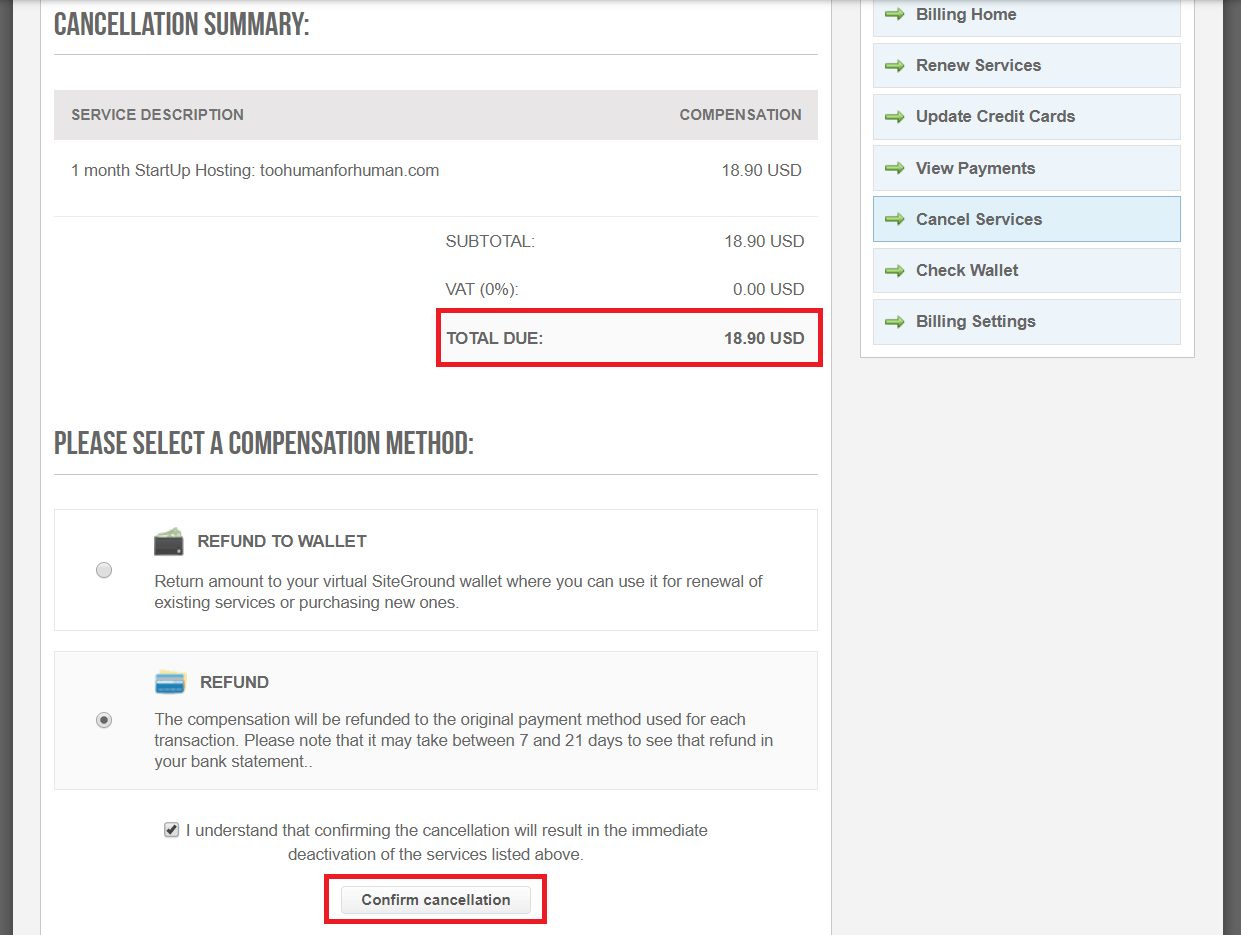 Now, you'll see a confirmation message on your screen, and you should also be receiving a confirmation email: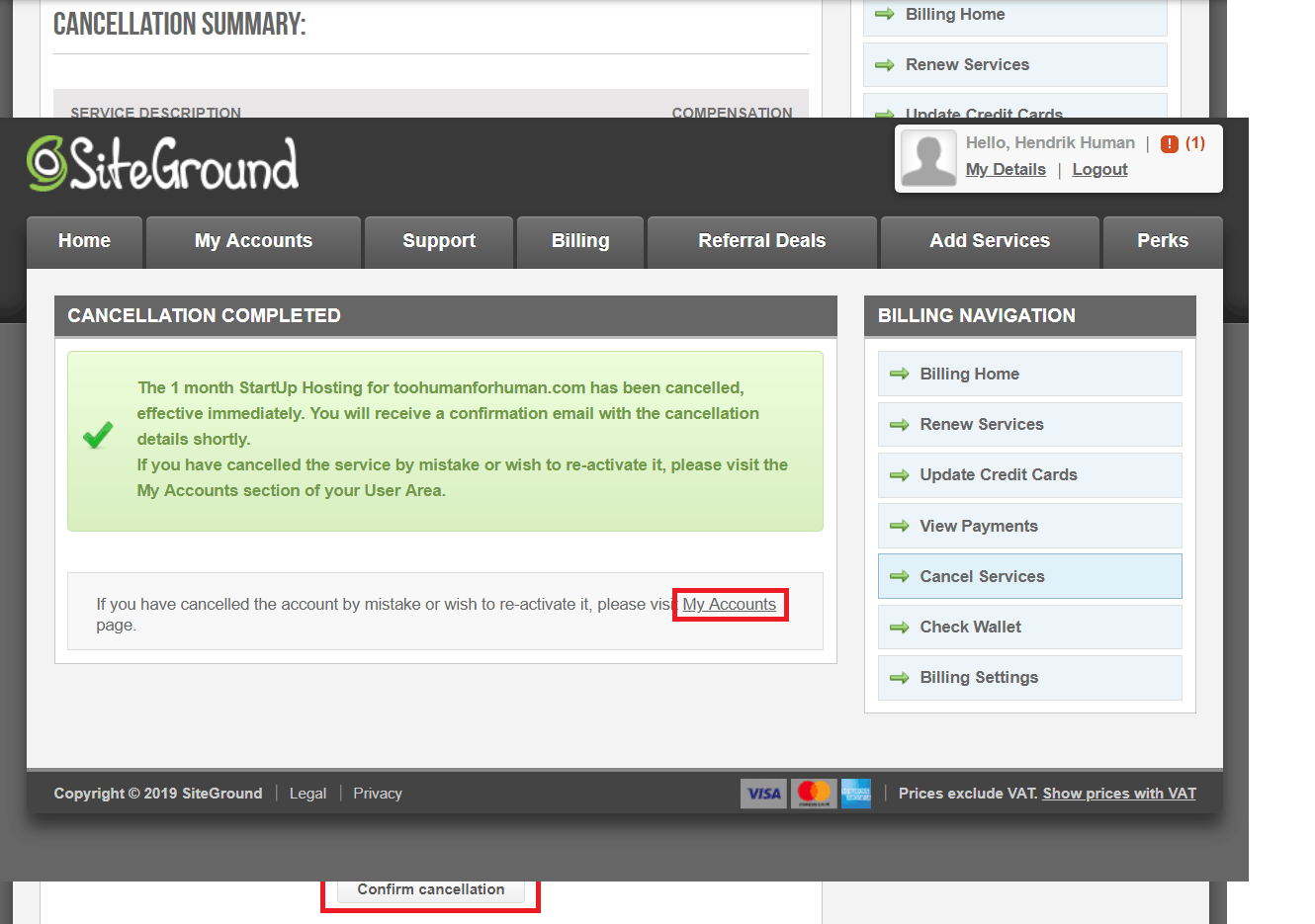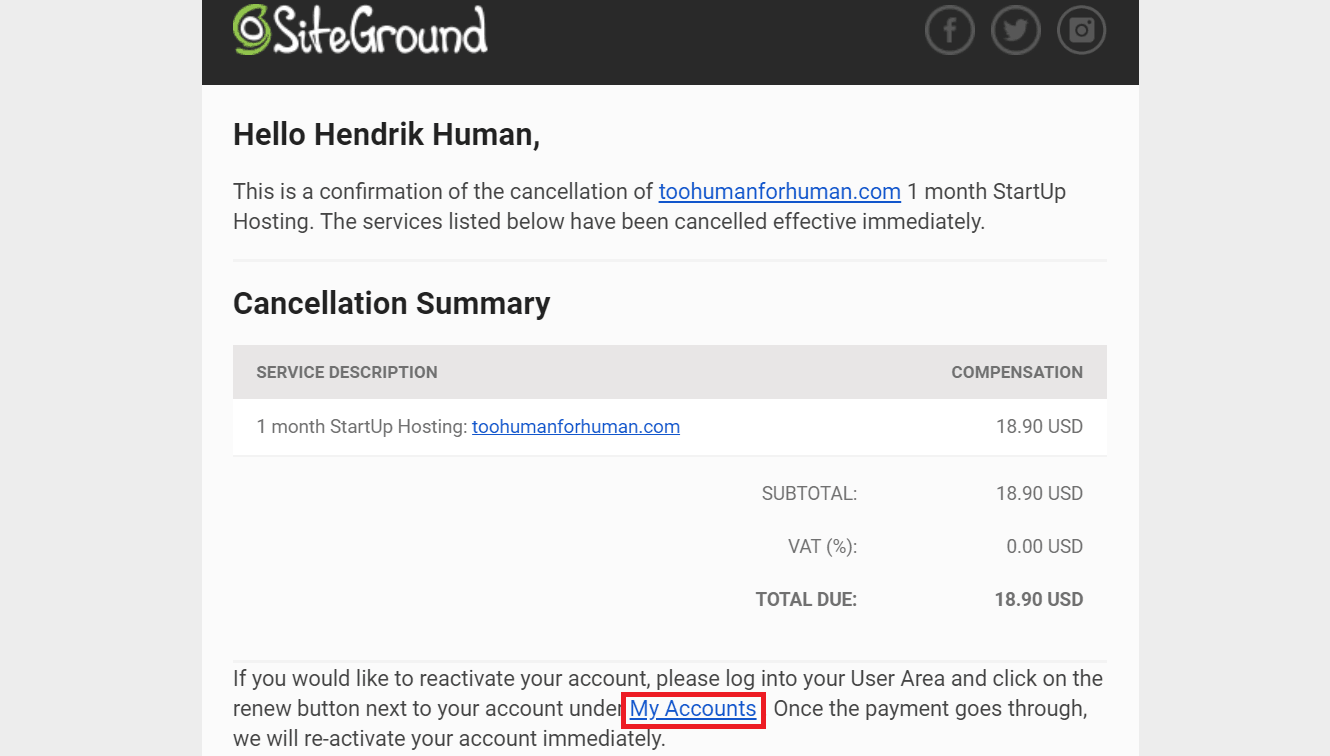 In both the confirmation and the email, you'll find links to renew your account. If you're having "canceler's remorse', you can just click one. From there, click the green "Renew" button and you're back in: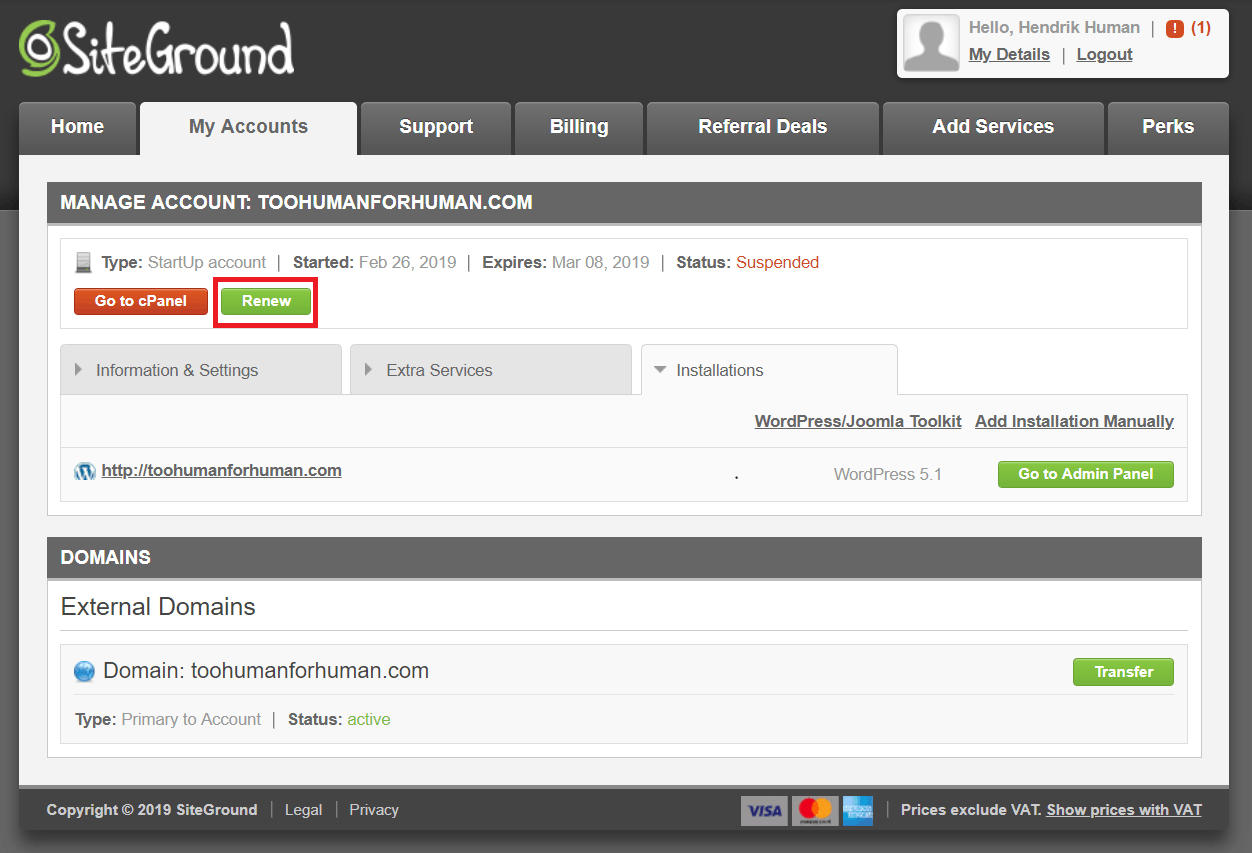 Two days later, I got a notification from my bank that the money was back in my account. I could see in the statement that the refund was processed on the same day I canceled my account.
Completely Automated Account Cancellation
Despite the number of steps involved, this was one of the easiest and most convenient cancellation processes I've been through. The whole thing took me less than 15 minutes.
I liked how SiteGround is transparent, clearly showing you what you're canceling and how much the refund will be. You can also make a quick support query if you've got any concerns.
As ironic as it sounds, you gotta love a host that makes it even easier to cancel than to sign up!
If you left SiteGround because you just couldn't get comfortable using this technical platform, then I'd recommend Flywheel, which provides a more user-friendly custom dashboard with great collaboration features. You can also automatically cancel your account from the dashboard (although you'll have to confirm via email).
If you're not a SiteGround customer and you're considering signing up, check out my SiteGround review to see if it's the host for you.