There are many good reasons why Wix is one of the most popular and widely used website builders in existence. Its pricing plans are reasonable, you have a huge variety of templates and plugins to choose from, it's easy to use, and it has a generous free plan.
With a free plan, you can:
Fully customize your website

with all the features of the Wix website builder.

Choose from any of Wix's 900+ templates

.

Choose any

free apps

or buy premium apps.

Have your

website hosted 24/7

.

Upgrade

your free plan to a premium one for free at any time.
Here's how to go about creating your free Wix website:
Create your free Wix Account
Head over to Wix.com and create an account simply by providing your email address and password. You can then immediately move on to creating your website.
Let Wix Help You Create a Website
One of the most unique features of Wix is its ADI (Artificial Design Intelligence),which will build a website for you based on the answers you provide. You can choose whether to let it take the lead, or go the solo route.
Either way, you'll need to tell Wix what kind of website you want, how you'll use it, and what experience you have. If you take the ADI approach, you'll have a much longer questionnaire to fill out, but you'll get a semi-completed website with a relevant theme and widgets already installed.
Choose the Best Template for Your Website
Another standout feature of Wix is its extensive library of 900+ templates. There's a good number of templates from pretty much any niche and for any purpose. You can view a sample of the template from the library, or edit it immediately.
Once you hit "Save" for the first time in the top right corner, Wix will add the website with your template to your account. Unfortunately, once you choose a template, you can't change it for that website later on. You will need to create a new website with a new template.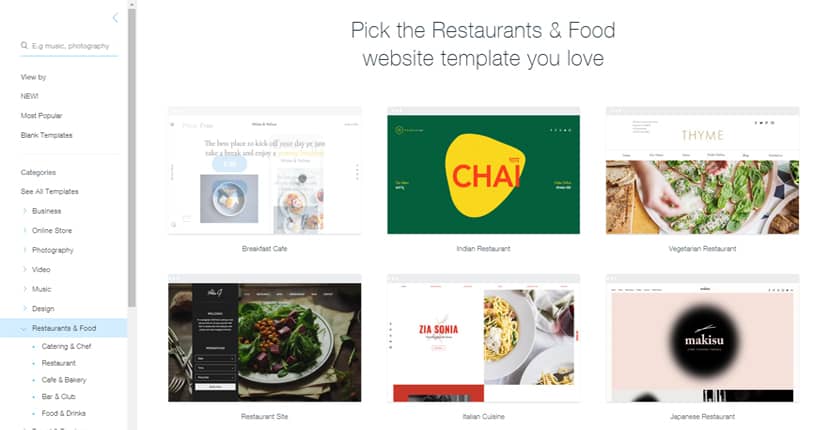 Getting Started with Wix
Wix will provide numerous video tutorials, hints, and tips throughout the beginning stages of building your website if you're new to the platform. You'll be presented with a quick intro video (which you can skip if you like) that shows off the Wix builder capabilities.
Create Your Main Menu or Add Webpages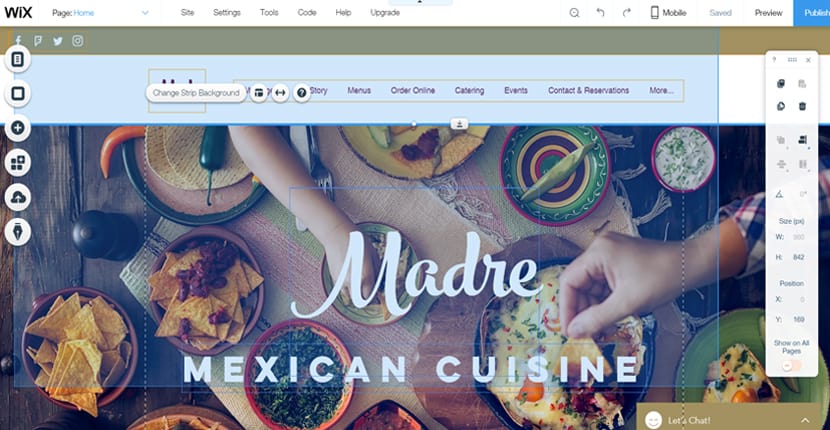 Like any part of the Wix builder, you can click on the menu, and the option to "manage" or edit it will pop up. Alternatively, you can select "Menu" from the tabs on the left. Once the "Site Menu" panel is open, you can create new webpages and add them to your main navigation menu simultaneously. You can also switch between webpages to edit by clicking on them, as well as adjust other settings like SEO.
Definitely first take a moment to plan out your website and which webpages it will contain. This will make the process much simpler and straightforward. Draw out a sitemap with all the webpages you need, and then replicate it in the builder.
Add Elements to Your Webpages
Below the "Menus & Pages" tab, you can set background colors, images, or videos for your webpages. Make sure you're currently editing the webpage you want to change this for. Below that, you can also add individual elements to your webpage like pieces of text, images, buttons, widgets, etc.
To add them to the webpage, drag and drop them from the tab to where you want them on the webpage. You can literally drop an element anywhere you want. Each element also has extensive customization options you can change by selecting it and choosing any of the options. And as an important tip, you can use the "layout" option to align elements to the center.
Add Features with Wix Apps
Do you want to use forms on your website for visitors to fill out their details? There's an app for that. How about an analytics tool that tracks your visitors and their behavior? There's an app for that, too. What about an app that makes it easy to set up a store? You guessed it — there's an app for that as well.
Wix has a huge library of apps that are plugins with a specific set of features. Think about what you want users to do on your website and look through the apps to see whether there's something suitable for you. Just go to the Wix App Market on the left, choose an app, and add it to your website with a click. Wix apps are usually very easy to set up; you'll be guided through the beginning process.
Manage Your Media
Under "My Uploads," you can manage your images, video, documents, audio files, and other graphics you uploaded to Wix. You can arrange them in folders to make them easier to find, delete them, or make tweaks to them using the Wix image editing tools. It's important to manage your content, as Wix restricts the amount of data your website can use depending on your pricing plan.
Add a Blog
Wix works differently from most other website builders. You don't automatically have a blog. However, a blog is only a few clicks away. It's actually an app, but you can add it from the left-hand tab. Once it's added, you can immediately start creating posts. All future blog-related tasks will be done from the same tab. Remember to logically organize your blogs under categories which you can find to the right of your post dashboard.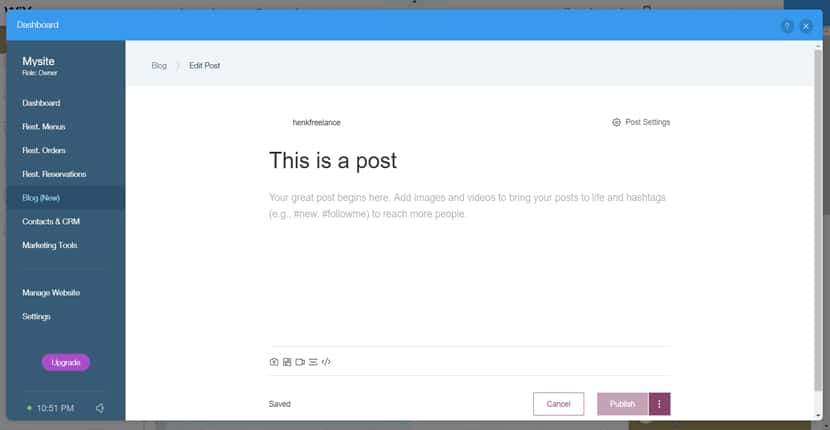 Take Your Website to the Max with a Wix Pricing Plan
From a design and customization perspective, Wix probably offers the best free plan of any website builder. However, there are a number of important features you'll miss out on without a paid pricing plan. Here are some:
Your

own domain

An

online store
Much more space

for your website and media

Access to the essential premium

Form Builder

and

Site Booster Apps

With the Combo plan upwards, the

ability to remove Wix branding and ads

With the VIP plan,

a professional website designer

who will review your website and give you feedback
Ready to Make a Wix Website?
As you can see, the free plan is fine for testing out the Wix platform. Because you have access to all templates and customization options, the free plan is great for putting together your website and getting it launch-ready before you need to pay anything. If nothing else, it's a lot of fun to play around with. However, if you want to run a business on your website or monetize it in any way, you will need a paid plan.