welcome to GoDaddy vs Bluehost
! It would've been a dead tie in a battle of popularity, but we're here for what really matters: finding out which of these hosting giants is best suited for your website. In the left corner, we have
GoDaddy
. This seasoned veteran has quite a few tricks up its sleeve, from intuitive website builders to worldwide phone support. No matter where you're located, it packs a serious punch in terms of speed and performance. In the right corner, sporting a user-friendly interface and pictures of New York City hipsters, we have
Bluehost
. Once known as the go-to option for cheap, quality hosting, it's changed quite a bit over the past few years. Can its extra features still give it the edge? Don't make your decision without reading this comparison first.
I've hosted websites with both, and I'm here to share my experiences: the good, the bad, and the surprisingly silly
. Bluehost vs GoDaddy – let's get ready to rumble!
GoDaddy's Global Fleet of Data Centers Overpowers Bluehost's Secret Location
It all comes down to performance: uptime, reliable availability, and fast page loading speeds. I used the best tools available today – GTmetrix and Sucuri Load Time Tester – to gauge the performance of my sites with both hosts. Before we go into the results, let's address the issue of data center locations. You can access online websites from all over the world, but each one is hosted on an actual physical server. No matter if you choose shared, VPS, or dedicated hosting, your website is physically located in a data center somewhere. That location affects your loading speeds, as less physical distance between the data center and the visitor results in faster performance.
GoDaddy understands that and offers you a choice between nine data centers: seven in the U.S., one in the Netherlands, and one in Singapore
. Bluehost, in what may be the weirdest business practice seen in modern hosting, is completely mum on the location of its data center (or data centers – nobody knows!).
You'll have no clue where your Bluehost website is hosted
. This makes the results of my speed tests much less surprising. GoDaddy's speeds were pretty good worldwide, and especially fast in locations close to my data center (I chose the Netherlands one). Had my target audience been in East Asia, the Singapore data center would've been exactly right. My site with Bluehost fared nicely in Montreal, Canada, and in Western Europe, but results in Los Angeles, New York City, and Asia were less promising: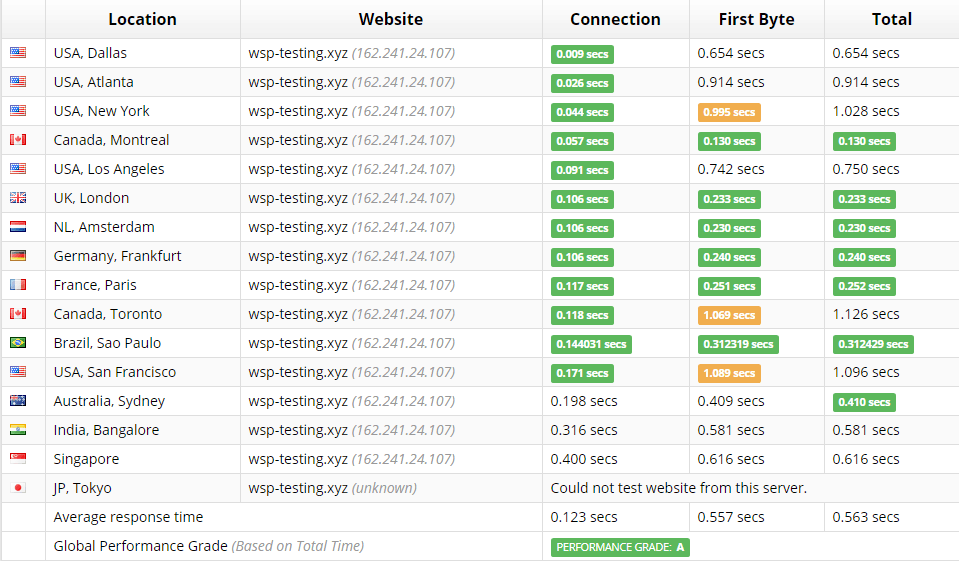 Keep in mind that my site was as simple as can be. Expect dramatically higher loading times with your actual website. In terms of uptime, it's important to mention that
Bluehost doesn't provide an uptime guarantee. GoDaddy, on the other hand, promises 99.9% uptime
 and will partially reimburse you if it can't meet that figure. Still, after tracking my two websites, I'm happy to report that actual uptime with both was above 99.9%.
And the winner is:
In performance it's… GoDaddy. This is true for the U.S. and Western Europe, and especially true for audiences all over Asia. Bluehost is simply slower. Read up on GoDaddy's data centers and performance in our
expert review
.
Bluehost Is (Mostly) a Mean, Lean, Ease-of-Use Machine
Despite it falling short in the performance category,
Bluehost remains in the fight thanks to an extremely streamlined interface
. It uses cPanel, just like GoDaddy's hosting, but from signup till website launch, the process is much easier. GoDaddy carries the burden of providing many different services. As a result, the menus are complicated to navigate, plans are difficult to compare, and you'll be left wondering which service is needed, and which is an upsell. That's not to say Bluehost doesn't dabble in upselling unneeded features (as it most definitely does), but it's much less confusing:
simple plans, clearly laid out, and a WordPress management dashboard that integrates with your website
. It's not perfect – far from it – as loading times between screens can easily drive you crazy. And still, the whole hosting experience is smoother. GoDaddy has so many menus, sub-menus, sidebars, popups, and add-ons… you'll need laser-like focus to push through. In addition,
Bluehost offers a super useful checklist to site-building
. Clicking each step will send you exactly where you need to go, so you can blissfully follow along: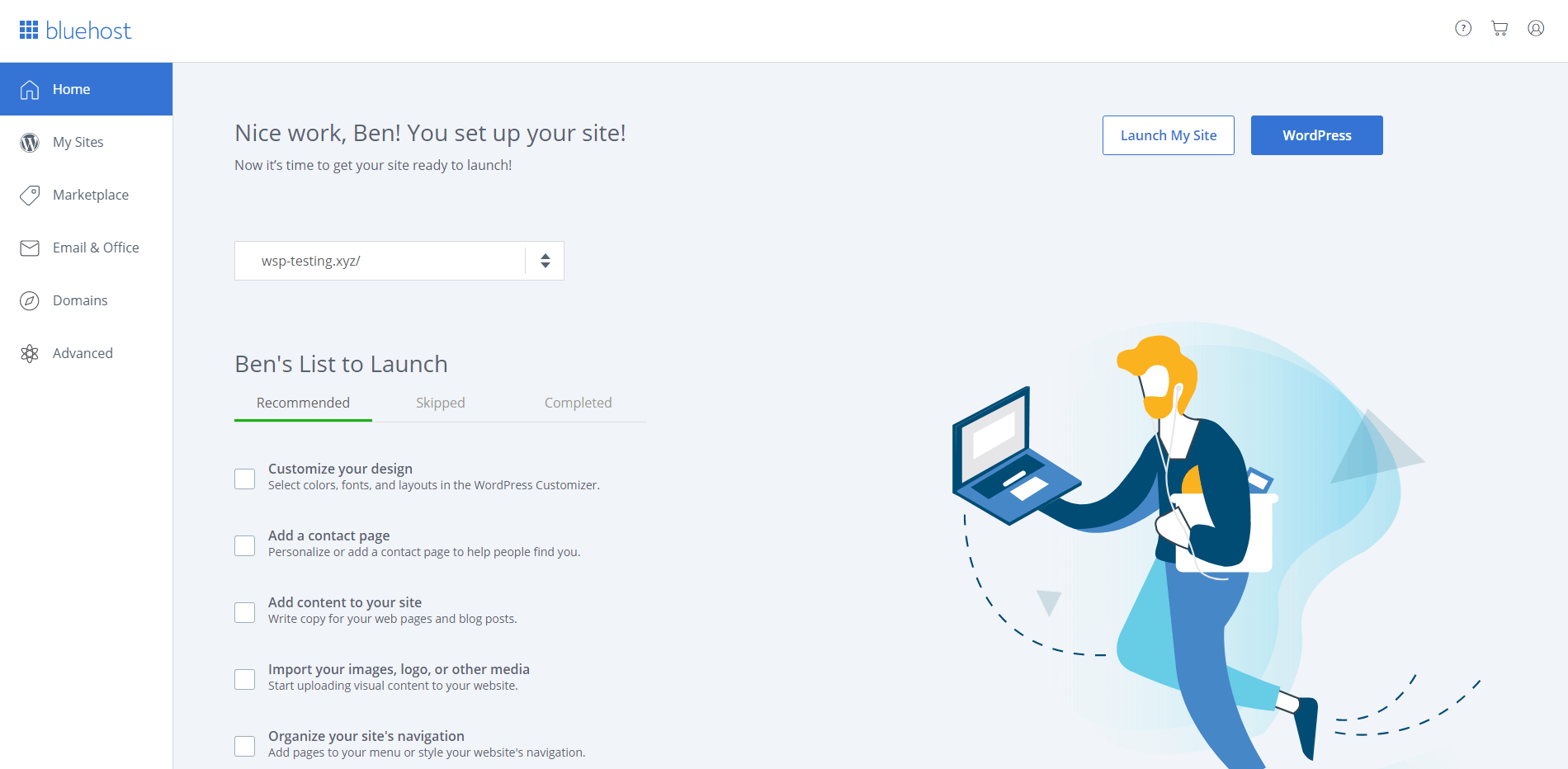 And the winner is:
Bluehost, easily. It gets one of its highest scores for ease-of-use in our
in-depth review
. GoDaddy needs to simplify its screens and dashboards before trying again.
Bluehost Includes the SSL You Need – GoDaddy Can Sell You One
While not every hosting company admits it,
an SSL security certificate is a must-have
. It affects your Google ranking, it protects your visitors' privacy, and you can't run an e-commerce store without it.
Sadly, GoDaddy hasn't quite taken that fact to heart
. Shared hosting plans with the company still come without an SSL of any kind or are limited to a free SSL for one year only. You'll have to buy your certificate from GoDaddy, and it's not cheap. The most annoying part is that most websites only need a Let's Encrypt SSL, a free service that companies can integrate into their hosting solutions. That's exactly what Bluehost does, with each of its plans. No matter which one you choose – you'll be padlock-protected. In addition to SSL certificates,
both companies advertise extra features like automatic backups and security suites. Sadly, they're not included with any of the plans
. You can purchase these extras for a hefty sum, but at least with Bluehost, that sum is slightly cheaper.
And the winner is:
Neither company wins the features championship by knockout, but Bluehost takes this round on the strength of a free SSL.
Build a Website the Easier Way with GoDaddy's Site Builder
WordPress
and other content management systems are a fantastic way to build your website, and if you're a real pro, you can just dive into the newest technologies and build your site from scratch. Thing is, if you're a beginner, you're much better off using a drag-and-drop site builder.
GoDaddy provides its proprietary site-building tool
, which you can read more about in
our expert review
. It's available for free trial and can be used to quickly build basic, nice-looking sites: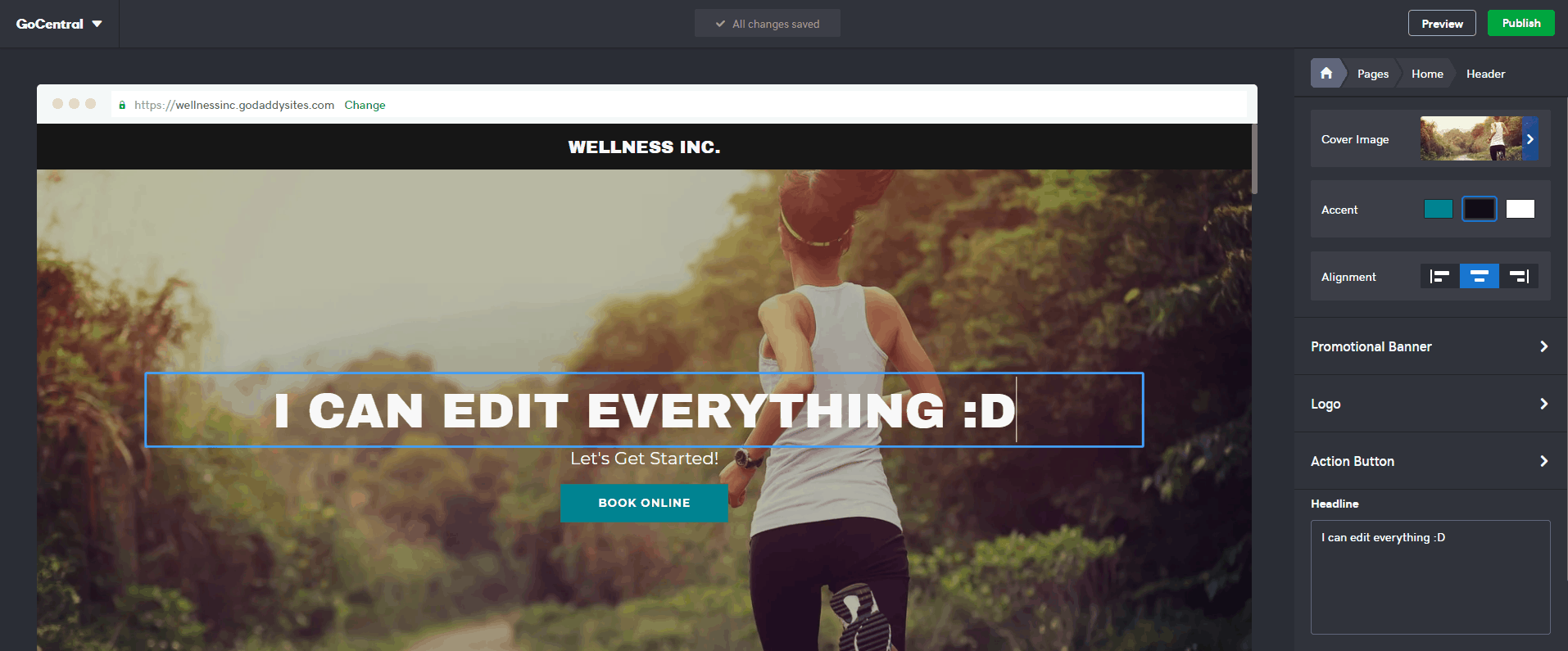 Bluehost offers an integration with Weebly
, a popular site-building tool, but one that I personally find to be lacking. It's not as powerful as some other builders and is quite limited in its choice of templates and customizations. In Bluehost's defense, the Weebly integration is available on
all hosting plans
, so you can start with a site builder and later move on to WordPress. GoDaddy, on the other hand, offers plans that are strictly limited to the site builder. If you want to switch it up in the future, you'll need to sign up for a new hosting plan.
And the winner is:
Flexibility can go a long way, but in the end I'm giving this one to GoDaddy. The company developed a super-easy-to-use builder and can provide you with firsthand support and technical advice.
GoDaddy Offers an Automatic Website Transfer Tool, While Bluehost Provides a Paid Service
Just like people move from place to place in real life, so do websites in the online world. Why? Many reasons. You might find a better deal with another company, get excited about a new feature, or just appreciate the better performance. Whether you already have a website with some other host or are thinking about transferring your domain from Bluehost to GoDaddy, you'll be happy to know that
GoDaddy offers an automatic migration tool
. There's a fee when transferring the actual domain name, no matter where you're moving it to, or from, but you can use the tool to move your website to GoDaddy, almost hassle-free. It won't work perfectly with advanced websites, but simple blogs and basic stores can be transferred in no time. What about the other way around?
If you want to transfer a GoDaddy domain to Bluehost, there's no tool to help you out
. Your best bet would be to either read up on how to back up your database and files and move them yourself or to purchase Bluehost's migration services. Many other hosting companies offer a free transfer service, one that their professional support takes care of. With Bluehost, this service is far from free and can actually cost as much as two years of hosting with the company.
And the winner is:
The automatic tool makes GoDaddy our winner here, and by a pretty big margin.
GoDaddy's Support Is Offline – Bluehost Doesn't Know Who You Are
Nobody wants to contact support, but almost every website owner will. You'll need their help to work through unknown issues and technical bugs, to settle billing problems, and sometimes simply to understand the platform. While both Bluehost and GoDaddy advertise a 24/7 support service, they do a pretty poor job of actually running it. We'll start with GoDaddy. Its live chat support isn't actually 24/7, and I still haven't managed to understand when it's supposed to be open.
When trying to contact GoDaddy's support via chat, this is usually the screen I get
:

What's even more disappointing is that after contacting a representative, you're starting a bureaucratic journey that isn't likely to lead where you want to go. GoDaddy's tiered support system will have you moved from one agent to another, and I often give up and contact phone support instead.
The situation with GoDaddy's phone support is actually much better.
The company's size plays in our favor, as it operates local support lines in dozens of countries, from the U.S. to Japan, many of them available 24/7. They're manned by native speakers and managed to help me sort out quite a few bugs I was encountering. Bluehost offers two 24/7 phone lines, one for the U.S. and one for the international audience. You'll have to wait a while before talking with an agent, but they'll be able to help you out with most basic tasks. Chat support with Bluehost is a whole different story.
Bluehost's chat system isn't connected to your account or login, so the agents have no idea who you actually are
. Their verification system includes asking you for the last four characters of your password (!), something that severely compromises your privacy. You can choose to play along or ask for an email verification. Either way, you'll have to go through this process every single time you contact support. After being verified, the service quality is hit or miss, as is the case with all outsourced support. Toward the end of your conversation with support, the agent will probably try to upsell you with some unneeded service.
And the winner is:
Offline chat vs ridiculously designed verification methods. GoDaddy vs Bluehost is surely one of the craziest comparisons I've had the pleasure of doing. Still, international phone lines win GoDaddy the support round.
GoDaddy Wins, but Can't Compete with the New Generation of Hosts
If you're down to GoDaddy or Bluehost, let me make it easy for you.
While Bluehost takes the lead in terms of easy interfaces and an SSL, GoDaddy wins where it matters the most: performance and support
. If your audience is not situated where Bluehost performs optimally, your website's speed will be noticeably slower, often significantly so. GoDaddy's user-friendly website builder and an automated migration tool further simplify the decision, making it even easier to choose their services. Before we part, I'll let you in on a little secret: Neither Bluehost nor GoDaddy are the best hosting companies around. They keep coasting on their popularity and affiliate programs, but
you can get more features with SiteGround, better prices with Hostinger, and killer performance with A2 Hosting
. Check them out before making your final decision!
Performance
99.9% uptime guarantee and fast loading speeds worldwide; nine data centers available for your website
Loading speeds vary, with Asia and parts of the U.S. showing disappointing results; data center location(s) are undisclosed, and uptime isn't guaranteed
Ease of Use
Many products and services make for a confusing consumer experience; the account area isn't much better
Streamlined interface, from checkout to launch, but loading times lag and there's room for improvement
Free SSL
No SSL included with the basic plan; SSL can be purchased, but not for cheap
Free SSL with all plans
Website Builder
Specific website builder plan offers an intuitive builder, but it can't be used for regular hosting
Weebly integration is available with all shared hosting plans
Website Transfers
Automatic migration tool for an easy transfer, at least for basic sites
No automatic tool, but an expensive transfer service can be purchased
Support
24/7 support, but live chat is usually unavailable; international phone support is available in many languages, with local numbers
24/7 support that requires you to verify yourself by giving part of your password away; a U.S. phone line and an international phone line