while Blogger is better than it used to be, it's still just a pretty basic blog CMS.
 It's lagging behind many other blog systems in terms of features, and it's getting harder to customize your designs. No seriously, there doesn't seem to be any way to upload your own theme to Blogger anymore, as of my last test. Plus, a lot of the default themes look dated, and can't be customized much. Well, as an off-and-on web designer and full time writer, reviewing site builders and content management systems is what I do. Heck, it's a large part of what Website Planet does. Here then, are the best alternatives we've found to good old Blogger:
Short on Time? These are the Best Alternatives to Blogger in 2023:
What We Look For in the Best Alternatives to Blogger
Not every alternative we list will beat Blogger in all of the following categories. That said, here's what we looked for:
Strong blogging features – Every alternative has to at least match Blogger for blogging features. Since, you know, that's what most people use Blogger for.
Plenty of template and theme options – Blogger's limited theme selection is one of its biggest drawbacks, and one that is rectified by most of the entries on this list.
Strong design customization features – Picking a theme should only be the first step. The ability to make your site perfectly match your branding is, if not essential, a huge bonus.
Ease of use – You shouldn't have to spend days figuring out your new site builder / blog system.
Strong non-blogging features – Sometimes you just want a site that will do more than blog. Enough said.
Fair pricing – I won't lie; it's darn hard to beat Blogger's low, low price of free. Well, every entry on this list is either also free, or at least has a free plan that you can start with.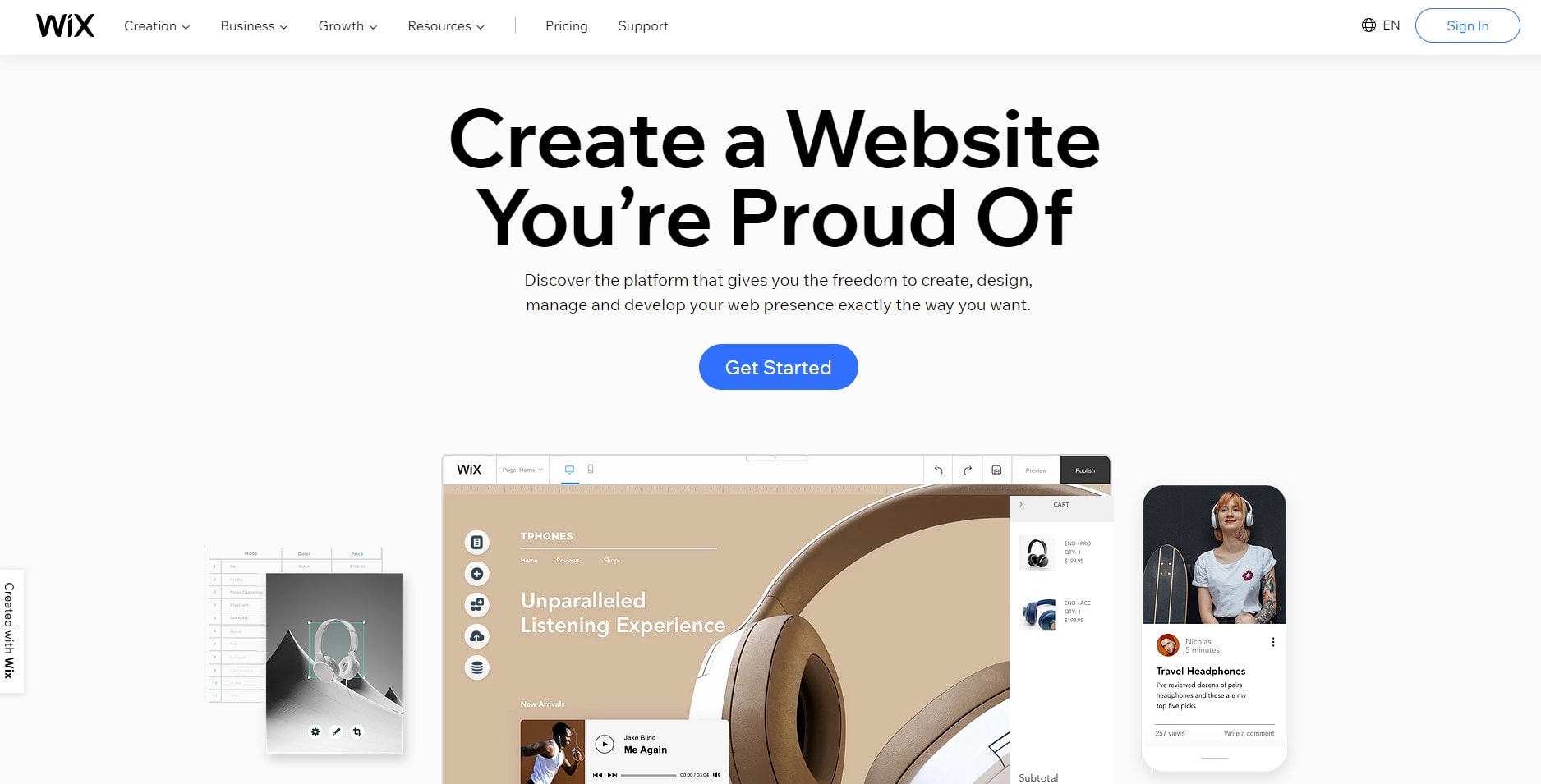 Wix, oh Wix. Right now, it's the biggest name in consumer-grade site builders, and for good reason: it has just about everything you need. From one of the best drag-and-drop site designers, to
hundreds of apps and integrations
, to e-commerce, Wix can do it all. That, of course, includes blogging. Though the blog feature is technically one of Wix's apps, and not part of the core functionality, it's plenty powerful, and comes with all the standard features you'd expect. Only now you can integrate it with a site you've designed to be exactly how you like it.
Other notable features:
900+ site templates – Need a starting point for your site's design? There are over 900 of them in every conceivable category, from photography to pet grooming.
Hundreds of apps – And lots of them are freely available. Do everything from creating custom forms, to booking appointments, designing menus, and more.
Built-in e-commerce tools – Another one of Wix's big apps is the online store, where you can sell anything you like. You'll need to upgrade to the Business Basic plan at least.
Built-in marketing and SEO tools – Drive even more traffic to your site with tools that help search engines find you more easily, and one machine learning tool that can create a marketing plan for you.
It can build your site for you, more or less – Speaking of machine learning, Wix ADI can generate a nearly complete website (blog included) in minutes. Just answer some simple questions, and it does most of the work.
For more information,
check out our expert Wix review
.
Starting Price of Paid Plan

$

16.00

Custom Design Options
Extensive, extremely flexible
Blogging Features
Has all the basics
Learning Curve
Easy to medium difficulty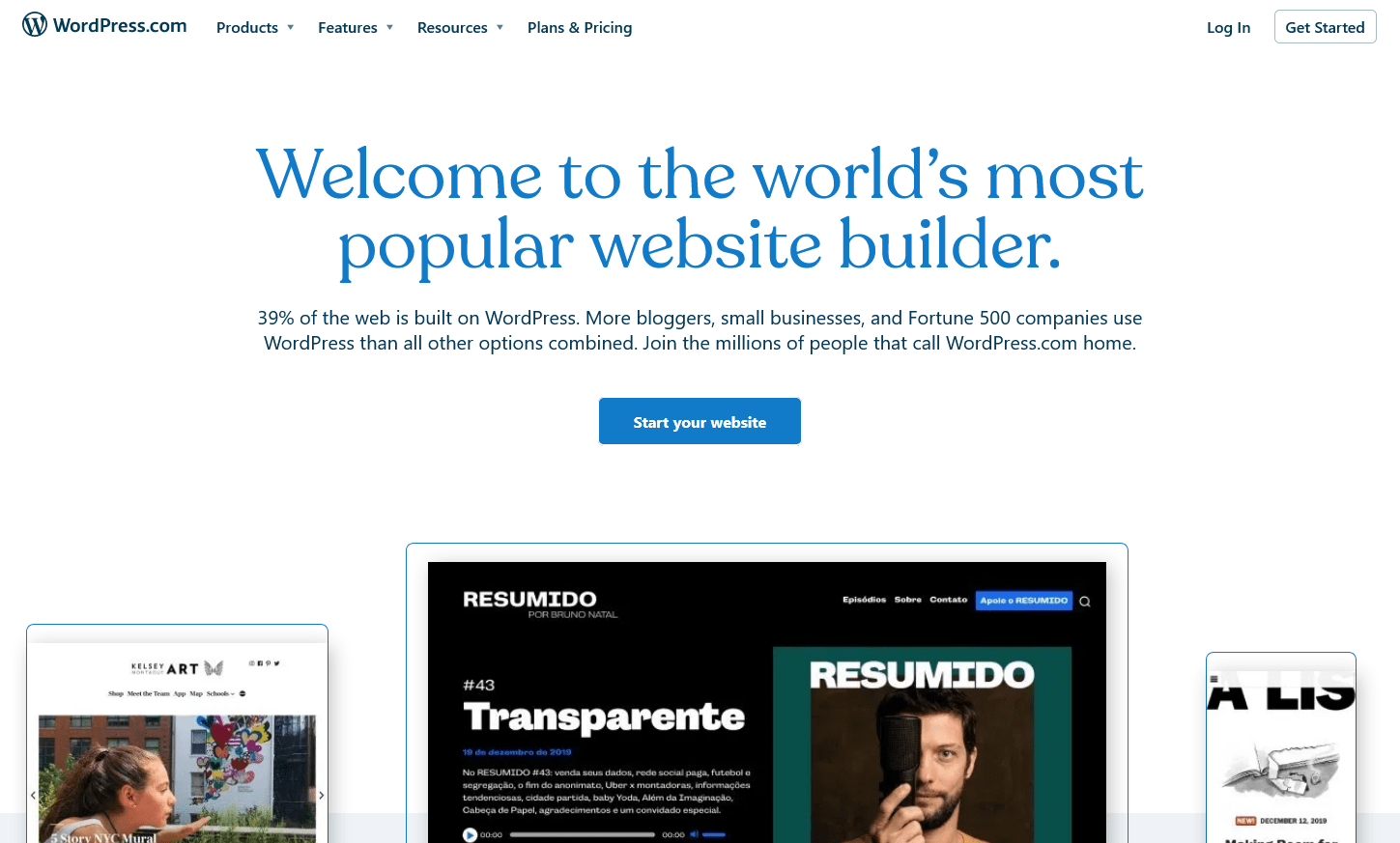 WordPress.com can make the claim to "most popular" because it has been
running
 the blogging scene for over a decade. That 39% thing in the screenshot? It's real. WordPress accomplished this by being one of the most advanced and customizable blogging platforms ever, with a strong focus on handling tons and tons of content. Like, years' worth of content. Is it the
best
 blogging platform? Well for most of us, yes.
Note: While there is a self-hosted version of WordPress, former Blogger customers such as yourself are probably looking for a service that can handle all of the behind the scenes work for you.
Other notable features:
Build any sort of site you want, if you know how – WordPress is flexible like that. With a little know-how and the right plugins, you could even build a social network on WordPress' engine. I wouldn't but you can.
Easily collaborate with other writers – It's dead-simple to add more writers to your blog, and WordPress has long had extensive team-management and editing features.
Ecommerce integration – Even on the free plan, you can accept donations. Upgrade, and you can build whole stores.
Potentially thousands of themes – People have been making awesome WordPress themes for years, and WordPress.com will let you upload and use them…if you upgrade to the business plan, at least.
Potentially thousands of plugins – Same deal as with the themes, and you also still have to upgrade to the business plan. Still, plugins allow you to completely transform your site, and do almost anything you want.
For more information,
check out our expert WordPress review
.
Starting Price of Paid Plan

$

45.00

Custom Design Options
Basic on free / cheap plans, extensive on Business plan +
Blogging Features
Extensive
Learning Curve
Easy to medium difficulty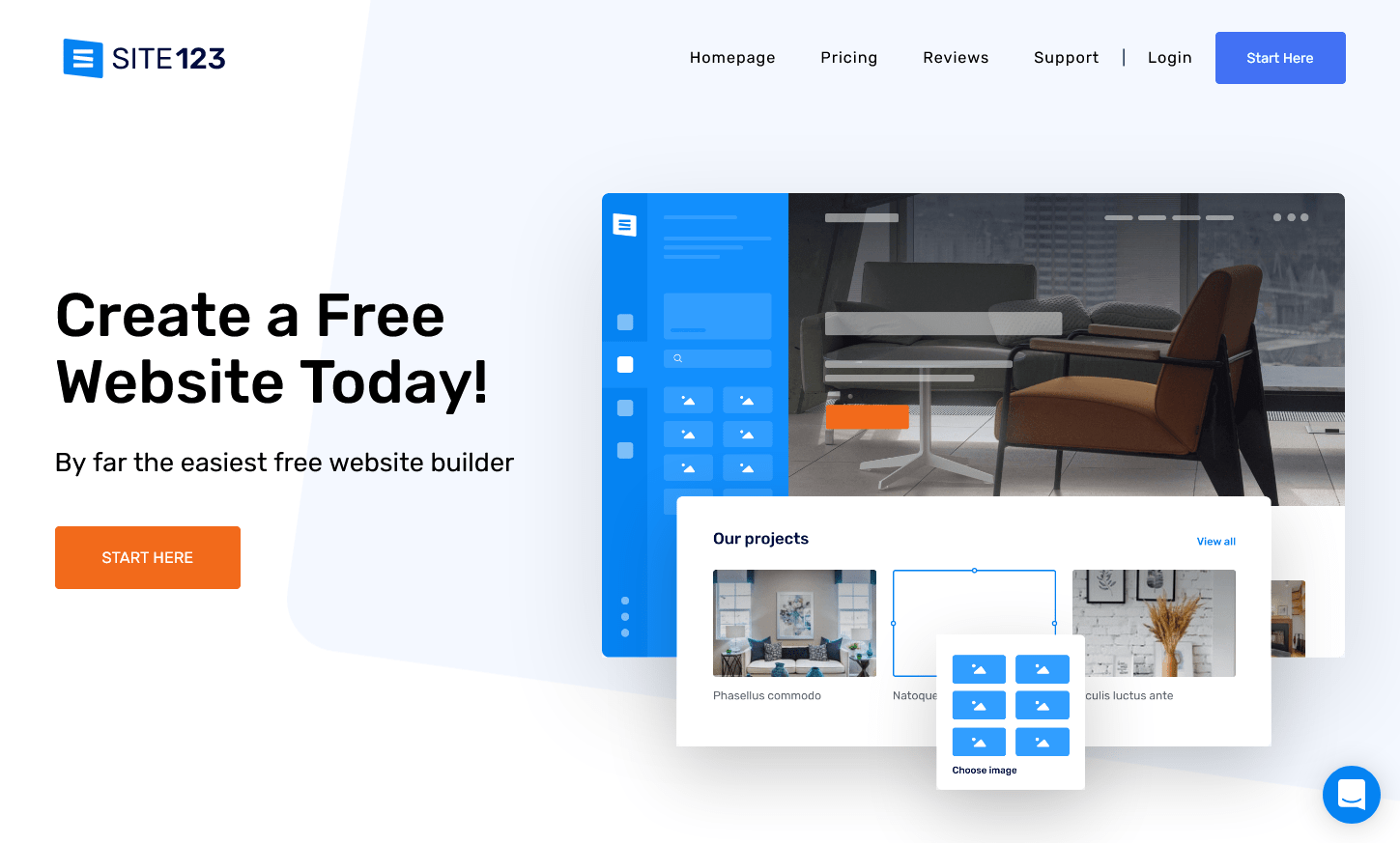 SITE123 keeps things simple. Where Wix and WordPress.com are happy to overload you with features, this site builder just wants to get you up and running fast. As such, the entire experience is focused on ease of use, and a little less on functionality. That said, the blog is fully-featured enough to make it onto this list, with tags, categories, comments, RSS, and more. All you need to do is create a new page, select one of the blog templates, and go. The rest is nearly self-explanatory.
Other notable features:
The easiest site builder to use – I'm going to reiterate this point, because it's sort of SITE123's whole deal.
Build an online store – You'll need the Business plan, but you can sell anything you want through a simple online store.
Built-in SEO tools – Help people find your site through Google and other search engines. Yes, there are other search engines. I know, right?
Large library of built-in apps – Extend your site's functionality with maps, menus, real estate listings, and pretty much anything else you can think of.
For more information,
check out our expert SITE123 review
.
Starting Price of Paid Plan

$

12.80

Custom Design Options
Somewhat limited
Blogging Features
Fairly minimal
Learning Curve
Super easy
#4. Medium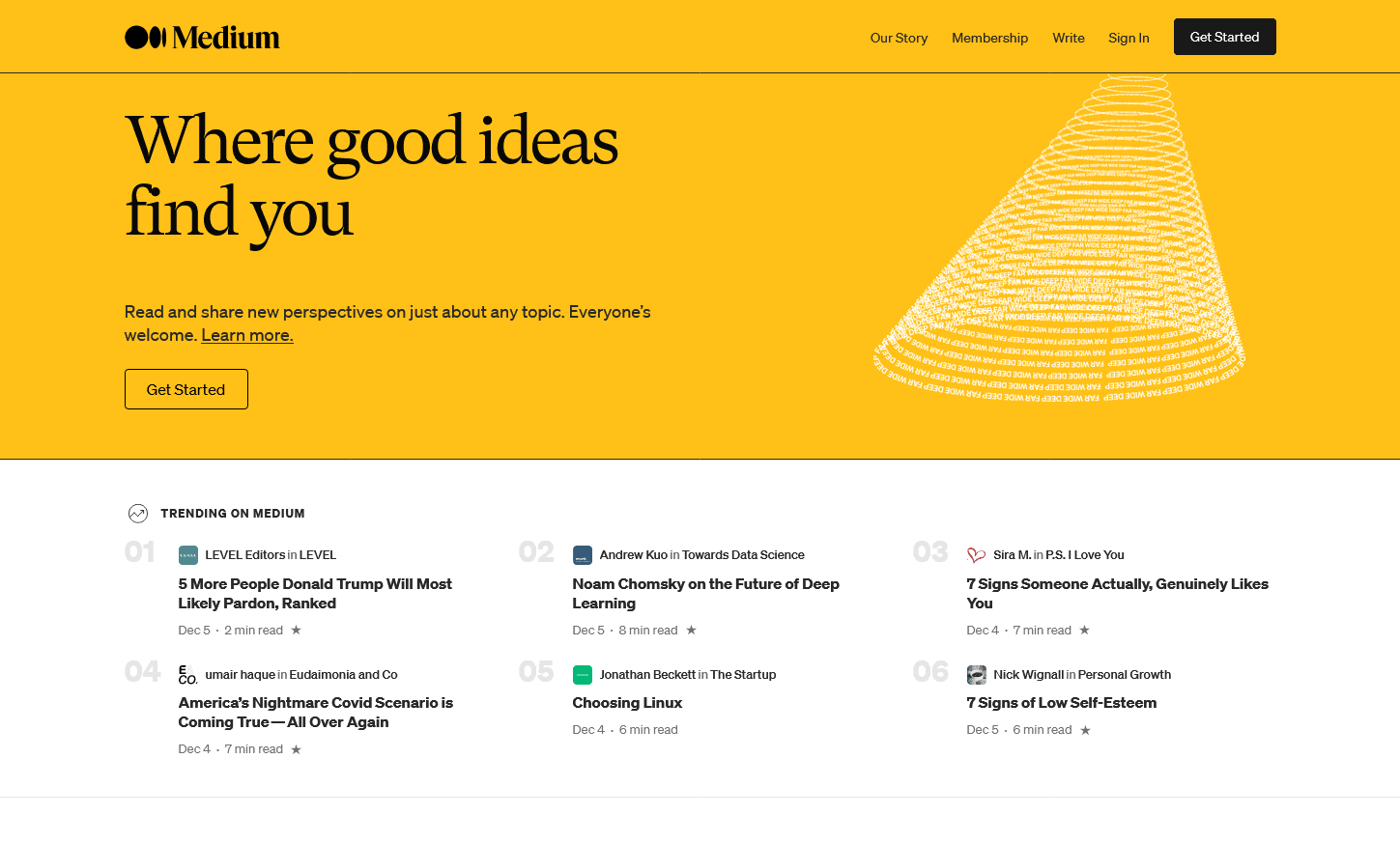 Medium prides itself on providing the easiest way to just start writing. Even so, there are also simple tools to hello you spice up / add art directions to your posts. It's a really pretty platform, and simple to get into.
Other notable features:
Easily monetize your writing – If you pay for premium, you can lock your content behind a paywall. Many people do.
Create full-on publications – Invite other writers to help you build a full-on magazine. Which can then be locked behind a paywall if you want.
Community-driven traffic – Medium has a lot in common with a social media network, allowing people to follow and share writers they like.
| | |
| --- | --- |
| Starting Price of Paid Plan | $5/mo; $50/year |
| Custom Design Options | Quite limited |
| Blogging Features | Fairly extensive |
| Learning Curve | Super easy |
#5. Tumblr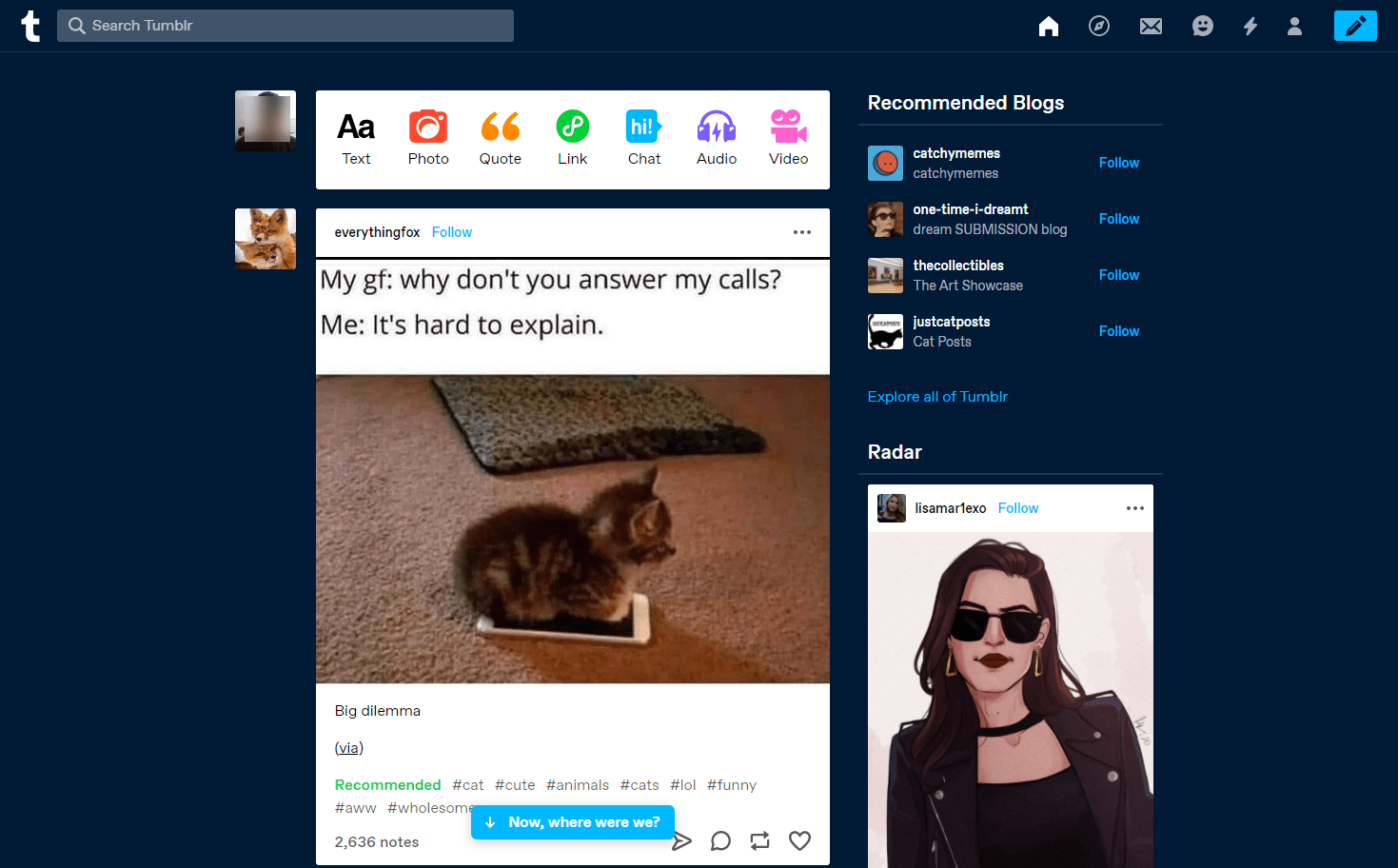 Tumblr is still going strong, and provides simple, effective tools for sharing shorter posts, and carrying on long, post-based conversations with other authors. It's more of a tool for fun, but some people have seriously boosted their careers with engaging tumblelogs.
Other notable features:
Completely free – Enough said.
Format posts by type – There are specialized post types for quotes, video, audio, conversations, and of course plain old text.
Community-driven traffic – Tumblr straight up is a social media network, allowing people to follow and share writers they like.
| | |
| --- | --- |
| Starting Price of Paid Plan | Completely free |
| Custom Design Options | Pretty flexible, supports custom themes |
| Blogging Features | Focused on microblogging |
| Learning Curve | Super easy |
#6. Drupal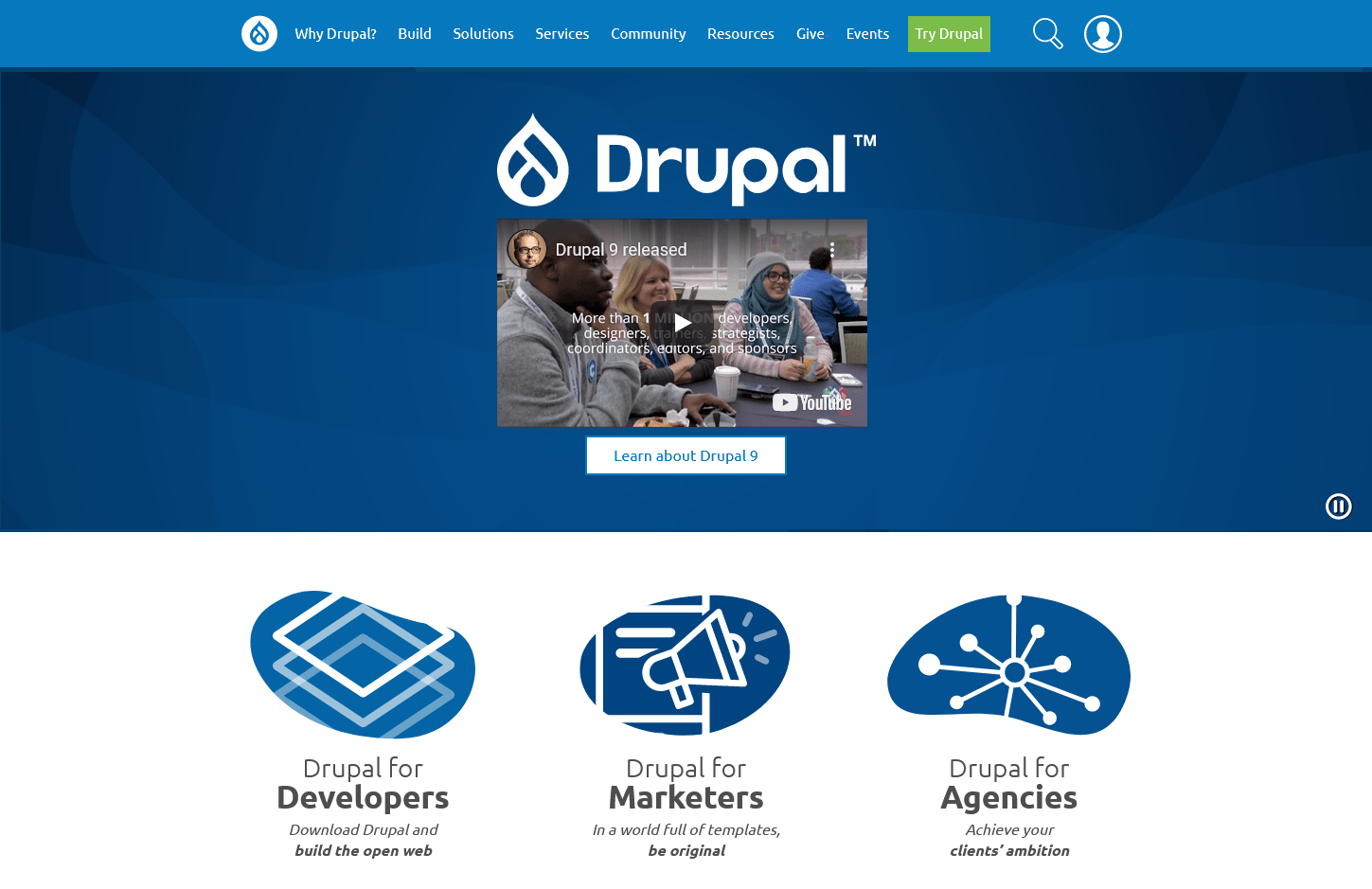 Drupal is not a site builder, it's a full-on CMS. It's also one of the best CMSs, with large organizations all over the world using it to sensibly and flexibly handle their content. You'll need to either find a Drupal-specialized host, or install it on your own hosting, though.
It's flexible enough to make literally
any
 kind of blog or publication.
Other notable features:
Build any sort of site you want, if you know how – The one downside to Drupal is that you sort of need to be (or have) a programmer to make it do everything you want. But then, it can do anything, or just about.
You can modify the actual CMS – Being open source means that you can even go in and change how the whole CMS works, if you want to.
Host it anywhere you like – This is actually a huge benefit. With hosts like Hostinger having super cheap plans, Drupal can be quite inexpensive to run and use.
| | |
| --- | --- |
| Starting Price of Paid Plan | Free and open source |
| Custom Design Options | Design any site you want |
| Blogging Features | As extensive as you want |
| Learning Curve | Medium to hard difficulty |
A Site Builder Provides the Best of Both Worlds (More Easily)
In the end, if you're looking for something like Blogger, but better, I'd go for Wix or WordPress.com,
maybe
SITE123
. They provide good blogging features (excellent, in WordPress.com's case), and then go far beyond blogging. The platform you choose should give you room to grow, and that's what you'll find in our top three choices. But hey, test them all and see what's right for you. (That's why I have
tons
 of nearly empty site profiles all over the web.)
| | | | | | |
| --- | --- | --- | --- | --- | --- |
| | Blog-Focused | Custom Designs | Customer Support | Addons / Apps | Pricing |
| Wix | No | Yes | Yes | Yes | |
| WordPress.com | Yes | Yes | Yes | Yes | |
| SITE123 | No | Yes | Yes | Yes | |
| Medium | Yes | Barely | Yes | No | Free / cheap |
| Tumblr | Yes | Yes | Yes | Yes | Free |
| Drupal | Build any site you like | Yes | Community-based | Yes | Free |
FAQ
What is the best free blogging platform?
Ask a million programmers (hyperbole alert!) that question, and half of them will say, "The one I made!" For the average user, however, I'd have to say WordPress. And if you don't want to figure out how to install and configure WordPress on your own server, WordPress.com has you covered with full site builder functionality. Also, if you'd like to get a premium WordPress.com blog for cheap (or another site builder), check out our coupons page.
Is Blogger completely free?
Yes it is. That's one of the things that has made it an attractive proposition since its launch in 1999. I know right? Still going. But now, there are just tons of other, often better alternatives out there. If the options presented in this article don't suit you, we've reviewed pretty much every major site and blog builder out there in 2023. Have a look, and I bet you'll find something that works for you.
Is blogging still effective?
I mean… it's how I make my living, and I keep getting paid. Somewhere, somebody in this process is doing something right. But seriously, keeping a freshly updated blog going is one of the best, most time-tested ways to keep fresh traffic coming to your website. So even if you don't write for the love of it, it's a good way to drive people toward your actual business.