hand-picked nine talented and affordable freelance YouTube channel managers
 with a range of experience and service options. By using my favorite freelance hiring solution,
I discovered a few gigs that you can purchase for as low as $5
. Each freelancer listed focuses on customer satisfaction and authentic results, which is clear from their glowing customer reviews and highly-rated profiles.
---
9 Best YouTube Channel Managers to Hire in 2023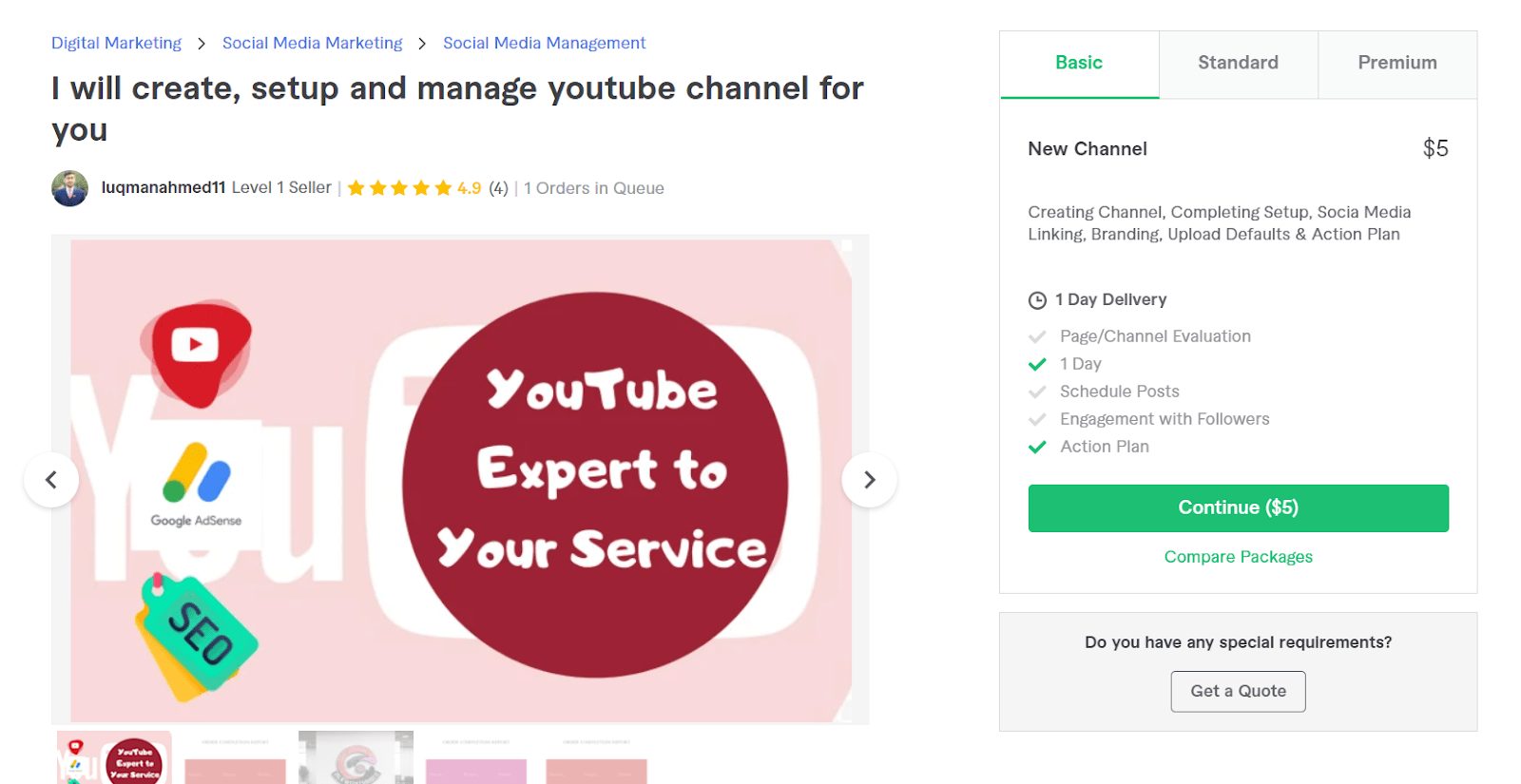 Luqmanahmed11 has low-cost packages that are
ideal if you are new to YouTube and need pro help creating your account
. In his first-tier package, you get complete channel setup and an action plan to help reach your channel objectives. He provides weekly or monthly YouTube management options and has an overall rating of 5-stars on his profile. While luqmanahmed11 has certifications in digital marketing, SEO, and graphic design, his package pricing remains affordable for any budget.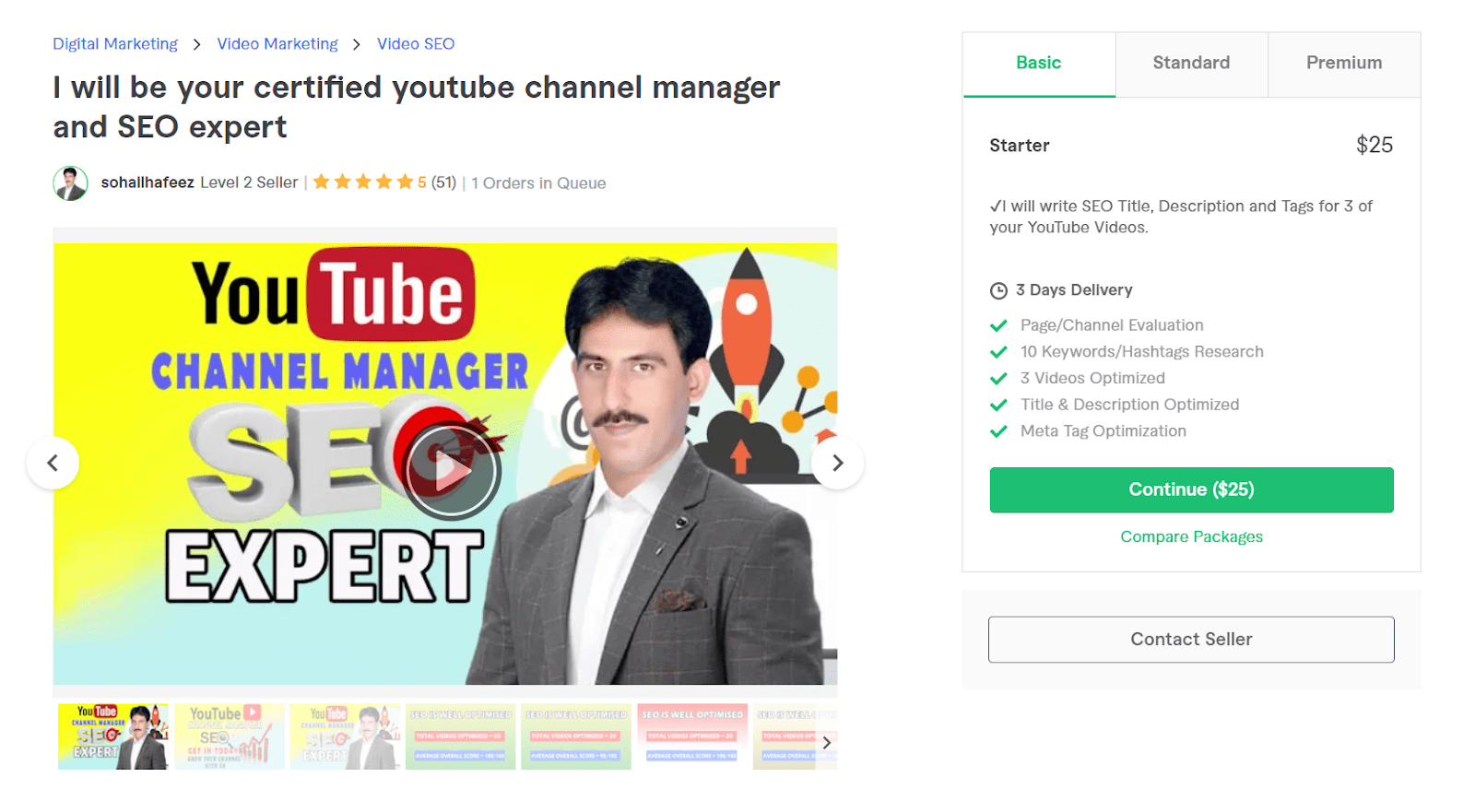 Sohailhafeez is a Level Two Seller meaning he has delivered work on time and with good feedback for a long period of time, so you can trust he knows what he's doing. He's got 50+ completed projects and dozens of 5-star reviews, demonstrating his SEO and YouTube channel management knowledge.
His
Starter
 package comes with SEO titles, descriptions, and tags for three of your channel's videos
to aid your channel growth. It also comes with a channel evaluation and keyword research for up to 10 words or hashtags. . If you have a bigger channel, or a bigger budget for that matter, you could check out sohailhafeez's
Advanced
 package for optimization of up to 15 videos and advanced growth strategies.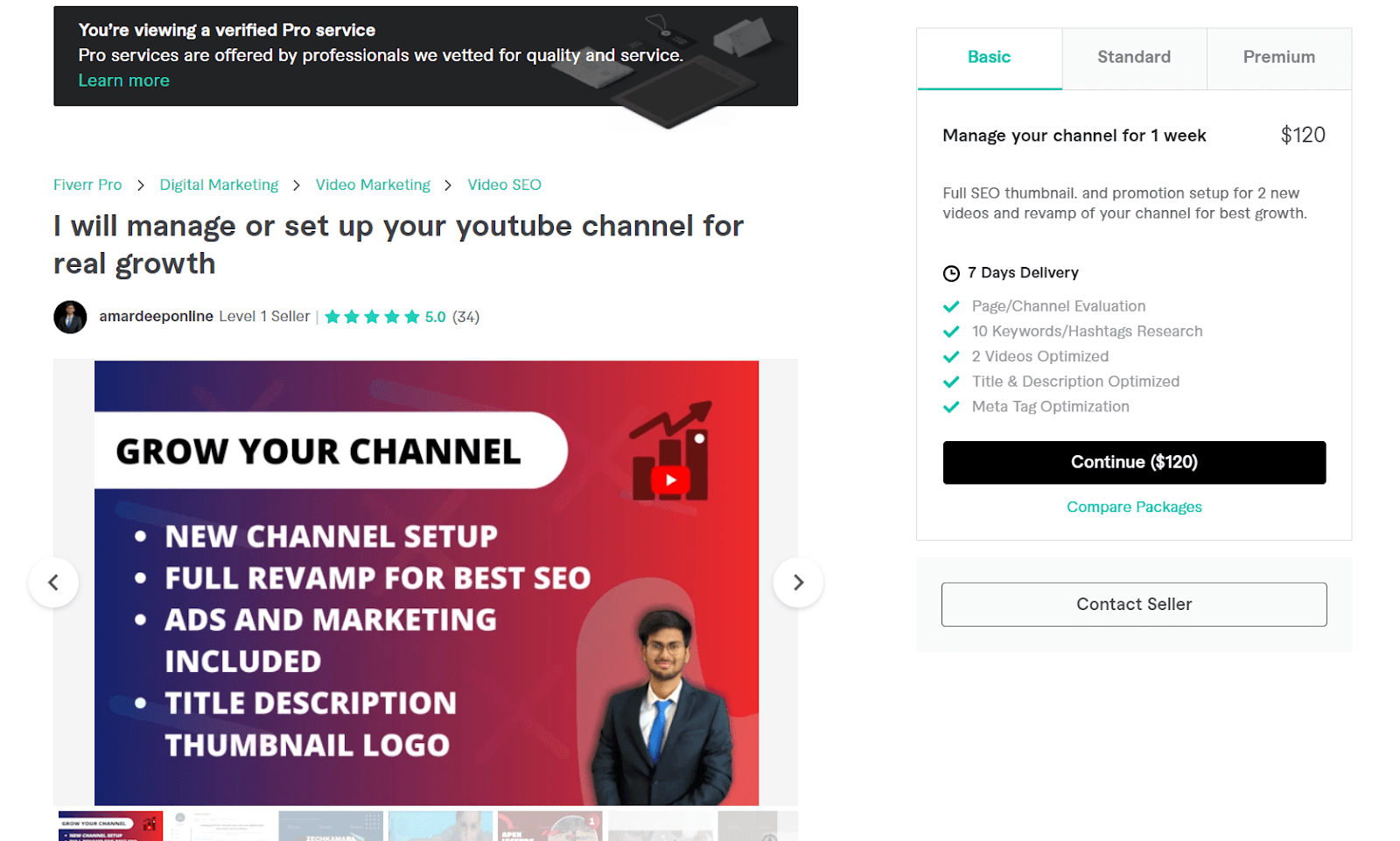 Amardeeponline is the only Fiverr Pro Seller on the list
 – a title reserved only for those freelancers vetted by Fiverr employees and verified as top experts in their field.
These are the freelancers you want to look out for.
This seller's packages are a bit more expensive than others, but I think his Pro status, impressive service offerings, and great reviews make it well worth the rate.
The first-tier package includes channel evaluation, promotion setup for two videos, SEO and keyword research, and customized thumbnail art
, which I'd say is pretty good value for money.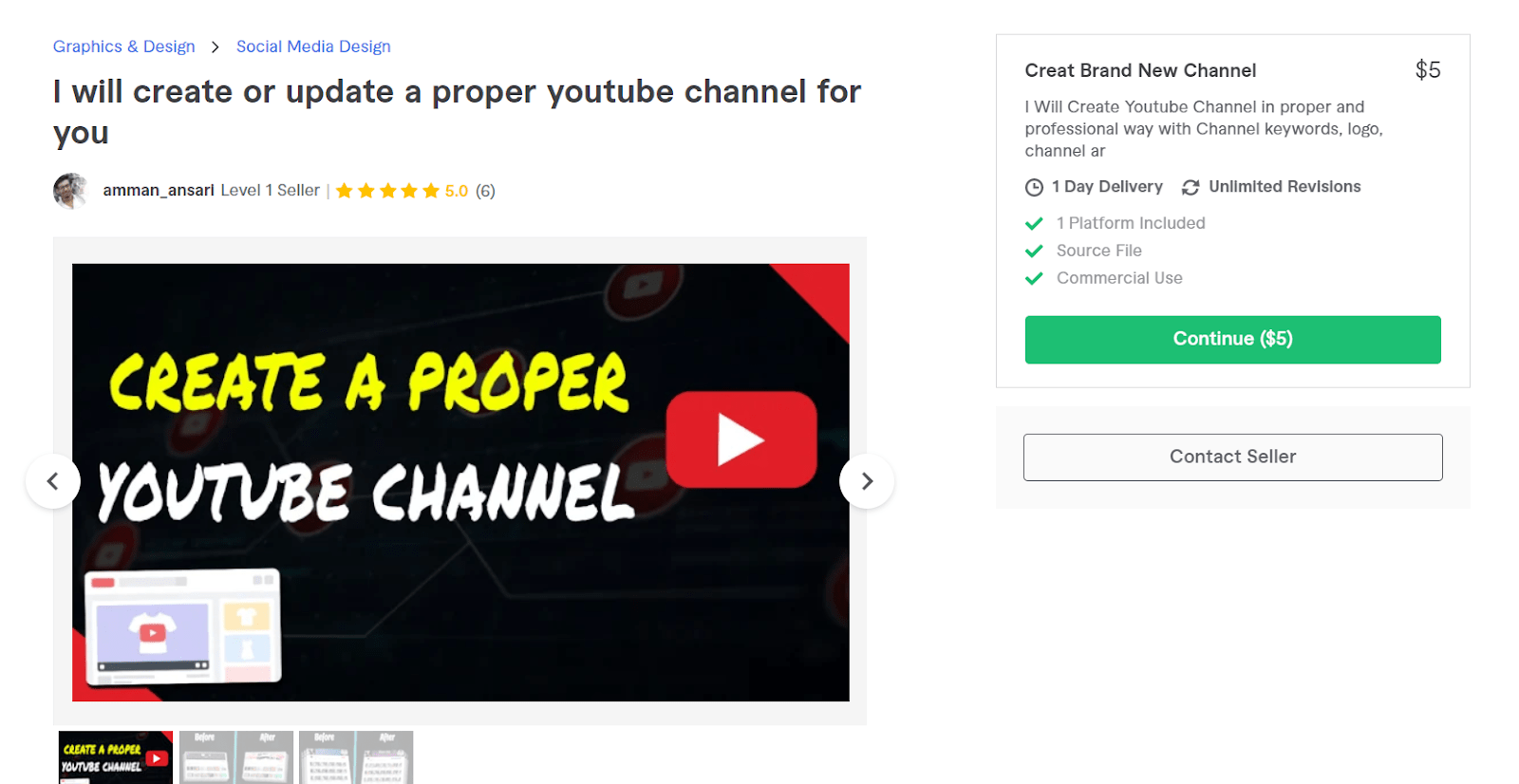 Amman_ansari is a 5-star seller with over 80 completed projects across six YouTube-focused gigs. In this gig, the seller has just one package, and it's centered around channel creation so if that's where you need support, look no further.
He provides unlimited revisions of his work to ensure you are 100% satisfied
 with the results, something I'm seriously impressed with for the price. With this gig, Amman_ansari uploads your channel art (like a logo and banner) and creates an "About Us" section tailored to your channel's brand. You can contact him directly for a full list of services, such as inserting overlays into videos and adding a custom channel URL.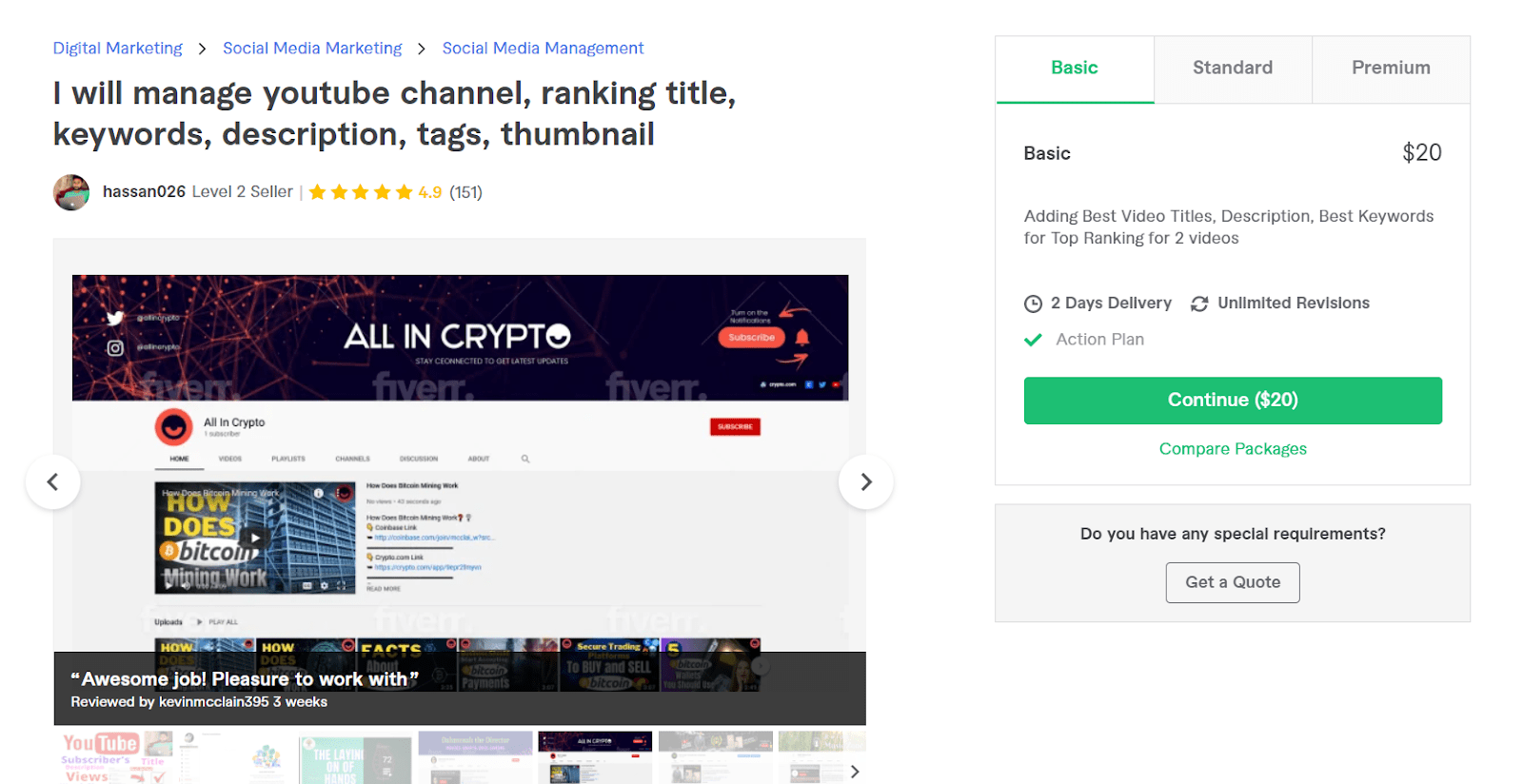 Hassan026 has over 14 gigs on his profile, most related to optimizing YouTube channels and videos for better ranking and growth. In this gig, he offers to
 improve your video titles and descriptions and include top-ranking keywords
 and tags for up to thirty videos, depending on the plan. Hassan026 is a Level Two Seller, which means he has maintained a star-rating of at least 4.7 across 50 individual orders and 120 days of activity. He provides unlimited revisions for each package and his services also include thumbnail design, social media linking, and playlist creation.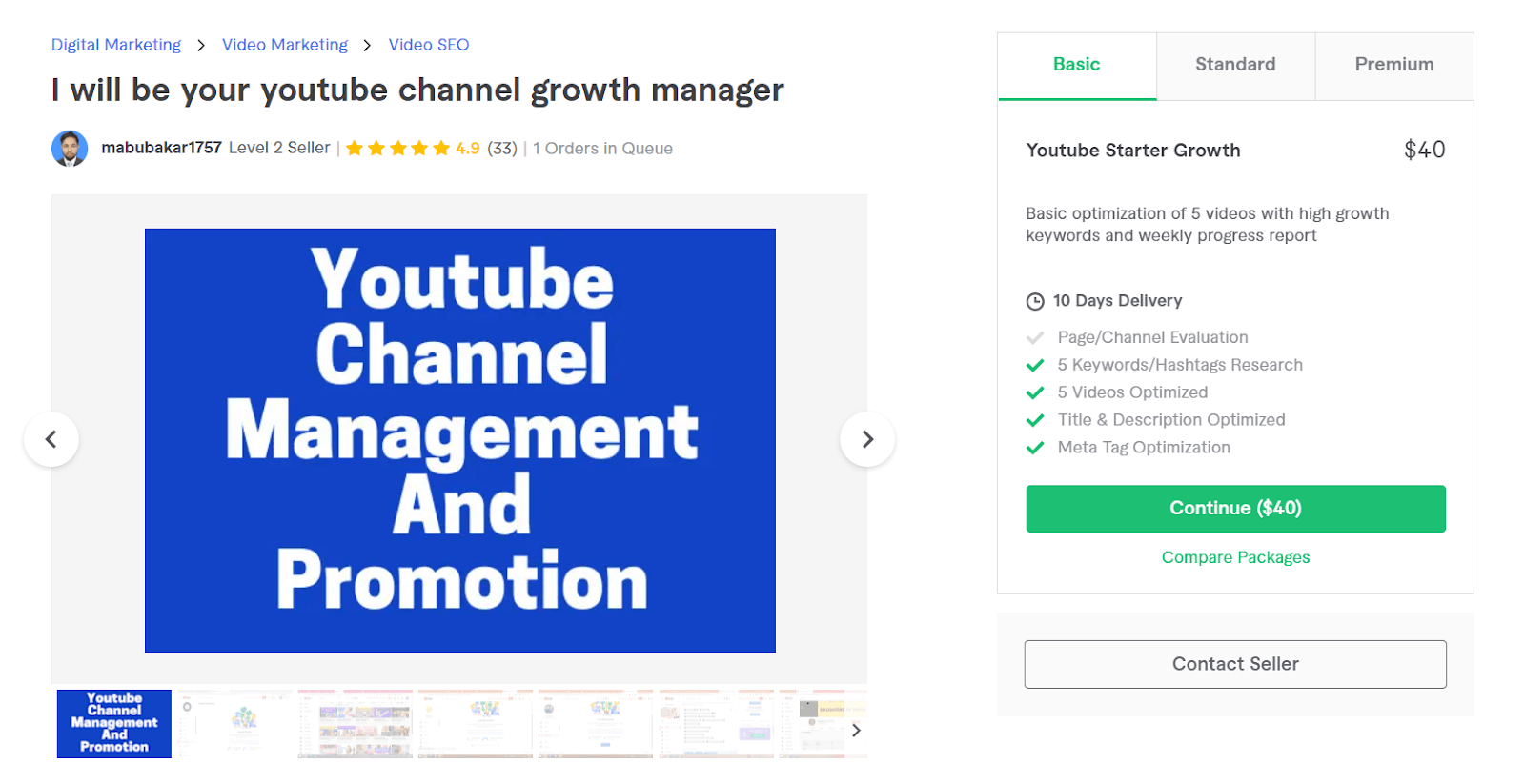 Mabubakar1757 is so confident in his abilities that he
offers a 100% satisfaction guarantee for every package
. Sure, that's a bold statement, but he does have a whole host of five-star reviews to back him up so I'll give him that. He also provides around-the-clock assistance if you have any questions about your project, which is invaluable when you have a problem you need fixing. In the
YouTube Starter Growth
 package,
Mabubakar1757 adds high-growth keywords to five videos and provides a progress report to help you chart each video's analytics post-optimization.
 You can opt for a higher tier, like the
YouTube Ultimate Growth
 package, if you need more videos (up to 15) optimized at once.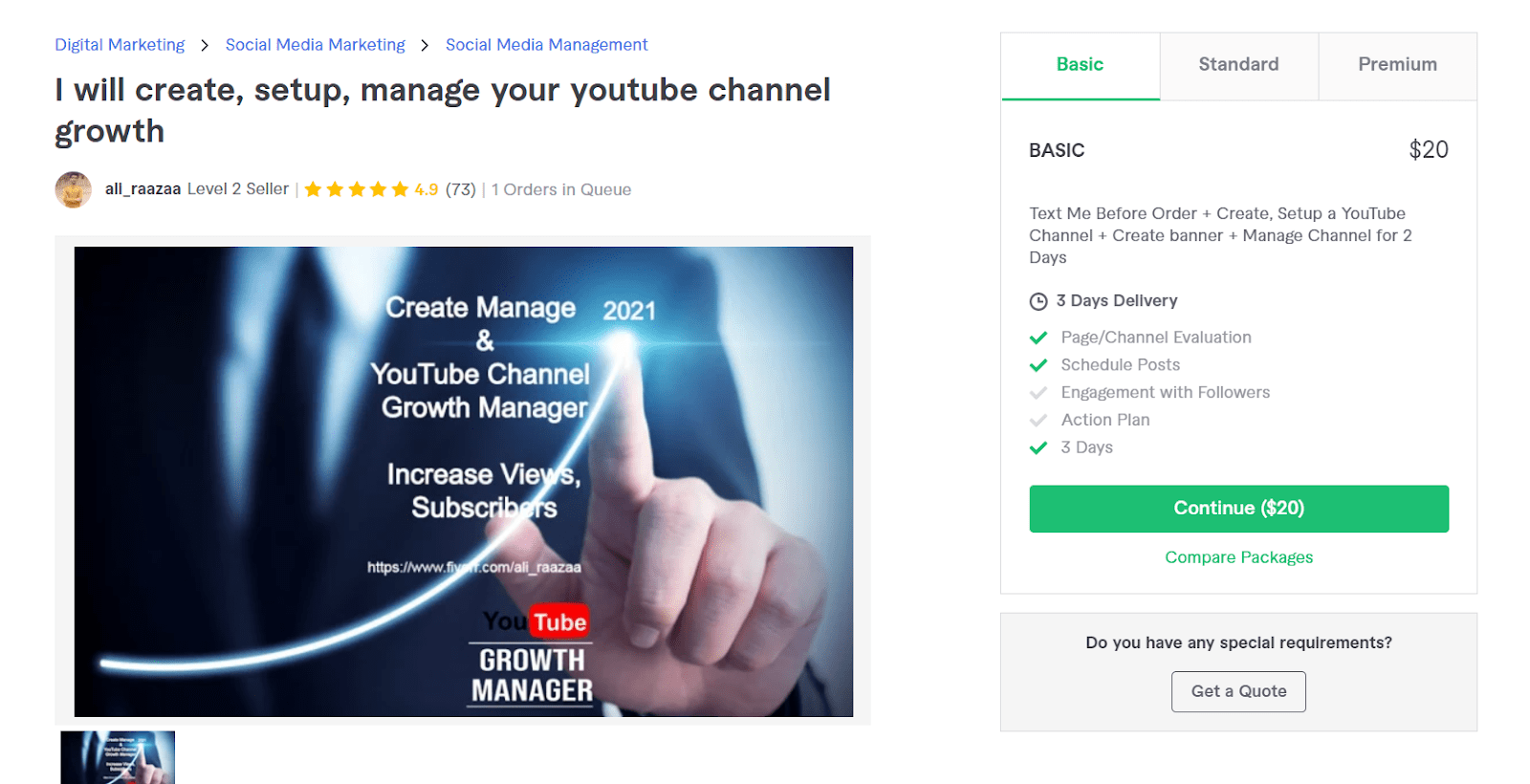 Ali_raazaa is a talented digital marketing expert with several years of experience as a YouTube manager. He is
a Level Two Seller with over 1,000 completed projects
 and an impressive 4.9-star rating across 10+ gig offerings. You can work with this seller to set up your YouTube channel, design banner art, and manage the channel on an ongoing basis. He can also evaluate your channel to determine weak points and run targeted PPC ads to increase engagement and video views.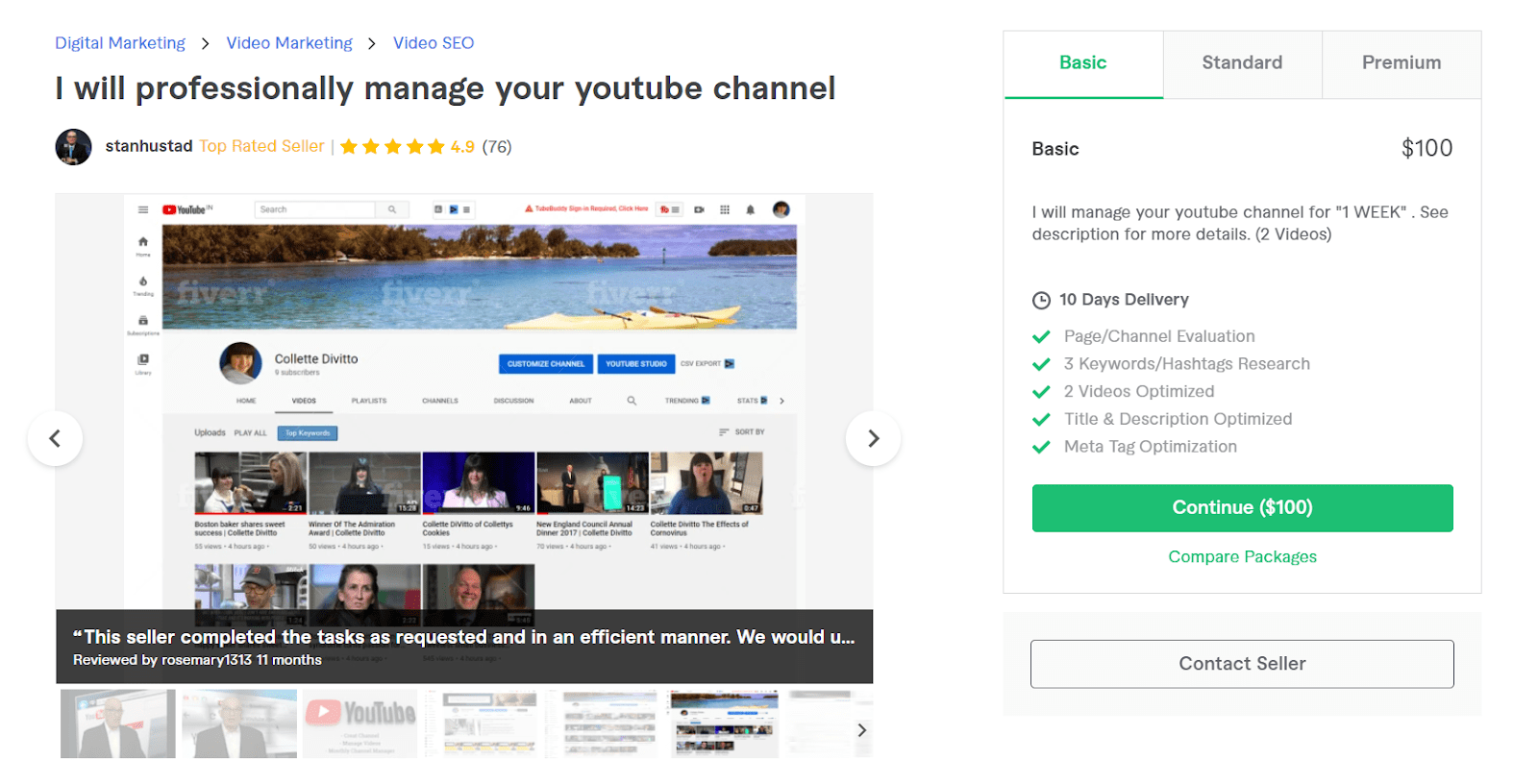 Stanhustad is a
Top Rated Seller with several years of video marketing, social media, and broadcasting experience
. A Top Rated Seller is Fiverr's top tier credential and is manually selected by Fiverr editors based on a range of criteria, including seniority, sales, customer care, and community leadership. His basic package for one week of channel management includes a page evaluation, keyword research, and meta tag and title optimization. The standard and premium packages are ideal if you're looking for longer-term content management for two weeks or longer. Many of Stanhustad's clients are repeat buyers which says a lot about the quality and consistency of his work, so if you're looking for long-term help, definitely consider him.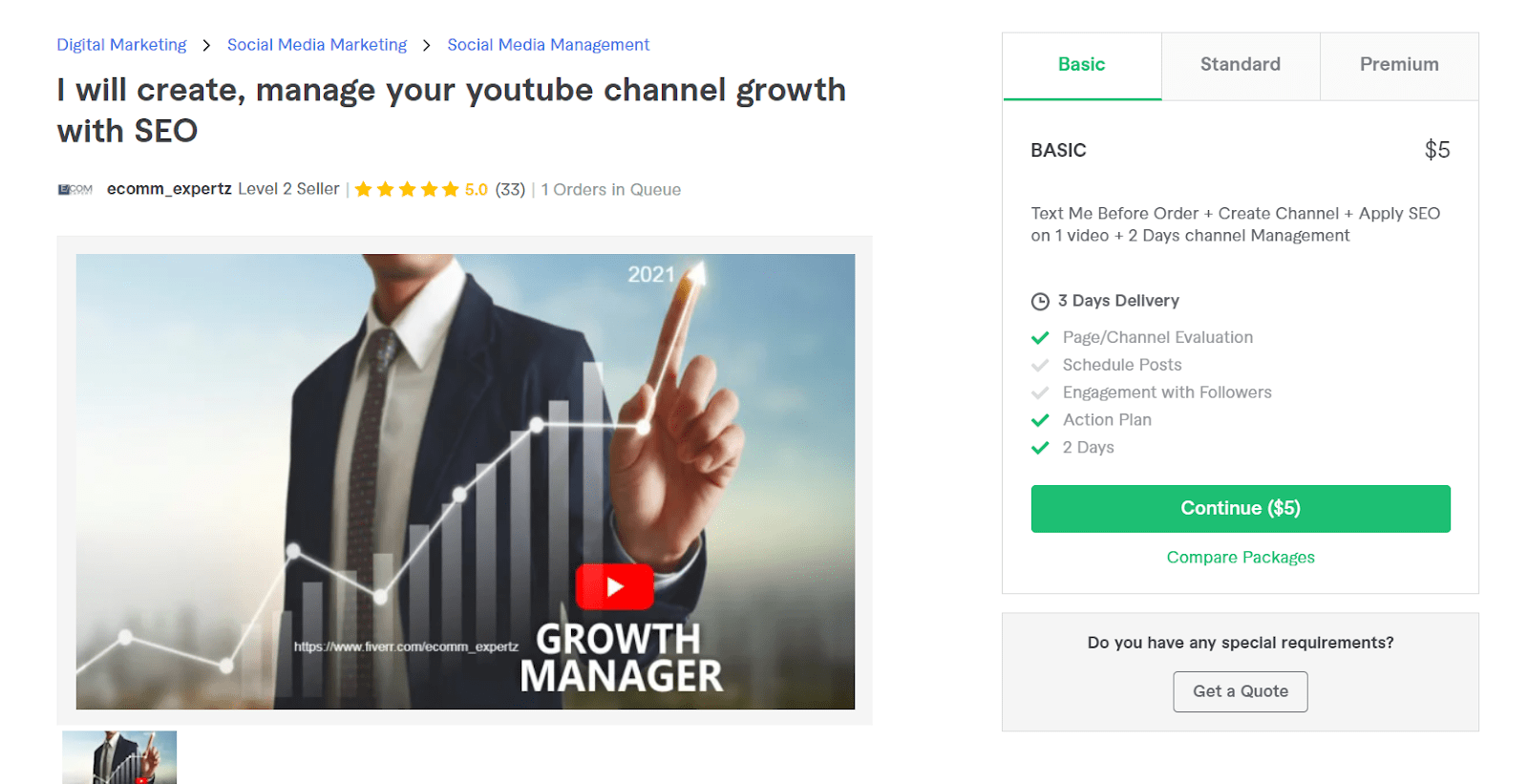 With ecomm_expertz's basic package,
 they'll create your channel and manage it for two days while also providing a bespoke action plan.
This seller uses expert-level research to discover tags, hashtags, and keywords that will help your channel reach a larger audience. If you're interested in channel or video promotion, you can add these services to your package for an extra fee. Ecomm_expertz's reviews are full of buyers complimenting the quality of its services and how the results exceeded expectations.
How to Hire a Freelance YouTube Channel Manager on Fiverr
So, you know you need to hire a freelancer but aren't sure where to start your search?
Fiverr is a top freelance platform that hosts creatives from all around the world
 – it's my go-to freelance hiring solution. I love Fiverr for a few reasons (just see
our Fiverr review
), but
one of its best features is its affordability. Freelance packages begin at just $5
 – and no, I haven't left off a zero or two. Package costs are set individually by freelancers, so prices vary, but hundreds of thousands of gigs are available at this incredibly reasonable starting price point. To see what the platform has to offer, head to the Fiverr homepage and type "YouTube channel manager" into the search bar. Some sellers offer gigs focused solely on YouTube management, while others offer it in connection with the management of other social media platforms. Take a scroll through the results until you find a gig that you'd like more information on.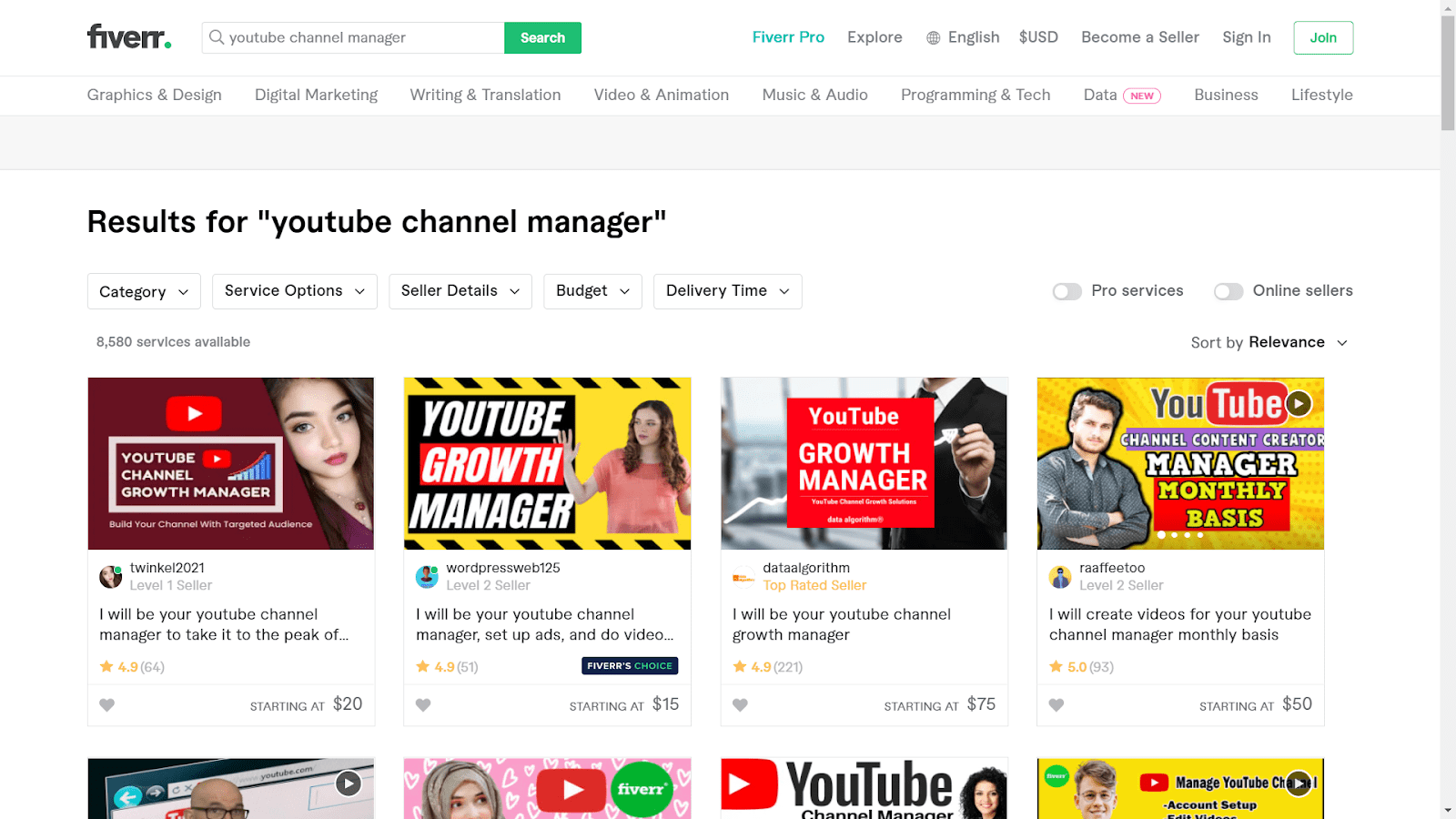 Clicking on a gig will open it in another browser window where you can review pricing, services, and the seller's details.
The
About This Gig
 section outlines the seller's various package offerings, while the
About The Seller
 section helps you better understand a seller's background and experience. You can use the
Basic
,
Standard
, and
Premium
 tabs on the right of the page to view pricing and service differences between each tier of the gig. Click the
Compare Packages
button to see this information in a table form for easier comparison.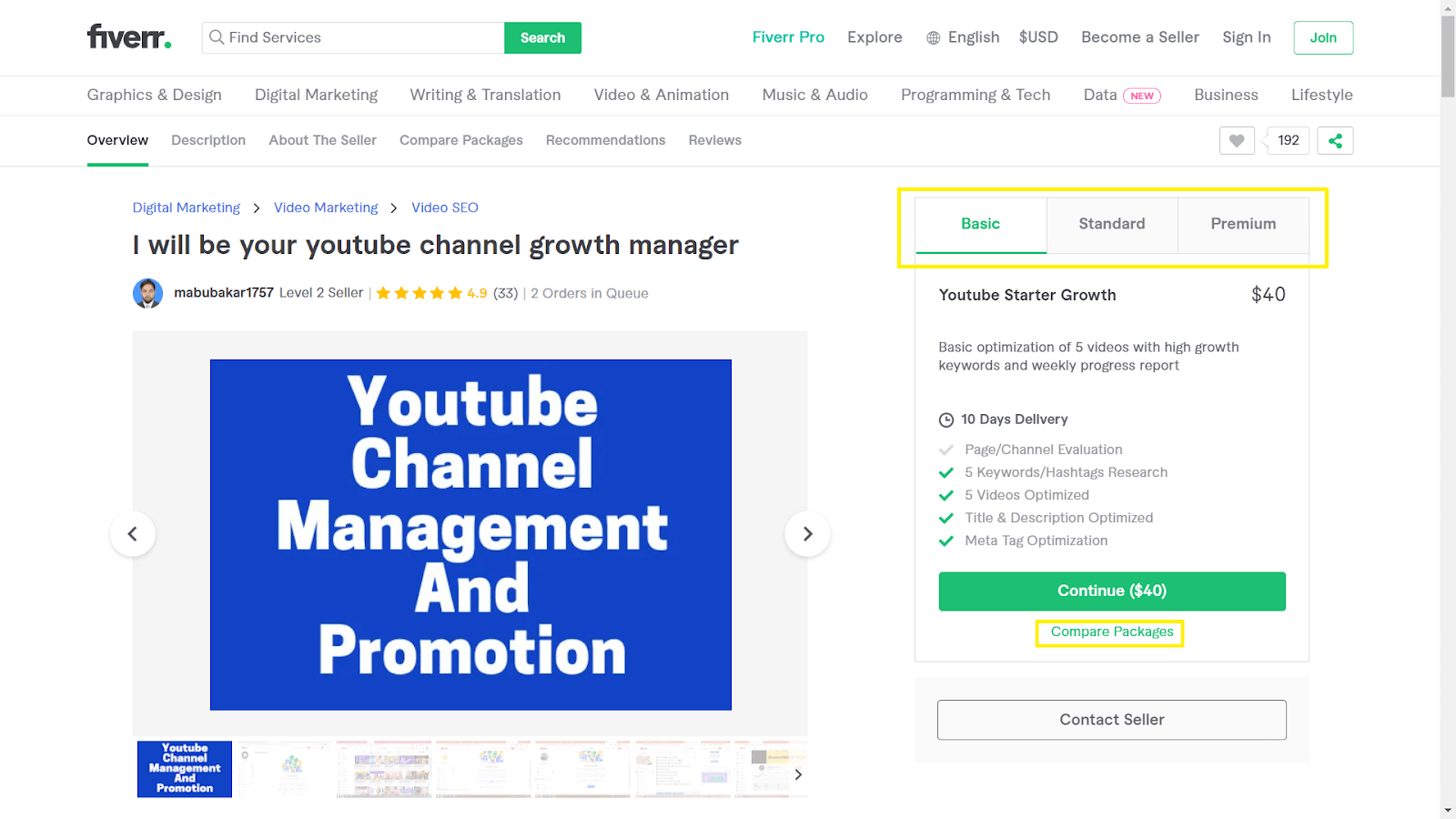 Sellers generally request to be contacted before you purchase a package. Reaching out beforehand ensures the seller can take on your project and understands your requirements. Use the
Contact Seller
 button to send a direct message. If you don't see this button, scroll the
About The Seller
 section and click
Contact Me
 instead.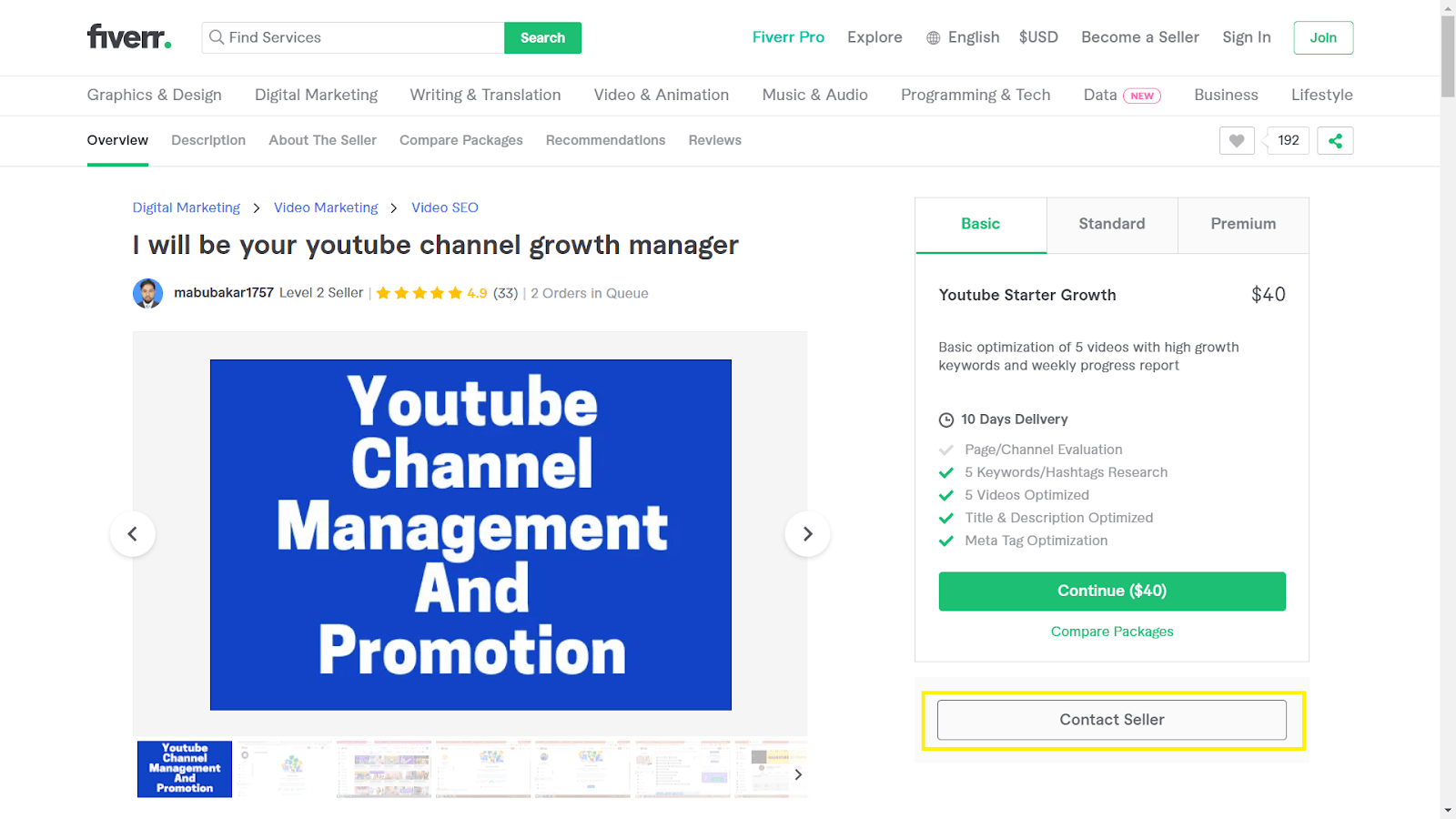 Satisfied with a seller's services and pricing and ready to hire? Select your package and click the
Continue
 button to move ahead to the payment preview page.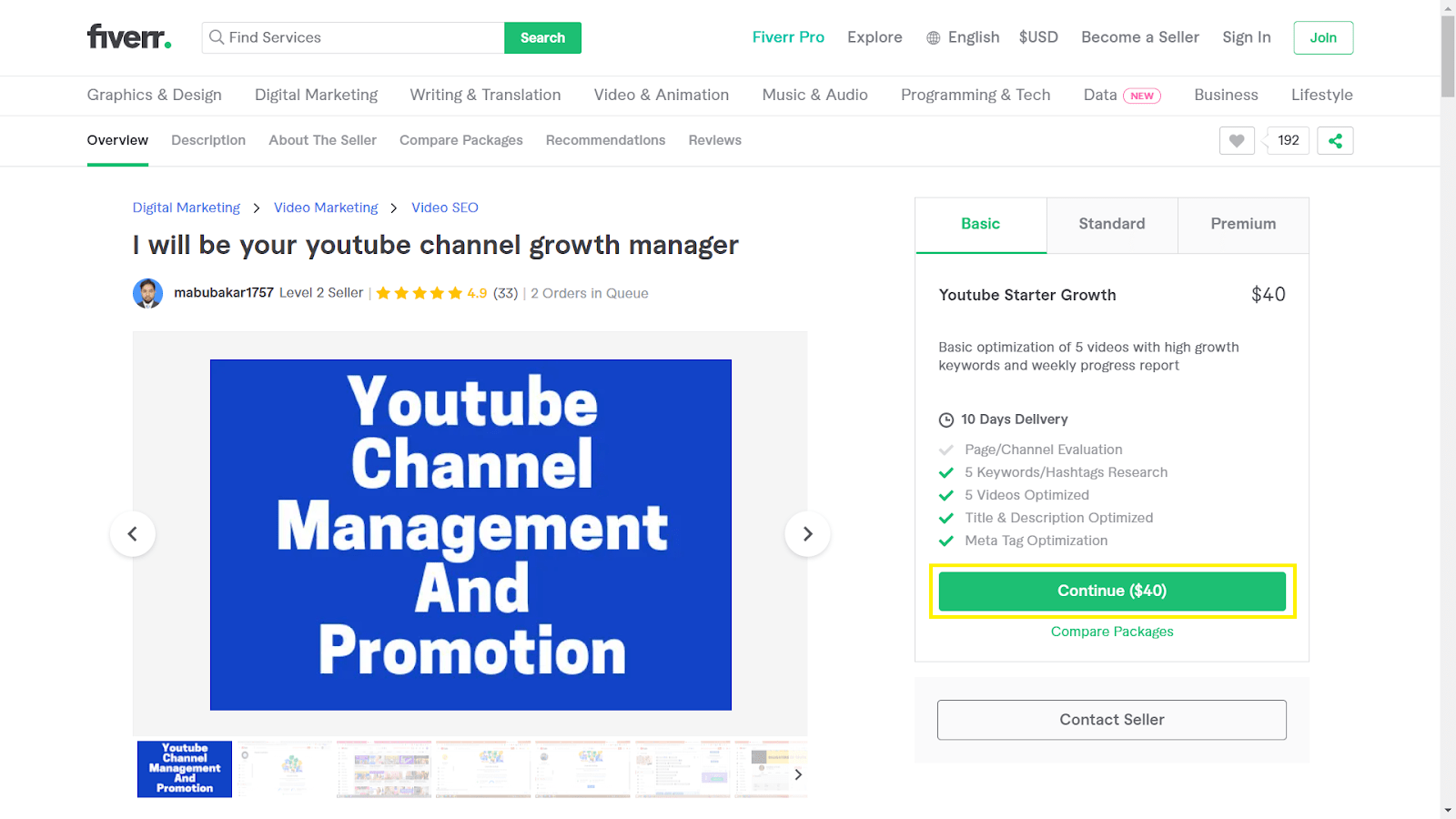 The payment preview page displays the final costs of your selection.
Some sellers also give you the option to add package extras like faster delivery, channel branding, or additional revisions.
 Click
Continue to Checkout
 to enter your payment details and fill in a short questionnaire about your project for your seller.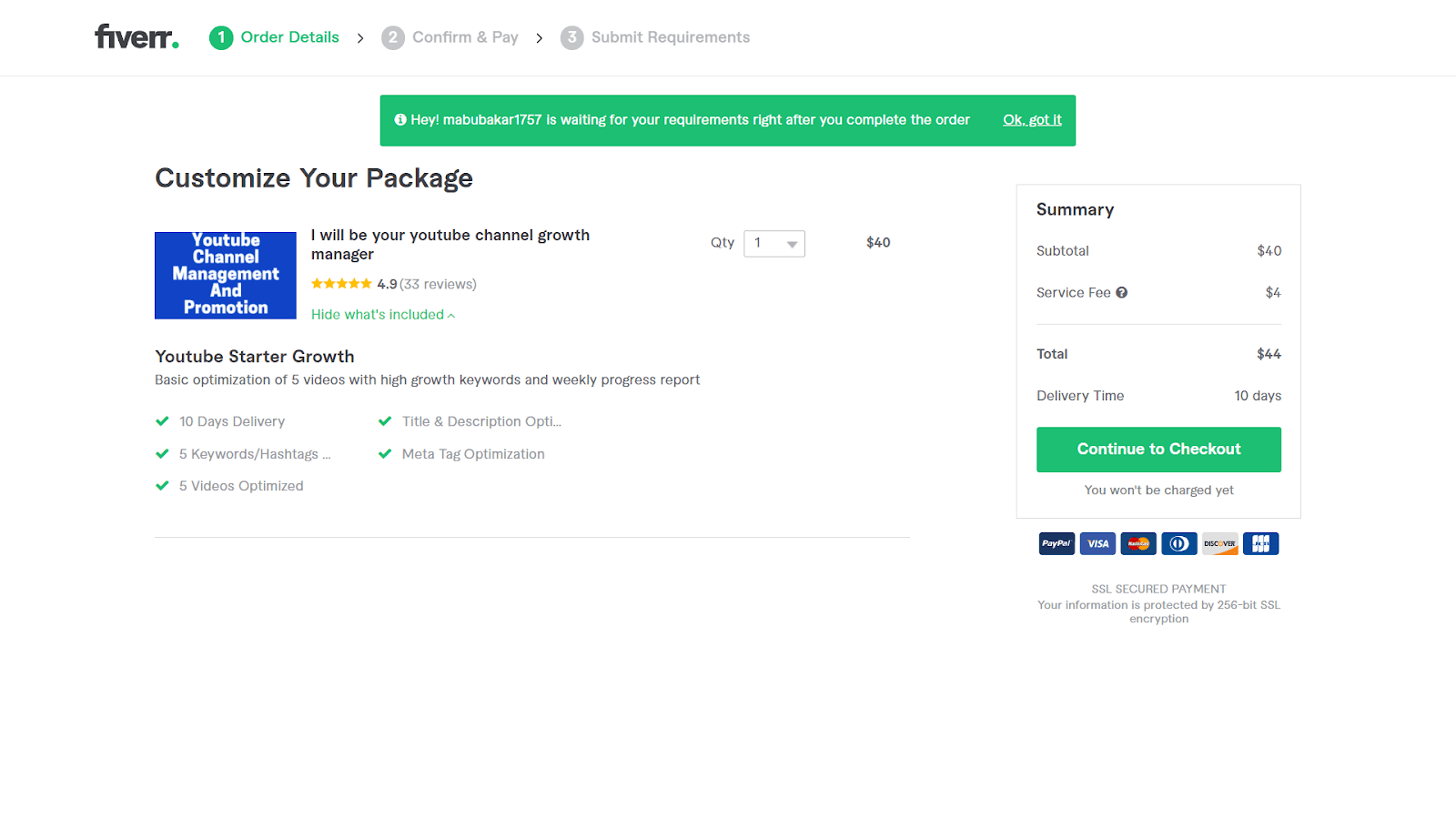 What to Look For in a YouTube Channel Manager
How can you be sure that the freelancer you hire will successfully help you reach your project goals? If you don't have experience hiring a YouTube channel manager, here are a few crucial characteristics to identify before you hire:
Extensive knowledge of the platform's technical elements. The freelancer you hire should have more than general YouTube experience. Ideally, they will have a deep understanding of technical areas, such as uploading a video, adding annotations, scheduling uploads, monetizing content, and troubleshooting technical issues.
Understanding SEO and digital marketing principles. A background in digital marketing is essential for a channel manager. You can check the About The Seller section or profile description for mentions of expertise in SEO and marketing techniques like performance analytics, content trends, and advertising.
Comprehensive writing and communication skills. Writing video descriptions and titles, in addition to communicating with subscribers via comments and messages, is vital to a channel manager's role. Scroll through a seller's reviews (below the FAQs) to see what previous feedback buyers have left about the seller's writing abilities, both positive and negative. You can also check the seller communication level (found above the reviews) to check the average communication rating buyers have given them.
Experience designing cover art and thumbnails. If your freelancer offers artwork creation, they don't have to be a design expert, but they should understand how to create attractive artwork. Take a look through a seller's portfolio for examples of previously designed cover art, thumbnails, and banners. If they haven't included any, feel free to reach out to request a sample.
Excellent organizational, planning, and problem-solving skills. The seller you choose should be highly organized and adept at creating and executing plans and strategies. They should also have exceptional problem-solving skills and maintain  efficiency under pressure. Although these qualities may be tough to assess just from a profile, a seller's buyer reviews are a great indicator of their level of proficiency in these areas.
Are You Interested in Selling Your Services as a YouTube Channel Manager?
If you're a YouTube expert and you'd like to start freelancing on Fiverr, I have great news.
Signing up for Fiverr is quick and easy to do (as we found in our Fiverr review)
, which means you can get your profile up and running in no time at all.
Head to the Fiverr homepage
and click
Join
 to sign up for a seller profile. Fiverr freelancers get great exposure on the platform – one gig is purchased every four seconds, translating to over 1.8 million gigs per year. You can sign up using your email, Google, Facebook, or Apple – just choose the option that works best for you.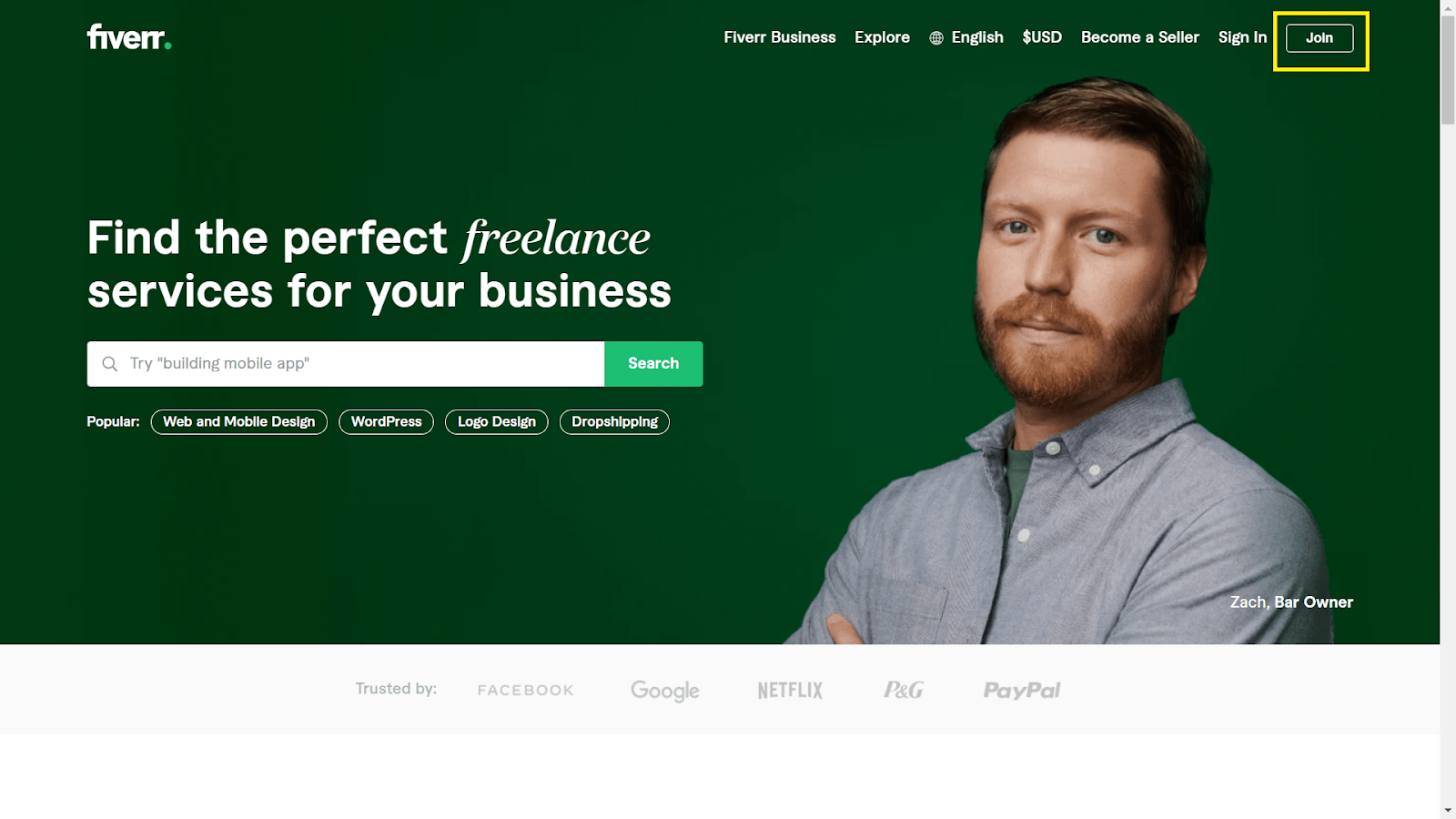 Once you've verified your account,
click the circle icon in the top right to access your profile.
You can use this dropdown menu in the future to access your settings or your seller dashboard.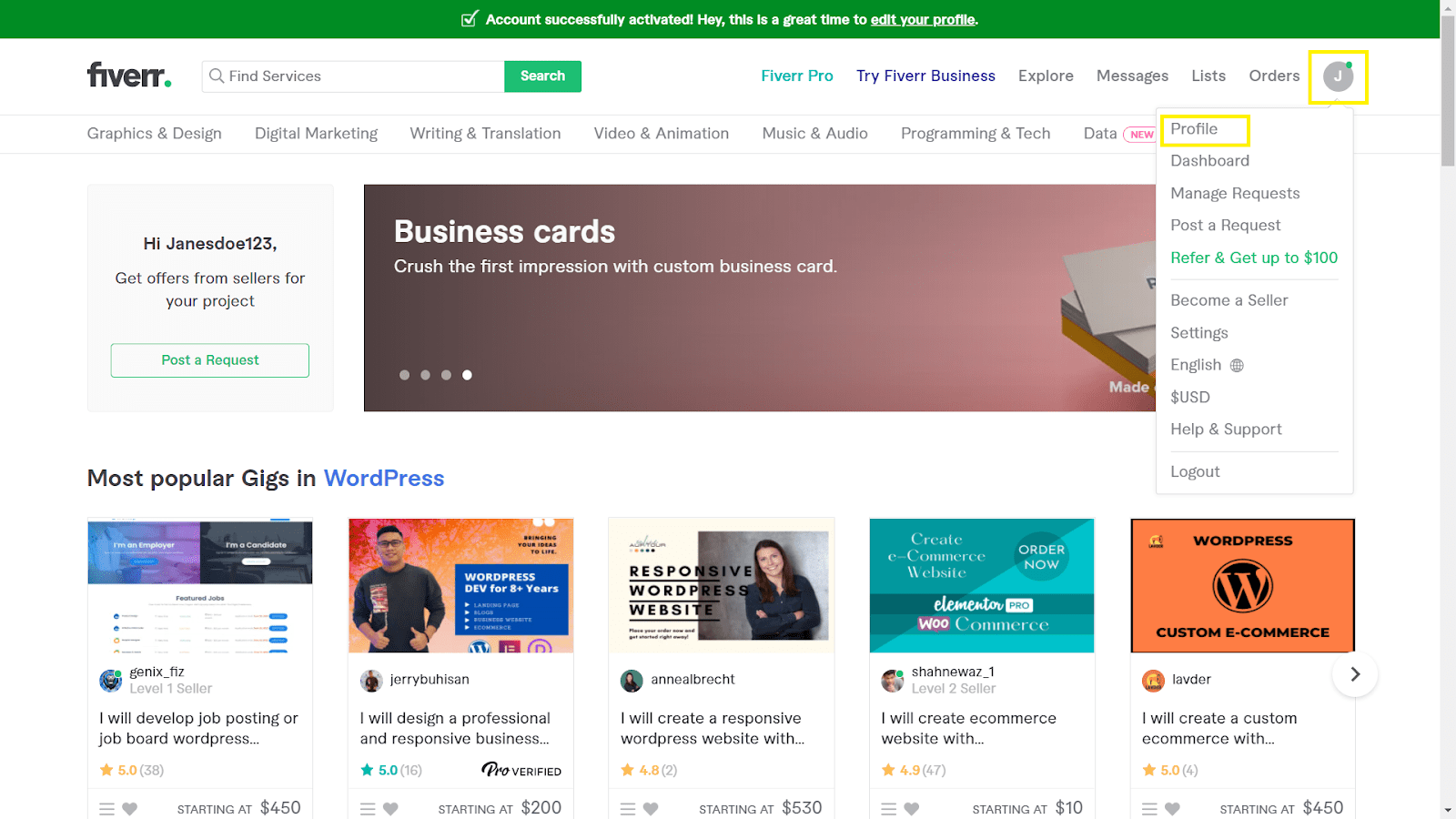 Upload a profile photo and add your skills, education, and any certifications you have. You can also link your social media accounts, like Facebook, Vimeo, and Twitter.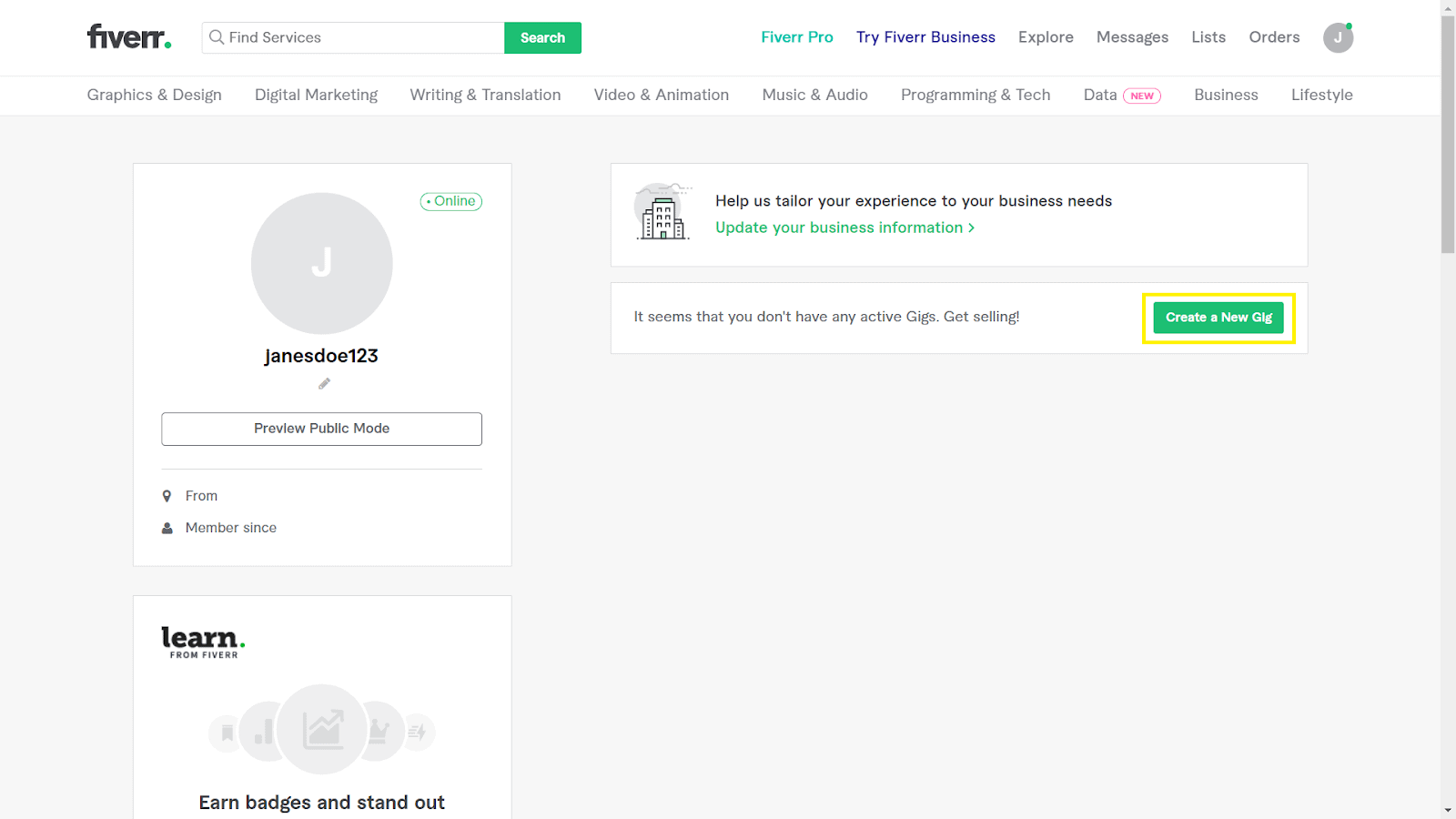 The next step is to create and publish a gig. We've helped you out here by putting together a
step by step guide on creating a successful Fiverr gig
so follow these do's and don'ts first. If you need the shorter version, here it is:
Click the
Create a New Gig
 button and decide on a gig title, categories, and search tags.
 For YouTube management, you'll want to select
Digital Marketing
 as the main category and then
Social Media Marketing
 as your sub-category. Choose your service type and then "YouTube" as your platform type. Add in relevant search tags and click
Save & Continue
 to move ahead. From here,
title each of your packages, add a detailed description, and select package additions
like an action plan and page analytics. Set a price for each package tier and add any extra services and pricing before moving on. Briefly describe your gig and answer any questions you think potential buyers may have. On the next page,
 you can add questions you have for buyers, like "What are your main channel objectives" to help you better understand their needs.
 Upload media to your gallery (like analytics and growth reports from past clients) and click ahead to publish your gig and take it live.
My top recommendation for new sellers looking to attract buyers is to become a buyer themself and hire a freelancer so you can understand the process from both sides
. To do this, switch over to a buyer's profile and click the categories at the top of the page to start your search. If you know what type of project you'd like to hire for, like cooking classes or digital art, then type directly into the search bar to find the right gig. By hiring your own freelancer, you'll get a behind-the-scenes look at what buyers want to see in a seller profile and gig. You can then use this information to improve your gig for ultimate buyer appeal.
Final Thoughts – Hire Expert Freelancers for Less
With Fiverr, hiring a professional freelancer is straightforward and incredibly affordable, no matter your budget
. The platform's user interface is simple and easy to navigate (that's why it scored
4.9
out of 5 in
our Fiverr review
), with search filters to help you zero in on the freelancers that offer packages with the services you need. In addition to the search filters, such as budget and delivery time, Fiverr places sellers into levels that indicate how many successful platform-based projects they've completed. When I need to hire an expert on Fiverr, I use the handy search filters and seller-level designations to help me find the freelancer that's right for my project, faster and at less cost. Moreover, once you have identified the suitable YouTube manager, you may want to explore other potential hires who can assist you. Fiverr consistently surprises me with the wide array of freelancers available. For instance:
FAQ
Where can I find a YouTube channel manager?
Fiverr is a top freelance website that hosts expert-level creatives from all around the world. You can choose from nine categories of freelancers and over a dozen sub-categories in each section. Check out the Digital Marketing category to find a YouTube channel manager or other social media marketing professionals.
How much does a YouTube channel manager charge?
Although final costs will vary according to the seller's location, skill level, and package offerings, pricing with Fiverr begins at only $5. Since you can search for gigs by price, it's incredibly easy to stick to your budget and avoid overspending.
What skills should a YouTube channel manager have?
Your YouTube channel manager should have a strong marketing background and extensive knowledge of SEO and standard writing principles. They should also be effective communicators with excellent organizational, strategic, and problem-solving skills. Lastly, ensure your YouTube channel manager has basic design skills and a deep understanding of the technical aspects of YouTube, such as uploading videos and monetizing content.