from as low as $5
), service options, time frame, and service-specific factors. You can also look for freelancers with dozens, hundreds, or over 1,000 reviews from happy customers. Yet I was still curious how quality factored into the equation.
Do you need to hire the most expensive seller to get the highest quality work?
To get answers to my question, I hired three YouTube channel artists at various price points. Take a look at which of the creators produced the best work and get a glimpse of my top 10 list of YouTube banner designers below.
Hiring 3 YouTube Channel Artists to Test
Most YouTube channel artists on Fiverr offer gigs with multiple options. The basic gig usually includes a YouTube banner, while the standard or premium tiers often come with extras like a source file or faster delivery. Some gigs also include additional components like YouTube profile images or banners for other social media platforms. For consistency,
I looked for creators with gigs that had similar deliverables, then chose freelancers at three price points: $15, $30, and $75. I asked each one to create a banner for my Home Fitness YouTube channel and sent each seller the same photos and logo to use.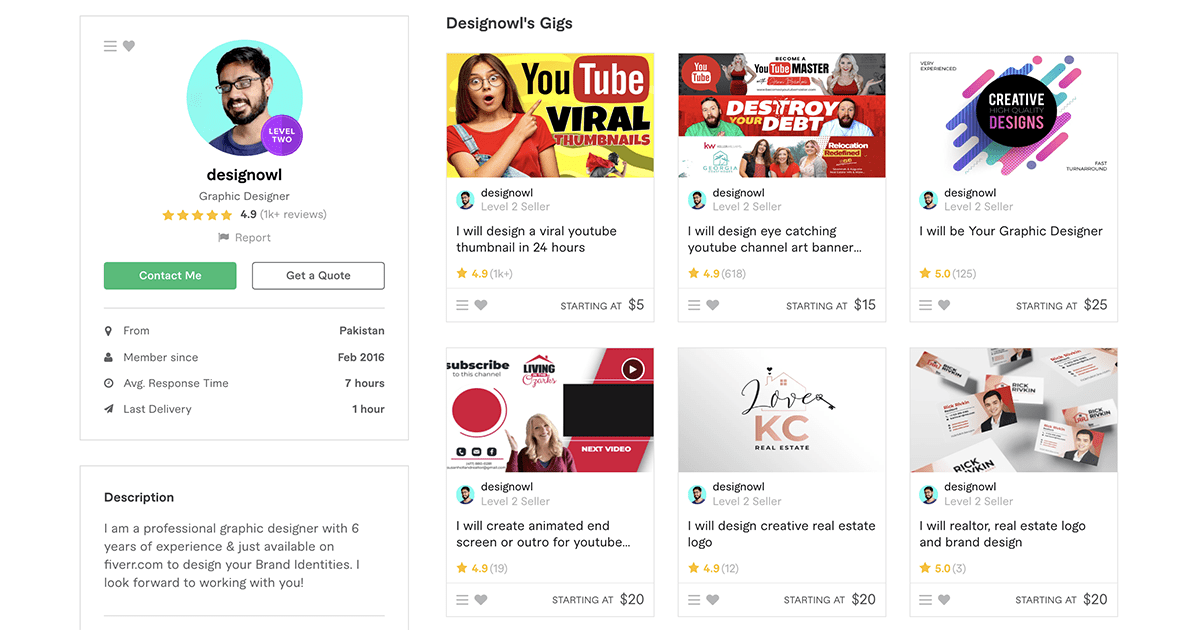 With over 1,000 reviews and a 4.9-star rating, DesignOwl grabbed my attention right away.
 His portfolio included dozens of designs I liked, and his profile listed six years of experience in graphic design. His Level Two Seller status sealed the deal, as this Fiverr credential reflects high-quality work and good customer service over an extended period of time.
I bought the basic $15 gig
, which was the cheapest option.
 It included two-day delivery and up to three revisions.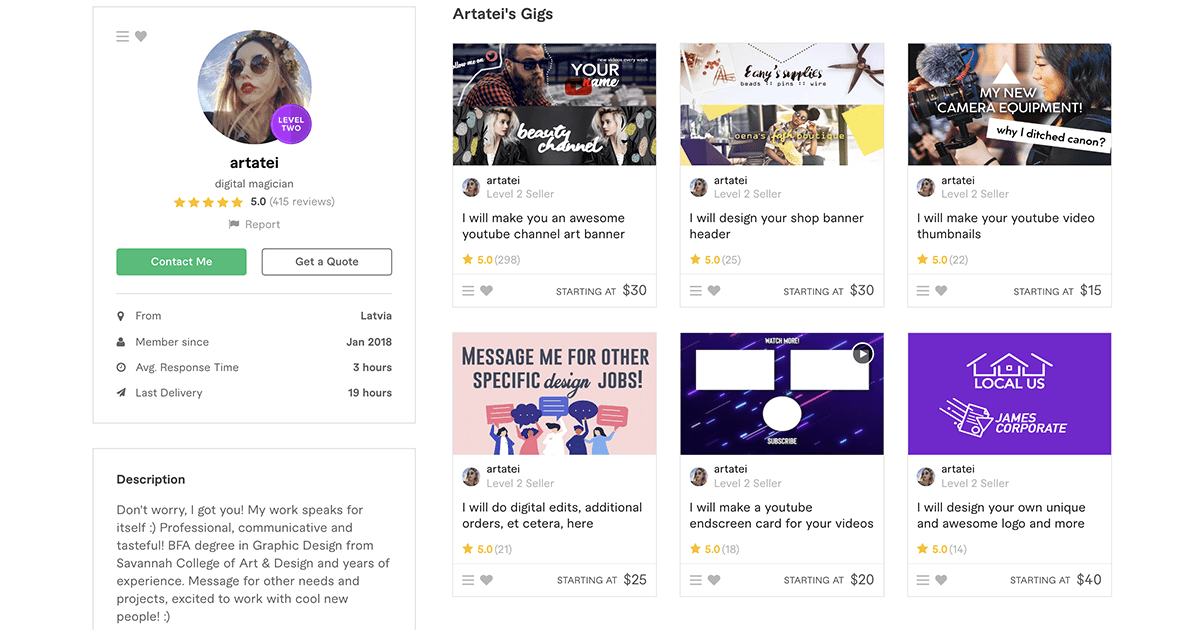 Another Level Two Seller, Artatei looked like a great choice for this project. With over 400 reviews and a five-star rating, her profile easily stood out from the others
. After browsing some of her work samples, it was easy to see that Artatei's aesthetic would be an excellent fit for the project. I purchased her
basic YouTube channel art gig for $30
. It came with up to two revisions and a six-day turnaround.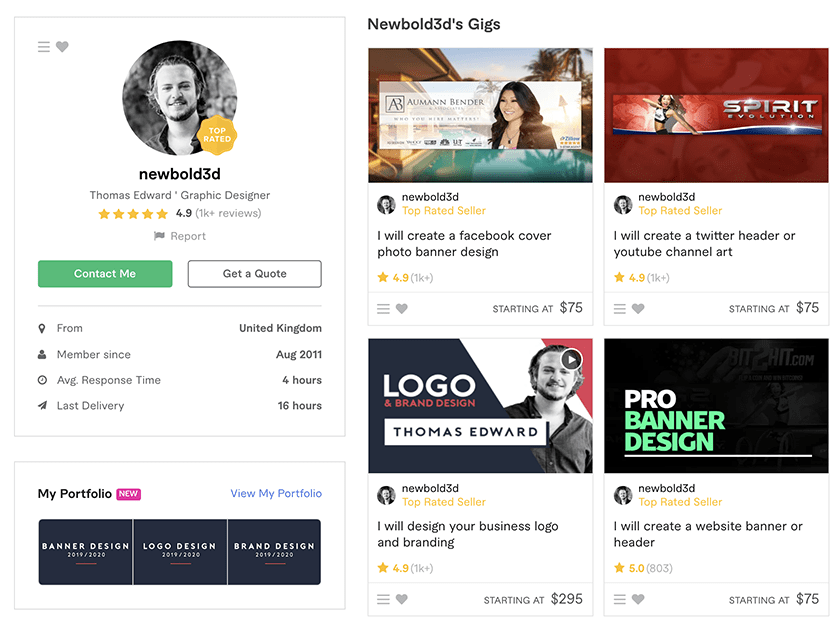 The Top Rated badge on Newbold3D's (also known as Thomas) profile caught my eye immediately, as it's one of Fiverr's most exclusive credentials
. Top Rated status only applies to experienced freelancers who have earned over $20,000 through the platform. His profile mentioned over 10 years of experience with graphic design and featured over 13,000 reviews, which made hiring Thomas a no-brainer – this guy knows what he's doing.
I purchased his $75 YouTube channel art package. It came with unlimited revisions and a three-day turnaround
, which sounded like excellent value for the money.
My Experience Working With These Fiverr Freelancers
All three of these Fiverr sellers offered remarkably efficient services. I was able to place each order without messaging the creator first, which eliminated any back-and-forth questions that might delay the project start. Here's what happened when I purchased each gig:
The $15 Freelancer – DesignOwl: The onboarding process included a long list of simple questions. For example, I had to provide my niche, my color scheme, and my channel name as well as my logo and some images.
The $30 Creator – Artatei: The midrange freelancer's requirements were a bit less formulaic and more descriptive. Their onboarding process prompted me to describe how I wanted the banner to look and asked me to provide the title, subtitle, and call to action.
The $75 Seller – Newbold3d: The most expensive creator had the simplest onboarding process. They asked for the text, images, and colors I wanted to include, so I submitted the same requirements I'd provided for the other sellers.
Comparing the Final Results
The three creators I hired all produced skilled designs and delivered them before their deadlines.
 While I especially liked two of the designs, one stood out as my top choice.
The $15 YouTube Channel Art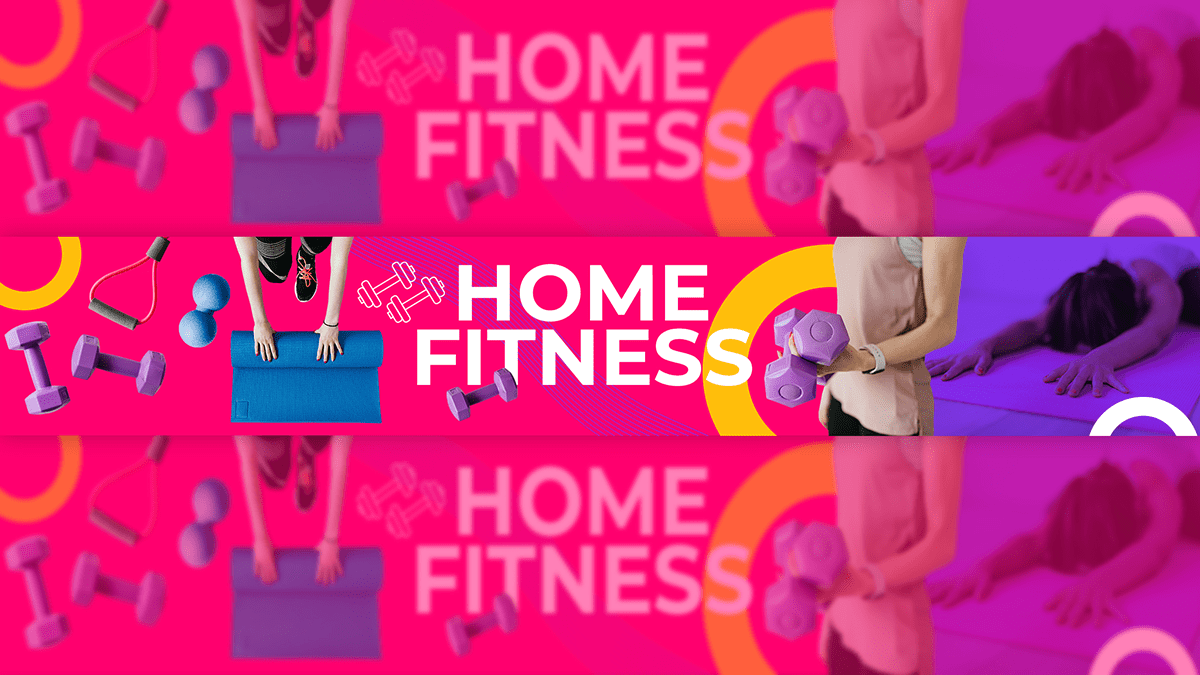 Although this gig had a two-day deadline, DesignOwl delivered my YouTube banner within 18 hours. I liked the bold colors and high-energy design, but the first draft had some graphic elements on top of the brand name. I was concerned that it made the text hard to read, so I asked the creator to replace or move the elements.
He delivered the revised version about 15 hours after my request, which meant this project took about a day and a half to complete.
While this result isn't my top pick, DesignOwl did a great job using my brand colors, logo, and images to create a banner that would work well for the fitness niche.
The $30 YouTube Channel Art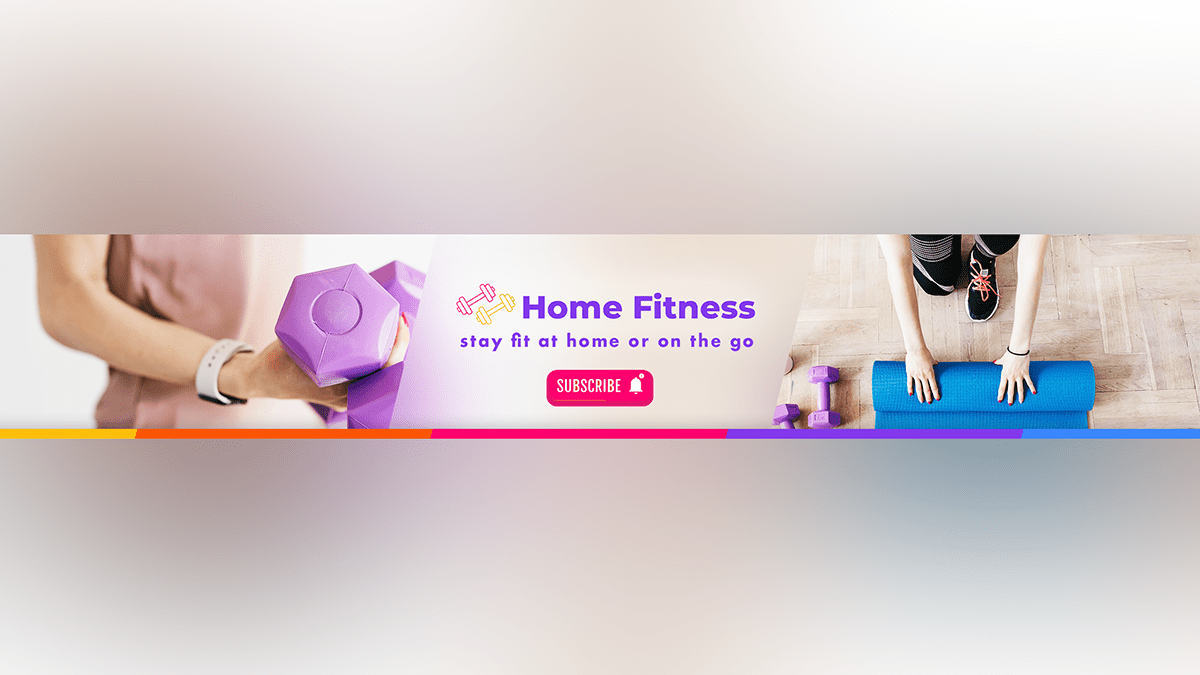 Unlike the least expensive seller, the midrange creator prompted me to provide a subtitle – and I liked the way she incorporated it into the design. I also appreciated that Artatei added my brand colors to the border along the lower edge of the banner.
While this midrange gig had a six-day deadline, Artatei worked incredibly efficiently, delivering my YouTube banner just over 24 hours after I placed the order
. This still isn't my top choice, but the creator's speed increased the value I got from this gig.
The $75 YouTube Channel Art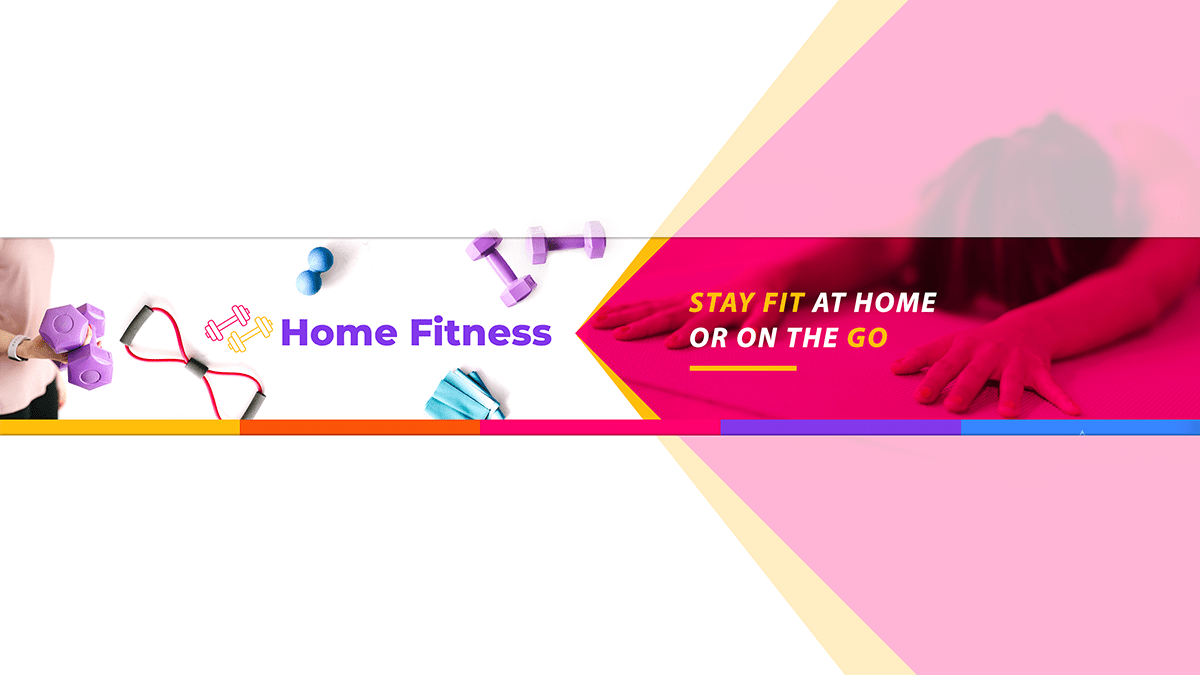 Because this gig was the most expensive by far, I had higher expectations. When I received the artwork, I was glad I'd tested out a pricier option.
 I think Newbold3D's YouTube banner does a nice job at showcasing the brand and the tagline while illustrating what the channel is all about. This gig had a three-day turnaround, and I received the artwork shortly before the deadline. It took 2-3 times longer than the others to complete, and I'm not sure it was necessarily worth the wait. Although this is my favorite banner of the three from a design perspective, it isn't materially different from the cheaper options. My experiment told me one thing
: no matter how much you want to spend, you can get decent work on Fiverr.
The cheapest YouTube banner I purchased checked all the boxes, and the creator offered added value by delivering the work so quickly.
If you have a bigger budget, I recommend spending more if you find a more expensive creator with amazing reviews or really eye-catching work.
 However, the only reason I'd opt for a more expensive seller is for the reassurance and better social proof that the reviews provide. By testing out the different price points myself, I found that the $30 option is just as good as the $75 option.
Hiring a Freelancer YouTube Channel Art Creator on Fiverr
In my experience, hiring a freelancer for YouTube channel art comes with tons of great benefits. It consistently scored highly in
our Fiverr review
, for its range and quality of features for freelancers and sellers, its ease of use, dispute resolution and pricing. It's one of the
top freelance platforms
 out there and I can see why. Here are some of the biggest perks I found:
Wide price ranges: Whether you're prepared to spend $5, $100, or any other amount, you can find a Fiverr freelancer in your price range – and yes, even though the name gives it away, I was still surprised to find that you can hire freelancers for as little as $5. Fiverr lets you search for any minimum or maximum price so you can easily find a seller that meets your needs.
Vetted and proven professionals: Fiverr does not individually vet every freelancer in the marketplace, but the platform does grant special credentials to deserving sellers. You can seek out Level Two Seller, Top Rated Seller, or Fiverr's Choice credentials to recognize creators who have achieved specific production, income, or ratings thresholds.
Custom offers: Although Fiverr gigs have set prices and deliverables, many include optional add-ons that let you customize your order. If you can't find a gig that has exactly what you want, you can always ask a seller to send you a completely custom offer that meets your needs perfectly.
The 10 Best YouTube Channel Art Creators in 2023
To complete this test, I searched far and wide to find the top 10 best YouTube channel art designers.
My top choice is
Newbold3D
 because of his high-quality work, sharp design, and strong branding. I also recommend these top creators:
FAQ
Can I get cheap YouTube channel art on Fiverr?
Yes, it's easy to get a YouTube banner designed on Fiverr, even on a small budget. In fact, I found hundreds of Fiverr sellers offering YouTube channel art for $15 or less. As my test revealed, even the most affordable gigs can give you high-quality work.
Do more expensive Fiverr sellers produce better quality work?
No, the price of a Fiverr gig doesn't always correlate with the quality of the work. As you can see from our Fiverr logo design review, my colleague thought the cheapest freelancer produced the best work. I recommend reading the reviews and checking out the creator's work before purchasing a gig to make sure you'll like what you get.
When do you pay for a Fiverr gig?
You pay Fiverr at the time of purchase. You choose the gig you want to buy,  decide whether you want to add on extras, and then you enter your payment information. Once you confirm the final price, you pay for the gig.
Is Fiverr easy to use?
Fiverr is easy to navigate and search which is why it scored 4.9 out of 5 in our Fiverr review. You can type just about any type of gig into the search bar, from popular categories like infographic design to more unusual niches like celebrity impersonators. Then you can sort gigs by budget, delivery time, and seller details. When you find a gig that meets your needs, you can purchase it in just a few clicks.
Which is better – Fiverr or Upwork?
Fiverr and Upwork are two of the biggest online marketplaces for freelancers. Yet I've found that Fiverr is better because of its user-friendly visual layout and the excellent value it delivers. Since many Fiverr gigs start as low as $5, buyers can commission great work, even on the smallest of budgets.