WordPress
, it can be a real pain to sift through gazillions of plugins. You want to showcase your photos, manage potentially large file sizes, and prevent copyright infringement, but reviewing all the options can take up hours of your time. It's your lucky day.
We've curated the plugins we think every photographer should have on their WordPress site.
Managed WordPress Hosting Lets You Focus on the Work You Love
Your website means a lot to you, and it should. But that doesn't mean you want to spend hours messing around with server configurations, security measures, or caching. The good news is that with
managed WordPress hosting,
you don't have to deal with any of that.
Flywheel
specializes in WordPress, offering managed WordPress hosting plans designed specifically for creative professionals, with very generous storage and bandwidth allocations. You'll have
WordPress experts
taking care of your server settings, plugin updates, and all the rest, to make sure your site loads fast and performs well. All you'll have to do is keep taking those great shots and posting them on your site for your followers.
Modula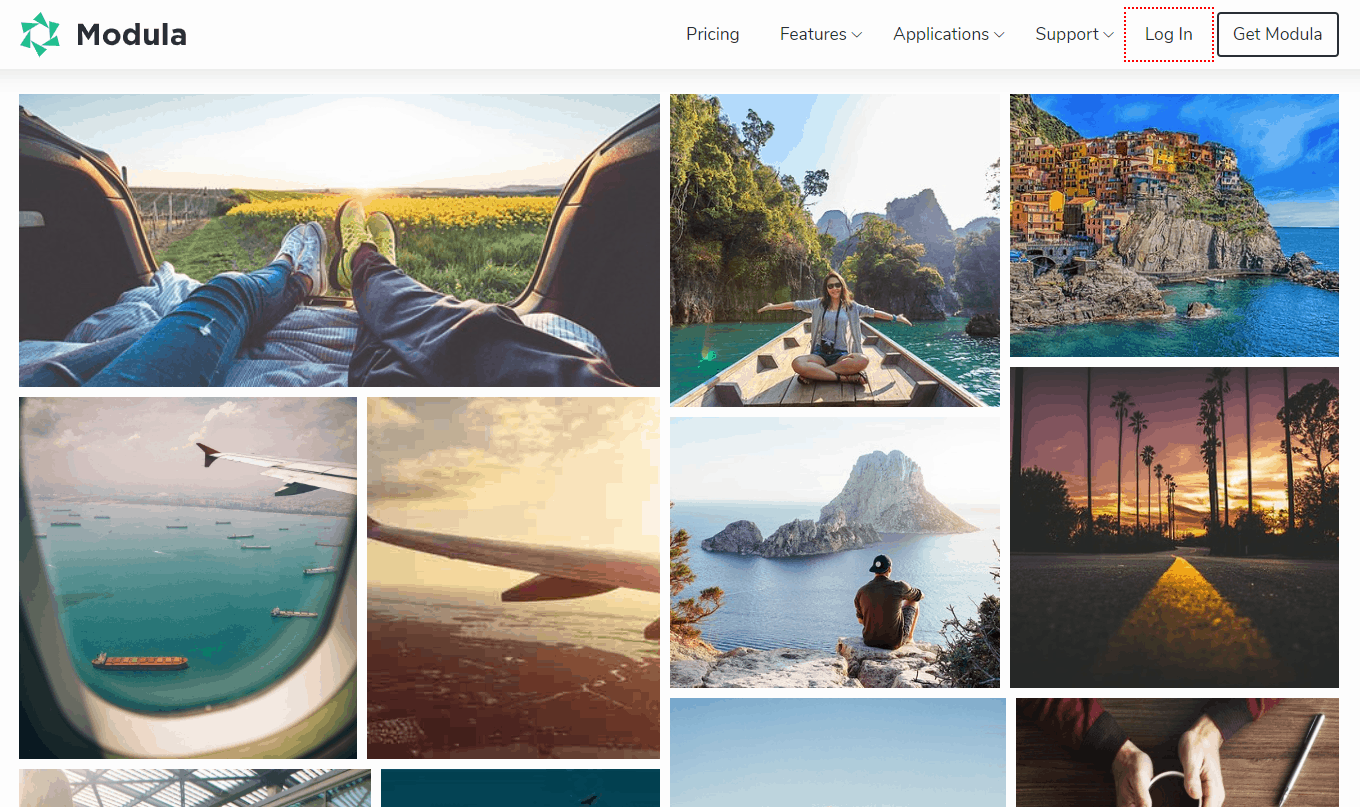 Here's another fantastic way to showcase your favorite photos. With
Modula
, you can create responsive grid galleries in just a few clicks, and then customize them to make them your own. While the algorithm can create your grid for you, you have full control over which images will stand out and how they are displayed. Here are some other noteworthy features:
To get you started, the plugin's "helper grid" suggests potential layouts for your gallery
The plugin comes with a variety of lightbox styles and hover effects to customize and enhance your visitors' user experience
You can add drop shadows to your images, display them with customizable rounded corners, and even adjust the inner margins between your photos
The video extension allows you to display videos in your galleries (available in the pro version only)
You can add social sharing buttons to your images
Pros:
Very user-friendly and intuitive interface – no coding necessary to get your gallery to look exactly how you want
You can preview the galleries in your WordPress backend; no need to keep updating and refreshing the page
The drag-and-drop uploader makes adding photos to your galleries easier than ever
Modula has partnered with ShortPixel to offer users on-the-fly image optimization and shorter loading times (available in the pro version only)
Modula offers both live chat and email/ticket support, along with a comprehensive documentation section on the company's website
The company offers a 14-day money-back guarantee, so you can try out the pro version risk-free
Cons:
The free version only allows up to 20 photos per gallery
Gallery search filters are only available in the paid version
The live chat support is not always available
This plugin is best for photographers, professional or amateur, who don't have much coding experience
but want control over how visitors to their site are going to view their photos.
Envira Gallery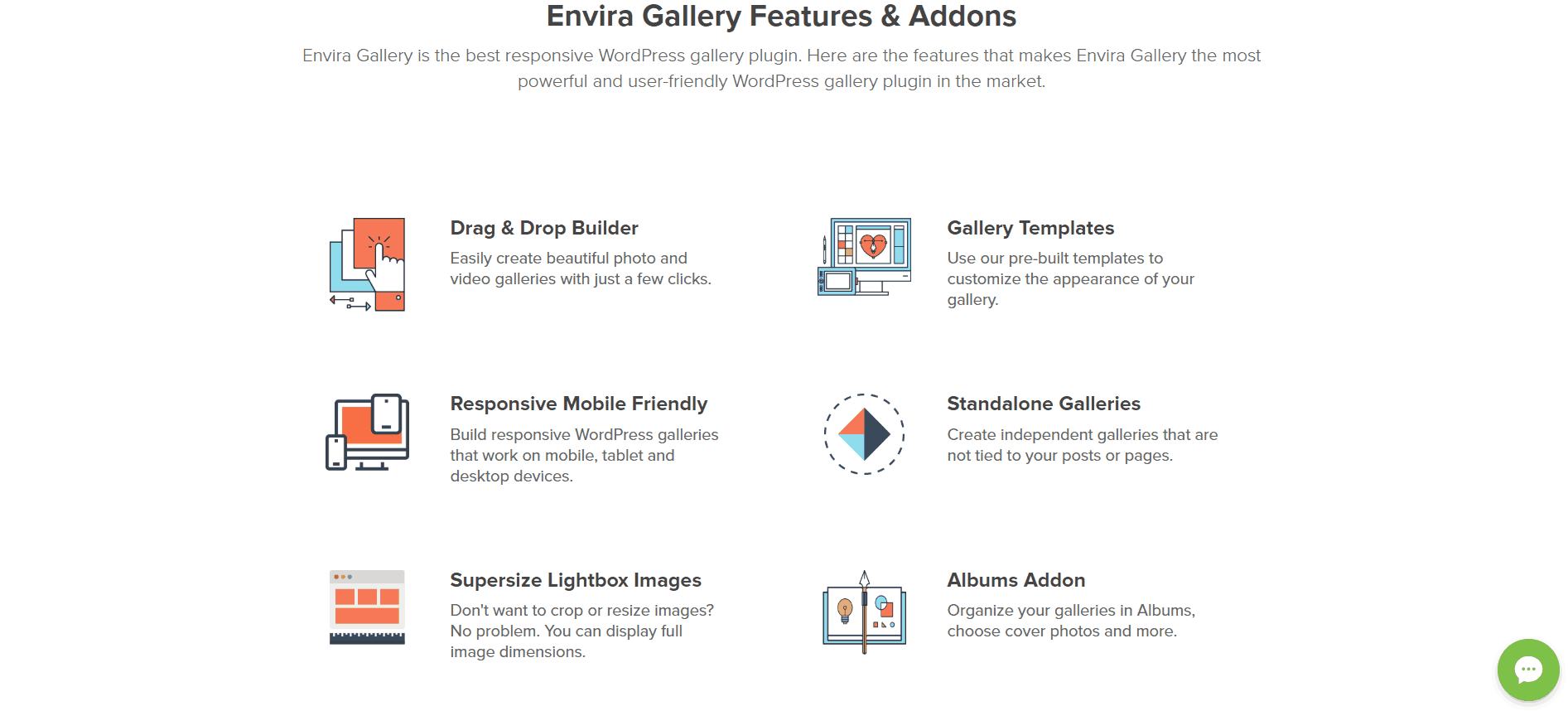 With over 100,000 active installations,
Envira Gallery
is one of the most popular image plugins around. That should be unsurprising, considering that the Envira plugin is a one-stop solution for all your website image needs, such as galleries, selling, and search engine optimization. It's the Swiss Army Knife of photography/image plugins, with the following features just being the tip of the iceberg:
The ability to embed videos from multiple codecs alongside your images in galleries
Full WooCommerce integration for selling your photos online
A drag-and-drop gallery builder
The use of deeplinking to make your website, particularly its images and galleries, SEO-friendly
The ability to add custom CSS to help style your galleries
Pros:
The gallery themes addon allows you to pick from multiple styles and gallery layouts to quickly change the look and feel of your website
It's a very feature-rich image gallery plugin, with over 25 addons that can be optionally installed to extend its features further
The drag-and-drop builder is an extremely fun and intuitive way for everyone, especially beginners, to create unique galleries
There's a lite version of the Envira Gallery plugin that has some feature restrictions, but can be used for free indefinitely
Even if you stop paying for your plan, you'll still be able to use all the features; you just won't have access to further updates or premium support
Cons:
Some of the higher tier Envira pricing plans can get relatively expensive compared with other plugins
The two cheapest pricing plans (Basic and Plus) don't allow you to install most of the addons, and they can be used only on a very small number of websites
The Envira plugin doesn't support any global gallery settings, which means you'll have to individually customize each gallery from scratch
This plugin is best for those who want all their image and photo functionality from the same plugin
. Few other plugins provide everything you need in a single tool. With themes and a drag-and-drop builder, Envira also provides plenty of control over your galleries' designs.
Storyform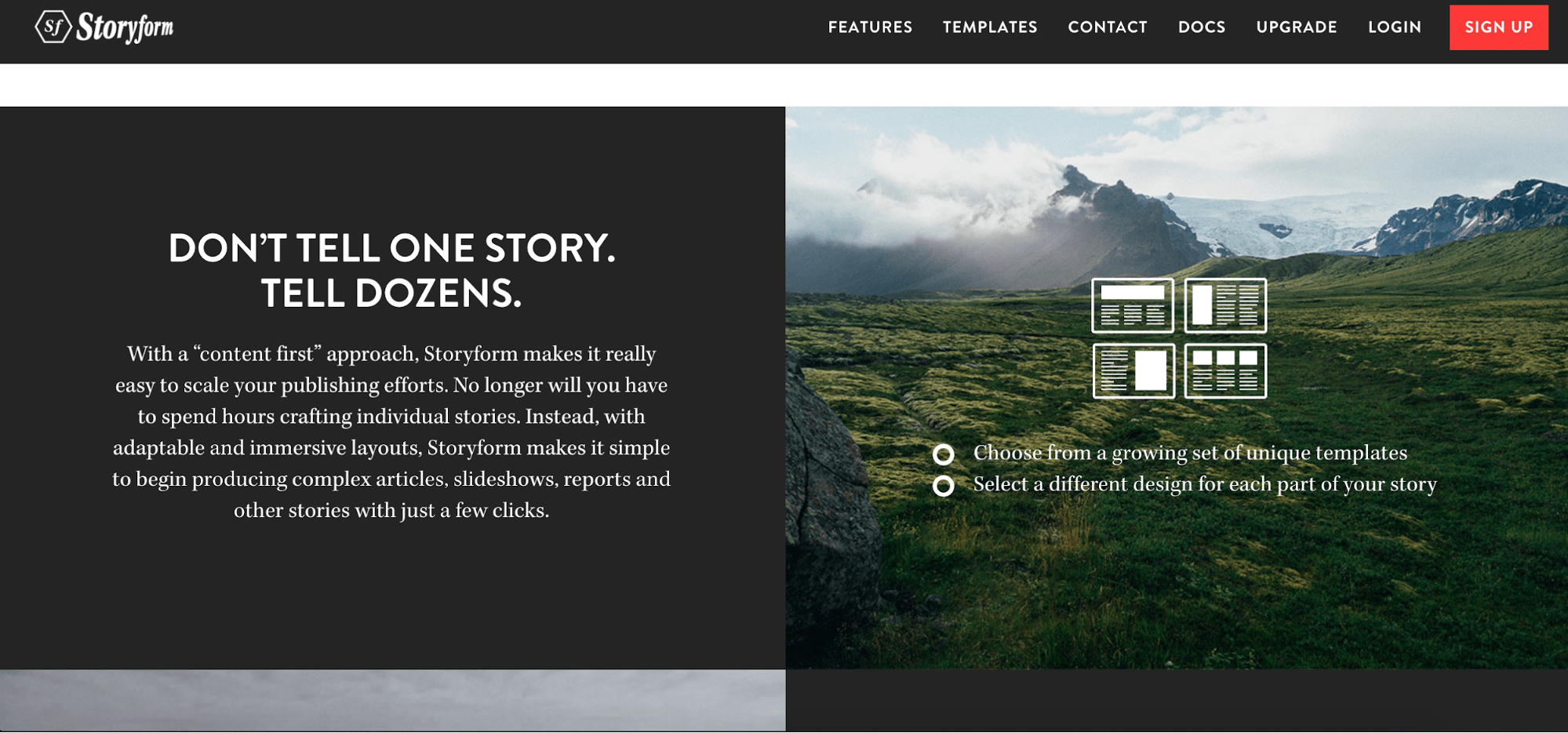 Storyform makes use of quite a unique concept by combining images and text for powerful storytelling capabilities
. Although not so widely used yet, it already has great reviews and is a fantastic plugin that's sure to catch on. You can easily create engaging magazine-like stories that showcase images and text, and then publish them as blog posts. Here are several things that help Storyform stand out:
An AI algorithm that helps create the perfect layout based on your photos and stories
A smart image and video cropper for responsiveness on all devices
True fullscreen, "fullbleed," layouts that take advantage of every inch of the display
The ability to "flip" webpages instead of having to scroll
Engagement analytics to help you track how users use your sliders
Pros:
You can incorporate really fantastic storytelling alongside your photography; you get layouts that really feel like a magazine, newspaper, or other form of printed media, but on a digital device
The engagement analytics tools are very helpful for fine-tuning your stories to really captivate your audience
You can add on white-labeling to your pricing plan for the ability to create stories for clients and turn it into a business
Although the collection is limited, the templates provided are stunning and immersive
Because storage and bandwidth can quickly run out with image or video-heavy websites on restricted resources, Storyform provides extra hosting with their premium plans
Cons:
With a monthly pricing plan, the Storyform plugin is really expensive and costs much more than Soliloquy (discussed below) or Envira Gallery, which have more features
There are only about five templates to base your Storyform stories on; and with no drag-and-drop builder, the options are slightly limited
The free plan is extremely restrictive with its limits on webpage views, domains, stories per month, and templates
This plugin is best for photobloggers who want to share the stories behind their images
as much as the images themselves.
Soliloquy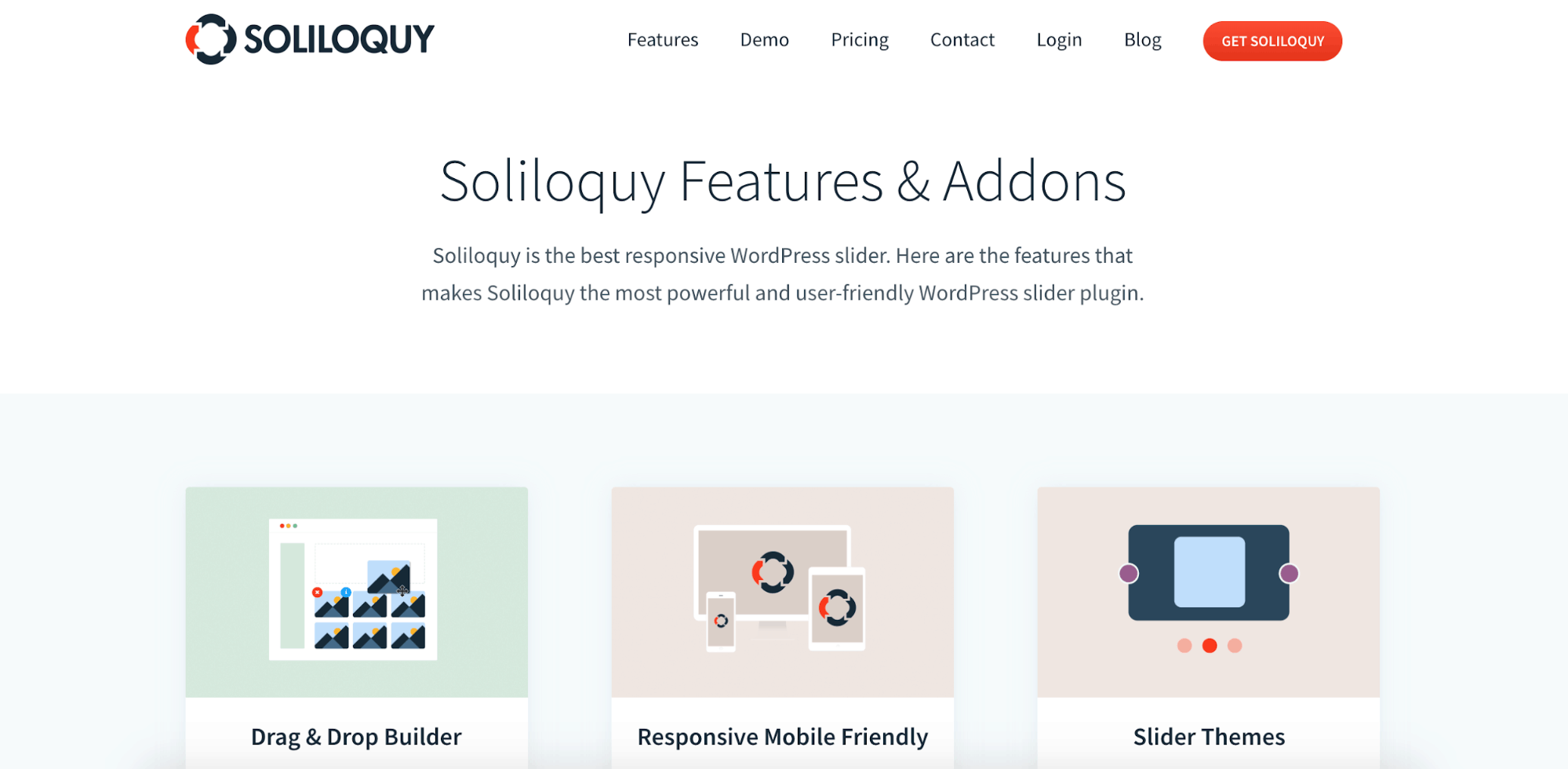 This plugin comes from the makers of Envira Gallery. However, it's not meant to be an extensive and feature-rich image plugin. Instead,
its sole purpose is to allow you to easily and quickly create gorgeous and highly optimized sliders for images or photos
. These sliders are just as good at showcasing your work as they are at beautifying your webpages. Here are some of the features you can expect:
Integration with WooCommerce to create sliders for product webpages
The ability to schedule sliders to animate at particular times or intervals
Powerful addons to extend the functionality of Soliloquy
Mobile-responsive sliders that work on desktop, tablet, or mobile
The ability to create sliders and galleries using a drag-and-drop builder
Pros:
With many integrations and addons, especially for social media, it's possible to make a wide range of sliders, including Lightbox, PDFs, and videos
Soliloquy features excellent mobile responsiveness, and the sliders look great on almost all devices
The plugin and its sliders are greatly optimized for performance, which will help keep your loading times down on image-heavy websites
Soliloquy comes with a very useful and intuitive drag-and-drop builder you can build your sliders with
Just like Envira Gallery, even if you stop paying for your plan, you can still use all the features (although without updates or support)
Cons:
The plans are quite expensive for a slider plugin, with a very limited free version available
Just like the Envira Gallery plugin, very few of the addons are available on the Basic or Plus plans, which makes it very restrictive
Although there's plenty of support for integrations with other platforms and technologies, there could be more actual slider types, such as an accordion slider
This plugin suits individuals seeking to incorporate various types of image sliders into their webpages without compromising performance. Soliloquy enables the utilization of several other platforms, media types, and social media channels to facilitate this capability.
Imsanity
The most frequent cause of headaches faced by those who run a photography website or blog is usually the size of their images.
Unfortunately, taking beautiful photos with plenty of detail and in high resolution does have the side effect of bloating image sizes beyond "sane" limits
. This can cause performance issues, and cause your storage space to run out. Luckily, Imsanity allows you to do the following to combat these problems:
Set the plugin to automatically resize uploaded images
Change image format from BMP to JPG to allow for scaling
Configure the width or height as well as scale of images
Resize existing images in bulk
Pros:
The plugin is free, and there are no hidden costs, paid extras, or pricing plans that limit features
By automatically scaling images for your blog or website where you don't need full-size images, you can save a lot of time
The interface is beginner friendly and easy to use
Despite being a smaller, free plugin with a small development team, there are very few issues or bugs
Imsanity is available in multiple languages, and it continues to be translated in other languages so more people around the world can use it
Cons:
Unfortunately, being an open-source plugin with a smaller development team does mean that updates and fixes are slower to come in
Imsanity doesn't yet offer support for all image formats, although it does support the most important ones
Imsanity doesn't offer any other features other than image resizing and scaling
This plugin is best for photography bloggers or bloggers who make extensive use of images on their website and don't necessarily require all of them to be at 100% resolution and quality
. This is an especially good reason if you're struggling with webpage load times because of your images.
Easy Watermark
The name of this plugin is no unsubstantiated brag.
It really does make creating watermarks for your images on your WordPress website ridiculously easy
. Its 30,000+ active installations are a testament to just how useful and accessible this little plugin is. It may be straightforward, but it still packs some useful features:
You can automatically watermark images as you upload them
Transparency is fully supported for relevant image formats
All built-in WordPress image sizes can be watermarked
It's fully translatable, with a number of translations already included
Pros:
Easy Watermark is a completely free plugin, with no restrictions placed on usage and no features locked behind a paywall
The ability to set the plugin to automatically attach certain watermarks to images is a great timesaver, especially if you have many images
By using the standard .ttf format for text watermarks, you can choose from almost any font there is
It's an extremely user-friendly plugin, and it seamlessly integrates with the WordPress interface
Because of a recent update, you can remove watermarks from your images to restore them to their original look
Cons:
With a smaller team of developers behind it, updates and improvements come out at a slower pace
Some users do report issues with the plugin, especially concerning the watermark removal and compatibility
It doesn't provide any other features beyond adding watermarks to your images
This plugin is best for photographers or other visual artists who need a simple and free way to protect their copyrighted material with watermarks.
Create the Perfect Stage for Your Photography
There are numerous types of plugins to consider. If all the options are overwhelming, the quick summary table below should help point you in the right direction. When choosing my top five, I factored in price. As
you need a Business plan to install plugins with WordPress.com
, you probably want to keep the rest of your costs down as much as possible. That's why I included as many free plugins, or plugins with a free plan, as possible.
| | | | | |
| --- | --- | --- | --- | --- |
| | Free Version Available? | Best For | Quick Summary | Star Feature |
| Modula | Yes, along with premium plans | Professional and amateur photographers with no coding experience | Easily create attractive, fully-customizable galleries in just a few clicks | Full control over how your images are displayed |
| Envira Gallery | Yes, along with premium plans | Anyone who heavily uses images | A feature-rich app that covers all aspects of website images | Deeplinking to make your images SEO-friendly |
| Storyform | Yes, along with premium plans | Photography bloggers | A unique app that lets you create image and text stories | White-labeling license to create stories for clients |
| Soliloquy | Yes, along with premium plans | Anyone who wants plenty of image sliders | Creates multiple types of sliders with different types of content | Create sliders from multiple formats, like images, video, or PDFs |
| Imsanity | Yes | Photographers with a blog that doesn't need full quality images | Automatically resizes or scales new and existing images | Automatic image resizing for newly uploaded images |
| Easy Watermark | Yes | Artists or photographers who want to protect their copyright material | Easily and automatically adds watermarks to your images | A completely free plugin |
There are thousands of WordPress plugins available, and hundreds of plugins related in some way to photography
. If there isn't a plugin on this list that offers the exact features or experience you need, you should browse the repository for something more relevant. And if you're not convinced by the WordPress builder itself, you can consider some of these other
best website builders for photography websites
. And remember that there are also plenty of other WordPress plugins that can be used to extend functionality and create a more well-rounded website. These include
e-commerce plugins
, blogging plugins, or performance and monitoring plugins.