Whether you're a hobbyist, a full-stack developer, or the head of a website development team, your choice of WordPress hosting partner is crucial.
Choose poorly, and you could end up with a provider that lacks the tools, flexibility, and performance you need to build the sites you envision. This will especially ring true if you've ever had a client sign up with a big-name host they've simply heard about without doing any research.
You inevitably get blamed if a site you've built runs slowly
, even if it's really the fault of inadequate web hosting tech.
By choosing a tested, reputable provider, you can ensure your hard work will not be undermined by a substandard hosting platform.
But there are a lot of options out there for many different types of client sites. How do you choose? We've tested dozens of popular hosts for developers like you, and
I've listed the top six right here
. Read on to find the best fit for your specific needs.
Short on Time? These Are the Best WordPress Hosts for Developers in 2023:
Hostinger – Budget pricing on plans with impressive, highly-optimized WordPress performance
IONOS – Partner Program offers developers discounts, lead generation, and other benefits
Kinsta – Fastest and most reliable WordPress host with flexible development tools
What We Look For in the Best WordPress Hosts for Developers
While shortlisting these WordPress hosts, I focused on the following qualities and features:
Development tools. SSH access and WP-CLI should be available so that you can work rapidly through the command-line, as should Git integration, the latest PHP versions, and support for multiple development platforms.
Superb performance. With bad hardware or web hosting software configuration, your (or your clients') site visitors will be doomed to slow loading times no matter how much WordPress optimization you put in. Worse still, uptime may be an issue. We've tested each of the hosts below to ensure they can offer you superb performance and near-perfect uptime.
Flexibility. If you're planning to develop a range of sites, especially for paying clients, it's best to choose a provider that gives you generous resources and the ability to scale up manually or automatically if you hit any limits. I've picked hosts where scaling up is always an option.
WordPress management. Good quality managed WordPress hosting services can help save you time on account setup and day-to-day maintenance, so you can focus on design and code. Hosts offering WordPress management earned extra points.
Good value for money. With the right host, it's possible to keep costs down and still enjoy premium features. I picked WordPress hosts that offered various tiers of hosting service at competitive rates.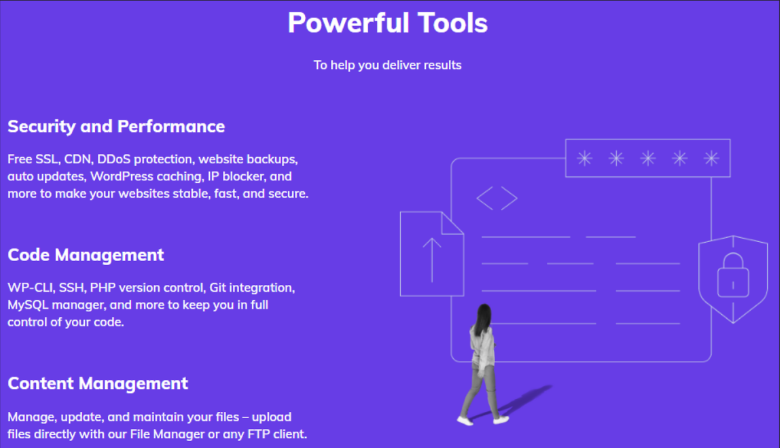 If you'd like to keep costs low for your own sites, or you work primarily with clients on tighter budgets, I'd recommend Hostinger.
Not only is Hostinger one of the cheapest options for shared WordPress, but it's one of the fastest
– our performance tests showed excellent results. While Hostinger's basic WordPress plans may work just fine for you, if you have a growing client base I'd recommend trying its agency hosting.
The basic agency hosting plan is very affordable
 – only costing slightly more than the cheapest shared hosting plan.
This plan offers 200GB of SSD storage for a maximum of 100 sites with daily backups for every site, with support for up to 100,000 monthly visits.
It also offers easy WordPress installations if you don't want to do it manually
, alongside WP-CLI and Git integration. The only possible downside to Hostinger is, its VPS solutions lack value compared to the other VPS providers on this list, so I'd recommend Hostinger mainly for shared WordPress solutions that get light-to-average volumes of traffic.
Hostinger Reseller Hosting
A free domain name is included with some hosting plans from Hostinger
Features
LiteSpeed cache for WordPress. Hostinger's superior WordPress performance is due in part to its use of LiteSpeed Enterprise web server software, which offers a speed boost over the traditional Apache web server. Every site also benefits from the LiteSpeed Cache for WordPress plugin for site-specific optimization tweaks.
IPv4 and IPv6. All reseller plans run on the faster IPv6 protocol, each with a dedicated IPv6 address and a shared IPv4 address.
Responsive proprietary control panel. Hostinger's hPanel is efficient to work with if you don't use the command-line. It's also beginner-friendly, so your clients should have no trouble with it.
Simple account sharing with partners and clients. Hostinger's account management tools allow you to set up, configure, and share access to all your hosting accounts.
Want to know more? Check out our expert Hostinger review
.
Money-back guarantee
30 days
Data center locations
1 in the US, 3 in Europe, 2 in Asia, 1 in South America
Types of WordPress hosting
Shared, WooCommerce, agency hosting, VPS, cloud
Starting price

$

3.99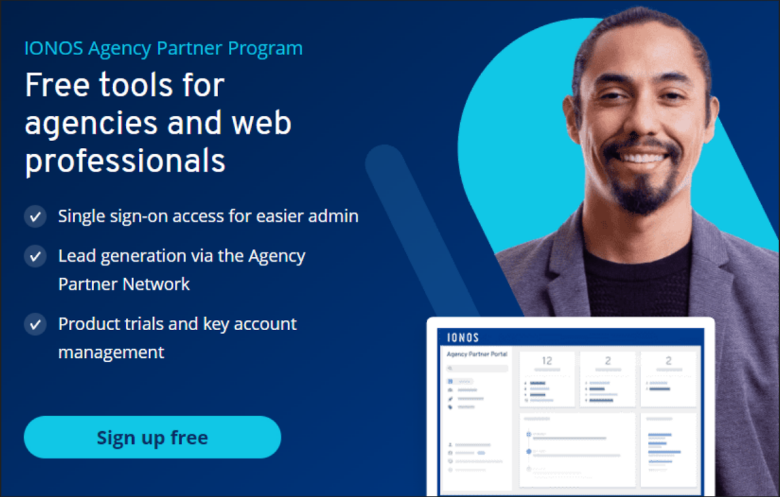 IONOS is a particularly good option if you're a novice freelancer with a few clients.
Its Partner Program offers generous benefits
to developers who can bring clients to the service. For example,
IONOS partners get discounts
on its already cheap hosting plans
. While it is slightly more expensive than Hostinger in the long run, its starting prices are very competitive.
You'll also get access to a range of preconfigured hosting products, solutions, and infrastructure
– while you might be a do-it-yourself type, you may find software and hardware configured precisely for IONOS' platform useful. Furthermore, IONOS' API allows you to manage and customize hosting products like domain services, SSL, email verification, and the like if you're looking to expand and automate your hosting service.
What is especially good about the Partner Network is that it's completely free
, as is an optional listing in the IONOS partner network, which allows you to advertise your services as a developer to prospective clients.
A free domain name is included with some hosting plans from 1&1 IONOS
Features
$300 credit. In addition to the aforementioned discounts, IONOS partners get $300 free credit on select hosting products upon signing up.
Unlimited resources. The least expensive IONOS WordPress plans include unlimited SSD storage, bandwidth, and allowed number of websites. This gives you plenty of room to develop and scale, at least within the natural limitations of shared hosting.
Single sign-on access. IONOS allows you to manage all your client accounts from one intuitive dashboard. Better yet, you won't have to record login credentials for each individual client – you'll only need to login once to have full access to both your personal projects and all your client accounts.
Huge discounts for new customers. New customers get impressively low starting prices on shared WordPress plans, even without partner discounts.
To learn more, read our expert 1&1 IONOS review
.
Money-back guarantee
30 days
Data center locations
2 in the US, 4 in Europe
Types of WordPress hosting
Shared, WooCommerce, VPS, dedicated, cloud
Starting price

$

1.00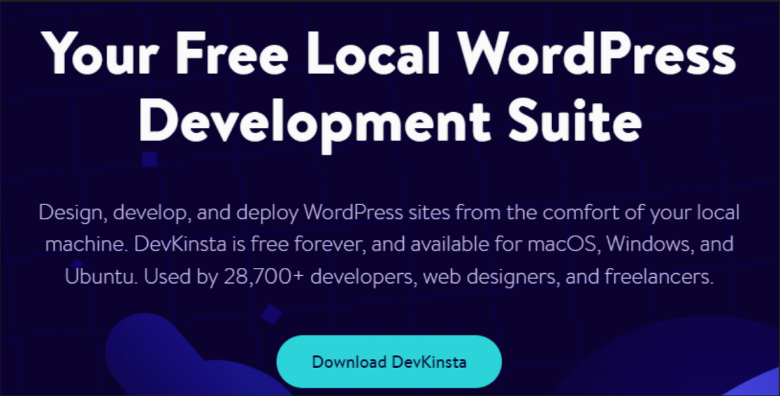 Kinsta offered some of the best WordPress performance we've ever seen in our tests
, with very high loading speeds and no downtime over a period of four months. And its global network of 35 data centers will allow you to deliver premium performance to audiences all over the world.
Kinsta also offers a local WordPress development tool called DevKinsta.
This allows you to build sites in a secure, local Docker environment, then push your work onto Kinsta's live hosting platform with a single click. You also get SSH access, Git integration, and single-click site staging. That said, premium-tier performance and development tools don't come cheap – Kinsta is the most expensive WordPress host on this list. But
it's a terrific choice for projects that require top-quality hosting
.
Features
24/7 uptime monitoring. Uptime checks are performed every two minutes, and Kinsta will attempt to identify and fix any issues.
Bedrock & Trellis. Kinsta supports the integration of Bedrock and Trellis. Bedrock offers improved file structure for WordPress sites along with Composer integration for managing dependencies. Trellis as used here allows you to create development environments and deploy sites to Kinsta with a single command.
In-house caching plugin. Kinsta provides a proprietary caching plugin that decreases site loading speed considerably. It also employs caching optimizations at the server level.
Free performance monitoring service. All Kinsta plans come with Kinsta APM, which allows you to identify PHP performance bottlenecks in your sites. You can review timestamped information on PHP processes, database queries, and HTTP calls.
Check out our comprehensive Kinsta review for more details
.
Money-back guarantee
30 days
Data center locations
9 in the US, 2 in Canada, 10 in Europe, 2 in Australia, 1 in the Middle East, 9 in Asia, 2 in South America
Types of WordPress hosting
Managed WordPress and WooCommerce, WordPress agency hosting
Starting price

$

35.00

Scala Hosting lets you custom-build the perfect VPS, granting you full control over your development environment.
You can allocate the exact amount of RAM, vCPU, and storage you need, and you can scale any of these resources at any time.
While the self-managed solutions come with full root access, Scala Hosting's managed VPS is ideal if you're looking to save time.
You won't need to worry about server configuration and maintenance, so you can simply focus on development. You'll have SSH access, WP-CLI, and a WordPress management interface that lets you clone sites and configure automatic updates. Scala Hosting's managed VPS plans also come with several freebies, including a dedicated IP address and a domain name for a year.
A free domain name is included with some hosting plans from Scala Hosting
Features
Proprietary SPanel control panel. Scala Hosting's SPanel lets you manage your client accounts, choose or switch web server software (OpenLiteSpeed comes recommended for WordPress), generate analytics reports, and more.
Unlimited hands-on migrations. Scala Hosting's experts will migrate all of your websites to its platform, free of charge. Transferred websites are thoroughly checked for malware and performance issues.
SShield security. Plans also include the robust SShield security suite. This actively blocks web attacks and notifies you of any intrusion attempts. Included with this notification will be a report on the vulnerability the hack attempted to exploit, and tips on avoiding a repeat occurrence.
"Anytime" refunds. In addition to a 30-day money-back guarantee, Scala Hosting also offers prorated refunds if you cancel outside this period. This means you could cancel one year into a three-year contract and still receive a refund for the remaining two years.
Read our expert Scala Hosting review for more information
.
Money-back guarantee
30 days
Data center locations
2 in the US, 1 in Europe
Types of WordPress hosting
Shared, WooCommerce, self-managed VPS, managed VPS, reseller hosting
Starting price

$

20.00

Nexcess is another managed WordPress hosting solution with some unique options. For example,
it offers AI-driven automatic plugin updates
. Rather than just applying updates as they become available, Nexcess checks each plugin for issues on a clone of your site. If any are detected, the update isn't applied. In addition,
Nexcess provides 24 hours of free auto-scaling per month
– if your sites experience traffic surges, this allows you to meet the increased demand without having to pay extra fees.
Nexcess always provides the latest version of PHP and a high number of PHP workers per site.
Even the cheapest plan offers ten PHP workers, whereas many other WordPress solutions can have as few as two. This ensures better performance under heavy traffic. Nexcess' WordPress plans are served in a shared hosting environment, though it does offer cloud-based scaling as mentioned above – hence the premium prices.
Nexcess WordPress Hosting
Features
Daily automatic backups. Nexcess helps to ensure your progress is never lost by taking a daily backup of each of your sites. These backups are kept for 30 days so you'll have plenty of versions to roll back to if issues occur.
Free WPMerge plugin. WPMerge lets you push staged sites into production without overwriting critical database data, such as customer orders or new blog posts. This allows you to implement changes safely without risking conflicts or data loss.
WooCommerce sales performance testing. If you're developing e-commerce sites for your company or for your clients, Nexcess automatically tests WooCommerce sites for login, payment, and checkout issues – allowing you to find any issues before they can cause a loss of revenue.
Plugin performance monitor. Nexcess offers a free plugin performance monitor. This tracks the performance impact your plugins are having on a site, allowing you to quickly isolate the cause of slow page loading. It runs every day to catch issues caused by new updates.
Get all the details in our Nexcess review
.
Money-back guarantee
30 days
Data center locations
4 in the US, 3 in Europe, 1 in Australia
Types of WordPress hosting
Managed WordPress and managed WooCommerce
Starting price

$

12.67

If you're a WordPress developer who wants to stick with cPanel, InMotion Hosting is worth looking at.
InMotion Hosting offers the best deals for cPanel-based hosting
, and its generous 90-day money-back guarantee gives you plenty of time to test its affordable plans, risk-free. I'd say InMotion Hosting's managed VPS plans are the best choice.
Every server starts you off with five cPanel licenses and a WHM license.
Interestingly,
InMotion Hosting's managed VPSs offer full root access
– allowing you to benefit from the additional flexibility this gives you while still enjoying the convenience of managed service. You should note that InMotion Hosting only has data centers in the US, making it a poor choice if you're targeting an audience outside of the States.
Features
Premium NVMe SSD. InMotion Hosting's basic shared WordPress and 4GB RAM+ managed servers offer NVMe SSD storage. These offer faster read/write speeds and lower latency than traditional SSD drives.
Multiple free dedicated IPs. Every managed VPS plan comes with at least two free dedicated IPs. It often costs extra for just one with some other hosts, so to get two for free is a good deal.
Redundant hosting. The data and storage on your server is mirrored across others in the same cluster, preventing downtime or data loss.
Two hours of Launch Assist. InMotion Hosting's premium Launch Assist service lets you request one of InMotion Hosting's seasoned system administrators to help you get your server configured. You can ask them to help with site migration, or to perform vital server customizations or software installations.
For more information, take a look at our InMotion Hosting review
.
Money-back guarantee
90 days
Data center locations
2 in the US
Types of WordPress hosting
Shared, WooCommerce, reseller hosting, VPS, cloud hosting, dedicated servers
Starting price

$

24.99
Which Is the Best Developer-Friendly WordPress Host for You?
The best WordPress hosting provider for you depends on your particular needs.
While all of the above options are good choices, some may suit you better than others. Still a little unsure? Here are my specific recommendations:
If you're on a tight budget,
I'd recommend Hostinger
. It's one of the best-performing budget WordPress hosts we've ever tested, yet it's also among the cheapest. For developers with average-sized sites, this could be all you need. On the other hand,
if you're a freelance developer with multiple clients,
take a look at IONOS
. Its Partner Program can help generate further leads, and you'll also get access to an intuitive dashboard that makes managing your clients' sites a trivial task.
For the best WordPress performance,
try Kinsta
. Kinsta offers the fastest page loading speed on this list – whether you're working on your own projects or building sites for high-end clients, Kinsta will deliver premium performance. Check out the table below for a side-by-side comparison of all the hosts in this article.
Standout feature
Uptime guarantee
Data center locations
Starting price
Hostinger
Great performance at low prices
99.9%
1 in the US, 3 in Europe, 2 in Asia, 1 in South America

$

3.99

1&1 IONOS
Generous partner program, low starting prices
99.99%
2 in the US, 4 in Europe

$

1.00

Kinsta
Best WordPress performance
99.9%
9 in the US, 2 in Canada, 10 in Europe, 2 in Australia, 1 in the Middle East, 9 in Asia, 2 in South America

$

35.00

Scala Hosting
Customizable managed VPS with an intuitive control panel
99.9%
2 in the US, 1 in Europe

$

20.00

Nexcess
Cloud scaling and AI-driven performance analysis
100%
4 in the US, 3 in Europe, 1 in Australia

$

12.67

InMotion Hosting
Managed VPS with root access and free cPanel licenses
None
2 in the US

$

24.99
FAQ
Which hosting is best for developers?
The best host for your projects depends on your particular needs. If you're looking to save money without hurting site performance, Hostinger is the best-performing budget host for developers. On the other hand, if you're working with high-end clients, Kinsta offers the best performance and most robust WordPress development tools.
Is GoDaddy good for WordPress?
I don't recommend GoDaddy for WordPress sites. My recommended hosts for WordPress developers offer better features and performance than GoDaddy.
What is the fastest hosting for WordPress?
Kinsta delivers the fastest page loading speed for WordPress. During our performance tests, it achieved site loading speeds unmatched by any other WordPress host.
What is the difference between web hosting and WordPress hosting?
When a provider offers "web hosting" plans, it usually refers to shared hosting. These are often budget solutions that can work with a wide variety of CMSs (including WordPress), site builders, or basic HTML sites. WordPress hosting usually offers features and optimizations specifically for WordPress sites. You may also get some degree of WordPress management, and perhaps even some premium plugins. My recommendations above will give you the best value for specific types of WordPress hosting.