I found some gorgeous templates that would work great for this niche.
A good coffee shop template will let you highlight what's special about your business, as well as promote your signature coffees, specialty drinks, and other items you sell. You'll also want pre-installed features like
a blog, social media feed, or a newsletter or email signup
that will let you keep in touch with your patrons directly and build your customer base. And with Wix, it's easy to add other features (hello, online ordering!) through the Wix App Market.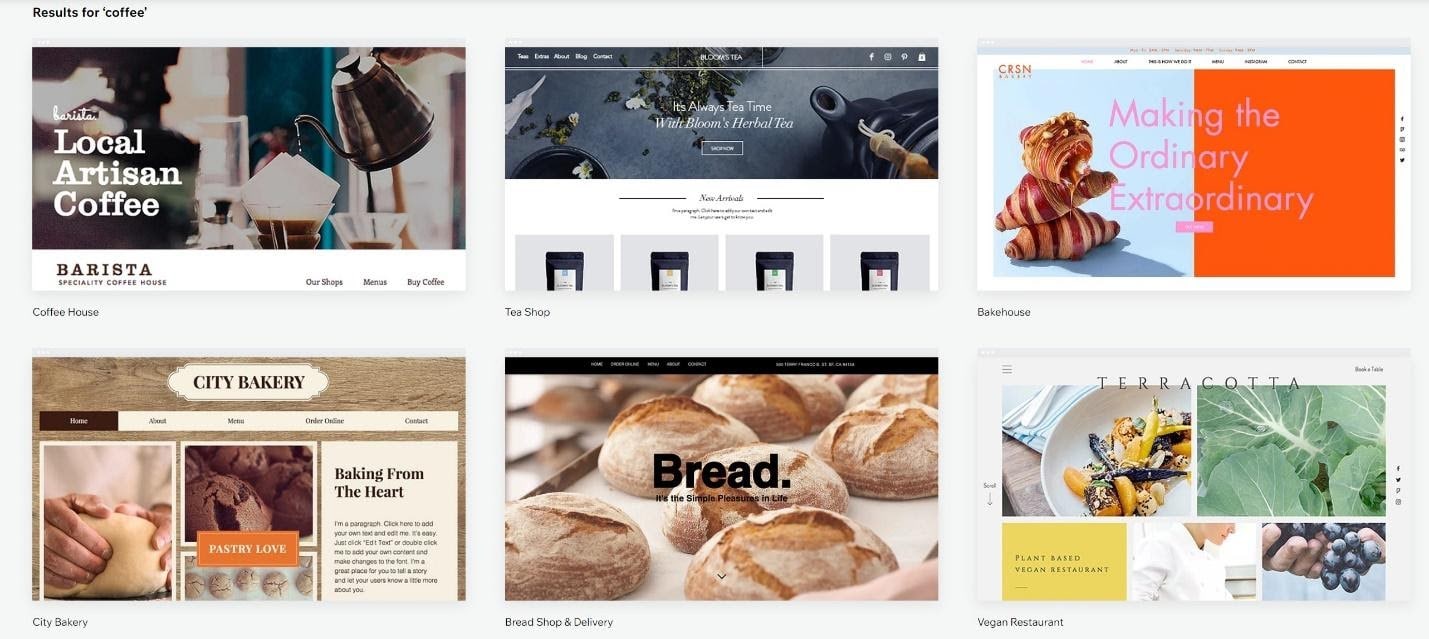 These are the best templates I found for promoting your coffee shop, plus a few that didn't measure up.
I also found some templates that weren't in the
Restaurant & Food
 or
Cafe and Bakery
categories that would work well for coffee shop owners.
Wix Coffee Shop Templates That I Love
When choosing a design, don't feel locked in to templates that have "coffee" in the name, or photos of coffee in the sample layout.
All 900+ Wix templates are fully customizable,
 so you can change the layout, photos, fonts, and other features to match your business. Just keep in mind that potential customers may be using their phones to search for the nearest place to grab a latte, so you'll want to use the
Wix mobile view editor
 to ensure your site looks great on mobile. (This won't change how your website looks on a desktop!)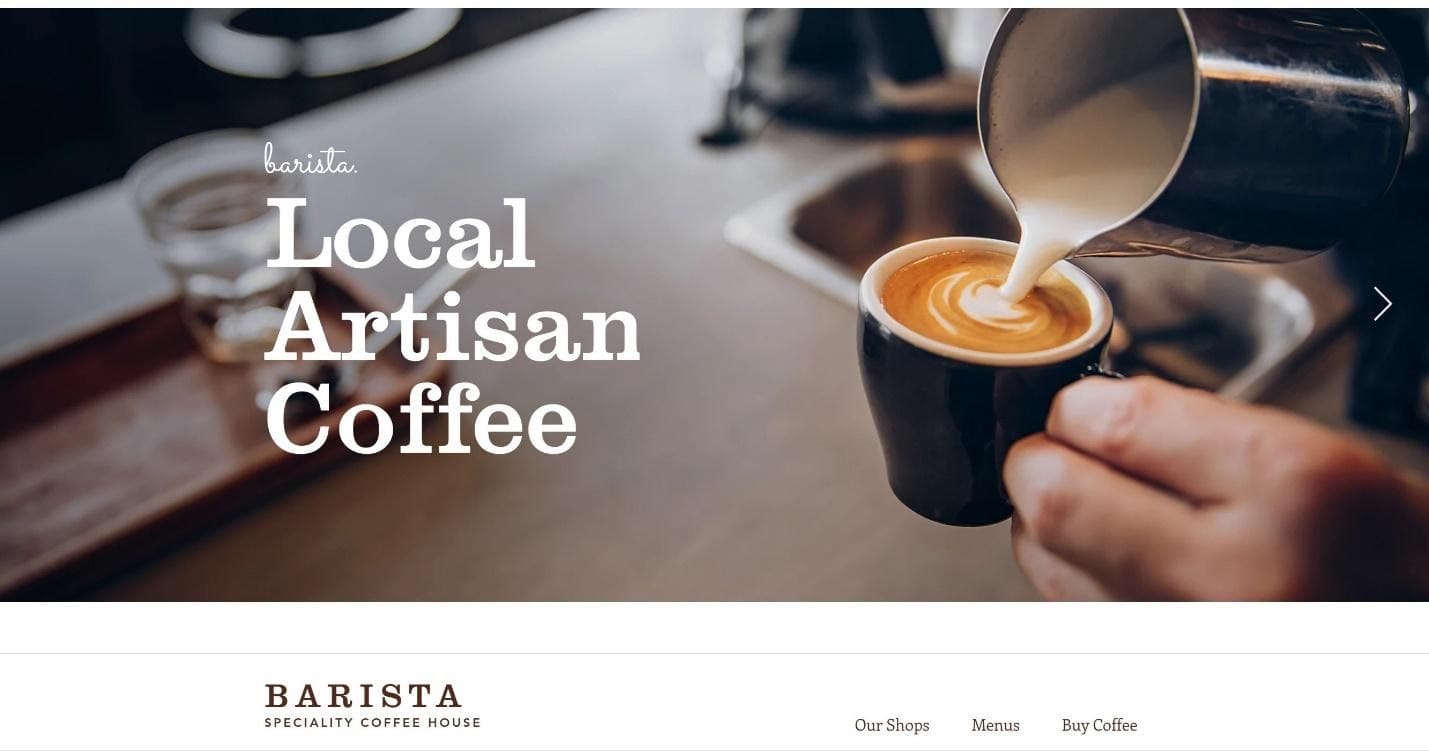 This template greets visitors with
 an eye-catching, full-screen slideshow gallery
– it almost made me feel like I was sitting in a coffee shop enjoying a custom brew! While lots of coffee shop templates have light-colored backgrounds,
Coffee House
 pairs darker background tones with bold white lettering and parallax scrolling to create a dramatic, contemporary mood.
Coffee House
 comes with pre-installed Wix apps for online orders and payments. And if your coffee shop has multiple locations, you'll appreciate the dedicated location page, with a button on the navigation bar at the bottom of the home page.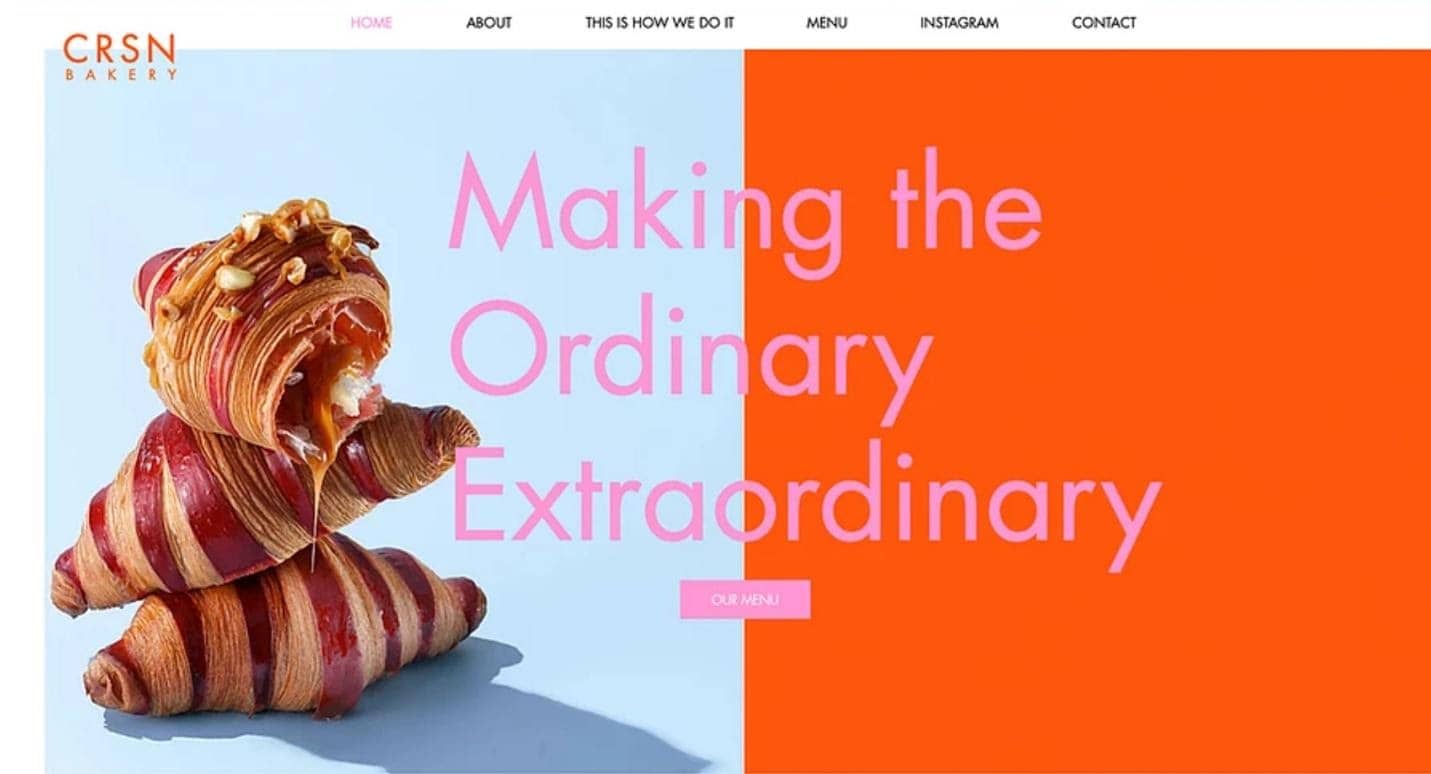 This colorful template with a split screen homepage layout and bold, neon typography
 comes packed with innovative design features – dynamic scrolling, video, and animations –
 that will ensure your coffee shop website stands out from the crowd. The built-in Instagram feed is a great way to show off your signature coffees, specialty drinks, food, and seating: all the elements that make your coffee shop a fun place for a solo pick-me-up or group get together. This feature makes it easy to upload additional photos and video from all your social media feeds. Wix's easy-to-use editing tools let you make changes to the template's fonts and layout, so if the bright colors aren't your style, you can switch them out in a flash. You can also customize built-in animation and video buttons to further personalize your website.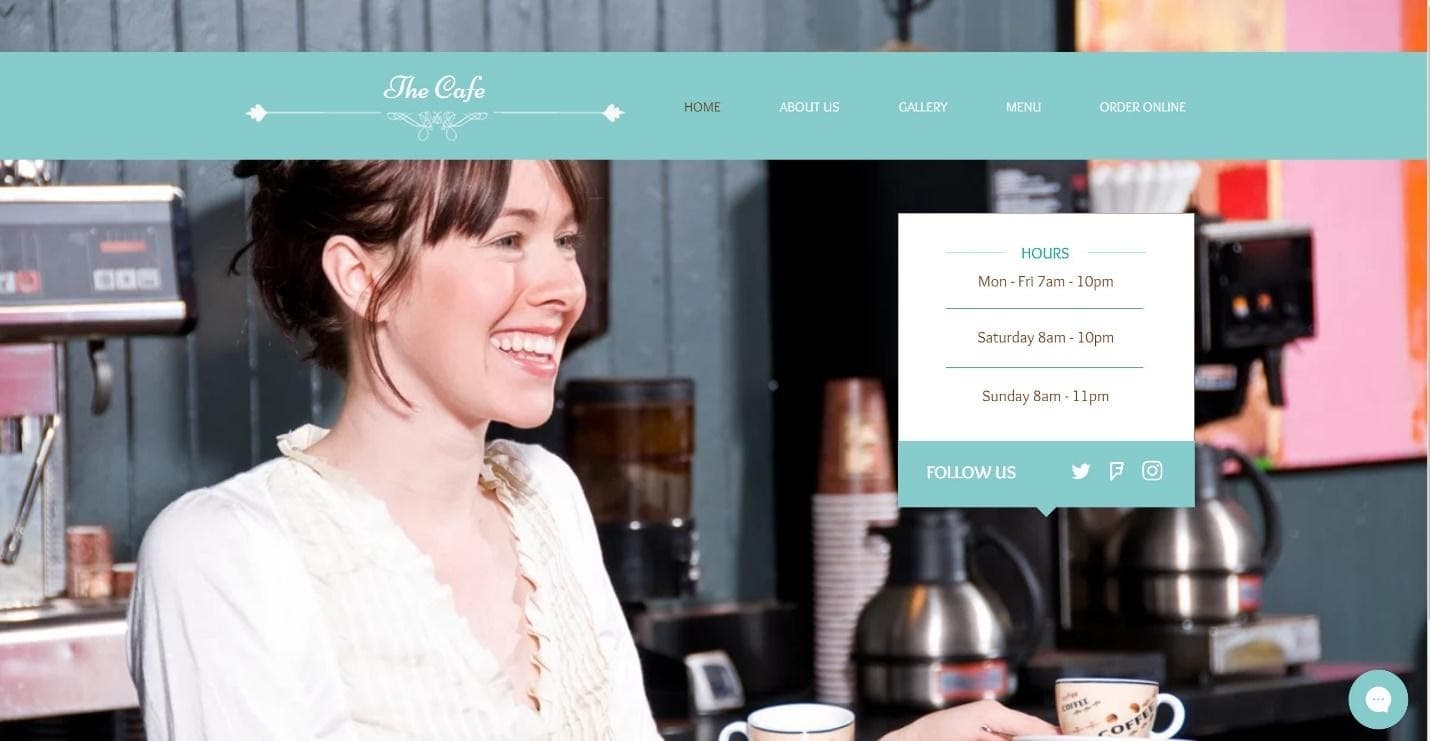 This template is a good choice if your coffee shop is more of an
European-inspired café or patisserie
. You may need to smooth over a few design issues, but these are easily fixed. For example, I don't like the way the navigation menu layers over the background image – I found it visually confusing – but that design flaw is easily changed. The Wix editor lets you customize the layout and background image for a cleaner look and, even more importantly, a more mobile-friendly design. What I do like is the script font and decorative scrolling, which set the right tone for a traditional coffee house. Another plus is that the navigation bar is pinned to every page, making it easy for your visitors to access your menu and online order form.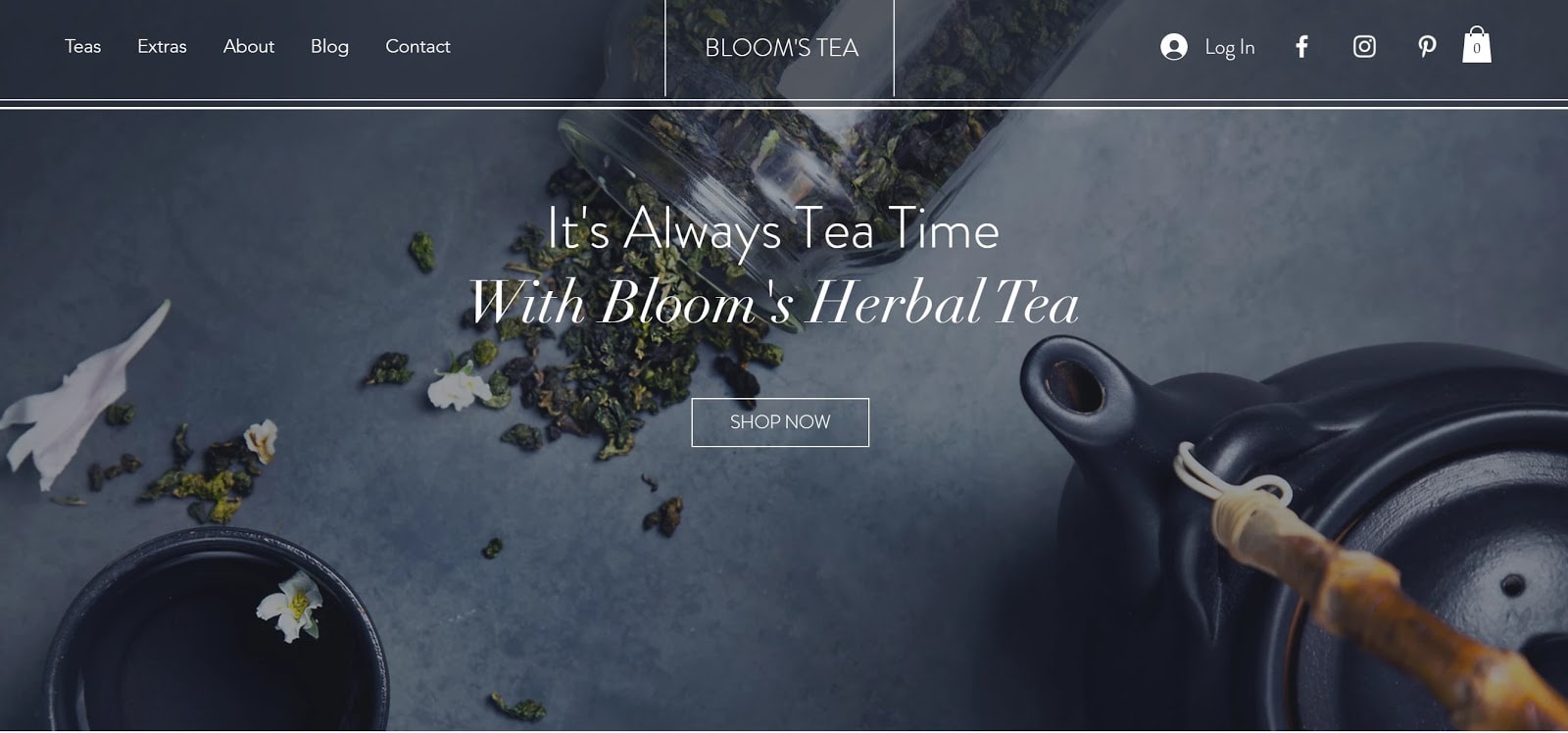 This smart template with a full-screen homepage image is
a great choice for a boutique coffee shop that takes pride in its custom blends, roasts, and beans. 
Don't be put off by the template name or sample layout's focus on tea – you can easily customize the images to your products. The top navigation bar also includes your logo and social media icons in a neat row so visitors can easily find what they need. And
Tea Shop
comes with a pre-installed Wix app for online ordering
 so your patrons can purchase custom coffee blends, food, and cool products like mugs, cold-brew coffee makers, and other extras.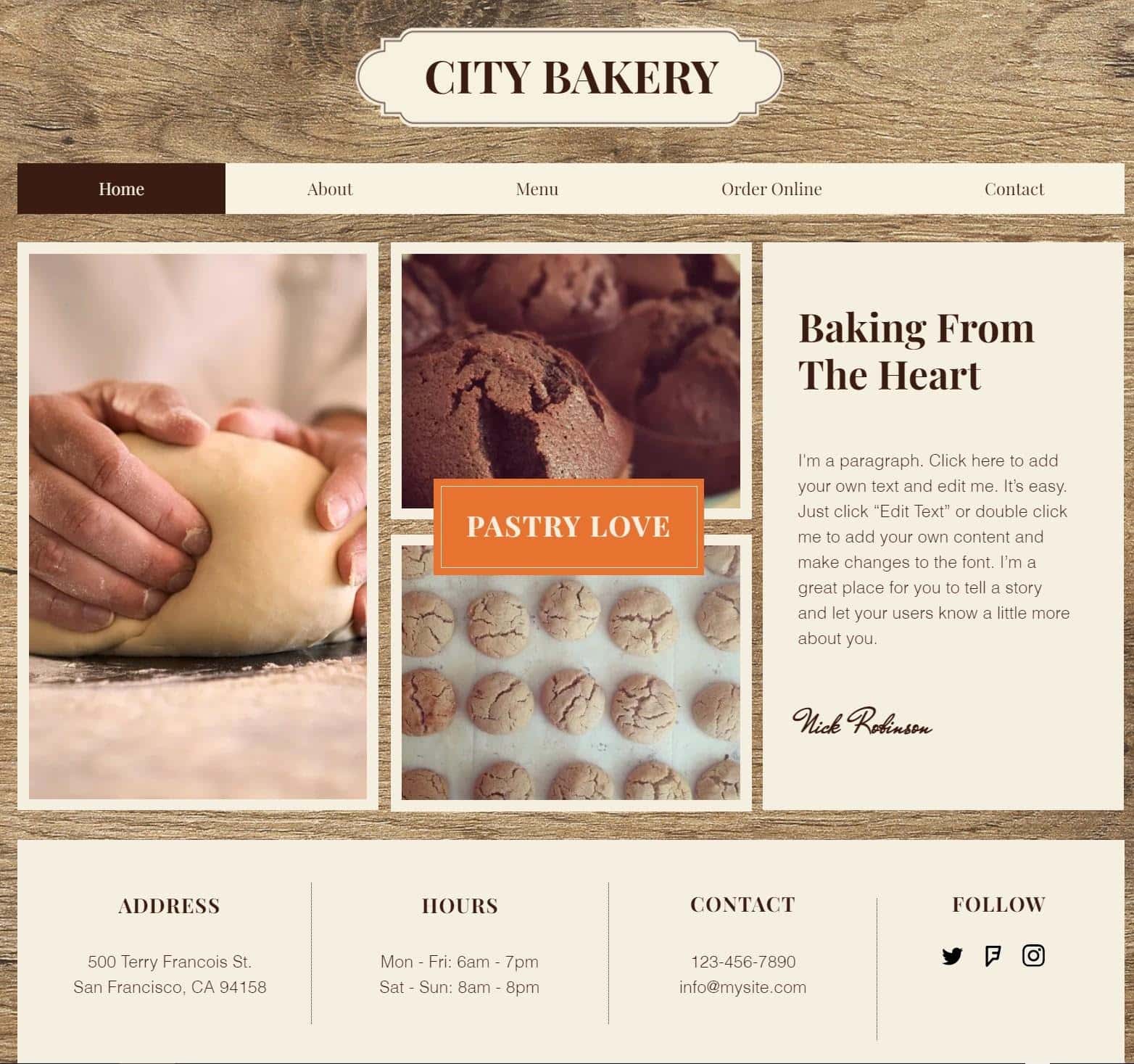 The
City Bakery
 template sets the mood for a welcoming space where customers can meet up and enjoy a coffee, latte, muffin, or pastry.
While the sample layout is a bakery theme, it's easy to customize this template to suit a coffee shop.
Just swap out the photo galleries, menu, and text to personalize and highlight your coffee selection, specialty drinks, food, and seating. One unique feature about this template is the way it
prominently displays all the important information
 (like your location, hours, and contact information) at the top of the homepage. And the individual pages – Home, About, Menu, Order Online, and Contact – are easily accessible through the navigation bar.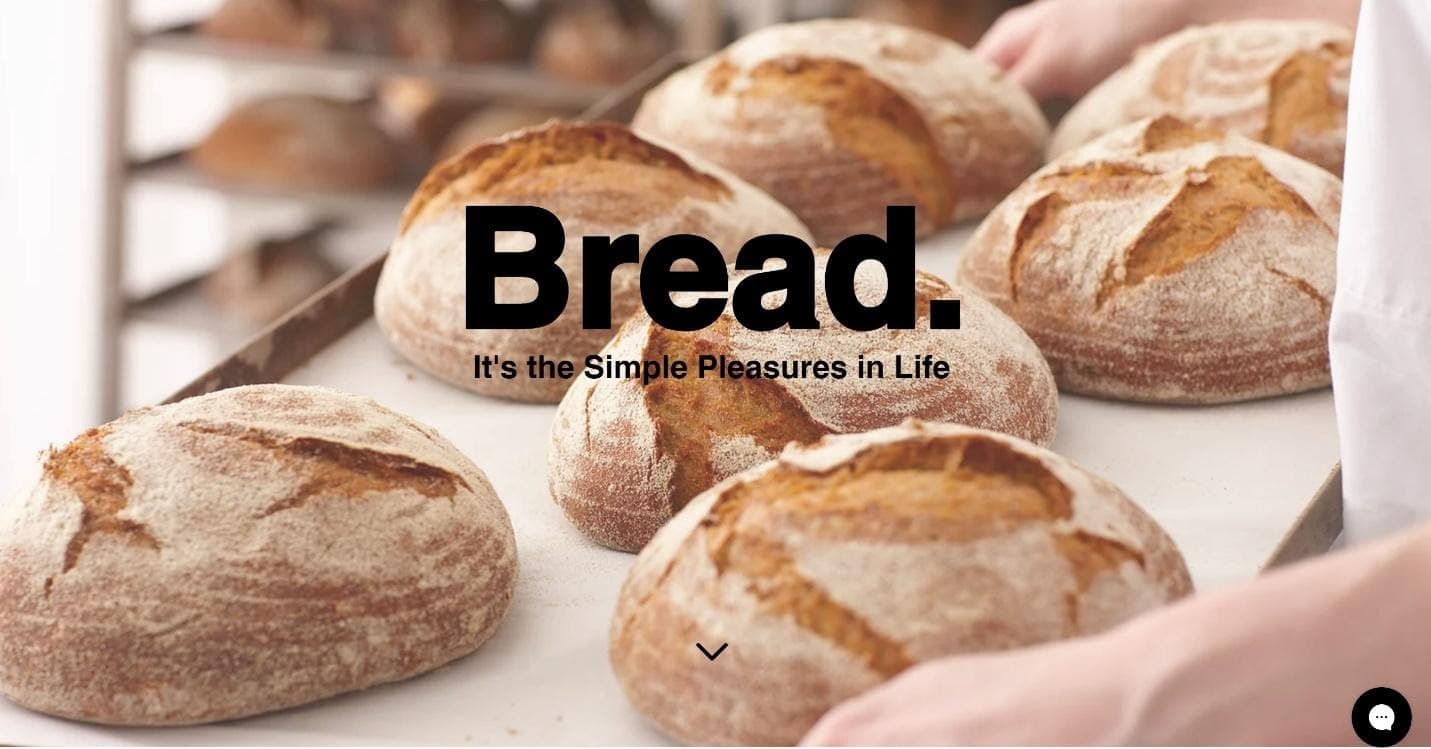 Bread Shop
 is all about immersive images and a simple-but-dramatic design. The
attractive parallax images and video sections
 enhance this sophisticated template's design. You can use the built-in pages to share your story, embed your menu, and showcase photos of your gorgeous coffees. This image-forward template also lets you include other details and products that make your coffee shop special. Tools like a contact page with an inquiry form and a subscription signup help you connect with your patrons. And with Wix's many apps, it's easy to add a blog, reviews, or an integrated Instagram feed.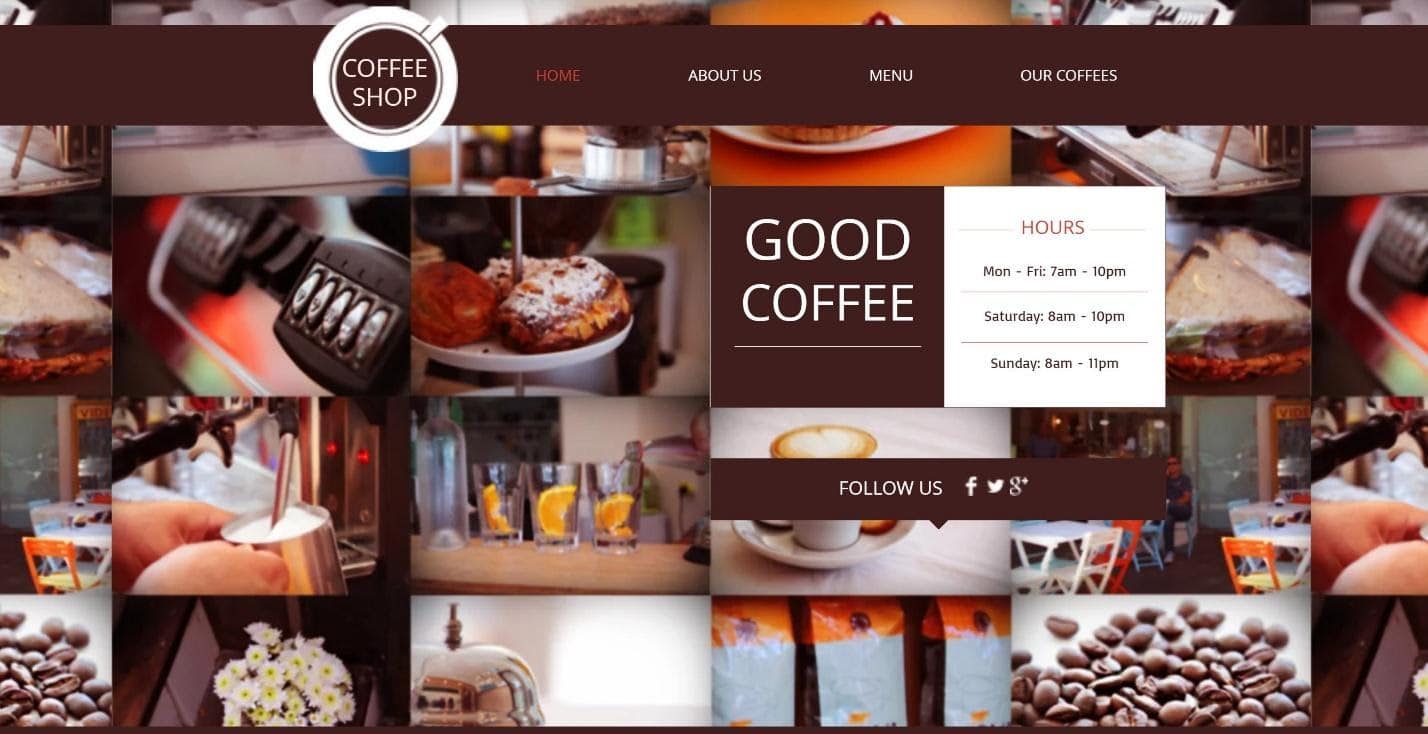 This template features
a homepage gallery layout
overlaid with a prominent navigation bar and social media links. This unique design lets you showcase your coffee shop's ambience and menu items right from the get-go – and it works! The navigation bar is pinned to all the pages, making it easy for visitors to browse everything you have to offer.
Wix Coffee Shop Templates I Didn't Like
There are better Wix templates for your coffee shop.
Breakfast Café has a clean, white background, built-in Instagram feed, and great image gallery, but the side menu and social media links are so small that they literally disappear. I also didn't like the hidden navigation bar, a 2020 design trend that adds an extra step for visitors.
Cupcake Shop
has a super short scroll time, and the
overall design just seems uninspired
 compared to other choices. The images and text don't pop and the slideshow doesn't have enough oomph to grab your potential customers.
Other Wix Templates You Can Use to Build Your Coffee Shop Website
While searching through
Wix's 900+ templates
, I found a few outside the Restaurant & Food category that could work well for a coffee house, café, or bakery website. Take a look!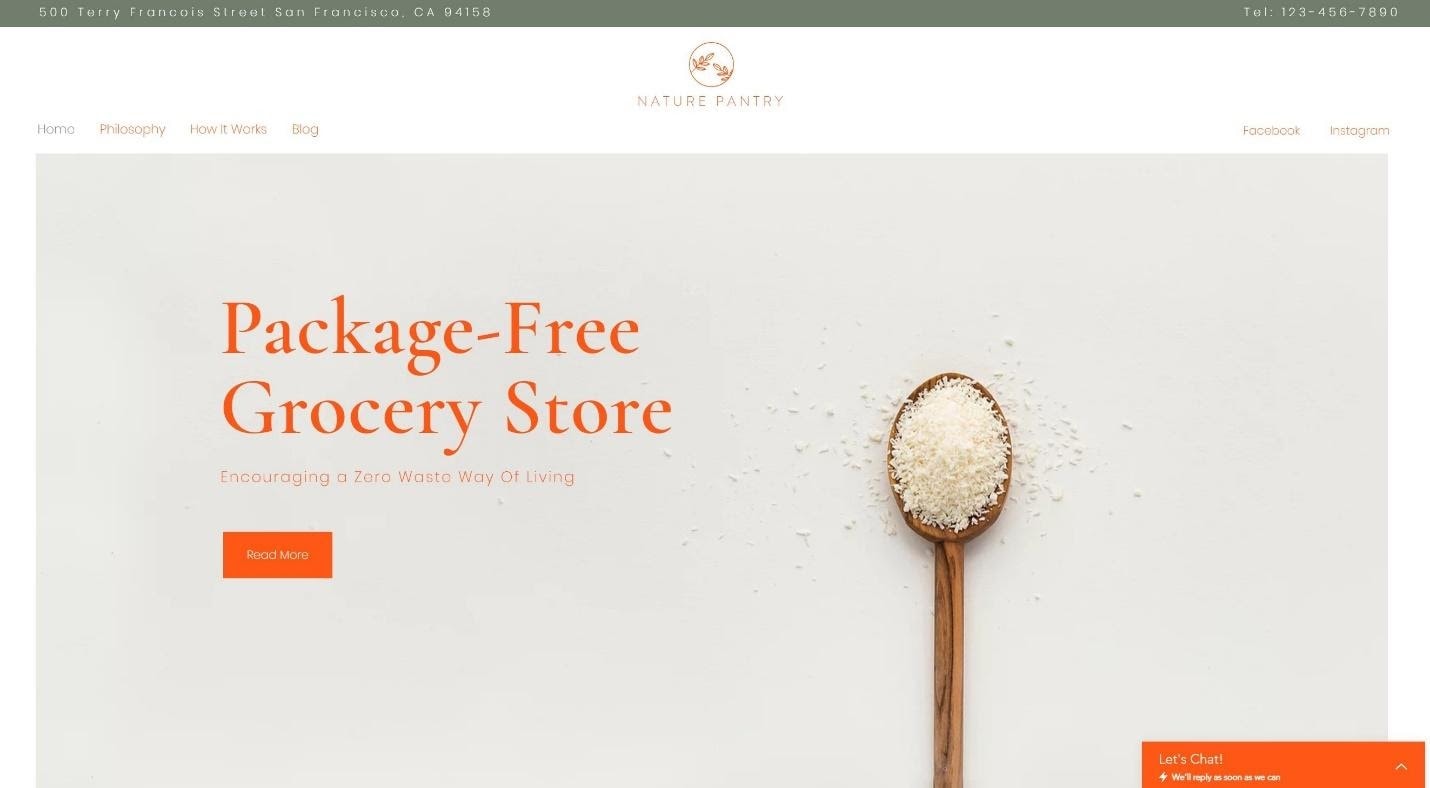 The
Zero Waste Store
 is in the e-commerce category, but its
effective use of white space and imagery
creates the right look for a coffee shop with an ethical, sustainable business philosophy. You can use the text and image galleries to share your unique story, business practices, and commitment to fair-trade, shade-grown or organic coffee sourcing.
Integrated Facebook and Instagram feeds and a pre-installed blog
make it easy to speak directly to your customers about the issues they care about. Visitors never have to click on the navigation bar – one long scroll is all it takes.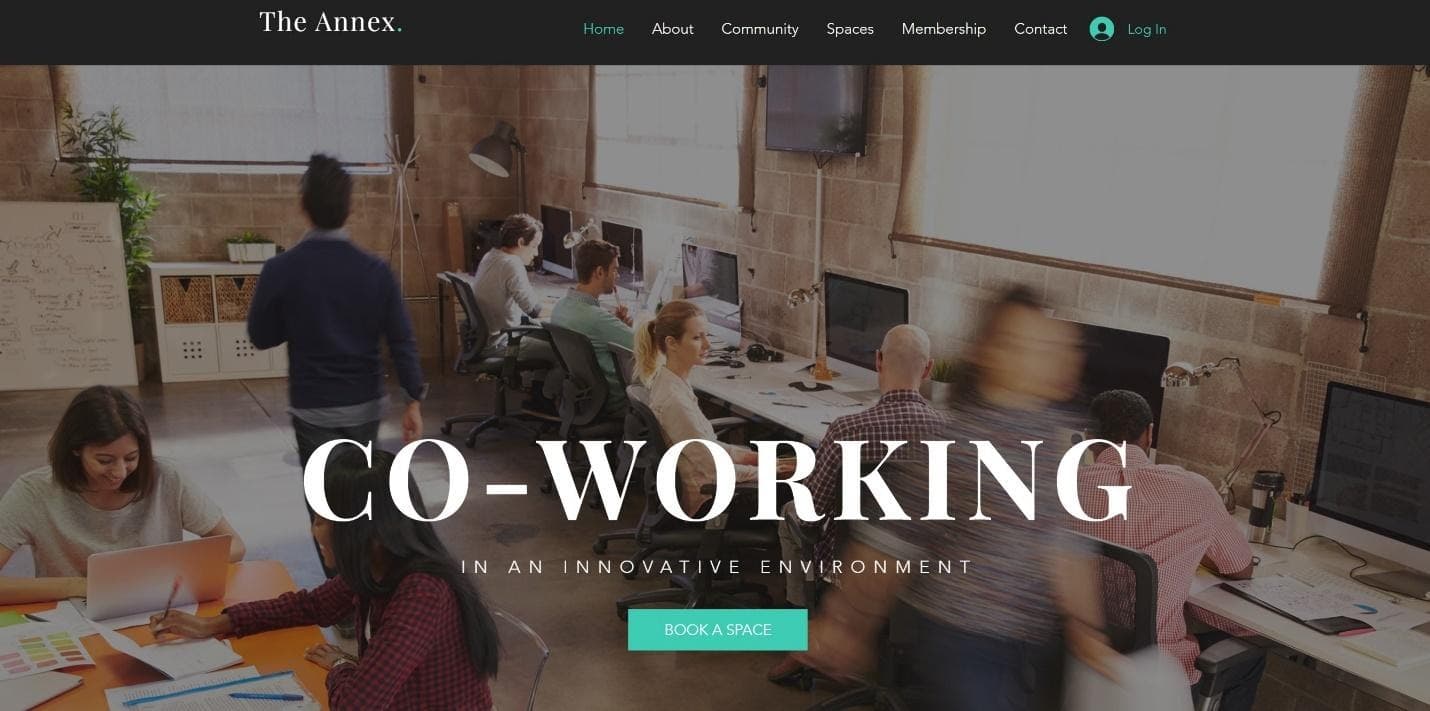 Co-Working
 is a template from the Business & Services category that would work especially well for
 coffee shops that double as a workspace and popular gathering spot.
You can swap out the images, add and delete pages, and connect social media to make the template suit your shop's brand.
The multiple image galleries
help highlight your shop space, roasting and brewing process, and menu items – everything that makes your coffee shop unique. Plus, it comes with an embedded map and contact information.
Choose the Best Wix Template to Update Your Coffee Shop Website
First impressions matter, and
your website is where prospective customers get a first look at your coffee shop.
Whether you're looking to build a new website or give your current site a makeover, it's important to choose a template that matches your brand and sets your coffee shop apart from the competition. Effective use of photos and graphics in Wix templates can enhance the visual appeal of your website. Furthermore, a template equipped with pre-installed features such as a blog, e-news sign-up, or social media feeds can simplify the process of sharing your message. All the Wix templates on my list are available with
the free plan
, and will help you create a website that can attract and build your customer base. Ultimately, that's what a good website is all about.
FAQ
Do I need a website for my coffee shop?
With all the competition in the coffee-shop, café, and small-restaurant niche, a good website that showcases what's unique about your business is essential. Websites give visitors important information, like your location, opening hours, and menu offerings. That said, building a website doesn't have to cost a fortune. Be sure to check out our latest coupons to get the best deal on your favorite site builder.
What is the best website builder for bakeries?
It depends. Wix has a free plan, plus one of the largest selection of templates specifically designed for bakeries. These templates all come with essential features pre-installed, such as image galleries, menu, contact, and location information (with embedded maps!). Plus, you can use Wix apps to add e-commerce capabilities, social media integrations, a blog where you can share recipes, and extra SEO tools. Squarespace doesn't offer a free plan like Wix, but it has some truly beautiful bakery templates and a 14-day free trial. In addition, Squarespace makes it easy to change from one template to another once you've started building your website. If you're not sure which builder you ultimately want, take a look at our review of the best website builders for 2023.
How can I build a website for free?
Wix has hundreds of templates you can choose from to build a free, fully functional website, and it's a great choice for novice website builders. As with any website builder free plan, however, there are tradeoffs. You can't use your own domain name (Wix assigns a subdomain) and Wix ads will run on your website. SITE123 also has a free plan and is a good choice for beginners. However, it's best for small-scale websites and has a more limited template selection than Wix. To check out other great options, check out our article on the best free website builders in 2023.
Which is better, Wix or Squarespace?
There are pros and cons to each builder. Both offer excellent templates, an easy-to-use drag-and-drop editor, and plenty of other website design tools. Wix has the advantage of offering lots of free templates in the Bakery and Café category. And its editing tools offer a level of creative freedom unmatched by other website builders. Squarespace is also a good choice that's known for its stunning templates. It doesn't have a free plan (just a 14-day free trial), but it wins on some website design features. For example, all Squarespace templates are mobile responsive. If you need more info to make a decision, head over to our in-depth comparison of Wix and Squarespace.