you actually can get a good freelance lawyer if you know what to look for.
I've put in the research and tested the big freelance sites to learn where to hire a legal assistant, as well as how to make sure you hire a good one.
You can safely hire a lawyer online using freelance sites like Upwork or Fiverr.
Alternatively, business owners can also get licensing and compliance services using freelance attorney websites like Rocket Lawyer, which specializes in legal business matters.
My personal pick is Upwork for its large list of legal experts with good education, work experience, and credentials.
But which site is best for you depends entirely on your needs, so keep reading to find out where and how you should hire the best freelance legal assistant.
Short on Time? These Are the Best Freelance Websites to Hire Lawyers in 2023:
Upwork – A vast network of pro freelance lawyers across multiple areas, experiences, and pay rates.
Fiverr – Fast and economical legal advice, research, and document drafting.
Incfile – The easiest way to set up a business, from formation to accounting and annual reports.
What Can a Freelance Lawyer Help Me With?
You can hire a freelance lawyer online to handle your taxes, contracts, and disputes, as well as many other legal requirements. Since there are so many freelance lawyers out there, you gain access to talent across multiple legal areas. It's easy to find a lawyer for your specific needs.
Freelance lawyers are cheaper than an expensive law firm, so it's great for people on a budget.
It's also super convenient for business owners. Instead of filing forms yourself, you can get affordable incorporation and compliance services online. But that doesn't mean hiring a lawyer online is without risk.
To avoid getting stuck with a bad lawyer, I suggest only hiring from a reputable site (like the ones on this list)
. You should also check the lawyer's license, education, work samples, and client reviews before hiring.
What We Look For in the Best Freelance Sites For Lawyers
When determining the best freelance websites for lawyers, I tested sites for efficiency, quality of service, and standout features that support the hiring process. I looked for these key aspects:
Attorney credibility: To ensure you're making an informed hire, you need to be able to see a lawyer's license, education, work history, overall rating, and customer reviews. Bonus points if the lawyers have to go through an application process before joining the site – I've chosen a couple of sites that do exactly that.
Scope of legal services: Everyone needs different services, so it's important the site covers different legal areas. You should be able to get high-quality legal assistance for business foundation and compliance, pre-litigation research, advice, document drafting, and case building.
Project management features: A good freelance site will make it easy to manage your project, communicate with your lawyer, and handle document files. If there are subscription costs, the features you get must justify the fee – otherwise, what's the point? I have only chosen services which are worth the cost.
Conflict and confidentiality handling: Legal services often involve sensitive matters, so confidentiality agreements are incredibly important. A good freelance site will also have reliable customer support, dispute centers, and refund options in case something goes wrong.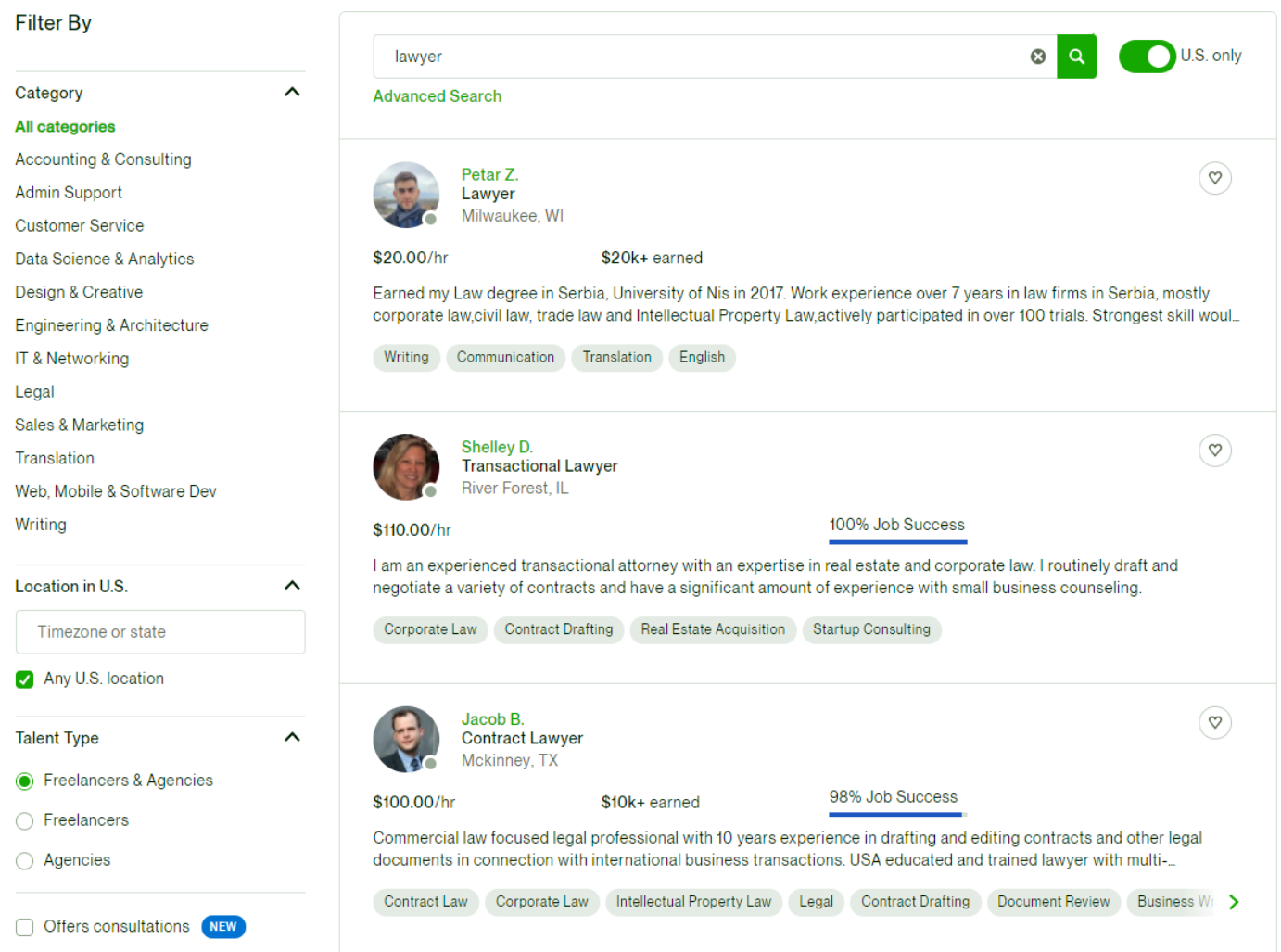 Upwork has a large network of freelance attorneys specializing in many legal areas.
You can hire lawyers on Upwork for pretty much any need.
Check out a lawyer's user profile to examine their skills and licenses, work experience (prior and current), client reviews, and total jobs completed. This really helps you make an informed decision before you hire. You can fine-tune your search by language and location to get legal assistance where you live. If you want to know more about how Upwork works (and how good it really is), my colleague wrote an extensive
review of Upwork
covering why we like it so much.
Upwork does offer affordable legal assistance, but most of its freelance lawyers will be in the mid to high price range.
Upwork is a great site to hire an expert lawyer, and in my opinion is worth the cost, but it may not be the best choice for those on a tight budget.
Features
Job Posting: Post a job to a pool of freelancers, then pick from the applicants to find the best match. This is a huge time-saver and an effective way to draw talent to you.
Talent Scout: Upwork gives you the option to hire a talent scout to gather candidates for you, saving you time and increasing your chances of hiring the best lawyer.
Project Management Tools: Once you've hired a freelance lawyer, you can communicate with them via chat or video, track their time, and automate invoices.
Payment Security: Freelancer lawyers on hourly wages are tracked to help ensure you're paying the right amount. After making a payment, you have 180 days (which should be plenty!) to ask for a refund or dispute the charge.
| | |
| --- | --- |
| Legal Assistance | Specialists across multiple legal areas. |
| Business Legal Services | Business writing, research, consultation, negotiation, and analysis. |
| Legal Documents | Writing and drafting docs and contracts. |
| Fees | 5% payment fee per transaction (3% for eligible US clients) |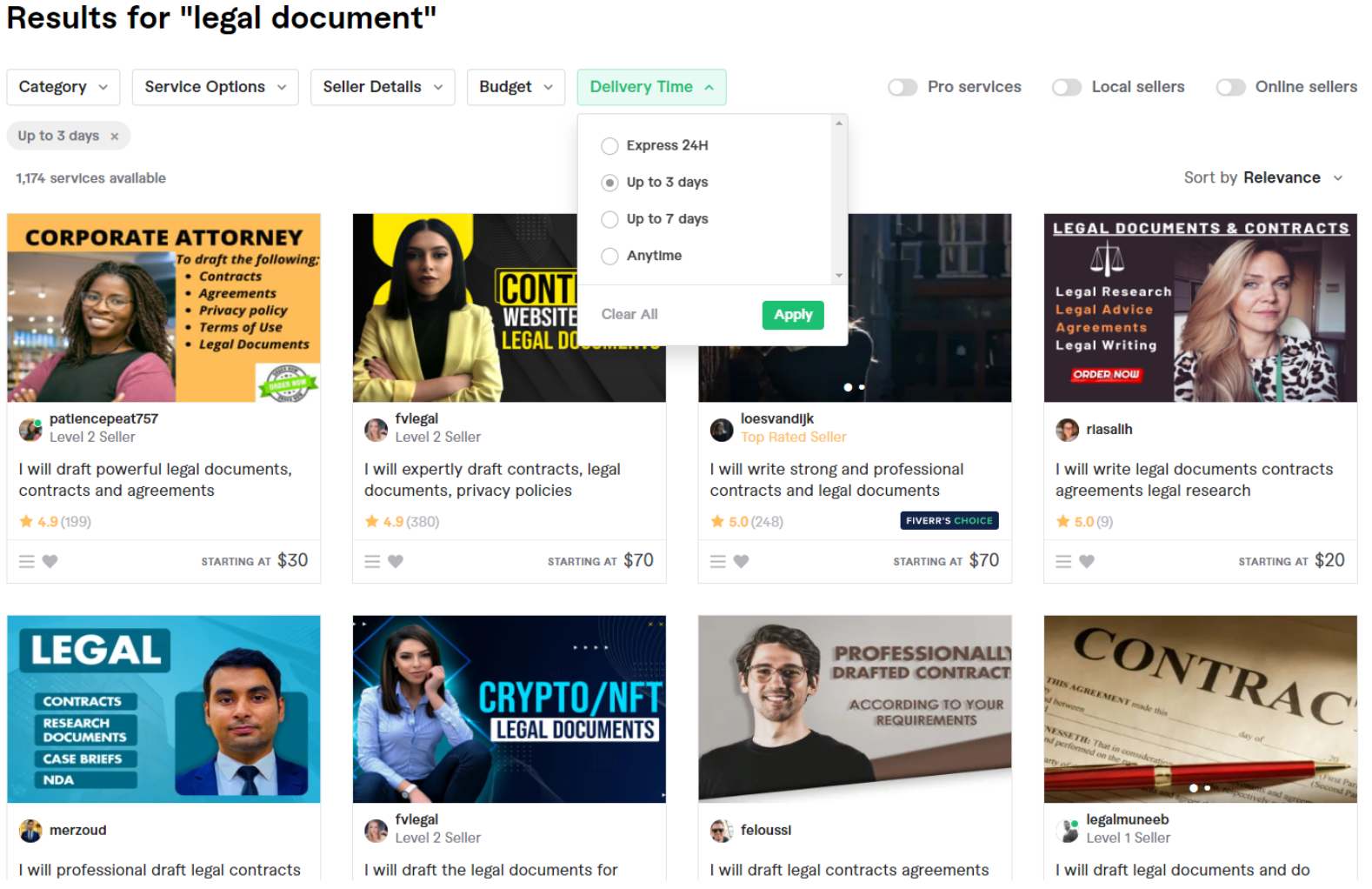 If you're looking for
budget-friendly legal research and documents with a fast turnaround time
, look for virtual legal assistance on Fiverr. The
marketplace for freelancers on Fiverr is huge
, so you can easily find experts in document drafting, legal advice and consultation, and legal research. One thing I really like about Fiverr is how easy it is to pick the best freelance lawyer for your needs. You can
use advanced filters to search by traits like field of law, seller level, budget, and delivery time.
Once you find a good fit, you can check out the qualifications and customer reviews on their profile. To get a reliable lawyer,
I suggest searching 'Top Rated' and 'Level 2' sellers
. In order to earn these labels, freelancers have to prove themselves by completing enough jobs and getting consistently good reviews from clients. Check out our
in-depth Fiverr review
to discover more tips and see why we gave it
4.9
out of 5 stars.
Features
Fiverr Pro: If you have a bigger budget, you can hire a freelance lawyer through Fiverr Pro. Pro Verified freelancers are thoroughly vetted by Fiverr, so you know you're getting quality legal assistance.
Fiverr Workplace: Manage your hires and projects via Fiverr Workplace, software designed to track your freelancer's progress, handle invoicing, and manage signable service agreement contracts.
Fixed Prices: Legal assistance on Fiverr charges per job, so you don't have to worry about climbing hourly rates or surprise fees. I appreciate that you're told the cost up-front.
Escrow Payments: You pay through Fiverr, and that money isn't released to the freelancer lawyer until a) they complete the job and b) you approve it. I like not having to worry about scammers and incomplete work.
| | |
| --- | --- |
| Legal Assistance | Contract writing, consultation, and research. |
| Business Legal Services | Business writing, real estate contracts. |
| Legal Documents | Writing and drafting. |
| Fees | Service fees are 5.5% of the purchase amount. For gigs under $50, an additional $2 order free will be applied. |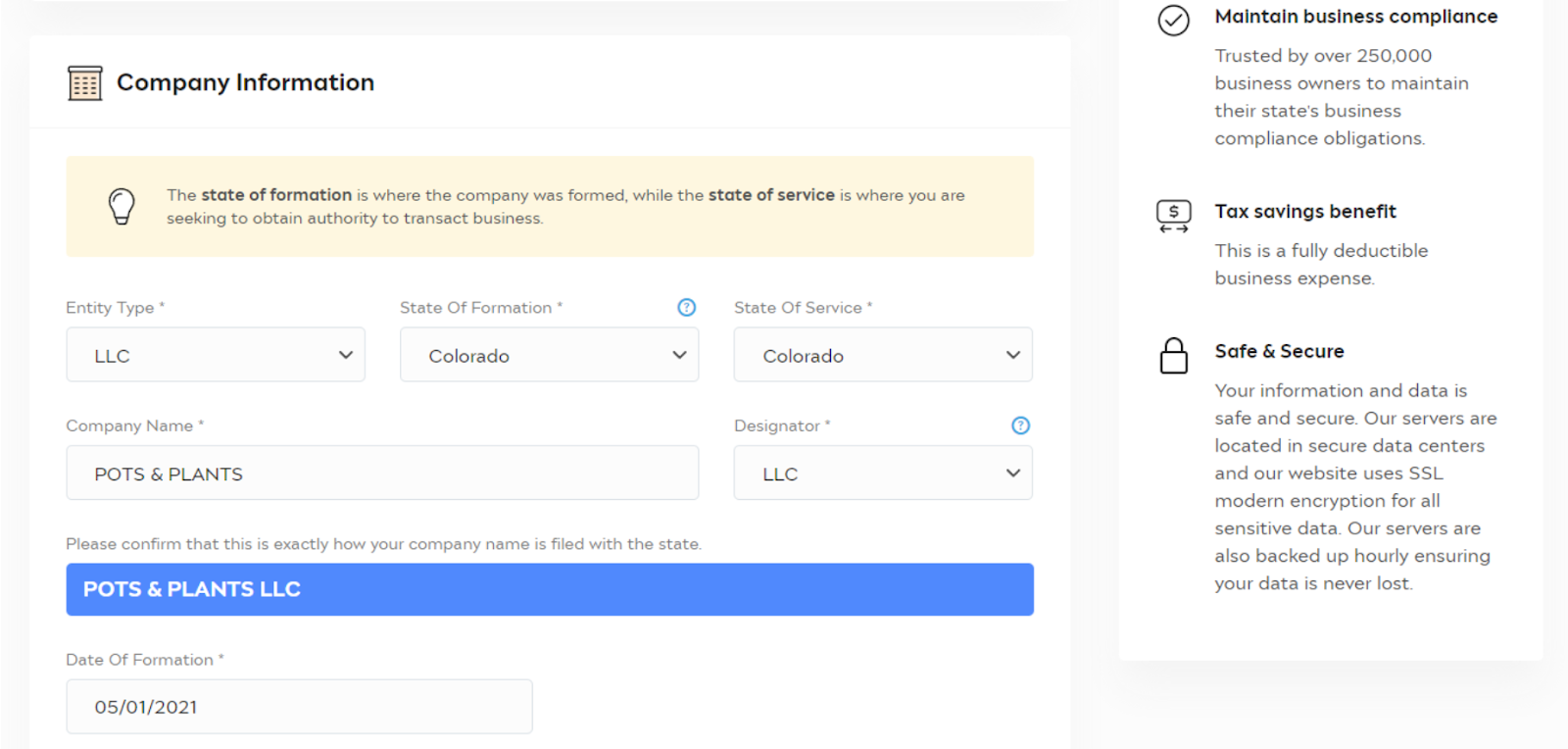 Incfile offers one-time fees for each service
, including a package for everything you need to incorporate an LLC, non-profit, C-corp, or S-corp. I like that you only pay once and don't have to worry about service fees or subscription costs stacking up.
This makes Incfile a solid choice for starting a business
. If you're willing to pay extra for the Gold or Platinum package, you get an operating agreement, EIN tax number, business bank account, tax consultation, and unlimited support. Since a lot of these things are essential, I don't think the Silver package is even worth it. I really like how easy Incfile is to use.
Incorporation only takes a few steps, and Incfile inserts your business details into a document automatically.
Features
Annual Reports: File annual corporate reports for your business. It's a simple and cheap way to make sure your business is meeting requirements.
Accounting and Taxes: Incfile offers a bookkeeping service and can handle tax filing for your business or corporation, including S-corp forms for special benefits.
Business License Research: Incfile can research your business and compile all the necessary tax forms, license, permits, and legal documents you need to ensure your business is complying. This saves a lot of time and pain if you don't feel like doing research yourself!
Out-of-State Qualification: If you want to do business out-of-state or across multiple states, Incfile will prepare and file a legal document to achieve certification.
| | |
| --- | --- |
| Legal Assistance | Business, taxes. |
| Business Legal Services | Incorporation and compliance, registered agent. |
| Legal Documents | Tax and business document filing. |
| Fee | $0 + state filing fee |
4. Nolo – Cheapest LLC Formation and Legal Resources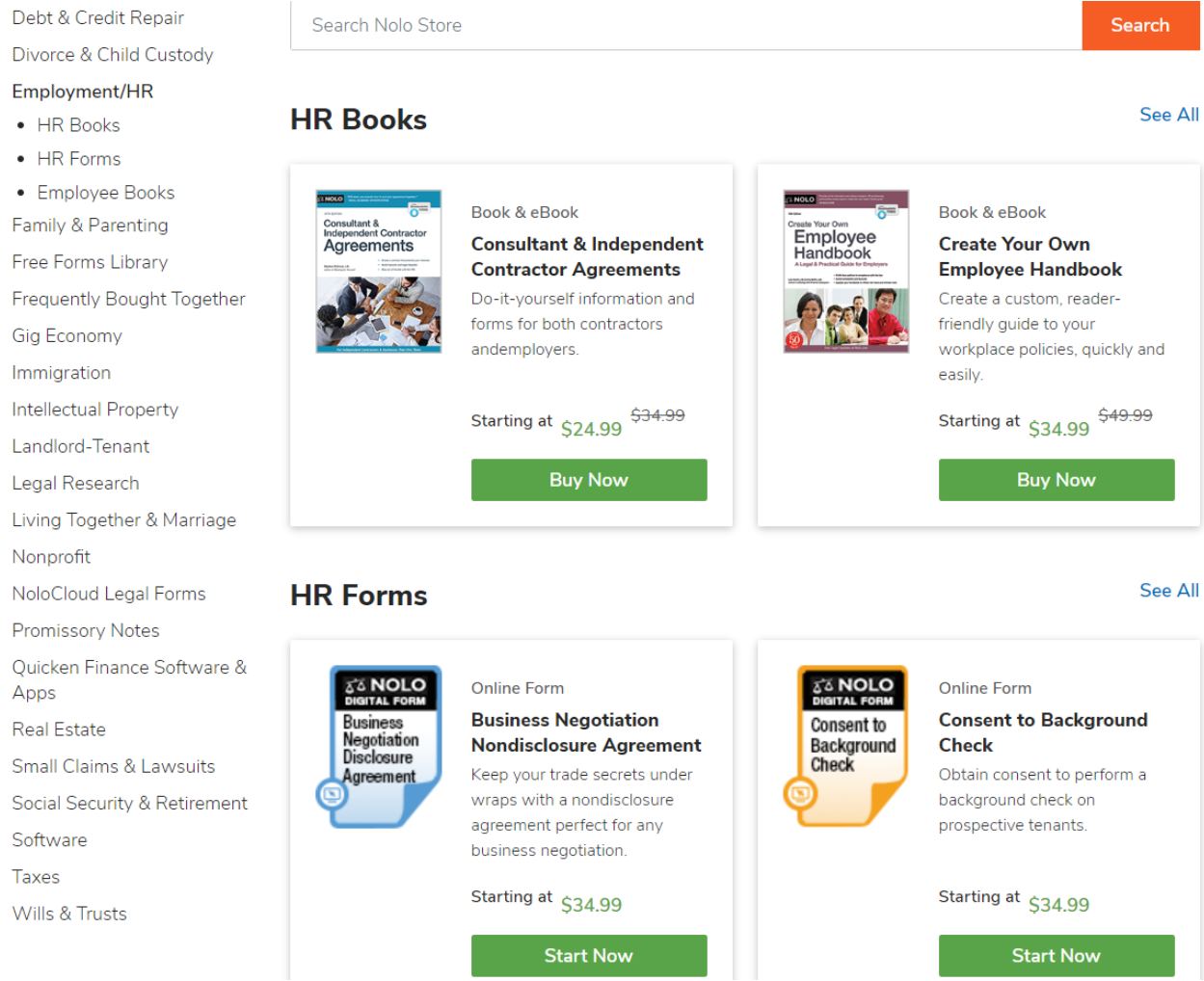 Nolo offers basic incorporation services at the lowest prices.
If all you want is to establish your LLC for as little as possible, then I recommend Nolo. If you're really in a rush, you can pay more for expedited filing – but you don't get much else for the pricier packages (just an EIN application and 30 LLC forms). You can
use Nolo to find a lawyer from a list of 46 legal areas and by location.
Practices include disputes and tickets, as well as real estate, intellectual property and marriage and divorce. While not every state is covered by every category, you can find profiles and contact info for lawyers all over the US. Plus,
Nolo vets their listed lawyers to ensure each one is legitimately licensed
.
Features
Lawyer Profiles: When you find a lawyer through Nolo, you can look through their firm, office location, biography, specialities, and contact information to determine if they'd be a good fit for your needs.
Attorney Matchmaking: Tell Nolo about your case, and it will give you a list of freelance lawyers best suited to your needs. From there, you can review your options and pick your favorite attorney, saving valuable time.
DIY Legal Resources: A vast library of articles, books, and software you can use to learn about legal processes.
NoloCloud Forms: A yearly subscription service that gives you access to cloud storage for all your legal files and documents. You can buy forms individually or as discounted bundles.
| | |
| --- | --- |
| Legal Assistance | Lawyers in 35+ legal areas, information resources. |
| Business Legal Services | LLC incorporation. |
| Legal Documents | Online forms. |
| Fees | Depends on the legal service you need and which lawyer you hire, but some services start from as little as $49.99. |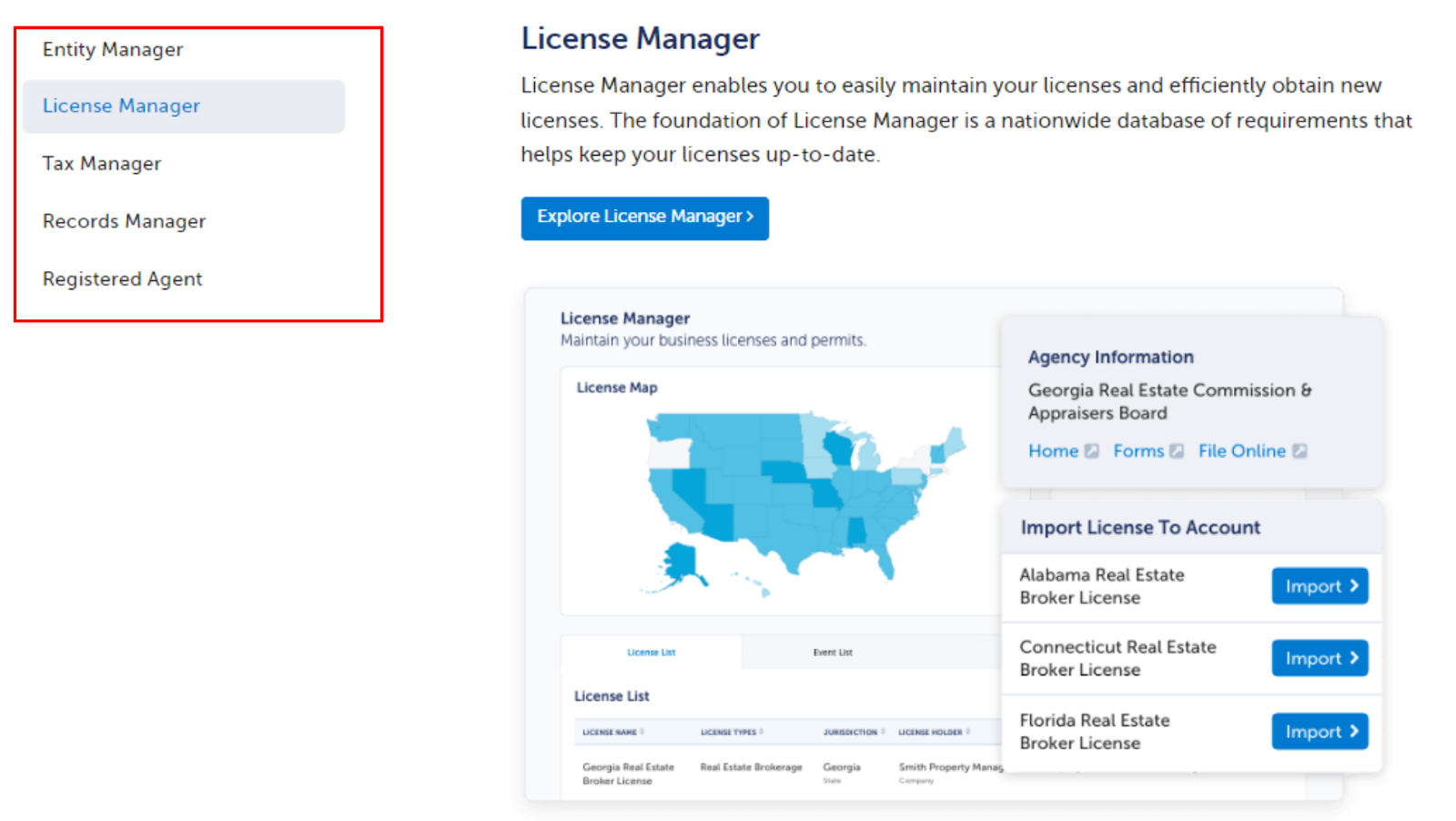 Harbor Compliance offers two main services
: LLC formation and business compliance. You pay once for the formation package, and then yearly for a registered agent. I find the price a bit steep, especially compared to Nolo, but you do get a few extra perks for the hiked cost.
The formation package includes LLC founding, EIN acquisition, a registered agent, and an assigned specialist to help you incorporate.
A personal touch is what sets Harbor Compliance apart from the rest – the real, human support can make the process a whole lot easier. Your specialist can answer any questions you have and account for all your particulars.
Features
Business Compliance Software: Cloud-based software keeps you up-to-date on requirements, so you won't be surprised by any changes. You can manage registrations, taxes, and licenses in one centralized spot, which greatly smooths the process.
Corporate Management: Harbor Compliance automates filing DBAs and amendments, and keeps track of when things are due so you don't fall behind.
Fundraising & Non-profit Compliance: If you run a non-profit, you can work with an expert through Harbor Compliance to get your fundraiser registered in your state.
Power of Attorney: You can give Harbor Compliance the right to sign legal documents for you. If you don't want the hassle or lack the time, this is a pretty neat option to have.
| | |
| --- | --- |
| Legal Assistance | Business |
| Business Legal Services | Formation, compliance, power of attorney, registered agent, non-profit. |
| Legal Documents | Business formation and management docs. |
| Fees | From $89.99 per year, per state |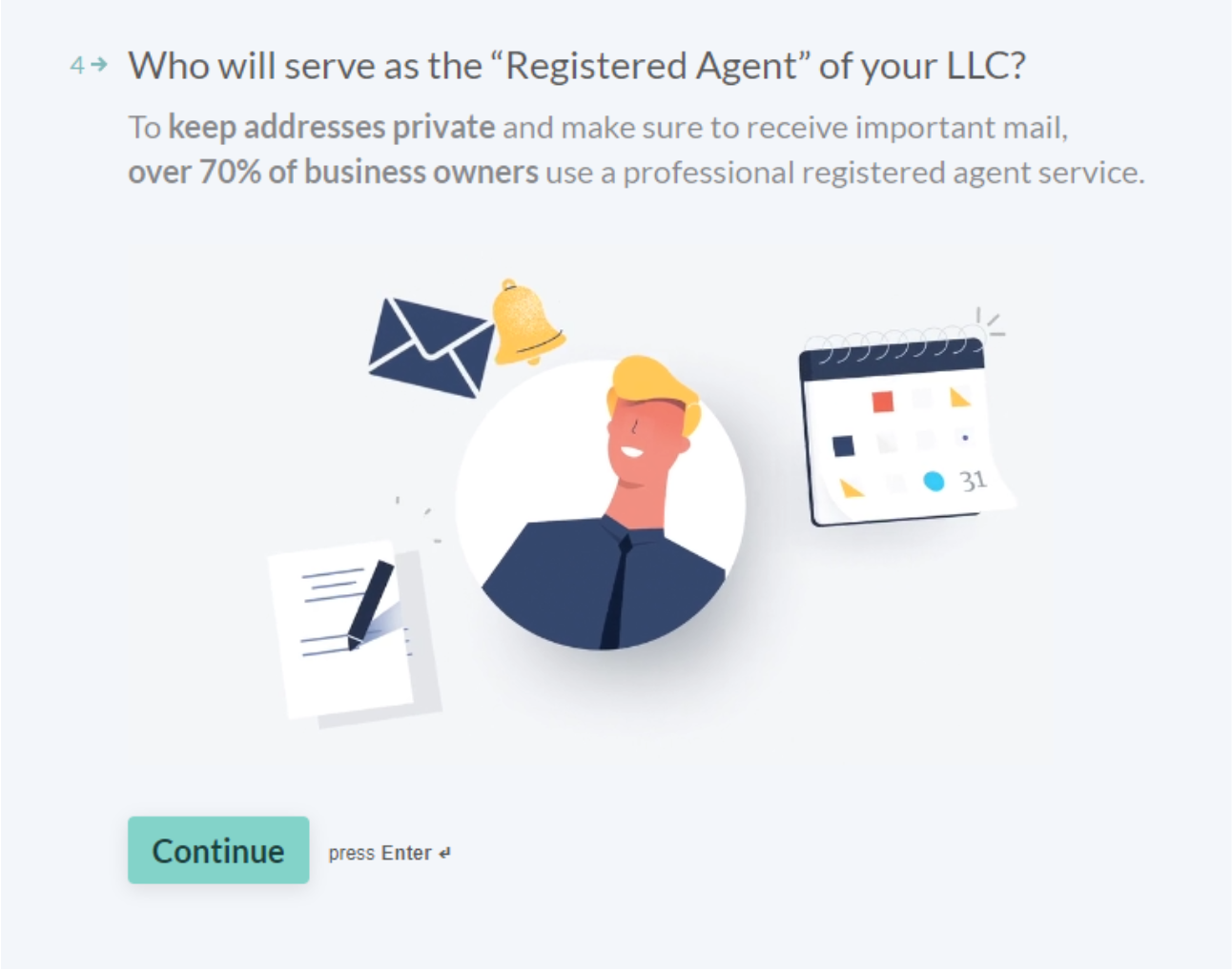 BetterLegal provides LLC and corporation formation services, in addition to filing services like amendments and foreign registration.
Setting up an LLC with BetterLegal is super easy
 (I completed it in about 7 minutes!). As you set up your business, videos and research links are provided to guide the process along, such as explaining what a registered agent is. Most sites assume you know everything, which makes me think
BetterLegal is a great option if you're a first-time business owner.
You
can
get a registered agent, compliance services, and license research with BetterLegal, but you have to pay a separate subscription fee for each.
The cost adds up fast, so be careful when adding additional services.
Features
2-Day Turnaround: Once you begin the formation process for your business, BetterLegal works fast. You'll get your LLC or corporation filed within a few business days.
Operating Agreement: You get an operating agreement when you form an LLC, which is required in some states. Some sites require you to pay extra for this, so it's nice to see it included for free.
Taxable Name Search: Search businesses in the state you'd like to register in to make sure your details are unique.
Partner Integrations: BetterLegal has partnered with other parties to provide a connected website, online banking, and an HR program. Having multiple tools in one place helps ease the process, especially for beginners.
| | |
| --- | --- |
| Legal Assistance | Business. |
| Business Legal Services | LLC and corporation formation, business compliance, registered agent. |
| Legal Documents | Form filing. |
| Fees | $299 (plus state filing fee) to set up an LLC |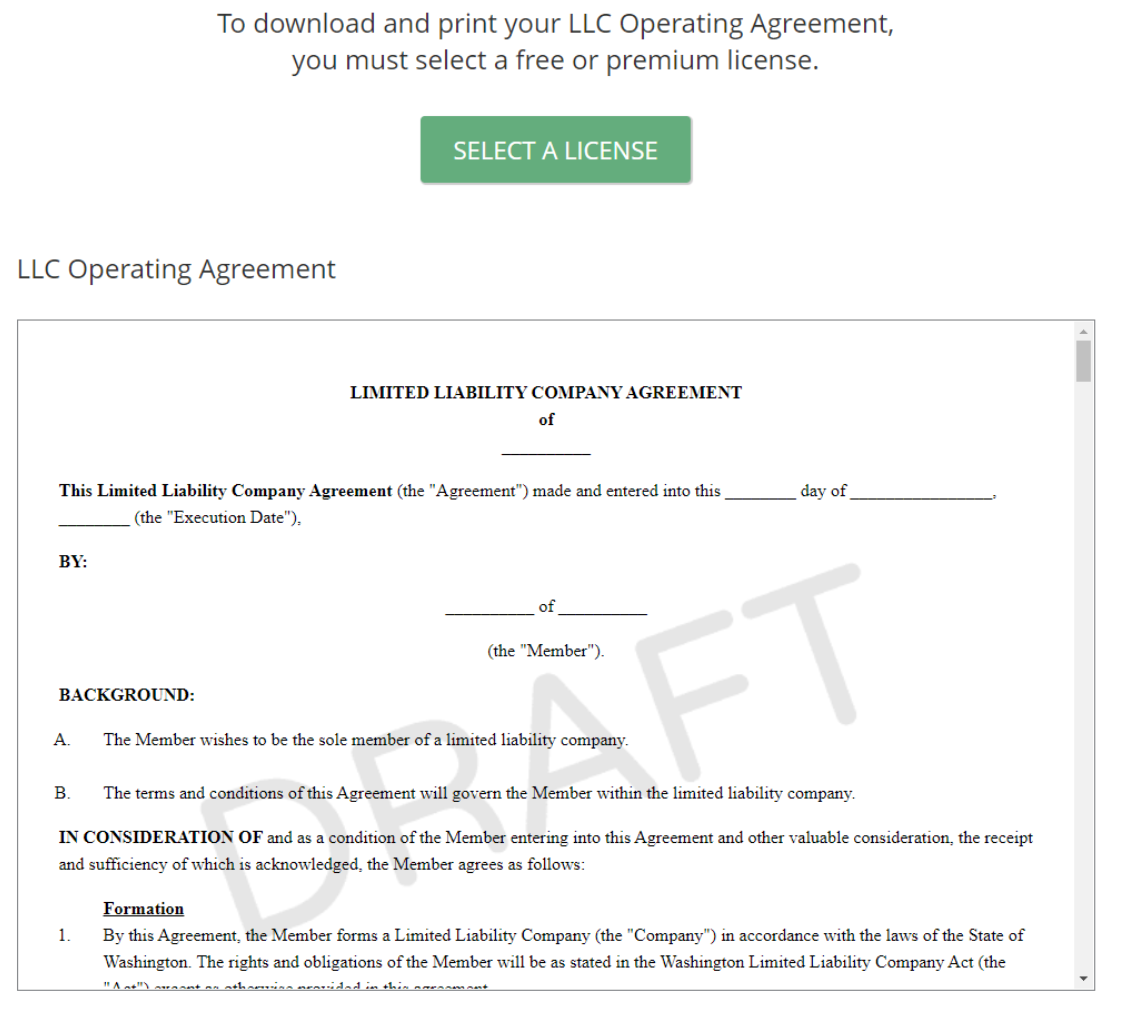 LawDepot is a low-cost resource for creating and printing legal documents. You can
create and print documents on LawDepot in pretty much every area, including business, real estate, finance, and family.
You have to do the research and filing yourself, but if you know what you want, this is a great way to get all your legal docs in one place. You can buy legal documents individually as you need them, or pay a monthly membership fee and get access to all documents on the site.
With all the docs you get (150+ templates!), I think subscribing offers great value for money.
LawDepot also offers a 7-day free trial
, which is a decent amount of time to try out the service and grab any docs you need right away.
Features
Estate Vault: Save documents to your account, so you don't have to worry about misplacing files or your hard drive crashing. Plus, you can include your power of attorney and add shared users to grant them access to your documents.
Transport Layer Security (TLS): Your documents are protected with 128-bit encryption to transmit your information. This is the same level of security used by banks and the government, so you can store and share your legal docs with peace of mind.
Free Help Articles: Access guides and FAQs across various legal topics (business, real estate, family, and more). The collection of resources is totally free and pretty elaborate – you can research how to write specific documents.
White Label Program: You can make money by becoming a LawDepot partner and selling legal documents created by its team. This is a great option if you want to provide your own legal service and earn a profit.
| | |
| --- | --- |
| Legal Assistance | Guides, articles, and FAQs. |
| Business Legal Services | LLC formation and management docs. |
| Legal Documents | Document templates, drafting, storing, and sharing. |
| Fees | From $20 per document or $35 per month. |
8. Rocket Lawyer – Long-term Legal Services for All Your Needs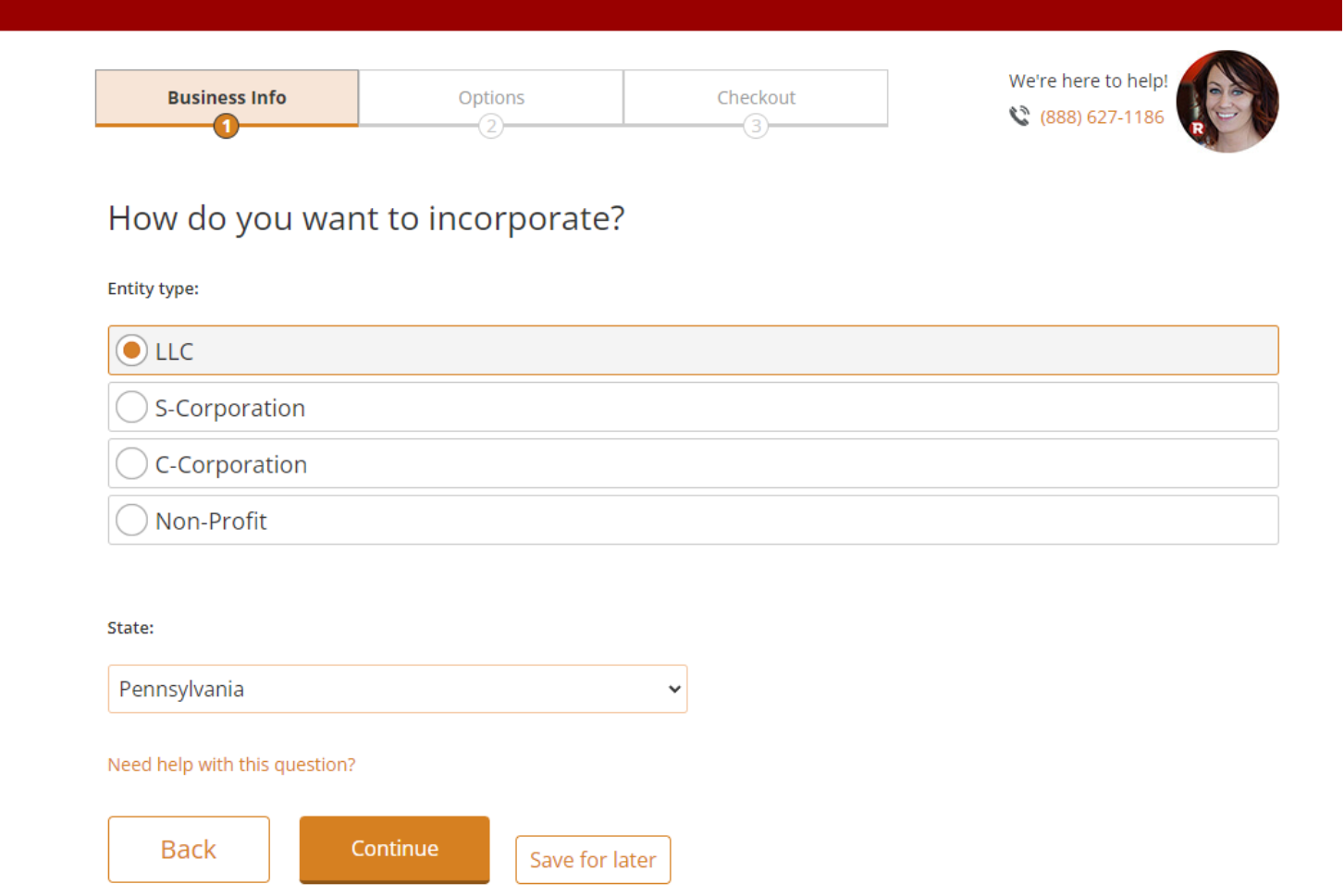 Rocket Lawyer is excellent for establishing and running a business long-term.
It offers incorporation, employment, HR, legal consultation, and document drafting services. I really like how easy it is to set up legal docs – all you have to do is enter your details, and your information is auto-filled and filed for you.
When you subscribe to Rocket Lawyer's membership, you get free LLC consultation and filing for your business
(not counting your state's filing fees). You also get discounts on hiring attorneys, making Rocket Lawyer a great choice for other legal needs that pop up. Subscribing is technically optional, but I feel hiring a lawyer is too pricey for non-members. On the plus side,
you get a 7-day free trial to test out most of the premium benefits
, which is something I haven't seen many freelance sites offer.
Features
Attorney Directory: Rocket Lawyer has a directory of freelance attorneys, which you can search by state and specialization. You get a rundown of rates, work experience, education, and license details.
Employee Benefits: Get legal benefits for your team, granting a layer of security while bolstering loyalty and motivation. Legal services include real estate, renting, finances, elder care, and (a lot!) more.
Paperless Digital Documents: Prepare online documents, such as NDAs and lease agreements, that can be signed electronically. Since documents are securely shared and stored, you don't have to worry about losing files.
Free Legal Advice: Before you commit, you can ask a 600-word legal question and get a response from a credible lawyer in that field. This is a great way to try out Rocket Lawyer's consultation service, as well as avoid paying for answers to simple questions.
| | |
| --- | --- |
| Legal Assistance | Business and consultation and attorneys across various legal areas. |
| Business Legal Services | Incorporation, compliance, and management. |
| Legal Documents | Tax filing and document creation, filing, signing, and sharing. |
| Fees | $39.99 per document, $59.99 per 30-minute legal consultation and many more services. |
Find the Best Place to Hire a Freelance Lawyer
You can visit numerous freelance websites to find trustworthy online legal assistant services, but some might fit your specific needs better. If you're unsure about your selection, three of them grabbed my attention the most. If you want the highest quality legal service, I recommend
hiring a freelance lawyer on Upwork.
It makes hiring a safe bet and comes with the tools you need to manage your legal project. If budget is your biggest concern,
check out Fiverr
 instead. You can still choose from a big pool of pro legal experts, but can also find service at a lower, fixed rate. Or, if you're a looking to set up your own business,
go with Incfile
. It handles all your business needs from helping you with bookkeeping and filing taxes, to annual reports.
| | | | | |
| --- | --- | --- | --- | --- |
| | Pricing | Best Feature | Best For | |
| Upwork | $$$ | Top-quality freelance lawyers in all areas. | People looking for an expert lawyer in a specific area and location. | |
| Fiverr | $ | Affordable freelance lawyers and consultation. | People in need of a fast and affordable virtual legal assistant. | |
| Incfile | $$ | Easy set-up for new businesses. | Business owners looking for an easy way to get started. | |
| Nolo | $ | Basic business incorporation at a low price. | Business owners on a tight budget. | |
| Harbor Compliance | $$ | Powerful tools for business compliance. | Business owners looking for centralized business compliance. | |
| BetterLegal | $$ | Fast turnaround and ease-of-use for beginners. | First-time business owners with limited knowledge. | |
| LawDepot | $ | Affordable access to 150+ legal documents. | People who need lots of legal documents and an easy way to share them. | |
| Rocket Lawyer | $$$ | Business formation and compliance, and a directory of freelance lawyers. | Business owners who benefit from discounts on other legal services. | Browse Lawyers >> |
FAQ
Where can I hire a legal assistant?
You can hire virtual legal assistance on any of the freelance sites I tested. These have been picked specifically for their range of expert legal professionals, ease of use and price. If you still need help deciding, you can find other reliable options for hiring freelancers in our list of best freelance sites in 2023.
How much does it cost to hire the best lawyer?
A lawyer's rate depends on the legal service you need, as well as the lawyer's experience. Some lawyers charge by the hour, while some will charge a flat rate for legal services. To help ensure you hire the best lawyer, this is what I look for when picking a freelance site.
How do I find a good local lawyer?
If you need to hire a freelance lawyer in your area, use a site that lets you search by location. For example, you can find a lawyer outside of the US on Upwork, and Rocket Lawyer lets you search for lawyers by state.