While all the builders on my list will get the job done, my personal favorite is Squarespace. It has the best-looking templates around, and all the tools you could possibly need to build your website, integrated straight into its editor (so you don't have to look for them elsewhere). You can take advantage of
Squarespace's 30% discount on annual plans
to save on your subscription.
A lot of law firm websites have an outdated or amateurish look.
You can avoid falling into the same trap by choosing the right website builder.
You'll need a builder that offers modern, professional templates with plenty of design and customization options. But good design is not enough – you might want a
Meet the Team
section, and maybe even a blog where you provide legal tips for your readers. You'll also need advanced SEO features to help your website rank on search engines, so more potential clients will find you. I tested the
best website builders
for you, and narrowed down the list to the ones with the best features for lawyers and law firms.
In a Hurry? Here Are the Best Website Builders for Law Firms in 2023:
Wix – More than 20 customizable templates in the Finance & Law category
Squarespace – Advanced blogging tools to help you reach potential clients
SITE123 – Quick and easy setup with law templates and plenty of apps
What We Look For in the Best Website Builders for Law Firms
Law-themed templates – Starting out with a dedicated template can save you a lot of time as you create your site, as it comes with most of the features you need built-in. The builders on this list have unique templates that you can easily customize to fit your firm's branding.
Ease of use – A good website builder should be intuitive and simple to learn, to make your site easy to update and edit.
Blogging features – You may want to add a blog with legal tips and general advice, or even a rundown of cases you've successfully closed, to help attract potential clients.
SEO tools – When people are searching for a lawyer in your area, you want them to find your site first. A website builder with built-in SEO tools will help you rank on search engines, so you can reach a wider audience.
If you want to get a quick start on your site, Wix has an entire category of well-designed templates specifically made for law firm websites.
Wix templates are highly customizable, so you can modify the design and place sections wherever you like. This gives you control over the look of your site, ensuring that it's different from other sites based on the same template.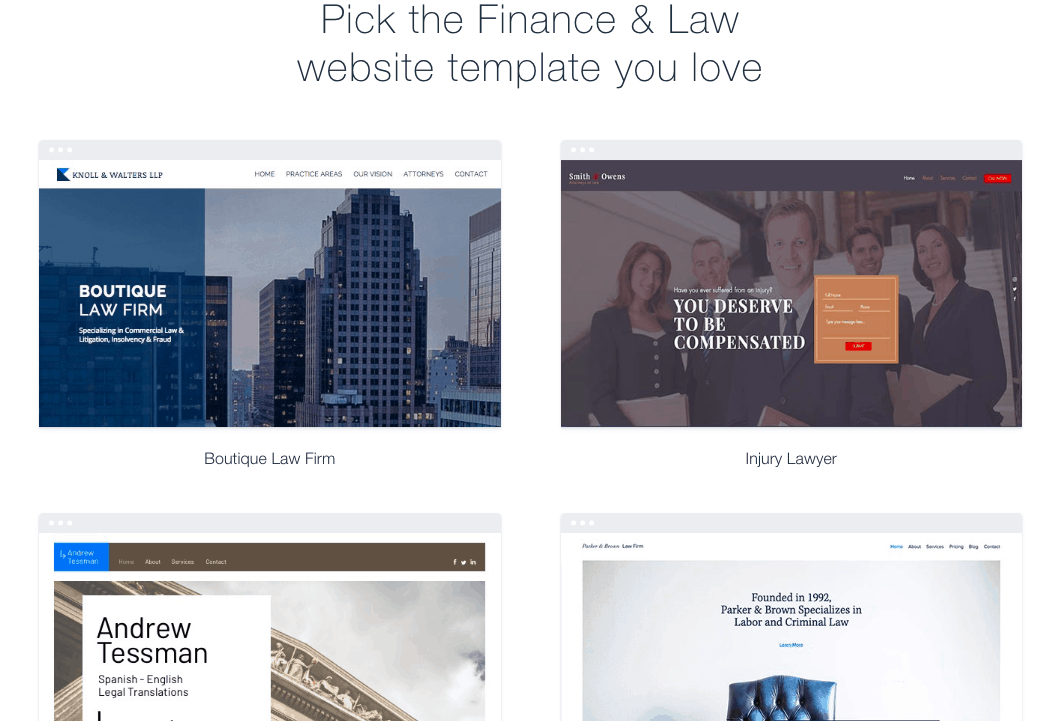 An even quicker option is to use Wix ADI (Artificial Design Intelligence).
The wizard asks you a few simple questions to learn about your business and your needs, and then designs a website for you based on your preferences.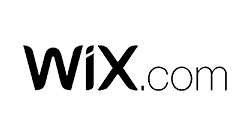 Save up to 33 % on your Wix plan!
Limited-time offer - Don't miss it!
Your Wix with your first % on 30/06/2023!
3901 users used this coupon!
Here are a few more Wix features you'll find helpful:
Wix SEO Wiz: This tool helps you plan your SEO strategy by providing pointers on how to edit your current content to help your site rank on search engines.
Apps to allow clients to get in touch: Wix App Market offers a lot of apps you can use to enhance your site. Wix Chat allows site visitors to reach out to you anytime, and the Callback app lets them leave their phone number and request a call from you at your convenience.
Wix Bookings: This app allows your clients to book appointments with you directly from your website on a calendar showing your available time slots.
Learn about these features and more in our
in-depth Wix review
.
| | |
| --- | --- |
| Easy to use | Yes, with a simple drag-and-drop editor |
| Law-specific templates | Yes |
| Free plan | Yes |
Squarespace's drag-and-drop editor is very easy to use, even for beginners.
You can even make edits to your site from your mobile device. Unlike Wix, Squarespace only has one law template, called Harris
. But it comes equipped with all the basics, like an integrated contact form, a Services page, and a News page for company updates or a blog.
You can also choose a different template and customize it to suit your needs.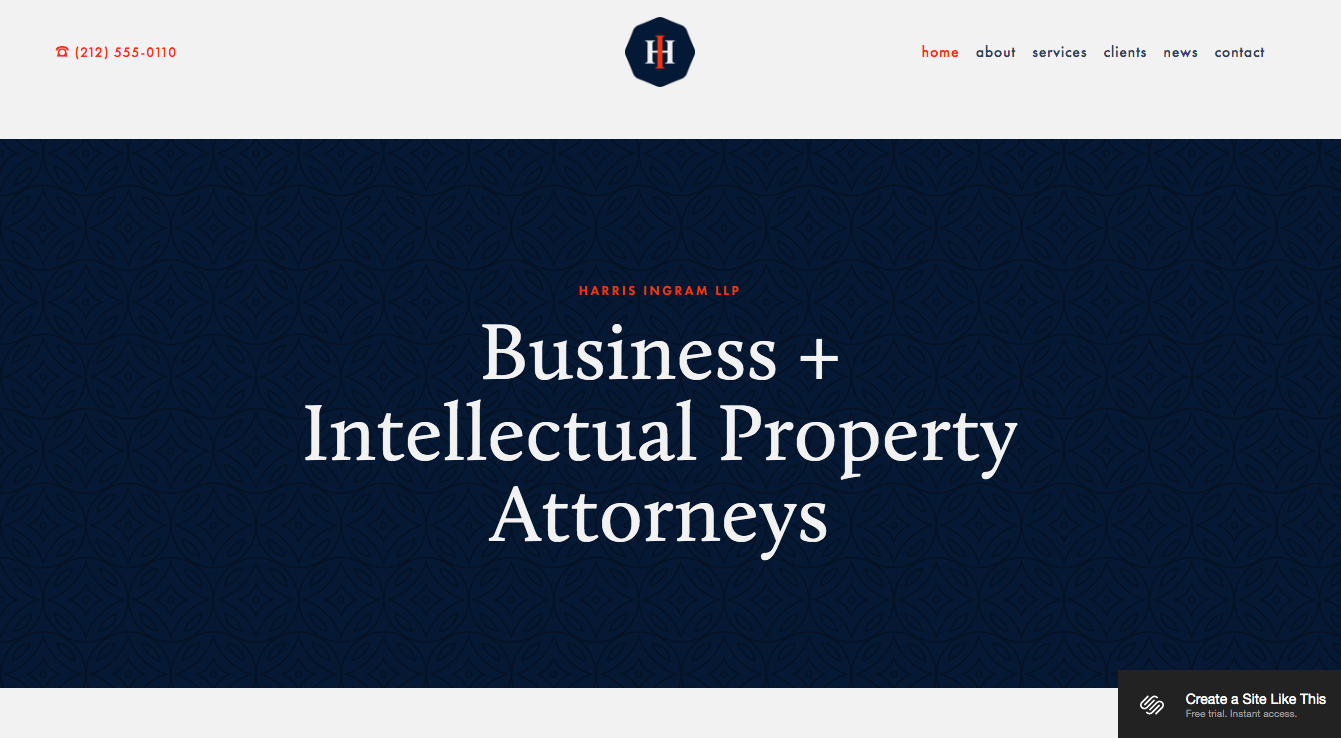 These features make Squarespace a great website builder for lawyers:
Advanced blogging: Create a professional-looking blog by adding copy and images, and embedding videos. You can create blog categories for legal tips, case studies, and informative posts, and turn your simple law website into a resource for legal help. You can even schedule multiple posts in advance for a later date.
Acuity Scheduling: This integration allows you to share your schedule, set your availability, and allow visitors to easily book and pay for appointments online.
Squarespace Analytics: Get an overview of your site stats so you'll be able to see which pages are popular and what terms your visitors are searching for on your website.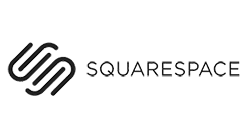 Get $65.00 Off Squarespace's Business Plan
Don't miss out on this great deal!
715 users used this coupon!
Read our
full Squarespace review
 for a more detailed look at the editor.
| | |
| --- | --- |
| Easy to use | Yes, with a drag-and-drop editor |
| Law-specific templates | Yes, but only one option |
| Free plan | No, but there is a 14-day free trial |
SITE123 has a Legal Services template category, so you'll have some choices as you get started. However, you'll notice that there's not much variety between most of SITE123's templates, which means your site might look similar to other sites from this builder.
The App Market is a great resource for adding extra features to your website.
You can find Google apps like Google Analytics and Google AdSense, as well as other third-party apps. I recommend LiveChat as a helpful tool to give potential clients an easy way to communicate with you. Here are some other great features from SITE123:
Integrated form builder: This is a great tool for creating simple or detailed forms so visitors can get in touch with you. The forms come with a few template options, and are highly customizable. You can create an auto-reply, change the text in the send button, and modify the text in each form.
Free logo tool: If you're just getting your law firm off the ground and you don't have a logo, you can use SITE123's logo tool to make one for free. Just add your business name, choose an icon, and select how you want it displayed as your logo. It's not highly detailed in what you can create, but it's enough to get you started.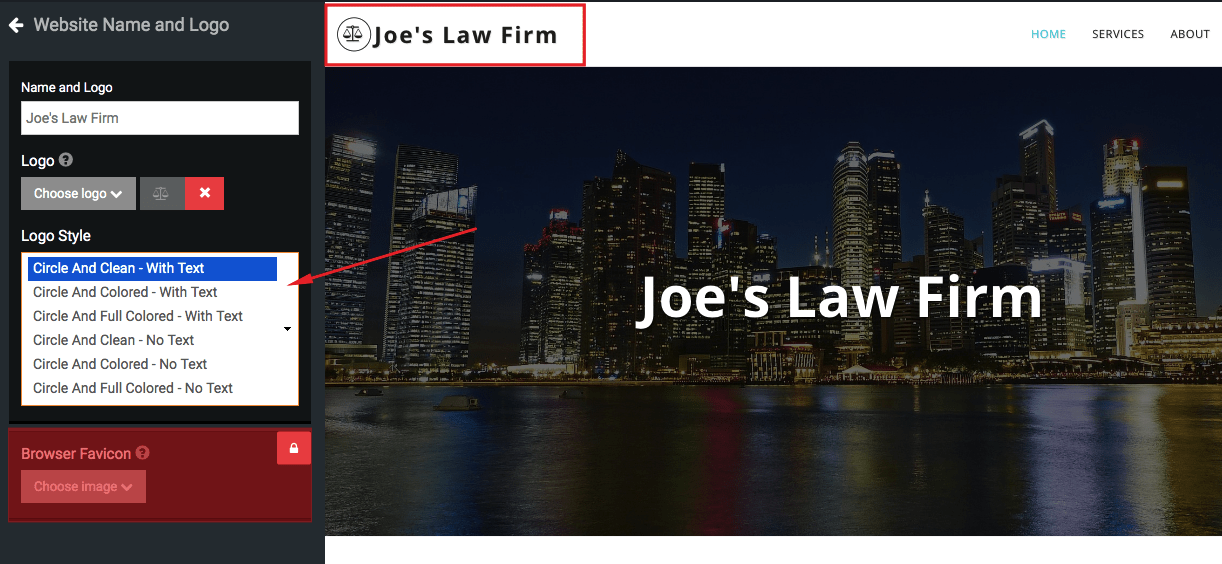 Blogging platform: SITE123 offers plenty of royalty-free images and videos you can use on your posts. You can also connect your blog with your social media accounts and share your posts to reach a broader audience.
Find out more in our
detailed SITE123 review
.
| | |
| --- | --- |
| Easy to use | Yes, very simple |
| Law-specific templates | Yes |
| Free plan | Yes, though limited |
WordPress.com is the most flexible platform on this list, with the most advanced customization options.
That said, it takes a little more time to get acquainted with the builder. Wix and Squarespace's drag-and-drop editors are more beginner friendly, but if you dedicate the time to learning how to use WordPress.com, it will pay off in the long run.
WordPress.com doesn't offer any free themes specifically designed for law services, but you can use one from a third party, like
TemplateMonster
,
if you upgrade to the Business plan or above. Although most third-party themes come at an additional cost, they're often more detailed than what you'll find on Wix or Squarespace. You can edit and update your site anytime, even from your mobile device WordPress.com has some other features that can be helpful in a website builder for attorneys:
Good selection of plugins: While you have to be on the Business plan or higher to access plugins on WordPress.com, the variety could be worth the investment. In addition to advanced SEO plugins like Yoast, you might want to try the Strong Testimonials plugin that allows you to collect and publish real testimonials from your clients.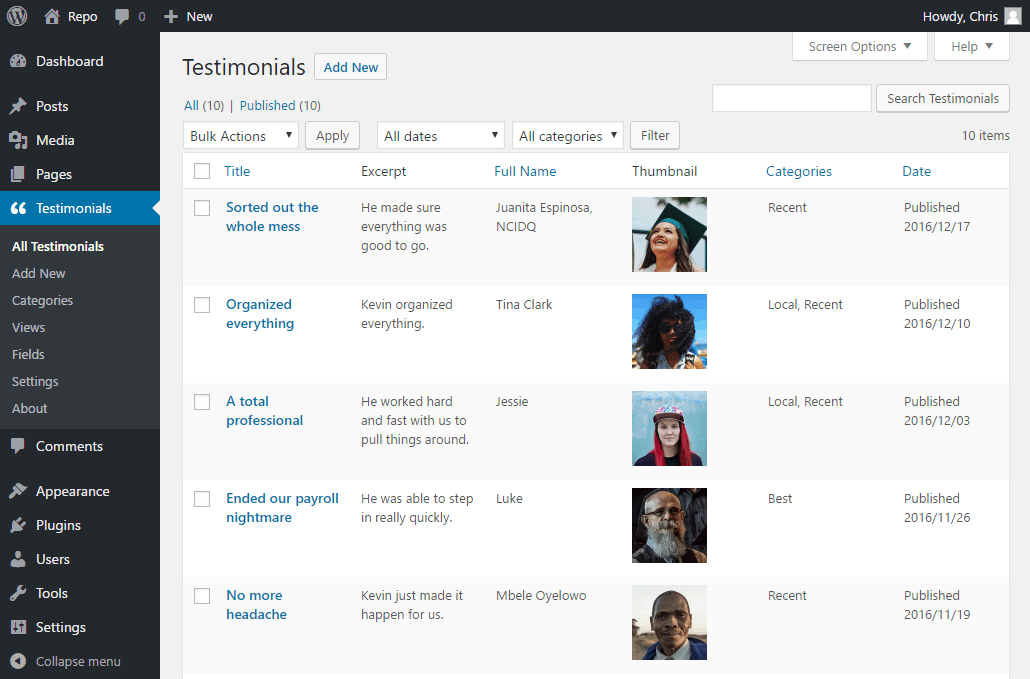 Social media integration: WordPress.com comes with integrated social sharing features, so your visitors can share your website – or specific posts or pages – with their social media followers.
In our
expert WordPress.com review
 you can find some useful tips and tricks to getting the most out of the platform.
| | |
| --- | --- |
| Easy to use | Slightly more challenging to learn |
| Law-specific templates | No, just from a third-party |
| Free plan | Yes |
Weebly doesn't have any themes specifically designed for law firms.
There is one theme, Bradley, that's designed for investment agencies, but could be easily tweaked for a law firm website.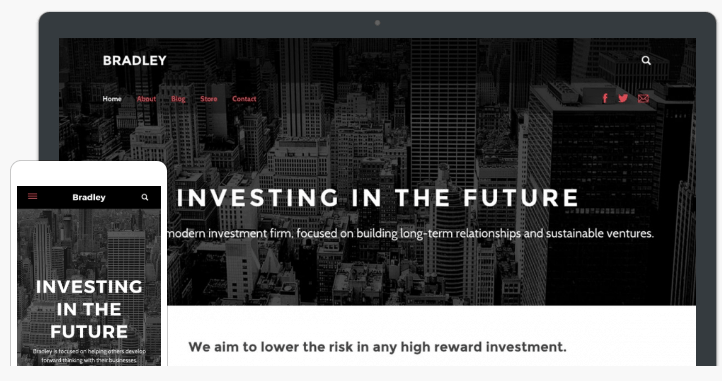 You can also purchase a third-party theme from a marketplace like
ThemeForest
, or work with any Weebly template you like and customize it. While this may seem time-consuming,
Weebly's simple drag-and-drop makes it easy enough.
Here are some other features that make Weebly a great website builder for law firms:
Powerful SEO tools: Weebly offers tips on how to improve your SEO strategy, and gives you the ability to customize page titles, descriptions, and URLs for SEO. The Positionly app gives you deeper insights that help monitor your SEO strategy, and the SEO Headlines app allows you to create HTML headline tags.
Professional blogging: Weebly has multiple customizable blog templates to choose from. You can add blog categories, integrate user comments from Facebook, add media like photos and videos, and schedule new posts to share to your social channels.
Mobile app: Regardless of your location, whether you are in the courthouse, visiting a client, or on-the-go during meetings, Weebly's mobile app empowers you with full control over your website. With this app, you can conveniently monitor your site's activity, make edits, and upload content directly from your mobile device.
Read our
full Weebly review
 to learn more.
| | |
| --- | --- |
| Easy to use | Yes, with a simple drag-and-drop editor |
| Law-specific templates | Yes, just one |
| Free plan | Yes |
Choose a Website Builder That's as Professional as You Are
You want to choose a reliable website builder that you can use to create a professional website to fit your needs.
If you want to start quickly with a template made specifically for legal services, Wix is the best option.
Wix SEO Wiz can help you with your SEO strategy, and the App Market offers a lot of helpful tools.
If you're willing to invest your time into a site that can grow with your practice, WordPress.com is the way to go.
The integrated social media features and blogging tools can help you reach a wider audience. Here's a breakdown of all the main features each website builder has to offer:
| | | | | |
| --- | --- | --- | --- | --- |
| | Law Templates | Ease of Use | SEO and Blogging features |   |
| Wix | A few good templates for different types of law services | Easy drag-and-drop editor | Wix SEO Wiz to help your blog and website rank | |
|  Squarespace | Only one option, the Harris template | Drag-and-drop editor, slightly less intuitive than others | Great blogging tools with SEO checklist | |
|  SITE123 | A few law templates, but not much variety | Very simple editor, but not as many customization options | Good blogging platform with free basic SEO tools | |
|  WordPress.com | Third-party law templates available for purchase | Harder to learn | Advanced blogging platform with pro SEO plugins | |
|  Weebly | One theme | Very easy drag-and-drop editor | Good blogging tools and available SEO apps | |
FAQ
What makes a good law firm website?
Your website should have some basic pages, like an About Us page, a Services page, a Meet the Team page to introduce members of your firm, and a Contact page. A blog can also be a great way to keep clients informed and demonstrate your knowledge and experience. Including real testimonials or reviews from previous clients is a good way to create trust with potential clients. Keep all these elements in mind when you choose a website builder for your law firm.
How do you write an attorney bio?
It's important to come across as professional, but you also want to be approachable. Here are a few things to include in your attorney bio:
Your education
Work history
Any major or noteworthy cases you've worked on
Specific areas of practice
Awards or distinctions
Board memberships or legal organizations you're a part of
Any charity or pro-bono work you've done
Be sure to include a headshot or professional photo. You can also add a sentence or two about personal interests, such as your family, hobbies, and community involvement. In order to resonate with your audience, you can mention areas of the law that are close to your heart, such as children's rights, protecting small businesses, or minority rights. Another great way to display your lawyer biography is with a video. Including a high-quality video where you can vocalize the points mentioned above can make you appear more personable.
How much does a lawyer website cost? 
The cost of your law firm's website really depends on your needs. You can create a website for free with one of our recommended website builders – but free plans are usually quite limited. If you opt for a paid plan, then you can spend a few dollars a month and gain access to many more features, such as more plugins, customization options, or storage space. While it may look like costs add up quickly, you can always choose what's best for you. You may not need  a premium paid plan if you're just getting started or you only need a simple website – but if you do, make sure you check out our coupon page for the best deals and offers.