While all the builders on my list will get the job done, my personal favorite is Squarespace. It has the best-looking templates around, and all the tools you could possibly need to build your website, integrated straight into its editor (so you don't have to look for them elsewhere). You can take advantage of
Squarespace's 30% discount on annual plans
to save on your subscription.
There's a lot to consider when starting a food blog, and
not every website builder will have every feature you need.
You need an attractive blog layout and a system that allows you to schedule, tag, and categorize posts, of course, but you also need to consider image and video quality so you can complement your recipes with beautiful visuals. But just having a stunning food blog isn't enough. You'll also need strong social sharing and SEO tools to get your food blog found by the right people. If you're looking to make money from your food blog, there are a few other elements to look for in a website builder so your path to monetization is clear and easy.
I've extensively researched website builders to find the ones that have everything you need to start your food blog.
 I've found options for everyone from the casual, hobbyist blogger to the semi-professional cook and everyone in between.
What We Look For in the Best Website Builders for Food Blogs
Robust blog platform – For a powerful food blog, you'll want more than the ability to just type and publish posts. Each of these website builders has extensive customization options to create a blog that is unique to you, and comes with advanced features for tagging, scheduling, and sharing posts so you can maximize your reach to readers.
High-quality image capability – Pictures of your food are almost as important as the recipes or reviews themselves. We're looking for website builders that can handle plenty of HD images and video.
Social media integrations and SEO tools – Social sharing and search engine optimization (SEO) are a must to grow blog traffic. These website builders offer social media integration across platforms as well as SEO tools to optimize your blog pages without the need for any technical knowledge.
Monetization options – All the hard work you put into your food blog should pay off, so these website builders offer integrations with common monetization routes, like Google AdSense and the Amazon affiliate platform.
Why a Website Builder Instead of a Free Blogging Platform?
If you're just starting out with a food blog, you might be considering a free platform like Blogger or Tumblr. I recommend creating your own website from the get-go, as this gives you access to a wider range of features and saves you the hassle of having to transfer all of your content to a full website when you decide to scale up. While your own website is a bit more of an investment up front, it will pay off in the long term.
Wix is unparalleled when it comes to customization. It's hard to beat the drag-and-drop interface that lets you customize down to the pixel, adjusting section sizes, fonts, and other aspects to your heart's content.
You can start your customization with one of the seven food-specific blog templates
, but it's easy to adjust another blog template to be food-focused if you don't love one of the existing options. Once you start editing a template, you can't change it without losing all your work, so choose wisely! The Wix Blog app will come pre-installed if you choose a blog template, but if you opt for a non-blog template, you can install it for free with just a couple of clicks in the App Market.
Some find the Wix Blog to be too simple, but it covers its bases and has some extras.
Social sharing features and SEO optimization tools are built-in, and categories you create automatically appear in your blog menu.
The Members Area helps you build a community following of your readers, enabling them to comment on posts and interact with other readers.
You can even manage your entire blog on mobile
– you can create a post as you cook or develop a recipe.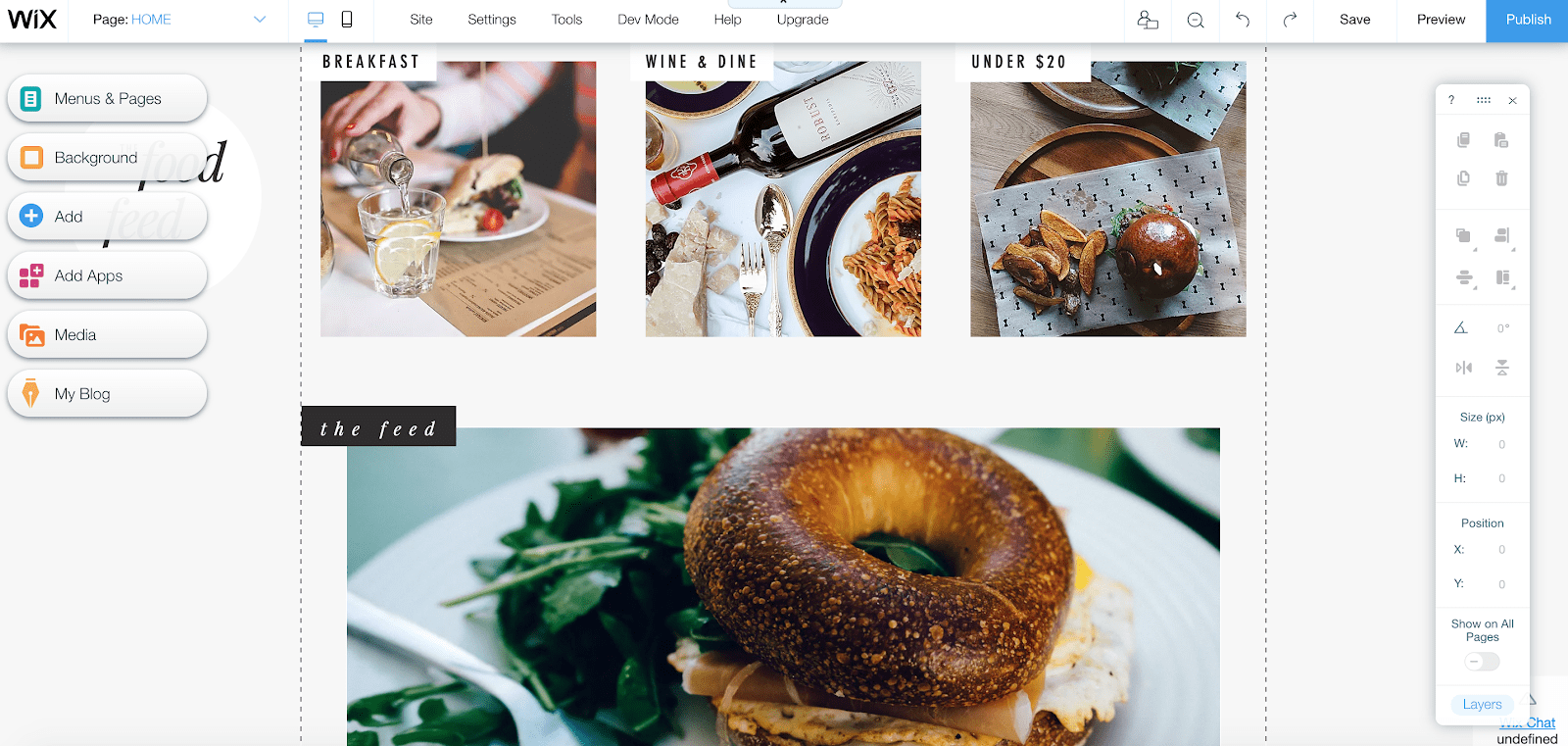 Wix has the widest range of templates for food blogs
Beyond the extensive customization options and robust blogging platform, Wix offers these features that can help take your food blog to the next level:
Wix Recipes App – The Recipes app was built for food bloggers. Add your recipes and readers will be able to search by ingredient, difficulty, and other criteria. You'll need the premium version to add more than 2 recipes, but the organization and search capability it offers is well worth it.
Image storage and editing – Wix's free plan offers up to 500 MB in storage, giving you space for hundreds of photos before you'll need to upgrade to a premium plan. It also has a robust photo editor that can even add a watermark to preserve your ownership of the images.
Free SEO Assistance – Answer just a few questions, and Wix SEO Wiz will create a personalized plan to help you rank on Google. You don't even have to remember what SEO stands for—Wix labels this feature as "Get Found on Google" to make it easy for you to find.
Social media feeds – If you've got a foodie Instagram, you can add your social feed directly to your website with just a couple of clicks with the Instagram Feed app. It has several layout options to match the feel of your blog, and other add-ins allow you to share your Facebook, Twitter, and other social feeds too.
Read about more features in our
in-depth Wix review
.
| | |
| --- | --- |
| Free plan available? | Yes, up to 500 MB of storage |
| Food blog templates? | Yes, 7 |
| SEO tools? | Yes, Wix SEO Wiz |
If you want feedback on your recipes or you'd like to empower your readers to share their own kitchen tips and tricks, SITE123 will help you do it.
The standout feature of SITE123's blog platform is its focus on helping you build a community through its commenting system, which is included in the free plan.
Readers can start commenting as soon as your blog is live, and you can monitor comments and reply to your readers through the blog comment dashboard.
You can also choose to allow comments through Disqus or Facebook commenting integrations
, which can increase engagement from users with established accounts and reduce spam commenting.
The rest of SITE123's blogging features are pretty standard—you won't find any essential features missing. Users like it because it is simple and has strong support channels, which is a plus if this is your first foray into blogging.
One drawback is that
SITE123's free plan
 is very limited compared to other website builders. If you want extra customizations and some other features, like the Google AdSense app, you'll have to upgrade to a paid plan.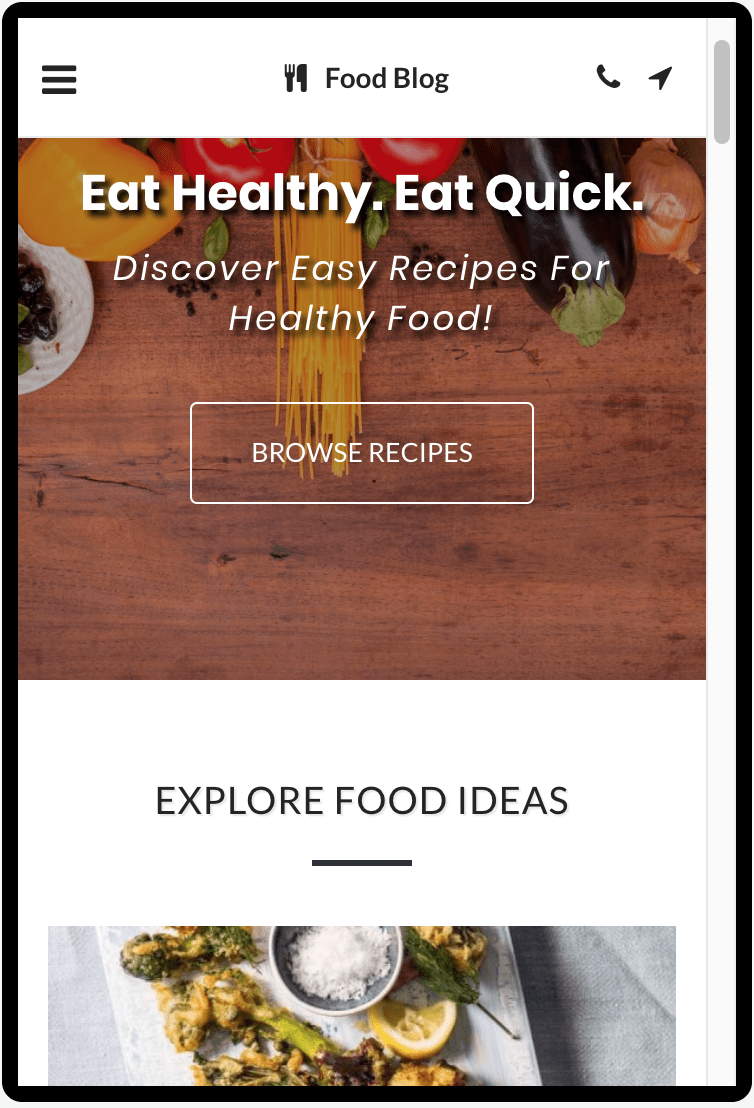 All of SITE123's templates are mobile-responsive
Here are some other SITE123 features that will help you start your food blog:
Social media integrations: Share all your posts directly to your preferred social media platforms. You can also set up social share buttons to encourage readers to share posts with their network too.
Mobile-responsive templates: Every template is responsive, meaning you don't need to separately edit the mobile version of your site (as you may need to do with Wix). Since more and more people are following recipes on their phones, this is one less thing you have to worry about.
Free SEO tools: To help your blog posts show up in Google search results, SITE123 has SEO optimization fields available on each page, allowing you to include keywords in your page title, description, and URL.
Read our
expert SITE123 review
 for more about its features.
| | |
| --- | --- |
| Free plan available? | Yes, but with limited customizations |
| Food blog templates? | Yes, but just one |
| SEO tools? | Yes, basic ones for free |
As a content management system (CMS) at its core, WordPress.com offers more flexibility than any other website builder.
It's not as beginner-friendly as some other builders on this list
, but it does have the most capability and resources if you're willing and able to put in the effort (and money). Because WordPress.com is so prevalent,
you can find dozens of themes designed for food blogs, whether on WordPress itself or from third-party creators like TemplateMonster
. There are also plenty of plugins you can use to add extra features, including several recipe-based ones like WP Recipe Maker and Easy Recipe that are similar to the Wix Recipe App. Just keep in mind that to use third-party themes and plugins, you'll need to upgrade to the Business plan. WordPress.com's blogging platform also offers automatic social sharing, post scheduling, and blog commenting through Disqus or Facebook.
You can customize social share buttons to include whatever combination of social platforms your readers use most
, expanding your reach even further. Free SEO tools are included, and you can expand on these with plugins, if you like.

WordPress.com's free templates for food-related sites
Let's take a look at some of WordPress.com's other great features:
Embed videos for free: Incorporate how-to videos in any blog post by simply adding a link to a video from YouTube, Vimeo, Facebook, or many other platforms.
A plugin for everything: If you feel like WordPress.com would be perfect for your food blog if only it had this one thing, chances are there is a plugin to meet that need. Want a different commenting system? A built-in editorial calendar? Advanced SEO tools? There's a plugin for that.
Simple monetization avenues: If you're looking to make money from your food blog, WordPress makes it easy, although you do need a paid plan to access these features. With a Personal plan, you can accept subscription payments; at the Premium level, you can start placing ads on your site.
Find out more about these and other features in our
full WordPress.com review
.
| | |
| --- | --- |
| Free plan available? | Yes, but it's very limited |
| Food blog templates? | Yes, but some are from third-party providers |
| SEO tools? | Yes, but the best ones are paid |
If you're wholly committed to building a premium, professional-looking food blog, Squarespace will deliver. It doesn't have a free plan (although you can test it out with a
14-day free trial
), so it's best if you're willing to make a higher financial investment in your food blog, or if you plan to monetize it.
Squarespace has stunning blog layouts, and while there aren't any dedicated food blog layouts, it's simple to adapt any template to your needs.
 The category and tag system is quite robust, allowing you to organize your posts and add blocks featuring related posts based on the tags. You can even create a recipe index to serve as a central reference point for everything you post – and it's easy to make it searchable too. You can also modify your SEO elements right in the post, and you'll get a preview to see what it looks like in search results.
Blog content can be scheduled and pushed directly to social media accounts once they are connected
, so you won't have to worry about your readers missing a post.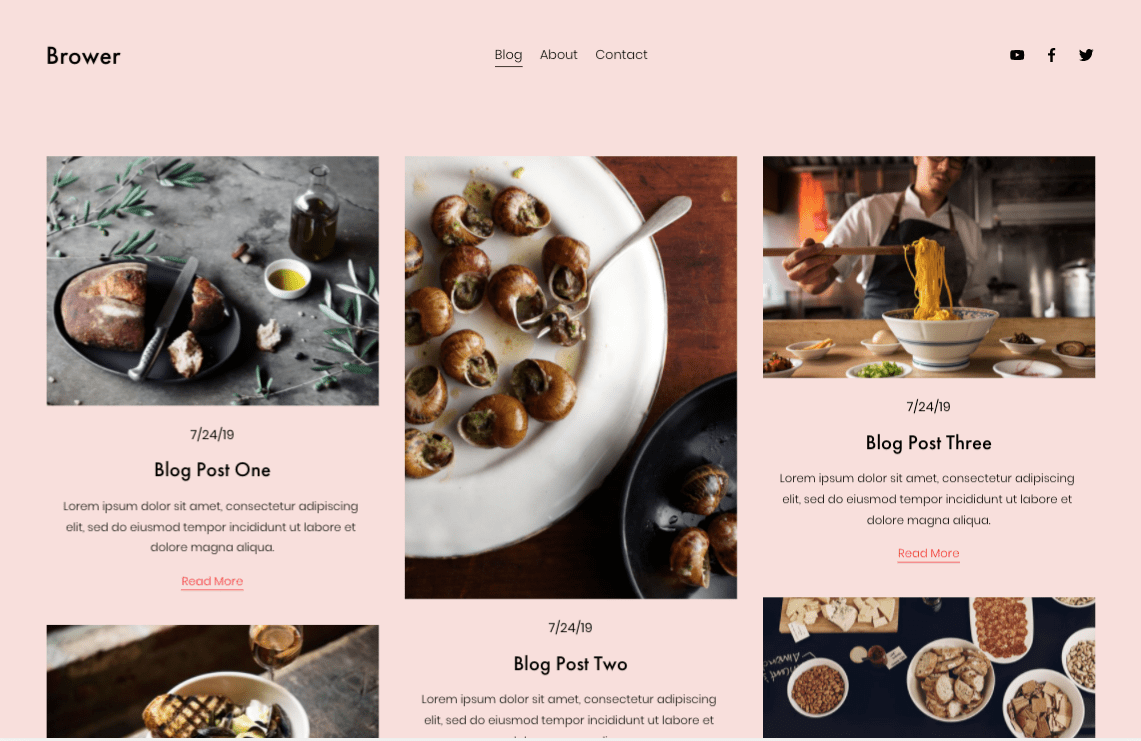 Squarespace BROWER template for food blogs
Let's take a closer look at some other great Squarespace features for food bloggers:
Built-in email campaigns – Squarespace comes with an email campaign integration, and you can draft a newsletter directly from your post once it's published. You don't need any other integrations or tools to send new posts to your email subscribers.
Integrations for monetization avenues – If you're looking to monetize your food blog, you can add integrations or other tools to support those efforts, including Google AdSense and Amazon affiliate tracking.
Built-in SEO assistance – The site editor has simple processes for adding SEO titles and descriptions to each page, and even automatically generates some more advanced SEO help such as schema markup. Squarespace's SEO help guide is very thorough, and you have the option to hire a Squarespace SEO expert if you need more assistance.
Read our
expert Squarespace review
 for even more on the available features.
| | |
| --- | --- |
| Free plan available? | No, but there is a free trial |
| Food blog templates? | No |
| SEO tools? | Yes |
Zyro is incredibly easy to use even if you're a tech newbie, and it comes with a simple but useful set of features to help you build your site quickly. What sets Zyro apart from other builders is its set of AI tools, which help with everything from creating content to improving your images.
Zyro's blogging system is basic yet effective
, and it has the same design and editing tools as the overall editor, so it's easy to navigate. You can do all the essential stuff – add categories, post descriptions, live blog previews, have multiple authors, set publishing dates, and more. You also get access to the AI Blog title generator and AI Heatmap tool, which predicts how visitors navigate your site and what they focus on, and gives layout suggestions to help you drive more traffic to your site. You'll find food-oriented designs in the Blog and Restaurant categories, but you can customize any template to fit your needs or start designing a website from scratch. All templates are mobile-responsive, and you can edit them via mobile, too.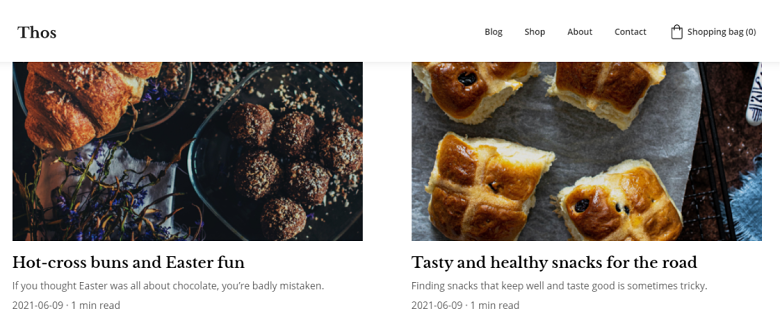 Caption text: If you plan to sell products, there are built-in online store features (available on the eCommerce plan). Here are some other Zyro features that may appeal to food bloggers:
Free stock image library. Zyro has its own stock image library, which gives you access to over 1,000 000 million photos for free.
AI Image Upscaler. If your photos need sharpening, the AI Image Upscaler will ensure your pics are always in high resolution.
Free live chat apps. You can integrate apps like Facebook Messenger and WhatsApp to stay in touch with your site's visitors.
Customizable contact forms. You can add, rename, or remove fields, set required fields, or even edit the form's design by adding a colored background, choosing between a light or dark theme, or adding a background image.
Want more info? Read our
full Zyro review
.
| | |
| --- | --- |
| Free plan available? | No |
| Food blog templates? | Yes, in the Blog and Restaurant categories |
| SEO tools? | Yes, available on all plans |
Start Sharing Your Food with the World
To run a successful food blog, you need a strong website builder that can support every dream you have for it. Even if you start small, you'll want the ability to grow and expand as much as your love of food does. Which website builder is the best for your food blog? It depends on your goals.
For the best combination of ease of use and advanced customization, try Wix. Your customization options are limitless, and it's easy to add more storage, features, or whatever you need to keep growing your food blog.
For a professional quality site that still has a user-friendly setup, look into Squarespace. Its templates are the perfect backdrop for your food photography, and expert help is abundant if you need assistance at any stage.
Here's an overview of the best features for each website builder:
| | | |
| --- | --- | --- |
| Builder | Stand-out Feature | |
| Wix | The most flexible and easy-to-use option for newbies or veteran bloggers | |
| SITE123 | Easy-to-use with strong support channels when you need help | |
| WordPress.com | Hundreds of templates and plugins to customize and expand your blog | |
| Squarespace | Premium, professional layouts and features – but no free plan | |
| Zyro | Great AI tools help you set up your blog and optimize your content | |
FAQ
What should a food blog contain?
Food blogs are most commonly recipe repertoires, although some go the route of restaurant and other food-related reviews. Regardless of your approach, here are the most important elements of a food blog:
Clear, readable recipes: Readers shouldn't have to hunt for or decipher your recipe. Use consistent formatting to make the recipe eye-catching for everyone. (If you do reviews, the same principle applies.)
High-quality, original images: Food blog followers want to see how your recipe came out, not how a staged stock photo looks. Use original images for sharing on social media, showing up in Google search results, and showing your readers exactly what they can expect when they make your recipes.
Resources for finding ingredients or kitchen tools: Whenever you mention a specific item or brand that readers may not be familiar with, guide them to your preferred sources for obtaining it. This approach increases the likelihood of them revisiting your blog, and it can serve as an excellent opportunity to generate income through affiliate partnerships.
Jump up to see what we look for in the best website builders for food blogs.
Which website builder has the best templates for food blogs?
While every website builder on this list has plenty of blog templates to choose from, Wix has the best selection of free templates designed specifically for food blogs. Its non-food-related blog templates can also be easily adapted by simply swapping the default images for food photography. Learn more in our in-depth Wix review.
How much does it cost to start a food blog?
You can start a food blog for free with most of the top website builders, but to make the most of it, a paid plan is a worthy investment. Most basic paid plans are affordable, and they typically come with increased storage and bandwidth, access to more features and customization options, and often a free domain name and SSL certificate.