even if you find a builder with great designs, you may have to work with a clunky site editor
that doesn't offer enough customization options. As an experienced website builder tester (and bargain hunter),
I've compiled a list of budget-friendly platforms that don't make you compromise
. These builders are easy to use and provide all the essential features along with some valuable perks like free apps, SEO tools, and e-commerce features. Of these,
Wix is my top pick – it's beginner-friendly, affordable, and gives you complete creative freedom
to build exactly the website you want. You can try Wix for free, or read on to learn more about my other recommendations.
Short on Time? These Are the Best Cheap Website Builders in 2023
Wix – Excellent value for money with an intuitive editor and the widest selection of templates.
SITE123 – A beginner and budget-friendly builder that lets you get online fast.
Squarespace – Stunning designs with affordable marketing and e-commerce tools.
What We Look For in the Best Cheap Website Builders
Affordable pricing aside, it's important to choose a platform that can actually do everything you need it to. When creating this list, I looked for the best cheap website builders that still provide great tools. Here are some things I considered:
Good value. Most website builders have a free plan, but they limit how many pages you can have on your site or lock advanced features behind a paywall. The builders on this list provide a lot of features on the free or cheapest plans, giving you the best value for your money.
Ease of use. I've chosen website builders with simple, streamlined editors, so you'll be able to easily create your website – even if you've never built one before.
High-quality templates. A good website starts with a well-designed template that you can customize to meet your needs. I picked website builders with a large selection of beautiful templates/themes that give you lots of design flexibility.
Free apps and integrations. To create exactly the website you want, you might need apps or integrations to enhance your site's functionality. This can include event calendars, appointment bookings, marketing tools, and much more. I chose site builders that give you access to these tools, no matter which plan you're on.
Domain name deals. The website builders on my list give you a free custom domain name for your first year, even on the cheapest plans.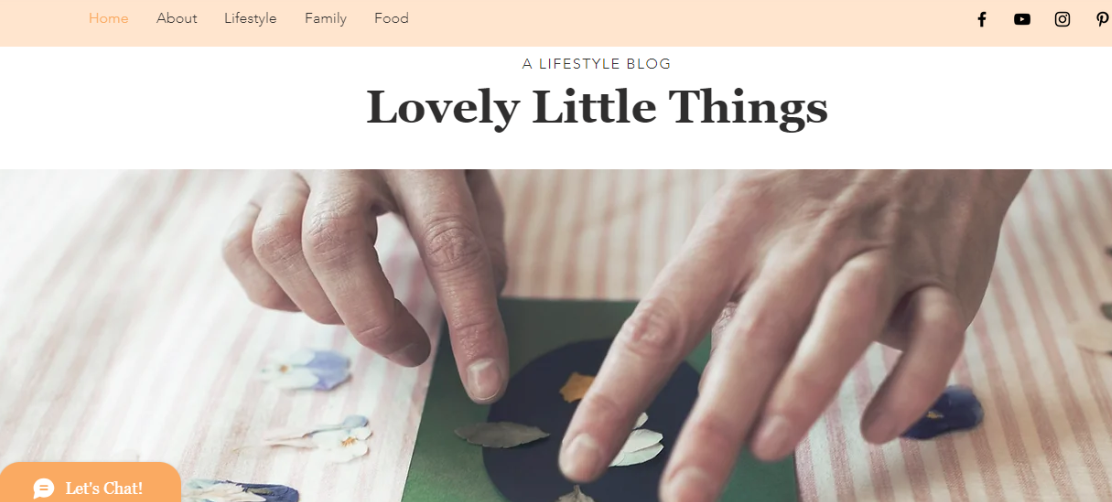 The Wix editor has an intuitive interface that's easy to work with – all you really need to do is drag and drop elements onto the template.
There are 900+ fully customizable templates to choose from, so you end up with a site that looks exactly like your vision.
You can change any color, font, or image within your template, and add and arrange design elements in any combination. Wix doesn't just make your site look good – it also offers
hundreds of apps to give you additional functionality
. You can host videos and podcasts, create a members-only area, or take restaurant reservations and online orders. These are just a few examples – I love browsing the Wix App Market for new ideas. Many of the apps are free of charge. Even on Wix's free plan, you get access to nearly every available feature. That said, you'll have to upgrade to connect a custom domain name.
I recommend the Combo plan – it removes Wix branding from your site, while providing 3GB of storage space and 30 minutes of video
, which is a good place to start.
Features
Wix SEO Setup Checklist. This built-in tool makes it easy for people to find your website. It provides a checklist, tips, and tutorials on how to help your site rank well on Google.
Free Wix-created apps. Wix offers 50+ native apps you can install for free, such as Wix Blog to help drive traffic to your site and Wix Chat to enable your site's visitors to reach you 24/7 (don't worry, you can set custom chat hours too).
Wix Ascend. Wix offers an impressive array of business tools you can access from a single dashboard to streamline all your activities. These include a social post builder, a video maker, analytics and reporting tools, and more. Wix Ascend requires an extra fee, but the prices are fairly reasonable.
Mobile site editing. Wix allows you to edit the mobile version of your site separately, ensuring total creative control over your website's look across devices.
Want to learn more? Read our
expert Wix review
.
Templates
900+
Free domain for one year

✔

 (Combo plan and above)
Storage space
500MB – 35GB, depending on plan
Starting Price

$

16.00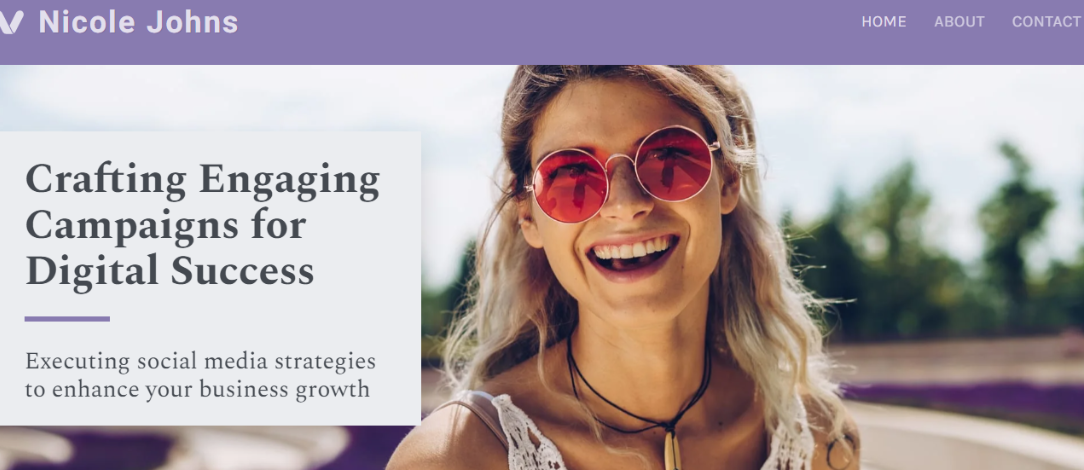 If you need a simple website, SITE123 is a hassle-free and budget-friendly option
. Though you won't get extensive customization options, SITE123's point-and-click editor is even more intuitive than Wix, as it's incredibly easy to rearrange your page layout and customize colors and fonts.
 SITE123 works particularly well if you need a single-page website, like a landing page or quick portfolio
. You just move all your content blocks to the homepage, and then SITE123 automatically adjusts your site navigation accordingly. SITE123 offers a free plan, but it's quite limited in terms of features and it doesn't let you connect a custom domain.
If you upgrade to the affordable Premium plan, you'll get a free domain for one year
, 3GB of bandwidth and storage, access to online store tools, and more.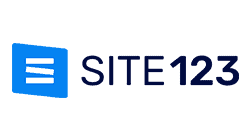 This Black Friday/Cyber Monday, SITE123 is 50 % OFF!
Save 50 % when you sign up for SITE123's annual plan
76 users used this coupon!
Features
Extensive app market. SITE123 offers many free and paid apps to enhance your website's functionality, such as photo galleries, live chat apps, marketing tools, and more.
Multilingual features. If you want to reach an international audience, SITE123 lets you display your site in up to five languages. Plus, you get built-in multilingual SEO features to help you rank higher on search engines in your chosen languages.
Custom form builder. The built-in form tool lets you choose from various layouts, customize fields, create auto-reply messages, and more.
Accessible support. SITE123 is very easy to use but if you get stuck, live chat support is available in English (24/7) plus 16 other languages (at various times).
Read our in-depth SITE123 review
for more features.
Templates
84
Free domain for one year

✔

 (on the paid plan)
Storage space
250MB – 3GB, depending on plan
Starting Price

$

12.80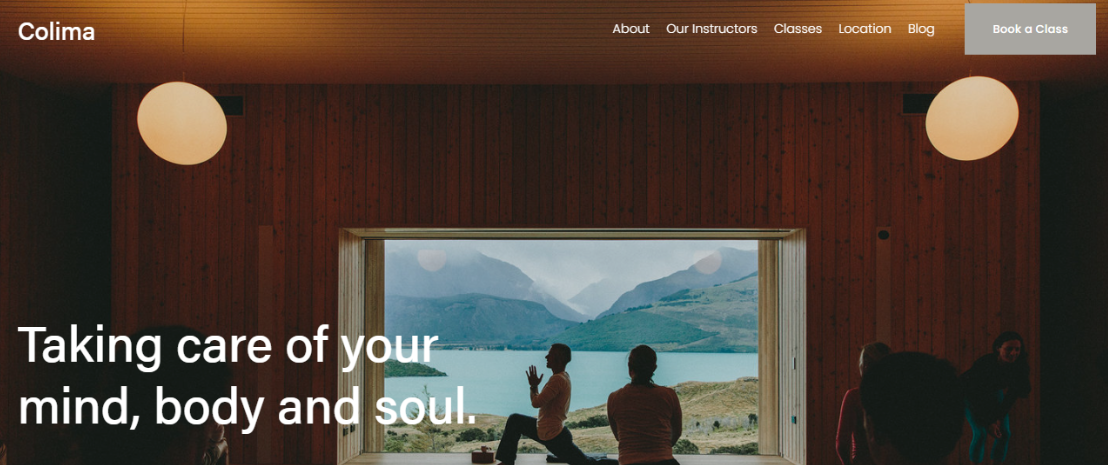 Squarespace has amazing, mobile-responsive templates with plenty of space for high-resolution images
, which makes it an excellent option for creatives. While it doesn't have nearly as many templates as Wix, you can easily customize them by adding elements such as sign-up forms and social media feeds.
Squarespace also offers built-in tools to help your content stand out
. There's an easy-to-use blog editor to share your story, and the Unfold app enhances your Instagram posts by letting you use custom templates, graphics, fonts, and more. Squarespace's cheapest paid plan includes premium features such as SSL security, unlimited storage for images, and SEO tools. However,
if you want more advanced functionality (without breaking the bank), the Business plan is worth considering
. You'll get a professional Google email address, promotional pop-ups, e-commerce tools, and more. You can use
Squarespace's 14-day free trial
 to test the platform risk-free.
Features
Squarespace Blueprint. This feature lets you choose pages, sections, colors, and fonts one at a time to build your own template. Plus, you get expert tips to guide you through the process.
Affordable Squarespace plugins. Squarespace Extensions has some useful integrations, such as a scheduling tool that lets your clients book appointments directly on your site. Also, with its email marketing add-on, you can create campaigns to keep your customers informed on the latest developments.
Free logo maker. Squarespace's completely free logo-making tool can help you build a brand and make your website more recognizable.
Powerful e-commerce. If you plan to sell online, Squarespace lets you create a fully-featured online store. You can offer discounts, get automatic tax calculation, sell on social media, and more.
Curious to learn more?
Read our expert Squarespace review
.
Templates
140+
Free domain for one year

✔

Storage space
Unlimited
Starting Price

$

16.00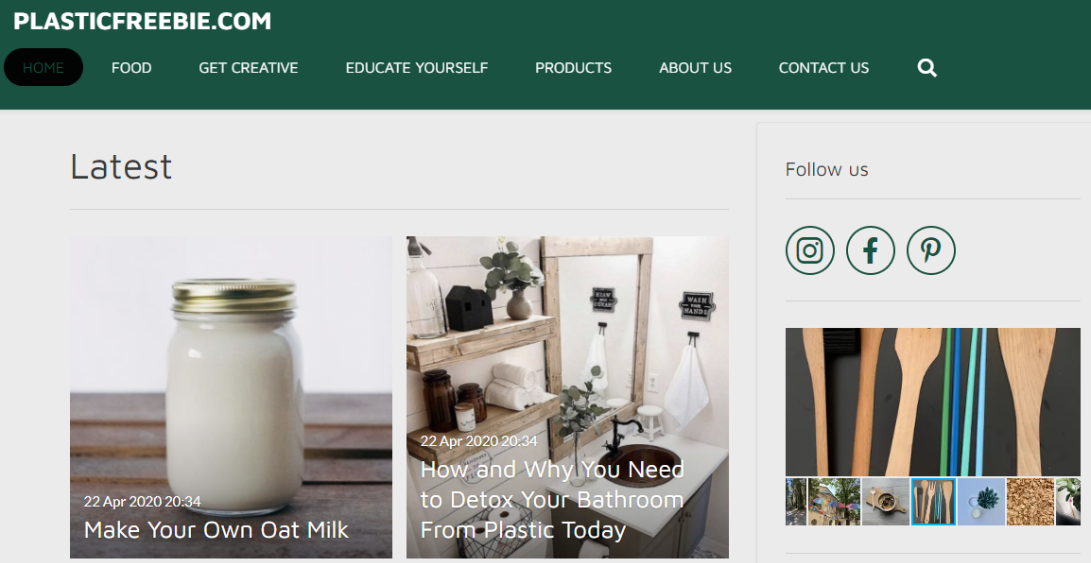 When I first tried out Webador, I was genuinely impressed by its user-friendly interface. The drag-and-drop functionality is intuitive, and
every element you place onto your page automatically snaps to a grid
. This limits your creative choices to a degree, but it ensures your layout stays clean and appealing. If you're interested in blogging,
Webador's blog editor is beginner-friendly and very flexible
. You'll find all the tools you need to organize your posts, integrate media like photo albums and videos, and engage your readers with comments and social media sharing. Webador's free plan includes blogging tools and unlimited storage, but you'll be stuck with the platform's subdomain. For a more comprehensive site, I'd recommend
upgrading to the affordable Pro and Business plans, which removes Webador branding and ads from your site
and gives you access to unlimited photo albums, custom forms, advanced reports, and more.
Features
Forever free domain name. Most website builders charge an extra fee for a custom domain after the first year but Webador includes the price of your domain name in your plan.
Free stock images. If you don't have your own images ready, Webador gives you free access to its library of over 100,000 professional stock photos to enhance your site.
Built-in media sharing tools. Webador offers handy widgets for media streaming, such as audio and video players. There's also a document-sharing system to keep all your content in one place.
Rating system and comments. Webador lets you add a five-star rating system and a comment box anywhere on your site (not just under blog posts), which makes it easy to encourage audience discussions.
Read our
in-depth Webador review
to learn more about the platform.
Templates
50+
Free domain for one year

✔

Storage space
Unlimited
Starting Price

$

4.00
Compared to other site builders on this list,
IONOS (formerly 1&1 IONOS) has a smaller template library, but all its designs are good-looking
and mobile-responsive. The degree of customization, however, depends on the plan you choose.
On the Starter plan, you'll get prebuilt page sections and color palettes, whereas the Plus and Pro plans provide a more flexible editor
that lets you add and rearrange elements to customize your layouts. The higher-tiered plans also include more advanced features, such as a booking tool for online appointments and an AI text generator (Beta version) to help you write copy for website sections quickly. IONOS has some of the most affordable pricing out there, and it's a good way to get online quickly while ensuring a professional look.
You can test all plans risk-free with a 30-day money-back guarantee.
Features
Built-in image editing. IONOS allows you to crop, resize, or add overlays to your images directly in its integrated photo editor. IONOS also provides automatic image optimization on all plans.
Competitor monitoring. This built-in tool allows you to track your competitors' social media and Google activity to keep up with the latest trends and learn how to make your business more successful.
Free business email. IONOS gives you a professional contact email for free on all plans. Your email address can match your domain, which looks professional and is useful for promoting your brand.
Performance checker. IONOS offers a handy performance-checking tool to give you an insight into your site's responsiveness, loading speed, and security.
Want to learn more? Read
our expert IONOS review
.
Templates
23
Free domain for 1 year

✔

Storage space
10 GB to unlimited, depending on plan
Starting Price

$

6.00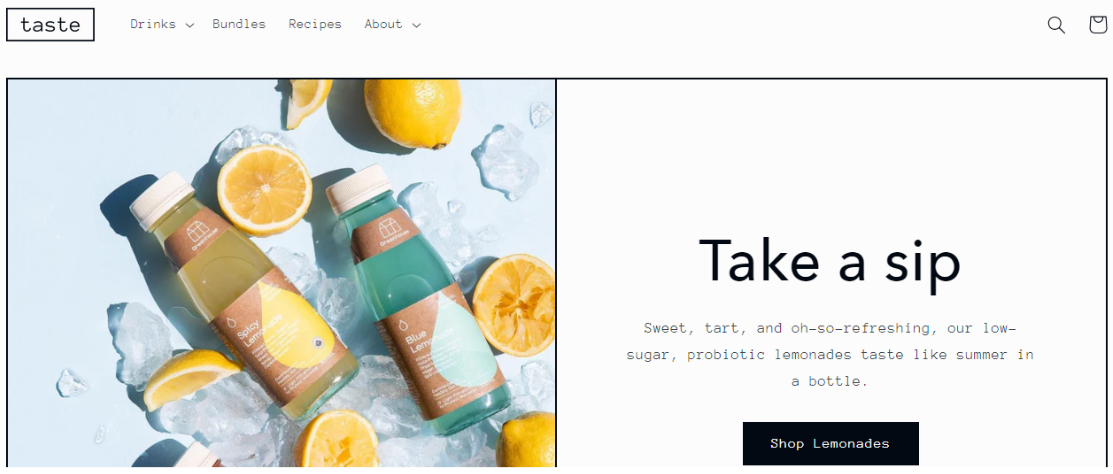 Whether you're selling vintage apparel or dog treats, Shopify's sheer variety and quality of themes will make any online store look good.
Though the best designs fall on the pricier side, even the free themes have handy features built in
, such as sticky headers for easy navigation and social media apps for connecting with your audience.
Shopify's simple and intuitive interface makes it easy to build and manage your store
, from adding products to setting up payment gateways. Even if you get stuck, there are in-app tutorials to help you get back on track. Additionally, Shopify enables a smooth shopping experience for your customers, with features like product filtering and customer login areas. Shopify structures its plans to cater to both budding entrepreneurs and established businesses.
Even the cheapest Shopify plan gives you access to advanced features such as unlimited products and abandoned cart recovery
. You can take the platform out for a test run using Shopify's free trial.
Features
Built-in payment tools. Shopify has a built-in point of sale (POS) tool to help you sync your physical and online stores. If you sign up for its proprietary payment solution, Shopify Payments, you won't have to pay transaction fees.
In-house email marketing. Shopify's native email marketing tool lets you send up to 10,000 monthly emails for free.
Abundance of third-party apps. Shopify's extensive app store has over 8,000 free and paid apps. You'll find integrations for invoices, loyalty programs, SEO, and much more.
Multi-channel selling. No matter the plan you pick, you can sell your products on different platforms, like Instagram, Amazon, Walmart, and others.
Find out more about Shopify in
our comprehensive review
.
Templates
140+
Free domain for 1 year

✔

Storage space
Unlimited
Starting Price

$

29.00
Other Notable Cheap Website Builders
If you're still undecided, here are a few more budget-friendly options to consider.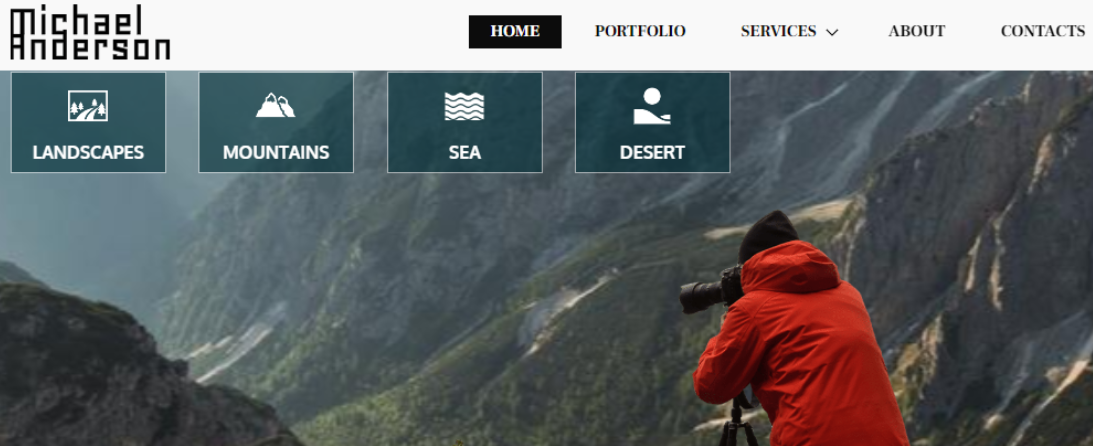 Web.com gives you plenty of creative control and a well-rounded set of content, branding, and e-commerce tools.
Intermediate designers looking to hone their skills will appreciate Web.com's versatility. Beginners, on the other hand, may struggle with a vast number of features and a somewhat confusing interface. And while Web.com is initially fairly cheap,
the prices become higher after the first billing cycle
. If you're looking for a long-term solution, the renewal fees are definitely a thing to keep in mind.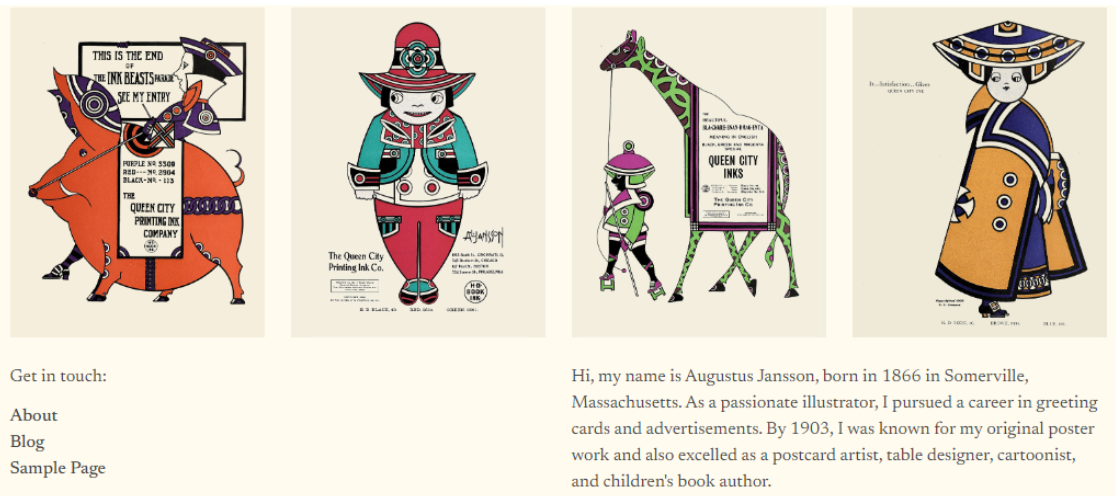 WordPress.com offers some of the best blogging features available
, while also giving you a lot of design freedom. That said, there's a learning curve for the platform, and different themes allow you to customize different elements so it's important to check before you make your final choice. WordPress.com's cheaper plans, Personal and Premium, give you everything you need to start your blog. However,
unlike Wix, access to plug-ins and other advanced features is only available on the more expensive plan
.

Duda is a powerful and flexible website builder with advanced design features.
It works particularly well for professional designers and agencies
, thanks to its strong set of client-oriented tools. Duda's feature-rich interface can be intimidating for newbies, so
I wouldn't recommend it unless you plan to invest some time and effort
. Also, compared to other website builders on this list, Duda's prices are slightly higher.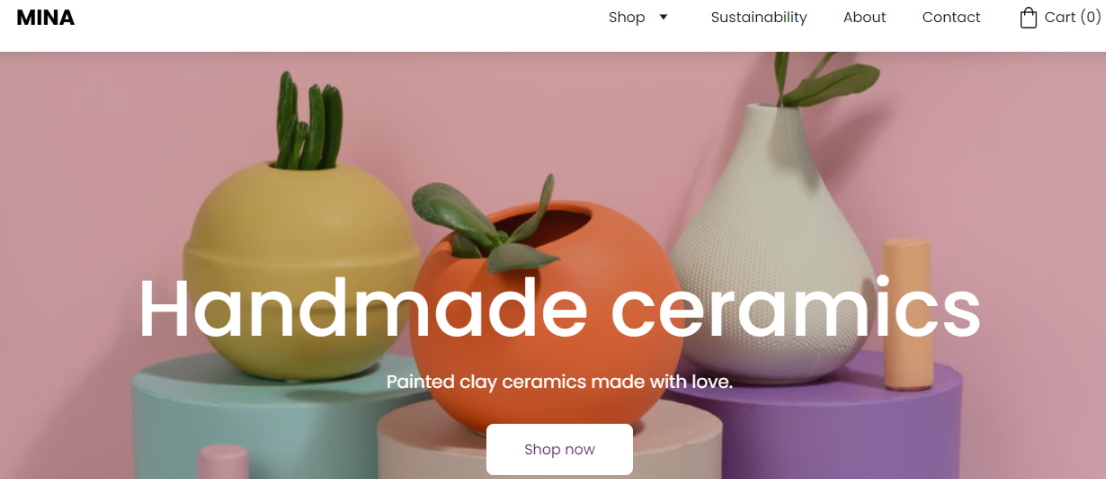 Hostinger Website Builder offers an intuitive drag-and-drop editor and
an effective set of AI tools to help you launch your website quickly
. It also has a solid set of e-commerce features, making it one of the cheapest solutions for online stores. That said, Hostinger's third-party integrations are somewhat limited compared to other similar platforms. Also,
there's no app market, so you can't do much to extend your site's functionality
.
The Best Cheap Website Builders Also Offer Great Value
When choosing a website builder, you shouldn't have to sacrifice good quality for the sake of affordability. With the options on this list, you won't have to sacrifice anything: you can have all the best features without having to blow your budget. But which is the best one for your needs? If you want a balance between ease of use and creative freedom,
Wix is my top recommendation
. Wix offers 900+ templates to choose from, which you can tweak as much as you like using its intuitive editor. On the other hand, if speed and simplicity are your top priorities,
SITE123 has what you need
. It's incredibly easy to use and an excellent choice for single-page websites. If you're looking for top-class designs and easy social content integration to help you build an audience,
Squarespace is a great option
. Squarespace also offers robust but affordable online store tools. If you're still unsure which solution to choose, here's a quick comparison of the different builders I tested.
Free Plan
Best Feature
Best For
Starting Price
Wix

✔

User-friendly platform with tons of customization options
A functional website with plenty of built-in and third-party functionality

$

16.00

SITE123

✔

Incredibly easy editor
Getting a simple website online fast

$

12.80

Squarespace

✘

Large library of professionally designed templates
Creatives focused on social media content

$

16.00

Webador

✔

Flexible blog editor
Engaging with your audience

$

4.00

IONOS

✘

Built-in business tools
Professional-looking sites on a budget

$

6.00

Shopify

✘

Extensive online store features
E-commerce businesses on a budget

$

29.00
FAQ
Are free website builders reliable?
Free website builders can be reliable for basic needs, but they often come with limitations like ads, fewer features, and restrictions on custom domains. They're a good place to start, but for long-term or professional projects, you might consider an upgrade. For instance, Wix is free to use but also has a range of affordable and feature-rich paid plans to suit different budgets and needs.
Can I set up an online store on a budget website builder?
Absolutely! For instance, Squarespace is an affordable option that offers fantastic e-commerce features, such as unlimited products, customer accounts, and multichannel selling. It's a great pick if you're watching your budget but don't want to skimp on quality.
What kind of customer support can I expect from budget website builders?
Generally, you can expect helpful tutorials and forums, as well as email and live chat support. For example, SITE123 has accessible and fast customer support, offering 24/7 live chat and email options, so you can reach out to them anytime.
Should I hire a designer to build a website for me?
Many web designers offer their services for a low price but the outcome may be different from what you imagined, and you might end up paying more in the long run. Opting for a highly customizable website builder like Wix allows you to build exactly the kind of website you want, without going over the budget.