It's 2023, and you should be able to create exactly the website you want without having to break the bank.
That's why I'm here. As a veteran website builder tester and bargain hunter,
I've compiled a list of budget-friendly builders that don't make you compromise.
These platforms are easy to use, and they provide all the essential features along with some valuable perks.
Short on Time? These Are the Best Cheap Website Builders in 2023:
Wix – Excellent value for money with an easy-to-use site editor and the best selection of templates
SITE123 – A beginner-friendly and budget-friendly builder that lets you get online fast
WordPress.com – The best option for bloggers, offering affordable, feature-rich plans
What We Look For in the Best Cheap Website Builders
Setting up a website for just a few dollars a month sounds like a pretty good deal, but price isn't everything. It's important to choose a platform that can actually do everything you need it to do. I've seen dirt-cheap website builders that seem enticing, but on closer inspection, they lack a lot of basic features. When creating this list,
I looked for the best cheap website builders that still provide everything you'll need.
 Here are some things I considered:
Good value: Most website builders have a free plan, but they only let you have a few pages on your site, or lock advanced features behind a paywall. The builders on this list provide a lot of features on the free or cheapest plans, to give you the best value for your money.
Easy to use: I've chosen website builders with simple, streamlined editors, so you'll be able to create your website easily, even if you've never built one before.
High-quality templates: A good website starts with a well-designed template that you can customize to meet your needs. I picked website builders with a large selection of beautiful templates/themes that give you lots of design flexibility.
Free apps and integrations: To create exactly the website you want, you might need apps or integrations to enhance your site's functionality. This can include event calendars, appointment bookings, marketing tools, and much more. I chose site builders that give you access to these tools – even on the free or cheapest plans.
Domain name deals: The website builders on this list give you a free custom domain name for your first year, even on the cheapest paid plans.
1. Wix – Excellent Value for Money with Easy-to-Use Editor
Wix is miles ahead of other website builders when it comes to good value. Even on
the free plan
, you get access to nearly every available feature. This means you can build a fully functional website without paying a penny. The Wix editor is a simple interface that's easy to work with – all you really need to do is drag and drop.
There are over 500 fully customizable, mobile-friendly templates to choose from
, so you end up with a site that looks exactly how you imagined it (or even better). You can change any color, font, or photo within your template, and add and arrange design elements in any combination.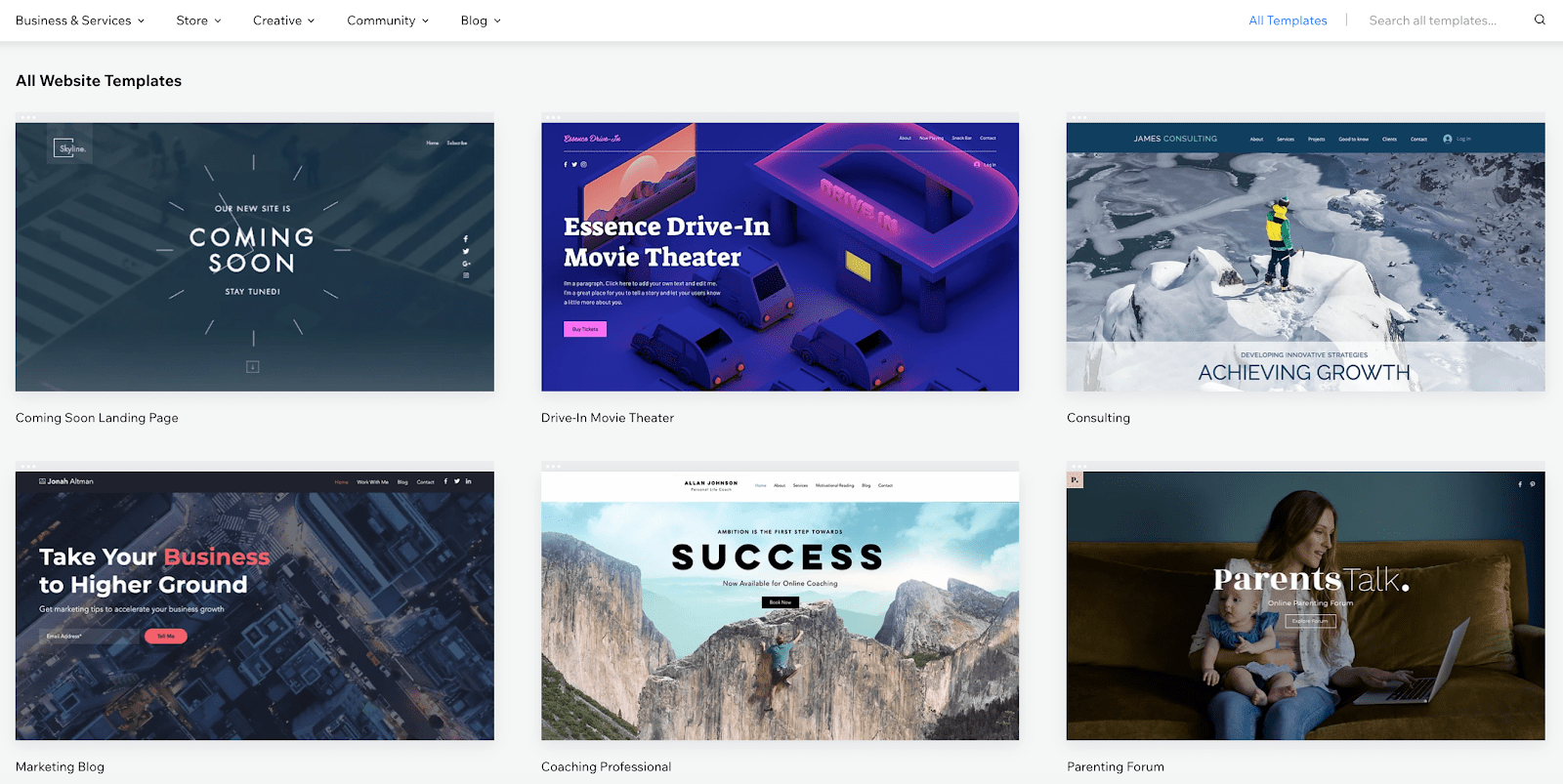 Wix doesn't just make your site look good – it can do just about anything you want it to. The blogging features are really robust, even on the cheapest plan, and
there are hundreds of apps you can use to enhance your site.
You can host videos and podcasts, create a members-only area, or even take restaurant reservations and online orders. These are just a few examples – it's always fun to browse the Wix App Market for new ideas. Many of the apps are free of charge.
You can read more about them in our expert Wix review
.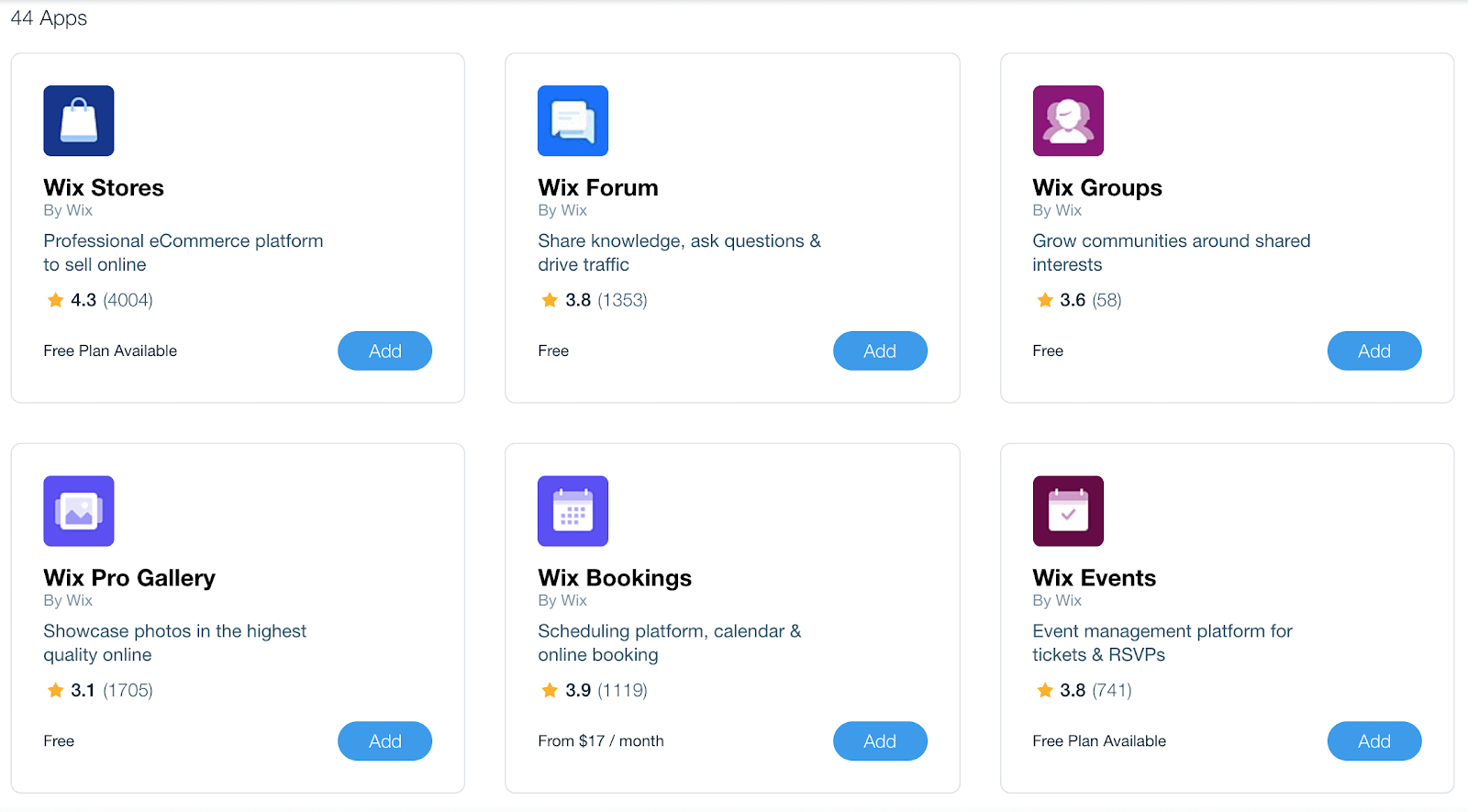 And there's more. Here are some of Wix's other great features:
Apps for contact forms, event bookings, maps, and more.
Wix ADI (Artificial Design Intelligence) is a step-by-step wizard that creates a website for you after you answer a few questions about your business.
Ascend Business Tools to create email campaigns, set marketing automations, and more. Ascend is a separate subscription, but the free version comes preinstalled and gives you quite a few options.
Smart tips to guide you through building your website.
You can access all of these features on
Wix's free plan
, but
you'll have to upgrade to connect a custom domain name.
 The cheapest plan isn't that different from the free plan, but along with the domain name, it gives you a bit more storage and an ad-free website. Wix is one of the best website builders out there, period. And part of what makes it so good is that its top features are affordable and accessible to you, even if you're on a budget.
Free domain name?
Yes, on all paid plans
Storage (free/lowest cost plan)
500MB/3GB
Price of cheapest plan

$

16.00
SITE123 is an excellent and affordable option if you need a simple website.
There are a ton of templates
 (around 200), and
the point-and-click editor makes it super easy to rearrange your page layout
. You can choose from premade content blocks to add content or additional features to your site. If you need a single-page website, like a landing page or quick portfolio, it's easy to do. You just move all your content blocks to the homepage, and then SITE123 automatically adjusts your site navigation accordingly.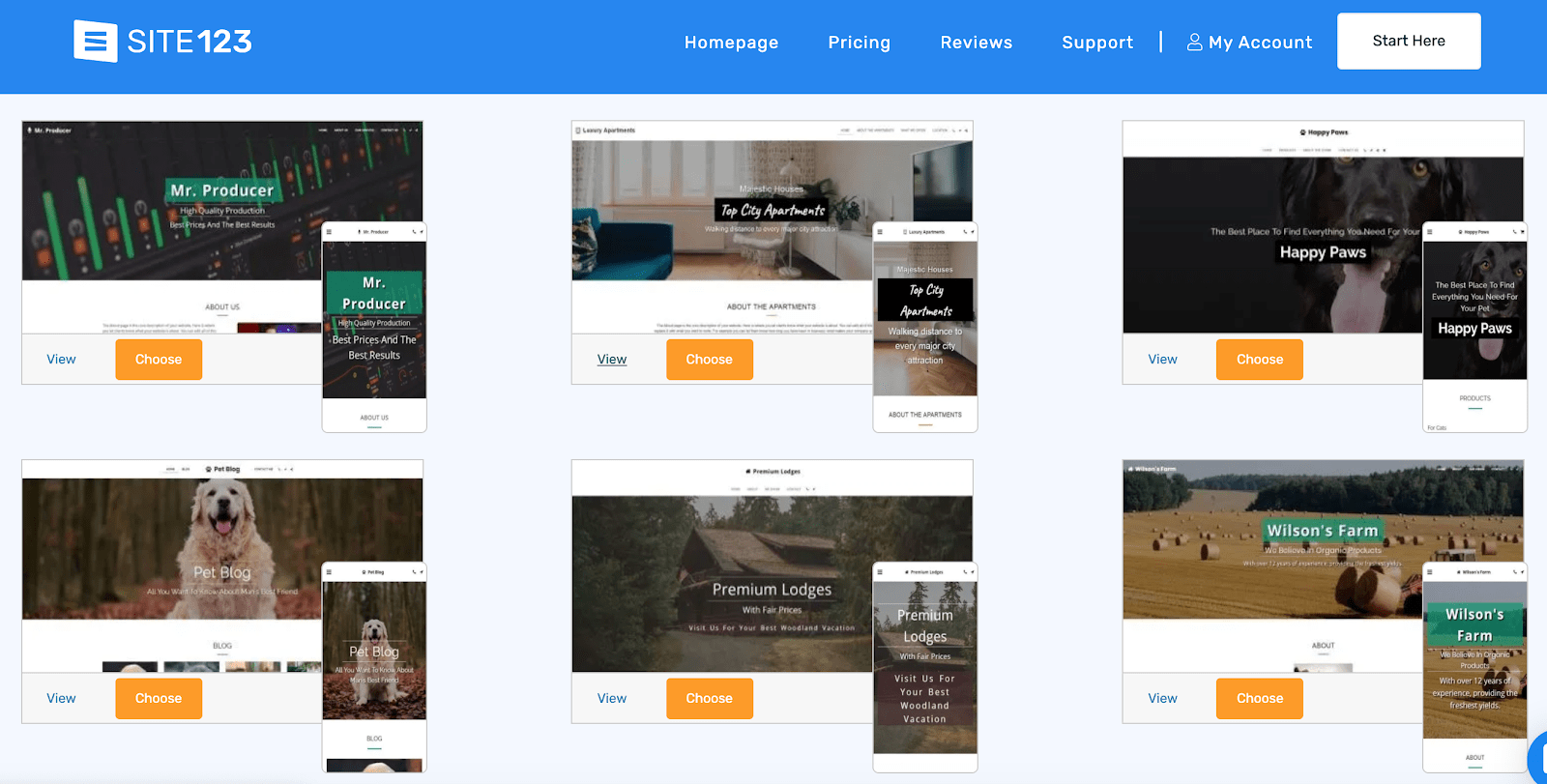 On
SITE123's free plan
, you won't be able to connect a domain, add apps, or access e-commerce features, and you'll have some SITE123 branding on your website.
With the cheapest paid plan, however, the branding goes away and you'll get a unique domain name. 
E-commerce features are also only available on the paid plans. Here are a few other things you get on SITE123's cheapest plan:
Access to the App Market for site analytics, marketing automations (like email campaigns and social media integrations), and other tools
A built-in newsletter tool that lets you send up to 100 mailing list messages per month
10GB of storage (instead of just 500MB on the free plan)
SITE123 isn't flashy, but it's affordable and reliable – it's more like a Honda Fit than a Ferrari. It's the best option if you want a beginner-friendly tool that can create a simple site that works well. Curious to learn more?
Check out our expert SITE123 review
.
Free domain name?
Yes, on all paid plans
Storage (free/lowest cost plan)
500MB/10GB
Price of cheapest plan

$

12.80
WordPress.com offers some of the best blogging features available, while also giving you a lot of site design options
. The cheaper plans, Personal and Premium, give you everything you need to start your blog. Just keep in mind that unlike with Wix, you'll have to upgrade to a more expensive plan to get access to plug-ins and other advanced features.
You'll find plenty of blog-oriented themes
 (the WordPress term for templates) that you can customize with the block editor. Different themes allow you to customize different elements, so it's important to check before you make your final choice. For example, some themes only allow you to choose specific color schemes or limit your font options.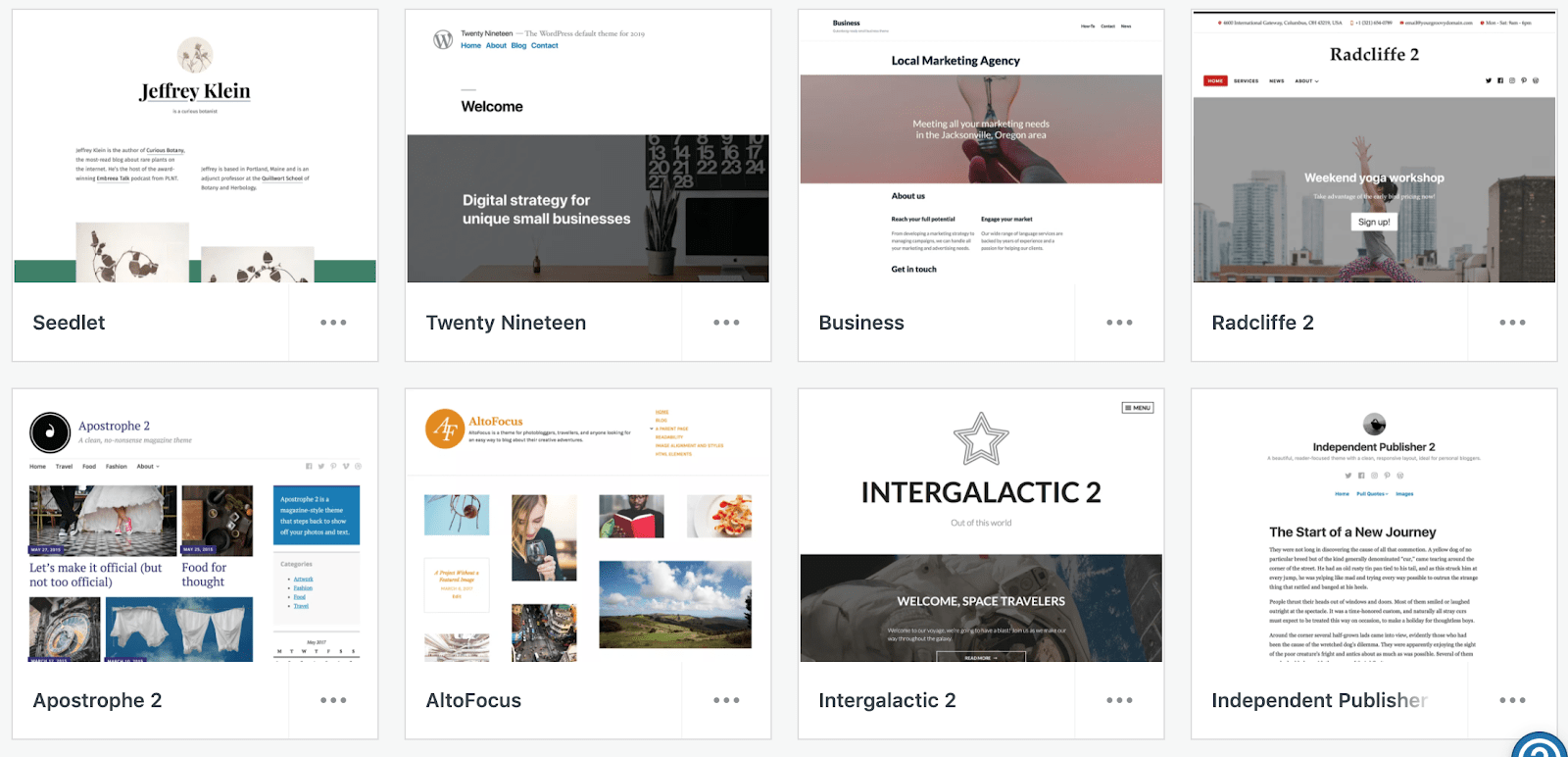 Since its origins are as a content management system, it makes sense that WordPress.com would have really strong blog management tools. There are many ways to tag, categorize, and bulk edit your blog posts, and
there are good built-in analytics tools to track your website's performance
.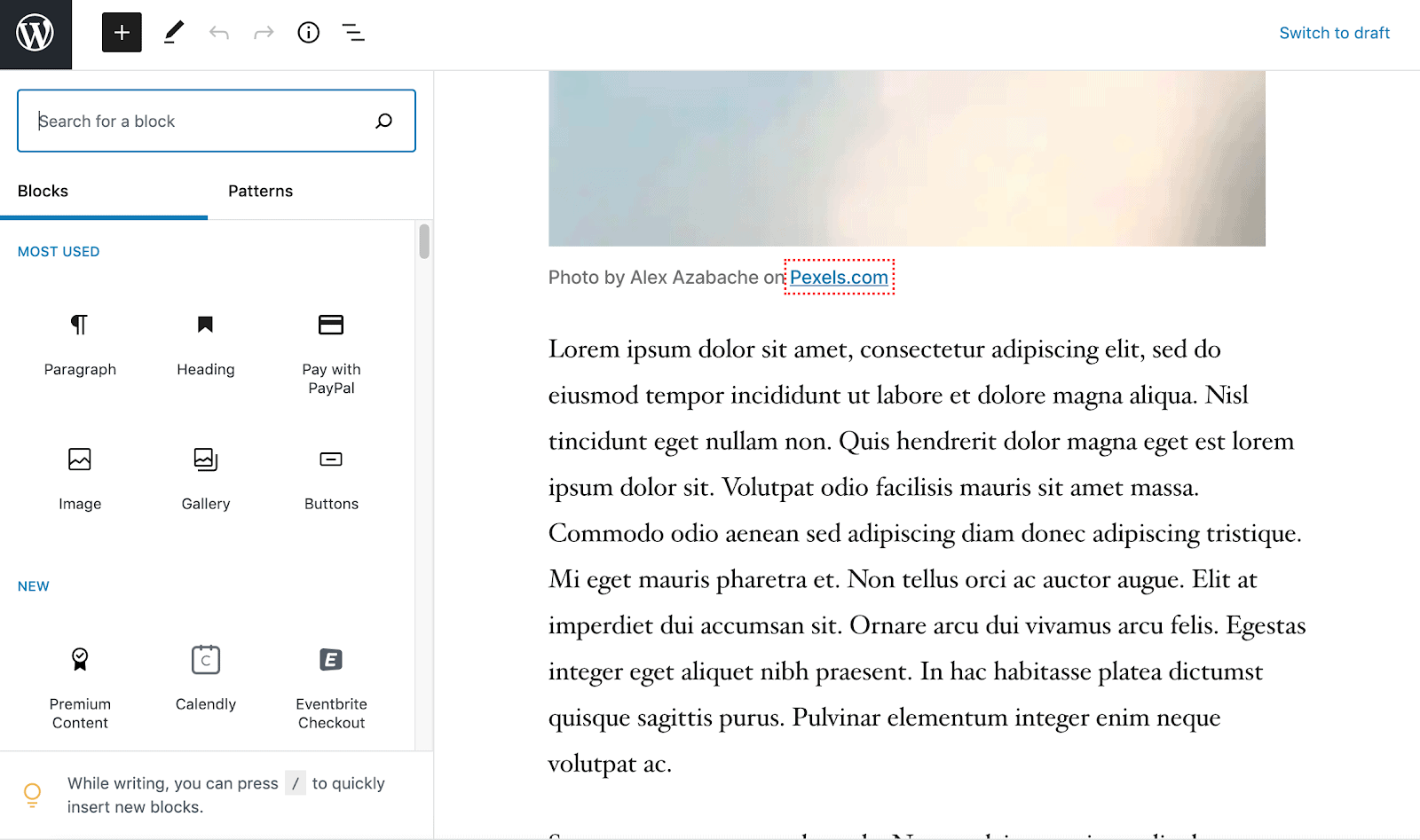 While
WordPress.com's free plan
 offers a generous amount of storage space, it gives you little more than the basic ability to publish content. Its lowest-tier plans provide some additional features for just a few extra dollars. Here's what you get on the Personal plan:
No WordPress.com branding on your site
Custom domain name
Ability to accept payments through Stripe
Option to create exclusive content for paid subscribers
6GB of storage
The Premium plan is a better option if you want to monetize your site. In addition to all of the above, you'll get:
More payment options
Access to premium themes and advanced design features
Integrations for Google Analytics and social media tools
The option to place ads on your site
13GB of storage
If you decide further down the road that you want to expand your site with plug-ins or use a third-party theme, it's easy to upgrade to one of the higher-tier plans. You can read more about what's available with each in our
expert WordPress review
.
Free domain name?
Yes, on all paid plans
Storage (free/lowest cost plan)
3GB/6GB
Price of cheapest plan

$

45.00
Weebly is the only website builder on this list that offers complete e-commerce features on the free plan 
(depending on your location). Although Weebly hasn't quite made a name for itself as a dedicated e-commerce builder, it's one of my favorites for online store management.
It provides a streamlined interface for online store newbies, while offering advanced product management features
 like inventory tracking, product variants, and automatic tax calculation. The Weebly editor itself is really easy to use. There are some excellent themes to get started with, and then you can use premade content layouts to create the exact look you want. You can further customize these layouts by toggling certain elements (like buttons or images) on and off.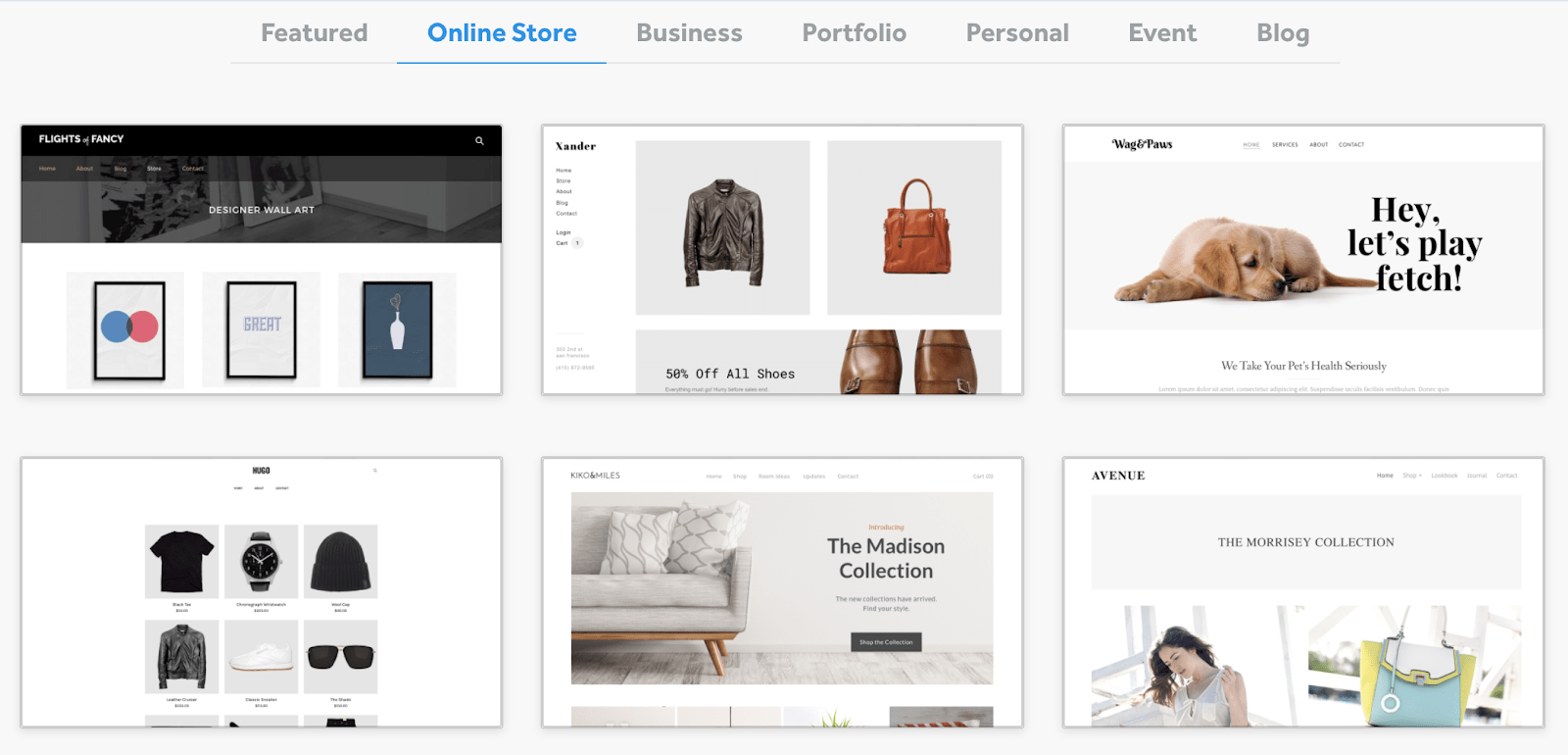 Three key differences distinguish Weebly's free plan from its cheapest paid plan: With an upgrade, you gain the capability to utilize a custom domain, sell digital goods, and generate marketing pop-ups. Here are additional features you can access on either the free or low-cost plan:
List and sell unlimited items
Synchronize online and brick-and-mortar store inventory
Provide coupons or Square gift cards
It's important to note that since Weebly was acquired by Square,
Weebly actually has two different website builders.
 One is the e-commerce version, which has excellent store features but no built-in blog – the only way to add a blog is via an RSS feed. The classic Weebly builder has both a blog
and
an online store, but in my opinion, it isn't as good of a tool as the e-commerce builder. You can read more about the differences between these builders in my
in-depth Weebly review
.
Free domain name?
On the Professional plan and up
Storage (free/lowest cost plan)
Unlimited
Price of cheapest plan

$

6.00
5. Zyro – A Cheap Website Builder That Regularly Adds Features
When I first tested Zyro, it had very few features to brag about – it easily would have been one of those builders that promises a lot for a low price, and then fails to deliver. Since then, however, it's rolled out blogging features, e-commerce options, and more templates than were previously available.
This makes it a much stronger website builder than it used to be, while keeping prices low compared to the competition.
The most impressive recent upgrade is
Zyro's new template library
. There are now far more high-quality templates, and the options cover many different website objectives and industries. This change indicates to me that
Zyro is genuinely committed to consistently improving its website builder
, and I'm excited to see what comes next.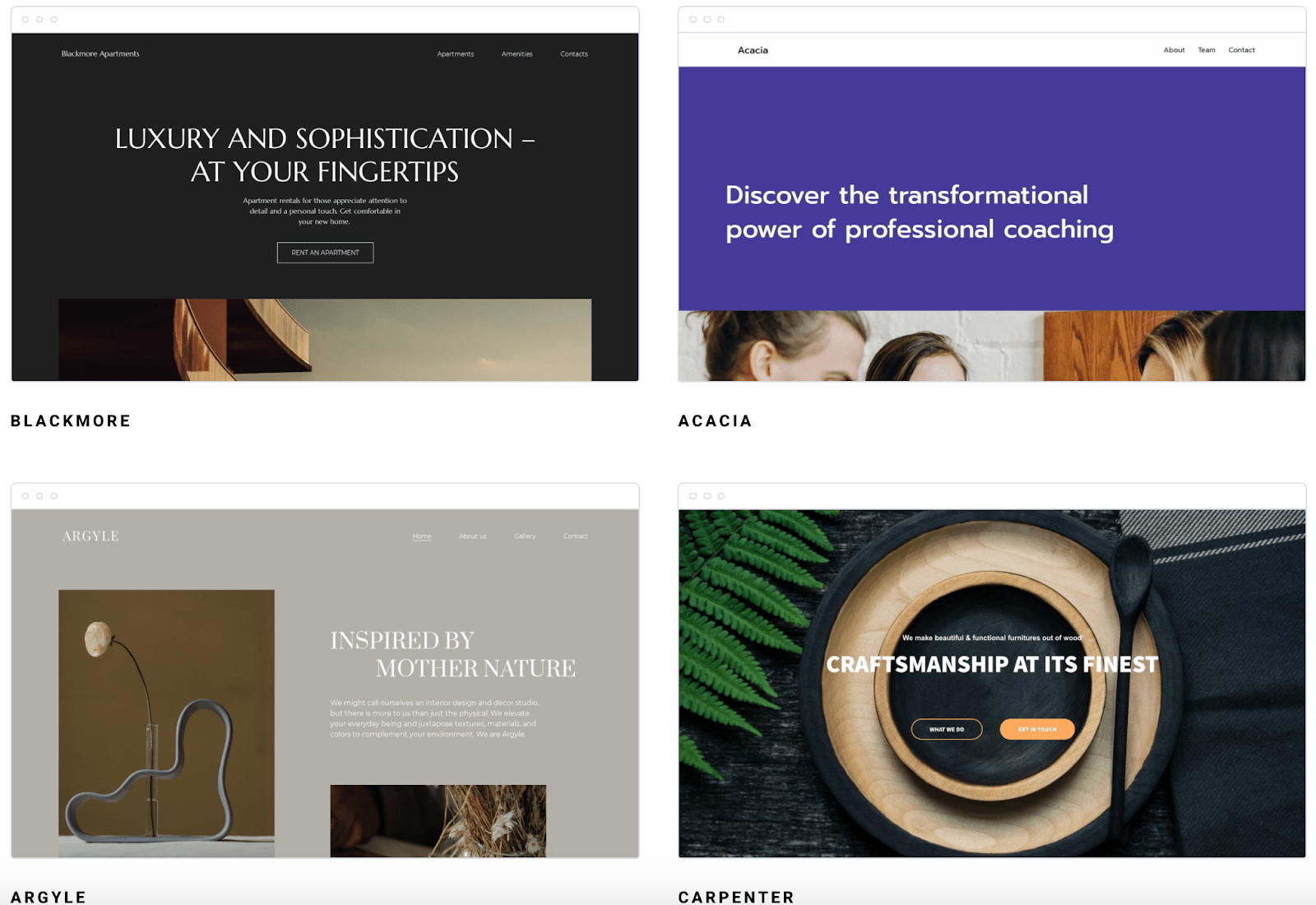 You won't get a free domain name on Zyro's cheapest plan, but the affordable Unleashed plan provides this perk, plus unlimited storage and a series of useful marketing integrations. If you want to build an online shop, you'll need to upgrade to one of the e-commerce plans. You can read more about
Zyro's e-commerce offerings in our expert review
.
Free domain name?
On the Unleashed plan and up
Storage (free/lowest cost plan)
500MB/1GB
Price of cheapest plan

$

2.61
6. Webnode – Cheap, Quality Builder for Smaller Websites
Webnode has over 100 templates, some of which are stunning and some of which look a little outdated.
 Color and font customization options are tied to each template, with preselected "complementary colors" you can apply to your navigation menus, buttons, and other elements.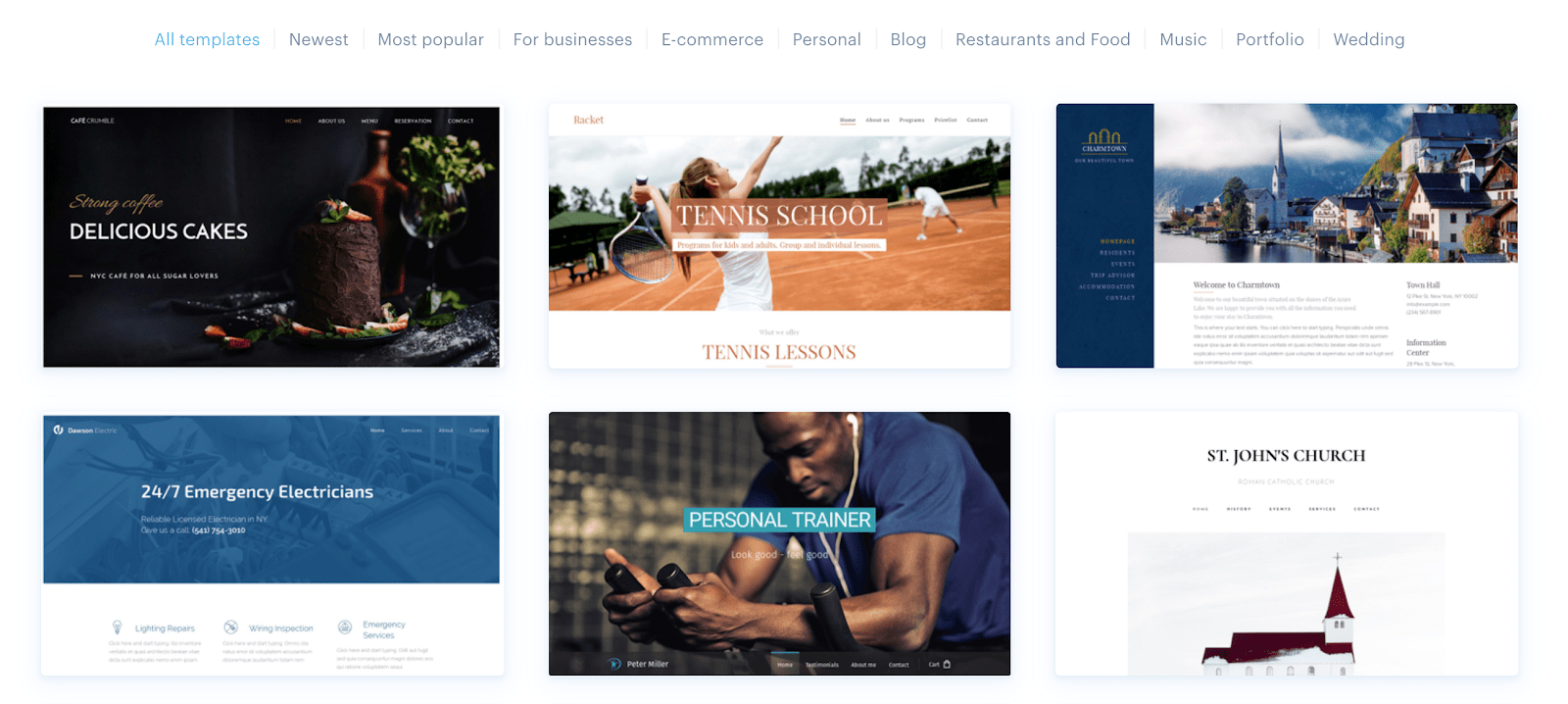 Webnode provides the essential features you need to build a fully functional website,
 but you won't find any unique extras. You can build any type of page by choosing from a small but thorough selection of content blocks in the block editor. If you're creating a blog, you'll be able to categorize your posts and update the SEO settings for individual posts. If you use Webnode to build an online store, you can add product categories and variants, track orders and inventory, and add promotions or discounts.
You can test the e-commerce tools on the free plan, but you won't be able to publish your store unless you upgrade to a Standard plan or higher. 
Webnode's cheapest plan is called Limited, and for a reason: You can do little more than create a simple website and connect your own domain. You only get 100MB of storage on this plan, which is sufficient for many smaller sites and blogs, but wouldn't work for larger or image-heavy sites (such as photography websites). On the Mini plan, you get a free domain name, more storage, unlimited site statistics, and full access to the custom form builder. Multi-language support starts on the Standard plan.
All of these plans are really affordable and they let you build a good-quality website without sacrificing any essential features,
but due to the storage limitations, Webnode is best for sites that start small and stay small.
You can read more about what each plan offers in our expert Webnode review
.
Free domain name?
On the Mini plan and up
Storage (free/lowest cost plan)
X/100MB
Price of cheapest plan

$

3.90
Which Cheap Website Builder Is the Best Choice for You?
You shouldn't have to sacrifice good quality for the sake of affordability when it comes to choosing a website builder.
 With the options on this list, you won't have to sacrifice anything: you can have all the best features without having to blow your budget. But which is the best one for your needs?
Wix is my top pick
 for you if you're looking for a low-cost, quality website builder that comes with every feature you could possibly imagine.
If your priority is blogging, try WordPress.com.
 You can easily get started for free. If you're thinking of selling products online,
Weebly is the cheapest way to get a fully functional online store
. And if you're looking for something specific that you don't see listed here, it's worth checking out
our list of the top website builders
. You'll find that most of them come with a reasonable entry-level plan.
| | | |
| --- | --- | --- |
| Website Builder | Top Features | |
| Wix | Most advanced website builder features on a cheap plan, with hundreds of templates and integrations | |
| SITE123 | Simple and reliable, ideal for one-page websites | |
| WordPress.com | Strong blogging tools and a robust block editor | |
| Weebly | Easy-to-manage dashboard with a full variety of e-commerce functions | |
| Zyro | Extremely low prices with upgraded templates | |
| Webnode | SEO-friendly and support for multiple languages | |
FAQ
What is the cheapest website builder?
Many website builders offer free plans, which can be a great way to get started. But if you need more than what a free plan can offer, Zyro is the cheapest website builder on this list, with several plan options for under $10 per month. Before you make any final decisions, don't miss our frequently updated website builder coupon page to see which builders are offering the best deals right now.
What is the best free website builder?
Out of all the website builders I've tested, Wix has the best free plan. It gives you full access to hundreds of templates, advanced design options, and the Wix App Market. Just keep in mind that as long as you're on the free plan, your website will have Wix branding and you won't be able to connect a custom domain. For more options, check out our list of the best free website builders.
How much does it cost to build a simple website?
It doesn't have to cost anything at all if you use a builder like Wix, SITE123, or Weebly, that all have fully functional free versions. If you want to be able to connect your own domain to your site, you can look into cheaper paid options, like Zyro or WordPress.com, that let you build a simple website for under $5 a month.
What is the easiest website builder to use?
If you need a website builder that's easy to use and affordable, I recommend Wix or SITE123. On Wix, you drag and drop elements anywhere you want on the page and enjoy design flexibility. SITE123 is a little simpler, as it provides a preset grid for arranging your content blocks, but it limits your design options, while Wix does not. I covered ease of use and other points of comparison in my ranking of the best website builders for 2020 – check it out to learn more.