While all the builders on my list will get the job done, my personal favorite is Squarespace. It has the best-looking templates around, and all the tools you could possibly need to build your website, integrated straight into its editor (so you don't have to look for them elsewhere). You can take advantage of
Squarespace's 30% discount on annual plans
to save on your subscription.
While many website builders claim to have what it takes to build a great affiliate marketing site, some of them can't provide what your site needs to rank high in search results. Sure, you want a website that's easy to update and maintain.
But when traffic means everything, you don't want to waste your time building your site only to find out that your builder doesn't have basic SEO-boosting capabilities.
Some builders don't even let you customize your URLs, meta titles, and alt tags. I tested the most popular website builders on the market to find the best ones for affiliate marketing sites. Read on to see which one is the best choice for you.
What We Look For in the Best Website Builders for Affiliate Marketing
My Website Planet colleagues and I have tested and reviewed the
best website builders on the market
. In this article, I'm only listing the ones that offer:
Built-in SEO and marketing features: These features will help you get found on Google, increase traffic to your site, and build a larger audience.
Design that works with your content: These builders allow you to customize templates according to your needs, so your website can be both visually appealing and user-friendly.
Easy-to-use editors: As you gain more affiliate deals, you'll want to spend your time adding more content to your site, not figuring out how to use your site builder's features. These builders are all easy to learn and simple to use.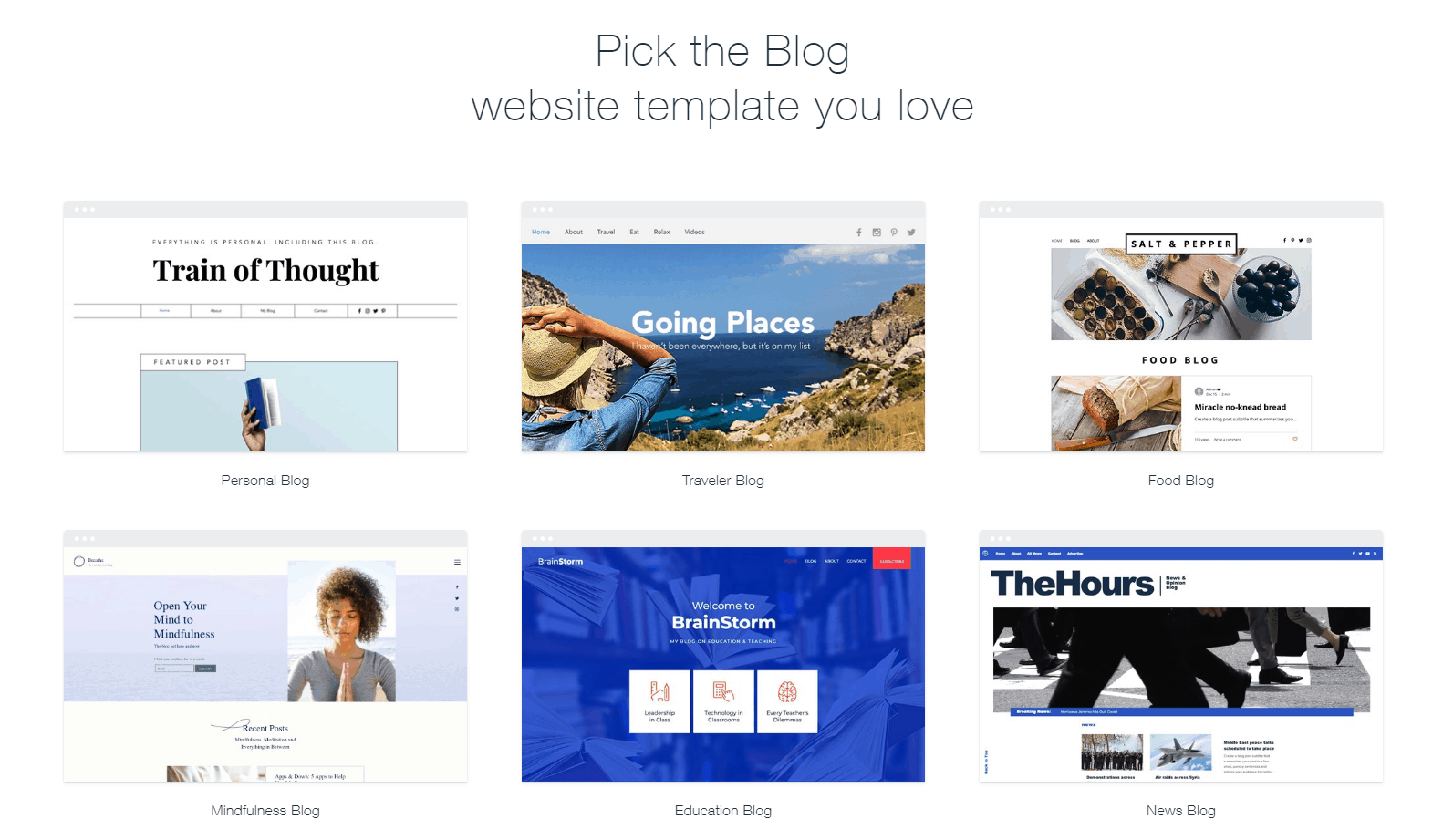 Wix offers a selection of over 900 templates to choose from. While there is no "Affiliate Marketing" category in the template library, you can start with any template that's related to your industry or just appeals to you, and customize it however you like.
Personalized SEO plan: Wix SEO Wiz generates a personalized SEO plan for you, so you can see exactly which edits will help your site rank higher on SERPs. You can also analyze your keywords, index your site on Google, and get SEO tips and tricks from the handy guides.
Big selection of apps: With over 250 apps, the Wix App Market provides lots of tools to enhance your site and grow your audience. The Site Booster app helps your website rank on popular search engines, Web-Stat gathers data about your site visitors, and Price Table lets you display side-by-side pricing for different products or services.
Wix Velo (formerly known as Corvid): If you're not one to shy away from coding, then Wix Velo will give you endless possibilities. You can build apps for your site, add databases and dynamic pages, and much more.
To learn what other useful features the platform offers, read our
expert Wix review
. If you're just starting out in affiliate marketing,
Wix's free plan
 could be a good option. As your site grows, I would recommend upgrading to a paid plan so you can connect your own domain name and remove the Wix branding.
| | |
| --- | --- |
| Free plan? | Yes |
| Bandwidth and storage? | Basic paid plan provides 2 GB bandwidth and 3 GB storage |
| Free domain name? | Yes, for 1 year with all paid plans |
Squarespace offers excellent e-commerce features. As an affiliate marketer, you're not outright selling products or services of your own, but this distinction is still an advantage, since some of these features are designed to increase conversion rates.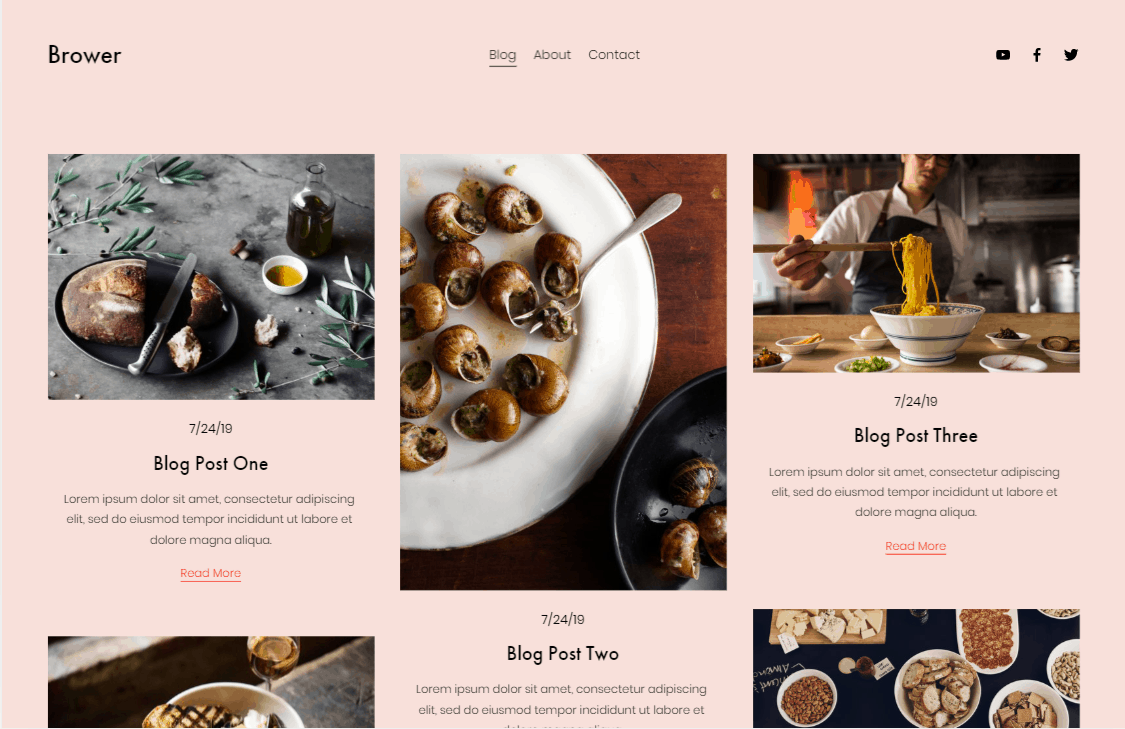 Squarespace Brower blog template
Squarespace offers built-in SEO tools such as automatic XML sitemaps, indexed URLs, and the ability to manually control any page's meta title and description. It also provides you with a useful SEO checklist, to help you make sure you have all your bases covered.
With a Squarespace blog, you can push content to your social media pages.
You can also enable a comments section, so users can leave questions or reviews of their own.
Here are a few key features that Squarespace offers:
Mobile-responsive templates: All of Squarespace's templates are mobile-responsive, so your site will automatically adjust to any screen size.
Easy site-wide changes: In the site editor, you can change the look of a specific feature used on multiple pages (like the spacing of content) and it will automatically update across your site.
Advanced image formatting: Don't worry about fiddling around with photo sizing. When you upload an image to Squarespace, it automatically generates seven variations based on size so that the photo looks good on any device.
One of Squarespace's strongest features is its variety of professional templates.
I know that it's not all about looks, but these templates are so visually appealing that they automatically show the products or services you're promoting in their best light. Want to know more? Read our
in-depth Squarespace review
 for more details.
| | |
| --- | --- |
| Free plan? | No, but there is a 14-day free trial |
| Bandwidth and storage? | Unlimited on all plans |
| Free domain name? | Yes, for 1 year with each plan |
SITE123 gives you all the SEO basics you need to improve your website's ranking, but it also has a unique feature to help you get more traffic and sales. With any of the paid plans,
SITE123 lets you manage a multilingual site,
using either machine or manual translations, so you can reach an international audience.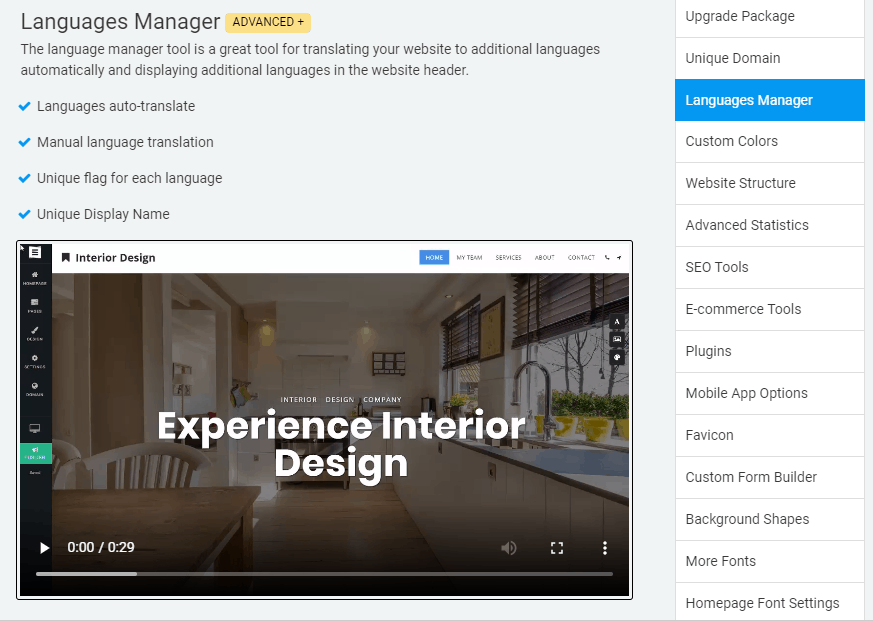 SITE123 also has fantastic 24/7 customer support via live chat. Out of all the website builders I tested, SITE123's support team was the easiest to get in touch with. Some of SITE123's other great features include:
Lots of apps and plugins: SITE123's App Market provides many different tools you might find helpful to boost your website. There are a lot of Google apps, so you can easily connect your Google Analytics, Adsense, and Remarketing Tag accounts to your site.
301 Redirect Tool: This tells search engines that your website is at a new location with a different design, so if you're switching to SITE123 from a different platform, you can keep all your previous site's SEO performance.
Email marketing: SITE123's built-in, easy-to-use platform allows you to email your subscribers announcements when you release new product reviews or blog posts, and get insights on how your emails are performing.
Social media integrations: SITE123 allows you to choose from 25 different social apps to add to your website, so your users can instantly engage with you and share your content on multiple channels.
SITE123's free plan
 has considerable limitations when it comes to customization. All the templates are free and mobile-responsive, but they're not entirely customizable unless you upgrade to a paid plan. Find out other pros and cons in our
expert SITE123 review
.
| | |
| --- | --- |
| Free plan? | Yes, though limited |
| Bandwidth and storage? | Basic paid plan includes 5 GB bandwidth and 10 GB storage |
| Free domain name? | Yes, 1 year with all paid plans |
WordPress.com is a combination of a CMS and a website builder, and that has its own pros and cons.
Using WordPress isn't necessarily difficult; however, it doesn't have a drag-and-drop editor like Wix or Squarespace.
It takes a little longer to learn how to use. What you get in return is an incredibly powerful website builder.
There's not much that you can't do with WordPress.com.
For instance, you can use the built-in social sharing tools to add buttons to your pages so your audience can promote your content on their social media accounts. There are also settings that allow you to connect your site to your own social media accounts, so your new content will post there automatically. If you upgrade to the Business plan, you get access to tons of plugins to add extra functionality to your site, including advanced SEO and marketing tools. Let's take a closer look at some of WordPress.com's features:
Advanced themes: WordPress.com offers hundreds of great customizable themes. The Business plan allows you to install themes from third-party marketplaces (my personal favorites are ThemeForest and Template Monster).
Site analytics: Your Stats page provides you with detailed information about your site's performance, from popular articles to traffic sources, so you can understand your target audience better.
WordPress offers a variety of plans, ranging from the Free plan to the pricey eCommerce plan. If you're just starting a blog or small website, the Free plan or the Personal plan might have everything you need. The Personal plan gives you up to 6 GB of media storage, a free custom domain for one year, and no ads.
But if you want to build a larger affiliate marketing site with third-party plugins and more monetization abilities, I highly recommend upgrading to the Premium or Business plan.
Check out our
in-depth WordPress.com review
 to learn how to get the most out of this platform.
| | |
| --- | --- |
| Free plan? | Yes |
| Bandwidth and storage? | Unlimited bandwidth with every plan, basic paid plan has 6 GB storage |
| Free domain name? | Yes, 1 year with all paid plans |
With Weebly,
you can have a website up and running in minutes.
While the simplicity is nice, it comes with a catch. Weebly uses a drag-and-drop editor and has a small selection of great themes. If you want to keep your site small, it might be enough for your needs. However, if you're looking for more customization options or you need a website that can grow with your business, there are better options.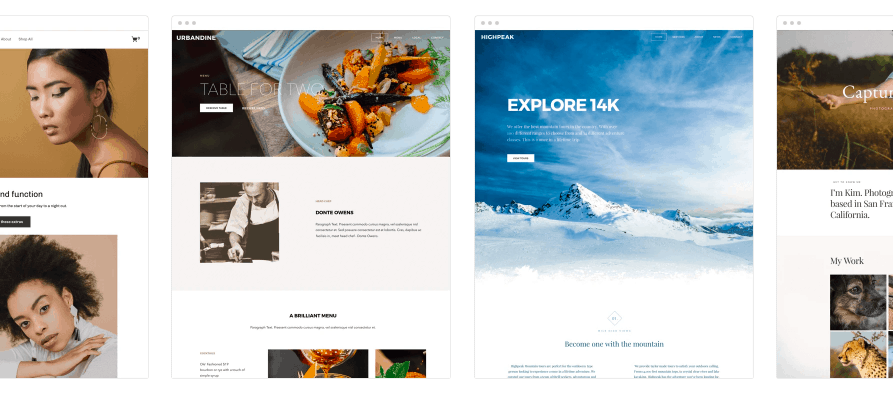 Let's dive deeper into the features that make Weebly stand out:
Good basic SEO options: You can optimize every page of your website for SEO. Weebly comes loaded with standard SEO features like the ability to edit meta titles and descriptions, add alt text, and customize URLs. There's a useful SEO checklist to ensure your website gets off to a good start, and you can even head to the Weebly App Center to download more advanced SEO apps like Site Booster or Positionly.
Site analytics: Despite its relatively basic features, Weebly offers one of the best built-in site stats features of all website builders. With the Weebly mobile app, you can even track your site's performance on the go and make crucial decisions in real-time.
While you can also edit some of the code on the themes to customize certain aspects of your site, the capabilities are not as robust as other website builders on this list. Learn more in our
full Weebly review
.
| | |
| --- | --- |
| Free plan? | Yes, though limited |
| Bandwidth and storage? | Unlimited on the Pro plan |
| Free domain name? | Yes, with Professional plan and up |
Building an Affiliate Marketing Website Shouldn't Be Complicated
Each website builder on this list has its own unique strengths that can work for your affiliate marketing website, depending on your business's particular needs.
If you want a personalized SEO strategy and the freedom to completely customize your template, try Wix. If you have some coding skills, you'll love the extra freedom Wix Velo can give you.
If you want a wide variety of built-in SEO tools and the ability to make site-wide layout changes, check out Squarespace. The professional, mobile-responsive templates will show your products in their best light.
Whether you want to build an affiliate marketing site that will help you quit your day job, or just make some extra money on the side, you'll want to pick the right builder. This table gives you a brief summary of the platforms I reviewed so that you can choose the right one for your needs.
| | | |
| --- | --- | --- |
|   | Customization options | Ease of Use |
| Wix | Customizable templates and a lot of freedom with Wix Velo | Quick setup and easy drag-and-drop editor |
| Squarespace |  Ability to customize templates within designated layout | Easy if you're semi-familiar with drag-and-drop editors |
| SITE123 | Somewhat customizable, but doesn't allow for custom code | Painless to navigate, great for beginners |
| WordPress.com | The sky's the limit | A little more difficult, but well-worth learning |
| Weebly | Simple customization options for templates | Highly intuitive drag-and-drop editor |
FAQ
How do I start an affiliate marketing website?
Once you've chosen your niche, done plenty of research, and selected a website builder for affiliate marketing (and ensured you've taken advantage of any current deals or coupons), the next crucial step is actually creating your website. Here are a few steps to think about when starting your affiliate marketing site:
Choose a domain name that makes sense for the items or services you're promoting. Clients who land on your page should be able to tell right away what sort of items or services they'll find on your site just by the domain name and website title.
Implement a strong SEO strategy. The most important thing for an affiliate marketer is to get found on search engines. That's why building a winning SEO strategy from the beginning is paramount to your website's success.
Study your audience and visitors. It's important to know who specifically you're targeting in order to tailor your content and SEO strategy to your intended audience. It's also important to try and preempt your audience's wants and needs as this will give you a good overall direction on how to build your website.
Does Wix allow affiliate marketing?
Wix does allow you to build an affiliate marketing website. If you're new to building websites and you're looking for something easy to get started, Wix is a great option. Additionally, if you're looking to create a blog-based affiliate website, Wix is definitely easier to use than its competition and gives you a lot of freedom over the design and structure of your blog. Learn more about the platform in our in-depth Wix review. You should also check out the latest Wix coupons – updated daily!
Is WordPress good for affiliate marketing?
Yes! WordPress.com is one of the best options for creating an affiliate marketing website. While it is a little bit more complicated to use than other website builders, it is well worth learning. One of the reasons WordPress is great for affiliate marketing is the selection of affiliate plugins you'll have access to with their Business Plan, such as ThirstyAffiliates or Pretty Links. While these are third-party apps, it's very helpful to have a WordPress plugin to have everything in one place. However, it is important to note that WordPress.com emphasizes that your website should primarily be focused on producing original content and affiliate links should be added more as a compliment to your content rather than the focus. WordPress.com also doesn't allow you to add affiliate links for things like gambling or MLM programs, so if either of these are your focal topics, you may want to look at other recommended website builders. If you do decide that WordPress.com is right for you, make sure you get the very best deal.