While all the builders on my list will get the job done, my personal favorite is Squarespace. It has the best-looking templates around, and all the tools you could possibly need to build your website, integrated straight into its editor (so you don't have to look for them elsewhere). You can take advantage of
Squarespace's 30% discount on annual plans
 to save on your subscription.
There are dozens of website builders out there, but not all of them can give you what you need to put the spotlight on your talent. Some builders can be time-consuming and complicated to use, while others are intuitive and user-friendly. Some let you upload unlimited audio and video clips, while others charge you a premium for storage space. And
if you pick the wrong builder, it can end up costing you a lot of time and money
.
I've tested all the top website builders to see which ones have what it takes to build a professional-quality site
that can capture the attention of casting directors and devoted fans alike. Read on for my recommendations.
What We Look For in the Best Website Builders for Actors
My Website Planet colleagues and I have
tested and reviewed dozens of website builders
to see which ones offer everything you need to showcase your personality and talent. Here are some of the key features we look for:
Ease of use: Given the nature of the performing arts, time is a valuable commodity. These builders let you quickly and easily build an impressive website.
Professional-quality templates: You want your site to stand out in the crowd, and it's easy to do that with a builder that offers a decent selection of templates and customizable settings.
Room to grow: When you become the next big thing, you might need to scale up your website. Premium plans give you extra storage space and bandwidth for images, video streams, and interactive features.
Responsiveness: A mobile-friendly site is a must-have in show business. If you want to make a memorable impression, your site needs to look and feel the part on mobile phones, tablets, and desktop PCs.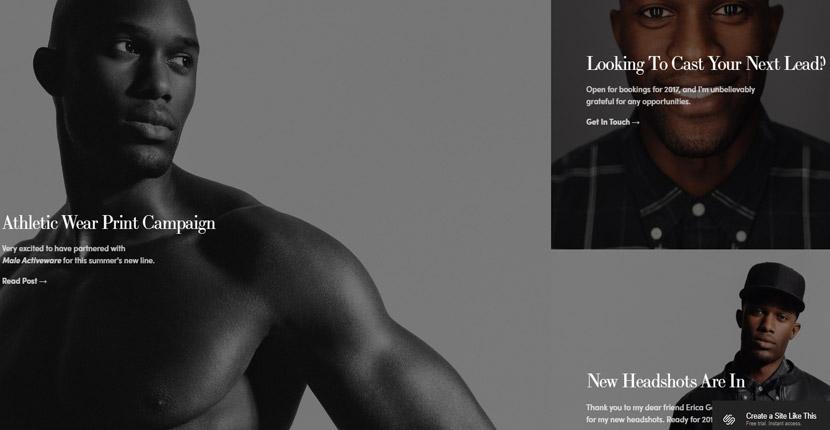 Many artists and musicians choose Squarespace because it makes it easy to upload and present video clips, audio, and visual content. Unlike other builders, Squarespace doesn't give you complete design freedom, but
you can move elements around on a predefined grid, without messing up your site's overall design
. This lets you focus on the important stuff, such as posting about career updates and upcoming appearances, instead of fumbling around the editor trying to undo formatting mistakes. Another thing I like about Squarespace is its stellar blogging features, including the ability to categorize and tag posts so site visitors can easily follow your theatre, film, and television projects. You can choose to enable or disable comments for individual posts, and easily.
Notable Squarespace Features:
Clean and modern site templates. Every template is designed with creative professionals in mind, and all are mobile-responsive. Choose your favorite and make it your own with personal touches.
Customizable image galleries. Highlight your greatest moments with gallery blocks. The settings let you choose between a standard slideshow format, or a fun carousel, grid, or stacked layout. You can even crop images to focus on close-up shots. Want to load batches of images into your gallery all at once? You can easily connect your site to your Dropbox account.
Video backgrounds. Add a bit of splash and visual appeal to your site with moving background images.
Learn about other features in our
expert Squarespace review
.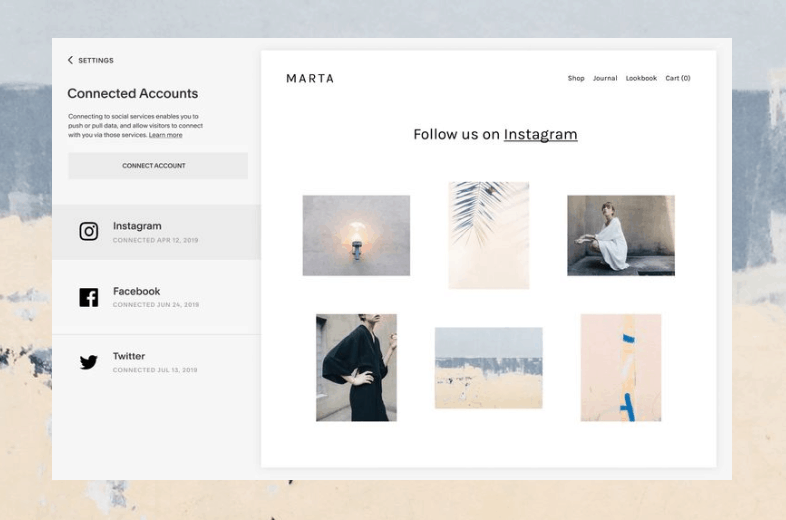 Squarespace has a nice selection of built-in integrations. This means
you'll have a smoother experience adding in optional site features without the worry of third-party apps breaking your site
. For example, you can capitalize on your fame with integrations that let you sell print-on-demand merchandise or accept donations from your patrons. While there is no free plan,
Squarespace does offer a 14-day free trial – no credit card required
. Every paid plan includes a free domain for one year, so you can register your own name or a unique domain name that fits your professional image.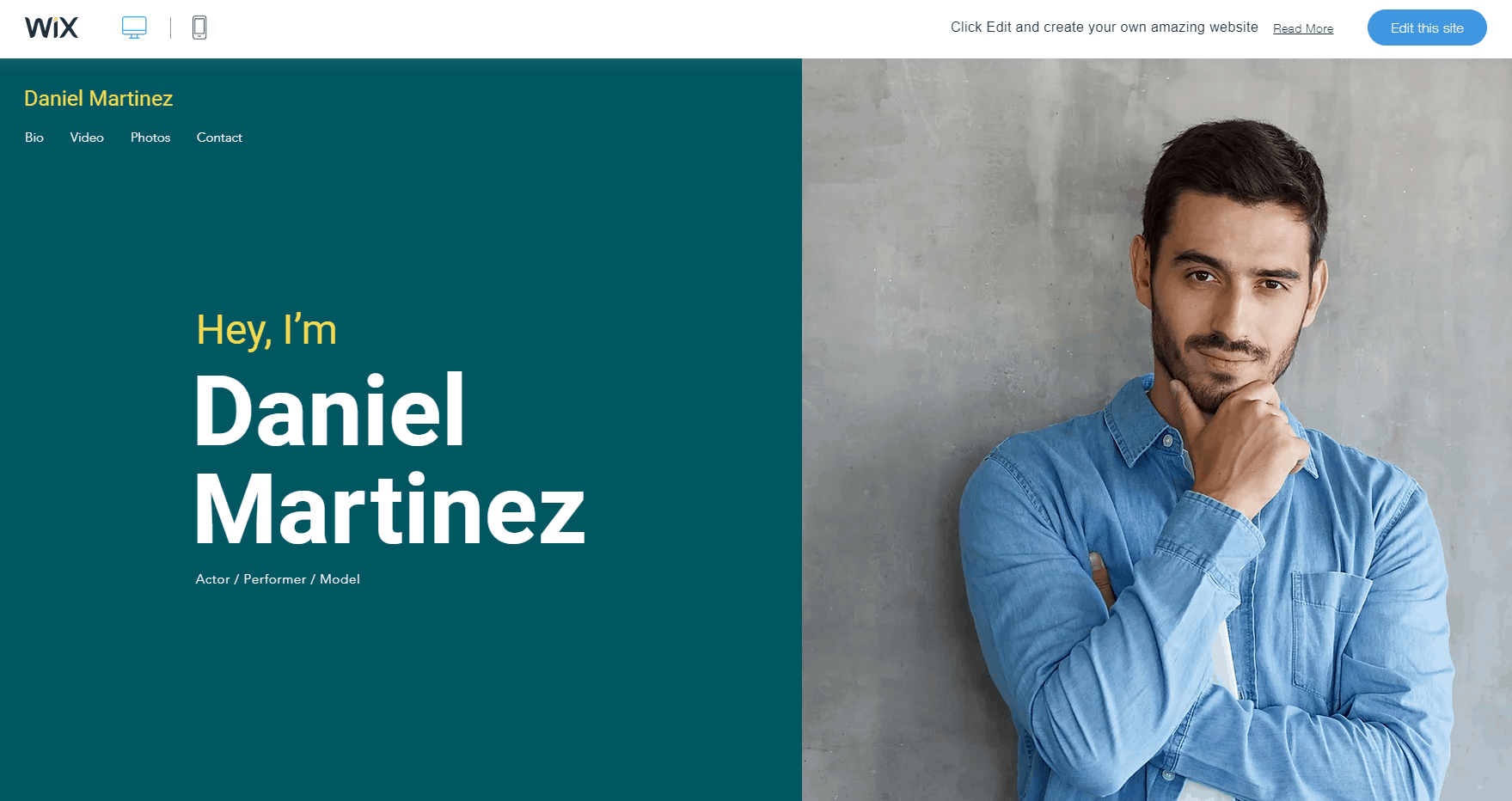 Wix gives you two options to build your site. The first is
Wix ADI (Artificial Design Intelligence), which generates a website design just for you based on your personal preferences. Or, you can choose one of over 900 templates –
including around 60 in the Creative Arts category – and customize it however you like.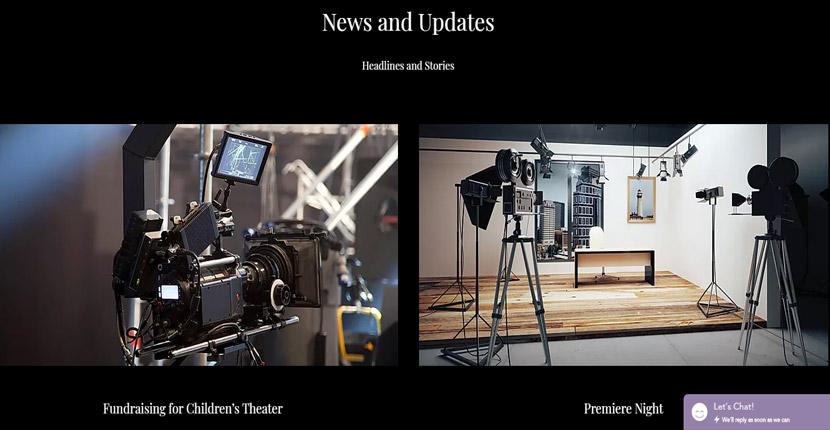 Notable Wix Features:
Upload, embed, or live stream videos on your site. Wix offers numerous ways to share media content, including the option to embed videos from YouTube and Vimeo. IT also offers the Wix Video app, which lets you showcase and manage your videos, plus sell subscriptions for members-only content. You can even create live streaming events so you can reach out to your fans on a more personal level.
Video and site stats. Want to know if you're a hit or a total square? The stats area in the Wix dashboard and in the Wix Video app can help you gauge the success of your streaming video content and other pages on your site.
Email campaigns. Newsletters are a great way to reach out to your fans and colleagues. Encourage your loyal followers and fellow entertainment professionals to sign up for periodic emails packed with updates, behind-the-scenes content, and film teasers.
Learn more in our
in-depth Wix review
.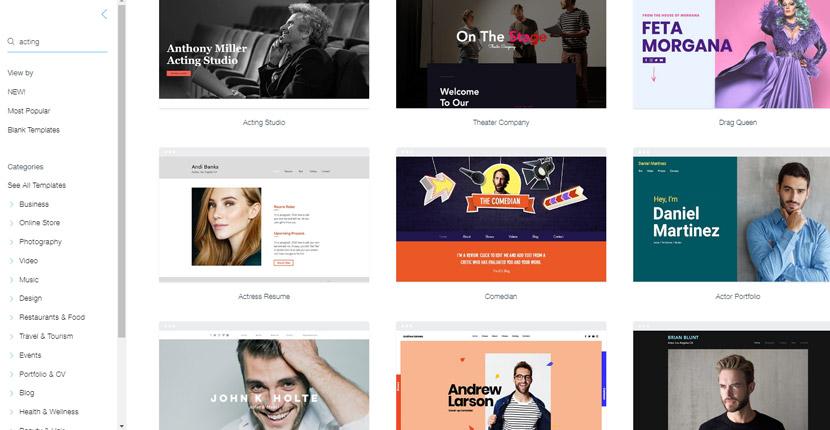 Wix offers lots of entertainment-related templates you can edit and customize
Now, a big warning here:
once you choose a Wix template, you're locked into it – Wix doesn't let you switch.
You can, however, customize just about anything about your template, so if you decide you want a whole new look for your site, it's definitely doable. There are loads of in-depth tutorials and a comprehensive support center to help you along the way. You can start building your site using
Wix's free plan
, but you'll want to upgrade to a paid plan as soon as it's ready to take advantage of enhanced site features, more storage space, and access to premium apps. You'll also get a free domain name for one year with most paid plans – a must-have for any working professional.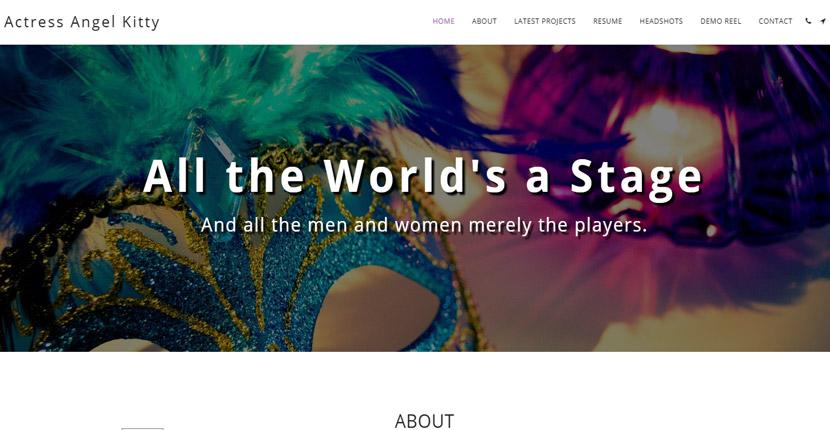 SITE123 offers an intuitive design wizard with helpful video tutorials to help you build a nice-looking website in a matter of minutes. First, you choose a site template. Then you can start dragging and dropping content blocks into the template to flesh out your site's basic structure. To speed up the process,
SITE123 even offers a selection of pre-formatted content blocks you can easily customize with your own information and images.
SITE123's free plan
 is a great way to decide if it's a good fit for you. If you like the platform, you can pay to upgrade to a premium plan, which unlocks all the available features. Notable SITE123 Features:
Timeline pages. Want to share the history of your acting career? The timeline feature lets you build an engaging storyline chronicling your life and creative achievements.
SEO Tools. SITE123's free SEO tools let you create customized meta tags that can help you rank well on search engine results pages. This is a biggie if you want agents and casting directors to find you online. You can also set up a free Google Webmaster Tools account, which offers in-depth analysis and suggestions to improve your site's ranking and performance.
Custom form builder. Want to give agents, managers, and fellow actors a quick and easy way to reach you? Set up customized forms so users can send business-related correspondence directly to your email.
Read our
in-depth SITE123
review
to learn more.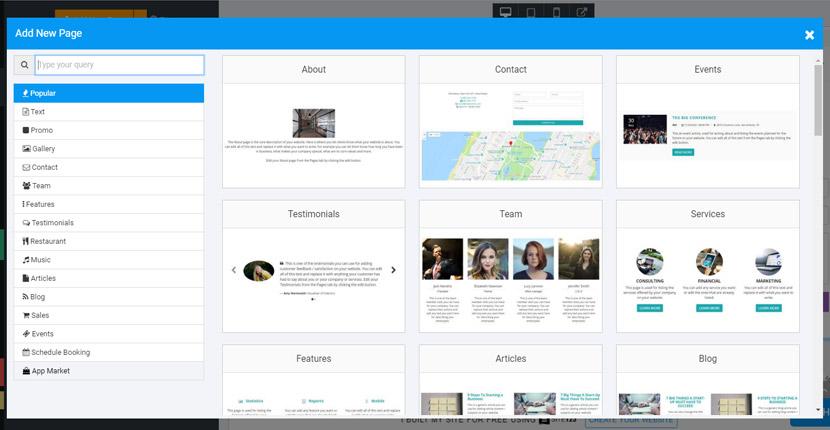 With SITE123's lower-tier plans, you'll need to keep an eye on your bandwidth use and site storage, because it's not unlimited.
So, if you suddenly become a big-time actor with fans stalking your page for juicy images and videos, you might need to upgrade to a bigger (and pricier) plan.

Zyro is all about speed and simplicity – it's designed to help you build a good-looking and functional website quickly. It's very easy to use, and if you're really in a hurry, you can make use of its captivating set of AI tools. There are
over 100 fully customizable templates to choose from
, including some attractive designs for creative professionals (look under the Portfolio, Resume, and Photography categories). All templates are mobile-responsive, but you
can
edit desktop and mobile versions separately.
Notable Zyro Features
Video options. Although you can't upload videos directly to your site, you can embed videos from any streaming service, including YouTube and Vimeo. You can make videos play automatically when a visitor loads your page and even set them to play on a loop.
AI Image Upscaler. Good snaps are essential for any creative business, so if some of your photos need sharpening, the AI Image Upscaler will increase their resolution.
Unlimited bandwidth and storage. You get unlimited bandwidth and storage from the Unleashed plan and up, which is quite useful if you plan to have lots of photos and videos on your website.
Free live chat apps. You can integrate Facebook Messenger and WhatsApp to communicate easily with your site's visitors.
Learn more about the platform in our
expert Zyro review
.

Zyro doesn't have a free plan or a free trial, but there's a
30-day money-back guarantee
, so you can test the platform to see if it fits your needs.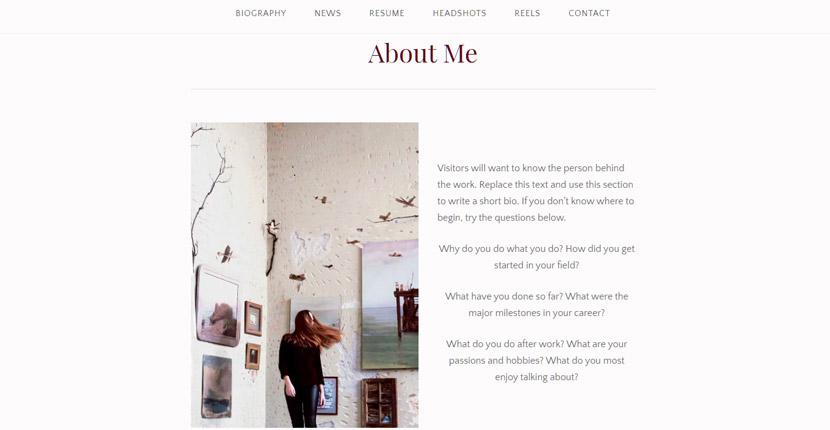 WordPress.com is an extremely popular blogging and content management platform that lets you quickly create sites packed with visual and written content. With some plans,,
you can upload or embed videos from Vimeo and YouTube
– this makes it easy to showcase your reel and live performances. With just a few clicks, you can add new pages dedicated to headshot galleries, a biography section, contact information, plus a page for your resume – which could save you in a pinch if you forget to bring copies to an audition. Built-in social sharing features let you boost posts on social media, and
you can prominently link to your IMDb, Backstage, and Actors Access profiles
to ensure casting directors have access to all the information they need. Notable WordPress.com Features:
Blogging at its finest. While it offers so much more these days, WordPress was originally built for blogging. It has a clean, yet powerful interface that lets you create content-rich blog posts that command your audience's attention.
Free desktop and mobile apps. Manage and update your site at home, on the train, or even from backstage.
SEO made easy. Built-in SEO tools help you optimize your site's content with relevant keywords and page descriptions. WordPress also generates sitemaps so search engines can easily index your site.
An extensive selection of plugins and themes.com paid plans (from the Business plan and up) give you access to premium-quality themes, plus a library of site-enhancing plugins such as multimedia slideshow builders and e-commerce features that let you sell tickets and show merchandise on your site.
WordPress.com's free plan
 doesn't give you access to the plugins and advanced theme customizations, but it does give you a chance to test its capabilities. If you fall in love with WordPress, you can always upgrade to a paid plan or export your existing site to a self-hosted WordPress.org installation down the road. (If a self-hosted site is more up your alley, don't miss our list of
the best managed WordPress hosting providers
).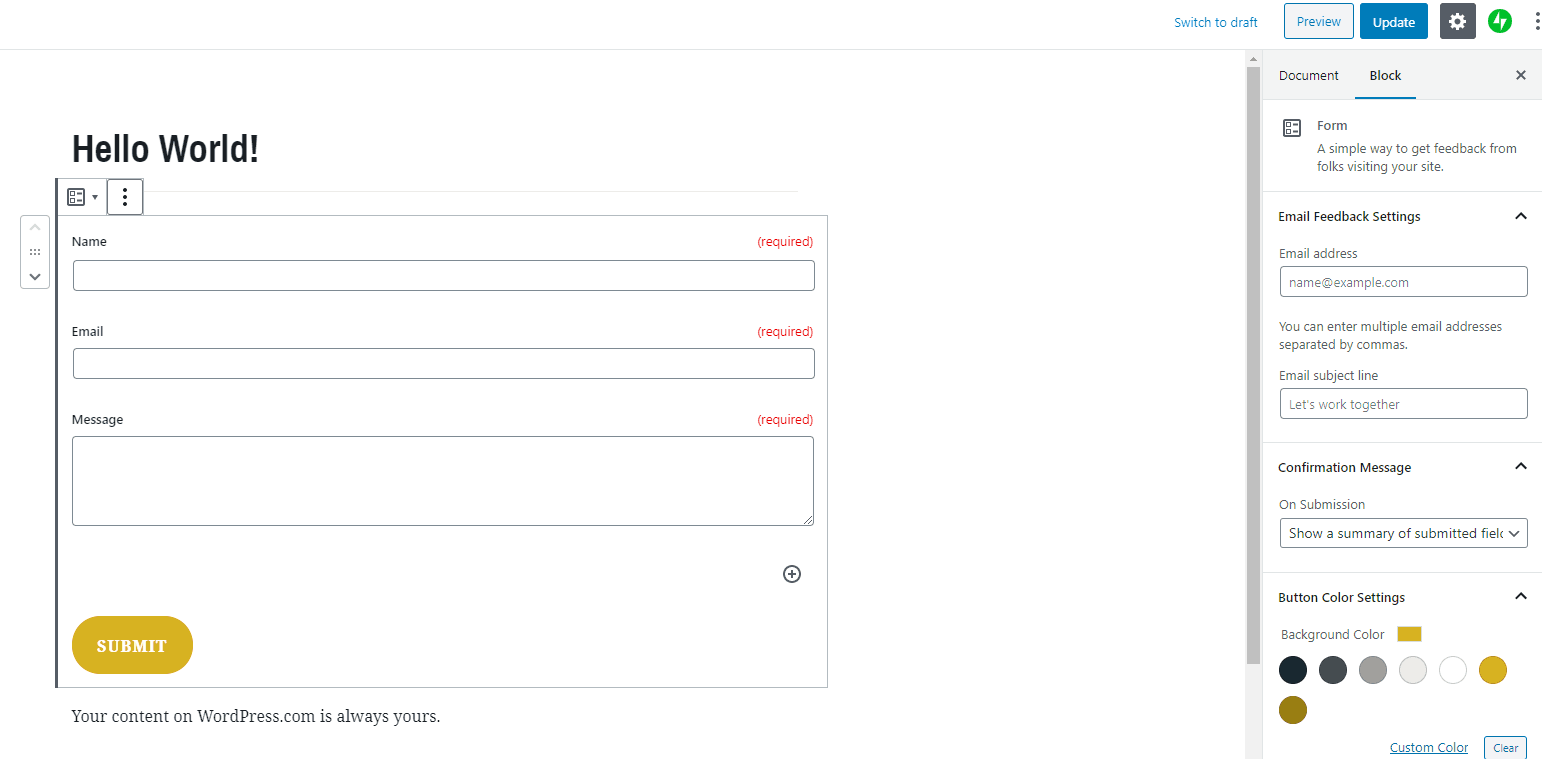 Overall, WordPress.com offers a lot more customization options compared to other website builders, especially if you want a site that looks and feels more unique than a template-based design.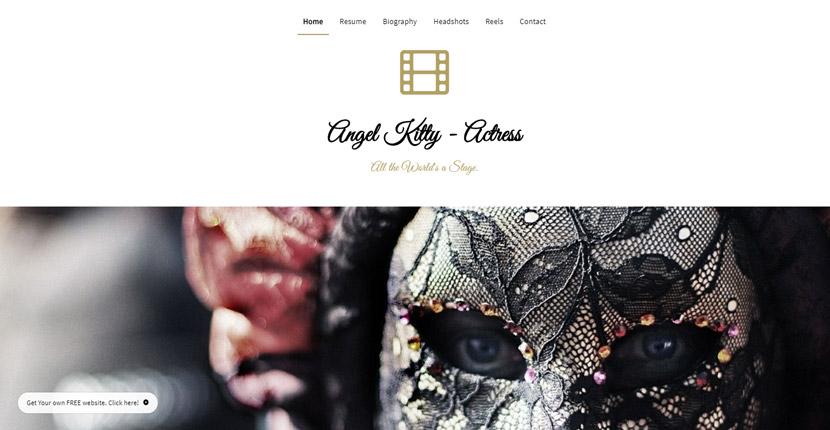 SimpleSite is just that – incredibly simple. It's not your best bet if you want a site that looks striking, as the templates are pretty plain and generic, but
if you don't have a lot of time to invest and you just want a quick site without too many bells and whistles, it does deliver
.
Notable SimpleSite Features:
Social media sharing. Through a social link in the footer of your site, users can easily share your site with others. This is a great way to build a larger fan following.
Personalized email addresses. Every domain purchase comes with 5 personal email addresses so your correspondence looks more professional than a generic "[email protected]" account.
Promote shows right from your website by uploading a premade flyer or using SimpleSite's free library of stock images. Add in dates, performance times, and pricing details so people know when to show up and how much they'll have to pay. You can even include a clickable button that takes visitors to a map pinpointing the venue's location.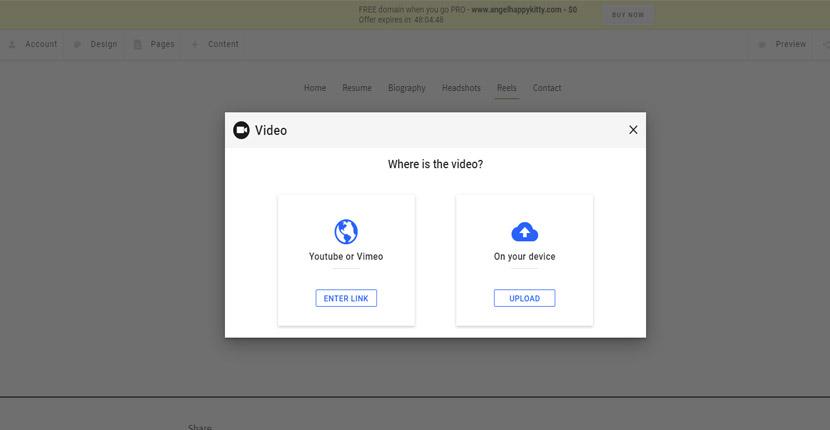 For all of its simplicity, it's actually a bit challenging to figure out some of the settings, like font styles and layout variations – especially if you're only using
SimpleSite's free plan
. The templates, while not terrible, do look a bit dated and generic, so you'll want to take the time to polish up your site's design as much as you can.
You'll also need to upgrade to a Pro or higher plan to lose the "simplesite.com" subdomain name, unlock all of the features, and get unlimited bandwidth and storage.
Make Way for Stardom with Your Actor Website
So, which builder is the perfect one for your needs? Here are my recommendations: If you're looking for a builder that is simple to use, yet packed with features,
Wix, SITE123,
and
Squarespace
have a lot to offer in terms of high-quality designs and easy-to-implement apps. Each one has its own limitations when it comes to design freedom or swapping out templates, but I'm guessing you'll be pretty happy with any of them. If you don't mind a bit of a learning curve and you want a site that's backed by powerful technology with plenty of room for long-term growth,
WordPress.com
 can give you everything you need, and then some.
An important note:
No matter which builder you choose,
I highly recommend that you upgrade to a paid plan as soon as possible so you can register your own domain featuring your professional name
instead of using a generic subdomain like "totalnewbie.websitebuilder.com." This is
very important
if you want to be taken seriously as an actor instead of looking like an amateur.
| | | |
| --- | --- | --- |
|   | Supports video uploads? | Storage space & bandwidth on the cheapest paid plan |
| Squarespace | No, but you can embed videos from YouTube, Vimeo, and Animoto | Unlimited storage and bandwidth with all plans |
| Wix | Free and Combo: Up to 30 minutes (10-minute limit per video), Unlimited: 1 hour of video, Pro and higher plans: 2 hours of video | Combo: 3GB with 2GB bandwidth p/m |
| Site123 | Yes, but file upload limit is 100MB (keep your monthly bandwidth limit in mind, too) | Premium: 10GB and 5GB bandwidth p/m |
| Zyro |  No, but you can embed videos from YouTube and Vimeo | Unlimited |
| WordPress.com | Yes, with Premium and higher plans | Personal: 6GB |
| SimpleSite | 600-second video limit on Free plans, Pro and higher plans offer unlimited video minutes | Pro and higher plans: Unlimited storage and bandwidth |