Elementor is a powerful WordPress website builder, but no matter how well you optimize your site, its performance ultimately depends on your web host. Choose the wrong service and your website might load slowly or even go offline for long periods of time.
You need a hosting plan that is optimized for WordPress, and comes with all the benefits of a managed service, including automated updates and backups.
If you're a developer, you might want to host multiple websites on a single account. Some hosts will even let you transfer billing to a client once a website is complete, which can make your life easier.
I've tested dozens of different services and compared the features to find the six best web hosts for your Elementor website.
What We Look For in the Best Web Hosts for an Elementor Website
In my search for the best web hosting services for your Elementor website, I've prioritized the following features:
Excellent performance: Why use a top-tier WordPress plugin like Elementor if your site gets held back by a slow web host? The services on my list boast excellent loading speeds and uptime records.
Managed WordPress hosting: You don't have to waste your time with plugin updates, site backups, security, and performance optimizations when your host can do it all for you. Managed WordPress hosting is slightly pricier, but the time you save is worth the difference.
The right PHP version: Elementor could be compatible with PHP versions as far back as 5.4, but the recommended version is 7.0 or higher. Using PHP 7.4 makes it less likely that you will run into trouble with Elementor and it also improves your website's performance and security.
Security: The best hosts secure your website without making you pay for additional features. An SSL certificate is especially important if you're using Elementor to build an online store.
Customer support: Instead of fiddling with your hosting settings for hours, you should be able to easily contact support and get quick, WordPress-specialized assistance.
Developer tools: Staging environments, collaboration tools, billing transfer, and other developer-friendly features allow you to focus on what actually matters – building beautiful websites for your clients.
A2 Hosting's four Elementor plans are not only affordable, but also packed with features. For example, the entry-level Startup plan gives you one website, 100GB of SSD storage, unmetered bandwidth, an integrated CDN (content delivery network), and advanced security.
Both WordPress and Elementor come preinstalled and preconfigured with the best performance and security settings.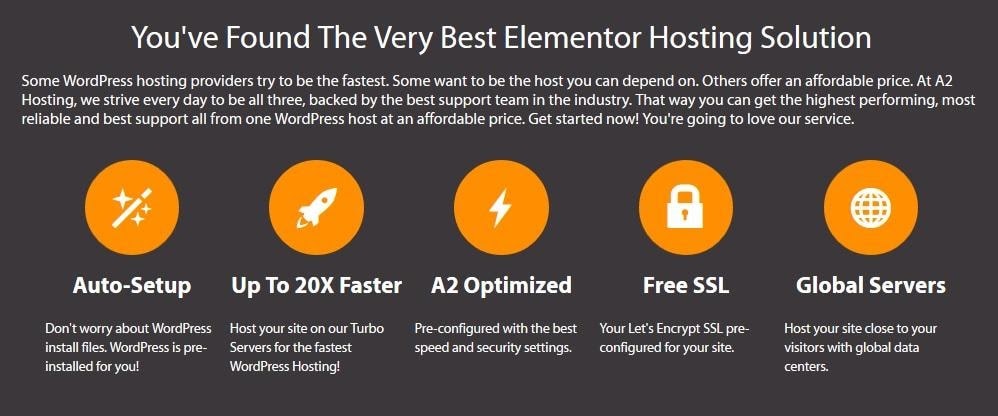 The Drive plan adds unlimited storage and websites, as well as free automated backups. If you're looking for top-notch performance, the Turbo Boost and Turbo Max plans are hosted on A2 Hosting's Turbo servers, which are 20 times faster than regular infrastructures.
Unfortunately, A2 Hosting's Elementor plans are not fully managed. To get automated WordPress and plugin updates, you have to pick one of the slightly pricier managed WordPress plans, but the good news is that they all come with access to A2 Hosting's Turbo servers. Learn more about the benefits in our expert A2 Hosting review.
Features:
Staging environment on all plans. Test changes on a cloned version of your website prior to implementation. No downtime and no risk involved.
LiteSpeed Web Servers. Offered on A2 Hosting's Turbo Boost, Turbo Max, and managed WordPress plans, the LiteSpeed server technology is much faster than the Apache servers used by most other hosts.
The latest PHP versions. Choose PHP 7.4 or any earlier version for your website.
Excellent security. A2 Hosting offers free SSL certificates on all plans, which means that your website will be padlock protected. You also get free protection against DDoS attacks, a dual web hosting firewall, and a virus scanner to keep your website safe.
Anytime money-back guarantee. A2 Hosting's long-term hosting plans are virtually risk-free, since you can get a pro-rata refund at any point during your subscription.
With HostPapa, you get fully managed WordPress hosting optimized for the Elementor site builder. You won't have to keep track of software updates for WordPress or any of your plugins – HostPapa's three Elementor plans include automated updates and Elementor comes preinstalled.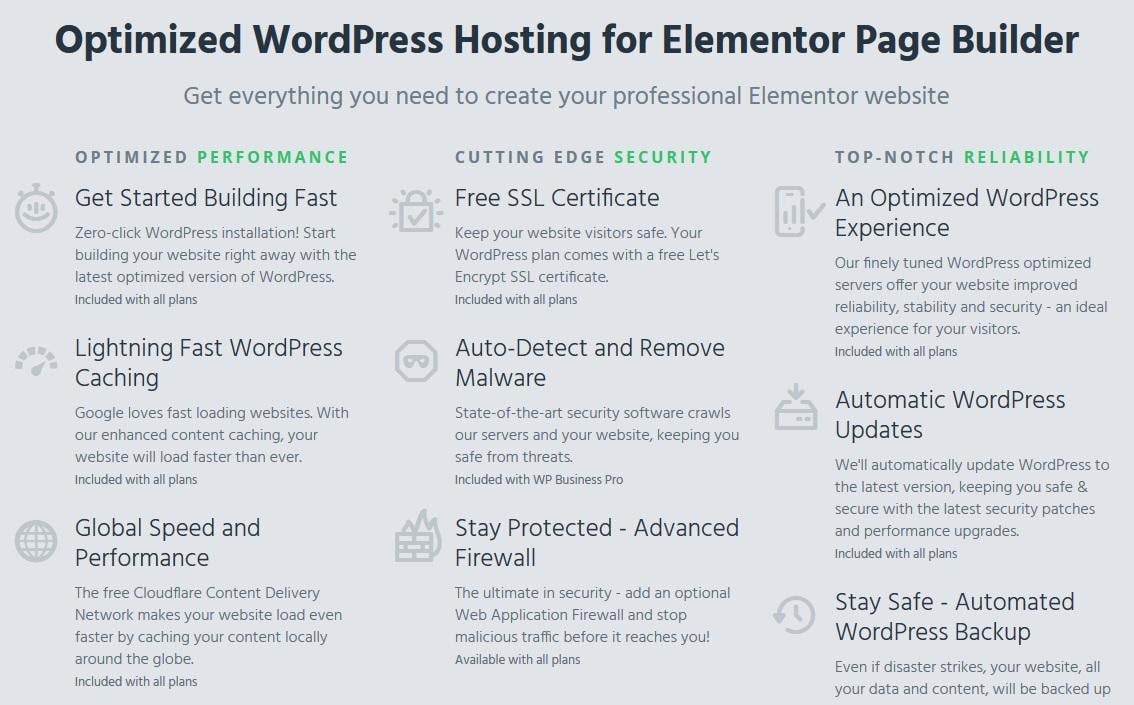 HostPapa's WordPress-optimized servers provide improved performance and security. With the Starter plan, you get two websites, 100GB of SSD storage, and unmetered bandwidth. You'll also have access to an integrated version of Cloudflare CDN and several caching tools – including WP Super Cache – for an extra speed boost. You can see the results of our performance tests in our in-depth HostPapa review.
The downside with HostPapa is that automated site backups are only included in the more expensive Business Pro plan. However, all Elementor plans are significantly discounted for the initial term, which can help bring down the overall cost.
Features:
Softaculous auto installer. Included on all plans, this feature provides one-click installations for more than 400 scripts and plugins.
Free domain registration. With any yearly plan, you get a free domain for one year.
Specialized WordPress support. Rest assured that the PapaSquad can answer any questions you might have regarding your WordPress setup.
Free SSL certificates on all plans. No matter the subscription you choose, your site visitors' information will be encrypted – this also means better ranking in Google search results.
Free malware scanner and removal. If you opt for the Business Pro plan, HostPapa will not only scan your website for malware – which most hosts do – but also clean it up in case you are hacked.
If you want to reduce your website's carbon footprint, but don't want to compromise on quality, this could be the right host for you. GreenGeeks' three managed WordPress hosting planscome with unlimited storage and bandwidth, a one-click WP installer, and automated updates.
GreenGeeks promises 300% green web hosting. This means for every amperage pulled from the grid, GreenGeeks returns three times the amount through renewable energy.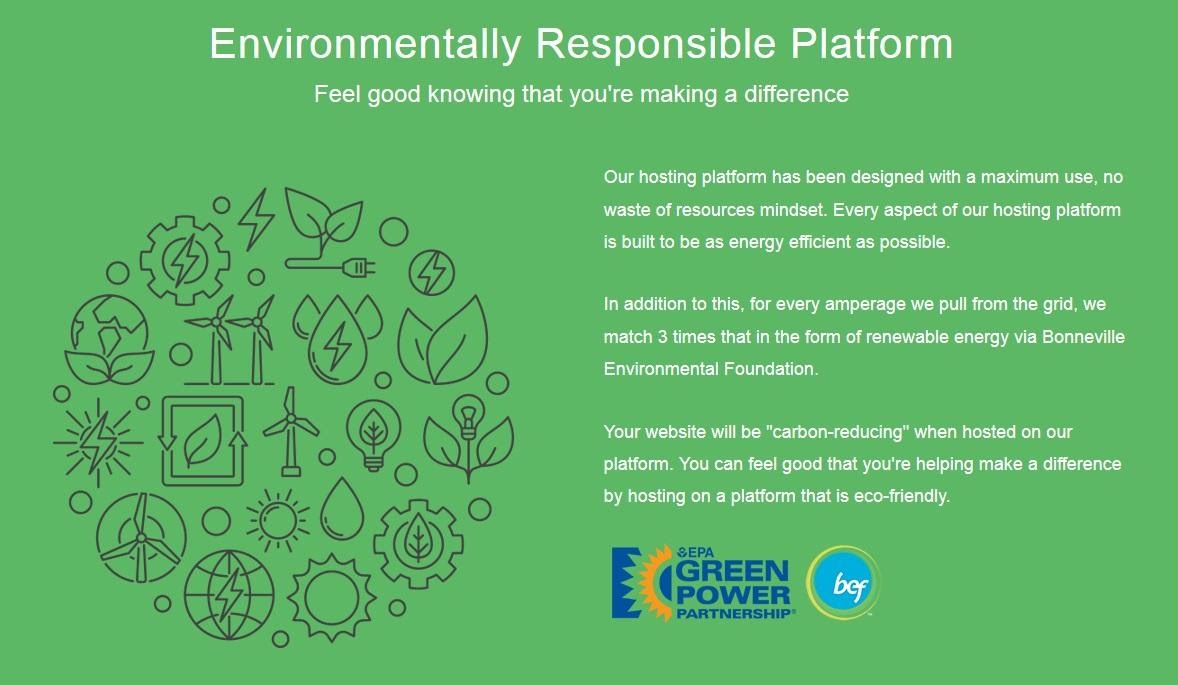 The entry-level Lite plan is perfect for a single website and includes almost all of the features you get with more expensive plans. For example, you can use GreenGeeks' proprietary server-side caching tool – the PowerCacher – to optimize your Elementor website and ensure faster loading speeds.
You also get Cloudflare CDN integrated straight into your dashboard and, although Elementor is not preinstalled with any of GreenGeeks' plans, you can easily set it up yourself using the host's one-click installer.
Features:
LiteSpeed Web Servers. All of GreenGeeks' plans run on LiteSpeed servers. We tested GreenGeeks' performance and you can see the results in our in-depth review.
The latest PHP versions. PHP 7.4 and all earlier versions are available.
Daily backups on all plans. GreenGeeks automatically creates backups of your website so that you can easily restore an older version in case something goes wrong.
Scalability. Even if your website grows, GreenGeeks doesn't force you to upgrade to an expensive VPS plan. Thanks to its scalable hosting platform, you can simply add more resources as these become necessary.
Excellent security. Free SSL certificates and a malware scanner are included on all plans. In addition, your account is completely isolated from those of your server neighbors, which means that other users can't eat up your resources or expose your website to security breaches.
If you're a developer with a knack for Elementor, WP Engine gives you all the tools you need to build optimized websites for your clients. All WP Engine's hosting plans are hosted on the same infrastructure, which means that you get WP Engine's full range of WordPress features and optimizations – including its proprietary EverCache – regardless of your subscription.
To give you just one example, the Startup plan includes one website, 10GB of SSD storage, 50GB of bandwidth, automated WordPress updates, an integrated CDN, and free SSL certificates. You also have access to WP Engine's one-click staging tool, which can help you easily test changes before implementing them on your website.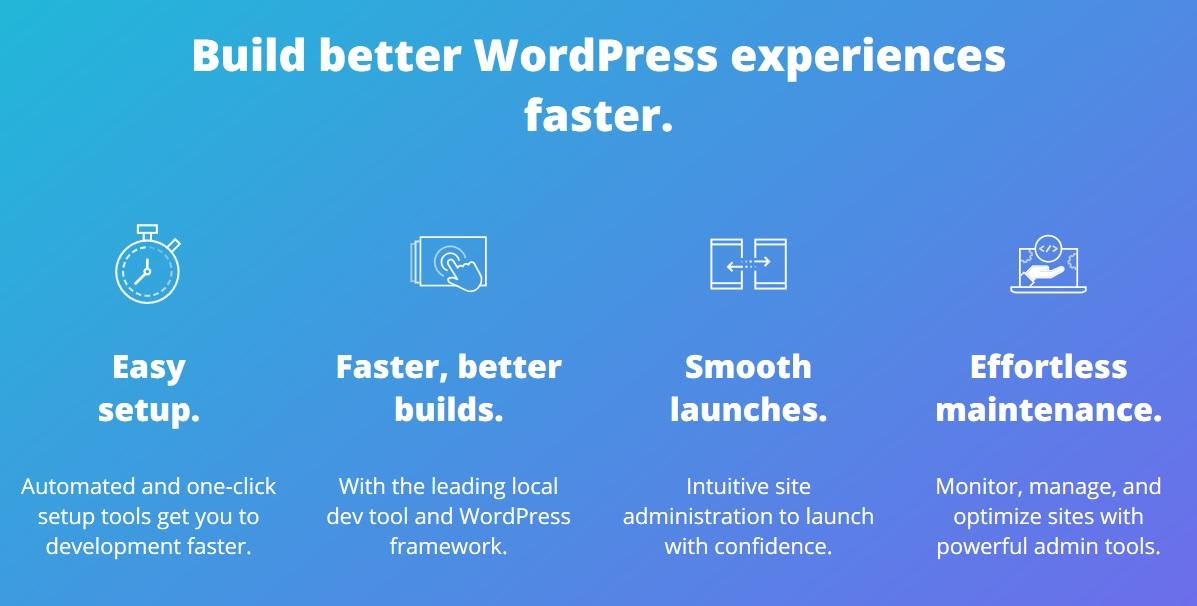 The downside with WP Engine is that its plans are pricier than the average. It's also worth noting that WP Engine doesn't offer email hosting or domain registration, which means that you have to buy these services from another provider at an additional cost. Is it worth it? You can find more info in our in-depth WP Engine review.
Features:
Extra storage through AWS. WP Engine provides limited storage space on all plans, but there's no need to worry. The host has partnered up with AWS to give you access to S3 storage if you need more space. The first 5GB are free and additional storage costs just a few cents per GB per month.
Nginx reverse proxy. WP Engine uses Nginx technology to better distribute incoming traffic and quickly deliver your website to visitors.
Scalability and traffic monitoring. WP Engine monitors your website and predicts peak traffic periods. This gives you the chance to add more resources ahead of time so that your website never crashes due to a traffic spike.
Ownership transfer. Once you've built and launched a website, you can easily transfer the hosting costs to your client while you remain a collaborator in case further changes are needed.
Choose your server location. WP Engine has data centers in North America, Europe, and Asia so you can host your website closer to your target audience.
Although InterServer is not one of Elementor's official partners, its Standard shared hosting plan is considerably more affordable than other plans on this list. You might think this means a compromise in quality, but there's actually no reason to worry. InterServer's plan includes everything you need to build a website using Elementor.
You get unlimited websites, storage, and bandwidth for a fraction of the cost. And while WordPress is not preinstalled, you can easily set it up using Softaculous. Once WordPress is ready, you have to add Elementor as a plugin from your WP menu and then you can start working on your site.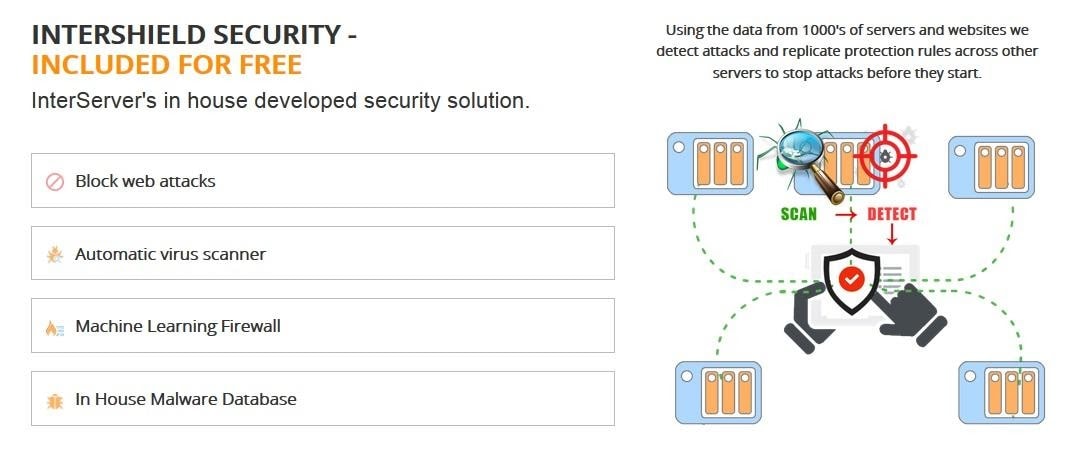 You don't have to worry about updates either, because InterServer performs all WordPress core and plugin updates for you. You even get automated backups of your site, although these are created weekly, rather than daily. You can find out more about the pros and cons in our full InterServer review.
Features:
LiteSpeed Web Servers. InterServer's Standard shared hosting plan runs on LiteSpeed technology, which is faster and more reliable than Apache.
Softaculous script installer. You can use this tool to quickly set up WordPress and more than 400 other scripts.
Excellent security. InterServer's Standard plan comes with a free SSL certificate and access to the provider's proprietary security solution, InterShield, which includes a firewall and a malware scanner.
Price-lock guarantee. Renewal fees are steep with most hosts, but not with InterServer. The provider's price-lock guarantee means that, so long as you are a customer, you will never pay more for your plan than you did initially.
Like InterServer, Hostinger is an affordable alternative to some of the more expensive hosts on this list. Although not an official partner of Elementor, Hostinger's managed WordPress plans are rich in features and come with very attractive first-time deals.
The WordPress Starter package gives you 20GB of SSD storage, unlimited websites and bandwidth, as well as weekly automated backups and server-side caching. All plans include a one-click installer for WordPress and access to Hostinger's suite of WP-optimized performance and security settings. The provider takes care of all updates for WordPress and related plugins, including Elementor.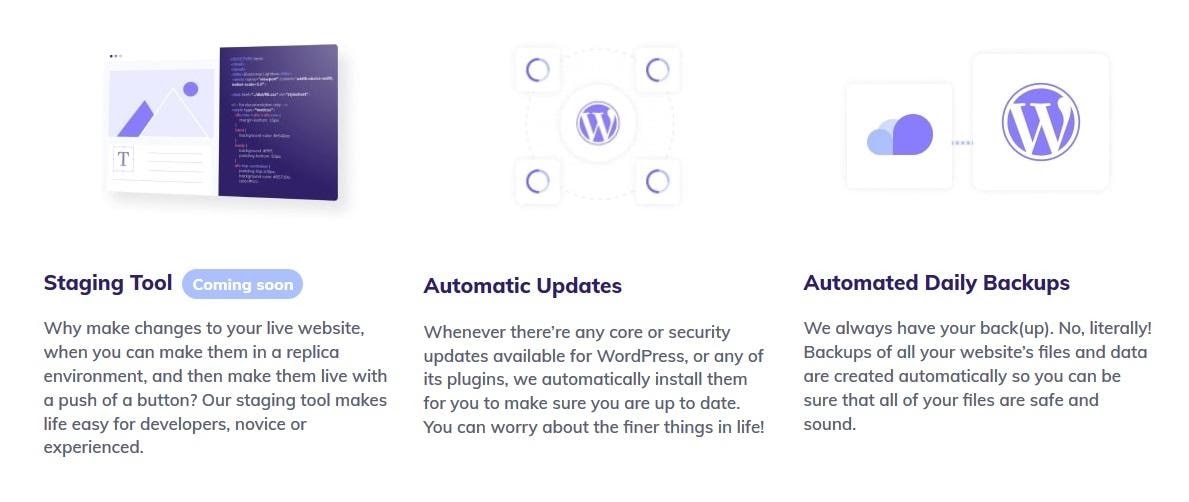 With some plans, Hostinger throws in a Jetpack license for free. With the mid-range WordPress Premium plan, for example, you get Jetpack Personal, which includes daily backups, spam filtering, image caching, and more than 100 WordPress themes.
Features:
Choose your server location. With eight data centers distributed across the US, Europe, and Asia, Hostinger gives you the option to pick the location that is closest to your target audience.
LiteSpeed Web Servers. All of Hostinger's managed WordPress plans are hosted on LiteSpeed servers for even better loading times. Our expert was impressed with Hostinger's performance – read the full review to find out more.
Staging environment on all plans. Need to make changes to your website? Use Hostinger's staging tool to create a clone of your site and try out any changes before they go live.
Jetpack Premium. If you opt for the WordPress Business plan, you get the premium version of Jetpack for free. Malware scanning and removal, video caching, SEO tools, Google Analytics, and PayPal integration for online stores are all included.
Which Host Is the Right Pick for Your Site?
Each host on my list has its own set of advantages. Choosing the best solution for your Elementor website depends on your specific needs, budget, and level of experience.
If you want a plan that is specifically optimized for Elementor, go with A2 Hosting. The Turbo Boost and Turbo Max plans guarantee impressive performance and website loading speeds in addition to airtight security.
If you are looking for a managed option, HostPapa provides automated updates and dedicated WordPress support.
For an environmentally-friendly website, one of GreenGeeks' plans would be the choice. You still get great performance and stability, but you lower your carbon footprint through the provider's renewable energy initiative.
As a developer, you'll love the speed, stability, and security of WP Engine's hosting plans.Features such as one-click staging, proactive traffic monitoring, and ownership transfer will make your life easier, provided that you can afford the price.
If you're working on a tight budget, InterServer's Standard plan gives you unlimited resources and automated WordPress updatesat a fraction of the cost of other plans on this list. You don't get fancy tools like one-click staging, but you have everything you need to build a website with Elementor.
Although pricier than InterServer, Hostinger's managed WordPress plans are still affordableand are a better option if your target audience is located outside of the US.
FAQ
What is Elementor?
Is Elementor free with WordPress?
Should I use Elementor?
What is the best hosting for WordPress?