themes and templates
for all types of coffeehouses and cafés, from trendy to traditional.
Each one offers an attention-grabbing homepage and the functionality you need to promote your coffee shop.
Most are also fully responsive and easy to customize.
Plus, if you want something entirely unique, I'll share a tip on how to
get a tailor-made website at a great price
.
WordPress Themes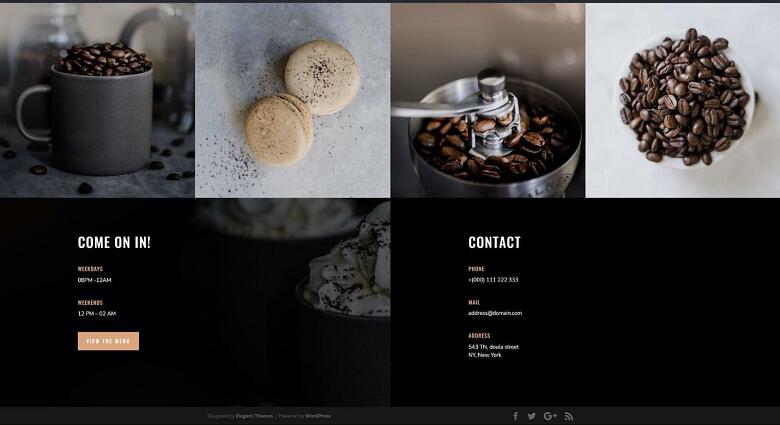 Divi
is Elegant Themes's flagship theme, and
it doubles as a drag-and-drop builder with dozens of layout packs,
as well as tons of choice and flexibility. The
Coffee Shop
layout pack is my favorite. Not only are the visuals gorgeous, but
Coffee Shop
has all the right
features to help you grow your business
, from the homepage button that links to your shop to the newsletter signup section. And if you want to build a devoted following by sharing brewing tips or your roasting process, there's a blog page for that, too. Divi's visual builder
makes it easy to update the text and images
 with your own photos, story, and menu. But if you fall in love with one of the default images, you can always keep it for your website – all photos are royalty-free.
Coffee Shop
 also
comes with WooCommerce built-in,
which means you don't have to pay extra to sell your coffee products online. And remember – with Divi, you're buying a membership, not just a theme. This means that you get a bunch of extra perks, like 24-hour customer support.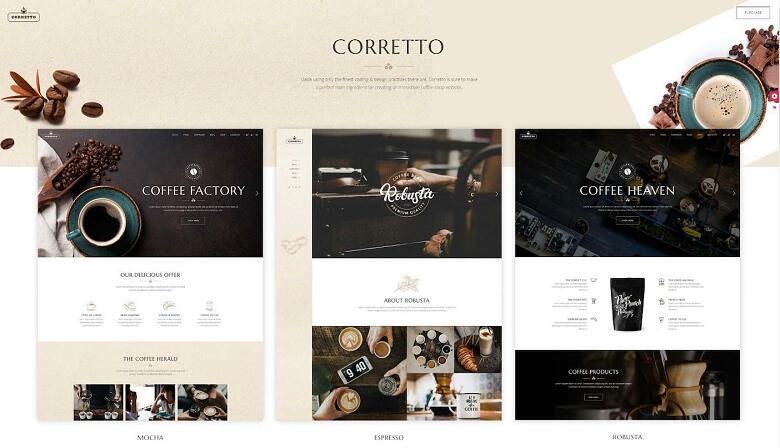 ThemeForest's
 Corretto
is a beautiful coffee shop theme that offers three different pre-built layouts –
Mocha
,
Espresso
, and
Robusta
. Each layout has an 
eye-catching slideshow
 on the homepage header and
comes with all the pages (Home, About, Portfolio, Blog, Menu, and Shop)
 a coffee shop website needs. The integrated builder plugin lets you edit your site using pull-down menus at the top of the screen. You can choose custom layouts for each page, and add innovative design elements like parallax scrolling, hover effects, and animations.
Corretto
 comes with six months of support, but you can upgrade to a year for a small fee.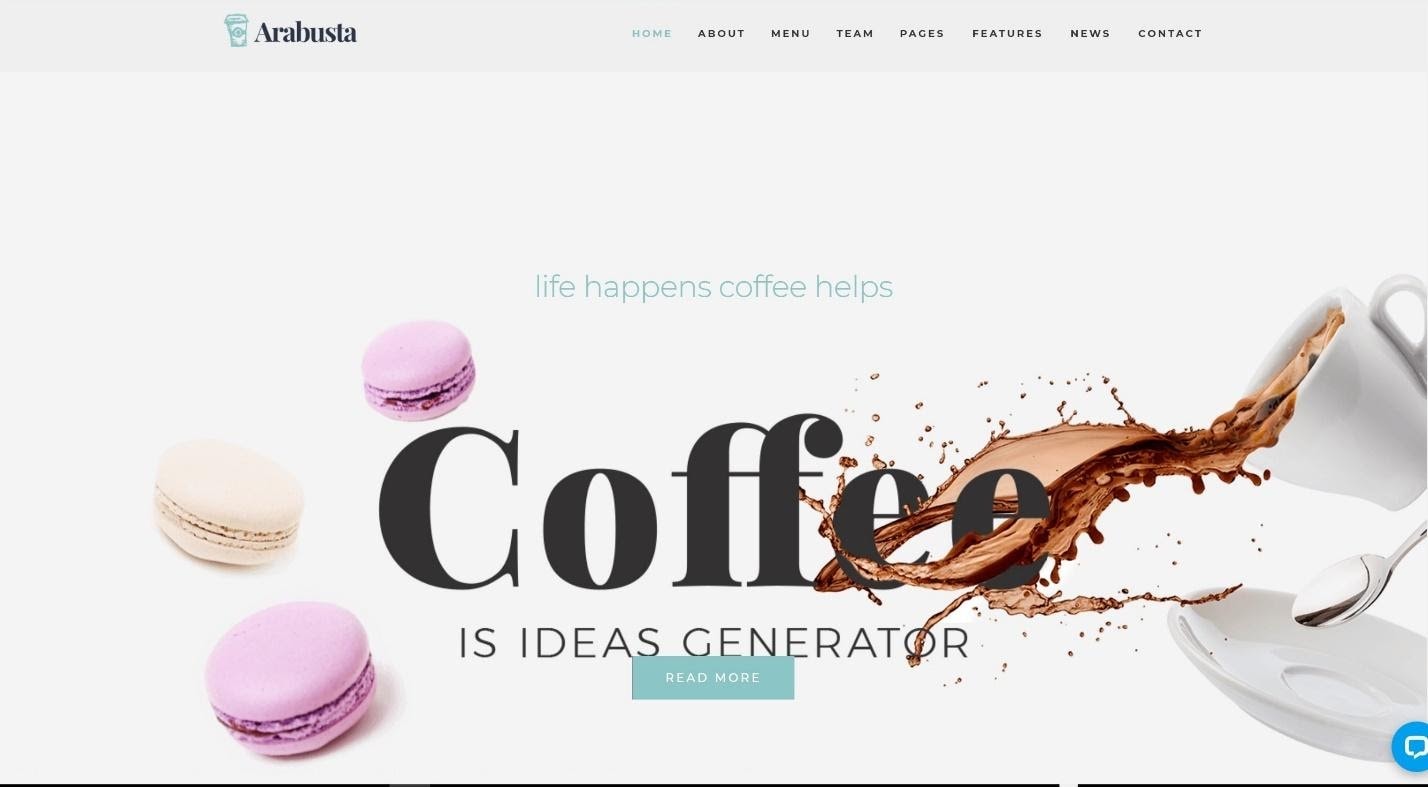 The
Arabusta
theme from
Template Monster
is a refreshing, sunny take on a coffee shop website.
Its white background and pastel highlight colors stand out
 in a sea of darker-toned themes – as will your website if you decide to keep the color palette. The homepage uses fun numbered sections to give visitors a taste of what makes your coffee shop unique – whether that's your ambience, seasonal drinks, specialty blends, an after-dark menu, or testimonials. Each section has a prominent CTA (call-to-action) button that invites viewers to click through your site. If your coffee house has different personalities for the day and the evening, you can use
Arabusta
's
event page to share news about your nighttime happenings.
Website Builder Templates
If you've never built a website before and haven't yet started working with WordPress, you might want to consider using a website builder instead. You just
can't beat their ease of customization.
Because these templates are so easy to personalize, you don't have to
 limit your search to designs that are already a perfect match for coffee shops.
 You can change fonts and colors, rearrange banners, images, and text elements, and add or delete pages until you get the website you're looking for. Here are my favorites.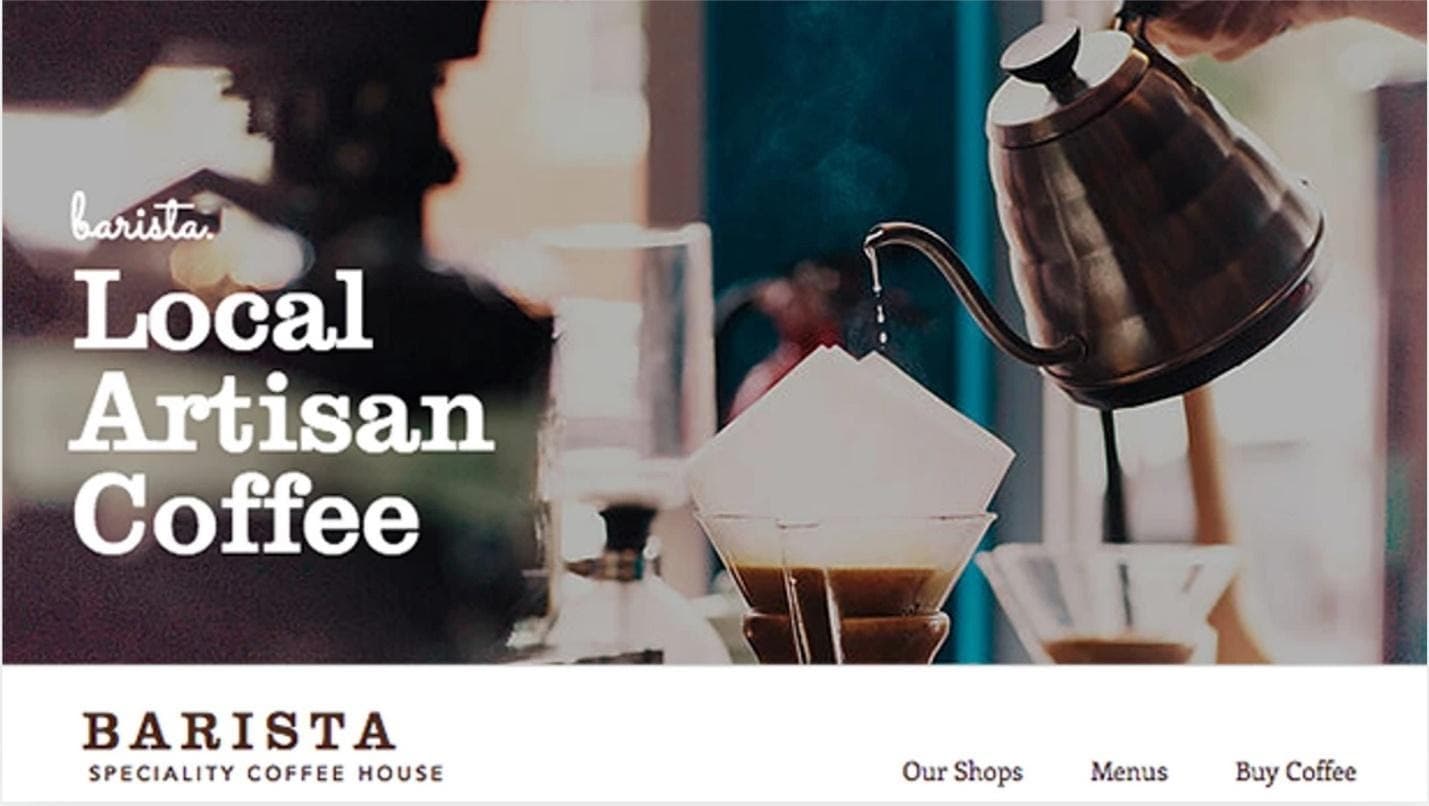 Wix's collection of Cafe & Bakery templates offer some of the most varied designs for coffee shops, ranging from bold and modern to cozy and traditional.
Coffee House
 is my favorite for a
dramatic, contemporary shop.
The
eye-catching, full-screen slideshow
 on the homepage lets visitors savor the ritual of brewing a good cup of coffee. As visitors scroll down, the content sections expand on this theme, using bold white lettering and parallax scrolling to good advantage. All the while, strategically placed CTAs encourage visitors to read more, explore your menu, and subscribe to your newsletter.
Coffee House
 comes with
pre-installed Wix apps for online orders and payments,
 so if your business is part coffee shop, part online store, you're set. Plus, it looks great on mobile.
Squarespace is known for its artistic designs, and elegant coffee shop template
Eldridge
is a prime example. The homepage
blends compelling visuals with engaging content
using a subtle design and color palette.
Eldridge
 is also packed with
 all the features and pages a coffee shop needs
. The Shop, Menu, Photo Gallery, and bold Contact buttons are placed both in the top menu and the peach footer that's pinned to every page. But I also love the way
Eldridge
 lets your visitors discover all this content just by scrolling. If you've got an interesting story to tell, a great selection of coffees, or an all-day menu, you might consider using
Eldridge.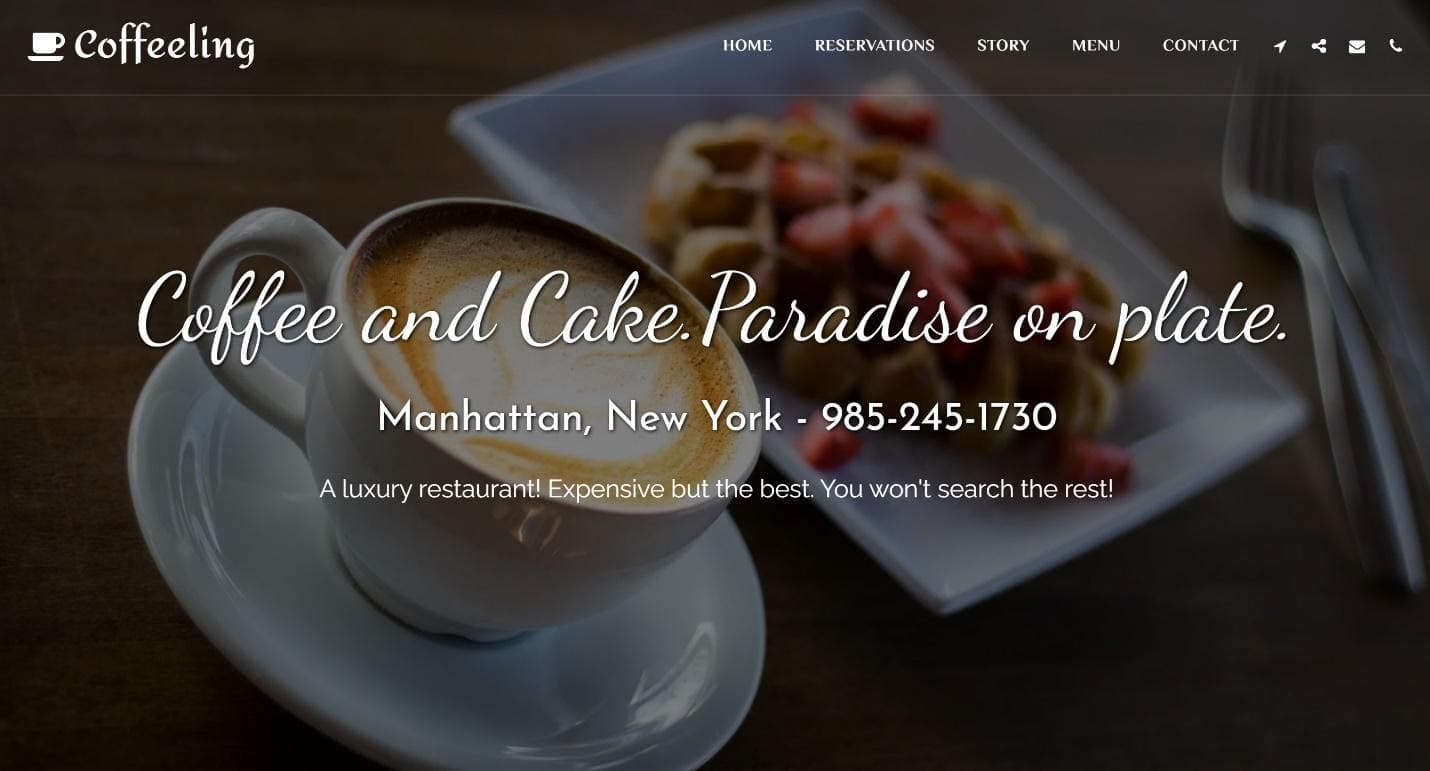 If your coffee shop business is relatively new or opening soon, you'll appreciate SITE123's smart
Coffee Feeling
 template. It's a
single-page template with a straightforward, uncluttered design.
The header prominently displays your location and phone number, ensuring easy access for visitors. As users scroll down, the layout directs their attention to vital details such as your hours of operation, an online reservation system, your shop's backstory, and your menu. I particularly like the section inviting visitors to
share their feedback through social media links.
If you're looking to grow your visibility and build a devoted customer base,
Coffee Feeling
 could be a great fit.
How to Get a Custom Template for a Great Price
If you're juggling the demands of running a thriving coffee shop (or planning your shop's big launch), you may not have time to design your own website. If so, you should definitely consider
hiring a website designer on Fiverr
. The cost isn't much more than what you'd pay for a premade theme, and you'll be able to get a website
that exactly matches your specifications.
Fiverr is a platform where you can find professional, vetted freelancers like
mltb300
 (448 five-star reviews!), who will build a responsive website for any business from the ground up. Mltb300's basic package will get you a one-page, original website delivered within five days.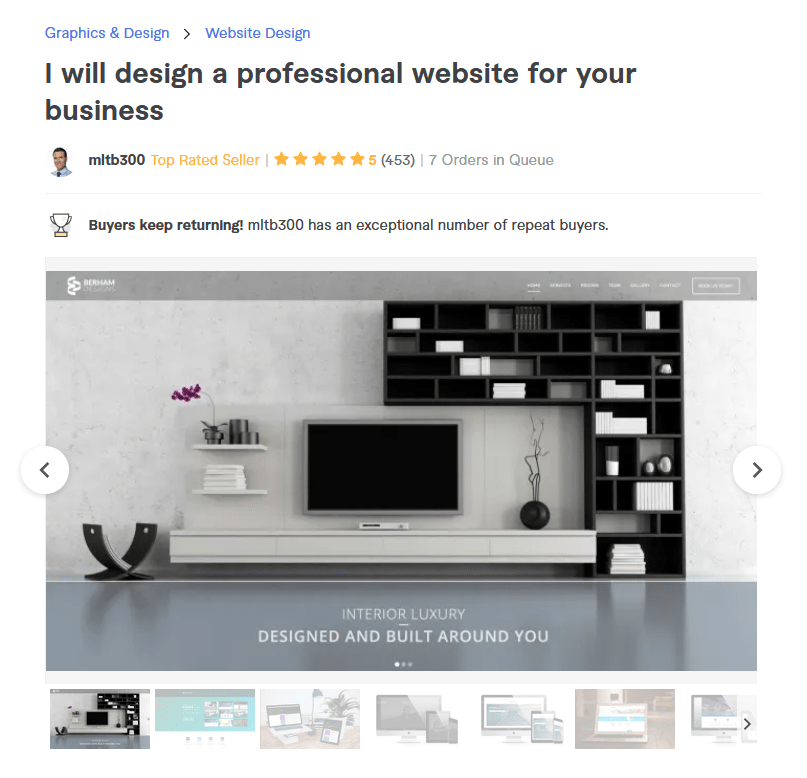 For a more affordable option, you could hire a freelancer like
bajone
, who creates customized single or multi-page websites using a website builder. Bajone's package includes unlimited revisions and lifetime support.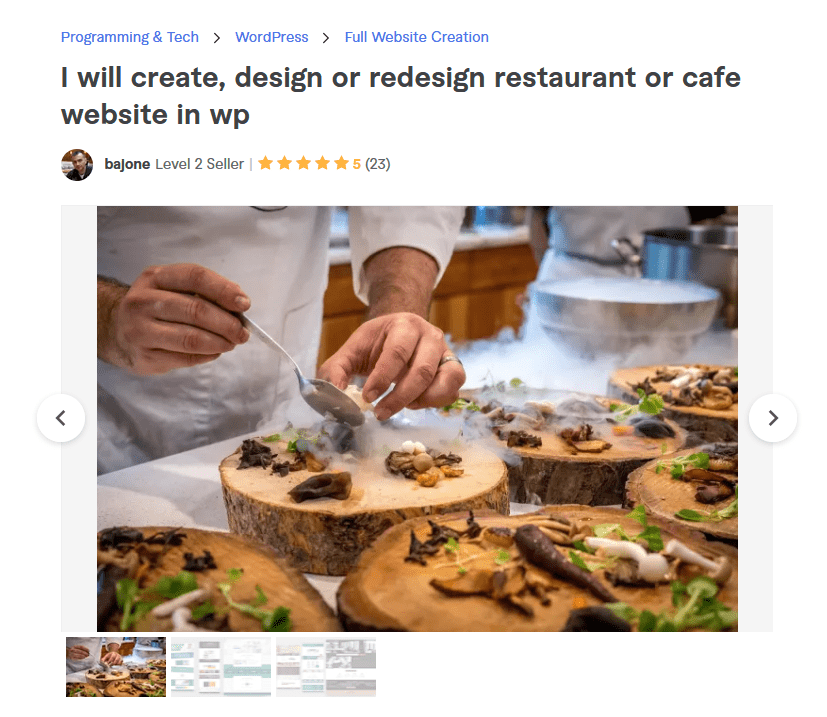 Get a Coffee Shop Website with Just the Right Flavor
A well-designed website starts with a great homepage that
perfectly captures your coffee shop's mood and style
. Your site should also
load quickly and be fully responsive
, since you only have a few seconds to keep your visitors engaged. Of course,
 features are the nuts and bolts of your website,
so you'll have to choose a template that has everything you need. For example, if you plan to sell your coffee beans online, you'll want a built-in store. Or, if your shop has a special story to share (like custom roasts, sustainable practices, etc.), you'll want a compelling About or Blog page. But my main advice is to focus on
what makes your coffee shop unique
 and the type of customer you want to attract. If you do that, you'll be well on your way to finding the ideal template for your website.
FAQ
What is the most popular free WordPress theme?
Astra is the most popular free theme from WordPress, with more than a million downloads and over 5,000 five-star reviews. It's a fast, fully customizable, multi-purpose theme suitable for a blog, personal portfolio, business website, or store, and it comes with the WooCommerce plugin built in. If you decide to upgrade to a premium theme, be sure to check out our latest coupons for WordPress.
What's the easiest WordPress theme to use?
Divi, from Elegant Themes, is the easiest WordPress theme to use. Its drag-and-drop visual page builder lets you see your changes in real time, which is something you can't do when you're working with a CMS. Divi has dozens of outstanding layout packs to choose from, each with beautiful images and all the features and functionality you could want.
Is it worth paying for a WordPress theme?
This decision really boils down to time and budget. If you've got some time to dedicate to your website, buying a WordPress theme could be a great idea. The themes are pretty easy to customize, and most are fairly affordable. On the other hand, if you don't have the time to tinker with your site but still want a personalized option, you can hire a designer from Fiverr to create a website for you. Just make sure you're clear on your budget before you browse – Fiverr has a wide range of price options, starting from as low as $5.
Which website builder is best for small businesses?
It depends. Wix has a huge selection of well-designed templates organized by category, which makes it easy to filter your search and find exactly what you need. Its clean dashboard and intuitive drag-and-drop builder give beginners a leg up, while its flexible functionality and huge app store give more experienced builders full rein to customize their websites exactly how they want. Squarespace doesn't have a free plan like Wix, but its e-commerce features and stylish templates will give any small business a boost. The builder's latest version, Squarespace 7.1, takes a streamlined approach to the editing process, and the customer support is first-rate. Plus, all the templates are fully responsive, so you'll never have to worry about how your site looks on mobile. For more great options, check out our expert review of the best website builders in 2023.