If you don't have the time or expertise for Telegram marketing yourself, it's easy to hire a freelancer to manage it on your behalf – and outsourcing this task is cheaper than you might think.
Out of the thousands of Telegram promotion services I found on Fiverr, nine stood out as the best choices for quality and value.
Some of them even offered marketing services starting at just $5.
 Discover my top picks and find the ideal freelance marketer to promote your Telegram group or channel.
9 Best Telegram Promotion Services for Hire
Whether you want to grow your Telegram group quickly or hire an administrator for ongoing promotion, Fiverr has the perfect freelancer for the job. Several offer gigs that cost just $5, so it's easy to outsource Telegram marketing on a budget.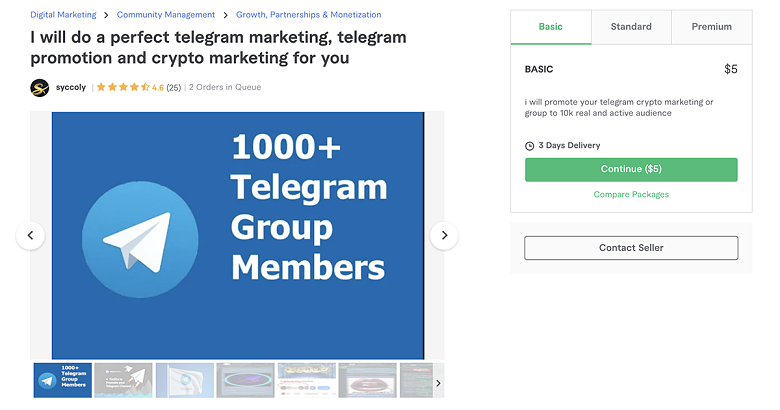 With more than two dozen customer reviews, Syccoly is one of the most prolific Telegram marketers on Fiverr.
This freelancer focuses on cryptocurrency (crypto) marketing
, and their promotion services target relevant users on Telegram and other channels. You can purchase their $5 gig to promote your Telegram group to 10,000 people or pay $25 to reach 50,000 people.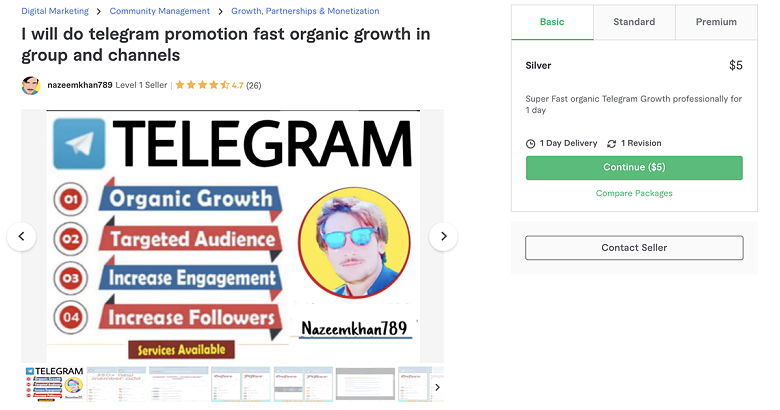 As a Level 1 Seller, Nazeem has delivered at least 10 orders and maintained a minimum of a 4.7-star rating over the past 60 days. This marketer offers
organic Telegram group promotion for niches ranging from gaming and trading to Amazon and eBay
, making them a good fit for many brands. Their $5 gig comes with one day of Telegram promotion, and their $10 gig includes two days of promotion for even bigger results.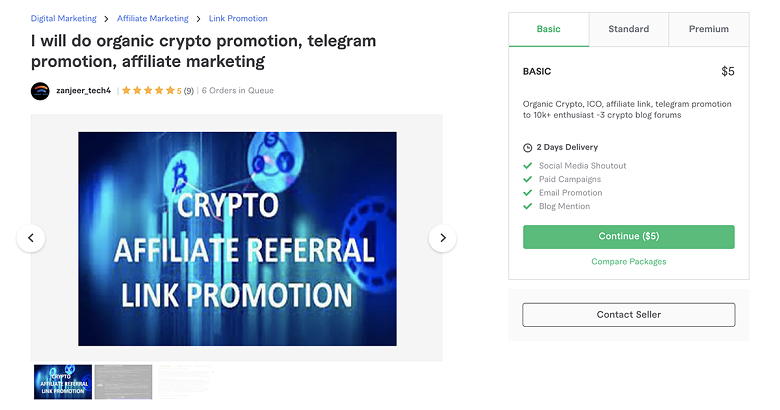 With a five-star rating and a starting price of only $5, Zanjeer does great work for an affordable price – as long as your business is in the right niche. This freelancer
specializes in promoting crypto and foreign exchange (forex) businesses
to engaged users on Telegram, as well as to online forums and social media channels. Their $10 Basic gig includes promotion to 10,000 people, while their $30 Premium gig targets an audience of 25,000 people.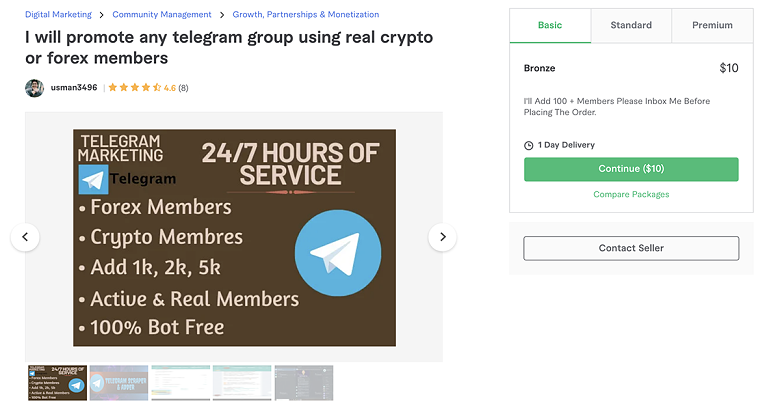 Unlike some of the other more affordable Telegram marketers, Usman offers a quantifiable deliverable that's great for fast growth.
Book their $10 Basic gig and you'll get at least 100 new members for your Telegram group.
Book the $40 Premium gig to get at least 1,000 new members. This freelancer also works incredibly quickly, delivering the Basic gig in just one day.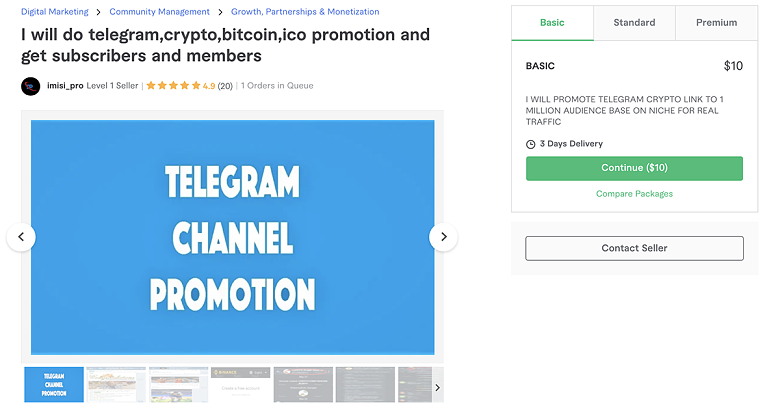 With a 4.9-star rating and 20+ great customer reviews, Imisi_Pro is one of the most popular Telegram marketers on Fiverr. This Level 1 Seller specializes in getting exposure for Telegram groups and channels via social media, content marketing, and email marketing.
Purchase their $10 Basic package for promotion to 1 million people
or book their $70 Premium gig to reach 3 million people.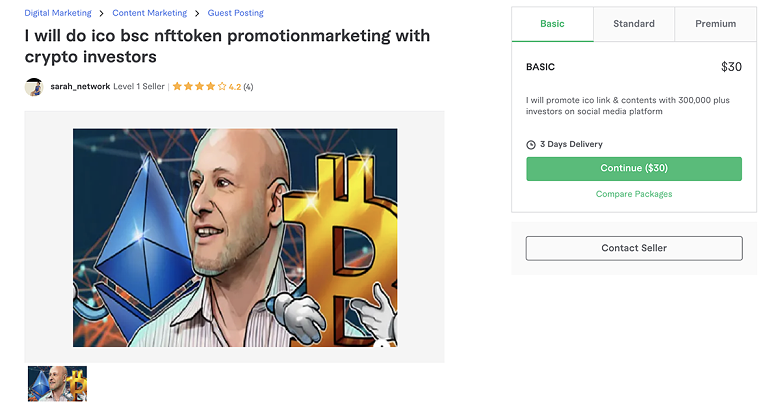 If you're in the crypto space, Sarah is a smart choice for Telegram initial coin offering (ICO) promotion. This Level 1 Seller focuses on getting your ICO in front of investors and qualified buyers.
Their $30 Basic package includes promotion to 300,000 investors
, and their $250 Premium gig gets your ICO in front of 1.5 million investors.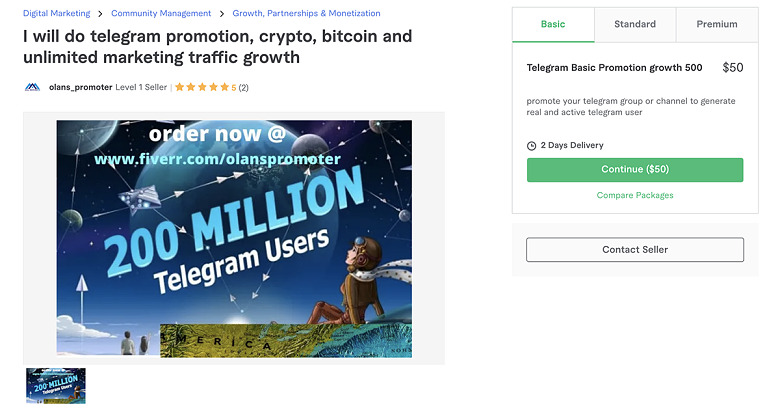 Another Level 1 Seller, Olans has a five-star rating and a handful of rave customer reviews. This freelancer works with a wide range of industries including crypto, gaming, forex, and trading, making them a great pick for many Telegram groups.
Their $50 Basic gig delivers 500 active users to your Telegram group or channel
, while their $180 Premium gig helps you gain 2,000 new members.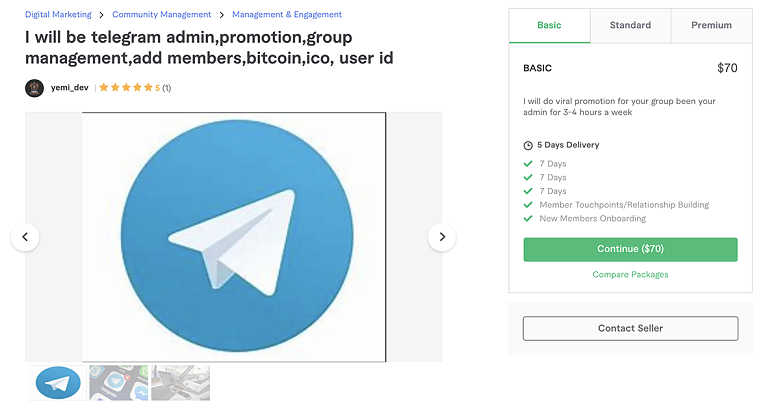 While most Telegram marketers sell short-term promotions, Yemidev focuses on longer-term growth. This freelancer's $25 Basic package comes with
seven days of Telegram group administration, including new member onboarding and relationship building
. Their $100 Premium package offers four weeks of group management, which is ideal if you want to see continual growth.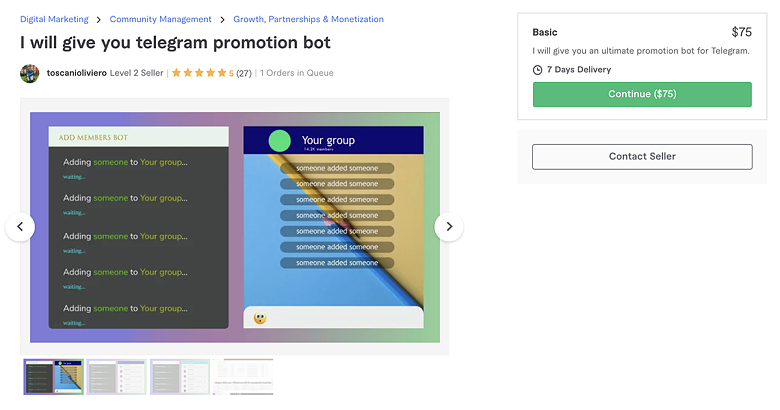 As a Level 2 Seller, ToscaniOliviero has delivered at least 50 orders and maintained at least a 4.7-star rating in the process. This freelancer has a five-star rating and more than two dozen excellent customer reviews attesting to their great work. Although
ToscaniOliviero offers just one $75 package, it has tons of value, as it includes a Telegram promotion bot
that lets you grow your own group automatically.
How to Hire a Telegram Promotion Service on Fiverr
With Fiverr, you can hire a Telegram promotion service in just a couple of minutes. In fact, it's ease of use is one of the things that gave it such a strong score in
our Fiverr review
. Here's how: 1.
Go to Fiverr.com
and type the service you're looking for into the search bar. Once you enter "Telegram," the search engine automatically suggests several related searches.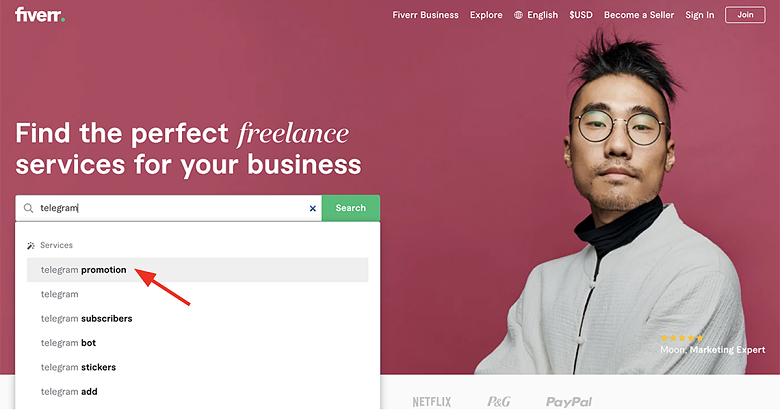 2. Select the service you want and browse the available gigs. The headline provides a short description of the gig, and you can also see the freelancer's starting price, rating (out of five), and number of customer reviews.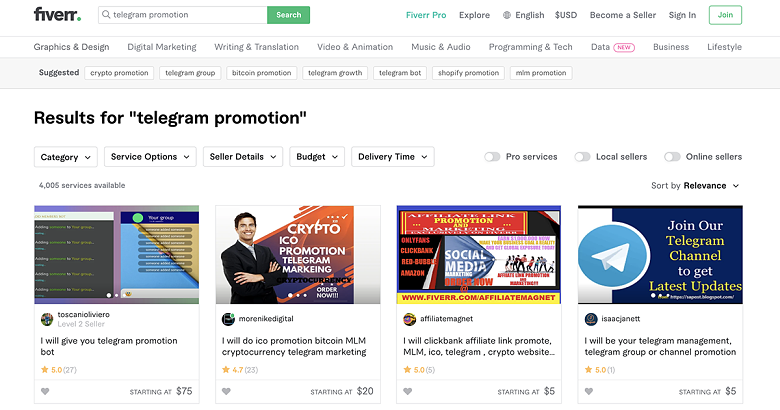 3. To narrow down the search results, you can filter these by budget, deadline, and seller location – you can even hire a freelancer in your local area. To work with a Telegram marketer who specializes in your niche, click Service Options and choose your industry, such as financial services or real estate.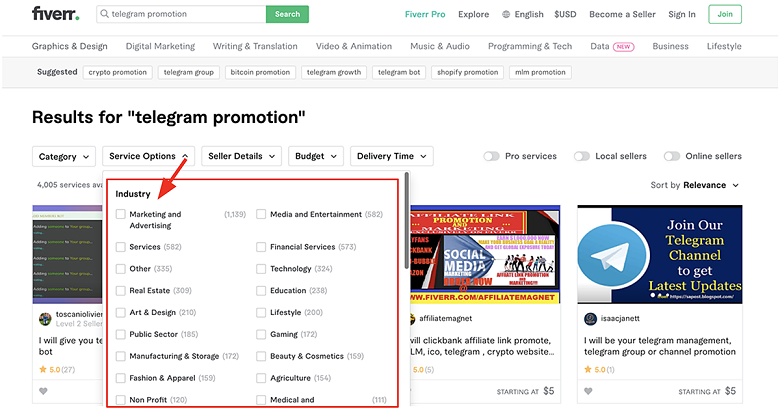 4. Click on any gig to learn more. On the gig page, you can scroll through the seller's portfolio, check the gig description, and read more about the freelancer.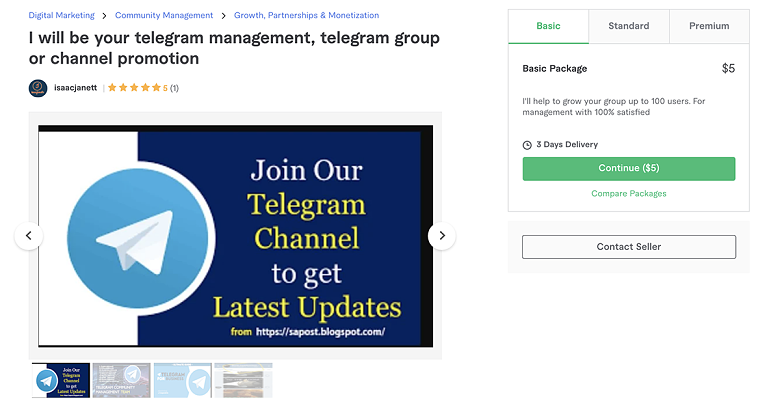 5. Click the green
Compare Packages
link to see the freelancer's offerings side by side. This makes it easy to compare delivery time, price, and deliverables. If you're on a budget or a tight schedule, comparing packages can ensure that you get exactly what you need.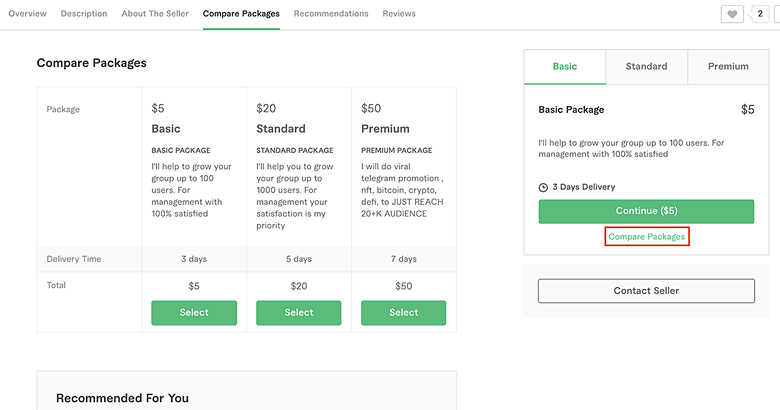 6. Scroll to the bottom of the gig page to read reviews of the gig. This is a great way to learn more about past customers' experiences with the seller. For example, if clear communication or detailed reports are important to you, reading reviews can help set expectations.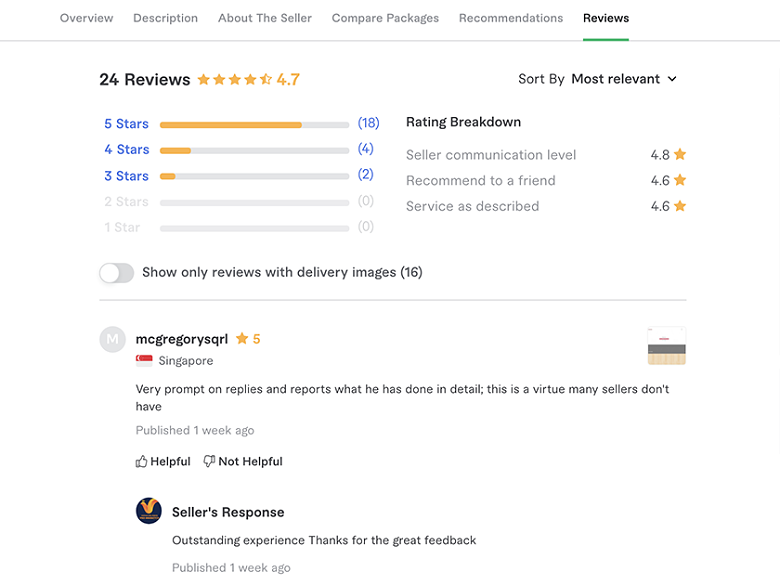 7. Click the gray
Contact Seller
button to message the freelancer before buying.
Many Telegram marketers ask that you get in touch before placing an order to ensure your brand is a good fit for their skills.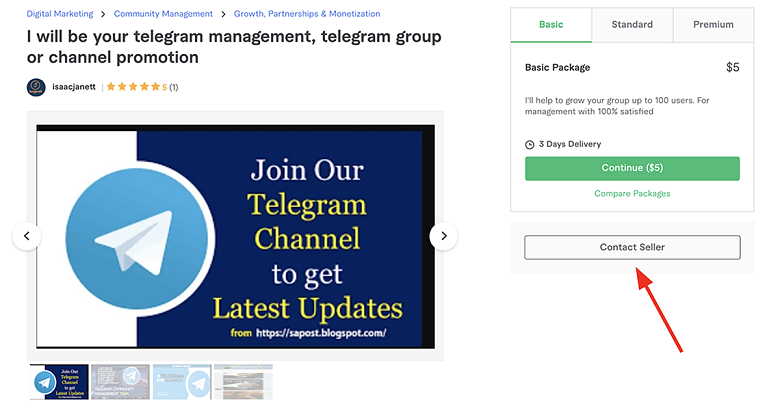 8. When you're ready to buy, click the green
Continue
button to place your order.
Some sellers offer optional add-ons, such as faster delivery times.
Double-check you've included everything you want in your order, and then click the green
Continue
to
Checkout
button. You'll be prompted to provide all the information the seller needs, such as your Telegram group or channel URL.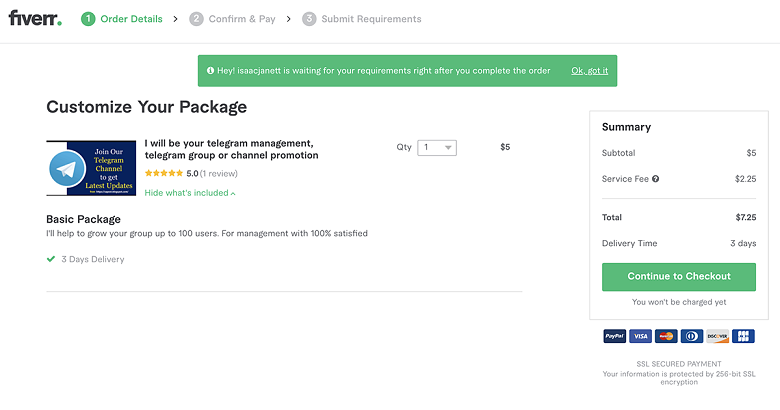 What to Look for in a Telegram Promotion Service
With more than 4,000 Telegram marketing gigs, Fiverr has no shortage of options. To make sure you choose the right freelancer, here's what I'd recommend you look for:
Key deliverables: Telegram promotion includes a broad range of services, so it's important to know exactly what you want before ordering. For example, some marketers promote your group to a certain number of people, while others help you acquire a certain number of new members.
Niche focus: While some Telegram marketers work with brands in any industry, many specialize in a handful of niches. If you run a crypto or forex group, for example, take care to hire a Telegram promoter with ample experience in your area.
Great reviews: Customer reviews can tell you a lot about what to expect from a freelancer, so be sure to read both the good and the bad. Keep an eye out for dealbreakers, such as delayed deliveries or poor results.
Fiverr credentials: To give you more confidence that you're choosing the right freelancer, look for someone who has a Level 1 or Level 2 Seller status. These credentials confirm that the seller has had consistent performance over several months.
Excellent value: Numerous sellers provide packages at three clear price levels. While it might be tempting to buy the least expensive one, the pricier choices frequently provide superior value for money. We advise thoroughly evaluating the options to arrive at a prudent budgetary choice.
Are You a Telegram Marketer Looking to Sell Your Services on Fiverr?
If you'd rather provide Telegram promotion, you can start selling via Fiverr in a few simple steps. It's actually as easy to buy a gig as it is to set up a gig (just look at how we got on in
our Fiverr review
). First,
go to Fiverr.com
 and click the
Join
button in the upper-right corner. Then enter a username and your contact information.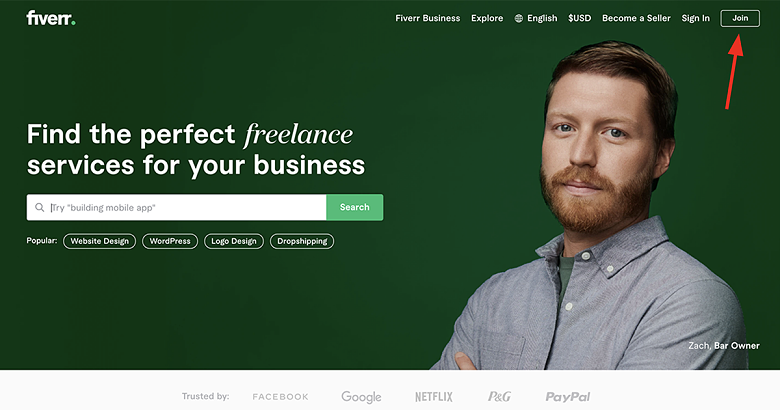 After creating your account, click the
Profile
link to start building your seller profile. Write a short bio that includes information on your experience with Telegram and digital marketing. Then add relevant skills, education, and certifications to your profile. For example,
you might add skills like Telegram Marketing, Social Media Marketing, or Digital Marketing to your profile
.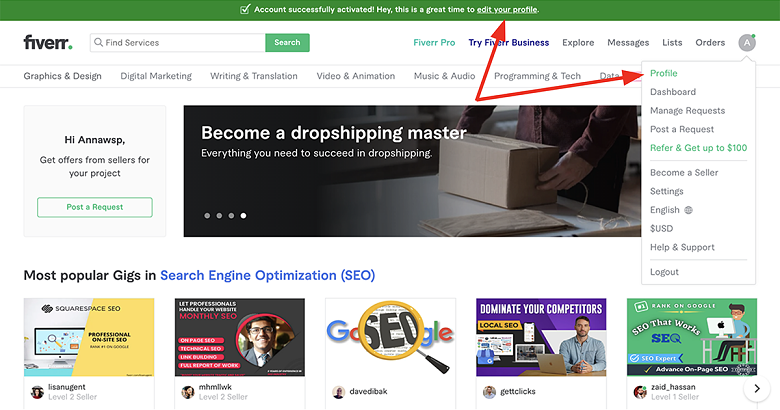 To start your first gig, simply click the green Create a New Gig button. Come up with a catchy title, select the most appropriate category, and add relevant search tags to make it easier for buyers to discover. Then, provide a detailed description of what your gig offers and why it's the perfect choice for potential buyers. You can also add work samples so buyers can see what you offer. You can create up to three packages for your gig, offering different deliverables at different price points.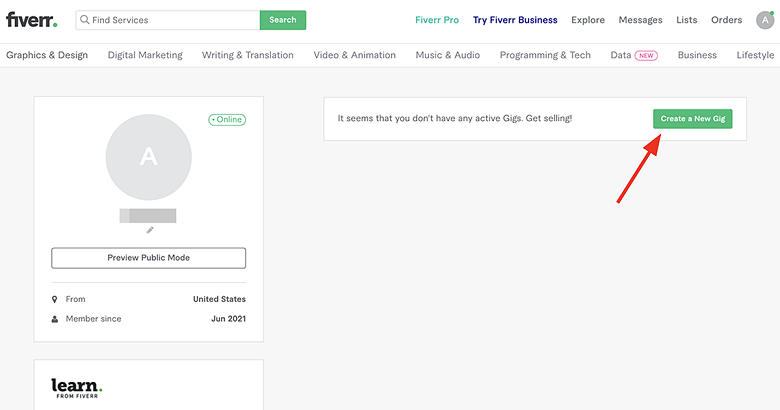 Once you publish your gig, buyers have the ability to purchase it or send you messages regarding it. Since the Fiverr platform takes care of all administrative tasks, such as processing payments and requesting Telegram links, you can concentrate on delivering exceptional promotion services. If you want to improve your Fiverr profile even further and create a compelling gig, there are two things I'd suggest.
1) Make sure you read this guide on how to create a successful Fiverr gig. 2) Consider placing an order with a Telegram marketer first.
That way you can read through gigs, go through the purchasing process, and test out communication options from a buyer's perspective. You'll get a clearer sense of what works best on Fiverr so you can optimize your own gig.
Simplify Telegram Promotion With Fiverr
Telegram offers a perfect platform for promoting businesses in the crypto, forex, trading, and gaming spaces with its ultra-fast and super-secure instant messaging. Although growing a Telegram channel or group may not always be straightforward, enlisting the services of an experienced marketer to do it for you is a breeze.
You can find Telegram marketers with gigs starting at just $5 on Fiverr, so getting the promotion you need is cheaper than you might assume.
To get even more value from your Telegram promotion, consider spending $10, $50, or $100 for extra exposure for your channel or group.
I'd recommend Imisi_pro from my top picks in this list.
I just can't argue with the consistently strong reviews and their affordable packages with promotion to 1 million people.
FAQ
How can I promote my Telegram channel?
Hiring someone to handle marketing for you is the simplest way to promote your Telegram channel or group. Search for Telegram marketers on Fiverr and hire experienced promoters for as little as $5.
How can I promote my business on Telegram?
You can give your business exposure on Telegram by sharing links with relevant channels and groups. Depending on your niche, you can market your business to thousands or millions of interested Telegram users.
How much does it cost to advertise on Telegram?
When you purchase promotional services on Fiverr, you can start advertising on Telegram for as little as $5. Many freelancers charge extra for more extensive promotion, but few gigs cost over $300, even if you need an entire month of Telegram marketing.
How can I hire a Telegram promotion service?
Go to a top freelance website like Fiverr to hire a Telegram marketer. Type Telegram promotion into the search bar and browse the gigs until you find one that meets your needs and fits your budget. Then place your order to hire a Telegram promotion service instantly.