Most hosting services are not optimized for Shoutcast.
You need a very specific mix of ingredients that makes for high-quality audio streaming, no buffers or loading breaks, and an easy management experience.
If you're not careful with your choice of hosting, poor performance is sure to be an issue.
Some providers offer free Shoutcast hosting, but there, bad performance will be the least of your worries. You'll risk losing your entire project to arbitrary terms of use or outside attackers. So you don't have to risk it, I tried a bunch of different services out for you.
Now, I present to you the five hosts that provided me with the fastest, smoothest, and easiest Shoutcast hosting experience. 
What We Look For in the Best Shoutcast Hosting Services
Powerful VPS and dedicated solutions – Shoutcast is rarely provided as part of a shared hosting plan, so you'll need one of the more advanced hosting solutions. Dedicated servers can get extremely pricey, but VPS (virtual private server) plans are the next best thing.
Bandwidth to spare – Internet radio apps like Shoutcast require a lot of bandwidth. The more you can get, the better. The bandwidth consumption depends on your file quality (bitrate), but anything less than 1 TB of bandwidth a month is a no-go.
Easy, straightforward installation – Regarding ease of use, there's some difference between the providers on our list. Some offer easy-to-follow installation tutorials, some trust you to take care of it yourself (it isn't too complicated), and others will set up Shoutcast for you.
Data center locations – The closer they are to your audience, the better the performance will be. American users will appreciate US data centers, while if you're in Europe, you'll want a data center located in a main European hub like Amsterdam.
Backups – After collecting, arranging, and building the perfect music library, it'd be a crying shame if it all went to waste. With backups, that's one less thing to worry about. Some companies on our list include backups as a basic service, others offer them as a paid add-on.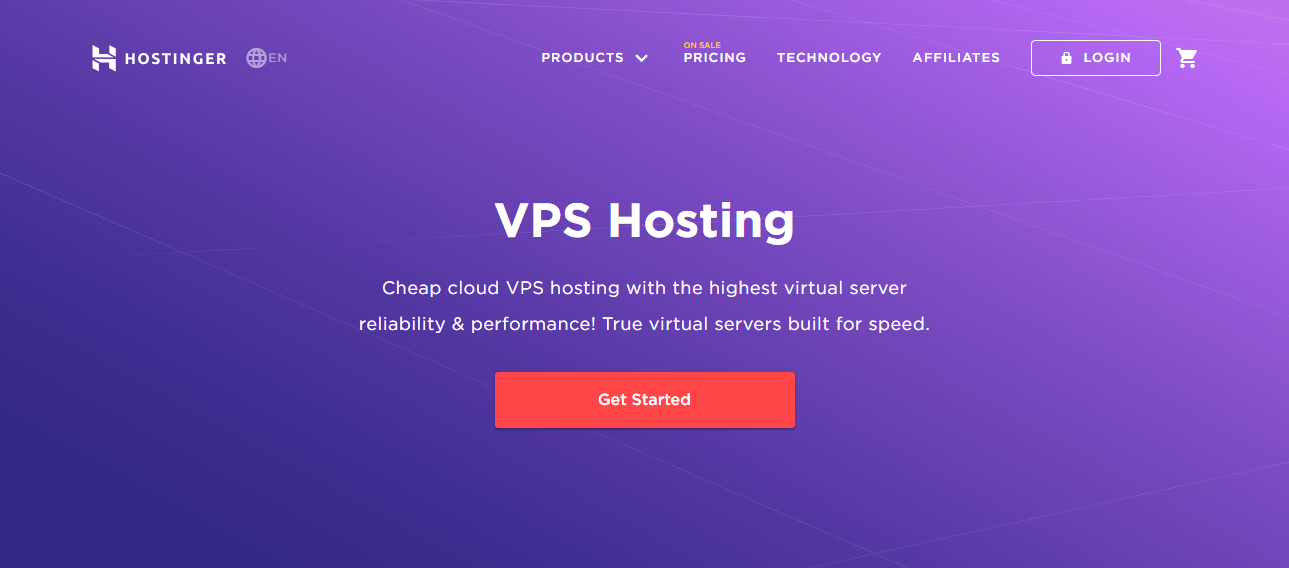 Widely known for its shared hosting solutions, Hostinger also provides an excellent service for cheap Shoutcast hosting.
Hostinger's basic VPS plan
 is a good place to start, and you can always scale up if the need arises.
Prices are extremely low, and six data center locations are available, in the US, the UK, Brazil, the Netherlands, Singapore, and Indonesia.
All Hostinger's VPS and dedicated servers are unmanaged, meaning you'll be in charge of setting up the server, configuring and updating it, and installing Shoutcast. Shoutcast is far from being some resource-hungry app, so you don't need to worry too much about optimizing every little thing.
Hostinger's 24/7 support staff will be happy to assist you with questions regarding the server's setup
, and there are quite a few updated tutorials available on the site. You won't find a specific one for Shoutcast, but just follow the standard installation procedure available on the Shoutcast website and you'll be alright. Make sure you check out my
full Hostinger review
to find out why it ranks so highly in the web hosting world.
Here's what you'll get:
20 GB of storage and 1 TB of bandwidth – On the basic VPS plan. This is enough to house a medium to large high-quality music library, and the bandwidth should suffice to stream around 300,000 songs a month.
24/7 support – Available through live chat. Response times are less than a minute, and Hostinger's knowledgeable support agents can assist with server installation and configuration. Still, be prepared to learn a lot and follow the detailed tutorials yourself.
Backups – Your VPS container can be backed up and restored using cPanel, and Hostinger also offers automatic daily backups at an additional cost.
30-day money-back guarantee – Try the service for a whole month and get a complete refund if you aren't satisfied.

American hosting company InterServer provides unmanaged VPS plans that can be an excellent home for your Shoutcast project. The basic configurations are very affordable, and with four CPU cores or more – the service becomes managed. Are four CPU cores needed to run Shoutcast? I'd say no, they're certainly not. This leaves us with
a reliable yet unmanaged service.
Don't expect the support staff to guide you through the installation and setup, but if you follow server tutorials closely, you'll get it right yourself. Plus, our expert had an interesting experience with the support team, so make sure you read our
full InterServer review
. Keep in mind that the data center situation is similar to InMotion's – data centers on each American coast.
If you're aiming at global audiences, InterServer really isn't your best bet.
Here's what you'll get:
30 GB of storage and 2 TB of bandwidth – On the most basic VPS configuration. That's a fairly sizable song library, and you can stream around 600,000 songs a month.
Instant deployment with your operating system of choice – As Shoutcast doesn't require any specific OS to run, feel free to choose the system you're most comfortable with. Just keep in mind that Windows licenses factor into a higher price tag.
SSD servers – While Shoutcast doesn't require the newest hardware available, SSD provides a level of reliability that puts old HDD servers to shame.
Only monthly billing – There's no need to sign up for years to get the best deals. This also means there's no money-back guarantee, but you can always quit after the first month.

InMotion Hosting remains one of the only big American hosting companies to keep things personal, in-house, and of the highest quality. There's no outsourced support, stone age servers, or tricky fine print with InMotion, and that's guaranteed.
InMotion VPS plans are available in either managed or unmanaged (cloud VPS) form, and in my opinion, the managed services are worth the difference in price.
InMotion provides a boutique, hands-on service, and its managed VPS solutions are the best way to enjoy it. You'll get one-on-one time with an InMotion expert to set up and configure your server for Shoutcast, and everything from security to updates is included as part of the service. You can see a full list of features in our
detailed InMotion Hosting review
. The only problem with InMotion is the data center locations, in Los Angeles, California, and Washington, D.C. While this is great for US users, with fast delivery speeds assured all over the country,
if your audience is in Europe, South America, or especially Asia, lags and buffers are basically unavoidable.
Here's what you'll get:
75 GB of storage, 4 TB of bandwidth – On the basic managed VPS plan. This is a truly impressive amount of storage and bandwidth. You can easily stream more than a million high-quality songs a month.
Launch Assist – All of InMotion's managed plans include two hours of Launch Assist. The service comprises dedicated time with an InMotion system administrator who will understand your needs and requirements and configure the server to your exact specifications.
On-demand and scheduled snapshots – You can perform full container backups on the go, or schedule them ahead of time.
90-day money-back guarantee – InMotion offers a generous guarantee period that lets you try the service and measure its performance over a long time. By the end of three months, you'll know if InMotion is for you, and if it isn't – full refund incoming.

Liquid Web focuses solely on providing high-end managed solutions for a wide variety of systems and apps. Its
VPS hosting plans
 are great for Shoutcast, offering powerhouse performance and a bunch of fantastic security measures.
Liquid Web's unparalleled performance – beating out global giants like Amazon Web Services (AWS) in independent tests – is an especially important asset for hosting a Shoutcast server.
With three data centers available, two in the US and one in Amsterdam, your songs and broadcasts can quickly reach mass global audiences. The main caveat here is the price. The problem is twofold – there's no money-back guarantee, and monthly prices are very high. The price can be halved if you go with yearly payments, but take time to make sure you really need the many extra features Liquid Web offers, like DDoS (distributed denial of service) protections and vulnerability assessment tools. How do you know if you need them?
I'd say it depends on how saturated your broadcasting niche is, and how moral your competitors are. If you feel like your Shoutcast project is likely to suffer from hacking attempts, Liquid Web's extra features are priceless.
Here's what you'll get:
40 GB of storage and 10 TB of bandwidth – On the most basic VPS plan. If you're not planning on going ridiculously viral starting tomorrow, you'll be more than alright streaming millions of songs a month.
Full server management included – You can switch to core managed or unmanaged, but all VPS plans come with a fully managed service by default. That means Liquid Web will set up the server, keep it updated, and constantly check and monitor for any security weaknesses.
100% uptime guarantee – Liquid Web takes its commitments very, very seriously, detailing them in the SLAs (service-level agreements). If it misses the 100% uptime mark or the 59-second chat response mark, you'll be credited by how much was missed.
Security features – All plans include an integrated firewall, Cloudflare's protections, DDoS attack protection, and more. ServerSecure, included with all VPS servers, enhances your ability even further in blocking unwanted access and securing your data. Read more about these features in our full review of Liquid Web.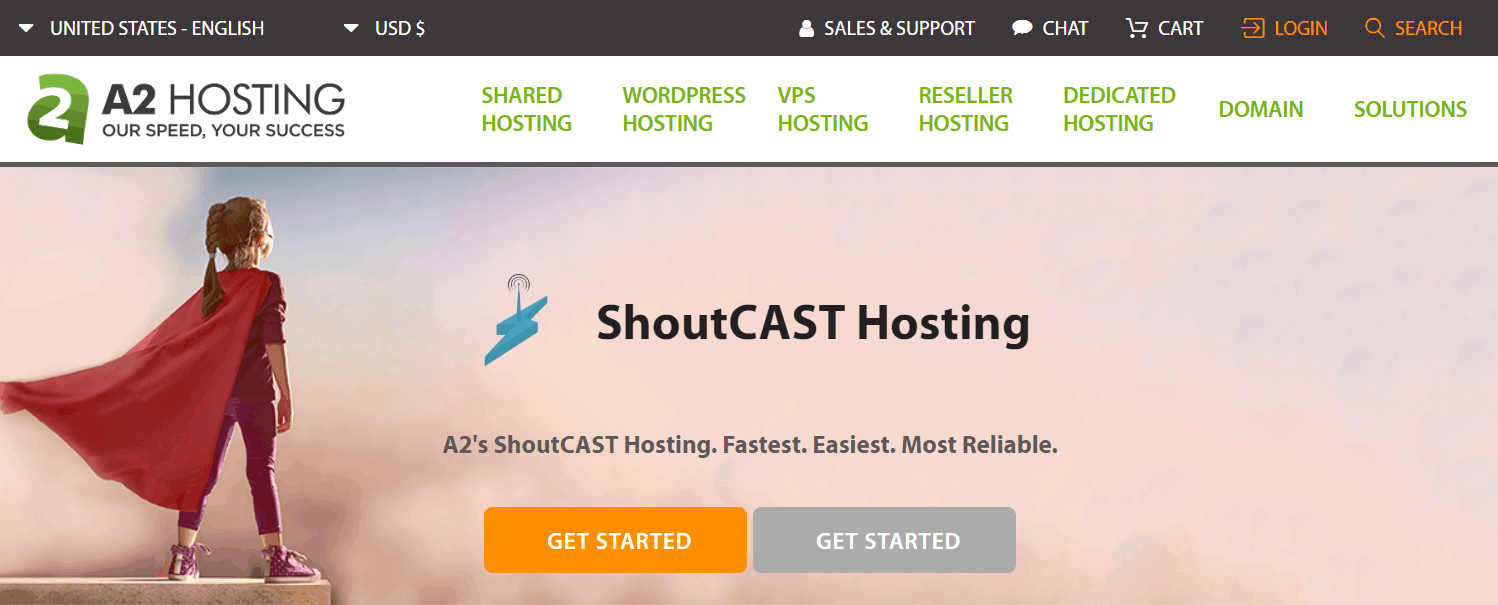 True to its reputation as a provider of customized hosting solutions, A2 Hosting provides the only custom-tailored Shoutcast hosting service around. The plans aren't the cheapest,
and they don't include the many extras that Liquid Web offers,
but they do come with hands-on support and management from A2's experts. Moreover,
A2 is the only company to provide you with a fully active Shoutcast installation. 
Although it narrowly misses our list of the
best web hosting services
, A2 Hosting is definitely worth checking out. Read our
in-depth A2 Hosting review
to see why. A2's Turbo boost is another cool perk, and it will significantly increase your Shoutcast app's performance. If you're just beginning to stream your music, it might not be relevant yet, but it's a cost-effective upgrade that could be of major use in the future. Regarding data center locations,
A2 is one of the only two companies on our list (the other being Hostinger) to offer hosting in Asia, specifically in Singapore.
If Asian audiences are on your radar, hosting with A2 is a great way to bring their latency down to a minimum.
Here's what you'll get:
75 GB of storage, 2 TB of bandwidth – That's enough storage for a big music library, and enough bandwidth for streaming around 600,000 songs a month.
Turbo upgrade – For an additional cost, your hosting will get access to better performance improvement technologies. If your Shoutcast station grows quickly and you need an efficient way of providing more juice to the server, this is it.
Server rewind file backups – Available for free if you choose the no-root access. Because A2 will take care of installing and configuring Shoutcast for you, root access really isn't needed.
Anytime money-back guarantee –

It's not a money-back guarantee in the classic sense of the term, but w

ith A2, you can always cancel your plan and get a pro-rata refund for the remaining balance.
Which Shoutcast Hosting Plan Is Right for You?
Price-wise, Hostinger's basic VPS plan is unbeatable.
If you've just started fiddling with Shoutcast and want to see if you can work with an unmanaged plan, I strongly recommend you give Hostinger a try. With the 30-day money-back guarantee, it's completely risk-free.
If you're looking to minimize confusion and want to get online as fast as possible, A2 Hosting is the host for you.
With its global data center deployment and customized plans, you'll be in good hands no matter where your audience is. Do consider
Liquid Web
 for
extremely successful
Shoutcast stations. The extra protections are excellent, and you'll be able to stream millions of songs a month. If that's not your situation, Liquid Web is not for you.
Take a look at the following table for a quick comparison:
| | | | | |
| --- | --- | --- | --- | --- |
| | Storage on Basic VPS Plan | Bandwidth on Basic VPS Plan | Server Locations | |
| Hostinger | 20 GB | 1 TB | US, UK, Brazil, Netherlands, Singapore, Indonesia | |
| InterServer | 30 GB | 2 TB | US | |
| InMotion Hosting | 75 GB | 4 TB | US | |
| Liquid Web | 40 GB | 10 TB | US, Amsterdam | |
| A2 Hosting | 75 GB | 2 TB | US, Amsterdam, Singapore | |
FAQ
Which is the best host for Shoutcast?
It really depends on how many listeners you expect to get. Most hosts with VPS or cloud hosting plans (such as
Hostinger
) can run Shoutcast, but if you want a truly tailored hosting plan,
A2 Hosting
actually has VPS hosting optimized for Shoutcast.
Liquid Web
 is another great choice because of its generous bandwidth. Our guide to the
best web hosting services
can help you find other hosts that meet your needs.
Can I get Shoutcast hosting for free?
You may find some websites that advertise free hosting for Shoutcast, but these come with big limitations (such as low-quality audio, a limited number of listeners, no direct stream links, and twice-monthly shutdowns). If you want your Shoutcast website to be a success, you'll have to pay for hosting, I'm afraid. The good news is that VPS and cloud hosting isn't as expensive as it used to be.
InterServer
performed well in our tests
and offers great value for money, too. Our guide to the
best cloud hosting services
has some alternatives that can work for Shoutcast, too.
Can I use Shoutcast on a shared hosting plan?
Although a lot of shared hosting plans are advertised as unlimited, the reality is that there are always limits somewhere (usually buried in the terms and conditions somewhere.) That means that trying to run Shoutcast on shared hosting isn't really feasible. Internet radio uses a lot of bandwidth, so you need VPS or cloud hosting. With a budget-friendly host like
Hostinger (which delivered great speeds in our tests)
 you can get VPS at relatively low costs.
Our coupon page
also has some great deals to reduce your costs even more.