While there are some absolute gems waiting for you, there are also a few themes that should be avoided at all costs.
Of course, Shopify's long list of payment options will work on all themes.  But if you're looking for features like responsive design, product filters, or advanced marketing tools – well, that all comes down to the theme you choose. To help you figure out what's what,
I've combed through the entire
Shopify theme store to bring you the best and worst themes available right now.
My review covers theme functionality as well as visual appeal and user concerns. (We've also included
some Shopify alternatives
…which could be even better.) If you're trying to decide on more than just a theme, you can
check out our comprehensive Shopify review
first. Otherwise, read on.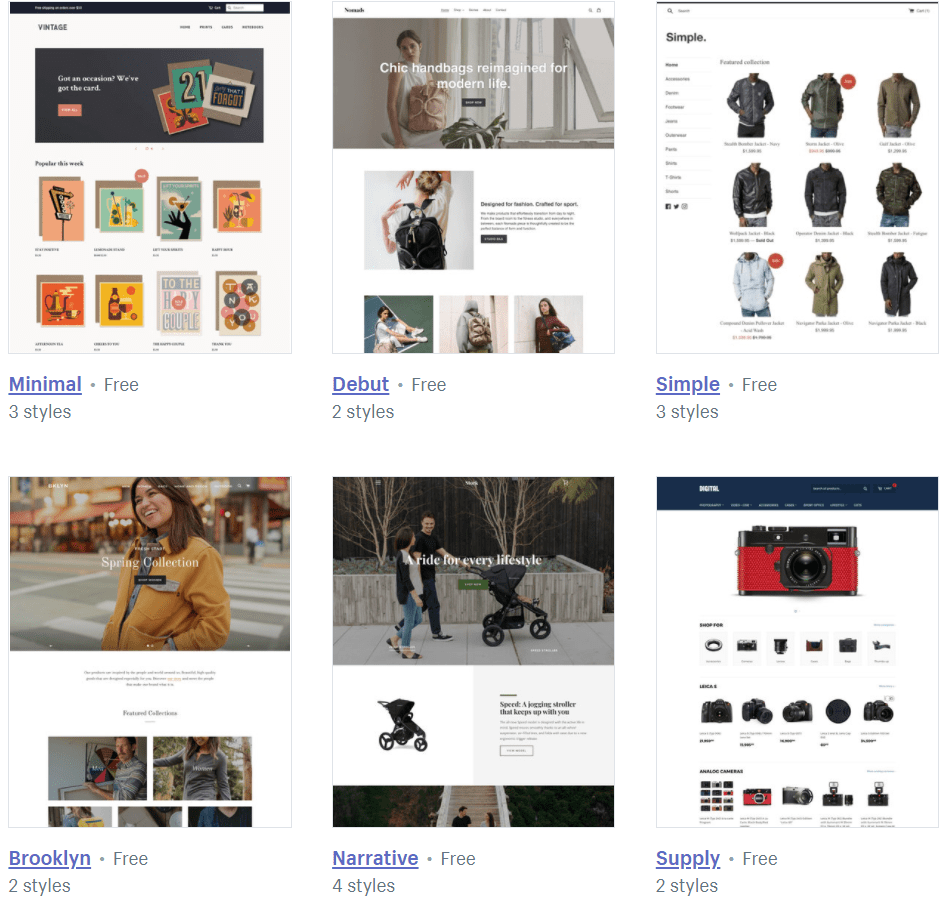 My Favorite Shopify Store Themes
Before we dive in, you should know that each Shopify theme comes with multiple designs. Sometimes the various designs are so different that they could be their own stand-alone themes!
The
Minimal
 theme, for example, has three designs to choose from: 'Vintage', 'Fashion', and 'Modern'.
 Each one has a distinct color scheme, typography, and layout.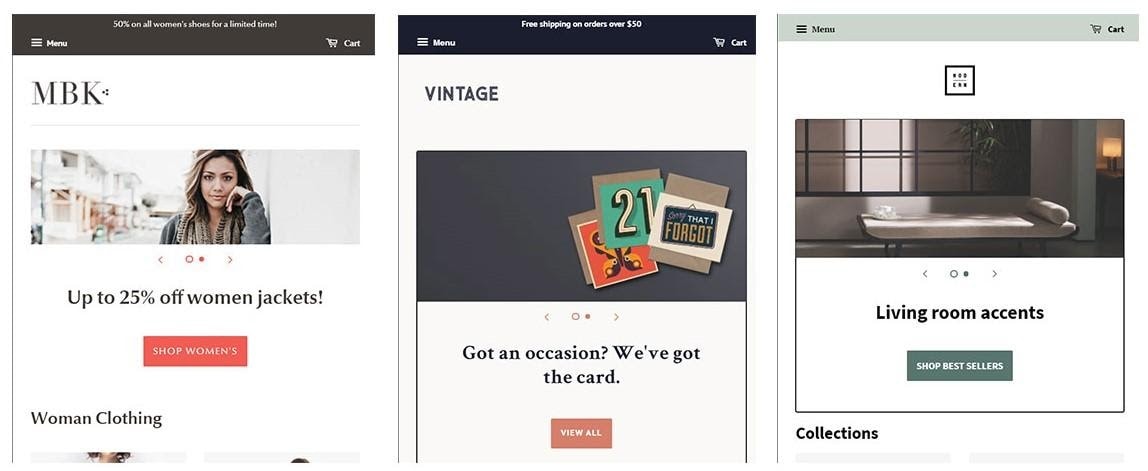 So don't dismiss a theme at first glance, especially if it has your must-have functionality.
If you've run a filter search and none of the themes are catching your eye, make sure to click on the different designs in each one so you can see
all
your options. With this in mind, let's move on to my top picks.
Retina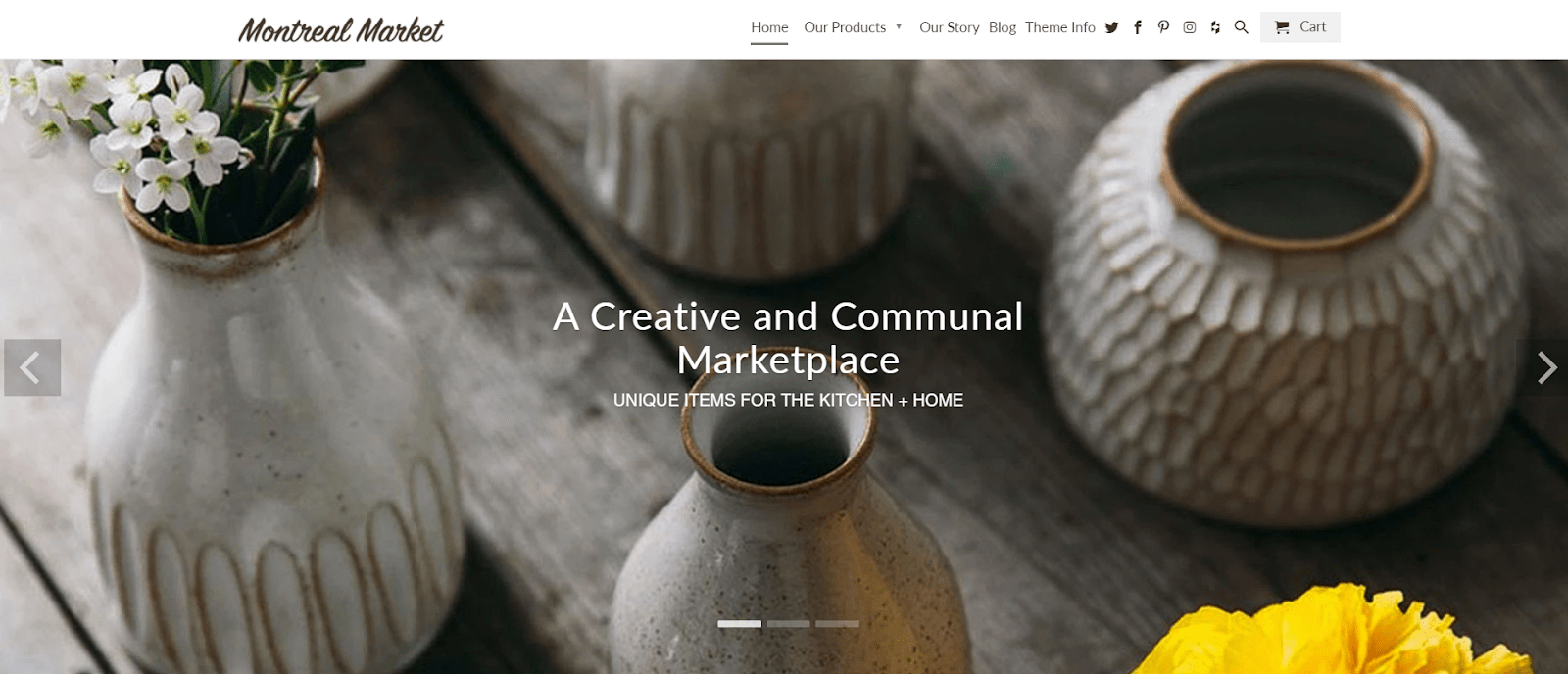 Retina
 offers you the best combination of functionality, flexibility, and design.
 This theme comes in four different design styles, all of which look great and put images front and center. On top of this,
Retina
 is one of the best themes in terms of marketing features.
Its design includes multiple blog layout options, social media icons, and image galleries. Though you can no longer add your Instagram feed, you can still embed a Twitter account. You can also set up Disqus comments on your blog.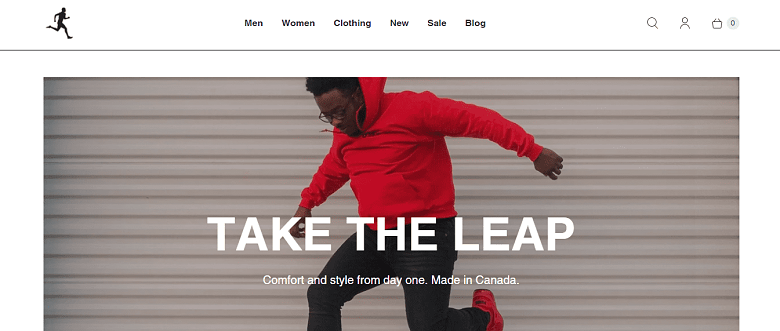 This theme also allows you to create custom promotions for your store. You can add images and text to let your customers know about sales, discounts, or new products. Adjusting the store to fit your needs is easy, too.
Retina
 allows you to configure your own content blocks, and you can customize your sidebars to include a variety of different features, from menus to search bars.
Retina
 doesn't just make life easier for you – it's also designed with your customers in mind. The theme is mobile responsive and features a 'Quick Shop' option, which allows visitors to view a product's details and quickly add it to their cart without leaving their current page.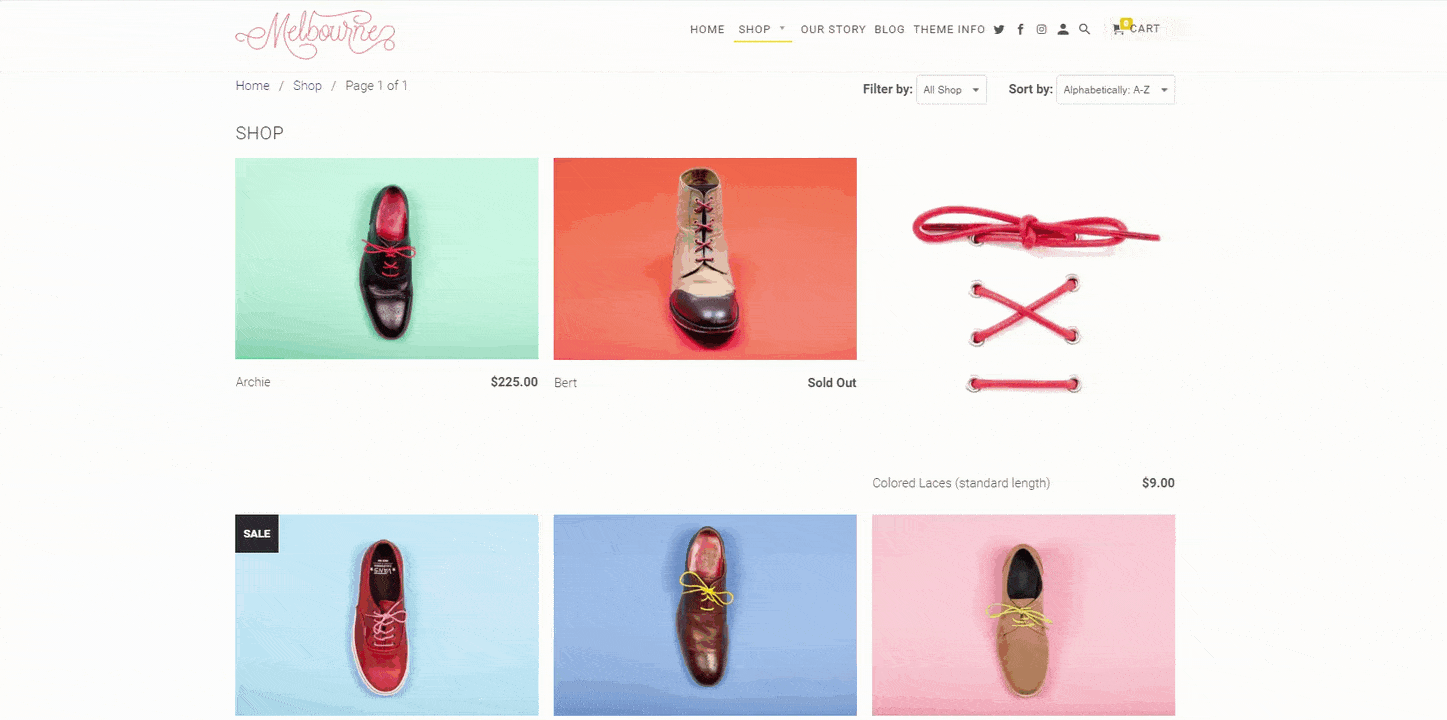 You can also add FAQ, Google Maps, contact forms, image magnification, size charts, testimonials, videos, and related products to keep visitors browsing through your store. Shopify recommends this theme to businesses with a medium-sized catalog.
In my opinion, though, it could work just as well for large businesses:
 its product filters and multi-level menus make it easy for visitors to navigate through an extensive catalog. One downside of the
Retina
 theme is its fairly hefty price tag. At just under $200, it's similar in cost to other premium Shopify themes. If you're a self-financing startup, though, that could be a bit steep. Another important thing to know that Shopify's paid themes are created by third-party developers.
So you can't reach out directly to Shopify for support.
This means that you should definitely check a theme's reviews before you buy it. Luckily, in
Retina
's case, developer Out of the Sandbox has received positive reviews on customer support. They've even written support articles specifically about
Retina
.
Minimal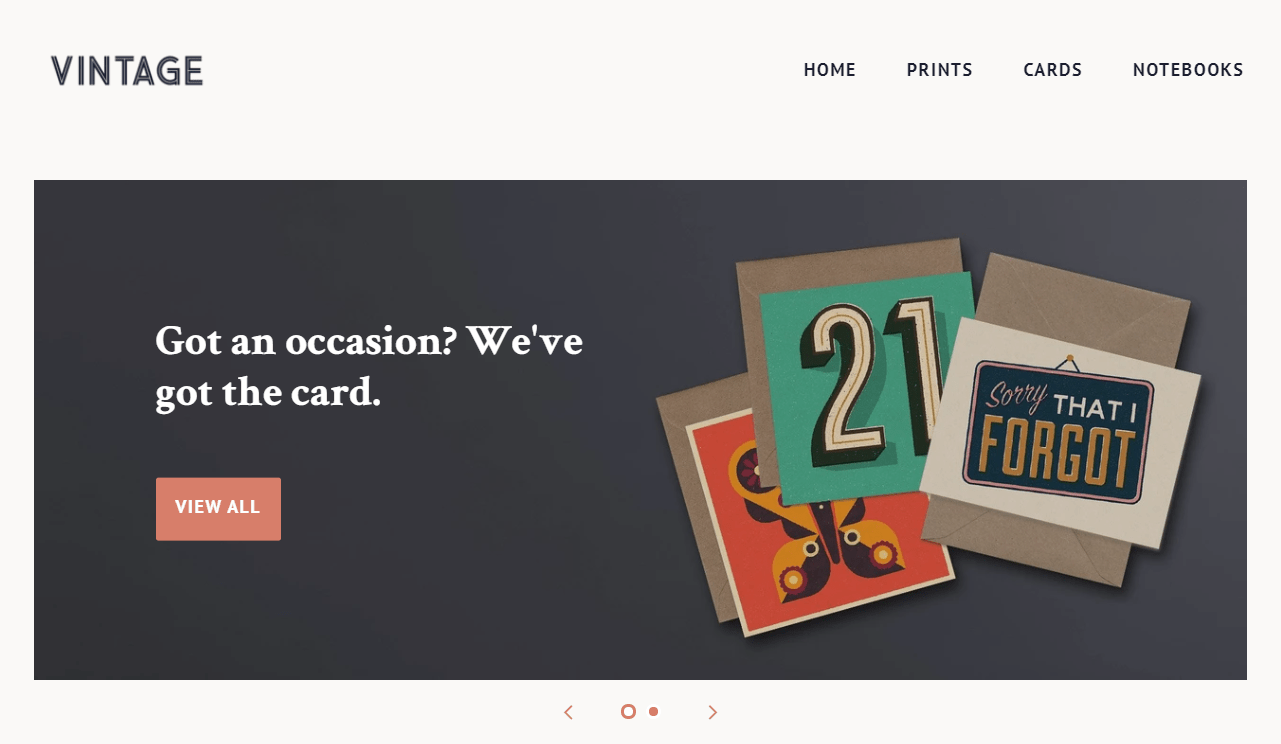 Minimal
 is one of the best free themes available on Shopify.
Although it offers very few built-in marketing features, it's responsive, flexible, and SEO-friendly.
 Its clean, minimal design is quite appealing and puts focus directly on your products. With features like high-definition images, homepage videos, slideshows, zoom functionality, and related products, this theme is all about your product photos. So
Minimal
 could be a great choice if you have visually enticing products and great camera skills. This theme works best for showcasing detailed items like jewelry, art, or cameras. That's probably why Shopify recommends
Minimal
for furniture, fashion, and art sellers.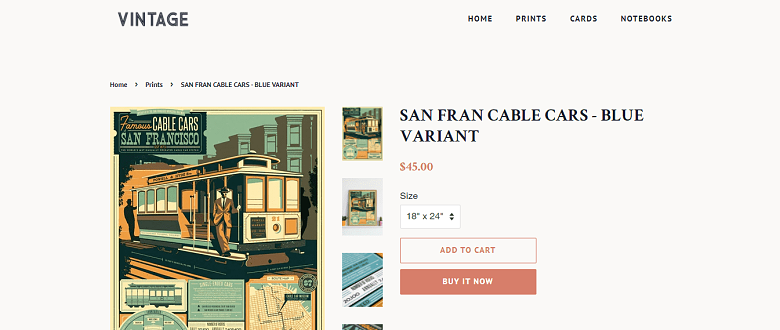 With product filtering and a clean page layout, this theme will work for businesses with quite a few products in their inventory.
Not only do you get three theme designs to choose from, but you can also tweak your layout, typography, product views, and navigation styles as needed.
If you have products that come in a variety of styles or sizes, you can add dropdown menus or clickable icons to your product pages, too.
Brooklyn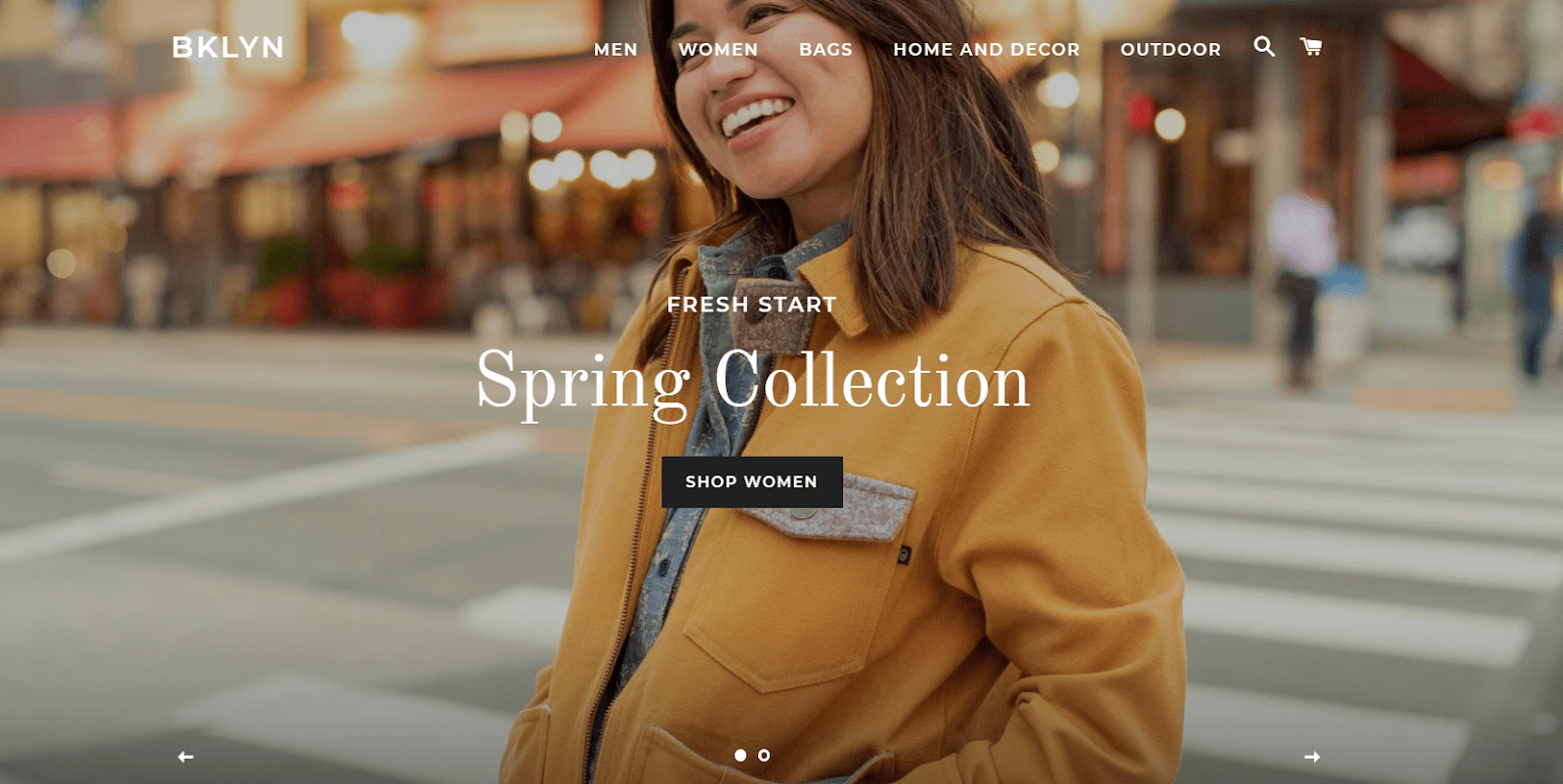 This is another one of Shopify's free themes. Like
Minimal
, it has a clean and basic design. But unlike
Minimal
, it's full of character and style. This is partly because
Brooklyn
focuses on branding and lifestyle images rather than product photos
(although there's plenty of room for those, too). According to Shopify, this theme was designed for modern apparel businesses. While it's true that the classic version of
Brooklyn
 (seen above) is cool and sleek, the 'Playful' version would work well for quirky craft stores or vintage shops.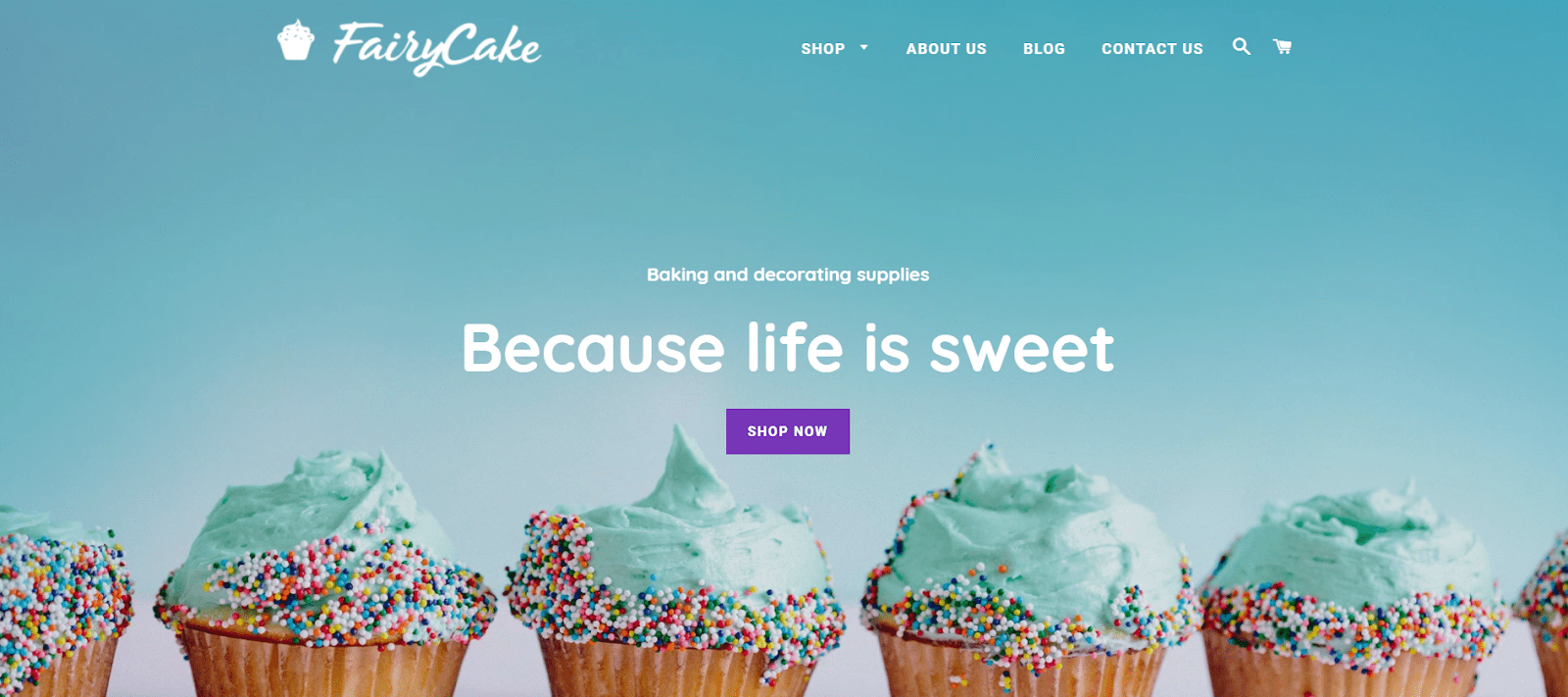 In fact, stores using this theme sell everything from cake decorations to knitted accessories and yoga mats.
And
Brooklyn
also works for vendors of every size.
 Hefty catalogs can be organized using product filters and categories, while smaller inventories can shine with dynamic product grids.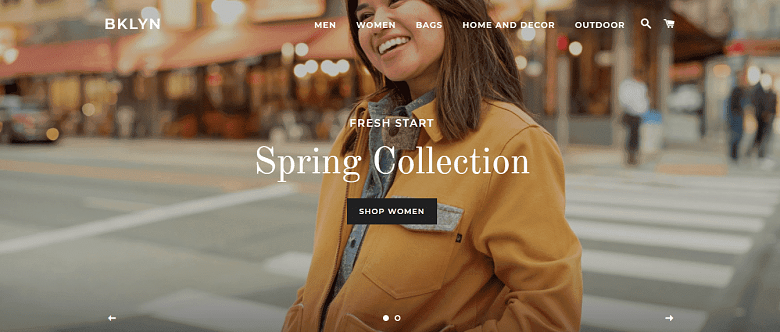 With high-quality photo layouts and image galleries as well as slideshows and video headers on the homepage,
Brooklyn
 offers plenty of opportunity for you to show off your style. And with social media buttons and a blog option, you can also use this theme to build an online following. Quick tip: this theme has a similar vibe to the premium
Ira
theme, but with a much friendlier price tag. Using
Brooklyn
 could save you almost 200 bucks!
Prestige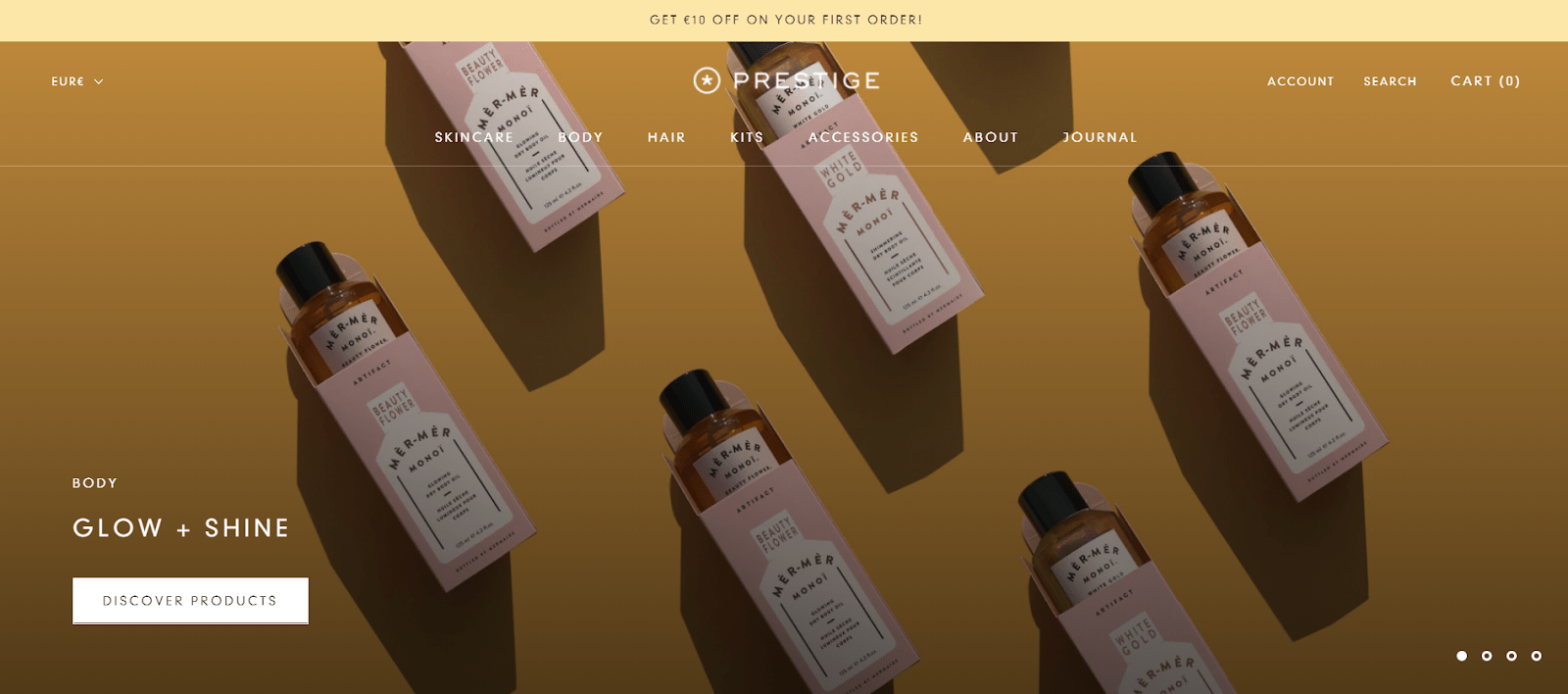 Brooklyn
 does a good job of making your brand stand out…but
Prestige
 is even better! This theme has three designs to choose from, all of which communicate elegance and luxury lifestyle vibes.
Designed to promote premium brands,
Prestige
 offers some unique features, including a built-in timeline and hotspot links.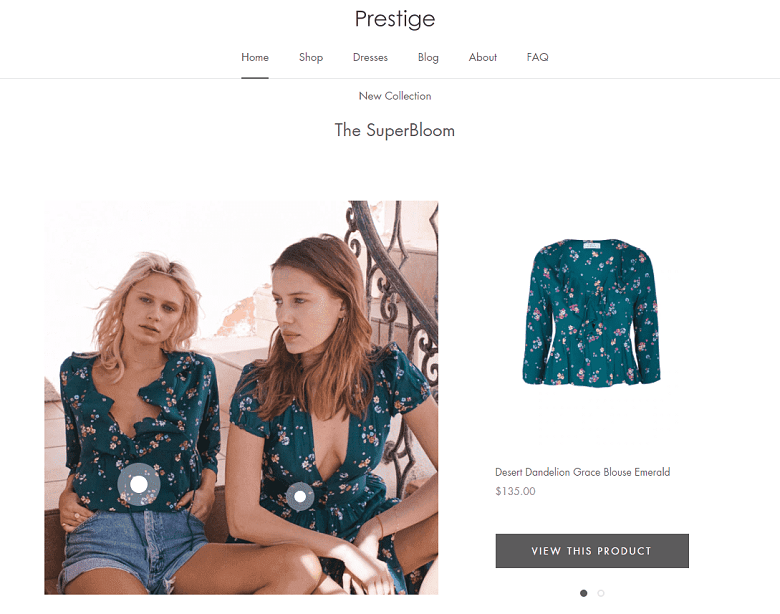 Prestige is optimized for large, high resolution images, so you can showcase your best studio snaps throughout your site.
It is also one of the few Shopify themes that has a parallax scrolling effect.
 You can take advantage of promotional pop-ups and banners, too. This is an ideal theme for medium and large stores selling clothing, accessories, jewelry, and beauty products.
Stores currently using
Prestige
 include soy wax candle makers, luxury fragrance brands and leather shoe retailers.
 This is a premium theme, so it comes with a price tag of just under $200.
Envy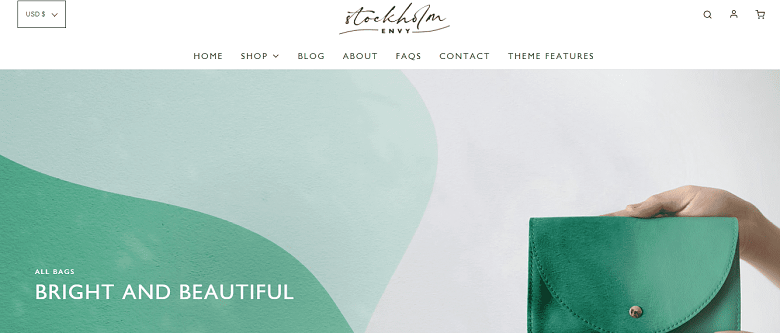 Envy
 is a versatile theme that will work for stores of every shape and size. But its mobile-first design makes this a particularly appealing option for brands that want to attract younger audiences.
Envy
 also features social media integrations, testimonials, pop-ups, banners, blogs and a FAQ.
The homepage layout is great for directing focus to specific promotions or new products. According to its designers, this is a super fast theme built with SEO in mind.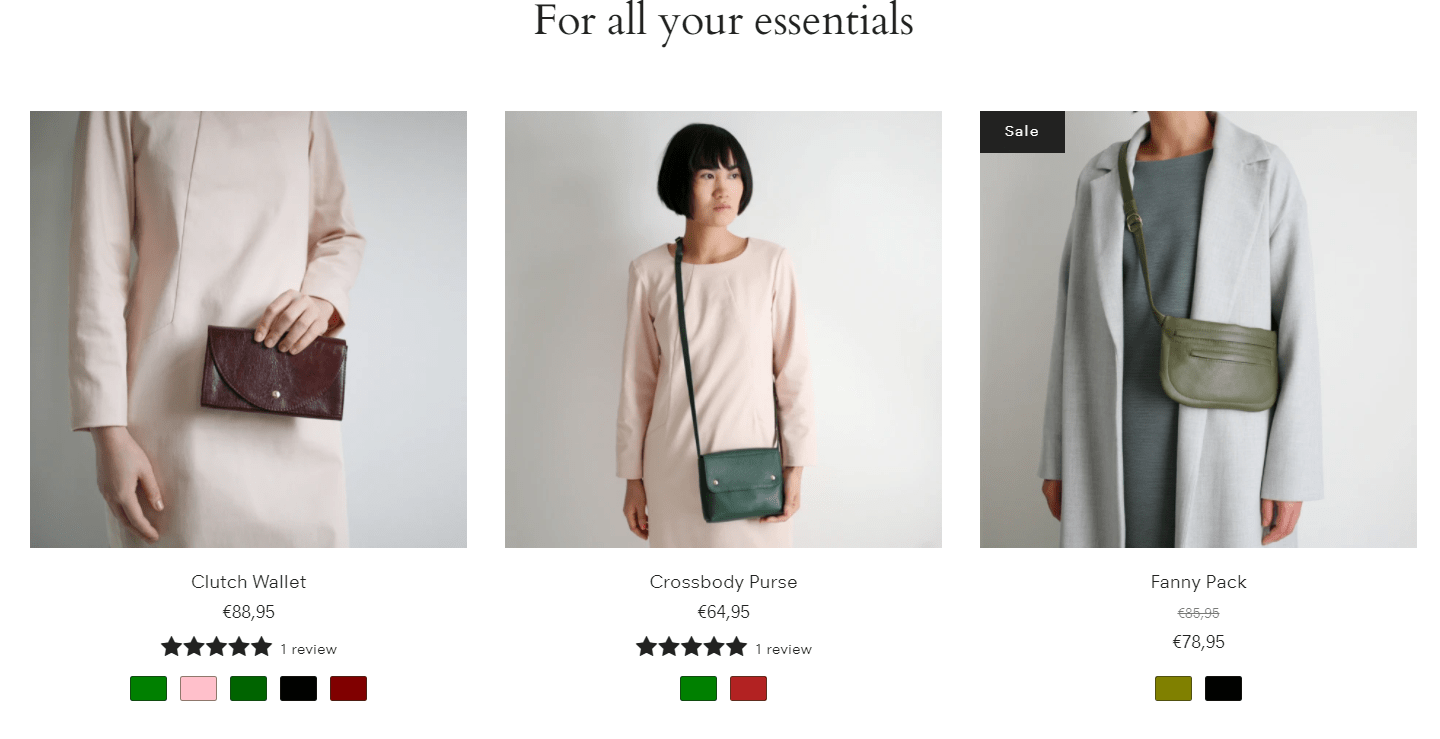 This theme comes with four pre-made designs, all of which are beautiful.
If you're in a niche like jewelry or beauty, you might find that you almost can use
Envy
as-is.
But if not, the theme has a lot of customization options – at least by Shopify's standards. This is another premium theme which costs nearly $200.
Shopify Themes to Avoid
In general, Shopify's free themes probably won't cut it if you've got a huge product inventory. And some themes are slow to load and should be avoided at all costs, whatever the size of your business. Here's what you need to know. As I already mentioned, free themes
Minimal
 and
Brooklyn
are both great choices – especially if you only have a small number of products for sale.
But if you've got hundreds of different products, you'll want to consider purchasing a premium theme.
Shopify says two of its free themes –
Venture
and
Supply –
are good for large product ranges.
But even though
Venture
 looks very nice, its customization options are limited.
And recent reviews of
Supply
include complaints about its slow loading speed.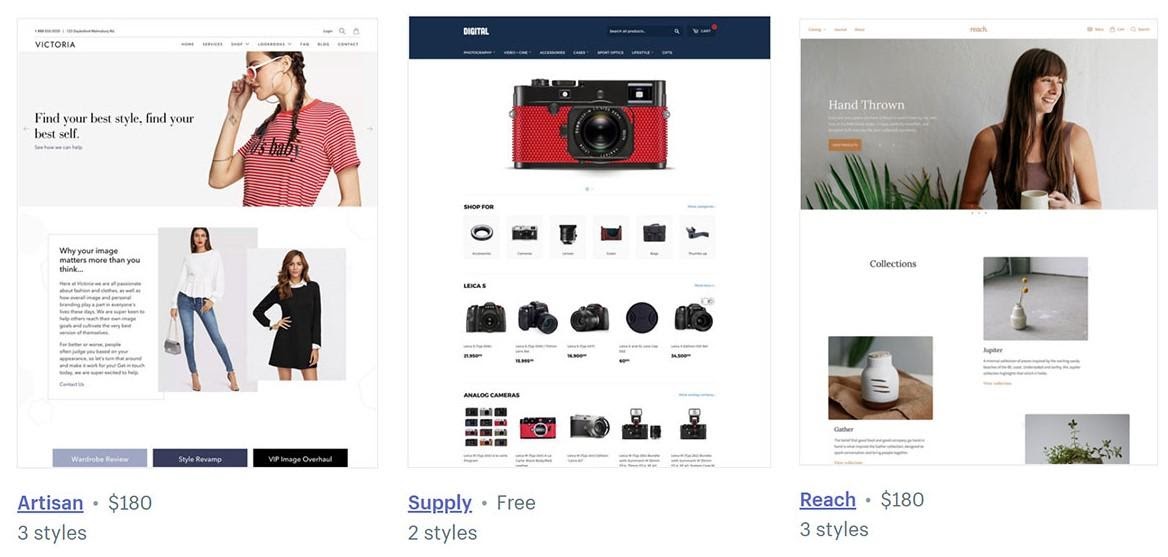 I checked out the reviewers' claims by visiting a few websites built using
Supply,
and
they were right: the homepages were slow to load. Google's PageSpeed insights tool confirmed this issue, especially with mobile devices. Slow speed isn't just a problem with free themes – premium themes
Reach
 and
Artisan
 are slow to load, too.
Slow site speeds can frustrate your visitors and hurt your site's SEO, so I suggest avoiding these themes.
What If You Can't Find a Theme You Love?
If you can't find the right Shopify theme or need to keep costs down, you could consider using another website builder.
Shopify alternatives like Wix and Weebly provide their themes for free and also offer cheaper subscription plans.
Wix also has better variety, with over 100 templates for online stores
in categories ranging from 'kids and babies' to 'electronics' to 'books and publishers'. With Wix's intuitive drag-and-drop editor, all templates are flexible and easy to edit. You're also free to customize every aspect of your website, including your storefront, cart, and checkout. The best news is that these days,
Wix offers powerful e-commerce features in addition to its design flexibility,
 so it could be the perfect solution for your online shop. Two of my favorite Wix templates are designed for home furnishings and handmade cosmetics, but you could easily customize either one to make it suit your niche.
Home Accessories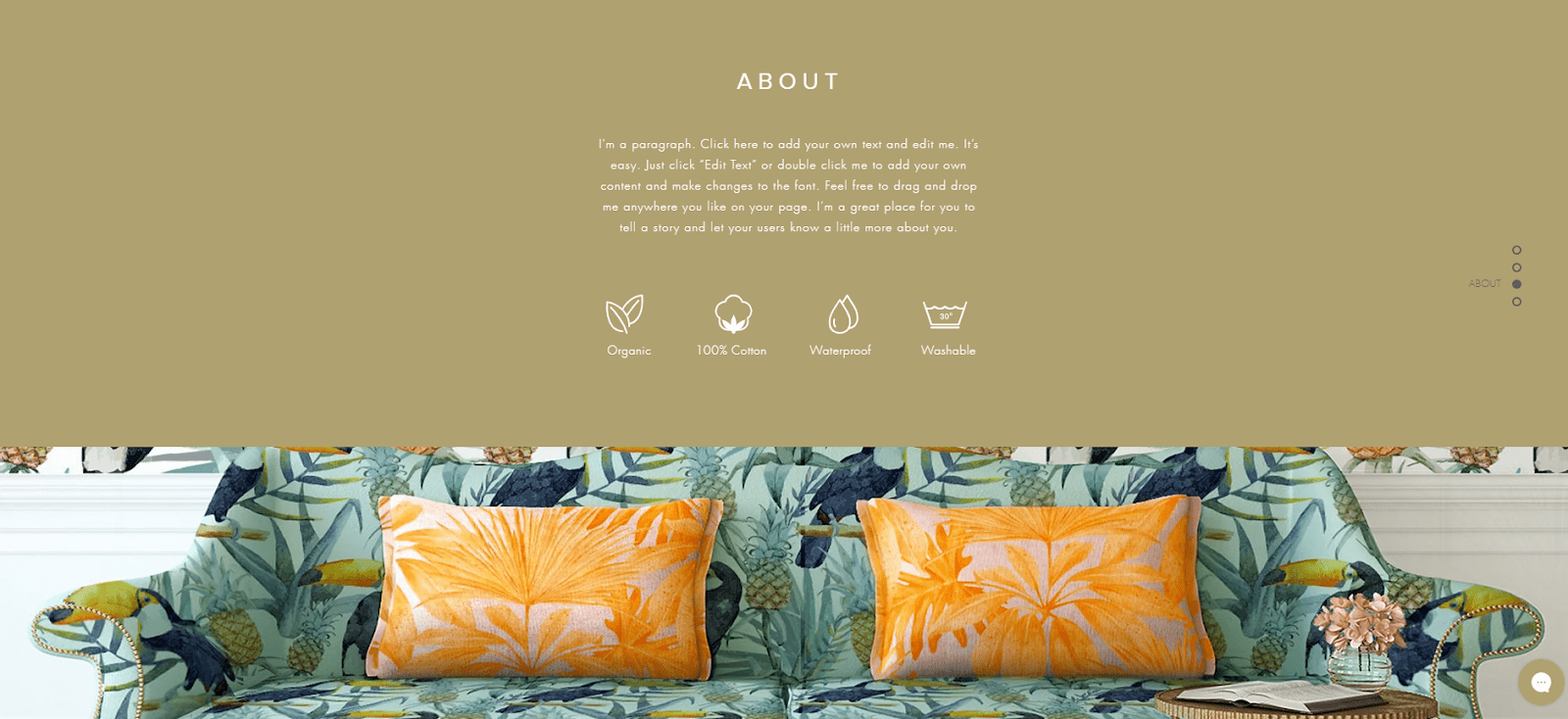 This template from Wix is bright and colorful. It stands out for me because of its simple yet stylish design. The parallax scrolling effect adds a sense of elegance, while the icons give it a unique touch.
Simply changing the images will give your store a distinct feel.
Natural Soap and Candle Store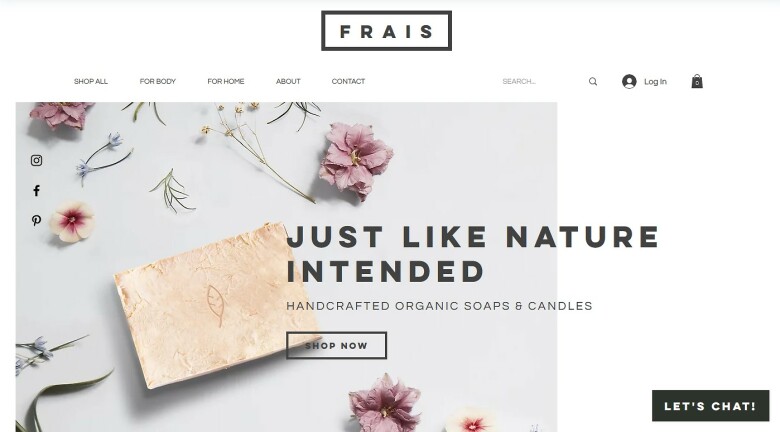 I love how this beautifully crafted minimalist design puts focus on the products.
 The homepage also features a collage of video content, still images, and text, as well as content pulled from the store's Instagram feed. This template is ideal for health and beauty retailers, but it would also work well for florists, artists, photographers, craftspeople, and eco-friendly retailers.
It's Time to Identify Your Own Shopify Theme
If you like one of my recommendations, make sure to test it out for yourself!
If it's a free theme, you can even take advantage of Shopify's 14-day free trial to start building your store free of charge.
If none of these themes appeal to you, you could try running your own filtered search in Shopify's theme store.
Or head over to Wix for a broader selection of templates
.
Choosing the right theme for your store will save you time and money in the long run.
 So make sure you take the time to choose wisely now.
FAQ
How much is a Shopify theme?
Shopify offers both free and paid store themes. Users can choose from nine free themes, while premium ones range in price from around $100 to $200. However, it's worth noting that competitors like Wix and Weebly provide all their themes for free and offer cheaper plans. You can also save a little extra cash with our website builder coupon codes!
How do I create a Shopify theme?
If you're looking to build a custom theme from scratch, you'll need to learn Shopify's open-source language, Liquid. You can learn the fundamentals with the Shopify Partner Academy. Shopify also has a searchable library of Liquid code examples on Github.
Can you customize Shopify themes?
Yes. But just how much you can change without the help of a developer depends on which template you choose. Every Shopify theme has settings where you can customize your website without interfering with its code. Some themes are much more flexible than others, so make sure to check this out before you commit to a theme. If you have HTML or CSS knowledge, you can also edit your store in Shopify's theme editor. However, if you haven't found the right theme and don't want to do any coding, you should check out our ranking of the best website builders in 2023 to see if one of them has what you're looking for.
What is the best Shopify theme for mobile?
Most of Shopify's themes feature responsive design. But if you want to create a website that's designed specifically for mobile devices, you could use one of Shopify's mobile-first themes. Express is Shopify's free mobile-first theme, but you can also choose from premium options like Handy, Envy, Reach, and Streamline. For more information, read our expert Shopify review.