Templates save you time and help you achieve quality results, even if web design is not your strong point.
So how does Sendinblue's choice of templates shape up? First of all, I was pleased to see that I could try almost half of them on the
Sendinblue free plan
. When I use email templates, I'm looking out for four things:
a design that grabs my attention, looks good on any device, is easy to customize, and which suits my campaign goals.
With these in mind, I put Sendinblue's selection of templates to the test. Although there are a lot of choices out there, it can be incredibly time-consuming customizing and branding an existing template to make it unique. With that in mind, I've also included a list of my favorite Fiverr designers who specialize in creating templates for Sendinblue.
You can get professional, unique designs for a surprisingly low price – as little as $5
.
Get Your Email Templates Designed for $5
If you want to guarantee your emails will be one-of-a-kind and avoid using templates every Sendinblue customer is also using, here's another option –
pay a professional graphic designer to do the work for you.
You might be thinking, there's no way I can afford to outsource part of my email marketing. But
 you'd be surprised at how cheap it can be
. If you look at online freelance marketplaces like Fiverr, there are thousands of people offering to do very specific tasks, like build email or newsletter templates for competitive rates.
Many specialize in Sendinblue designs and prices start as low as $5 per template.
One word of caution with Sendinblue, though. You can't import templates from external platforms, so to get a design made from scratch, you would either have to give a freelancer access to your account or copy and paste the code they write into the HTML editor yourself. Here are my top three recommendations for Fiverr designers: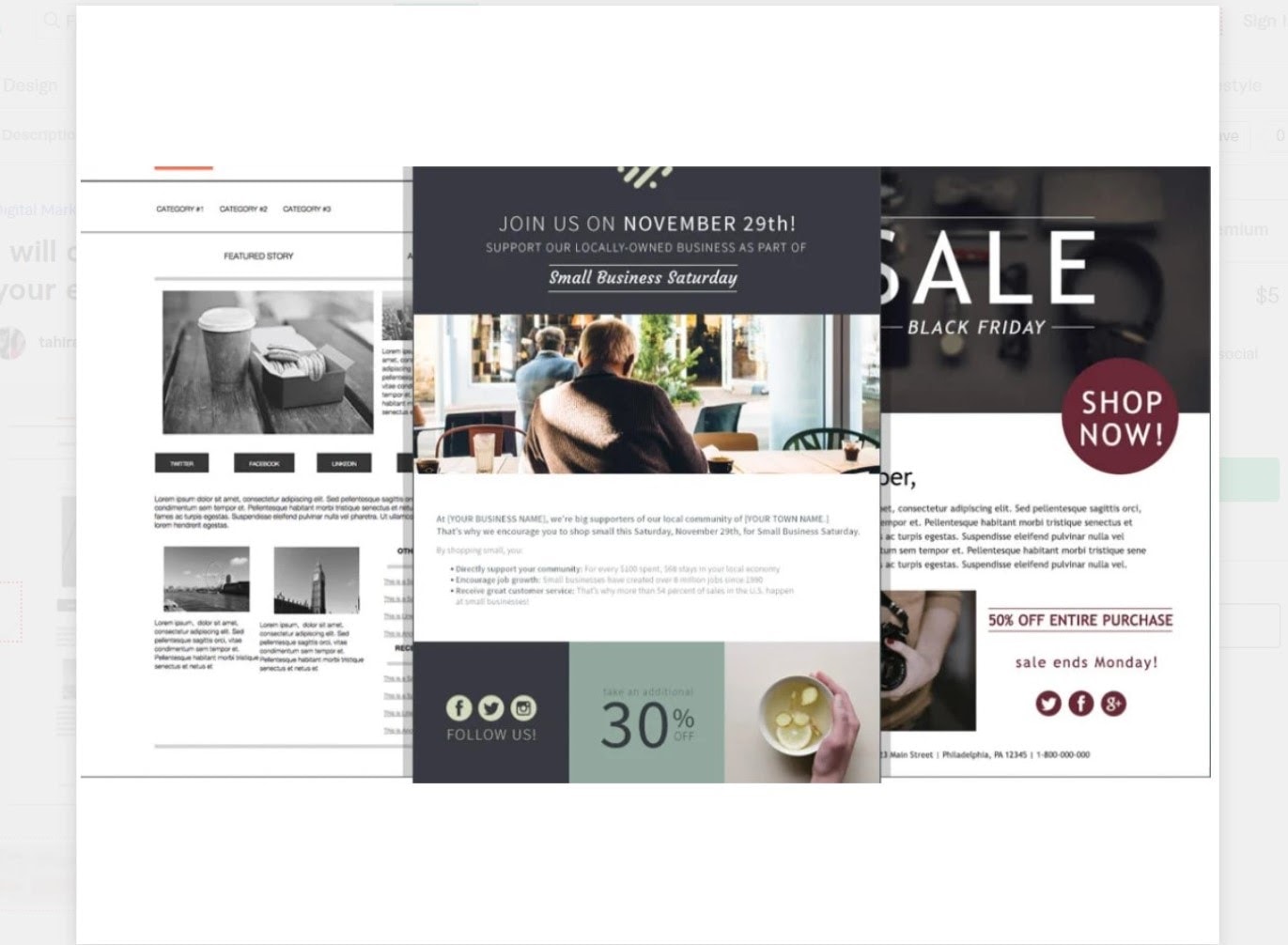 At $5 per template, you can't go wrong with Tahiraashad353. But this seller is offering even better value than that –
for just $5, she offers
three
 HTML newsletter designs
, with up to five variations. She's also one of only a handful of sellers who specify Sendinblue specific designs at that price. She also promises responsive design for all devices, custom graphics and color schemes, web and social links, and a one-day delivery time.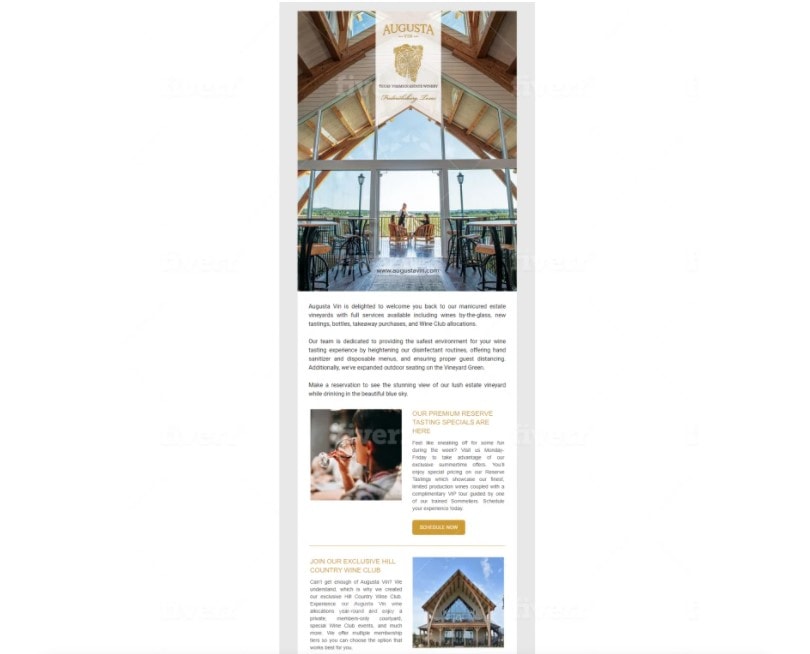 The big unknown with booking digital freelancers is the quality of the work they will produce. This seller is as close to a sure thing as you will get –
an outstanding 1,000+ 5-star reviews on his Fiverr page
, earned over seven years as a professional freelance designer.
Get a basic three-block template for $35
(header, body, and footer), which is configured so it can be easily edited for repeated use, or upgrade and get unlimited blocks cost or a custom design. This seller also promises to test readability across platforms and will also upload code to your Sendinblue account if you wish.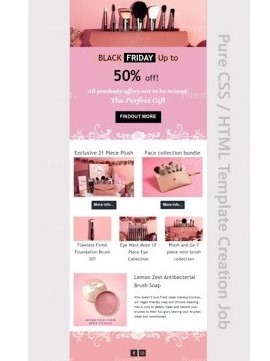 Finally, if you're looking for more than just help with template designs,
this seller specializes in full-service management for Sendinblue and other platforms
. His "standard" plan includes creating an email template, a landing page, and a sign-up form, plus configuration of sending profiles, dedicated IP/domain, and campaign analytics.
What Built-In Sendinblue Templates Are Available?
Sendinblue offers 140 templates, just under half of which are available on a free account.
This is less than many rival services. But if like me, you like to use a template as a starting point for your own customized creations, the great thing about Sendinblue is how freely and easily you can change things around in the drag-and-drop editor – it's one of the things that scored highly in
my Sendinblue review
.
The templates are organized into 21 different categories
, which I found helpful for tracking down designs to suit different purposes. These categories cover a lot of bases, from templates for standard email marketing activities like newsletters, welcome messages, and holiday greetings through to more transactional messages for things like order confirmations and shipping notices.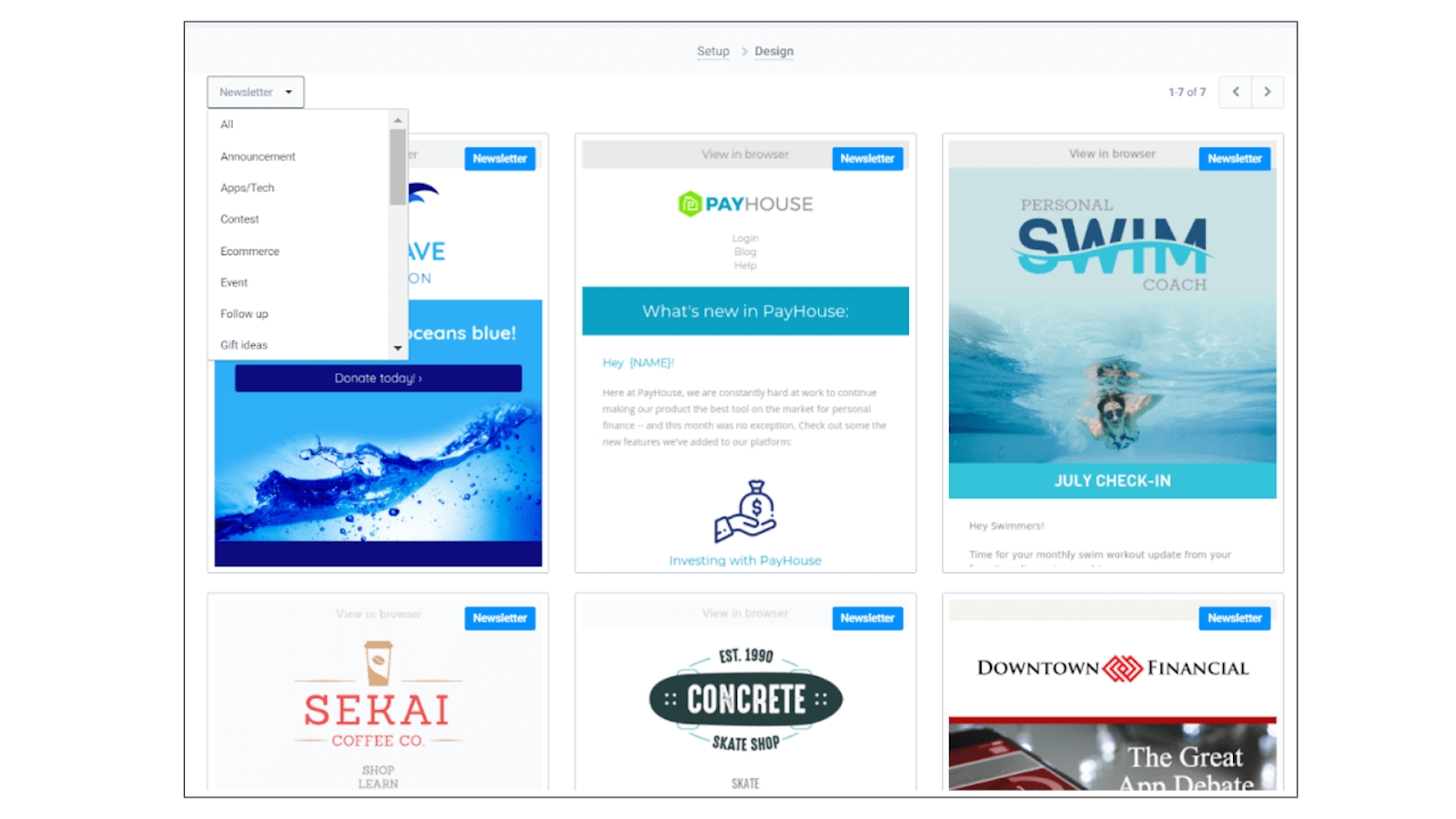 While Sendinblue offers templates for many different purposes, the number of designs available for each is unbalanced. In some categories, like event announcements and special offer promotions, I'd like to see more choices than the one or two options available. Others, like contests, have up to six to choose from, but the designs aren't that different.
All templates are optimized for mobile by default,
 and you can preview designs as they appear on different devices throughout the selection and editing process. This is also true of the templates you create from scratch. As well as providing plenty of scope for customizing the premade templates,
you can use the drag-and-drop editor to build your own, or if you have the know-how, you can code your design in HTML.
As I mentioned above, one thing you can't do is import templates from other email marketing or third-party platforms.
The Best Sendinblue Templates
I've been using Sendinblue for my copywriting agency and to connect with readers of a personal blog, which has given me plenty of opportunities to try out different templates. Here are my recommendations.
1. Newsletter – The Best Template for Business Updates
Many of my clients use an email marketing service to send out a regular newsletter. This is my favorite Sendinblue newsletter template
because it has a clean, simple layout that can easily be adapted to fit any business brand.
 Like all Sendinblue templates, it's easy to customize and move elements around. It focuses on snippets from news or blog stories, which means you can put together an attractive newsletter quickly.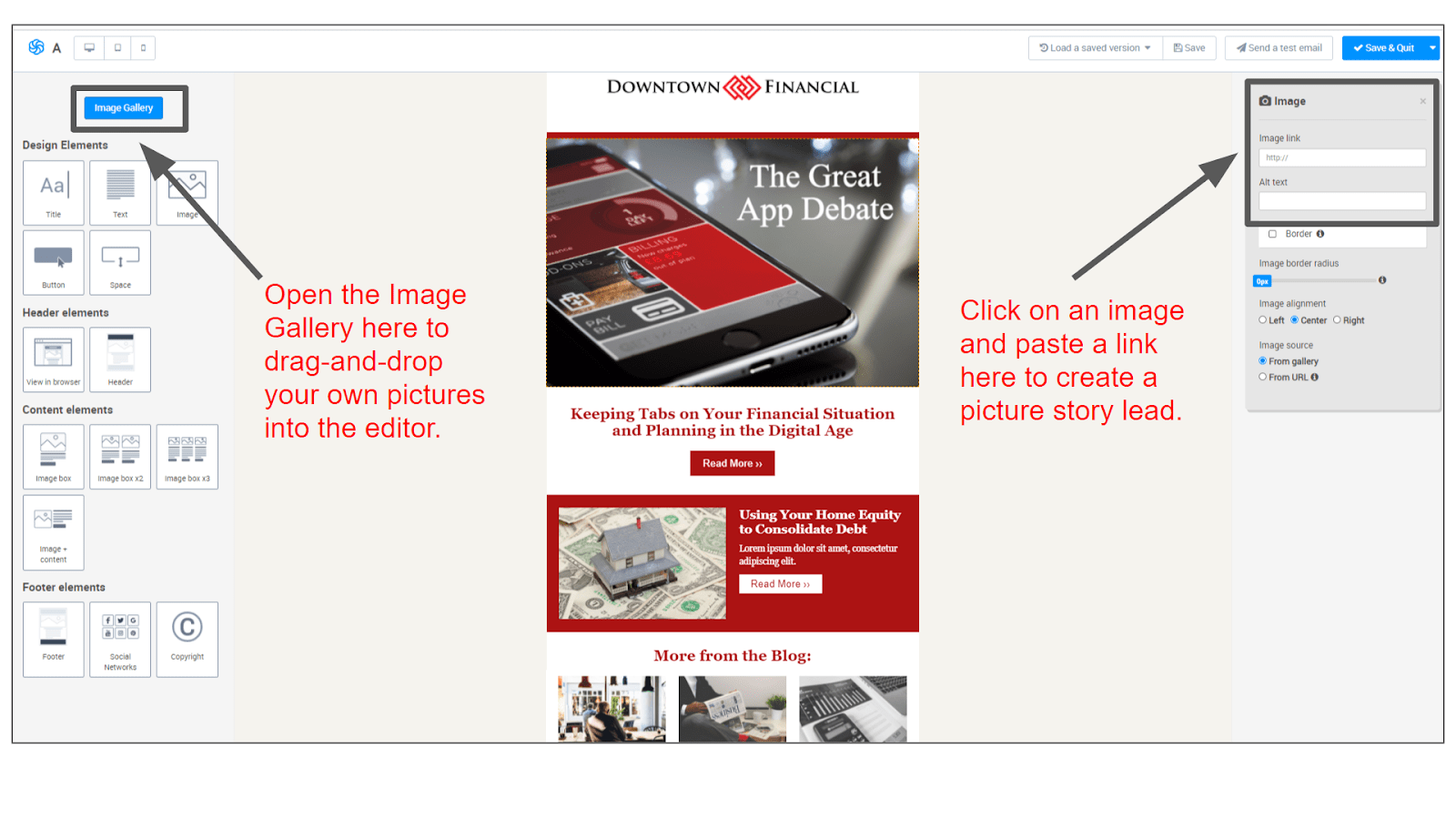 Images help with click-through rate (CTR) on your emails, although too many can fall foul of spam filters. This template has a good balance,
 it's not too text-heavy and leads with a nice, bold picture.
Sendinblue doesn't offer stock images, but it's easy to create your own gallery by dragging and dropping files into the editor.
2. Lead Generation – The Best Template for Digital Promotions
This template is great for marketing digital products
because it makes the offer and call to action (CTA) very prominent.
 That's the whole point, after all – you want contacts to click through or download to tell you who is a potential lead for a follow-up sales message.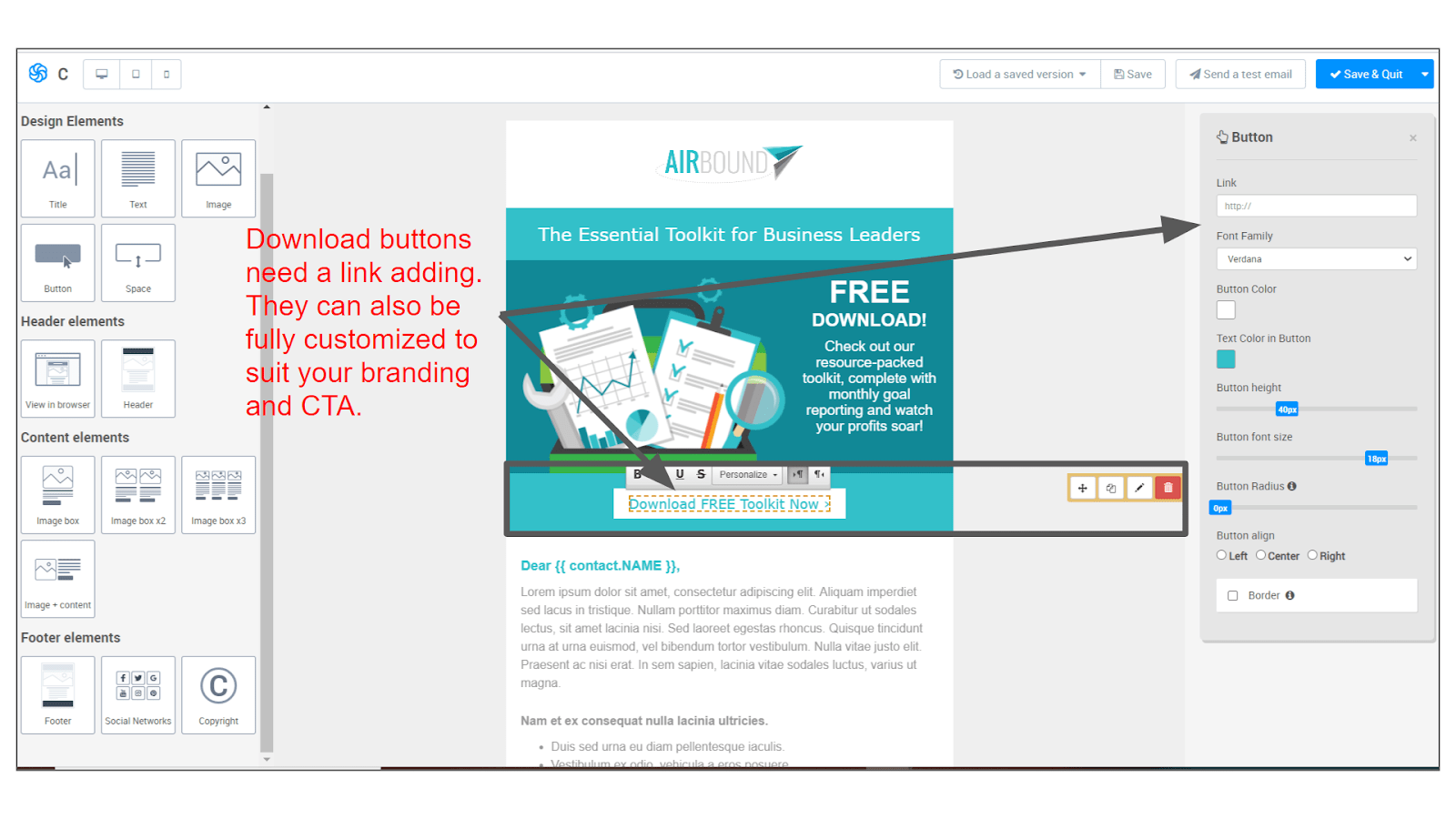 3. Transactional – The Best Template for Personalized Messages
Sometimes it makes all the difference if you can personalize an email,
 whether it's to welcome new subscribers to your list, to confirm an order, or to thank a customer for a purchase. This is a really useful template because it's easy to change to suit any purpose, and
it already has a lot of useful tools ready to help you cement a relationship with your customer.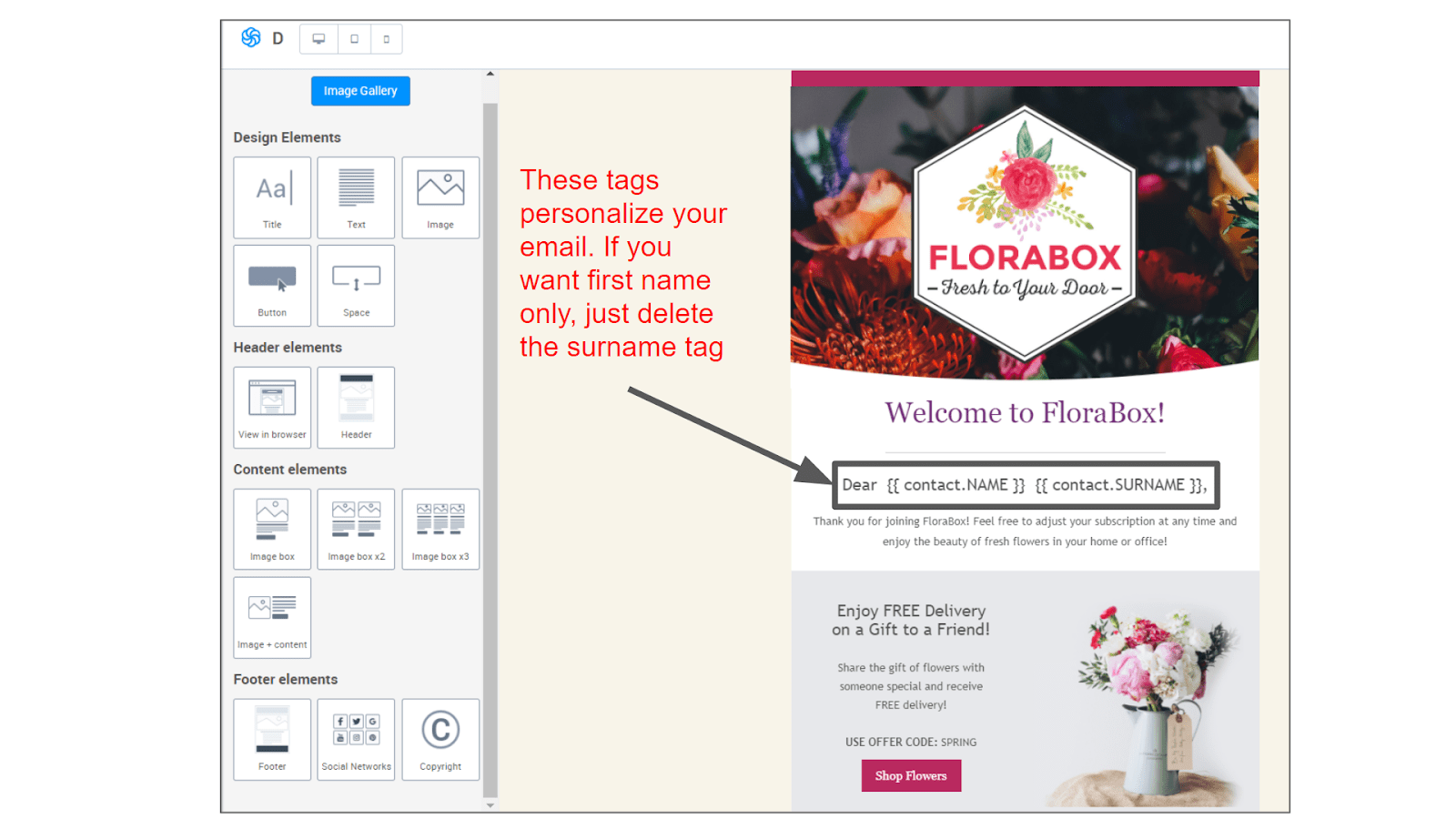 Using Sendinblue's automation workflows and SMTP servers, this template can also be used to send personalized messages automatically – for example, to welcome a subscriber as soon as they join your mailing list. You can also use dynamic content to further customize what appears in the email. So if, for example, a recipient already follows you on Instagram, you could set up a different prompt.
4. Event – The Best Template for Promoting an Event
Like my other top choices, this template works perfectly because it's simple, clear, and has all the main ingredients you need. For promoting events, you'll find the date, time, place, and even a button to link to online registration. It's all ready to go. The layout and color scheme are pretty basic, but that means
 it's more flexible and open to customization for any type of event and branding.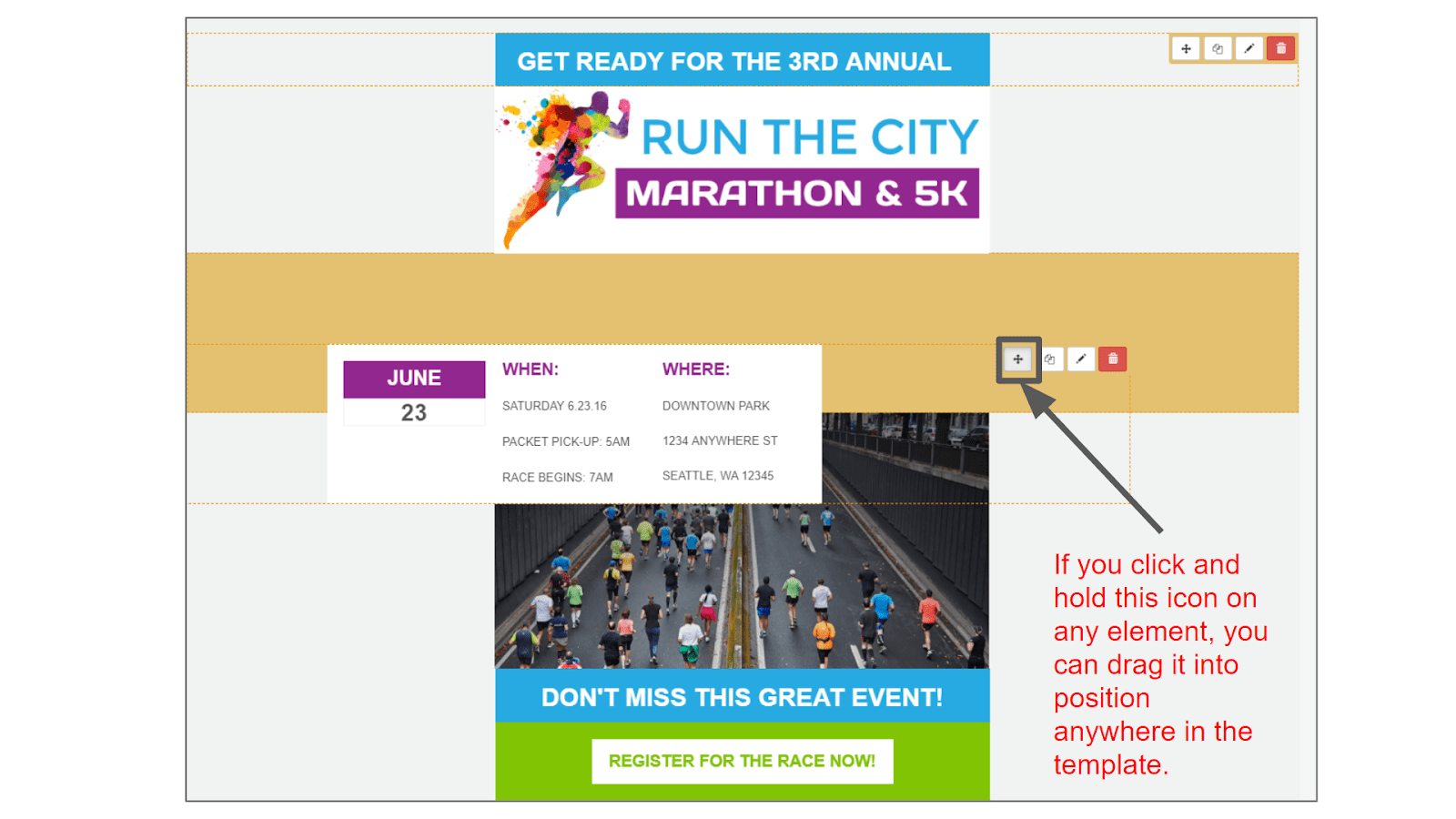 5. Publishing/Blogging – The Best for Promoting a Personal Blog
I've found this template very useful in communicating with subscribers of my blog.
It's laid out like the front page of a blog, with the focus on promoting your latest posts.
 You can't always rely on your readers checking the site themselves to read your latest creation, and this is a great way to give them a reminder.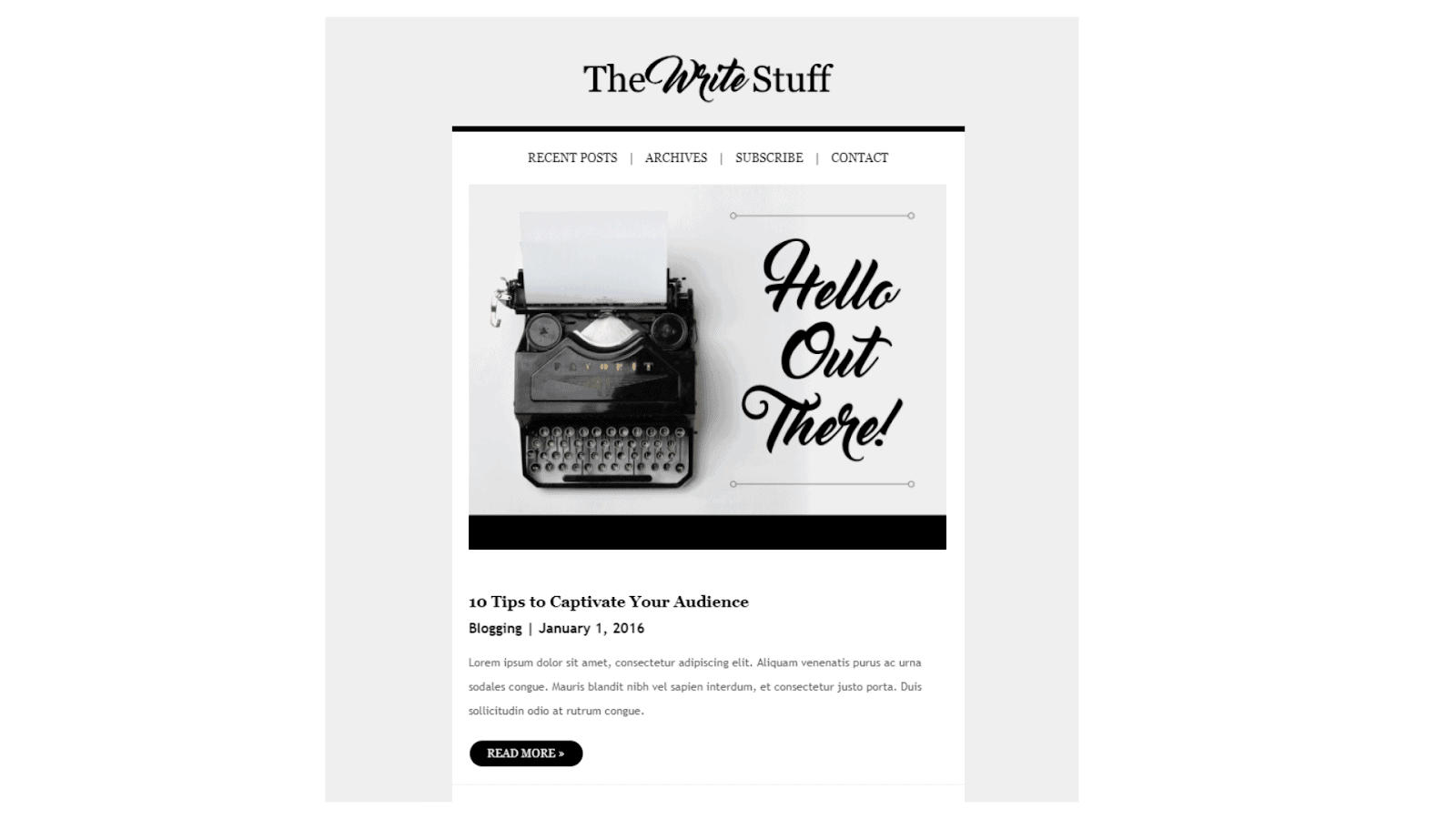 There are lots of different click-through options, encouraging them to discover more of your blog and interact with you in different ways.
 I like the simple, understated color scheme of this design, although if you want something brighter, it's easy to change. Here's how my top picks compare based on the quality of their design and user-friendliness.
| | | | | |
| --- | --- | --- | --- | --- |
| Template | Perfect for | Design | Ease of Use | Standout Features |
| Newsletter | General business communication | 8/10 | 9/10 | Easy to add your branding |
| Lead Generation | Promoting ebooks and other digital products | 8/10 | 9/10 | Clear CTA |
| Transactional | Welcome and thank-you messages, order and shipping confirmation | 8/10 | 9/10 | Simple personalization |
| Event | Event promotion | 7/10 | 9/10 | Easy to customize for any event |
| Publishing/Blogging | Personal blogs | 9/10 | 9/10 | Lots of ways to encourage click-through and interaction |
Sendinblue Templates to Avoid
Sendinblue's best templates are designed for classic email marketing activities – newsletters, lead generation, promoting events and blogs, and so on.
But it's let down by its templates for direct sales and promoting products
. So, if you're looking for strong promotional templates, I'd recommend
hiring a professional designer on Fiverr to create a template for you
. I'd avoid the following templates altogether: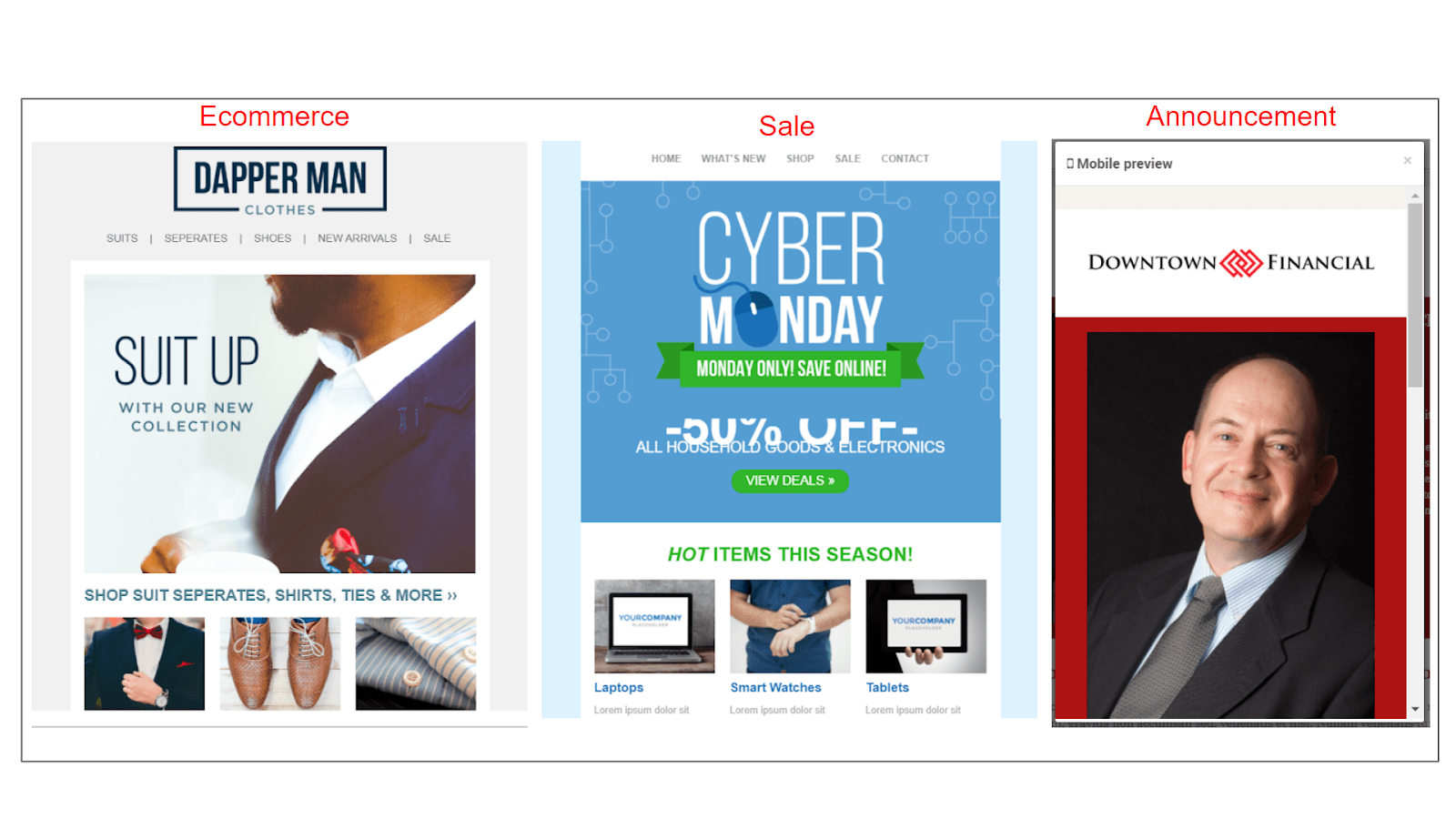 Ecommerce: For any kind of sales or retail email, I'd always recommend having links to the products for sale, which this template lacks.
Sale: This template at least has product/category listings, but that text layout error in the header is of poor quality. It would be easy to fix, but with a template, you shouldn't have to.
Announcement: I believe the template doesn't optimize well for mobile in this instance. On a smartphone screen, the main image appears excessively large, requiring users to scroll down to discern the email's content.
If these email categories are a priority for you and your business,
have a look at the freelance designers I recommended above
, who will create something far more impactful.
How Do You Build a Custom Sendinblue Email Template?
I find the level of template customization one of Sendinblue's biggest strengths.
Whether you want to tweak an existing template or start a new design from scratch, the drag-and-drop editor is one of the easiest to use on any email marketing service. Select
New Template
 on the
Templates
 page to start a new design. Complete the setup instructions and then choose between a template from the gallery or start with a blank email that you can build from scratch. Then add and edit elements to create your design.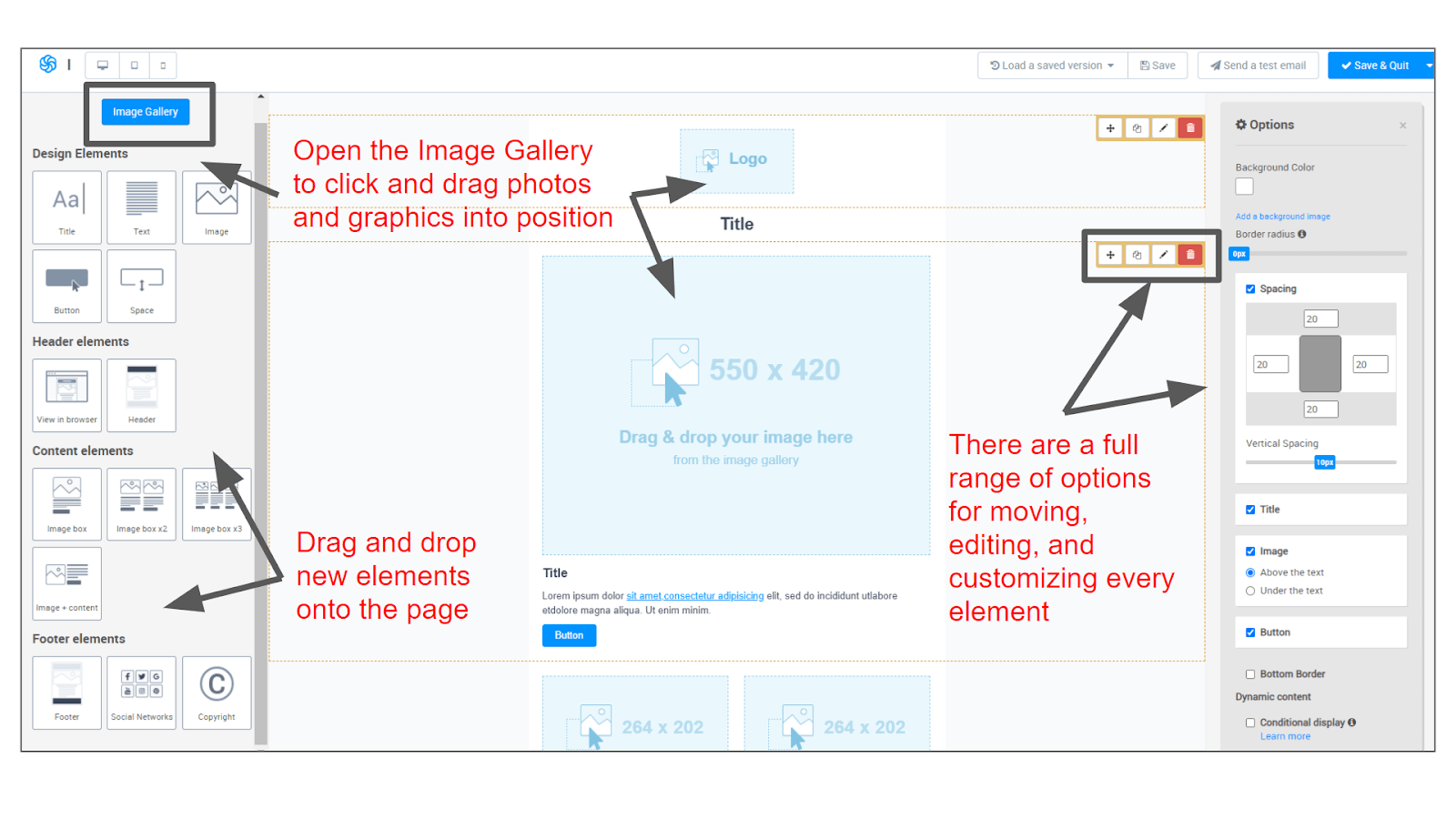 Does Sendinblue Offer What You Need ?
Sendinblue's templates are a great way to get started with email marketing design. Their big strength is how easy they are to customize. If you're new to email marketing or a small business owner pressed for time, editing templates in
Sendinblue's drag-and-drop editor is a great way to build your design skills
and eventually start making your own templates from scratch. You can also save every template you build or customize, which means over time you can create your own library to use. Make sure you take a look at
my in-depth Sendinblue review
first so you can see everything it has to offer. Sendinblue's templates are fine for standard email marketing uses like sending out newsletters, giving notice of promotions, or sending personalized transactional messages. Where Sendinblue's templates fall short is a lack of design variety and a lack of quality options for sales and product promotions. If that's what you need, or if you just want to save yourself some serious time and hassle,
I'd recommend hiring a professional designer on Fiverr
 or trying another service like ActiveCampaign or any of the options in our list of the
 top email marketing services in 2023
.
FAQ
How do I make a Sendinblue email template?
Sendinblue makes it easy to customize or build an email template from scratch. The drag-and-drop editor is very user friendly and gives you all the tools to get creating quality-looking templates in minutes. To get started, from Dashboard click Templates > New Template, complete the setup, and then select the drag-and-drop editor. Alternatively, create a new campaign and again choose the drag-and-drop editor once you've set up the campaign and added recipients. You can see how I created a template above. Opening the drag-and-drop editor automatically gives you a blank template, and you can try it all out on the Sendinblue free plan.
How do I create a professional email template?
The flexibility of its drag-and-drop editor and the number of different template building options available, mean Sendinblue offers something for people at all levels of design expertise. With a bit of know-how, you can create fantastic-looking, pro-quality templates without any problem. If you want someone to handle it all for you though, you can hire a professional email template designer on Fiverr for $5.
Is Sendinblue free?
Sendinblue offers a very generous free plan that gives you access to most of the main tools – including templates and the drag-and-drop editor. The main limitation of the free plan is that you can only send a maximum of 300 emails per day. If you need more than that, I'd recommend looking at our list of the best email marketing services in 2023.
Does Sendinblue offer free newsletter email templates?
Yes. Sendinblue includes 65 templates on its free tier, which is roughly half of the total available if you sign up for a paid account. If you want to save money on a paid account, make sure you look at our Sendinblue coupons.