supposed
to give you peace of mind – but if you pick a bad service, you could face costly delays and even legal issues due to mismanaged files. The last thing you want is an official government notice getting "lost in the mail".
Only the most reliable registered agent services can eliminate the risk of something going wrong
. Believe me – this isn't a choice to make lightly! Besides, some services don't include features you might want (like 24/7 support), or hide them behind pricey upsells.
I researched popular business formation platforms to find which ones had the best registered agents for the best value
. I also pinpointed some compatible features that can help with business management, such as a virtual office to manage all your mail and important business docs. After thorough testing, I narrowed it down to a list of the top 7 performers.
My favorite platform is Business Anywhere
for its great value and robust list of services, but keep reading to see which registered agent service you should choose for your specific needs. And if you haven't yet registered your business, refer to my
rundown of the best LLC formation services
to see how good these services are for starting a business.
Short on Time? These Are the Best Websites for Registered Agent Services in 2023
Business Anywhere – Robust registered agent service with high-quality additional features.
Northwest Registered Agent – High-grade security and discounts for big businesses operating in multiple states.
Better Legal – Easy-to-use, affordable registered agent service for small businesses.
What We Look For in the Best Websites for Registered Agent Services
To determine which LLC (Limited Liability Company) formation company offered the best registered agent service, I tested and compared
how easy it was to set up, how effectively your privacy and business data is protected, and how reliable your registered agent is
at handling time-sensitive matters. I prioritized the following features:
Business Legal Protection: It's not just about saving time and money – it's an absolute must to have a good registered agent to provide legal protection and respond right away in the event of your LLC being notified for legal reasons. If your business is sued and you don't respond, the other party could win by default.
Ease of Use: I judged online registered agent services on website accessibility and how easy it is to get set up. Some of the services I picked also help lessen the workload by forwarding mail for you, handling business compliance, and sending you alerts for required changes or actions.
Privacy & Security: If you opt to be your own registered agent, you have to publicly submit your home address. All of these online registered agent services provide their own addresses for your business's public filing, so you can keep your home address 100% private.
Location Flexibility: The best online registered agent services cover all 50 states and can handle multiple locations for you if your business is registered in different states.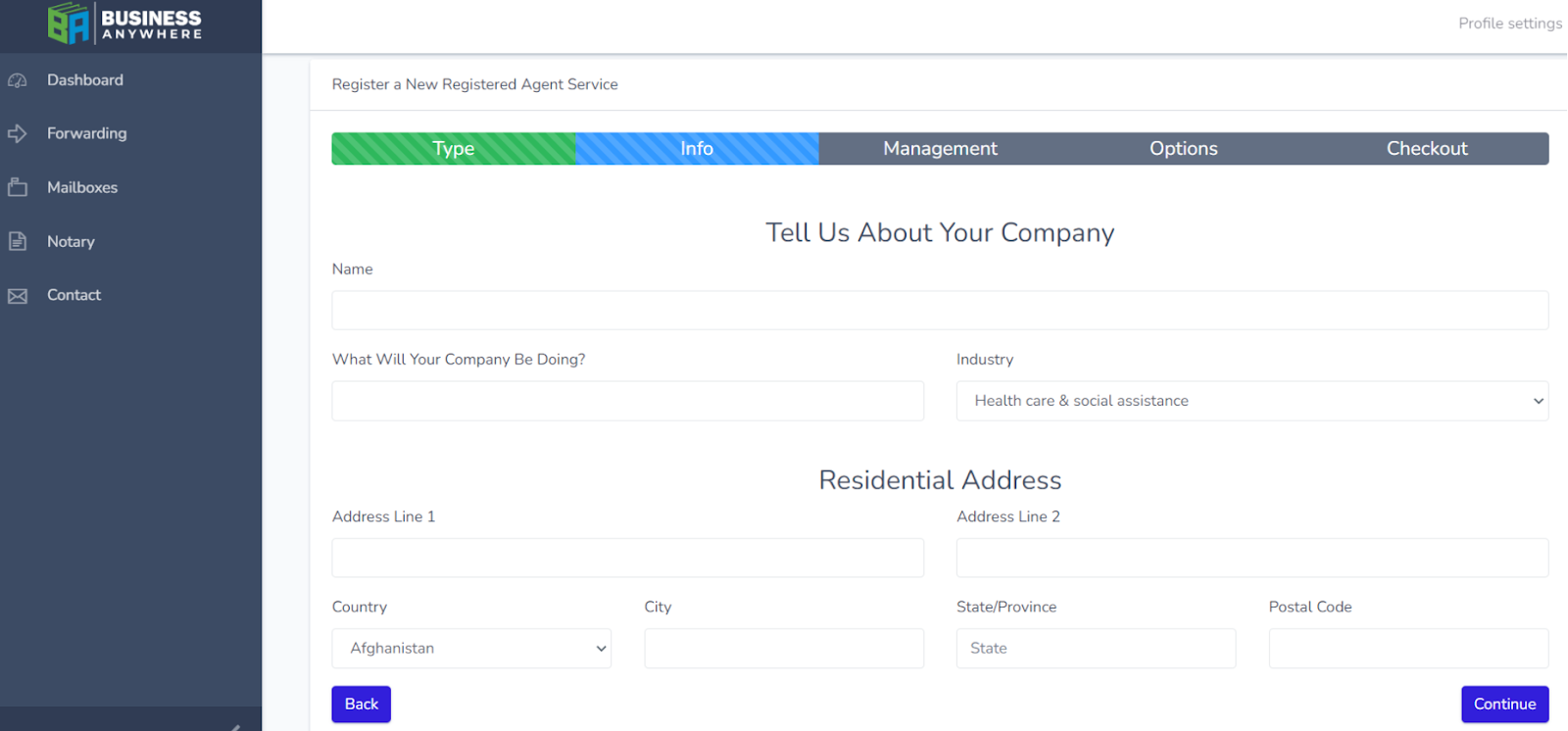 Business Anywhere is one of the best formation services, offering the most comprehensive package of anywhere I've seen. It includes a registered agent, LLC formation, and business compliance services –
a great deal if you're just starting your business and need the full package.
You can easily manage your business, agent, and legal documents all on the same dashboard, too, which is super convenient. When choosing a registered agent, you should think carefully about what other services you actually need – both to make your life easier and to avoid upsells. If you need a bit of guidance on what features might help you, read
this article on where to hire a good lawyer online
. But I find
Business Anywhere offers the best additional features without unnecessary fluff
. If your LLC is already formed and you're just looking for a registered agent, Business Anywhere can handle that with its
standalone registered agent service. From the dashboard
, you can manage all your registered agents for every business and state you're operating in. You also
get a registered agent mailbox, so it's easy to keep track of business notices
that need your immediate attention.
Features
Virtual Office: Manage all your services on one dashboard, including a registered agent mailbox, online notary, and your virtual mailbox. Business Anywhere scans and uploads business mail, so you can access it remotely.
Automated Business Compliance: Business Anywhere automatically handles revisions for new updates to state requirements, which means you get to focus on running your business.
Tracking and Alerts: Keep track of due dates and get alerts on time-sensitive matters. Not every service offers business alerts as accurate as this.
Privacy Protection: Your address or personal information is never displayed publicly – instead, Business Anywhere uses its own addresses. This protects you from spammers.
| | |
| --- | --- |
| Registered Agent Service | Standalone and subscription service. |
| Business Compliance Tools | Automated updates, alerts, and online dashboard. |
| Privacy & Security | Encrypted servers. Privacy policy doesn't protect your info from being shared to advertisers. |
| Starting Price | From $149/year (per state) |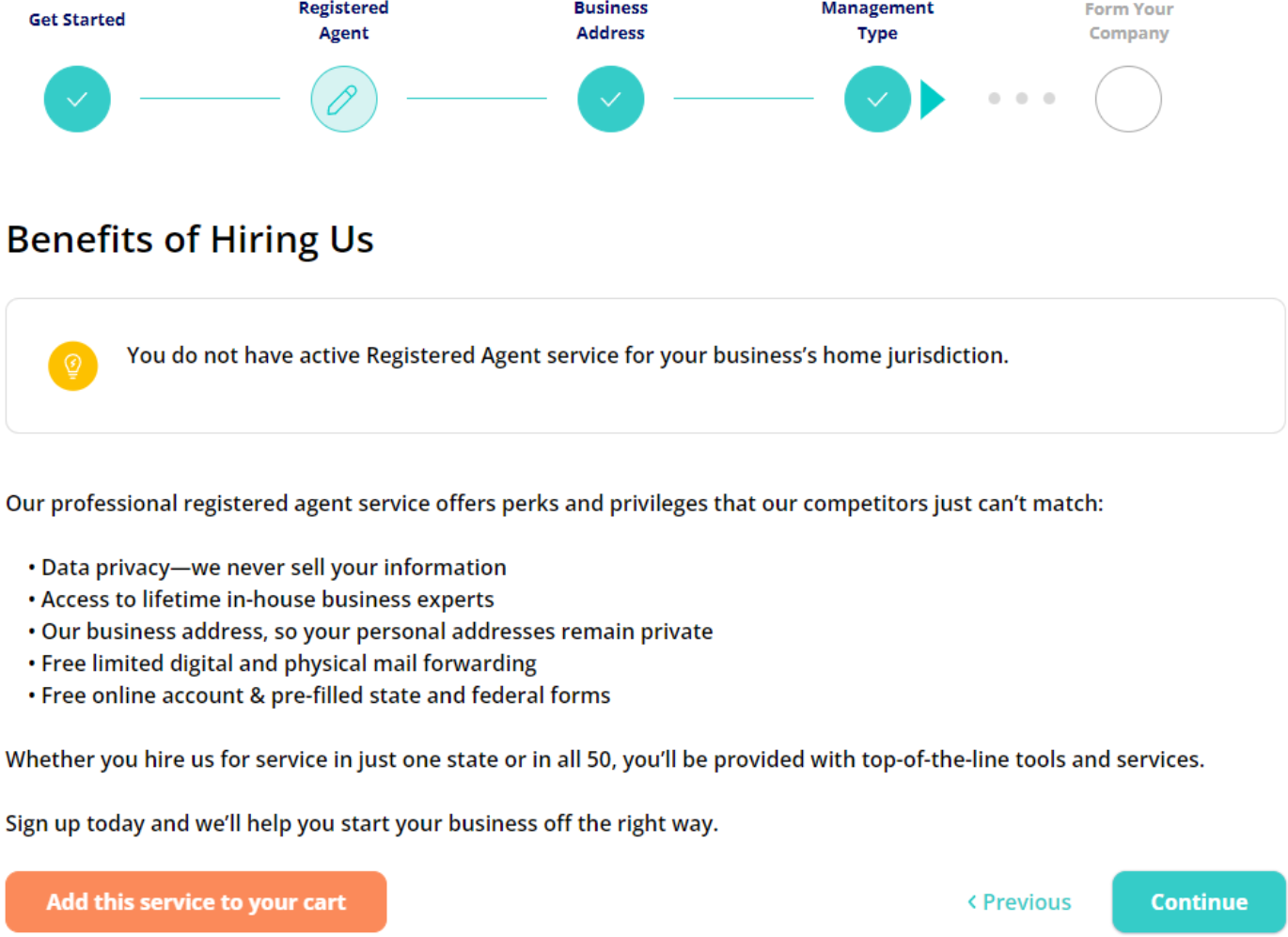 Northwest Registered Agent is an LLC formation company that puts a big emphasis on privacy.
It upholds a policy against selling user data and data sharing
, and protects your business's information with high-level encryptions and incorporated passwords. If you're at all worried about security, Northwest is a pretty safe bet. When you
sign up for Northwest's registered agent service
, you get a secure account where you can access annual reports, stored legal docs, and auto-filled state forms. Plus, it's pretty good value.
If your business is operating in 5 or more states, the price of a registered agent is lower per state
, so Northwest Registered Agent is a great option if you're a big business owner or plan to expand.
Features
Free Mail Forwarding: Collect messages from investors and clients, plus get scans and uploads of 5 docs per year for free. These documents are stored online for easy access and organization.
Annual Reminders: Receive an alert as soon as your annual business report is due. I love services that track this for you, as it gives so much peace of mind.
Corporate Guides: Get high-quality support from experts. They can help you over the phone with any issues you come across, as well as business legal matters.
Multi-state Discounts: If you purchase a registered agent service in 5 or more states, you get a bulk discount that, when applied, makes your 6th state virtually free.
| | |
| --- | --- |
| Registered Agent Service | Instant sign up for registered agent service in all the states you need. |
| Business Compliance Tools | Annual business reports. |
| Privacy & Security | Info encryption and privacy policy guaranteeing your data won't be sold or shared. |
| Starting Price | From $125/year (per state) |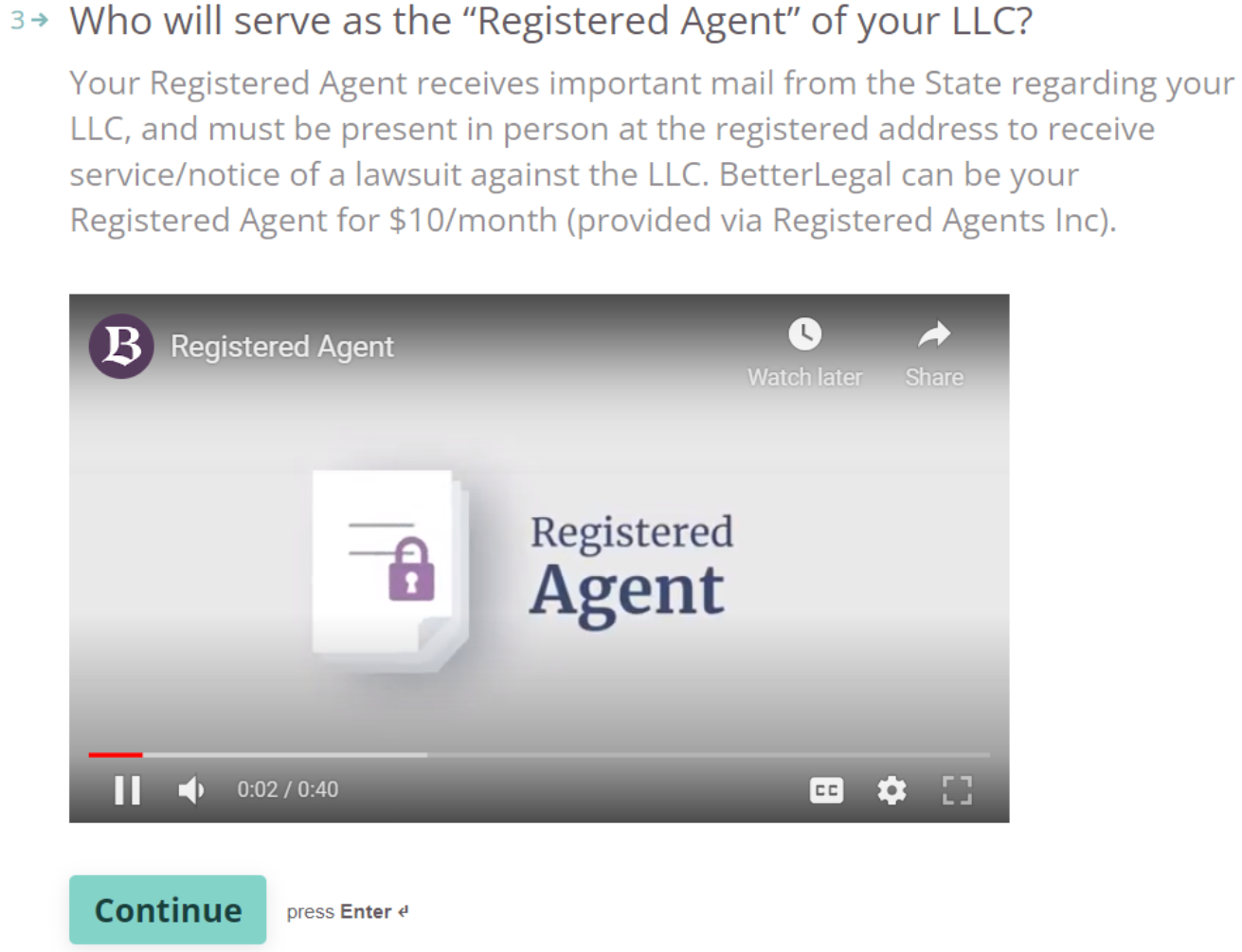 BetterLegal is an LLC formation company that offers an affordable registered agent subscription, alongside other optional services like compliance and research. It offers among
the lowest prices I've seen for its registered agent service
, but note that this service ISN'T included in the LLC formation package. So, if you're just setting up your business, you'll have to pay for formation separately. Signing up for a registered agent through BetterLegal is very quick and easy to do. Simply fill out your business info and answer all the prompts, and you're good to go. From then on,
BetterLegal will forward all your business mail to you, and act quickly with time-sensitive notices.
My only complaint is that once they got my email address, BetterLegal sent a
ton
of marketing emails that went straight to the spam folder (oops). So maybe just check your subscription settings to avoid that when you sign up…
Features
Fast Turnaround: Get your business docs filed as fast as it takes your state to process them. Speed is essential when it comes to business matters, so I'm pretty impressed by this.
Info Center: Read free articles for advice on running a business and definitions of legal business terms, including "registered agent" (great if you want more insight before making a decision on who to hire).
Business Formation Bundle: When you incorporate your business with BetterLegal, you get an Employee Identification Number (EIN) and an operating agreement (which protects the status of your business) included in the price. This makes BetterLegal a great choice if you still need to set up your business.
Filing Services: BetterLegal offers filing for foreign state formation, shareholder, reinstatement, termination, manager changes, amendments, and so many more forms. You have to pay for each filing individually, and you can expect a turnaround within 7 days to a month.
| | |
| --- | --- |
| Registered Agent Service | Separate subscription. |
| Business Compliance Tools | Separate subscription. |
| Privacy & Security | SSL encryptions, but privacy policy states it can share your information to advertisers. |
| Starting Price | From $90/year (per state) |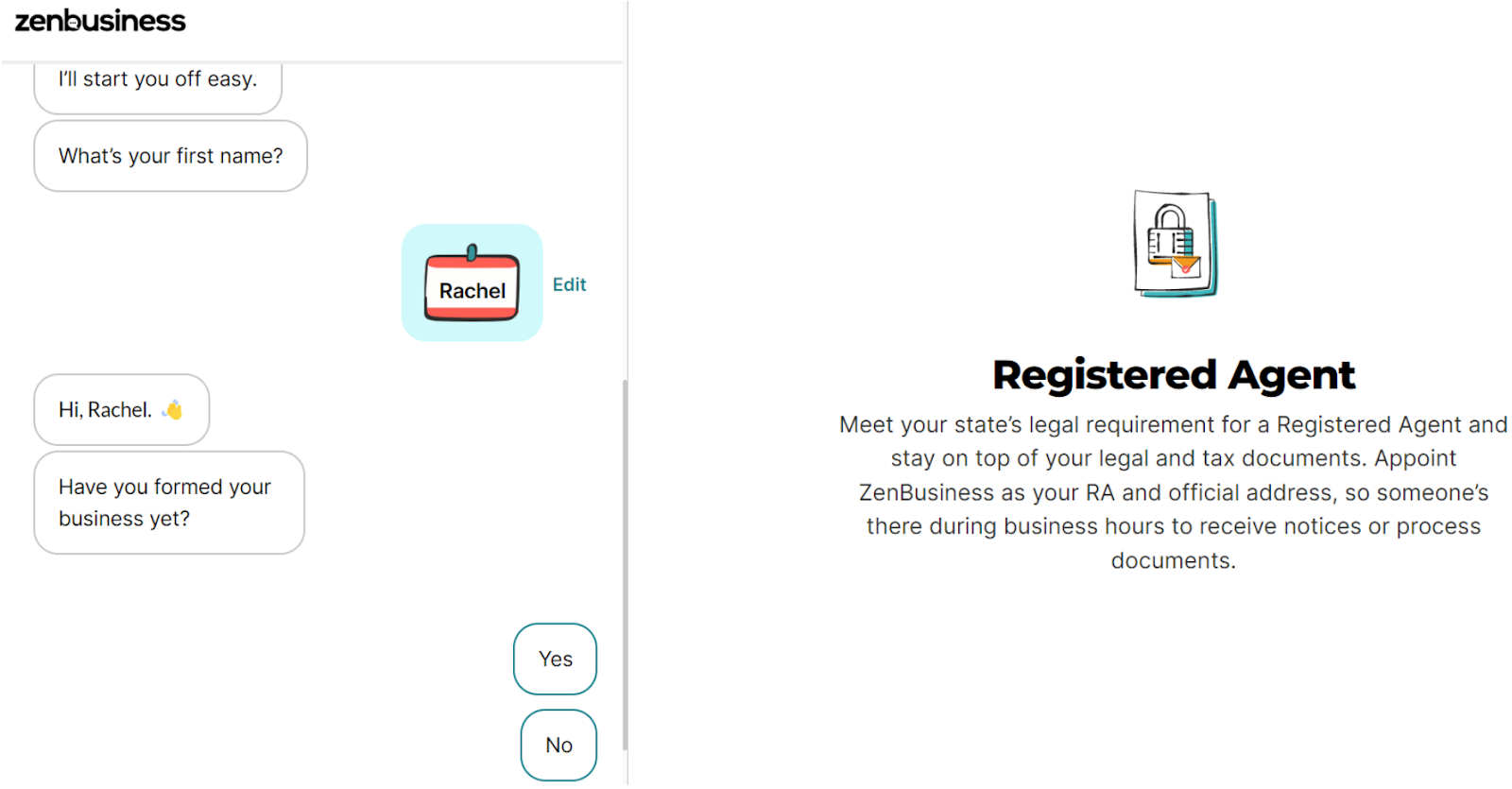 ZenBusiness is the easiest business formation company to get started with
. I recommend it for first-time business owners, or if you're feeling daunted by the process of getting things set up. ZenBusiness divides its services into separate packages, which you learn about and choose as you answer easy-to-follow prompts about your business.
If you only need a registered agent, you can just sign up for that service.
However, be aware that
ZenBusiness starts getting pricey the more you add on
. With LLC formation, an EIN number, and business compliance packages, you end up paying a lot – way too much if you're on a budget. Still,
if you don't mind paying extra, its ease of use and top-tier support could be worth it to you
. In its
worry-free compliance package
, ZenBusiness bundles business compliance with its registered agent service. While this isn't essential, I do think
annual filing and alerts are worth the peace of mind if you need help with tracking updated regulations
. You also get extra priority support, which means faster responses and more dedicated help. Pricey, yes, but pretty slick if you're willing to invest!
Features
Online Document Storage: View, download, and print legal and tax documents related to your business. Since everything's stored online, you can access them anytime from anywhere.
High-Quality Support: If you have any questions or concerns, ZenBusiness has reliable support agents you can contact via phone, email, and live chat. My favorite part? You don't have to pay extra to get help.
Self-filing Registered Agent Service: If you filed for LLC formation yourself, ZenBusiness offers a standalone registered agent service to specifically cater to DIY circumstances. This is great if you want to handle registration yourself, or if you're already registered.
Accounting & Bookkeeping Service: If you want to manage your business on one platform, you can also access an accounting service. Income, expenses, assets, and more are all documented through a tracking system, and you can manage everything within the same dashboard as your registered agent.
| | |
| --- | --- |
| Registered Agent Service | Standalone subscription. |
| Business Compliance Tools | Online dashboard, alerts, doc storage, and bookkeeping. |
| Privacy & Security | Privacy policy states ZenBusiness can disclose your information. |
| Starting Price | $99/year per state ($199/year renewal) |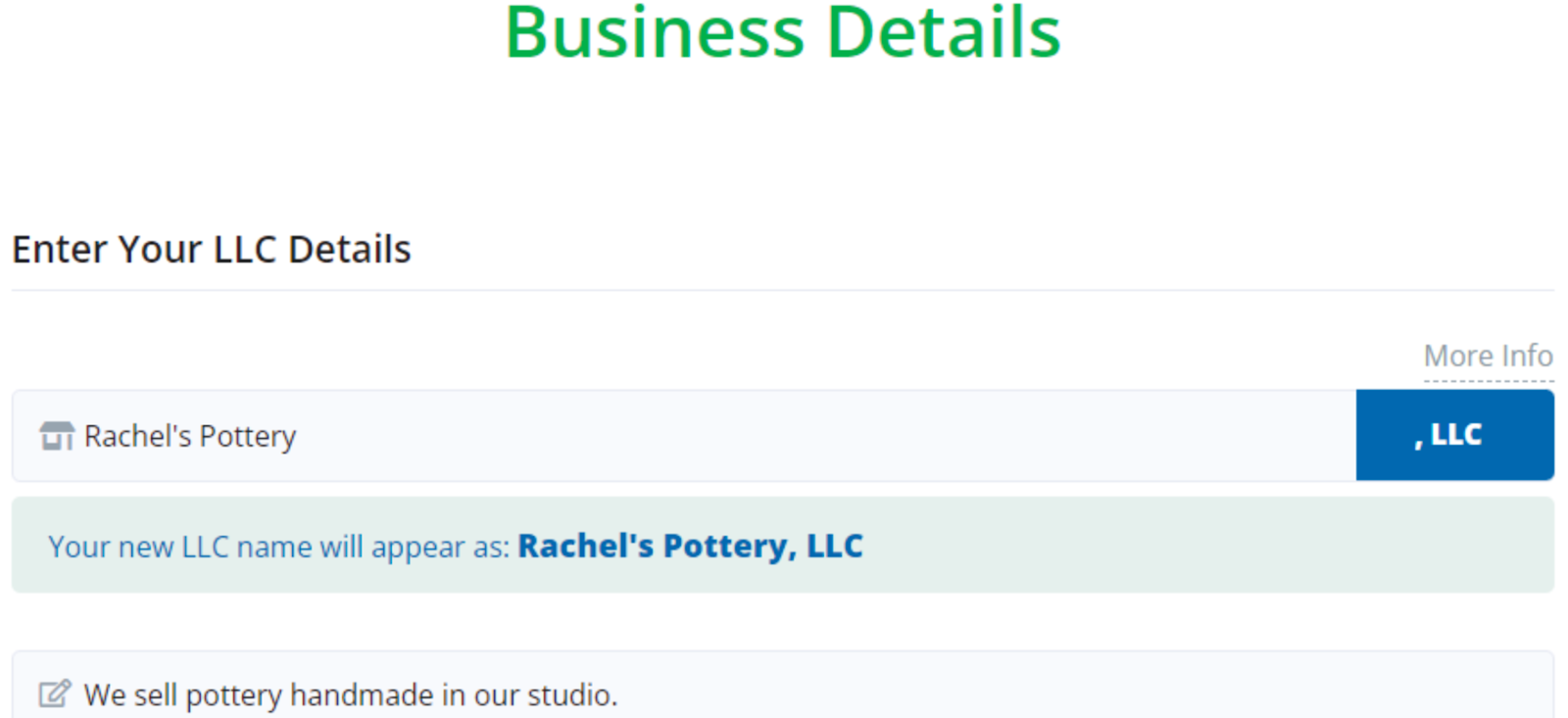 When you use Inc Authority as an LLC formation service, you get a registered agent free for 1 year. So long as you don't need an EIN or an operating agreement (meaning you're a small business with 0 employees), this means you can get your business
set up with a registered agent for free
. That's pretty sweet! However, it's worth noting that Inc Authority isn't as free as it first seems. For one,
it splits many of its services into expensive ad-ons that make the final price steeper than its competitors
. You get bombarded by upsell attempts, and most of them are pretty worthless. The only ones you should consider are an EIN and an operating agreement, and both services cost a
lot
. Still,
Inc Authority's standalone registered agent service is a fair price.
Features
Fast Turnaround: Get your documents filed and forwarded fast, which is particularly impressive considering these services are 100% free (for the first year). You can also pay extra to speed up the filing process if you're in a rush.
Online Document Storage: Even with free LLC setup, you can access and download your business documents on your account without paying extra.
Text Alerts: Set up mobile alerts to receive text updates on filing and business alerts. This is a handy perk for staying on top of things.
Business Blog: Read up on tips for running your business, potential legal issues, and more informative articles that can really help if you're a first-time business owner (or just thirsty for more knowledge).
| | |
| --- | --- |
| Registered Agent Service | Bundled with free LLC formation service. |
| Business Compliance Tools | Email and text alerts, document storage. |
| Privacy & Security | SSL encryption and data backups. Privacy policy protects your info from being shared or sold. |
| Starting Price | Free (for 1 year) |

Incfile is another LLC formation service that
offers the first year of its registered agent service for free
, along with free LLC filing. Incfile's main benefit is the overall affordability of its
gold and platinum packages
,
which include an EIN, operating agreement, and tax consultation for a one-time price.
If you're on a tight budget, especially in your first year, I think Incfile could be great for you
. However, it lacks any form of expert support (only offering a fairly simple ticket system) and can take a little longer to file and upload document scans. If you're willing to spend more, you can
find online legal advice here
in all sorts of fields, including business.
Features
Free 1st Year with LLC Formation: When you get free LLC formation with Incfile, you also get a registered agent for 1 year, and don't have to pay a cent until the renewal fee. If you're a small business on a budget, this is a great way to get started 100% free!
Registered Agent Transfer: If your business is already registered and you're looking to switch services, Incfile handles the transition for you. It's seamless and painless, and you don't have to pay the exorbitant fees I've seen from other companies.
Personalized Dashboard: View business alerts and notices Incfile has received as your registered agent, all from your account.
Virtual Mailbox Service: Get an address for your business in a foreign state in order to receive mail (although, unfortunately, only 24 states are supported). Your legal, tax, and notice documents are scanned by Incfile when they are received, then uploaded within 1 business day for you to view and download.
| | |
| --- | --- |
| Registered Agent Service | First year bundled for free with LLC formation, and a separate subscription available. |
| Business Compliance Tools | Dashboard with business alerts and virtual mailbox service. |
| Privacy & Security | File encryption. Privacy policy states it can share personal information with third-parties. |
| Starting Price | From $119/year |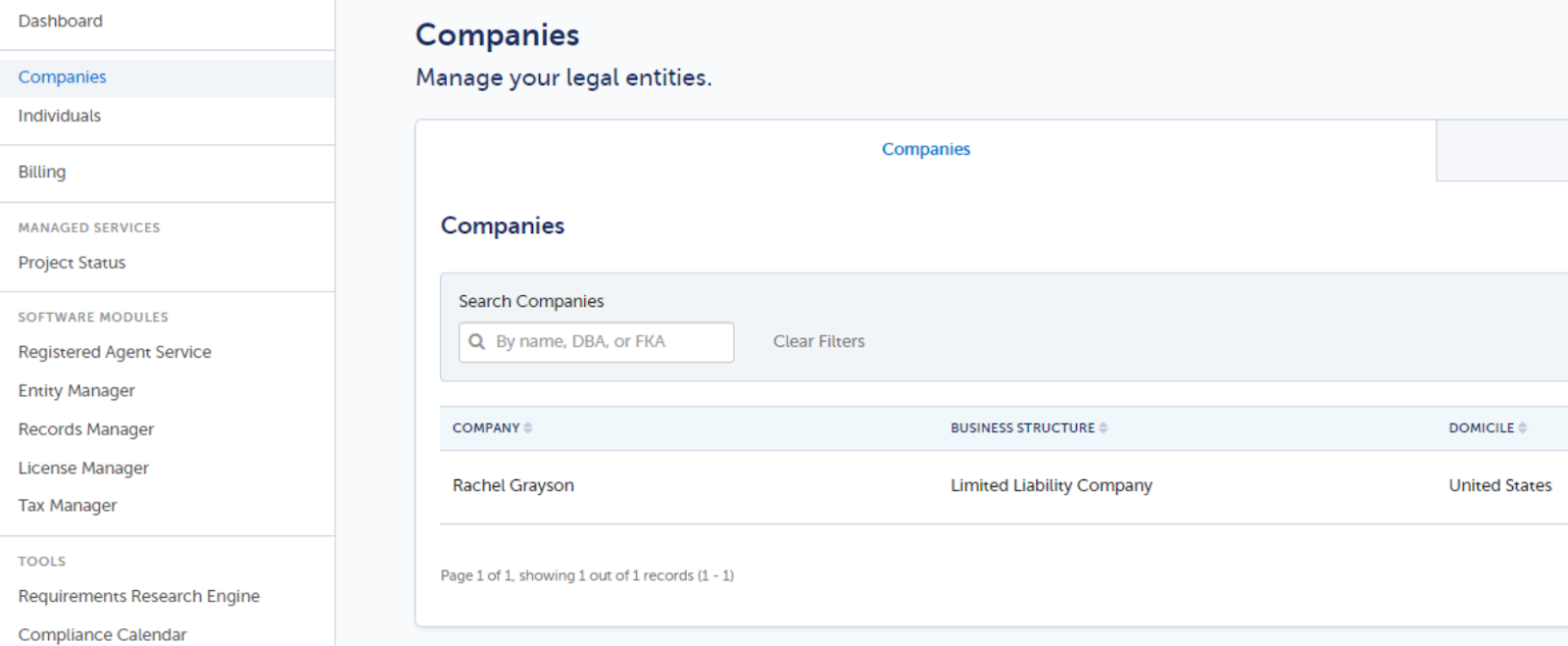 If business management is your primary concern,
Harbor Compliance has robust features for staying on top of things.
One standout feature is Harbor Compliance's very personal customer service. I started out mildly annoyed when I discovered I'd have to get in touch with them to see pricing on its services (prices aren't listed anywhere on the site). But its support team is great –
you get personalized assistance from actual business experts
, which I appreciate. Just be aware that while Harbor Compliance offers an
affordable registered agent service
, it can get pretty pricey if you want business licensing and compliance services too. So,
I think it's a better fit for those who already have their business incorporated.
Features
Entity Manager Software: Easily manage the compliance status of your business, annual reports and due dates, and changes to staff and inventory.
Power of Attorney: Give Harbor Compliance the authority to act on your business's behalf, which can save you a lot of time on finance paperwork (such as reporting income).
Loyalty Discount: Sign up for longer to receive a discount on the yearly subscription cost. This is useful if you plan on sticking with Harbor Compliance for the foreseeable future – just be sure you're ready to commit.
Same-Day Document Delivery & Storage: When you submit documents, Harbor Compliance files them that same day. You can also access them any time online from your account dashboard.
| | |
| --- | --- |
| Registered Agent Service | Standalone subscription. |
| Business Compliance Tools | Entity manager software, document storage. |
| Privacy & Security | Microsoft Azure Cloud security and SSL encryption. Privacy policy states sharing personal data is restricted to service fulfillment. |
| Starting Price | From $99/year (per state) |
What Is Required to Be a Registered Agent?
To be your own registered agent, you and/or your business need a physical address in the state your business is registered in. A P.O. box CANNOT substitute this. This is because
the law requires you to be present in order to receive mail on behalf of your business
. So, for foreign business registration or anyone operating in multiple states,
you must appoint an individual or business with a physical address in the state you're applying for LLC formation in
. The easiest and most affordable way to do this is through a company that offers registered agent services. If you're able to be your own registered agent and want to go down that route, here's what you absolutely need to know:
You must meet your state's requirements. Every state is different, so head to your state's government website to learn what your requirements are. For example, Connecticut requires a registered agent to be at least 18 years of age.
The registered agent's physical address will be made publicly available to receive mail. If you own a home business, be aware this opens the door to solicitors and spammers.
As a registered agent, you must be available during normal working hours to receive important mail and legal notices for your business. You must also always be there to sign off on important documents.
As you can see, there's quite a few rules to being your own registered agent! Make sure you're willing to deal with the workload and lack of privacy before making the commitment. On the other hand, if choosing a registered agent service instead sounds like a good idea right about now,
I recommend Business Anywhere
 or another company on this list.
Get the Best Registered Agent Service for Your Business
Any of the best formation services can get you a registered agent so you can legally run a business, but the one you should choose depends on your budget and the specifics you want.
For the best all-around features, I recommend Business Anywhere
. Not only can you get robust services like a virtual mailbox, everything is valued at a pretty fair price. If you run a big business, you can
save a lot of money getting a registered agent across multiple states if you
go with Northwest Registered Agent
. Or, if you're looking into small business formation or are on a budget,
I suggest BetterLegal
 for its low prices and easy setup and management.
Still can't decide? Check out the comparison table for a final rundown of LLC formation services:
| | | | | |
| --- | --- | --- | --- | --- |
| | Pricing | Best Feature | Best For | |
| Business Anywhere | $$ | Virtual office to manage all your services on one platform. | Business owners just starting out who want the whole package. | |
| Northwest Registered Agent | $$ | Strong security and a privacy policy that protects your information. | Big business owners who want to avoid spammers and keep their data secure. | |
| BetterLegal | $$ | Lightning-fast setup and filing turnaround. | Small business owners who want good service on a budget. | |
| ZenBusiness | $ | Easy-to-use dashboard for simple management. | First-time business owners or anyone looking for the easiest experience. | |
| Inc Authority | $ | Free registered agent for the first year. | People on a budget who want to get started for free. | |
| Incfile | $ | Affordable auxiliary services. | People on a budget who want long-term affordability. | |
| Harbor Compliance | $$ – $$$ (If you want more services) | Sophisticated entity manager software to monitor mail-registered agent activity. | Business owners who prioritize compliance and aren't too worried about spending. | |
FAQ
Should I Hire a Registered Agent Service?
If you own an LLC that is active in multiple states or a foreign state, your business is based out of your home and you want to protect your privacy, or you don't want to face the workload and legal repercussions of being your own registered agent, you would greatly benefit from hiring a registered agent service that fits these qualifications.
Do I Need a Registered Agent?
Yes. All 50 states require an LLC to have a registered agent in order to legally operate.
What is the Best Registered Agent Service?
Any of the registered agent services on this list are excellent candidates, but the exact service that's best for you depends on your personal needs. My personal pick is Business Anywhere for its arsenal of high-quality services.
What is the Registered Agent Process in the US?
In the US, a registered agent exists because of Due Process – the legal requirement that every party involved in any legal matter is treated equally. The registered agent's mailing address is made publicly available so they can receive mail such as reports and legal documents on behalf of the business.
How Much Does a Registered Agent Service Cost?
That depends. It's free to be your own registered agent, and some of the best formation services include a registered agent free for the first year. If you opt to hire a service, there will be an annual or monthly cost depending on how many states your business is registered in, as well as how many LLCs you own.