it's worth hiring an expert to avoid making any legal missteps
. Small mistakes can quickly snowball! Honestly, it's much easier to let a filing service jump through all those hoops for you. But there's a ton of formation services to choose from, so how do you pick the right one?
Many filing services just want to take your money, pushing upsells and pricey subscriptions
to services you don't need. (And if you
do
want more? The add-ons should be actually worth it.) To figure it out, I thoroughly tested and compared platforms to find the best formation services out there.
My personal pick is Business Anywhere
 because it offers the most robust services at a reasonable value, but depending on your needs, one of the other platforms on this list might suit you better. So,
keep reading to find the best LLC formation service for you
, as well as some insight into the pros and cons of each platform.
Short on Time? These Are the Best LLC Formation Websites in 2022
Business Anywhere – Everything you need to start your LLC, along with comprehensive tools to keep it running smoothly.
Northwest Registered Agent – High-quality support from knowledgeable experts and guided DIY methods.
BetterLegal – Lightning-fast filing and LLC formation with a generous list of bonus services.
What We Look For in the Best LLC Formation Services
To find the best LLC formation services, I thoroughly tested each website and compared pricing, scope of services, filing time, legal expertise, and how easy it is to set up your business. I focused on the following features to choose my top picks:
Ease of Business Formation: The whole point of paying for a business formation service is to avoid doing the work yourself, so I chose platforms that will organize the info you provide into a certificate of formation and file it for you. Some of these picks are better for beginners, but all of them make business set up easy.
LLC Filing Time: How long it takes to get an LLC registered varies by state, but these services start the filing process in a timely manner. I picked out a few services that are fast by default or offer expedited services for an extra charge. I avoided services that were slow to act – or, worse, prone to losing your forms…
Additional Business Services: Depending on the nature of your business, you may want an EIN (employer identification number), an operating agreement, an NDA, and other legal documents. Many of my picks either bundle these services with LLC formation or offer them as add ons for a reasonable fee (whereas some other companies will try to rip you off).
Business Compliance: Once you register your LLC, you still have to keep up with rules and standards when they change. You also may need to make addendums later on. A great service makes this easier by alerting you to updates and filing new documents for you.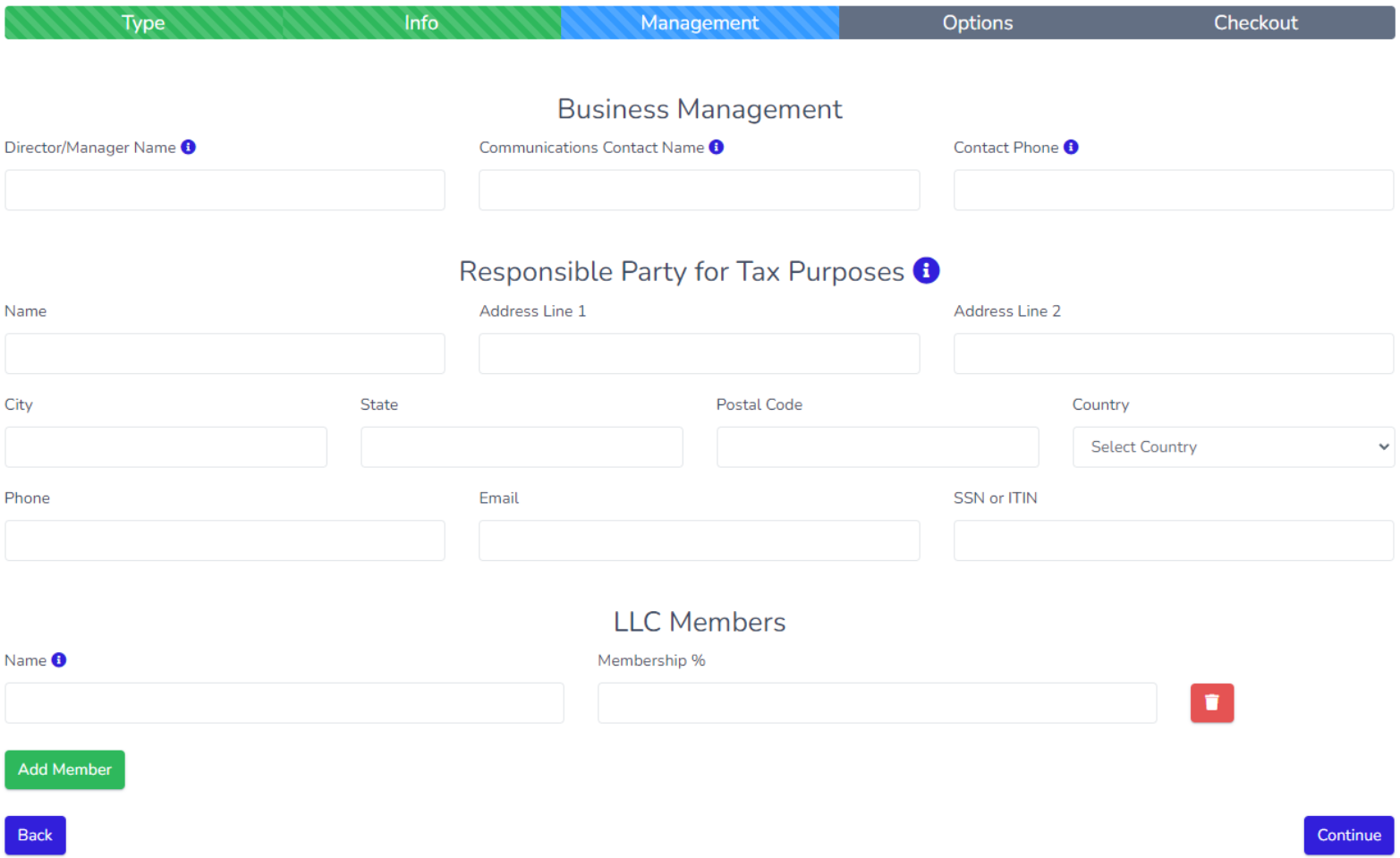 Business Anywhere is an experienced business formation service with a strong track record across all 50 states.
It's a full set of business services rolled into one platform
, and it's surprisingly affordable for what it offers. With
Package One
, you get LLC filing, automated compliance, and an operating agreement at no extra charge (other than your state's filing fee). That's a lot of good stuff! I've seen other services require extra payment for operating agreements, which is a shame because it's mandatory in some states AND protects your business from being sued. Business Anywhere gets a ton of points for including all the necessities to form an LLC. If you have employees,
you can also get an EIN number with Package Two and Three
. I found
Business Anywhere offers the best value and a ton of features
while still being really easy to use.
Features
All-In-One Dashboard: Manage your LLCs, virtual mail, and notary service in one place. The dashboard offers super convenient access to all the business services you use and helps you stay on top of things like upcoming renewal dates.
Unlimited Virtual Mailbox: Access your physical mail virtually by sending packages to the address provided by Business Anywhere. It will scan and upload your mail for you to view and forward. This requires either a subscription fee or Package Three, but it's a useful tool if you or your associates need to access your business mail remotely.
Online Notary: Sign off on legal documents with a single click. This makes signing super convenient and quick, and also keeps your files organized virtually in one place.
Yearly Business Compliance: As rules and regulations change, Business Anywhere keeps your LLC up-to-date. This provides huge peace of mind, as you don't have to worry about sudden changes delegitimizing your business. Business Anywhere offers annual renewals, too.
| | |
| --- | --- |
| LLC Registration | Step-by-step LLC registration form and filing service. |
| Business Management Tools | Business compliance, office dashboard, virtual mailbox, and notary service. |
| Help & Support | 24/7 ticket and email support. |
| Starting Price | $37 plus state fee |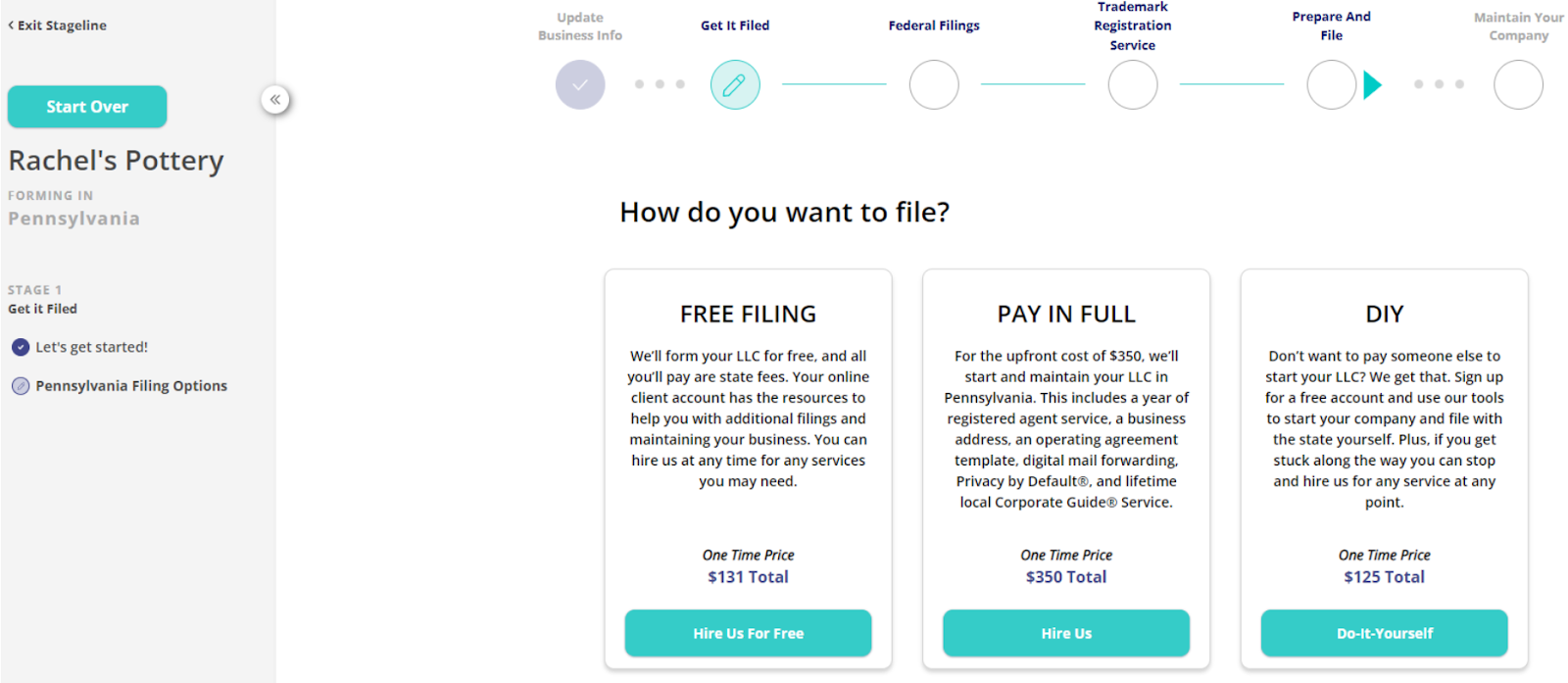 If you're unsure how to register or manage an LLC, Northwest is a solid place to start.
Northwest offers a suite of helpful tools
like free legal docs and a fillable LLC registration form
you can opt to file yourself. If you go the DIY filing route, Northwest will still guide you through the process, which is awesome! Northwest uses a tool called Stageline to walk you through each step in forming an LLC. This makes the process super easy, and I found it very informative. It clearly explained terms like member-managed vs manager-managed LLC and listed what an EIN is good for (opening bank accounts and paying employees). Personally, I think
Northwest is a top choice for first-time business owners
or if you want to learn more about the process.
Features
EIN Application: For just $50, Northwest can get your business an EIN in 2 days. You can do it yourself for free, but the price is pretty affordable if you don't want the hassle.
Expert Customer Service: While Northwest only offers ticket and email support, its agents are very informed about business formation and management.
Documents Storage: Manage and download documents related to your businesses, as well as docs that have been shared with you. Plus you'll have backups saved online in case your computer crashes or copies go missing.
Free LLC Forms: If you're passionate about the DIY approach, you can get free LLC forms, such as registration, dissolution, and operating agreement documents.
| | |
| --- | --- |
| LLC Registration | Informative LLC registration guide |
| Business Management Tools | Office dashboard, document storage |
| Help & Support | DIY LLC filing guides and email, ticket, and phone support. |
| Starting Price | From $100 |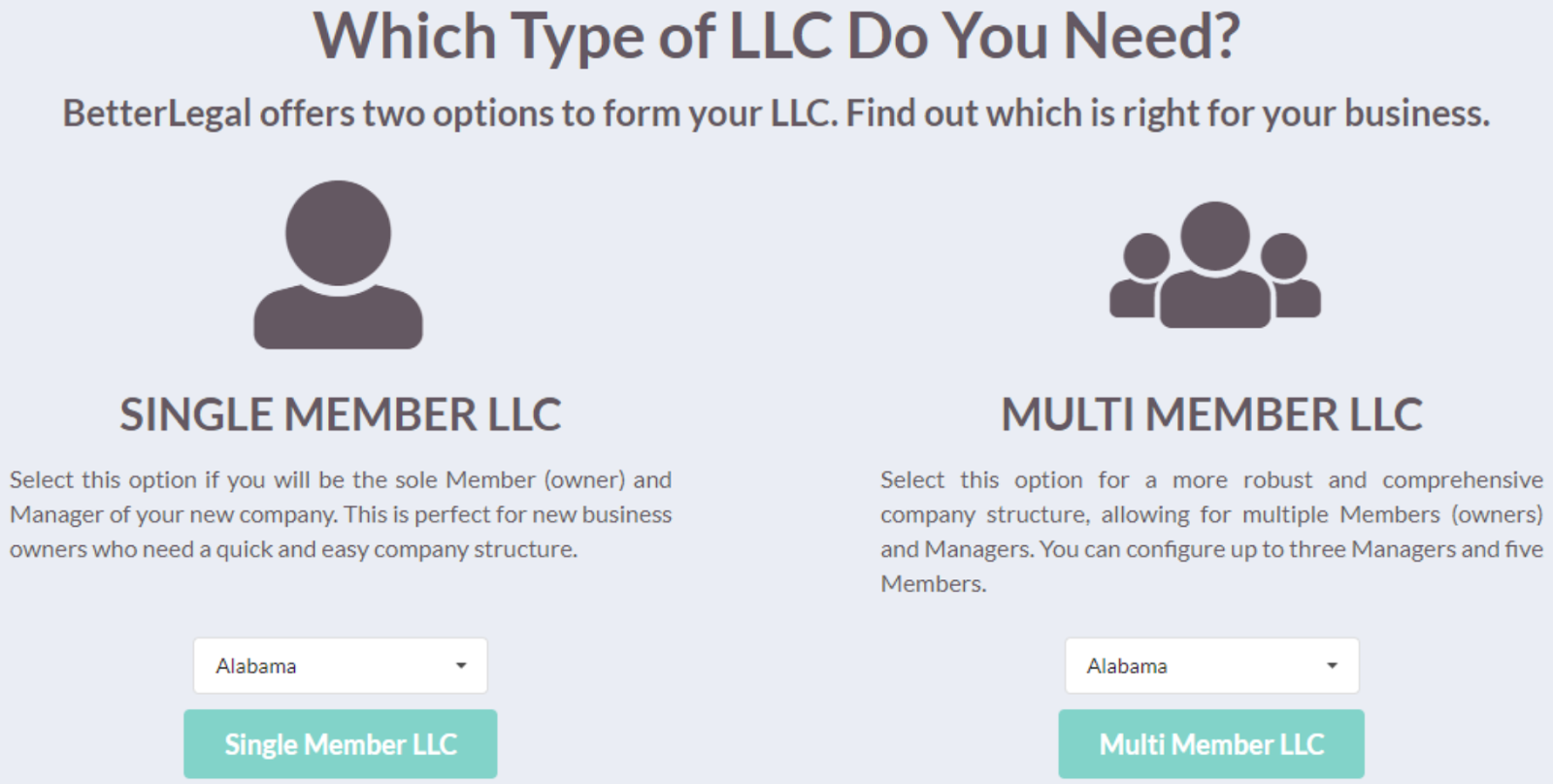 If you want to get your LLC up and running
now
,
BetterLegal has the fastest turnaround I've seen, completing the registration process in 2 days
. Filling out the LLC form is just as fast thanks to a super easy step-by-step process.
BetterLegal includes lots of freebies in its base package for LLC formation
, more than I saw from its competitors. For example, you get an EIN, operating agreement, website, and tax analysis for free. That's a lot! However,
its price feels pretty high considering it lacks essentials such as business compliance
. And I
did
feel like there were a lot of attempts to sell me on partner services that aren't really needed to start an LLC. But
if you like the free add-ons and top registration speed, BetterLegal could be a good option for you
.
Features
Name Search: Check if the name you want for your business is available on BetterLegal's Name Search page. It's important for tax purposes to have a unique LLC name registered.
Video Guides: Watch videos during setup to learn more about what's needed for an LLC, such as what a manager does (and who it is). This makes BetterLegal a beginner-friendly option if this is your first business.
Info Center: Navigate to BetterLegal's Info Center, which has numerous articles you can read to learn more about LLC formation and managing your business once it's registered. It also has useful guides for what to do in certain situations, like hiring your first employee.
Free Online Store: When you set up an LLC with BetterLegal, you get a free website you can use to sell your products and manage your inventory. As you grow, you'll probably have to pay for a more robust plan, so it won't be free forever. But it's a nice touch.
| | |
| --- | --- |
| LLC Registration | Guided process and fast registration. |
| Business Management Tools | Online store, business name search, tax analysis. |
| Help & Support | Info center, live chat, and phone support (M-F, 9am – 7pm EST). |
| Starting Price | From $299 |
ZenBusiness packs LLC formation, business compliance, website, and financial services into one straightforward toolset.
If you want everything about your LLC handled for you, ZenBusiness can do it – but it won't be cheap.
Many of its services are divided up into separate monthly subscriptions, and the price adds up
fast
. I'll be straight with you: if you want auxiliary services, you can
get a better deal elsewhere
. But for LLC formation and business compliance, ZenBusiness is a great way to make the process easier. To
set up your LLC on ZenBusiness
, it takes you through a super-easy series of questions. ZenBusiness will recommend add-on services and explain how they benefit you – just watch out for the upsells for unrelated services, like a pricey tax and invoicing subscription.
Actually helpful services you can add include a library of legal documents, an EIN, and a registered agent
– who handles taxes and legal work for your business.
Features
Operating Agreement: An operating agreement contract is bundled with your LLC registration subscription. Not everyone includes this for free, so good on ZenBusiness.
Tax Benefits: When filing business taxes, ZenBusiness automatically calculates and adds tax deductions for you.
Annual Compliance: Once you form your LLC, ZenBusiness's monthly subscription also handles business compliance for you.
Business Alerts: Get reminders about filings and documents that are due. This is a useful feature that I don't often see, despite how simple and helpful it is.
| | |
| --- | --- |
| LLC Registration | Easy questionnaire. |
| Business Management Tools | Alerts and business compliance and library of legal docs. |
| Help & Support | Help center, 24/7 email, live chat, and phone support (M-F, 8am-8pm CST or Sunday, 10am-7pm CST). |
| Starting Price | From $49 |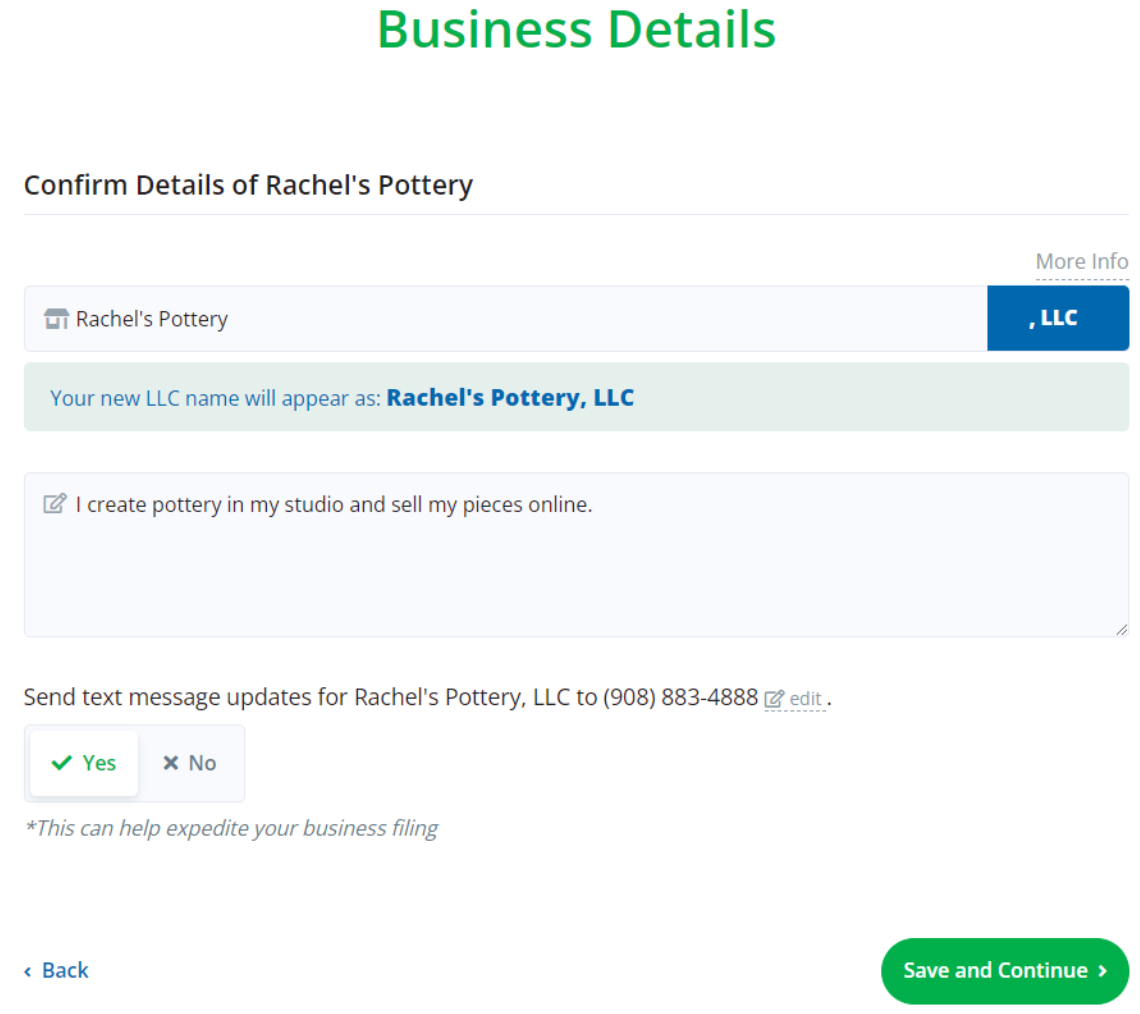 The biggest draw to Inc Authority is its
free LLC filing service
– all you have to pay for is your state's filing fee. Of course, Inc Authority is a business, and it makes money through its other services (some of which are unnecessary upsells).
You have to pay extra to get an EIN, an operating agreement, legal documents like ownership agreements, and business compliance.
These services can be done on your own, but they're essential for most businesses. Once you add them all up, Inc Authority becomes just as pricey (if not more so) than its competitors. If you're on a budget, my recommendation is to
use Inc Authority for its free LLC filing option and hire a legal expert like one of these freelancers
for cheaper legal work.
Features
Expedited Filing: For a fee, you can bump your LLC registration form to the top of the line. Filing in some states can take a long time (Pennsylvania takes over a month!), so it's nice to have this option.
Business Name Verification: Before you start, Inc Authority checks your desired business name to determine its availability. Otherwise, you risk having to refile if you pick a name that's already registered.
Digital Storage: Access your LLC formation documents anytime from the Inc Authority website.
1-Year Registered Agent: Inc Authority will serve as your registered agent for 1 year for free, but you have to pay if you want to continue after that.
| | |
| --- | --- |
| LLC Registration | Step-by-step process ending with upsells. Expedited filing. |
| Business Management Tools | Digital storage, free registered agent for 1 year. |
| Help & Support | Email and phone support (M-F, 6am-5pm PST) |
| Starting Price | Free |
With Incfile, you only have to pay once to
register your LLC
, and you get a lot of perks on the side. I especially like that a subscription isn't required. Since
you get an EIN number, operating agreement, and IRS form 2553 in the premium Gold and Platinum packages
, I feel Incfile offers the best pricing overall. However, Incfile has a few drawbacks – in particular, the slow filing time. Mine had an estimated 12-week wait time… Not ideal if you're in a rush. Still,
if you're on a budget and looking for an easy LLC formation service, Incfile could be the right choice for you
.
Features
Free LLC Formation: With the Silver package, you can get your business set up for free. All you have to pay for is the state filing fee, and you get free filing, business name checks, and a registered agent for 1 year.
Business Address Plan: For a monthly fee, Incfile will give you an address you can use for your LLC's physical address. This is excellent if you want an EIN, since that requires your company to have a registered physical address.
Online Dashboard: View business alerts, legal documents, and statuses on current in-progress filings from an easy-to-use dashboard.
Business Banking Account: Set up a business account for your LLC for free through a third-party integration partnered with Incfile. Sure, you can handle this yourself, but it's a nice way to keep everything tied to your business in one place.
| | |
| --- | --- |
| LLC Registration | Step-by-step registration, but slow filing. |
| Business Management Tools | Business banking and address, online dashboard for alerts and legal docs. |
| Help & Support | Ticket and phone support (M-F, 9am-6pm CST). |
| Starting Price | Free |

Harbor Compliance specializes in business compliance and it also offers an
up-front LLC formation service
. Its LLC package includes all the essentials – but it costs a lot more than the other options on this list. It was also pretty difficult to use. I got confused navigating its website, and I had trouble figuring out how to get my LLC formation started. Turns out you have to contact your account representative to get anything done.
Your account rep works one-on-one with you to get your LLC set up and keep it running smoothly
. For some people, this level of attentiveness is super helpful, but I can also see it getting annoying for people who want to jump in and do things themselves. Overall, I'd say Harbor Compliance is probably too expensive for LLC formation alone, but
it's a solid option if you're thinking about business compliance, management, and amendments
.
Features
Compliance Software: View and manage business licenses, alerts, taxes, and compliance requirements all on your dashboard. This software is saved to the cloud, so you can access it from anywhere and stay on top of legal matters.
Free EIN Number: When you get your LLC formed, you also get an EIN number at no extra charge.
Free Operating Agreement: Get a template for an operating agreement doc at no extra charge.
Power of Attorney: Give Harbor Compliance authority to sign legal documents for you so you don't have to bother with it.
| | |
| --- | --- |
| LLC Registration | Confusing website, but fast LLC filing. |
| Business Management Tools | Cloud-based business compliance software, alerts, and tax management. |
| Help & Support | Help center, email, and phone support (hours not listed). |
| Starting Price | From $399 |
What Do You Need to Form an LLC?
Forming an LLC yourself is possible, but there are a few things you need to know before you get started. The first thing you'll have to do is pick a name for your business and check that it's available to register in your state.
BetterLegal has a business name checker
 you can use to confirm availability. Next, you need to check your local state requirements for LLC registration by navigating to your state's official website. Each state is different, and
there are also requirements for foreign registration in a different state
. You'll also need to know the following information about your business:
The owner(s) of the business and their address.
Your business's physical address.
Your registered agent. A registered agent is a person or service who acts as your business's processor, handling legal documents and taxes. You can name yourself as a registered agent, or hire someone to do it for you. Every state requires you to name a registered agent to form an LLC.
Once you have all the information you need, you'll have to fill out and file the necessary forms for the state you're registering in.
You'll need to file a certificate of organization to register your LLC, an operating agreement to outline your business's financial structure, and an application for an EIN
. An EIN is necessary to file taxes for business with employees. As you can see, registering an LLC all on your own is a lot of work! It's certainly doable, but
you can save yourself time and legwork by hiring an LLC formation service
. By using a service to do it for you, you also remove the risk of making a mistake and having to start the whole process over again.
Check out Business Anywhere
 for a comprehensive service that handles business formation and compliance.
Find the Best Formation Service for Your Business
While any of these incorporation services can help you set up your business, they each have different strong points that might suit you better. If you're still trying to figure out which service you should pick to file an LLC, I recommend focusing on my top three picks.
Business Anywhere gives you everything you need
for LLC formation and managing your business, at a fair value too. Its virtual office makes administration tasks a breeze. If you want a service that knows the ins and outs of business and can show you how it's done,
I recommend Northwest Registered Agent
. You can learn a lot about how LLCs work and what you need. Or if you want to get your business set up as fast as humanly possible,
BetterLegal has the fastest registration turnaround
 I've seen. It also includes a lot of bonuses (like an EIN) in its base price. Refer to the comparison table below for a final rundown between the top LLC formation services.
| | | | | |
| --- | --- | --- | --- | --- |
| | Pricing | Best Feature | Best For | |
| Business Anywhere | $ | Virtual office to handle mail, registration, compliance, and legal docs for your business. | Those looking for the most features at the best value. | |
| Northwest Registered Agent | $$ | Top-grade support and consultation from business experts. | Business owners who want informed support and are interested in DIY filing and management. | |
| BetterLegal | $$ | Speedy registration process. | People who want to get their LLC registered ASAP. | |
| ZenBusiness | $ | Super easy to use LLC formation and business compliance platform. | Beginners and non-experts who want a simple, easy-to-follow process. | |
| Inc Authority | $ | Free LLC filing with business name availability checks. | People who want just the basics and LLC filing for free. | |
| Incfile | $ | Most inclusive service packages for the price. | Entrepreneurs on a budget who also want auxiliary services. | |
| Harbor Compliance | $$$ | Business compliance dashboard. | Business owners who care more about compliance than formation service. | |
FAQ
What is the best site to set up an LLC?
Any of the sites listed in this article are great options for setting up an LLC. My personal favorite is Business Anywhere, but the right choice for you depends on your budget and need for additional services, such as business compliance or an EIN.
What is the cheapest way to set up an LLC?
Some LLC formation services let you file for free or have cheaper budget plans. You can also file yourself, but this takes time and risks messing things up and having to start again. No matter what, you always have to pay your state's filing fee.
What does an LLC formation service do?
An LLC formation service handles filing and registering your business for you. It can also file other business legal documents, file for an EIN, act as your agent, and handle yearly business compliance requirements.
Can I form an LLC for free?
No, you always have to pay your state's filing fee at the very least. But you can save money by filing your LLC yourself or using a free filing service like Inc Authority.
Do I need an LLC service?
No, but filing your business as an LLC grants you certain tax benefits and makes your business look more professional (i.e. reliable) to potential customers. LLCs are cheaper than corporations, but you cannot offer stocks to attract investors.