well-designed templates
 that emphasize the quality of your products or services, and make it easy for your clients to get in touch with you. You'll also want
effective SEO and marketing tools
 to help you increase your online presence and attract more visitors to your site… but there's more to it than that. The website builders in this article can all help you
build a powerful site to reach your target audience
. If I had to choose one though, it would be Wix. With over 900 templates,
Wix has by far the most health and wellness designs available
, and thanks to its free plan, I love that you can start designing and setting up your website without having to pay anything at all. So, there's literally nothing to lose!
Short on time? These are the best health and wellness website builders in 2023:
Wix – Fully customizable templates with lots of features for health and wellness sites
Squarespace – Slick and professional health and wellness templates that look good across all platforms
Site123 – Super easy to use, the perfect choice if you want to get your business up and running quickly
What We Look For in the Best Health and Wellness Website Builders
To narrow down the dozens of website builders out there, we focused on features that matter most to health-and-wellness business owners:
High-quality templates
: We chose builders with clean, beautiful templates geared toward health and wellness businesses. We also checked to make sure the templates have features that cover everything you'll need, like service or product descriptions, contact information, subscription forms, and more.
Extensive customization options
: Although well-designed templates can go a long way, you'll also want your website to reflect the unique essence of your brand. We looked at builders that let you customize their templates in depth, giving you full control over the creative process.
App Market
: We chose website builders that offer a rich selection of apps to help you reach your customers where they are. Whether you want to upload video content for online classes, add a blog to share health/wellness tips, or allow clients to book appointments online, these builders have you covered.
SEO and marketing features
: Good looks alone aren't enough to spread the word – you'll need some effective SEO tools to help health and wellness enthusiasts find your business. These tools will also help you market your wellness services and products across more platforms and get more exposure.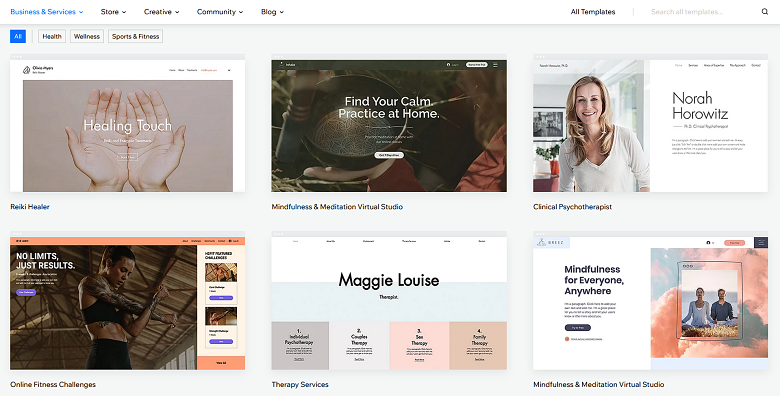 Wix is a highly popular web builder across the board simply because it ticks all the right boxes: it's user-friendly, has tons of templates, gives you access to a vast app market, and has
a generous free plan
 (this might come in handy for building and testing your website).
The Health and Wellness section of the Wix template gallery has
over 60 designs
, so you'll have tons of options to choose from, whether you're selling fresh juice or teaching yoga classes. I was really impressed with how on point the templates were for each niche – from color palettes to layouts, their designs seemed particularly fit for purpose. For example, one template for a certified dietician had a fresh and energetic feel to it, with vivid colors and delicious-looking images of fruit and veggies, while a fitness studio template used darker, more intense shades.
One drawback is that Wix's templates aren't automatically mobile responsive
. That means that if you make big layout changes to the template, you'll need to make the adjustments again in a separate mobile view editor so your website looks good on mobile screens. Another caveat: Wix doesn't allow you to keep your content if you change templates, so once you pick one, you'll have to stick with it – otherwise you'll have to start over again from scratch. When it comes to customizing templates, though, Wix really takes the cake.
It has one of the easiest drag-and-drop editors out there,
and you'll also be impressed by the sheer number of apps available on the Wix App Market. Depending on your business niche, you can add a blog, videos, contact and subscription forms, appointment booking capabilities, and so much more. You'll also get access to the
Wix SEO Wizard
, which creates a personalized SEO plan for you with keyword recommendations and insight into how well your website is doing on search engines.
Features
Huge choice of health and wellness templates: Wix has well-designed, professional templates for every niche, whether you're a personal trainer or a recipe blogger.
Flexible drag-and-drop editor: This editor is incredibly easy to use, and you'll have access to lots of customizing options regardless of your subscription level.
Great SEO and marketing tools: You can use Wix's SEO Wiz to increase your online presence; Wix also has plenty of email marketing tools to increase your mailing list.
Want to learn more? Check out our expert Wix review.
Free plan available?
Yes
Starting price of paid plan

$

16.00

Number of health and wellness templates
60+
Customer Support
Extensive help center, ticket support, and phone support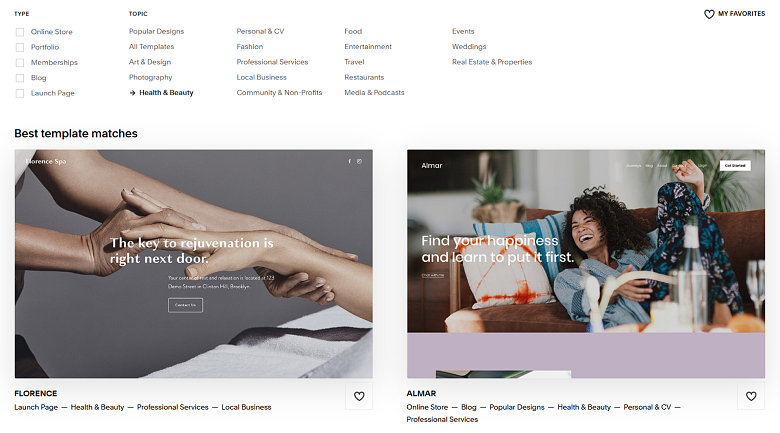 Although it can't compete with Wix on sheer number of templates, Squarespace is known for having
the most modern and professional templates available
… period. All its templates have a
clean and minimalist design with a simple structure
 that just breathes elegance. Squarespace is geared toward business websites, and it has a Health and Beauty section for wellness-related sites. My personal favorites are
Almar
, which is designed for an online coaching service built around mindfulness and re-discovering yourself, and
Noll
, which is for nutritionists. Both designs have a simple, effective structure that's easy for visitors to navigate. I also like that the signup/booking buttons are placed strategically throughout the template so visitors will spot them easily.
Squarespace's templates are
automatically mobile responsive
, and you can (pretty) easily customize your template to add appointment booking capabilities, calendars, food menus, contact forms, image galleries, social media forms, and more. If you're on a paid plan, you can also access the CSS and HTML files directly to take your changes even further.
Features
Professional designs with an easy-to-navigate structure: Squarespace's modern templates and sleek layouts allow visitors to quickly see what you're offering, how to contact you, and where to book or buy.
Lots of third-party integrations: You can embed YouTube videos of workout sessions, cross-promote your blog posts on social media, or engage your community via Disqus Commenting… and that's just the tip of the iceberg.
Generous e-commerce offerings: If you plan on selling healthy products, you can subscribe to one of Squarespace's Commerce plans to accept online payments, offer discounts and sales, create shipping zones, and much more.
Looking for more info? Head over to our in-depth Squarespace review
.
Free plan available?
No, but there's a 14-day free trial
Starting price of paid plan

$

16.00

Number of health and wellness templates
10, in the Health and Beauty section
Customer Support
Community forum, email/ticket system, and live chat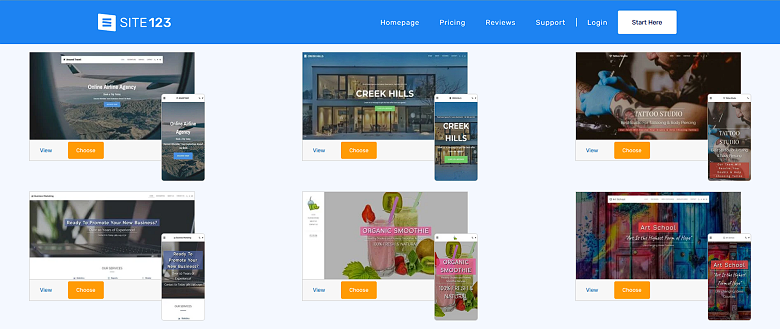 SITE123 is a
great website builder for beginners
: its big claim is that it can help you get your site up and running in literal minutes, and for the most part you actually can. Its super-simple editor has tons of pop-ups with tips and tutorials to guide you through the entire website creation process. SITE123 doesn't have a dedicated template category for health and wellness, but there are several templates that could work really well, such as
Organic Smoothie
in the Landing Page category or its blog templates geared towards fitness and yoga studios, beauty and wellness content, or healthy meal recipes.
All of these templates
 have a simple, easy-to-navigate structure with all the useful information presented clearly in a sidebar or a top menu. For me, though, SITE123's standout feature is its multilingual functionality.
 It automatically translates your website into multiple languages
, instantly expanding your potential client base. The higher your subscription plan, the more languages your site can support. There's also a wide selection of SEO, marketing, and e-commerce apps available on paid plans. However, you can build a fully functional website even on
the free plan
, with features like a blog, image galleries, contact forms, and the ability for visitors to book appointments.
Features
Intuitive editor with a guided tour: the SITE123 editor has pop-ups with tips and tutorials on website building. If this is your first time building a site, you'll find it very easy to customize your template's structure, colors, and fonts.
Health-and-wellness-focused blog templates: These minimalistic templates feature a trim structure and a design that's easy on the eye.
Multilingual functionality: SITE123 will automatically translate your site into multiple languages (the higher your plan, the more languages your site will support).
Find out more about SITE123 in our expert review
.
Free plan available?
Yes
Starting price of paid plan

$

12.80

Number of health and wellness templates
A handful, no health/wellness section
Customer Support
Extensive help center and 24/7 live support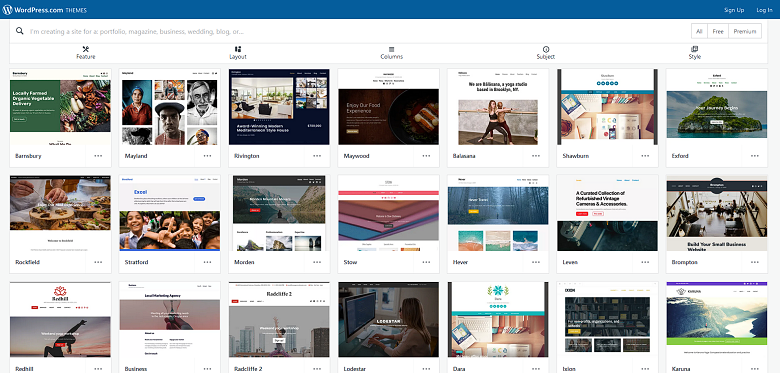 WordPress powers over one-third of the websites on the Internet, and has a
lot
to offer, even on
the free plan
. It gives you
plenty of creative control and customizing options
, which only increase as you move into the higher-tiered plans. Just be careful: this builder is probably not for beginners unless you install a drag-and-drop editor like
Divi
.
WordPress has a
huge selection of free and paid themes (250+)
.
Most are blog-focused, but there are several great business-oriented themes. For example,
Barnsbury
could be great for nutritionists or anyone promoting a healthy lifestyle or natural products, as it's based around food photography and allows you to share recipes. The
Balasana
 and
Redhill
themes are also good options for health/wellness businesses, with their minimalist design that lends itself to image galleries and videos.
If you plan on sharing health and wellness info and tips via blog posts, WordPress will likely be your top choice,
 as this platform was primarily designed for blogging. WordPress's Gutenberg editor is extremely beginner-friendly and it treats every element of your post as a block. You can arrange and customize these blocks to your liking, including by adding text, columns, lists (great for recipes), multimedia content, and more. Thanks to its powerful social media integrations, you'll also be able to promote your posts on virtually any social network.
Features
Huge choice of themes: WordPress has an extensive theme gallery and it gives you access to third-party theme providers like ThemeForest, so you're bound to find something that suits your wellness niche perfectly.
Health-friendly plugins: Some WordPress plugins are particularly useful for health websites, such as Contact Form 7 (which lets you customize contact forms), Booking Calendar (which allows visitors to book appointments online), and TrendMD (which optimizes the placement of links to scholarly content on your website).
Great blogging tools: You can add health-related multimedia content to your blog posts and share them across social media platforms to keep your followers engaged.
Read more about WordPress in our extensive review
.
Free plan available?
Yes
Starting price of paid plan

$

45.00

Number of health and wellness templates
Several good templates in the Business category; no dedicated health/wellness section
Customer Support
Support forum, live chat, and email support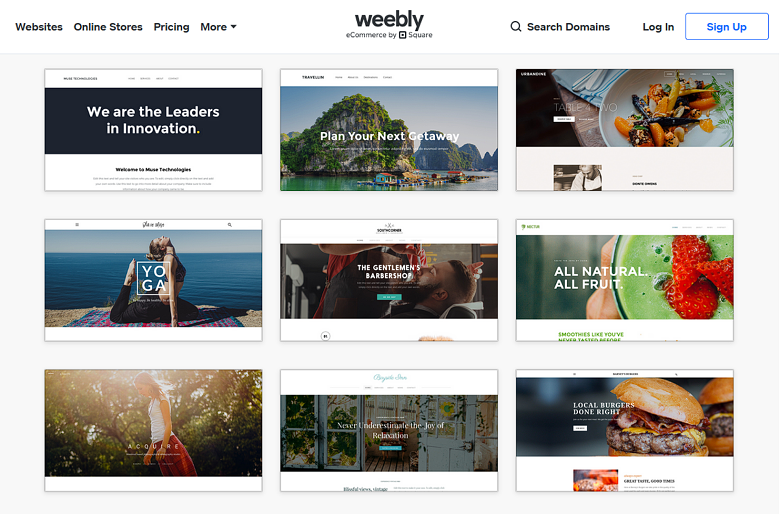 Compared to Wix, Weebly offers a pretty limited collection of templates, but the Business category has a couple of templates that could work really well for health and wellness websites, like Nectur and Sol de Terrace. These templates are clean and professional, and they include sections about the services you offer, news about your business, and contact forms. The best thing about Weebly's templates? You can switch between them anytime without having to rebuild your website, even after you've published your site.
Weebly is primarily designed for building online stores, so it's a great builder for selling wellness items – although you'll have to choose the highest-tiered plan to make the most of it. The editor makes it quick and easy to add products and specify product variants such as color, size, and fulfillment options. Also, you can give visitors a better insight into your products by adding
360-degree images or gifs
 in addition to regular photos. With
over 350 apps available
, the Weebly App Center includes everything you can think of, from pricing tables to automated thank-you emails. Apps are divided across five categories: E-commerce, Communication, Marketing, Social, and Site Tools & Features.
Features
Business-oriented template layouts: Weebly's template layouts put visitors' attention on your products or services and feature prominent contact and booking buttons.
Strong e-commerce capabilities: These include (but aren't limited to) the ability to sell gift cards, abandoned cart reminders, and customers reviews for specific products.
All the apps you need – and more: The Weebly App Center has lots of tools to help you share health content on social media, attract more visitors, and set up multiple sales channels for your wellness products.
Discover more Weebly features in our expert review
.
Free plan available?
Yes
Starting price of paid plan

$

6.00

Number of health and wellness templates
No health/wellness section, but 4 suitable templates in the Business category
Customer Support
Email support; phone support for premium users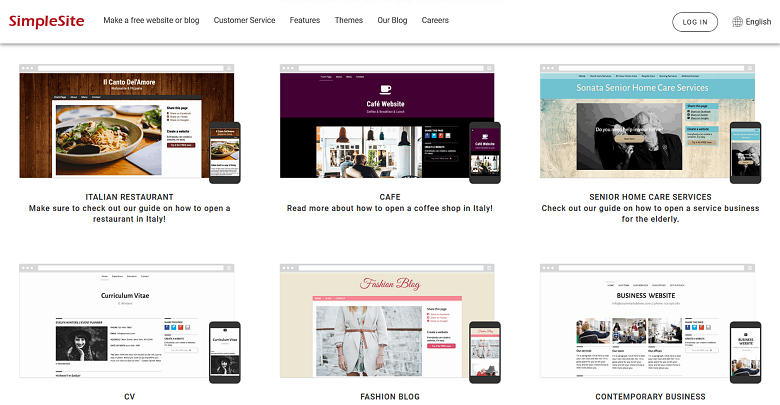 SimpleSite offers a fairly limited selection of templates: the three that work well for health and wellness websites are
 Food Blog, Home Care Services,
and
Blank Company
. All of them have
a clean and minimalist design
with prominent
About Us
and
Contact Us
sections, along with a sidebar with social icons. The SimpleSite editor exceeds expectations with its exceptional user-friendliness. Like SITE123, it provides a rapid guided tour of the interface, accessible at your convenience. Through the SimpleSite editor, you have the capability to explore various versions of your menu layout, reorganize content blocks, and improve contact forms by adding or removing fields.
The most convenient feature about SimpleSite, though, is its unlimited multimedia feature
, which allows you to add an unlimited number of pages and images and upload unlimited amounts of video content. If you need to upload lots of exercise tutorials, for example, SimpleSite may be the right builder for you. SimpleSite also has a
built-in online store
 that lets you upload products in just a few steps. Although it's pretty basic, it lets you do important stuff like change product sizes and add fulfillment options. And if you subscribe to the E-commerce plan (the most expensive one), you'll be able to add an unlimited number of products.
Features
Unlimited multimedia: SimpleSite offers unlimited video minutes, which is great for websites that include workout tutorials.
Built-in online store: Putting your health and wellness products on SimpleSite's store editor is incredibly straightforward. If you pick the top tier plan, you can receive payments through PayPal and include an endless amount of products.
See what else you can do with SimpleSite in our in-depth review
.
Free plan available?
Yes
Starting price of paid plan

$

11.25

Number of health and wellness templates
No health/wellness section, but 3 good templates in other categories
Customer Support
Help center and email support
The Bottom Line
These six distinct builders all offer professional and sleek templates meticulously crafted to showcase the strengths of a health and wellness website. Furthermore, each builder grants you access to a multitude of apps filled with tools that will help you connect with potential clients.
My personal favorite is Wix
, simply because it has a huge selection of templates for health and wellness sites, and they're all fully customizable. However, the best website builder for you will ultimately depend on your needs.
Squarespace
has the best-looking templates around, whereas
SITE123
 is your best bet if you want to get your website up and running as quickly as possible.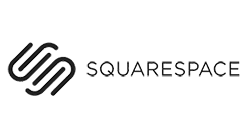 Save up to 30 % on your Squarespace plan today!
Plus get a free domain for one year!
1031 users used this coupon!
Comparison Table
Builder
Standout features
Wix

Wide selection of health and wellness templates
High-quality SEO and marketing tools

Squarespace

Ultra-modern template designs
Intuitive editor and quality appointment booking tools

Site123

Built for non-techy users
Displays your site in multiple languages

WordPress

High level of customization
Superb blogging features

Weebly

Allows you to switch between templates
Generous e-commerce options
Extensive app market

SimpleSite

Easy-to-use editor
Built-in online store
FAQ
Which website builder is best for a health and wellness company?
The right website builder for you will depend on your needs and preferences. Our top choice is Wix because it delivers on all fronts and has the widest variety of health and wellness templates. However, Squarespace has the most contemporary designs and Weebly has strong e-commerce abilities, while SimpleSite allows you to upload unlimited video minutes.
Is making a website worth it?
Yes. Having a fully functional and beautiful website will make all the difference when it comes to growing your health and wellness business. You'll be able to put your brand on the map and interact with clients in quick and easy ways. Check out our current deals and discounts to see how you can do all this for even less money.
Do I have to know how to code to make a website?
Definitely not. All of the website builders in this article (and the ones on our list of the best website builders in 2023) offer an extremely easy and hassle-free path to creating a website. They also offer more advanced customization options for those with design knowledge, so they are suitable for beginners and experts alike.