Too busy for a full read? Here is the BEST Website Builder for Health & Wellness Sites for 2020
Wix – Easy-to-use with over 60 health-and-wellness-themed templates. Click here for 50% off all Wix plans.
Many people turn to the internet to find answers to their questions about health and wellness and to find products to improve their daily lives. If you want to maximize your health and wellness business or just want to give people advice on how to improve their lives through better health, then you need a professional website.
Fortunately, the best website builders all give you the necessary tools you need to build a stunning health-and-wellness website. Whether you want to give people exercise tips, healthy dinner recipes, or sell wellness services, these builders can get your website online so you can help others become their best selves.
Best Website Builders for Health and Wellness – Our Top Picks:
Wix – Find the Template that Best Suits Your Needs
Wix is great for building almost any type of website, especially informational websites. It offers over 500 templates, including a section of over 60 health-and-wellness-themed templates. Two templates that stand out are Pilates Class and Family Medicine.
The Family Medicine template is perfect for anything from doctor offices to nutritional outlets. It offers a block layout that gives instant access to hours, list of services, contact information, and more. Google access is also integrated to allow clients to find your business. Pilates Class has a similar layout, but also has embedded video and an email subscription webpage.
While Wix templates provide a lot of base features, you can include additional functionality via the App Market. You can add photo galleries, video, contact forms, subscription forms, blog sections, and even language translation apps.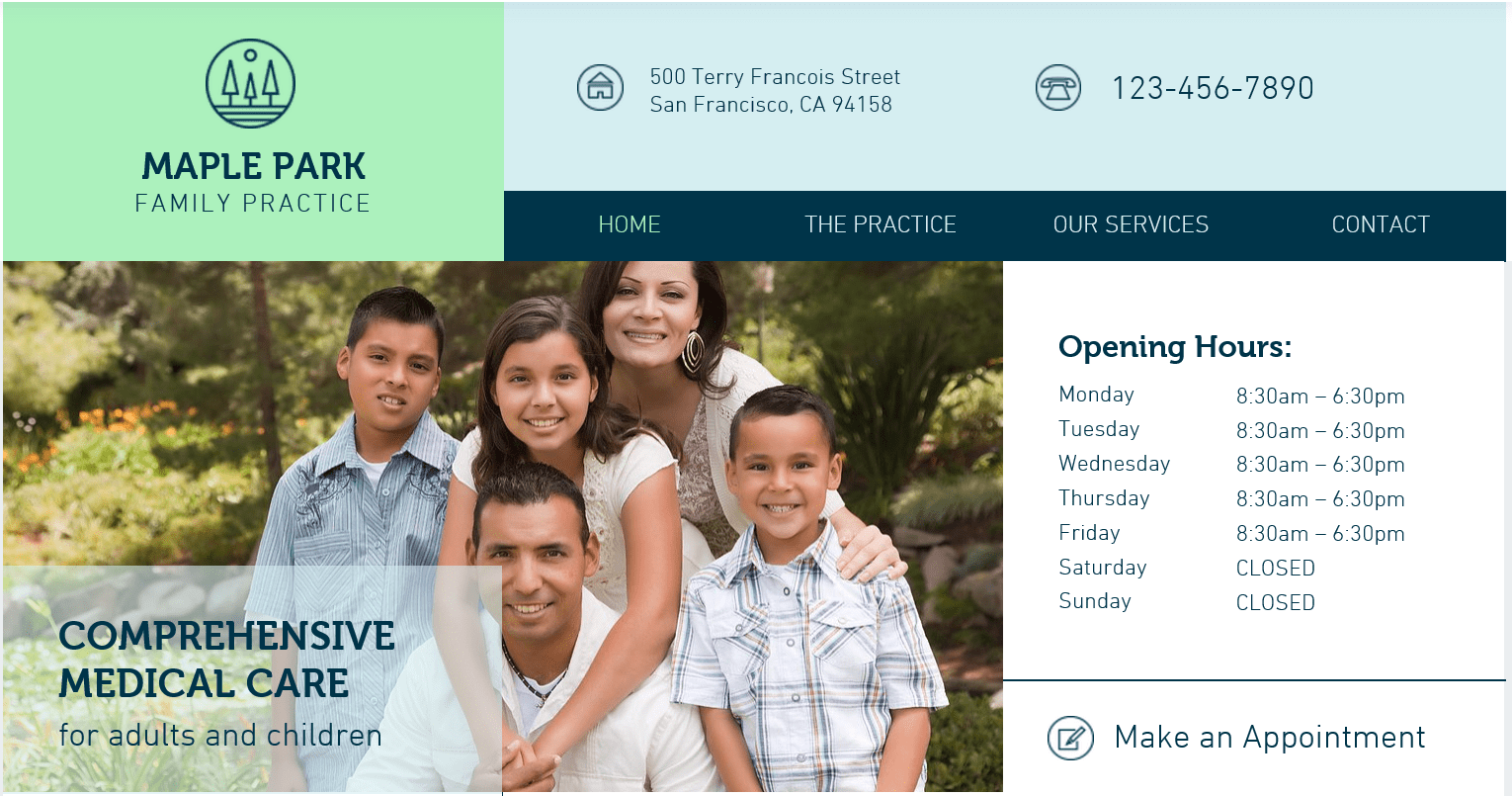 Users love Wix, and for good reason. It's a great overall builder that's both easy to use and packed with features.
Site123 – Make Sure Your Site is Accessible in Any Language
Site123 is a solid choice if you're mainly looking for a basic website, but don't expect to be dazzled by its templates. The selection is somewhat limited compared with Wix and some other providers, but there are some that will work for health-and-wellness websites.
Two that I like are Organic Smoothie and Regional Clinic. Organic Smoothie is a basic smoothie-store template that allows you to access everything about the business from one webpage. There's a small menu along with a Contact and About Us webpage. It also comes with Google Maps integration. Regional Clinic has a similar design; however, rather than feature a menu, you can list services offered by your company.
The major downside to Site123 is its lack of template variety. The layout for Regional Clinic doesn't vary much from Organic Smoothie or any of the other templates. This will require a bit of creativity from you to make your website stand out. There are apps available through the Site123 app market that will allow you to add photo galleries, online video, additional forms, and more.
If you require a multi-lingual website, Site123 is an excellent choice, as many plans offer you the ability to provide the same website in multiple languages automatically. Also, if you plan to sell products, all paid plans offer e-commerce functionality.
Want to learn more about Site123? Read our in-depth review.
WordPress – Combine Text and Video into a Beautiful Blog
WordPress offers you the ability to create websites in almost any field. However, unlike standard WordPress, the number of available templates on WordPress.com is somewhat limited. If you use the Free or Personal plan, you'll have to pay for Premium templates. There's a selection of free models, but not many to choose from for those related to health and wellness.
Karuna is the only WordPress free template I like. It's a Yoga-themed blog template that includes a photo gallery, integrated video, and Google Maps integration. It can easily be modified to fit any health-and-wellness theme you want. The best templates are premium templates, and you must pay for them unless you choose to sign up for Premium or Business plans.
Note that the major downside to using WordPress is that you're limited in design features to those pre-programmed into the template. Templates come with most common design options such as forms, photo galleries, integrated video, blog posting, and more. However, you won't be able to add any customer plug-ins or install custom templates unless you upgrade to the Business plan.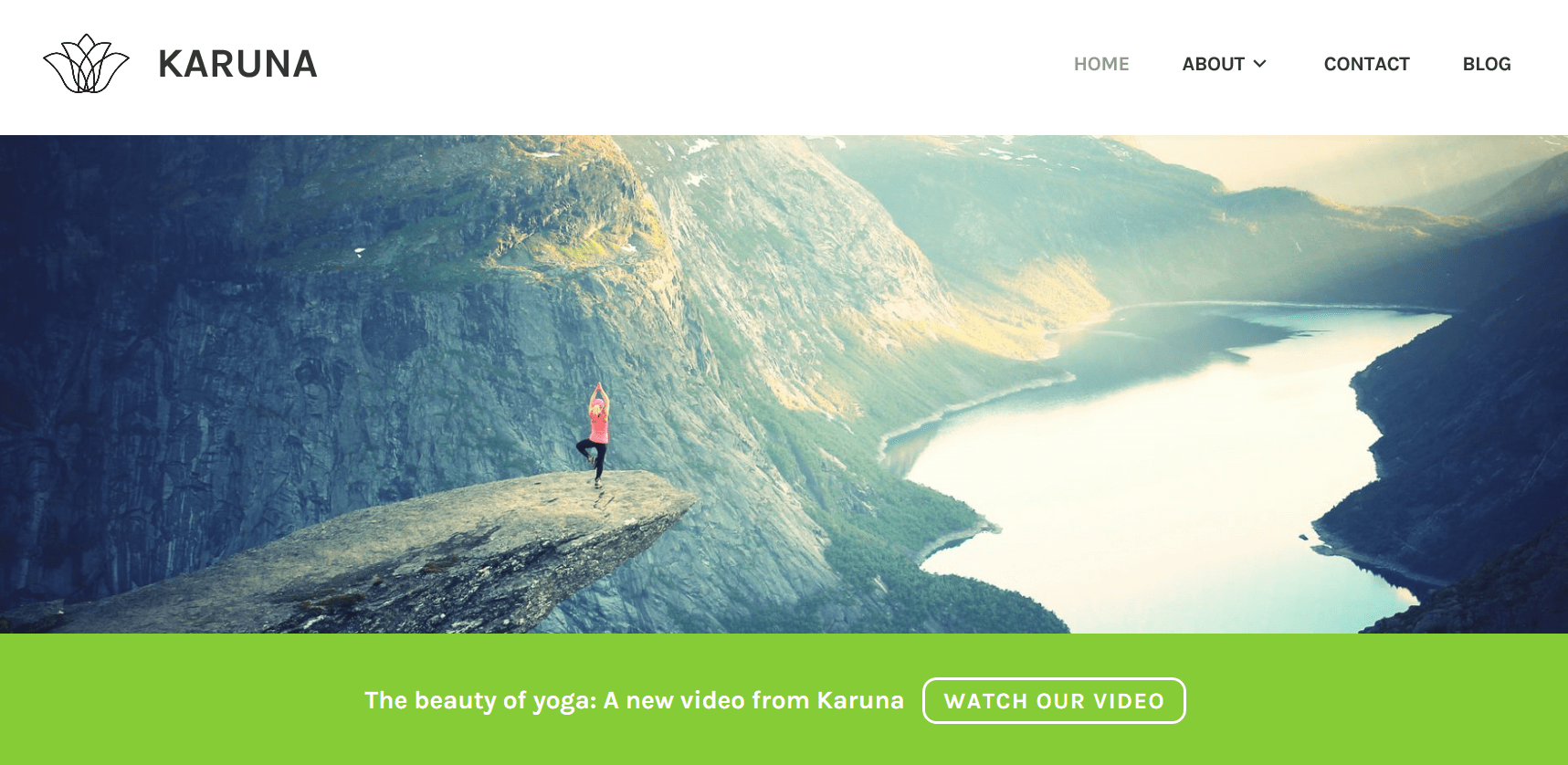 To learn more about WordPress, don't miss our in-depth review.
SimpleSite – Integrate Your Social Media Accounts
As the name implies, SimpleSite offers simple website design options. Unfortunately, your website is going to look simple. The number of templates is limited, and there's very little variety in design layouts. Contemporary Business and Senior Home Care Services are going to be your best options for health-and-wellness websites.
Both are blog-style templates with webpages available for services and contact information. The Contemporary Business template has more of a professional look and allows for social media integration. All SimpleSite templates also come with automatic mobile-optimization, meaning you don't have to design a separate mobile webpage.
While SimpleSite is limited in template design, it does offer one spectacular feature that other builders do not: unlimited multimedia, including unlimited video minutes. If you plan to run an informational website with lots of video tutorials, such as an exercise website, this may be a good fit despite the limitations in template design.
Considering using SimpleSite? Read our expert review first.
Weebly – Allow Your Customers to Make Reservations Online
Weebly targets e-commerce and entrepreneurs, and offers templates specifically targeted to help promote your health-and-wellness business. One downside to Weebly is that its template library is somewhat limited. However, two templates are perfect for health-and-wellness websites: Bayside Inn and Sol de Terrace.
Weebly's Bayside Inn is a B&B website, but it can be easily converted to work for a website related to spas, yoga, exercise classes, and more. It offers sections describing services, news about the company, a contacts webpage, and even options to make reservations. Sol de Terrace is a spa-related template with similar features as Bayside Inn, but offers hidden menu features.
Despite having a limited selection of templates, Weebly's layouts are some of the most professional of those on this list and will help you market your health-and-wellness business. If you find that a template is missing features you need, check out the App Center to find apps such as photo galleries, integrated video apps, live chat, and more.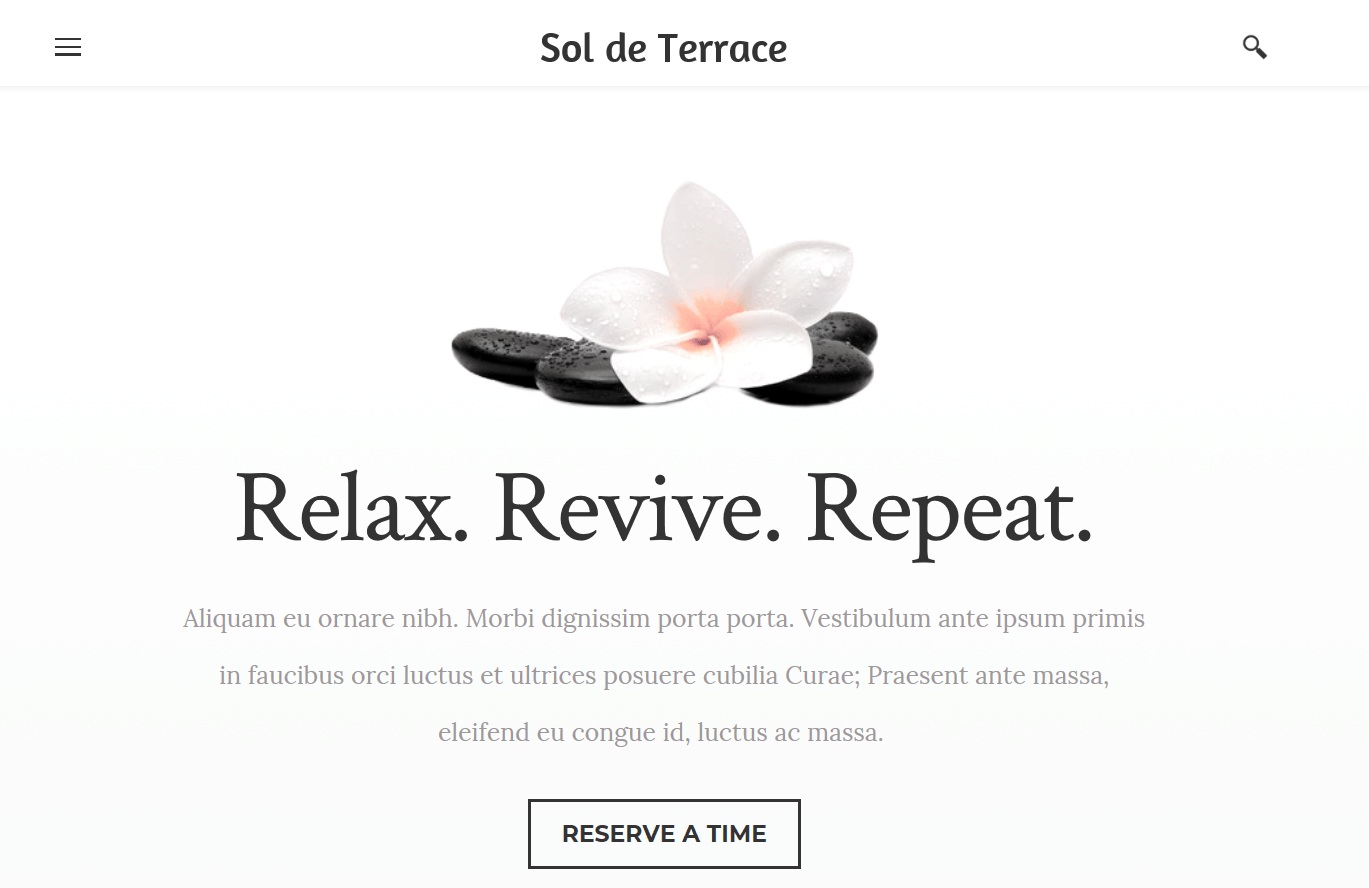 To learn more about Weebly, check out our expert review.
Squarespace – Change Your Template Anytime You Like
If you're looking for modern templates, then visit Squarespace. Out of all the builders on this list, Squarespace templates are the most modern, and Squarespace has the largest library outside of Wix. While this platform has only a handful of health-and-wellness templates, they are among the most stunning.
Two templates you should check out are OM and Moksha. Both have simple, yet modern layouts that allow you to list services, classes, contact information, and more. Moksha offers a blog feature as well as an option to sign up for the mailing list.
There's good news and bad news about Squarespace. It doesn't offer many customization features outside of those built into the templates. There's no apps store available. However, you can customize the HTML and CSS of all templates to achieve your best look.
Also, Squarespace is the only builder that allows you to download and install multiple templates. Check out how your website looks with various templates and pick the one you like best. Don't like it? You can select a different one without having to rebuild your website.
Read more about Squarespace in our in-depth review.
Use the Best Website Builders to Help Others Improve Their Health and Wellness
There's nothing more valuable in the world than our health. At some point, most of us will go online seeking help in reducing stress, losing weight, or improving our general health. Taking the proactive step of building a professional health-and-wellness website will help establish you as an expert in the field and get your message and product out to the masses.
Your investment in a health-and-wellness website will not just benefit you and your company, but it will also change the lives of those who visit. By building your website with one of the best website builders listed above, you'll provide products and information that will help others make an investment in their health and wellness that will pay dividends for life.