low-cost freelance hiring solution
 to find each freelancer, so some of the pros on this list can be hired for as little as $5!
---
9 Best Pinterest Marketing Managers for Hire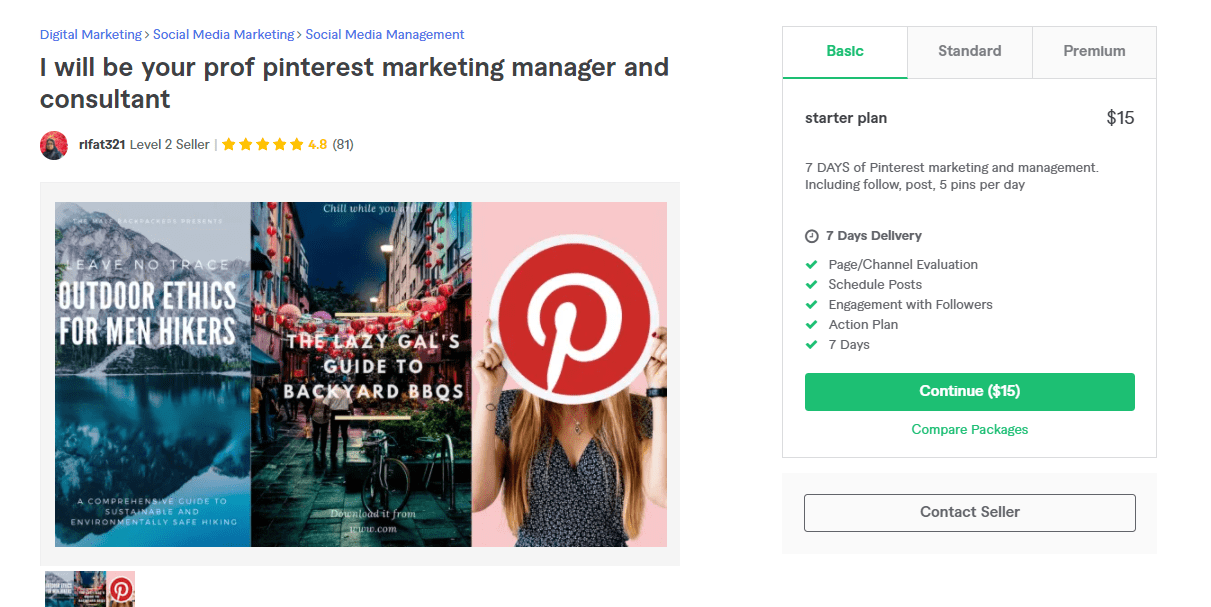 Rifat321 is a Level Two Seller, meaning they have consistently delivered and received good feedback. With several years of digital marketing experience, they've managed to achieve a 4.8 out of 5 stars from previous customers.
Their basic "Starter Plan" offers a full profile evaluation along with a customized action plan, and comes with seven days of marketing management
, in which Rifat321 will design five pins per day, interact with related group boards, and optimize your account for maximum engagement.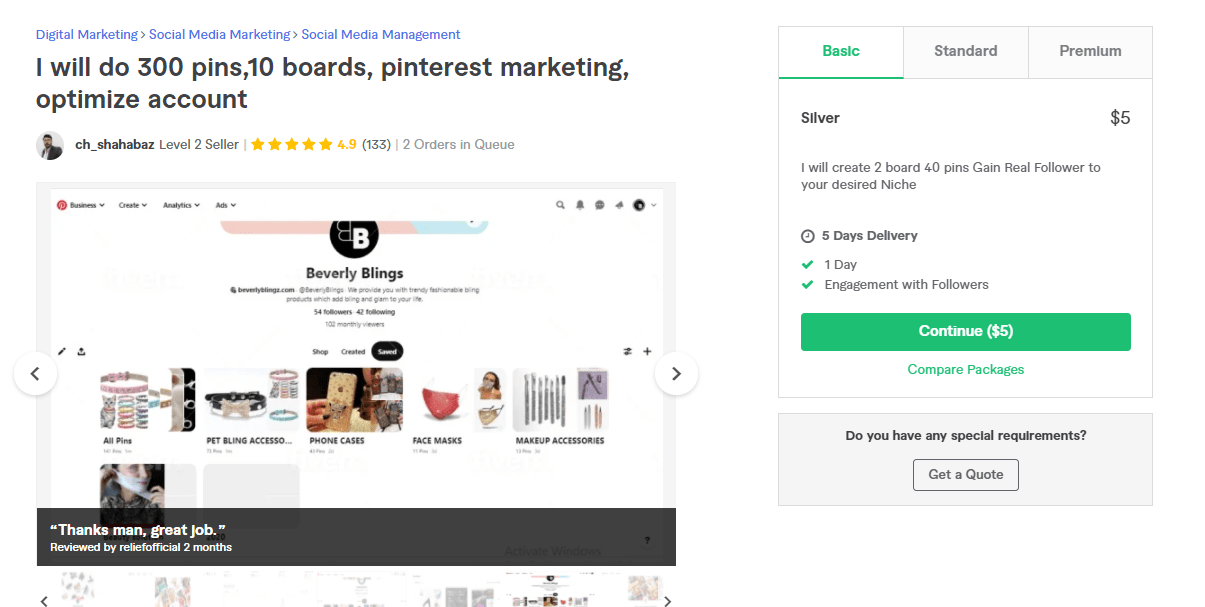 Ch_shahabaz is a digital marketing specialist with a 4.9 star rating, so I was very impressed by the glowing reviews detailing Ch_shahabaz's outstanding results – they currently have over 170 positive reviews. This seller uses keywords to target your niche, creates new boards, upgrades existing boards, and links each published pin to your website.
On their basic package, you'll get one day of marketing management, which includes two boards and 40 high-quality pins
.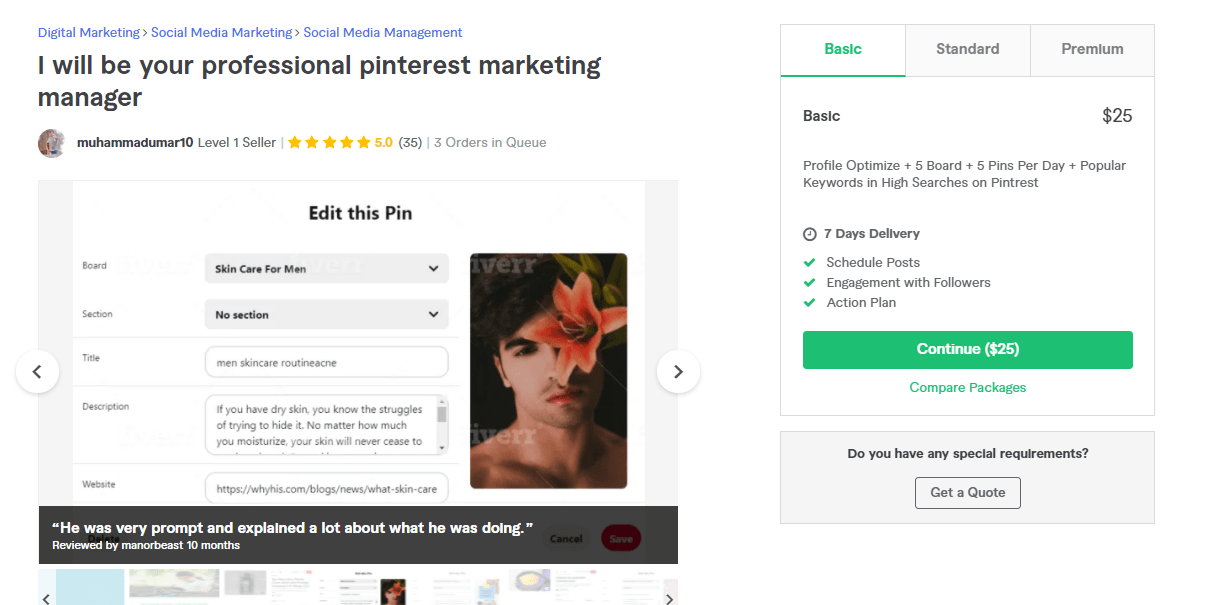 Freelancer Muhammadumar10 is a 4.9 star-rated digital marketing and graphic design expert with more than five years of experience.
 Their basic package includes profile optimization, five pins per day, five group boards, and a tailored action plan.
 I was drawn to Muhammadumar10's gig because of how satisfied each buyer was with their results. Their review section is filled with praise for their eagerness to provide a great service and their ability to raise engagement all at an affordable price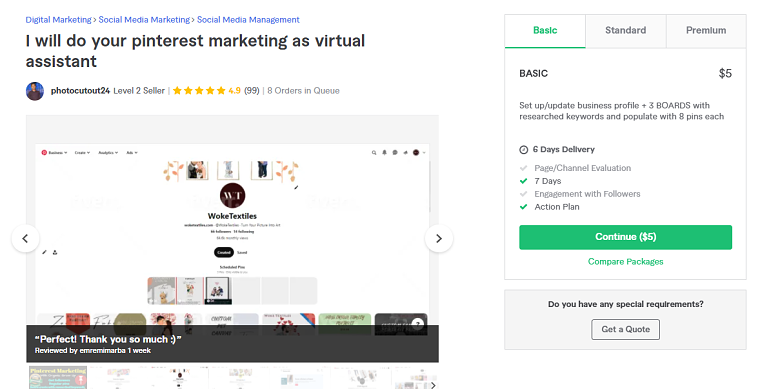 Freelancer Pinterestdoctor is, as their name suggests, a Pinterest expert whose  seven-day basic package starts at a mid-range price and
includes pinning up to 20 pins per day to existing boards, creating new niche-specific boards, and engaging with potential followers or fellow creators
. This gig is perfect if you want to increase your audience and improve your pin impressions in order to direct more traffic to your website.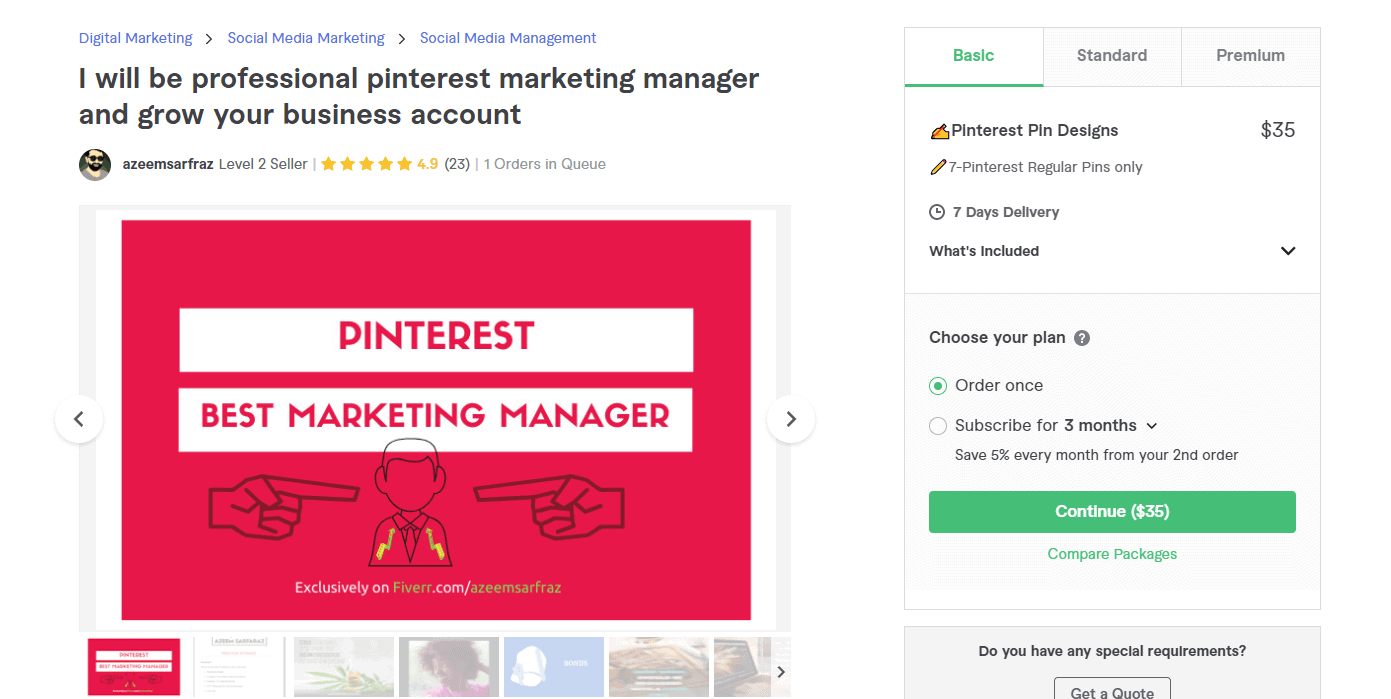 Azeemsarfraz offers 5 star-rated search engine optimization (SEO), low-competition hashtags, and video pins within their gig. If your needs are simple, their basic package includes seven days' management and seven high-quality pins.
If you're looking for someone to get a little more involved, Azeemsarfraz's premium package includes 30 pins and management of both Pinterest and one other platform.
 You can also add gig extras, like competitor account analysis, to any package for an additional fee.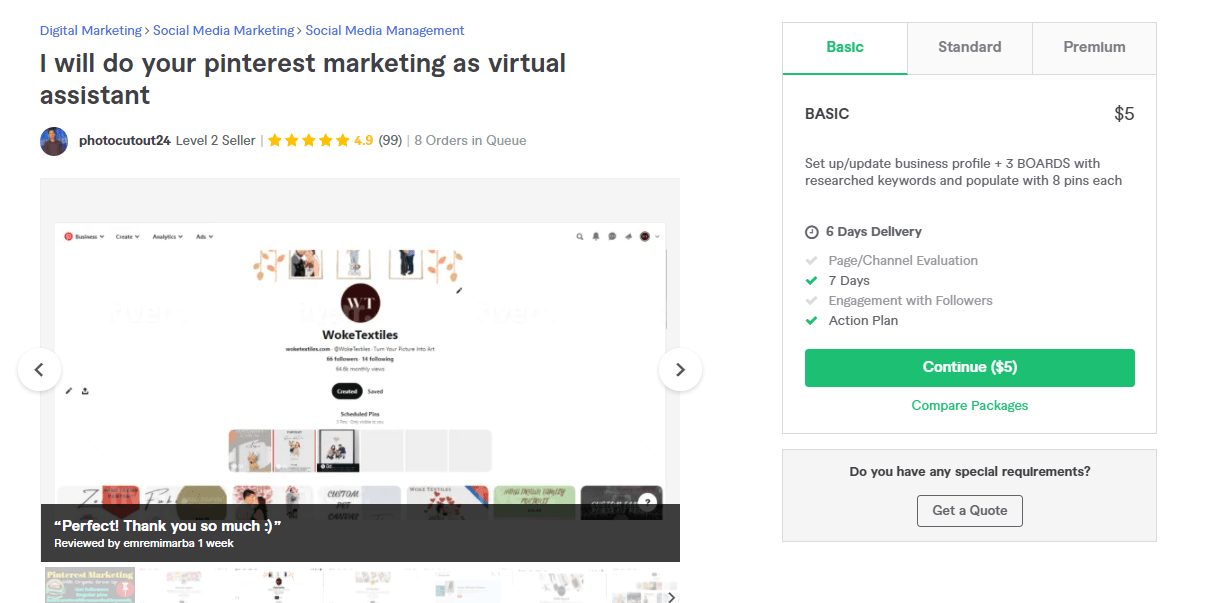 Photocutout24 offers low-cost packages, starting with their $5 basic package. They'll set up your business profile from scratch or update an existing profile, and they'll even convert your personal profile into a business one. They'll also create three pin boards and eight pins for each board. My favorite package service is
 the Premium package, which includes setting up Pinterest analytics so that you can see detailed reports
 on your marketing.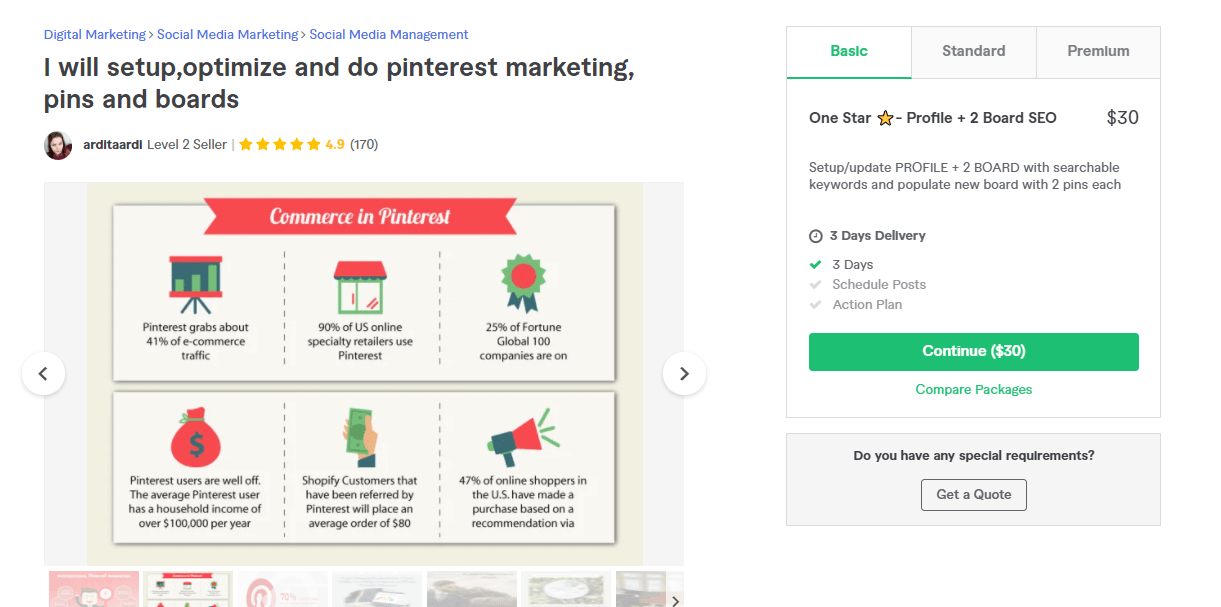 Arditaardi is a social media expert with a master's degree in marketing and several years' experience as a Pinterest specialist. I like that Arditaardi offers packages that are ideal for companies with modest growth goals – perfect if you're in need of short-term management solutions.
In their "One Star" package you'll get two boards with two pins each, delivered over three days and built around researched, high-performing keywords.
 The higher-tier packages offer longer-term management and more marketing content. Arditaardi is rated 4.9 stars and has over 200 highly rated customer reviews, many of which are from repeat customers.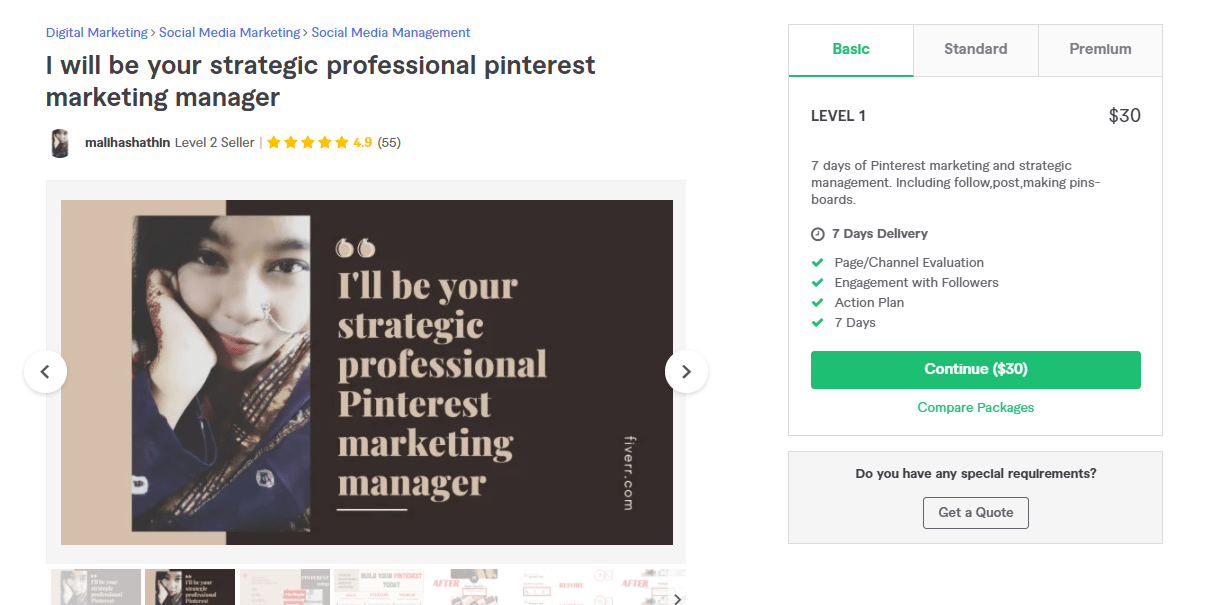 Malihashathin is a Level Two seller and has completed 150+ projects on Fiverr, earning themselves a 4.9 star rating. Their Basic gig offers you seven days of marketing management, along with an account evaluation and the creation of pins and boards. Malihashathin's reviews indicate that past buyers have received above and beyond the results they expected, and multiple buyers applaud the seller's communication skills.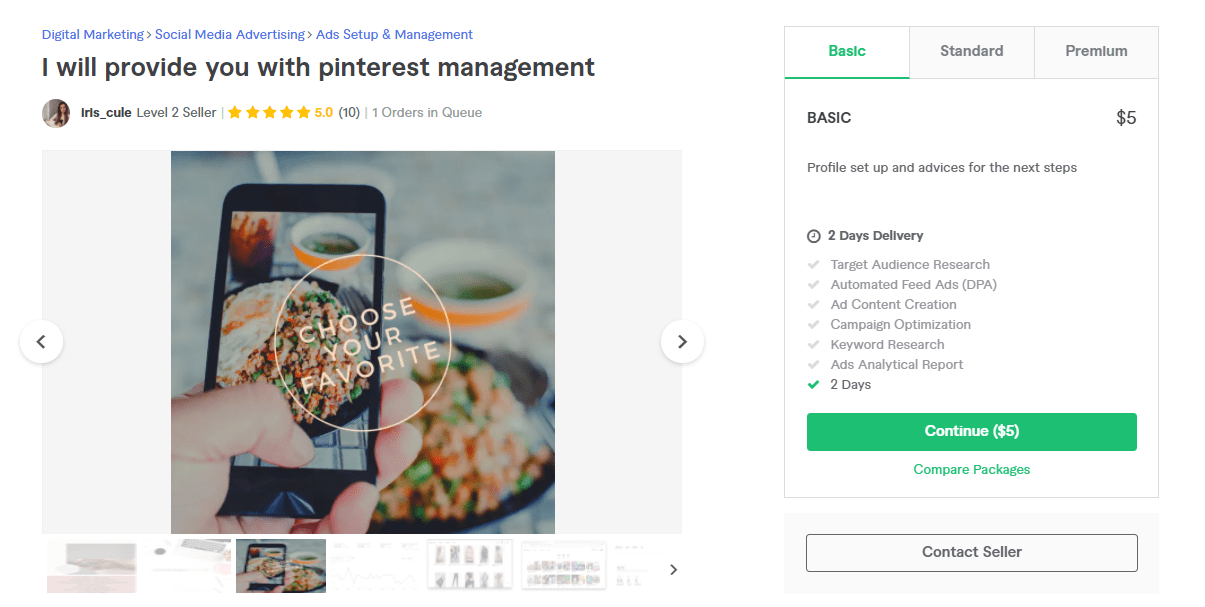 As part of their Basic package, freelancer Iris_cule will help you set up your Pinterest profile and create a strategy for your account's growth. This package is ideal if you're new to Pinterest or interested in understanding how your needs can be translated into a targeted strategy. Iris_cule's Standard package is a considerable price jump, but they offer a discount for repeat customers.
How to Hire a Pinterest Marketing Manager on Fiverr
Whenever I need to hire a talented freelance professional, I head straight to Fiverr. It's one of our
top freelance platforms
 for many reasons. When we tested it out for our
Fiverr review
, it scored an impressive
4.9
out of 5 based on it's range of features, how easy it is to use and it's affordability for both sellers and employers. To get started,
head to the Fiverr homepage
 and type "Pinterest marketing manager" into the search bar. This will bring up gigs from freelancers who either specialize in Pinterest marketing, or who offer it in addition to other social media management services. Scroll through the results until you find a gig you're interested in.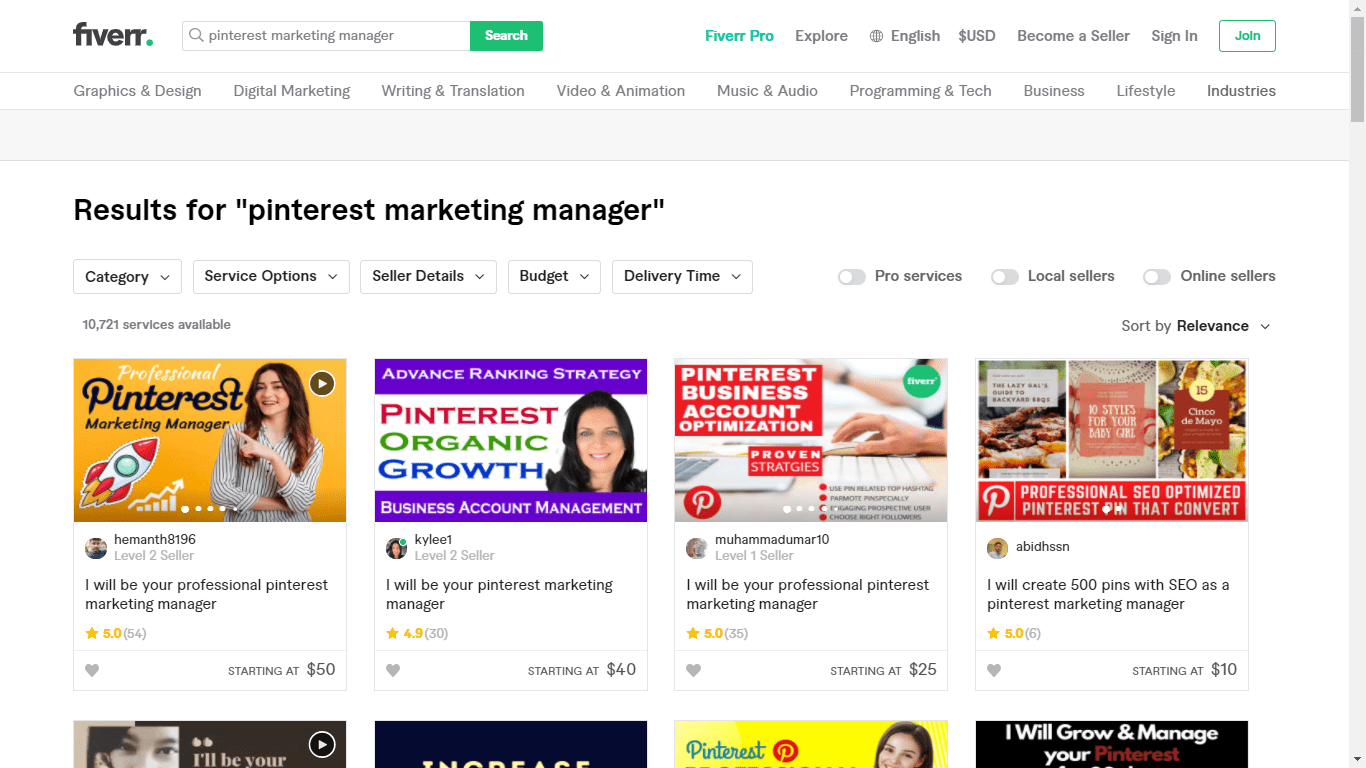 Click on a gig you're interested in to view the details. The overview page includes the
About This Gig
 and
About The Selle
r sections, along with the pricing of the Basic, Standard, and Premium packages and the freelancer's portfolio. Explore each section to find more information on what you can expect from the gig.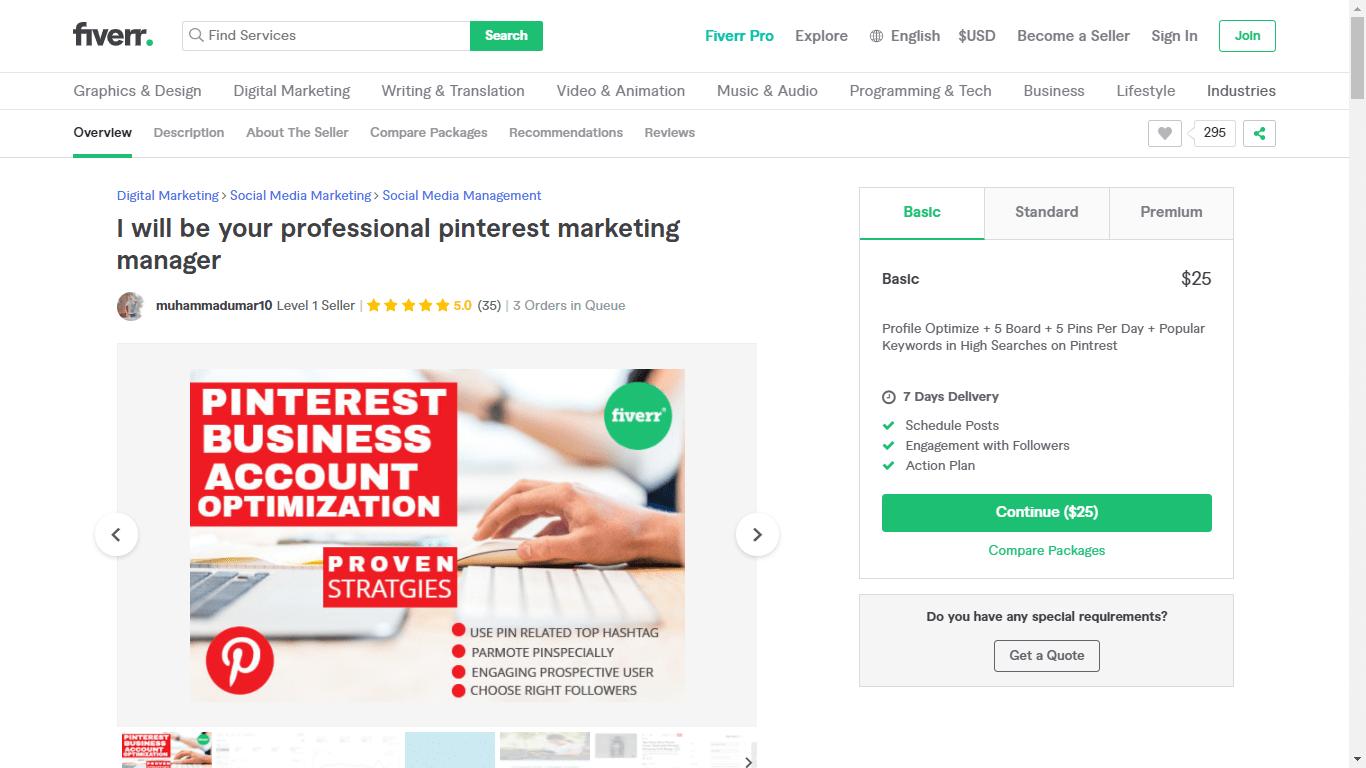 Use the tabs at the top of the box on the right to switch between package pricing and services. You can also click
Compare Packages
 to see the same information in a table form.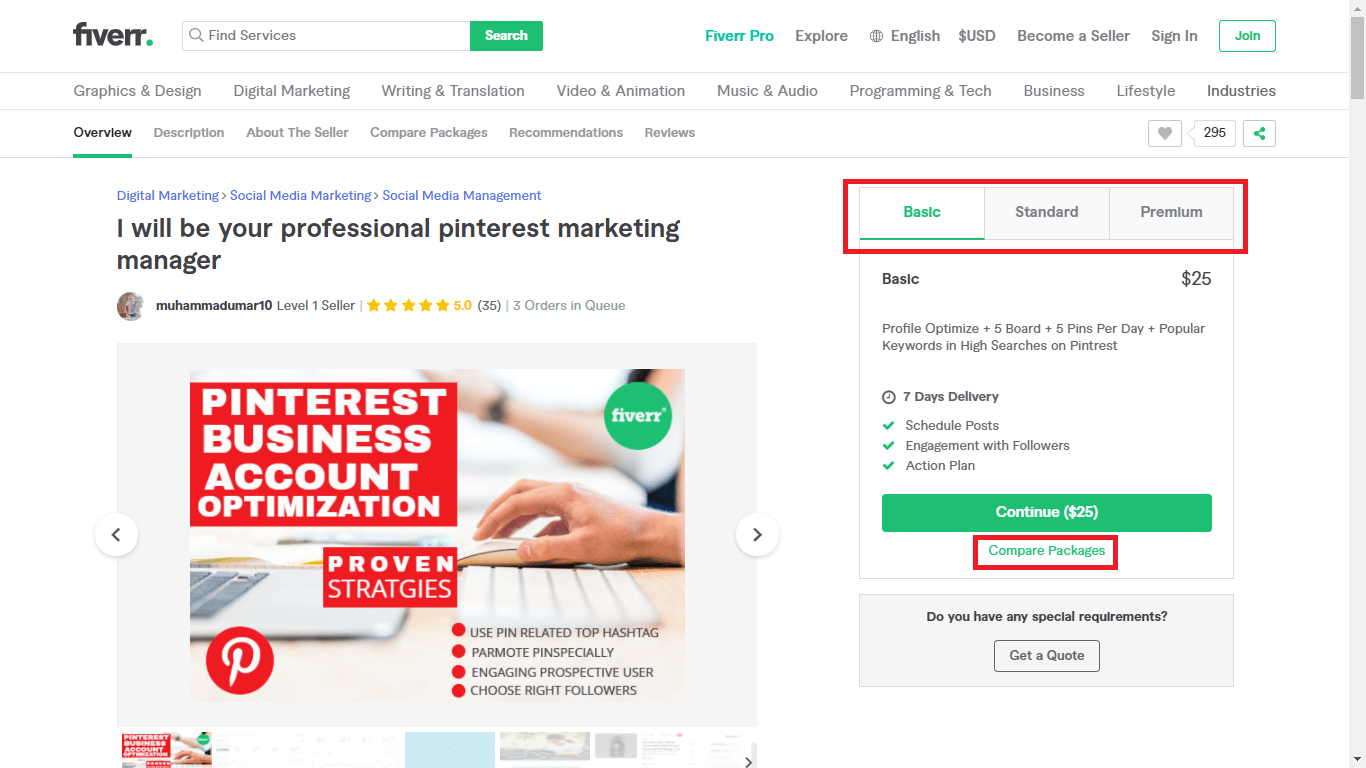 Most freelancers prefer to be contacted before you hire them to ensure their availability and to go over your project details. You can do this by clicking the
Get a Quote
 button found underneath the pricing information box – if you can't see this on the gig, look out for a
Contact Seller
 button which will allow you to do the same thing.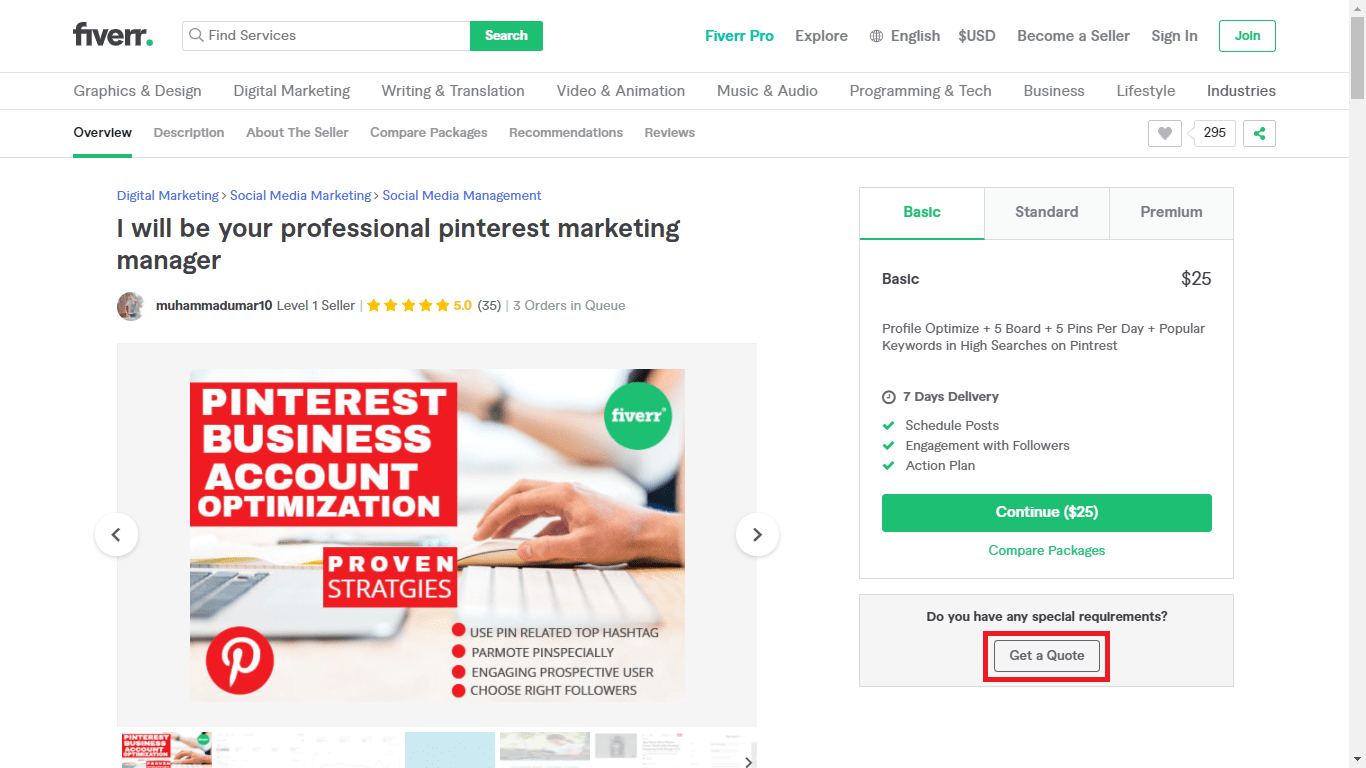 Once you've gone through your questions with the freelancer, click the
Continue
 button to move forward.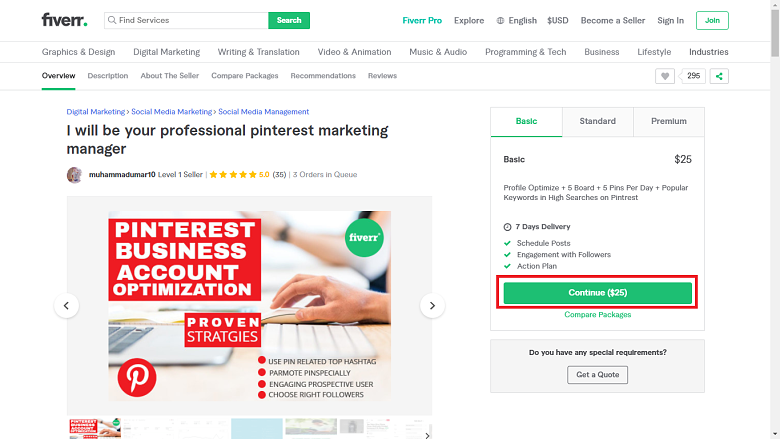 The payment preview page gives you your final cost and displays the services included in your selected package. When offered,
 you can use this page to add package extras, like pin design templates or extra fast delivery.
 Once you've entered your payment details, you can fill in a quick questionnaire to specify your requirements.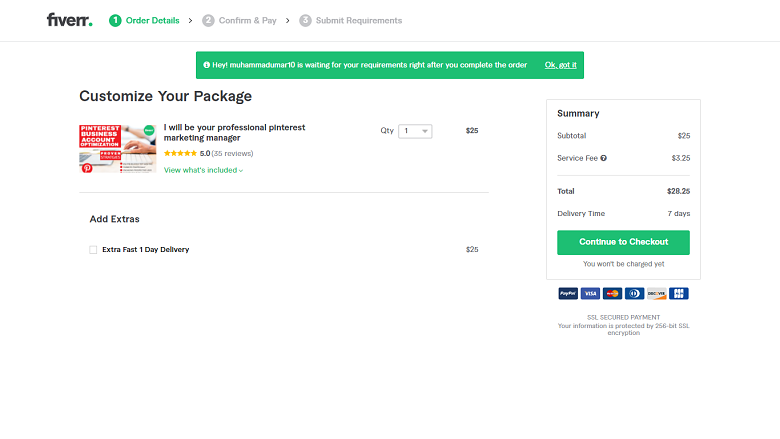 What to Look For in a Freelance Pinterest Marketing Manager
So, your next question is likely: what qualities should I look for in a Pinterest marketing manager? If you've never hired in this area before, here are the key things to look for when hiring a Pinterest marketing manager:
Experience working on the Pinterest platform. Of course, you'll want to find someone with a background using Pinterest. They should understand the platform's uses from how to craft a successful board that reflects your brand to how to successfully manage a business profile.
Exceptional skills in communication, problem-solving, and customer service. Check for a seller's communication rating under the FAQ section on the page, and read through their customer reviews for comments regarding both their ability to resolve issues quickly and the quality of their customer service.
Basic graphic design skills. Check the "About This Gig" or "About This Seller" sections for information on which design software the seller uses. Common ones are Canva, Adobe Photoshop, Adobe Illustrator, Adobe InDesign, and Affinity Designer.
Understanding of standard SEO practices. Using SEO-friendly text is essential to the success of your project. Keep an eye out for mentions of experience in SEO and keyword usage.
Knowledge of marketing trends, analytics, and market research. Marketing is about strategy, so your seller should be adept at analyzing trends, interpreting data, and compiling useful information about your target audience.
Are You a Pinterest Marketing Manager Looking to Sell Your Services on Fiverr?
One of the best things about Fiverr is that the platform is designed for both buyers and sellers
. If you're a freelancer, you can sign up for a seller profile and start offering gigs of your own. What might be a side hustle now,
you could easily turn into a full-time gig with the right advice
. Fiverr gives you the ability to generate a steady stream of income, which can be difficult for freelancers to do. A gig is bought every four seconds on Fiverr – that's 15 gigs a minute, or 900 hires every hour. Since thousands of buyers flood to Fiverr each day, all you need to do is create a gig and wait for interested buyers to come to you. To get started,
head to the Fiverr homepage and click
Join
 at the top right of the page. Alternatively, if you'd like more information on how to sell on Fiverr, click
Become a Seller
 to read up on the benefits.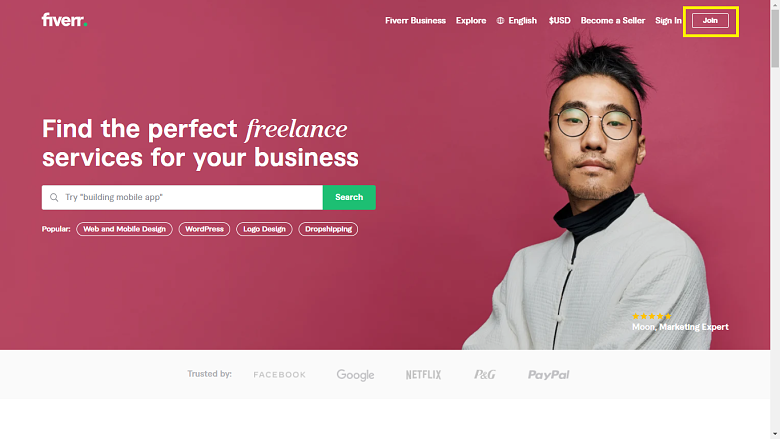 Once you've signed up using Google, Apple, Facebook, or your email, it's time to personalize your profile. To do this, click the circle icon in the top right and select
Profile.
 On the profile edit page, you can upload a photo, link your social media accounts, add your academic qualifications, and even list the language(s) you speak.
Now that you've edited your profile, it's time to create your first gig. Click the
Create a New Gig
 button to begin filling out your gig details.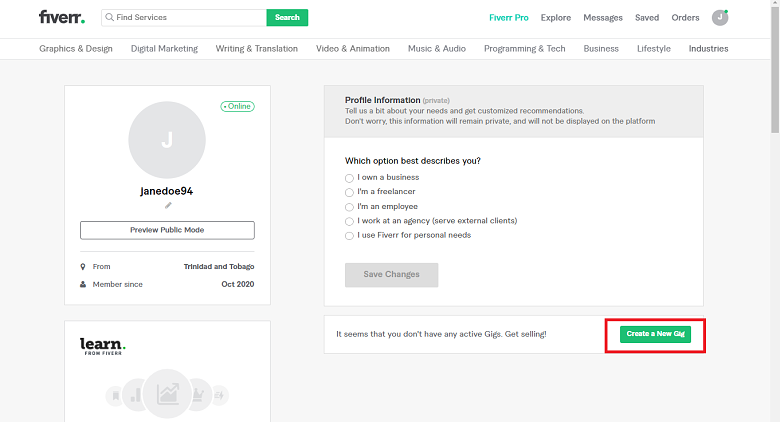 Choose a gig title, category and subcategory, and add relevant search tags like "SEO marketing" and "social media marketing". Next, name each package, add a description of your services, and select from package options like "action plan", "reporting", and "content creation". Use the next page to describe your gig in-depth and add a FAQ with questions you think potential buyers might have. It's a very straightforward process,
but to make sure you're not missing any tricks, make sure you look at our guide on how to create a successful Fiverr gig
. If you have questions as a seller, such as asking clients about their project goals and objectives, you can add them on the next page. Upload media like videos and photos showcasing previous campaign results to the gig gallery, then proceed to the next page where you can publish your gig.
My #1 recommendation for optimizing your profile is to hire a Fiverr freelancer of your own
. This gets you a behind-the-scenes look at the buying process and helps you understand what buyers are thinking. And, since packages at Fiverr are super affordable, you don't need a big budget to do this. If you already have a project in mind, just switch to a buyer profile and start your search. If not, you can try clicking through categories at the top of the page, like "Video & Animation" or "Music & Audio" to get some ideas.
Once you've hired someone, ask yourself what made their gig stand out and try to incorporate these aspects into your own gig.
Hire a Pinterest Marketing Expert At an Affordable Rate
Utilizing Fiverr as my comprehensive hiring solution allows me to invest less time in freelancer searches and devote more time to efficiently and affordably completing my projects. What frequently astonishes me about Fiverr is the diverse array of professionals you can discover within this platform. The search feature means you can find experts in any field you can think of – anyone from
celebrity impersonators
 to
chibi character designers
 – including Pinterest marketing management. You can also filter by budget and seller rating to find the best-rated seller at a price you can afford – or alternatively, just take a
look at the professionals I've found above
!
FAQ
Where can I find a Pinterest marketing manager?
Top freelance website Fiverr is a fast, affordable, and convenient way to find and hire freelancers specializing in any area. To find the right Pinterest marketing manager for you, use filters like budget, Seller details, and delivery time to narrow down your search results.
What does a Pinterest marketing manager charge?
Sellers set their pricing based on their location, skill level, and the services they offer. The amount you pay will ultimately depend on your needs, but Fiverr packages begin at just $5.
What skills should I look for in a Pinterest marketing manager?
Your Pinterest marketing manager should be a skilled marketer with extensive experience working on the Pinterest platform and optimizing business accounts. They should have basic design knowledge, as well as understanding SEO best practices, marketing trends, and analytics. A talented marketing manager will also be a creative thinker who is skilled at problem solving and delivers real results.