you can easily hire trustworthy, affordable lawyers without even having to leave your home.
You don't have to spend a fortune to hire lawyers from an online legal service, either.
Freelance legal experts offer their services on Fiverr starting at only $5
, and I found highly experienced lawyers and attorneys on Upwork for a very competitive rate. Not only can you get the affordable legal support you need from the comfort of your couch, but
both Upwork and Fiverr offer secure document exchange and communication
to make sure your business stays confidential.
9 Best Legal Freelancers For Hire
Hiring a legal expert online is easy with Fiverr.
Each freelancer profile lets you see their services, rating, and qualifications at a glance, and you can start a conversation with your chosen Fiverr freelancer directly from their profile. Because freelancers specify what gigs they want to offer, Fiverr's great if you know exactly what legal help you need. On the other hand,
Upwork gives you the flexibility to pay a lawyer per hour for legal support if you're not sure what you need.
Some also offer Fiverr-style gigs (called Projects) for specific services, too, but you'll be able to invite legal professionals to your own projects to make sure you get the support you need. Whether you need an employment lawyer to check over contracts, someone to draft your last will and testament, or even help understanding immigration law,
these 9 freelance online legal services have you covered.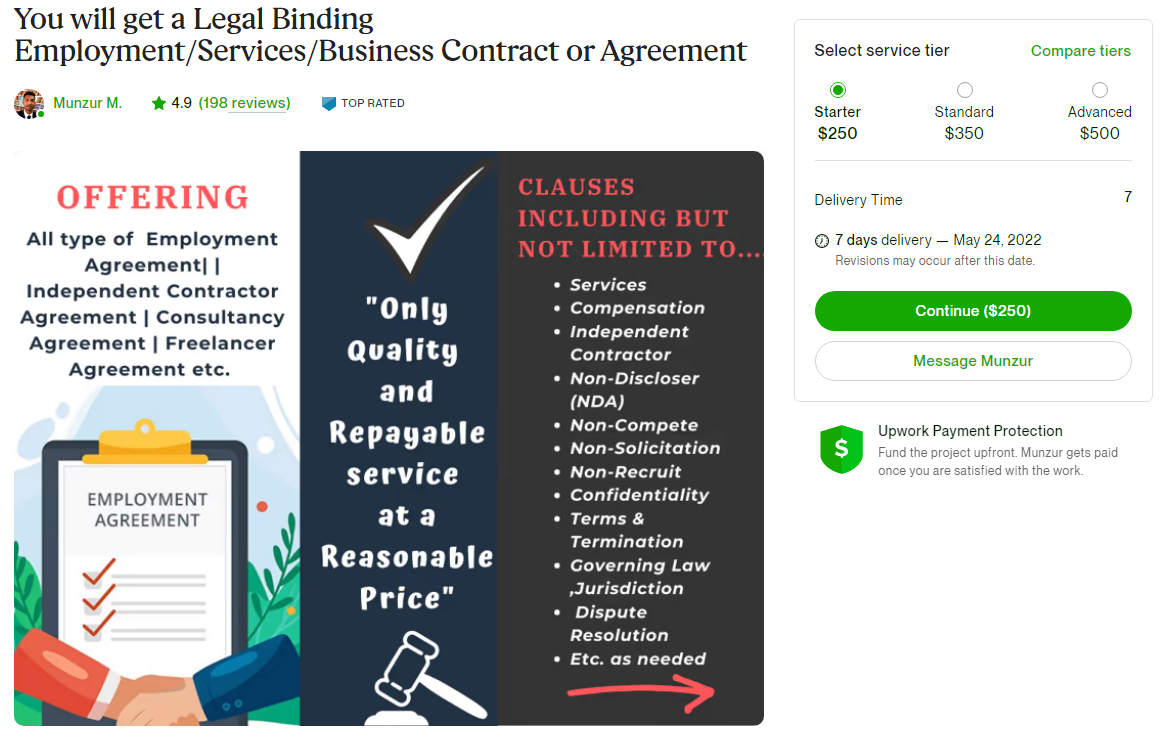 Munzur M. is a Top Rated Upwork freelancer
, meaning he's built a strong reputation as a trustworthy legal expert and is part of the top 10% of Upwork's talent. He offers a contract writing project at a very competitive rate, and he's also available to hire for contract consultancy, legal research, and paralegal services for a low hourly rate.
Munzur offers a great online legal service for small businesses that need legal support on a budget.
With previous clients rating him highly for his knowledge, professionalism, and speedy delivery, this freelancer can give almost every kind of small business the legal support they need to grow.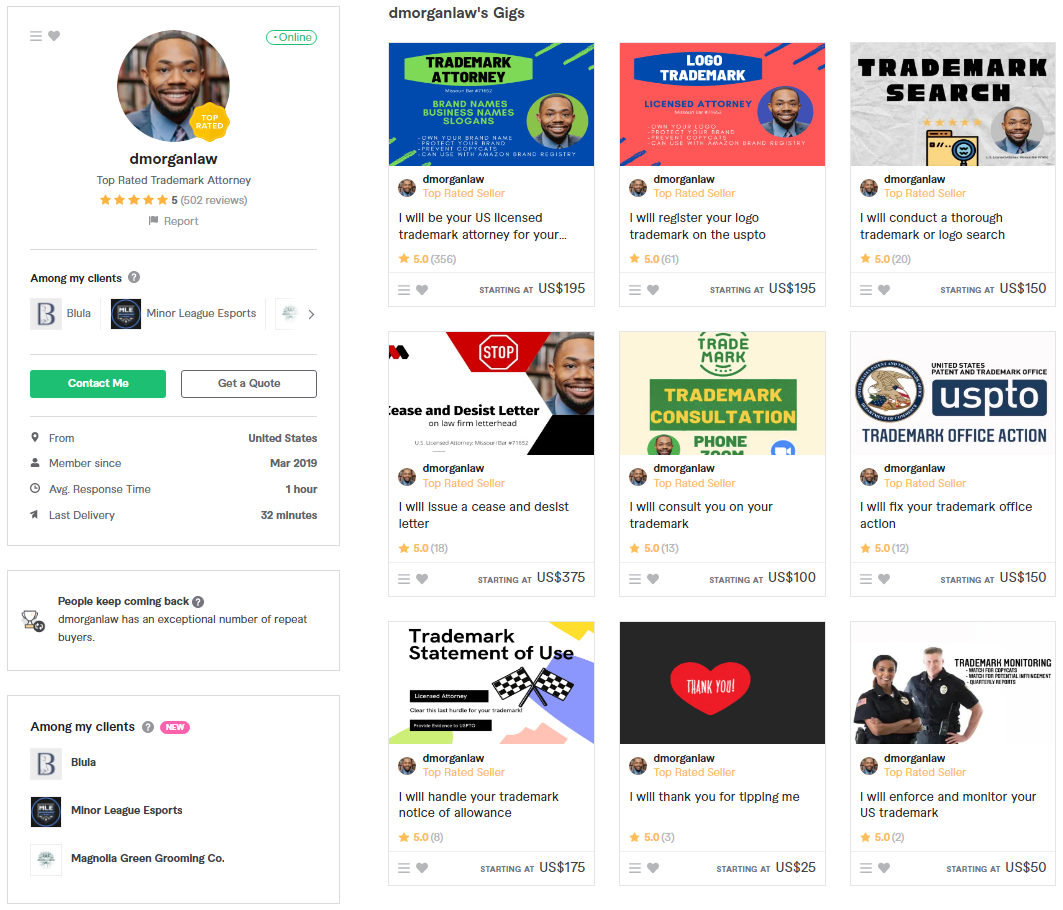 As a licensed trademark law attorney, Dmorganlaw doesn't just register and monitor your trademarks –
he can also offer representation to protect your intellectual property.
Because of this, he's one of the best online legal services for businesses that need to protect their trademarks. As a Top Rated seller,
Dmorganlaw has maintained a strong reputation as a communicative and reliable trademark expert.
In addition, previous clients rate him highly for his thorough work, clear advice, and competitive pricing.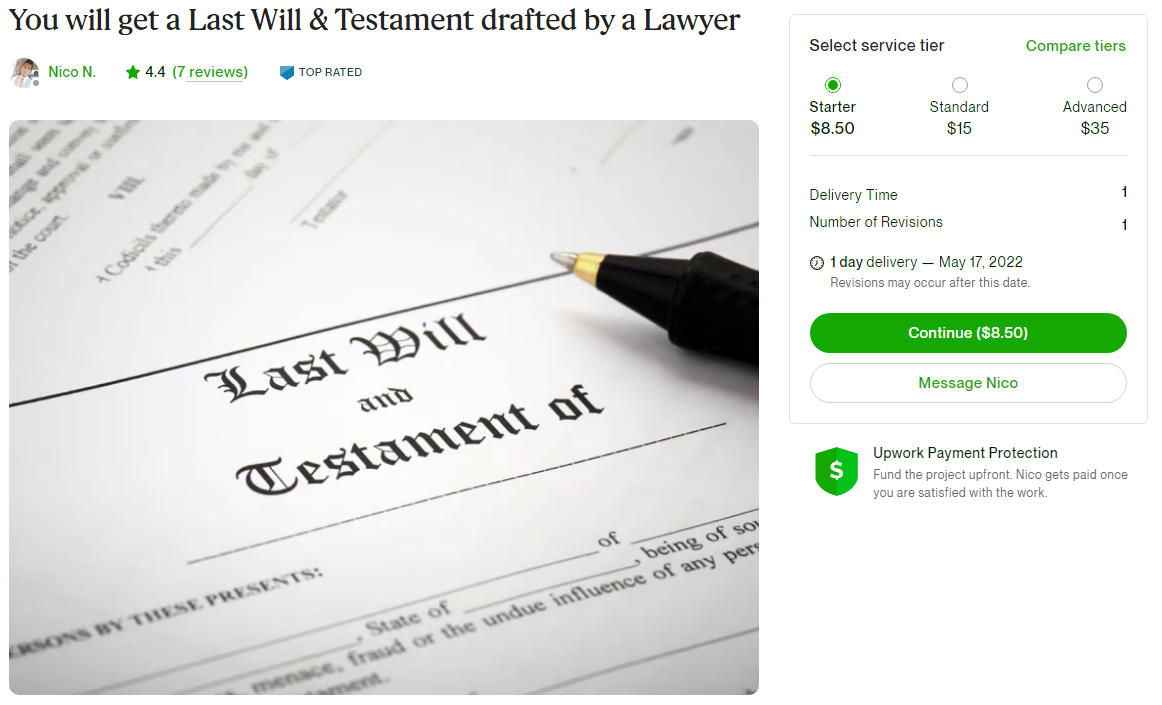 Nico N. offers one of the best online legal services for wills.
For less than the monthly cost of most streaming services (yes, really) you can get your Last Will and Testament drafted by an experienced contract lawyer and legal consultant.
As an experienced contract and international lawyer, you can also hire Nico by the hour to consult on contracts, provide legal counsel, and advise on disputes.
While he might not have as many jobs under his belt as others on this list, he's no less reliable, knowledgeable, or communicative.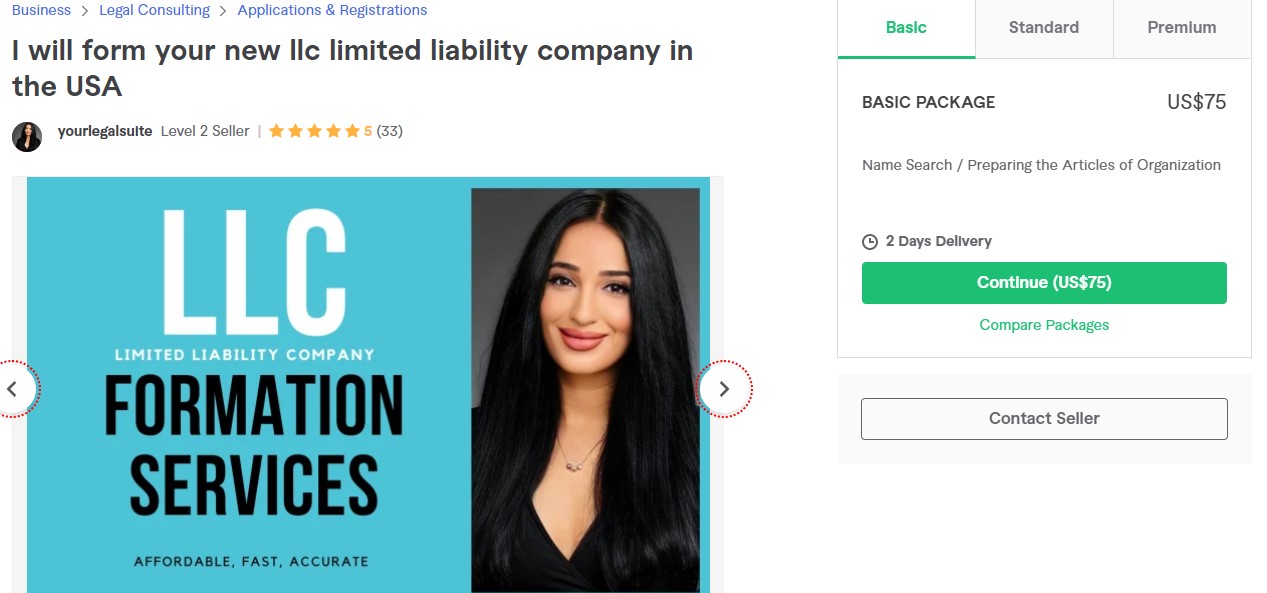 If you're looking to form an LLC but don't have any legal experience, figuring out your legal responsibilities and liability can be tricky.
Yourlegalsuite offers one of the best online legal services for LLCs with her fully managed LLC formation service.
In addition to filing your legal documents, she'll help you understand your duties as an LLC owner. She doesn't just handle LLC formation, either –
Yourlegalsuite can also prepare LLC operating agreements and write contracts, so you can get up and running as quickly as possible.
This seller's professional, friendly, and reliable legal service is ideal for new business owners who want to get their business set up without any hassle.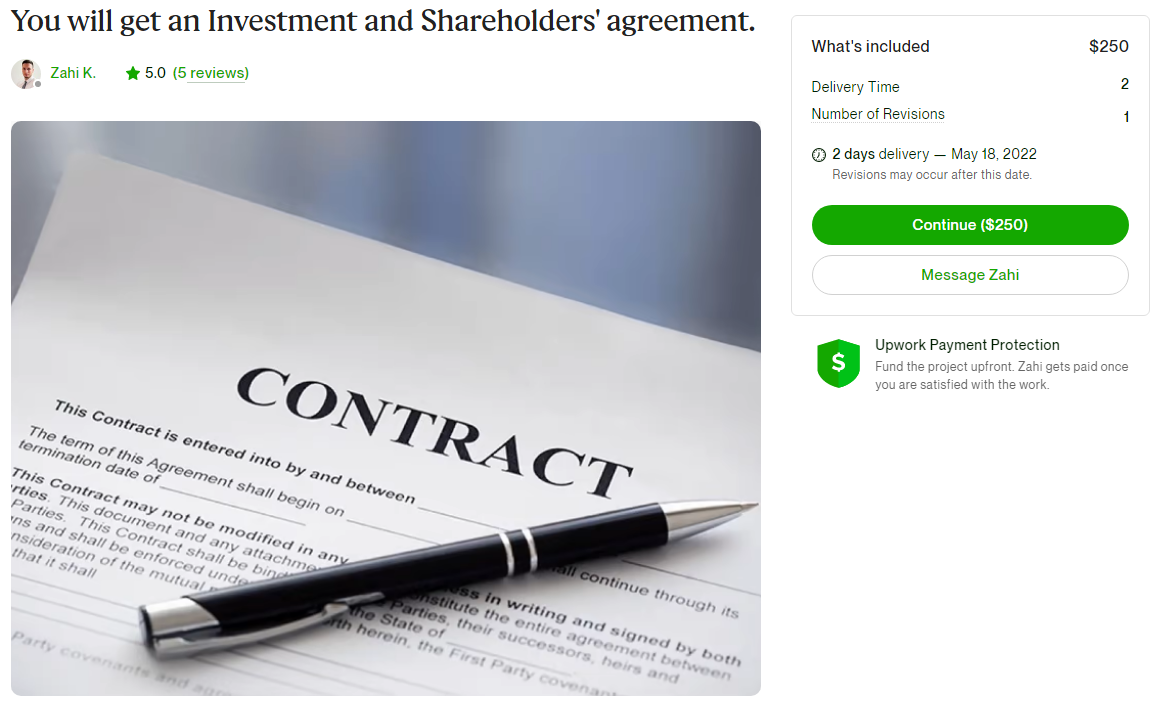 When you're looking for financial online legal services for startups, look no further than Zahi K. on Upwork. As an international corporate and transactional lawyer,
Zahi can draft investment and shareholders' agreements to protect you and your investors.
You can also add on deeds of adherence to outline legal agreements between company shareholders.
You can also hire Zahi to consult on a variety of contracts and agreements to protect your startup
, such as founders' agreements, service contracts, and non-disclosure agreements (NDAs). With clients rating him highly for his thoroughness, professionalism, and on-time delivery, Zahi K. is a great choice for startup founders.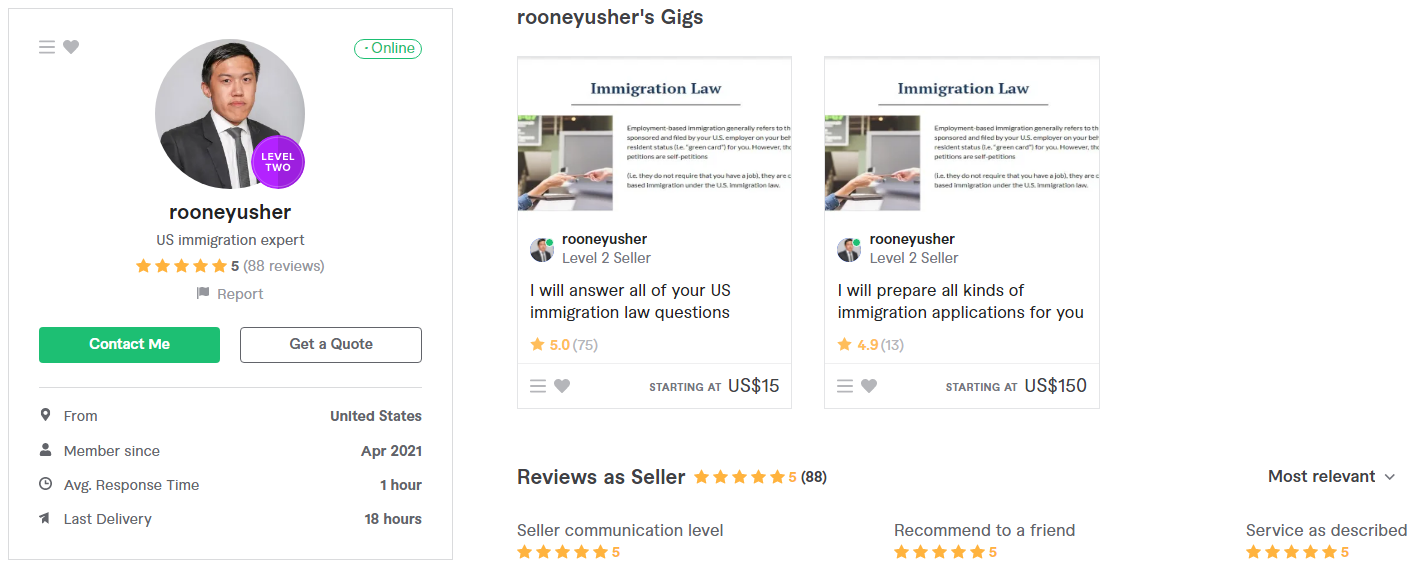 US immigration legal consultations and application filing can often be expensive, but Rooneyusher offers a more budget-friendly solution.
With over 10 years of experience as a US immigration lawyer, Rooneyusher can both consult on immigration law and prepare your immigration application for you. As a Level Two Fiverr seller, Rooneyusher has consistently proven that he is reliable, communicative, and trustworthy, exactly what you need when you're dealingwith such delicate processes and information.
He's also consistently rated 5 stars for his professionalism and fast response times.
If you need to consult an experienced US immigration lawyer on a budget, I think Rooneyusher is an excellent choice.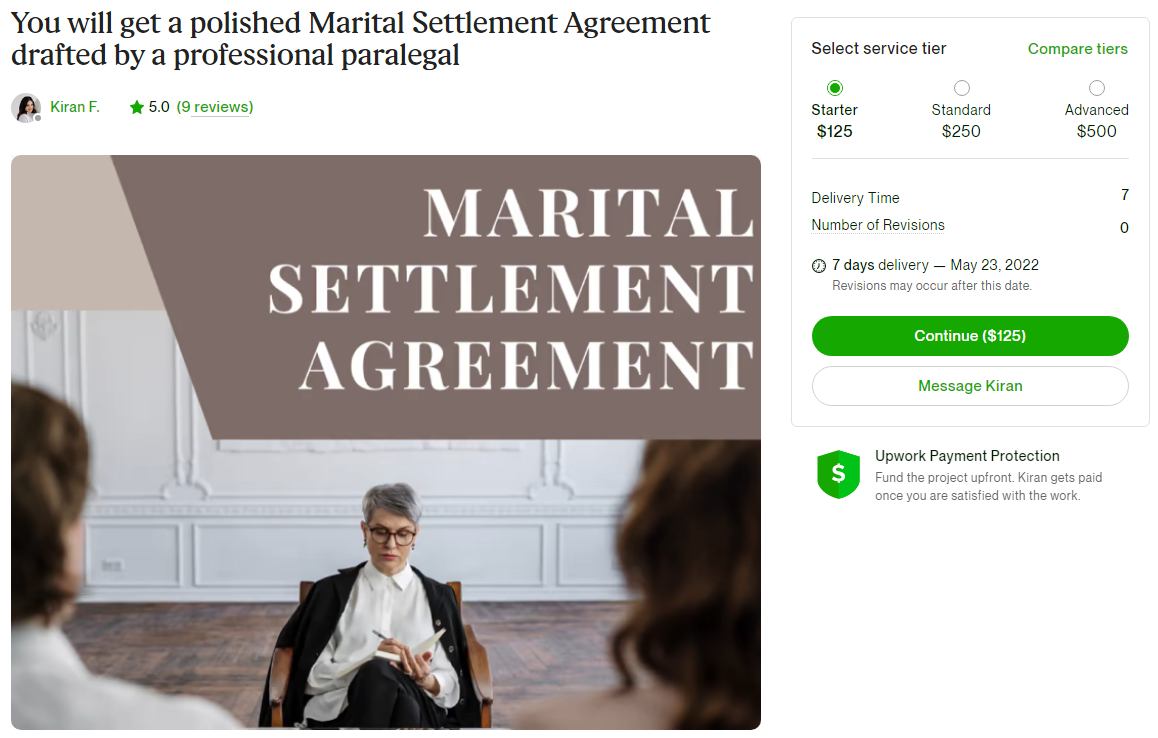 When you're going through a divorce, the last thing you need is for the legal proceedings to be dragged out by slow or inexperienced family lawyers.
Kiran F. on Upwork has over 10 years of experience as a family law paralegal and offers marital settlement agreements in as little as 7 days.
Kiran's hourly rates are extremely competitive for someone with her level of experience and talent.
She's passionate about her work, too, with previous clients rating her highly for going above and beyond the job description. You can trust that Kiran F. will handle your divorce, or any other family law matter, with sensitivity, care, and professionalism.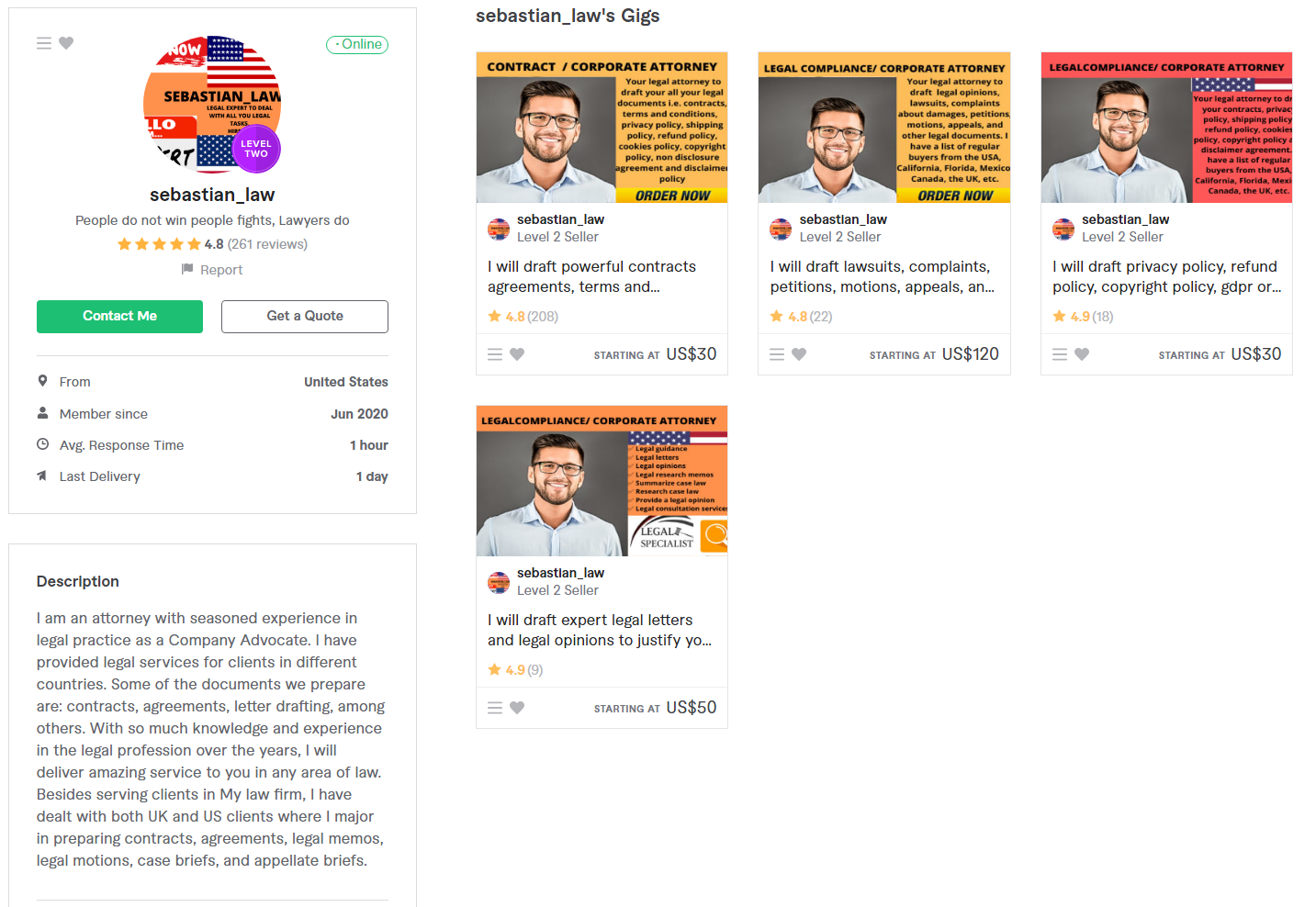 Sebastian_law offers great online legal services through Fiverr for small businesses that can't afford to hire an in-house lawyer or pay for a retainer.
With highly competitive rates for contract drafting, lawsuit writing, and legal letters, and up to 10% off if you set up automatic monthly orders, you can save a ton of money while still paying for expert legal services. While he's based in the US,
Sebastian_law has worked with clients around the world who praise his ability to meet urgent deadlines, quick delivery and revision times, and attention to detail.
Small business owners will benefit from how easy this seller is to work with, as well as his budget-friendly rates.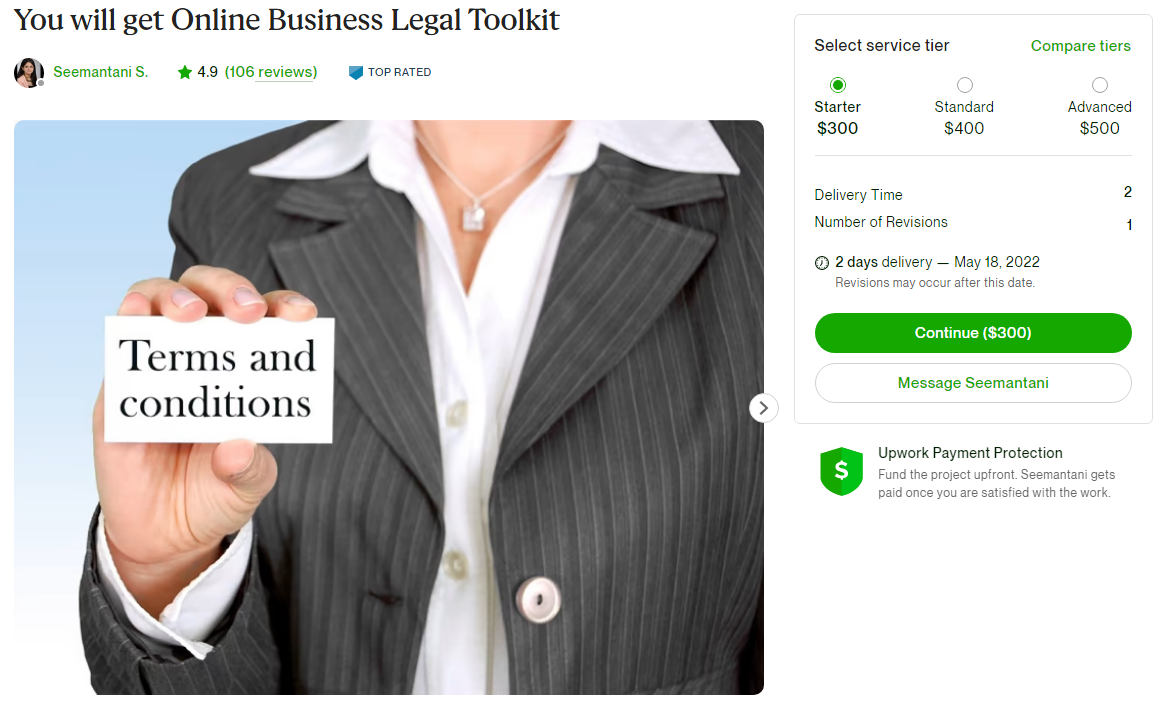 Even though most lawyers specialize in a handful of legal fields, Seemantani S. on Upwork takes this one step further.
As an international intellectual property and contracts lawyer, she specializes in working with small businesses, startups, and entrepreneurs
to get them up and running with minimal strain on their budget. Not only does she offer an online business legal toolkit deal, but
you can also hire her for legal counsel, licensing issues, IT law advice, and more.
In previous Upwork jobs, she's been praised for her passion, prompt support, and being easy to work with, making her a great choice for small businesses and entrepreneurs alike.
How to Hire a Legal Freelancer on Fiverr and Upwork
Hiring a legal freelancer on Fiverr or Upwork is super simple
, and it gives you a lot more protection than if you were to hire outside of these platforms. With secure communications and payment protection features,I appreciate knowing my business will stay confidential.
Finding Online Legal Services on Fiverr
Go to the Fiverr homepage
and type your chosen area of law into the search bar. If you're not sure what legal help you need, you can also go into the 'Business' menu and select
Legal Consulting.
To save time, you can use the search filter just above the search results to narrow your search based on seller ratings, location, your budget, and more.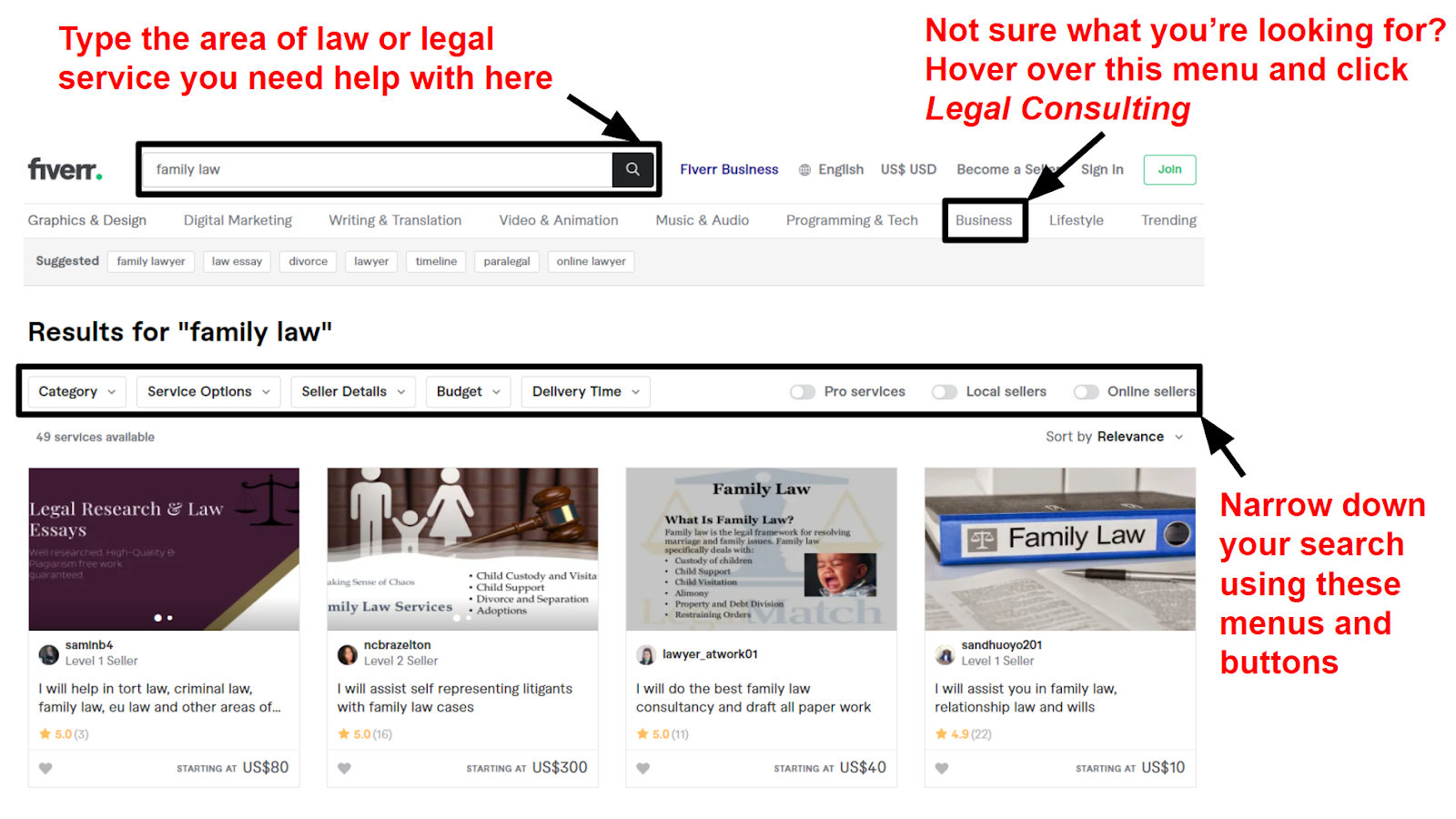 Click on a gig you're interested in.
On each gig page, you'll be able to see more information about the seller's expertise, previous client reviews, and how many orders are in their queue. If you need to hire a legal professional as soon as possible, it's especially important to take note of this.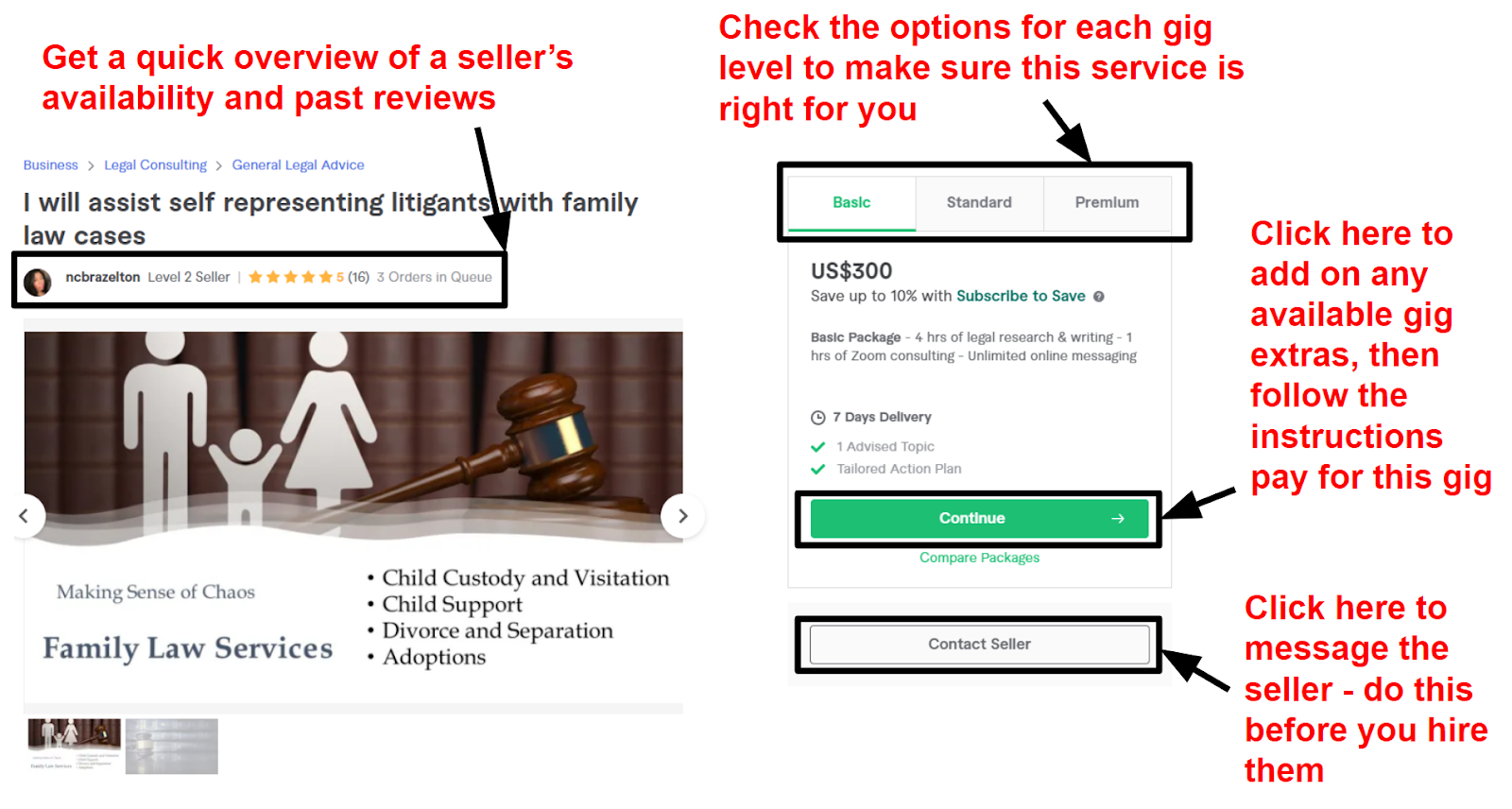 Each gig will have three tiers of service, usually named Basic, Standard, and Premium.
Depending on the legal service you need, each tier will have different numbers of revisions, document pages, delivery timeframes, or hours of research and consultation. Each gig page has a comparison table to help you decide which gig is right for you. Once you've found a legal professional that sounds right for your needs,
I recommend you message them before you decide whether to hire them.
This will give you a better idea of how they communicate, whether they've got the expertise to help you, and how soon they'll be able to provide assistance. To contact them, either click
Contact seller
on the gig page or click their username to go to their profile.
Once you're ready to hire them, you can either ask them to send an offer or go back to the gig page and click Continue.
If you go via the gig page, you'll be able to add on any paid extras the seller offers, such as extra hours of consultation, expedited delivery, or additional revisions. When you're happy, click
Continue to Checkout,
sign in to Fiverr or make an account, enter your payment information, and you're good to go.
Hiring a Legal Freelancer on Upwork
Go to the Upwork homepage.
If you've never used Upwork before, you'll need to make a client account. Click
Sign Up
on the homepage and follow the instructions.
Upwork gives you a few different ways to hire legal freelancers.
If you know exactly what help you need,
you can create a job post
from your client account. Otherwise, type the legal area you need help with into the search bar, You can either search the directory of professionals and agencies, or you can search the project catalog for pre-defined services.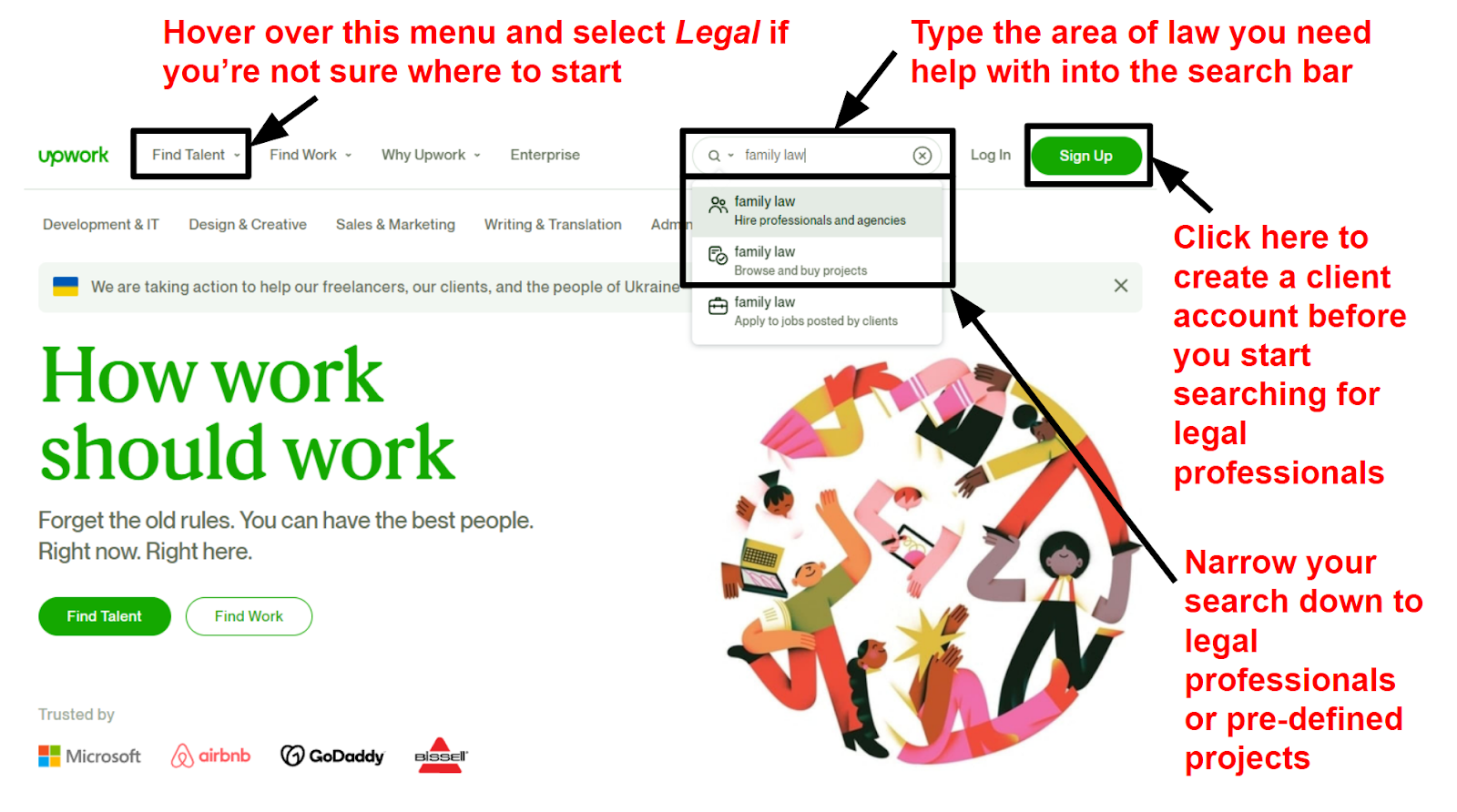 However you choose to search for professionals, you can filter your search based on your budget, location, language, and talent badges (like Rising Talent, Top Rated, or Top Rated Plus).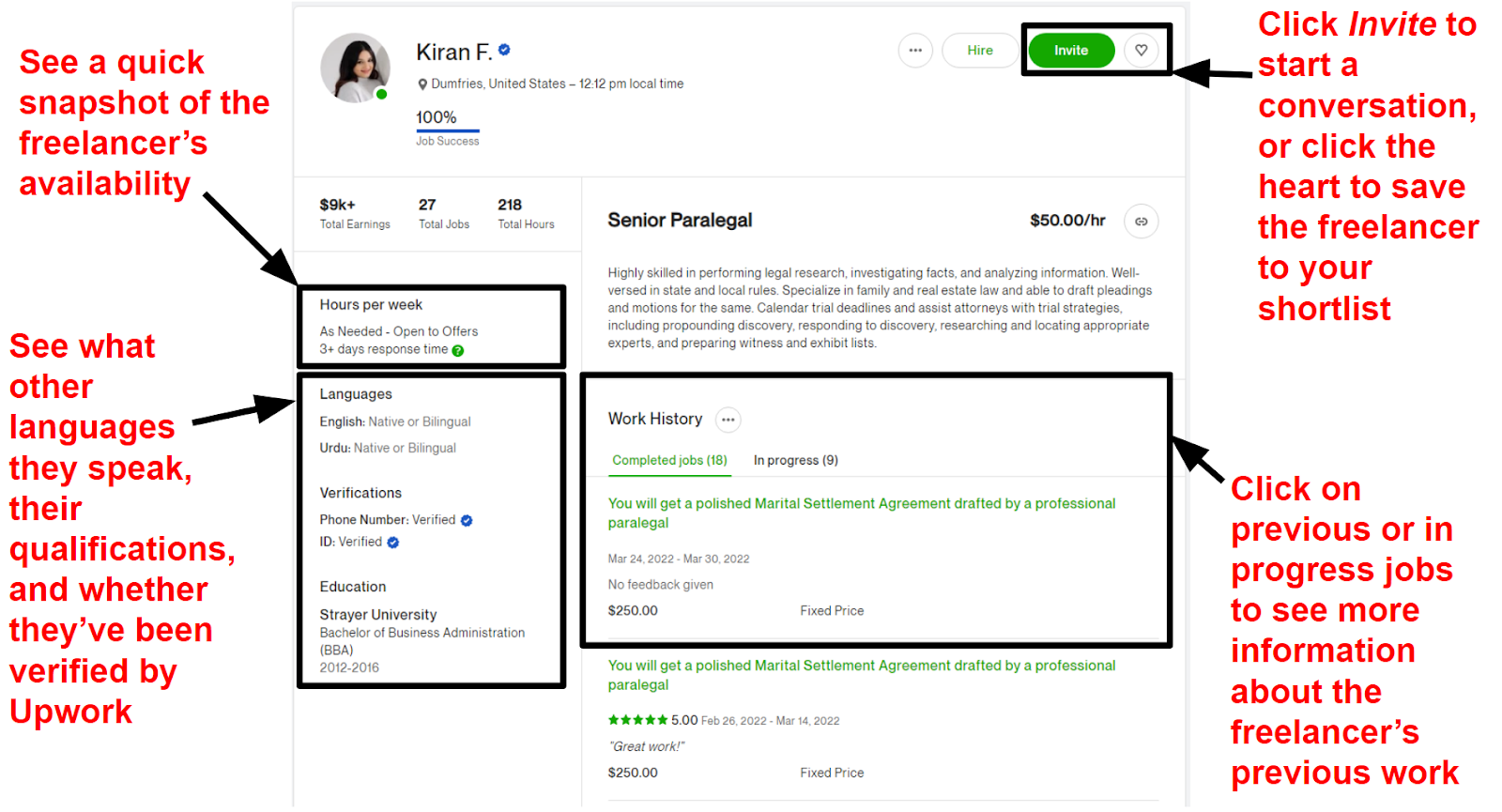 If you're looking through the professionals and agencies directory,
you can get more information about each legal freelancer by clicking on their profile.
In their profile, you'll be able to see an overview of their work, their hourly rate, previous work, qualifications, and estimated availability. You can also scroll to the bottom of a freelancer profile to see if they have any projects available.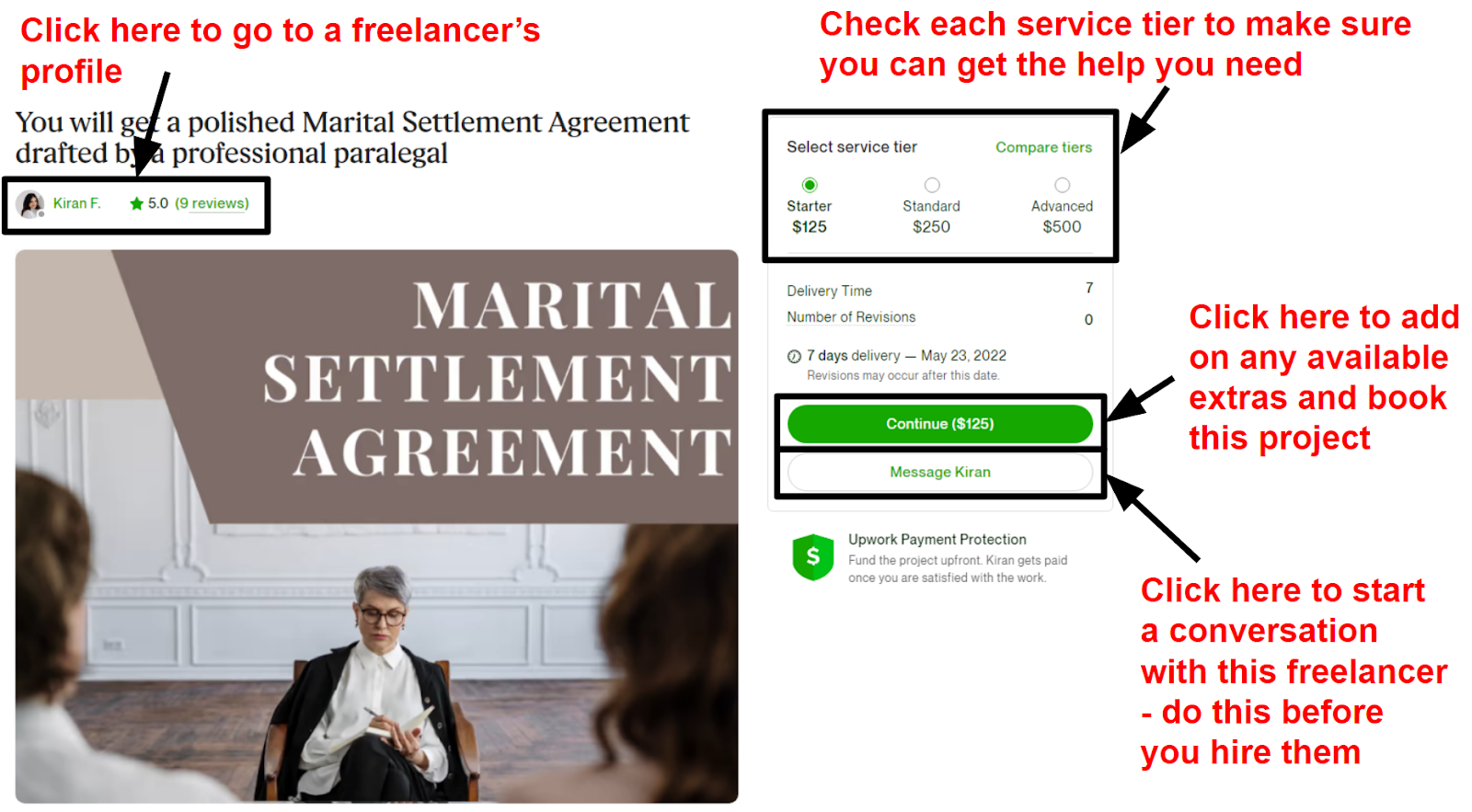 Projects on Upwork operate in a similar way to gigs on Fiverr.
There are three service tiers
, and each will offer different delivery times, number of revisions, hours of consultation, and other deliverables, depending on the service you're looking to book. As with hiring from Fiverr, make sure you message the freelancer you want to work with before you hire them.
Once you're ready to go, you can either click Checkout on a project to book that specific service, or you can go to the freelancer's profile and click Hire.
With the second option, you can either pay the freelancer per hour or set a fixed price for the service you're looking for.
However, the freelancer doesn't have to accept your hire offer.
If you book a project, it's instantly accepted.
What to Look For Before You Use an Online Legal Service
When you're looking for an online legal service, you need to pay close attention to the services they offer and their area of expertise. Fortunately,
both Fiverr and Upwork make it easy to narrow down freelancers so you're not spending hours trying to find a lawyer or attorney.
Here are the criteria you need to bear in mind when hiring a legal freelancer:
Legal expertise. Almost every lawyer will specialize in one or two areas of law, so you'll need to know what area your problem falls under before you start searching for legal freelancers.
Online legal services vs. lawyers. Check the title and qualifications of the person you want to hire, as not every legal freelancer can legally provide the same level of service. Paralegals, for example, can prepare legal documents, but they can't offer legal counsel. If you need legal advice, you'll need to hire a lawyer or attorney.
Location. Different countries and US states have different legal requirements, so check where your lawyer is based. If they're in a different location to you, make sure they've got experience with handling legal matters in your state or country.
Professionalism. If you're looking for legal advice, you need to feel confident that your legal freelancer will handle your case with care. Check the reviews to see what other clients have to say about their honesty, listening skills, and responsiveness.
Communication skills. Every good legal freelancer should be able to break down legal jargon for you and clearly explain what you need to know. I recommend talking to legal freelancers before you hire them to see how easy they are to talk to.
Are You Looking to Sell Your Online Legal Services on Fiverr?
If you want to build an online legal business or add a new income stream to your in-person legal work, you'll love Fiverr.
Thousands of legal professionals use it to advertise their services and get paid on time, thanks to Fiverr's escrow service that guarantees you'll get paid for every satisfactory job completed. What's even better is that you can sign up for Fiverr on your coffee break – it's that easy! We've got a full rundown in
our Fiverr review
, but here's the short version.

Head over to the Fiverr homepage
and click
Join
to sign up with your email, Google, Facebook, or Apple. However you choose to sign up, you'll need to verify your email before you get started. Clicking the link in the verification email will open a new Fiverr page.

From here,
open the menu by clicking on the icon in the right-hand corner, then select Profile.
This will take you to a new page that allows you to set up your seller profile before you start creating gigs. Your profile is where you can showcase your qualifications and experience, so it's best to add as much information as you can to demonstrate your skills.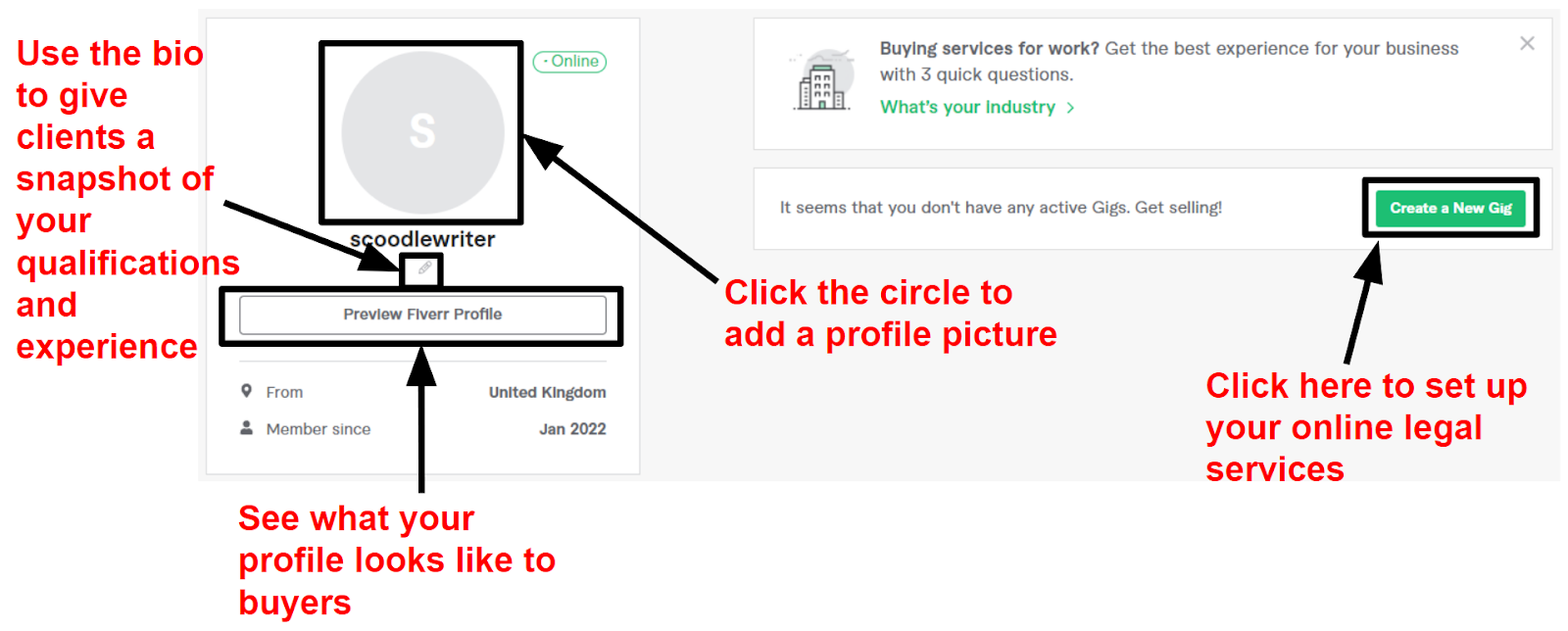 When you're ready, click
Create a New Gig
to get started selling your legal services on Fiverr. To begin, choose a gig category and subcategory. Next, create three service tiers for your gig. These tiers are typically labeled as Basic, Standard, and Premium, but you have the flexibility to customize them to your preference. Finally,
fill out the gig description with an overview of what your legal services entail.
If you want to really master selling on Fiverr,
read our full guide to creating successful Fiverr gigs for some handy tips and tricks.
Otherwise, that's it – you're ready to go!
Taking The Stress Out of Hiring Legal Freelancers
With thousands of legal freelancers on Fiverr and Upwork
, you're bound to find a paralegal, lawyer, or attorney that specializes in your area of law and fits your budget. Sure, you won't find free online legal services here, but when it comes to your finances, business or personal matters, you don't necessarily want the cheapest, simplest service. What's certain is that you'll find legal professionals who charge less than your local law firm. Hiring from both of these platforms is also super easy. You can
set up legal consultations on Upwork in just a few clicks
, or you can
save time by buying a Fiverr gig
if you know exactly what legal service you need.
FAQ
What is the best website to find a lawyer?
Fiverr's great if you need a lawyer for a one-off consultation or service. If you need to hire a lawyer over a longer period, Upwork allows you to set up ongoing work with lawyers by inviting them to long-term projects. That's why Fiverr and Upwork are two of our best freelance websites to hire lawyers in 2023.
How much does it cost to hire the best lawyer?
That depends on what legal services you need. Legal consultations will cost more than simpler services like contract drafting and reviewing. I found that you can easily hire good lawyers with decades of experience on Fiverr and Upwork – two of our best freelance websites in 2023 – and they typically charge less than if you were to hire a lawyer in person.
Can you hire a lawyer online?
You can easily hire a lawyer online with Fiverr and Upwork. With thousands of lawyers and attorneys using these platforms to provide legal services, you'll be able to get legal advice, get contracts drafted, and even pay for a lawyer to set up your business online.
How do I choose an attorney?
First of all, you need to know what area of legal expertise you need help with, as most attorneys will specialize in one or two areas. From there, head to Fiverr or Upwork and search for that legal area. Once you've come up with a shortlist, take a look at their qualifications and experience, and message them to see if they're able to help solve your legal issue.