Are you experiencing slow loading speeds and recurring downtime with Media Temple? You're probably not alone.
Performance is often cited as the top reason to abandon a web host, and it's closely followed by price and customer support. Unfortunately, these are the top three categories where Media Temple stumbles. Don't get me wrong – Media Temple is an okay host for creative agencies and website developers… but it could be better. After all,
your audience isn't too concerned about how much you pay for your hosting service, but they do care about your website's loading speed and availability
. But you should be careful when looking for alternatives to Media Temple. You don't want to end up with a hosting provider that has the same problems – or worse. That's why I've tested dozens of hosting services to bring you the best alternatives to Media Temple.
I've made sure that all these wallet-friendly hosts will offer reliable and feature-rich hosting solutions for your website.
Short on Time? These Are the Best Alternatives to Media Temple in 2023:
Hostinger – The fastest loading speeds – even on shared servers – coupled with dirt-cheap prices for long term plans.
Kamatera – Robust and affordable cloud VPS servers that can be easily scaled by resource.
A2 Hosting – Enhanced shared hosting plans with speed optimized servers.
What We Look For in the Best Alternatives to Media Temple
When it came time to consider the best alternatives, one of my top considerations was whether the host could offer a variety of hosting plans to support most websites, e-commerce stores, and web apps. I also looked for the following features:
Affordability. One of the first things you can't overlook about Media Temple is its above average prices. But expensive doesn't necessarily mean better, and the alternatives on this list prove it. You can get better quality hosting at a much lower cost.
Helpful customer support. It may have once been great, but stories about Media Temple's unimpressive customer service suggests that this era may be over. I've had customer service interactions with all the hosts on my list, so I know they offer reliable customer support through multiple channels.
Data centers in more locations. Media Temple's servers are based in the US, which might be good if your site visitors are in North America, but not so great if your audience is elsewhere. I only considered hosts that could offer fast loading speeds in at least two or more regions.
Performance. Since frequent downtime and server timeouts seem to be some of Media Temple's major drawbacks, I've chosen alternatives that provide stable uptime.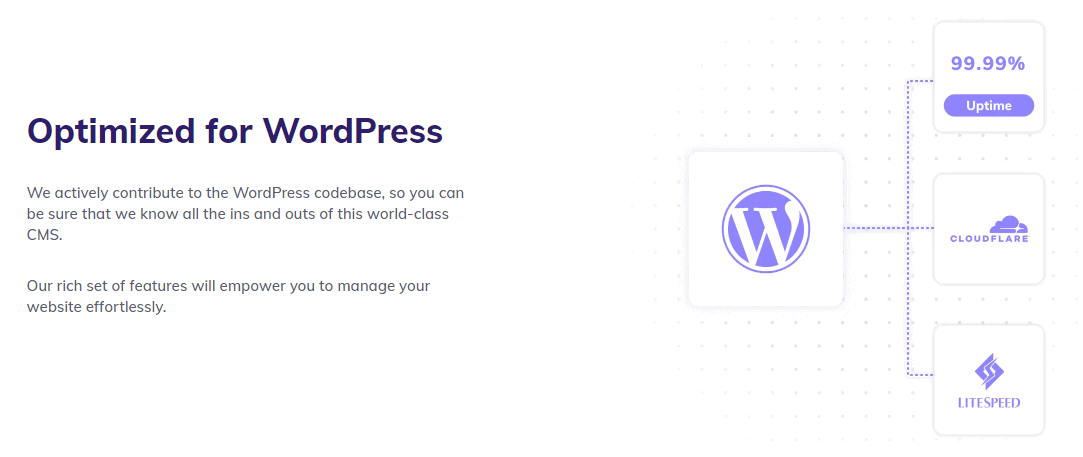 Hostinger is my top choice for several reasons. For starters,
Hostinger offers one of the cheapest long-term plans
 for shared hosting
– seriously, it's only a few dollars a month if you sign up for a 4-year plan. Its most expensive shared hosting plan, Business, costs less per month than a Spotify subscription and renews at a significantly lower price than Media Temple's basic shared hosting plan.
If you're a budding UX designer or website developer, the Business plan is equipped to grow with your business.
You'll get 100GB of SSD storage, up to 100 domain-based emails, unlimited bandwidth, and unlimited databases and FTP accounts for up to 100 hosted websites. You can also request a free website migration, which you won't get with Media Temple (the free part, that is). Besides shared hosting,
Hostinger also offers affordable cloud hosting plans starting at

$

9.99

 per month
. These scalable plans are suitable for large projects and are loaded with value-added features including multiple CPU cores, daily backups, SSH and GIT access, and an access manager to manage account collaboration.
A free domain name is included with some hosting plans from Hostinger
Features
Very fast loading speeds. Hostinger has more data center locations than Media Temple, including the UK, Brazil, Singapore, Netherlands, and Indonesia. Our panel of experts have tested the service from different parts of the world, and the loading speeds were impressive for all locations.
Plans packed with free features. Media Temple's plans are pretty bare bones, and you'll have to pay for a lot of features that other hosts offer for free. Hostinger, on the other hand, will throw in a free SSL certificate, domain name, Cloudflare CDN, and Google Ad credits with most of its plans.
Optimized WordPress plans. All WordPress plans come with an enabled LiteSpeed Cache WordPress plugin designed to speed up your page loading speeds. Your site also benefits from servers with advanced LiteSpeed technology.
Money-back guarantee. Hostinger offers a 30-day money-back guarantee with all its hosting plans, which provides you with a great opportunity to evaluate its services.
For more details, read our expert Hostinger review
.
Number of email accounts (basic plan)
1
Types of plans available

Shared, WordPress, Cloud, VPS

Data center locations

US, UK, the Netherlands, Lithuania, Indonesia, Singapore, Brazil

Starting price

$

1.99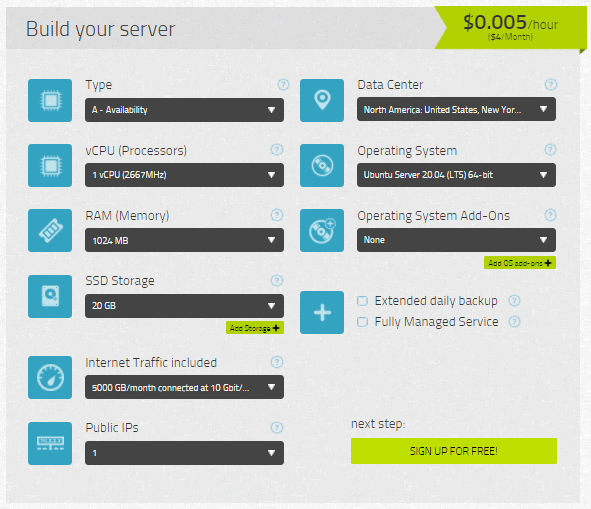 If you need an adaptable and powerful cloud-based VPS solution for your growing website that's also more cost-effective than Media Temple, Kamatera is your best bet.
While Media Temple offers preset VPS plans for Linux, Kamatera lets you tailor your server down to the number of IPs and type of operating system.
Media Temple's VPS plans tap out at 8 vCPUs, but you can choose from up to 104 vCPUs with Kamatera.
You can also select your type of server: availability (shared resources), general purpose, burstable (equipped to support spikes in usage), and dedicated. Managed services are available at an additional monthly cost per server.
With 13 data centers worldwide (including Hong Kong, Israel, Germany, and the Netherlands), you basically have your pick of the best server location for your audience.
Plus, Kamatera's average page loading speeds are fast (under 2 seconds for most locations near its data centers), and it has a near-perfect uptime.
Features
Quick deployment. With Kamatera Express, you can deploy your server in less than a minute. And unlike some VPS hosts, Kamatera doesn't charge any fees for server setup, management, or hardware investment.
User-friendly control panel. From Kamatera's web-based control panel, you'll be able to manage domains, scale your resources, and adjust security settings. You'll also be able to access other Kamatera products, such as Load Balancers and Firewalls.
Free trial. Kamatera offers a free 30-day trial. Once you sign up, you'll also get a service credit for up to $100/month, 1000GB storage, and 1000GB traffic.
Extensive support. Kamatera has an impressive knowledge base with lots of guides and tutorials. You can also reach tech support 24/7 through phone, email, and support ticket.
For more on performance, read our full Kamatera review
.
Number of email accounts (basic plan)
N/A
Types of plans available

Cloud, VPS

Data center locations

US, Canada, the Netherlands, Germany, UK, Israel, Hong Kong

Starting price

$

4.00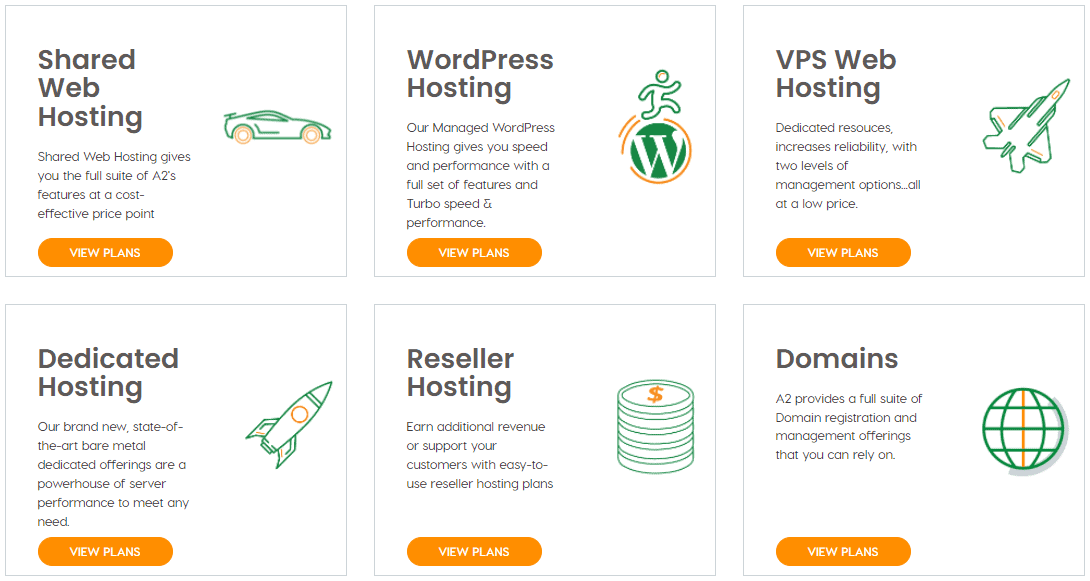 A2 Hosting specializes in almost every kind of hosting solution
, including shared, WordPress, cloud, VPS, and dedicated servers. It delivers its services through its data centers located in the US, the Netherlands, and Singapore.
Starting at

$

2.99

, A2 Hosting's shared hosting plans are much cheaper than Media Temple's plans, and they also include many more features.
These include a free CDN integration and SSL certificate, website staging, site migration, site builder, and unlimited emails. Like all hosts on this list, A2 Hosting's customer support is available 24/7.
You can contact them via phone, live chat, or support ticket.
There's also a comprehensive knowledge base that contains hundreds of articles and tutorials covering most major topics (and that's not an exaggeration – searching "name servers" returned 841 results).
Features
Security. A2 Hosting offers Perpetual Security, its own security package, with all its plans. Perpetual Security comprises a broad spectrum of advanced security features, such as HackScan protection, dual firewall, DDoS protection, and KernelCare.
Turbo servers. A2 Hosting's Turbo plans are placed on LiteSpeed servers with HTTP/2 and HTTP/3 protocols. You can upgrade to Turbo servers on all plan types.
WordPress and ecommerce features. Even on the most basic plan, A2 Hosting has some nice perks for WordPress and ecommerce sites, including 1-click installations, backup restorations, auto updates, and debug logging.
Any time money-back guarantee. In addition to its generous 30-day money-back guarantee, A2 Hosting allows you to cancel at any time and still receive a prorated refund for your unused time.
Read our expert A2 Hosting review for more on features
.
Number of email accounts (basic plan)

Unlimited

Types of plans available

Shared, Managed WordPress, VPS, Dedicated, Reseller

Data center locations

US, the Netherlands, Singapore

Starting price

$

2.99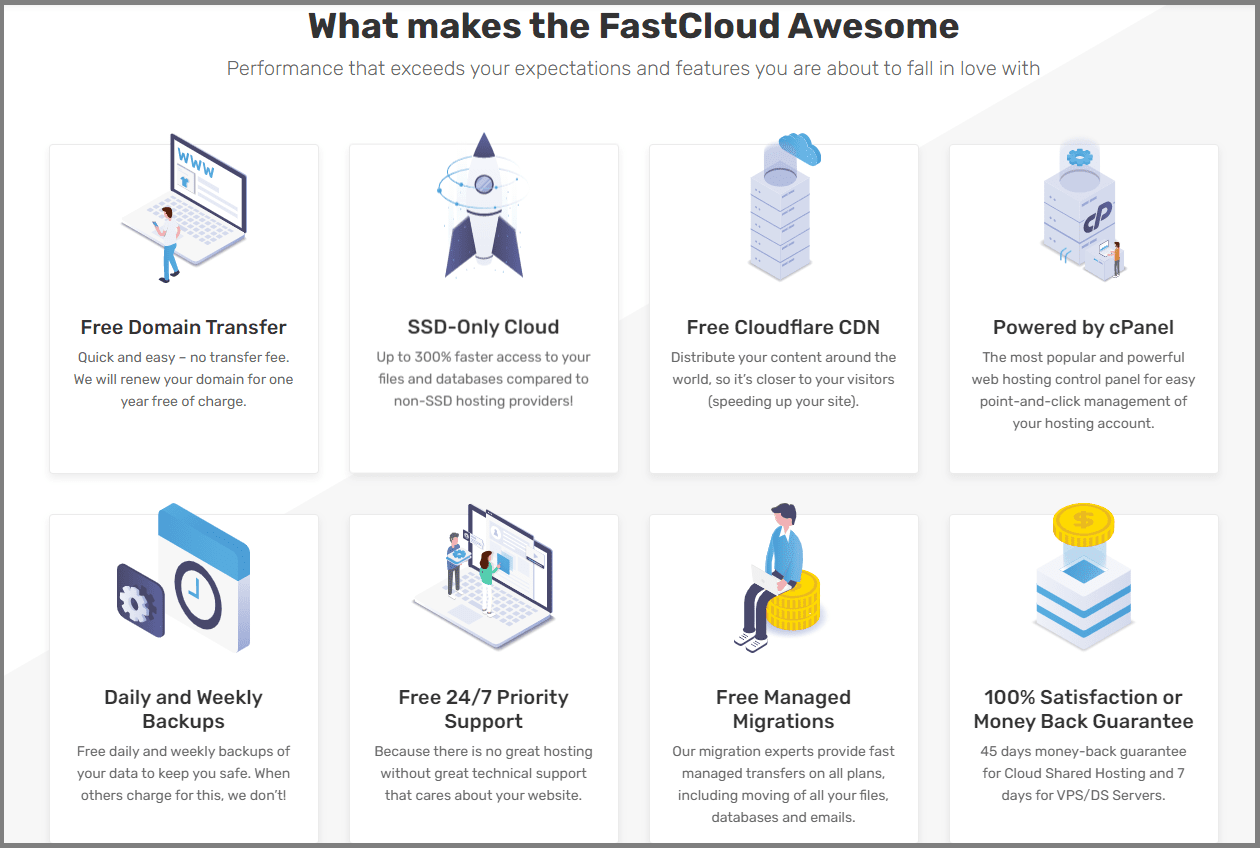 FastComet's shared hosting plans all come with a wide range of features designed to get your website up and running quickly.
Its Website Starter package includes a free drag-and-drop site builder, 350+ templates, Softaculous app installer, and more. And if you already have an existing site, you can request a free site transfer. Other features include a free CDN and a wide range of security features and measures. There are also useful website optimization features, including cache header optimization, aggressive GZIP, and lossless data compression.
All this is roughly half the cost of Media Temple's shared hosting plans, and even less if you take advantage of FastComet's low introductory offers.
FastComet has data centers in the US, Canada, the UK, Germany, the Netherlands, Singapore, Japan, India, and Australia.
This means that no matter where your target audience is, there's a pretty good chance that you'll find a data center to provide consistently fast loading speeds.
Features
Free domain transfer. Even though FastComet doesn't offer a free domain with its plans, it does offer a free domain transfer. If you already have a domain, FastComet will not just transfer it for you, but also renew it for free for the first year.
Compensation for unused time. If you still have time remaining on your contract with your previous host, you'll be eligible for up to six months of free hosting with FastComet.
Comprehensive support. Like the other hosts on this list, FastComet has a large knowledge base covering most major topics. Customer support is also available 24/7 through live chat, phone, email, and support ticket.
Money-back guarantee. FastComet backs its plans with a very generous 45-day money back guarantee, which is a longer period than what most hosts offer.
Just how fast is FastComet? Our review has the details
.
Number of email accounts (basic plan)
Unlimited
Types of plans available

Shared, Cloud VPS, Dedicated

Data center locations

US, Canada, UK, the Netherlands, Japan, Singapore, Germany, India, Australia

Starting price

$

2.19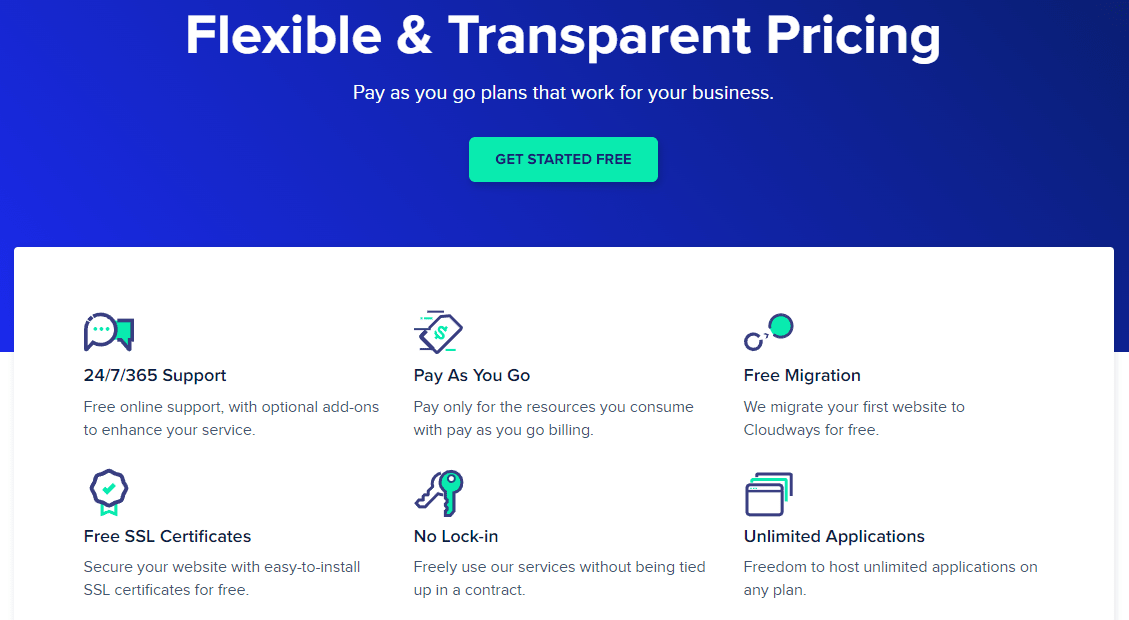 Like Kamatera,
Cloudways is an extremely reliable cloud host
 that offers good resource allocation and a wide range of features
. With these flexible plans, you can host your choice of OS or install a CMS like WordPress or Drupal. You can also easily scale individual resources instead of upgrading to a new plan. Unlike most hosting providers, Cloudways doesn't rely on its own data centers to deliver its services. Instead,
you can get cloud hosting from DigitalOcean, Linode, Vultr, Amazon Web Services (AWS), or Google Cloud platform, and Cloudways will manage the server for you
. Combined, these services run more than 60 data centers worldwide and offer some of the world's largest and most advanced infrastructures.
Cloudways' unique billing system means that you'll only be charged for the resources you use
, and you can pause your server at any time. If you possess an AWS server that is currently inactive, you will only be charged a minimal fee for the disk space you have utilized. Our account manager provides a convenient Real-Time Billing tool, which calculates your monthly bill according to your present usage levels.
Features
Global data centers. Thanks to Cloudways' partnership with 5 of the largest infrastructures in the world, you'll have your pick of over 60 data center locations around the world, including South Africa, Australia, Japan, and India.
Caching solutions. Cloudways has built its own PHP stack, ThunderStruck, with a mix of dynamic and static caching systems. You can also manage these systems from your dashboard.
Flexible plans. If you began with Linode but are interested in experimenting with AWS, Cloudways simplifies the process of switching services by allowing you to easily modify your provider settings. Additionally, you have the option to clone your server and migrate it to the desired data center location of your preferred service.
Free trial. Cloudways offers a 3-day free trial with all its plans. You can sign up for the free trial without having to register a credit card.
Read our in-depth Cloudways review for more on plans
.
Number of email accounts (basic plan)

N/A

Types of plans available

Cloud

Data center locations

US, Canada, the UK, Ireland, Germany, Italy, Sweden, Australia, Japan, South Korea, India, China, Singapore, Bahrain, South Africa, Brazil, the Netherlands, Belgium, Finland

Starting price

$

11.00
Which Media Temple Alternative Is Right for Your Site?
All the hosts on my list are fantastic Media Temple alternatives, but choosing the right one for your site will depend on what your top priorities are.
Hostinger offers cheap shared hosting plans with lots of features and unmatched performance.
Its mid-tier Business plan is still cheaper than Media Temple's entry-level plan, and it offers enough resources to host a small business website.
If you want the versatility of scalable VPS resources, Kamatera offers an array of cloud VPS solutions
that are highly configurable.
You'll have your pick of operating system, data center, number of vCPUs, and more. By-the-hour billing means that you'll only be charged for the resources you're using.
If security is your top priority, A2 Hosting won't disappoint you.
Unlike Media Temple's security solutions, which are an expensive add-on, A2 Hosting offers its Perpetual Security suite for all its plans. You'll be further protected with free Cloudflare CDN integration and SSL certificate. Still undecided? Take a look at the following table to compare services.
Standout Feature
Money-Back Guarantee
Free Backups?
Starting Price
Hostinger

Dirt-cheap long terms plans and consistently fast loading speeds

30 days

✔

$

1.99

Kamatera

Highly scalable cloud VPS plans billed by the hour

30-day free trial

✔

$

4.00

A2 Hosting

Affordable managed VPS hosting with daily updates and 24/7 server monitoring

30 days and any-time prorated refund

✔

$

2.99

FastComet

Plans packed with free features and services

45 days

✔

$

2.19

Cloudways

Managed cloud hosting with over 45 data center locations

3-day free trial

✘

$

11.00
FAQ
Which is the best Media Temple alternative?
It depends on what you need from a hosting provider. If you want a flexible plan, Kamatera is the perfect choice. Its unmanaged cloud plans are a bargain, and you can scale your site resources at any time. On the other hand, if your hosting needs aren't as complicated, A2 Hosting offers some great shared hosting plans. Its entry-level plans are not only affordable, but have all the resources you need to start your website.
Are there free alternatives to Media Temple?
I know there are a ton of free web hosting services in the market, but I'd be wary of free hosting. Poor performance, a lack of resources, intrusive advertising, and lack of security are just some of the reasons your website is better off with a quality paid service. You can get cheap and top-quality hosting that's even better than Media Temple – and if you visit our coupons and deals page, you'll find some great hosting discounts.
How do I cancel Media Temple?
If you're within 30 days of your plan's start date, you can take advantage of Media Temple's 30-day money-back guarantee. To close your Media Temple account, log into your account, navigate to the Billing Center, then select Request to Close. Choose the service you want to close, click Next Step, and enter the date for cancellation. You should note that once your account is closed, all data associated with your account will be lost. Therefore, make sure to back up your files and data before beginning the cancellation process.
Which is the cheapest and most reliable Media Temple alternative?
Hostinger's budget-friendly prices and dependable high-quality servers are the best of all worlds. It's a reliable host that performs well globally and has a near-perfect average uptime. It's not surprising that Hostinger tops our list of the best web hosting services in 2023.