in marketing, you often need to handle several projects at the same time,
like social media campaigns, video production, and web design.
With the right project management (PM) software, you can break down complex tasks into much simpler, interconnected steps
. Good PM software will also help to improve communication in your team and help you get actionable data for clients. The problem is, if you look up "project management software" online, you'll find an overwhelming number of options. And while all claim to be the best, most are largely indistinguishable from the next. That's where I come in.
After testing dozens of different options, I found the 6 best project management software for marketing teams
. These tools will help you to better manage your team and streamline the creative process so you can focus on creating stunning campaigns for your clients.
Short on Time? These Are the Best Project Management Software for Marketing in 2023
monday.com – The best option for adapting to your work style and growing with your business.
Smartsheet – Versatile spreadsheets for dealing with complex campaigns and multiple clients.
Asana – Intuitive software that inspires creativity and collaboration.
What We Look For in the Best Marketing Project Management Software
Besides the essential features every project management software should offer, marketing agencies and professionals will have some additional requirements. Specifically,
you'll need software that can help you organize your teams and plan campaigns while still being flexible enough
not to stifle your creativity. I made sure that every PM software on this list offers:
Great value. Does your agency have a Scrooge McDuck-like pool of money? If so, go wild. Otherwise, you'll want a PM solution that offers excellent value for money. That's not to say that every option on this list is free to use, but I made sure that each one has the features to justify its price.
Useful collaboration tools. Marketing is a highly collaborative enterprise. Even small agencies will need a tool that facilitates effective communication between team members.
Multiple views and workspace customization. Having the option to view your project in different ways will help you stay on track. Being able to adapt the software to the way you work (and not the other way around) will also help your creative process.
Reports and dashboards. You'll often need to get a snapshot of your project's status at a glance. It's important that your PM software offers tools for visualizing your project's health, your spending, your team's workload, and so on.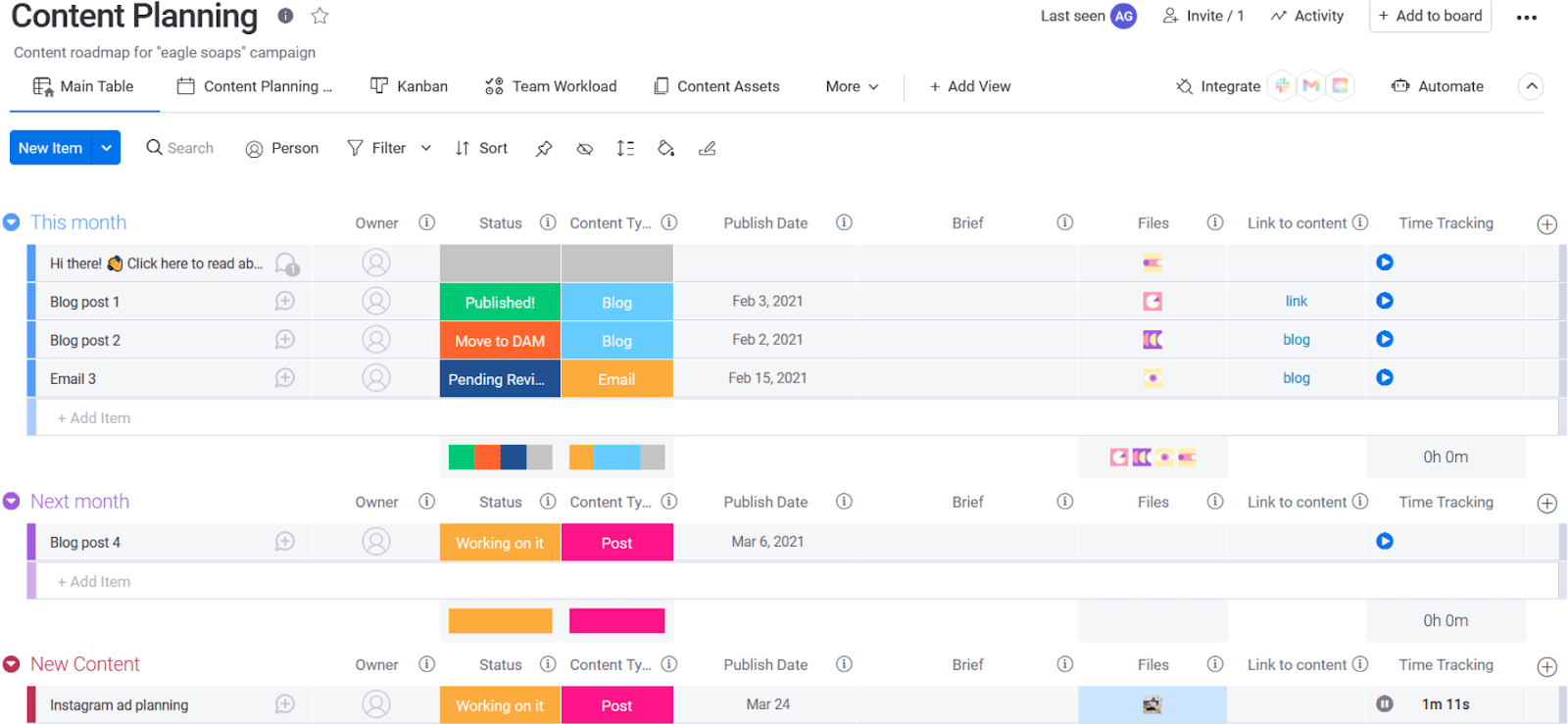 monday.com hits the sweet spot of PM software. On the one hand, it's an easy-to-use tool with an attractive interface. On the other,
it offers robust-enough features to handle just about any aspect of your business.
Its highly customizable interface makes monday.com ideal for creative teams. You can customize the software to adapt to your work style, instead of having to change the way you work to fit the software. Impressively,
monday.com offers over 20 different views
(dynamic ways to see your project – like a Gantt chart or a Kanban board). It also gives you access to custom automations and over 30 integrations with third-party apps. Besides that,
you'll find almost every other feature you'd expect from PM software (with the notable exception of built-in chat).
That said, its invoicing features aren't the best. But if you don't mind handling finances and direct communication with external apps like Slack and Stripe (both of which offer in-app integrations with monday.com), you'll be hard pressed to find a better solution than monday.com. If you manage a smaller agency,
I recommend starting with the basic plan and upgrading as you grow.
The Pro plan is perfect for larger enterprises, though it does cost considerably more.
Features
Incredible variety of views. As well as the classic Gantt, Kanban, and table views, monday.com lets you visualize your project in specialized views like "collaborative whiteboard", "calendar", "globe," and more.
20+ column types. The table view allows you to add over 20 different column types. In each column, you can input anything from basic text to more specialized data types like dates and dropdown boxes.
30+ integrations. monday.com offers built-in integrations with a host of popular digital tools including Slack, Mailchimp, and Google Drive. It also offers numerous third-party integrations to extend its functionality even further.
Incredible dashboard customization. monday.com offers one of the most customizable dashboards out there – if not the most customizable. You can easily add and rearrange different widgets, which allow you to do things like view charts of your project data, show files, and even display your Spotify playlist.
Read our expert monday.com review
for more details.
Marketing templates
16
File proofing

Comments can be added to a huge variety of files
Timestamped comments for video files
Different file versions

Collaboration tools

@ tagging
File proofing
Discussion threads
Workload view

Starting Price

$

8.00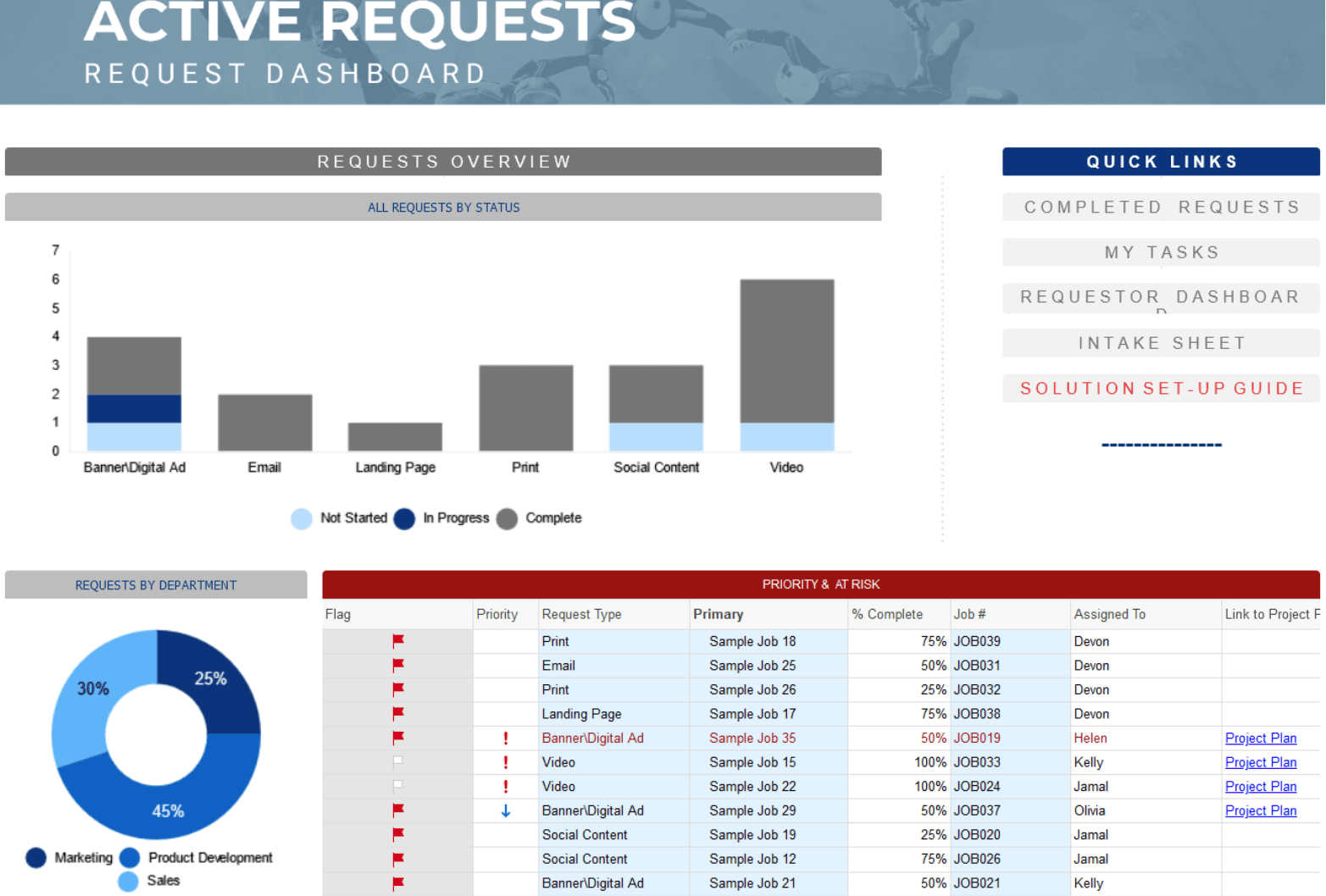 At first glance, Smartsheet's old-fashioned interface and muted colors might not seem ideal for a creative agency. Add to that its focus on spreadsheets (called grids), and you'd be forgiven for thinking that it's better suited for an accounting firm than a creative agency. Look under the surface, however, and you'll find that
Smartsheet is not only an incredibly powerful project management software in general

–
 it has many features that make it ideal for marketers. For example, Smartsheet offers advanced proofing tools and pre-made templates for content calendars, campaign rollouts, and client satisfaction tracking. Besides that,
Smartsheet is ideal for large-scale campaigns where you want to attack on multiple fronts.
The large variety of views, column types, and functions will enable you to create a custom grids for virtually every aspect of your campaign. When you want to review these together, Smartsheet reports let you create custom documents that contain information from any number of grids. This makes
Smartsheet the best choice for handling large amounts of information from a central hub.
I recommend the Business plan for marketing agencies
, but only if you don't have an especially large team. This might sound counterintuitive, but there's a significant leap in price from the Pro plan to the Business plan, and you pay per user.
Features
Reports and dashboards. Reports allow you to create custom documents with select information from multiple grids. When you change the data on a report, this is automatically updated in the source grid (and vice versa). Dashboards, on the other hand, give you a customizable graphical view of selected information.
Advanced file proofing. Smartsheet allows you to place comments on top of various file formats. If you're commenting on a video file, for example, you can timestamp your comment and place it directly where you want it.
Useful & intuitive workflows. Workflows are actions that automatically occur when you make changes to a grid. You can edit these automations through an intuitive visual interface, so you don't need to be a coding master to use them.
Powerful forms. If you need information from a client, Smartsheet lets you create custom forms. Whenever someone fills in a form, the information is automatically added to the corresponding grid.
Read our expert Smartsheet review
for more details.
Marketing templates
30+
File proofing

Timestamped comments on video files
Sticker variety for proofing
Numerous file versions

Collaboration tools

@ tagging anywhere in a file

Starting Price

$

7.00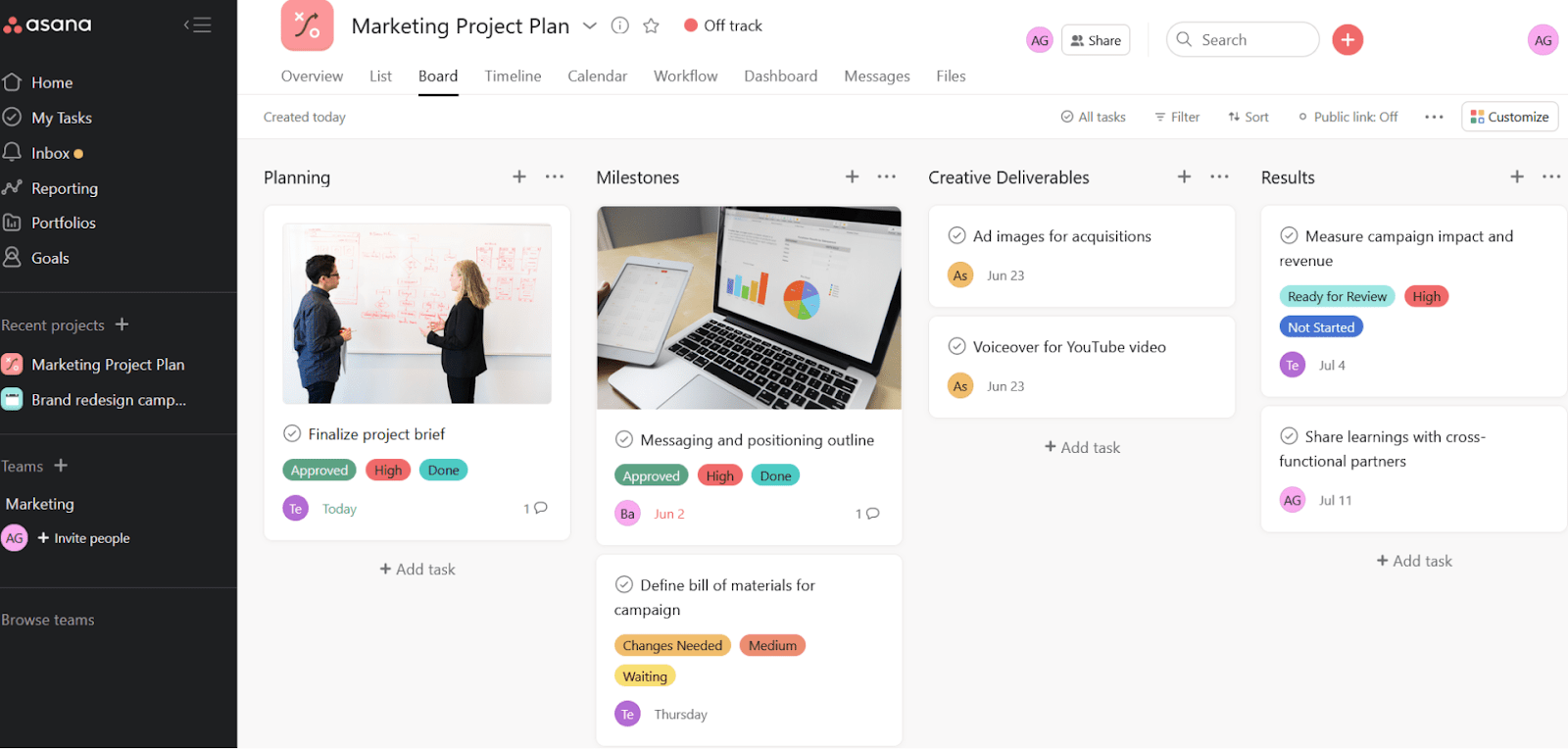 The first thing that any designers on your team will notice about Asana is its interface. The incredibly intuitive design makes the software effortless to navigate, while its visual appeal helps prevent the tedium of using the same drab software day-in, day-out. It's more than just a pretty interface, though.
Asana comes with impressive features for marketing teams.
Powerful in-task communication features and the option to create subtasks can help you plan even the finest details of your projects with precision. The variety of project views – from a simple list view to a detailed timeline – can help you plan out every step of your campaigns.
From the Premium plan onwards, you can add unlimited guest users to your projects,
which is fantastic for letting your clients see a campaign's progress. You can even assign custom permissions to each guess, allowing you to carefully manage who can see what.
I recommend the Business plan for most marketing teams.
It's not the cheapest option out there, but the price is more than worth it for premium features like approvals, workload management, and advanced integrations with Adobe Creative Cloud and Salesforce.
Features
Custom fields. On the list view, you can add completely personalized text, number, and dropdown fields. Each team works in a different way, and these custom fields will allow you to adapt the software to your system.
File proofing. Asana's file proofing allows you to comment on specific locations in images and pdfs. Your comments then automatically turn into new tasks that you can assign to anyone on your team, helping ensure that every piece of feedback is properly addressed.
Portfolios. The portfolios feature is great for teams that work with multiple clients simultaneously. Portfolios show you a summary view of your projects' statuses, as well as a live feed with the newest project updates.
Tons of apps and integrations. If you need to expand your toolkit, Asana offers over 280 apps and integrations with software like Canva, InVision, and the Adobe Creative Cloud.
Read our expert Asana review
for more details.
Marketing templates
15+
File proofing

Comments on images that turn into subtasks

Collaboration tools

@ tagging
Task followers
Built-in messaging

Starting Price

$

11.00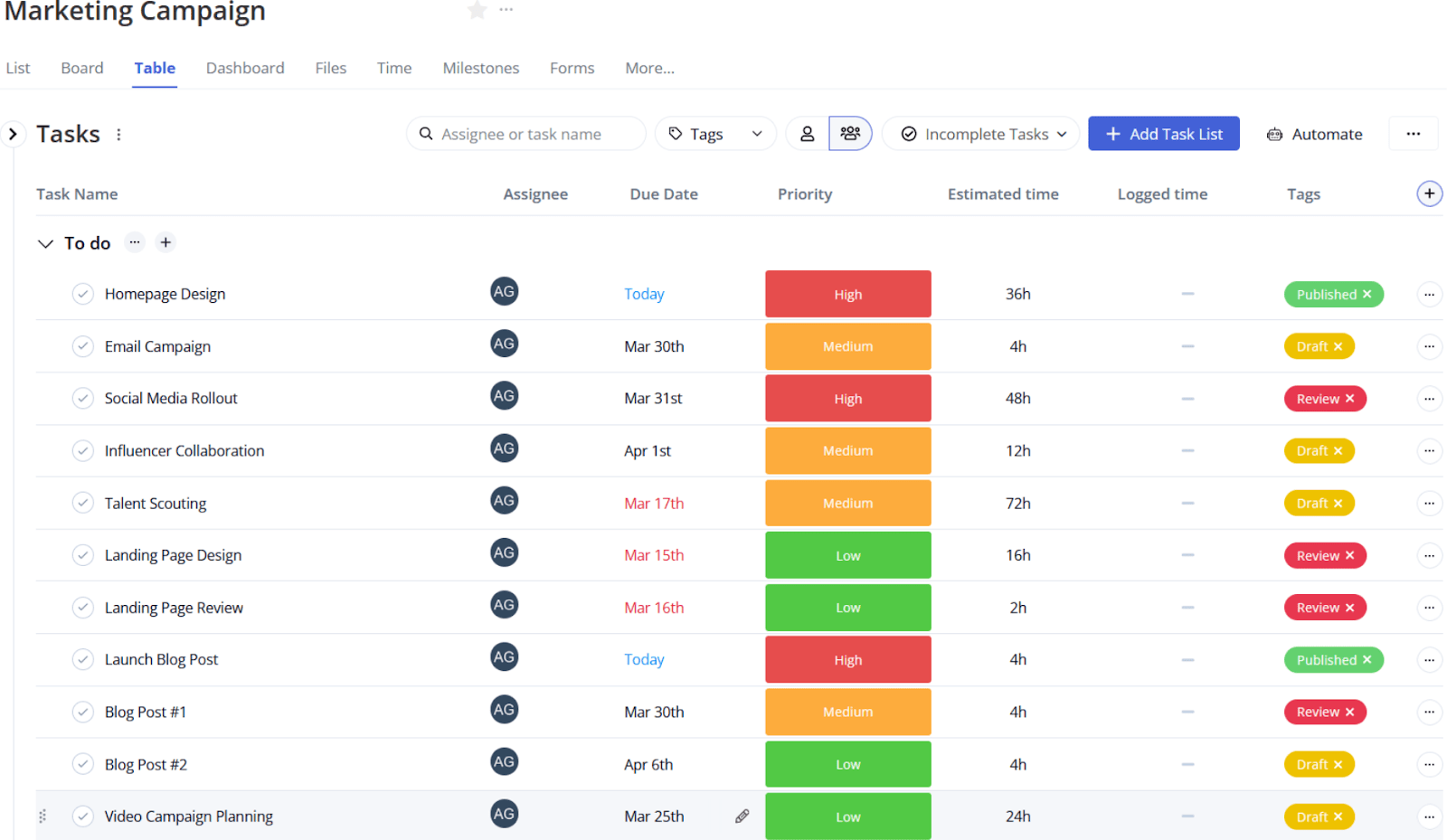 Teamwork might not be as feature-packed as some of the other software on this list, but it covers all of the essentials.
Where Teamwork really excels, though, is in its incredible ease of use, friendly UI, and attractive pricing plans
. This makes Teamwork a great option for agencies that are just getting up and running and need easy software they can start using today. Depending on the plan, Teamwork offers Gantt, table, and board views, plus custom dashboards and basic options for billing and invoicing. Besides offering over 20 predesigned templates,
Teamwork lets you create your own custom templates from an existing project that you can re-use whenever you need to.
If you're wondering which plan you should go with,
I recommend the Deliver plan.
It offers more than enough features for small agencies. It lets you create up to 20 custom project templates, and it comes with 11 integrations for third-party apps.
Features
Built-in time tracking. Teamwork includes a tool to track the time that your team members spend on a task. This can help you to create custom invoices, more effectively manage your team's time, and get a better sense of who's contributing what.
Unlimited client users. Teamwork allows you to create as many client users as you want. Client users can't create or modify tasks, but they can see and complete them.
Notebooks. Teamwork allows you to create custom notebooks to store project information. Inside these notebooks, you can add text documents for you and your teammates to record any relevant data.
Basic invoicing tools. Teamwork allows you to create basic invoices to send your clients after a successful campaign. It's not the most advanced invoice creator, but it gets the job done.
Read our expert Teamwork review for more details
.
Marketing templates
7
File proofing
Collaboration tools

@ tagging
Task followers
Built-in messaging

Starting Price

$

10.00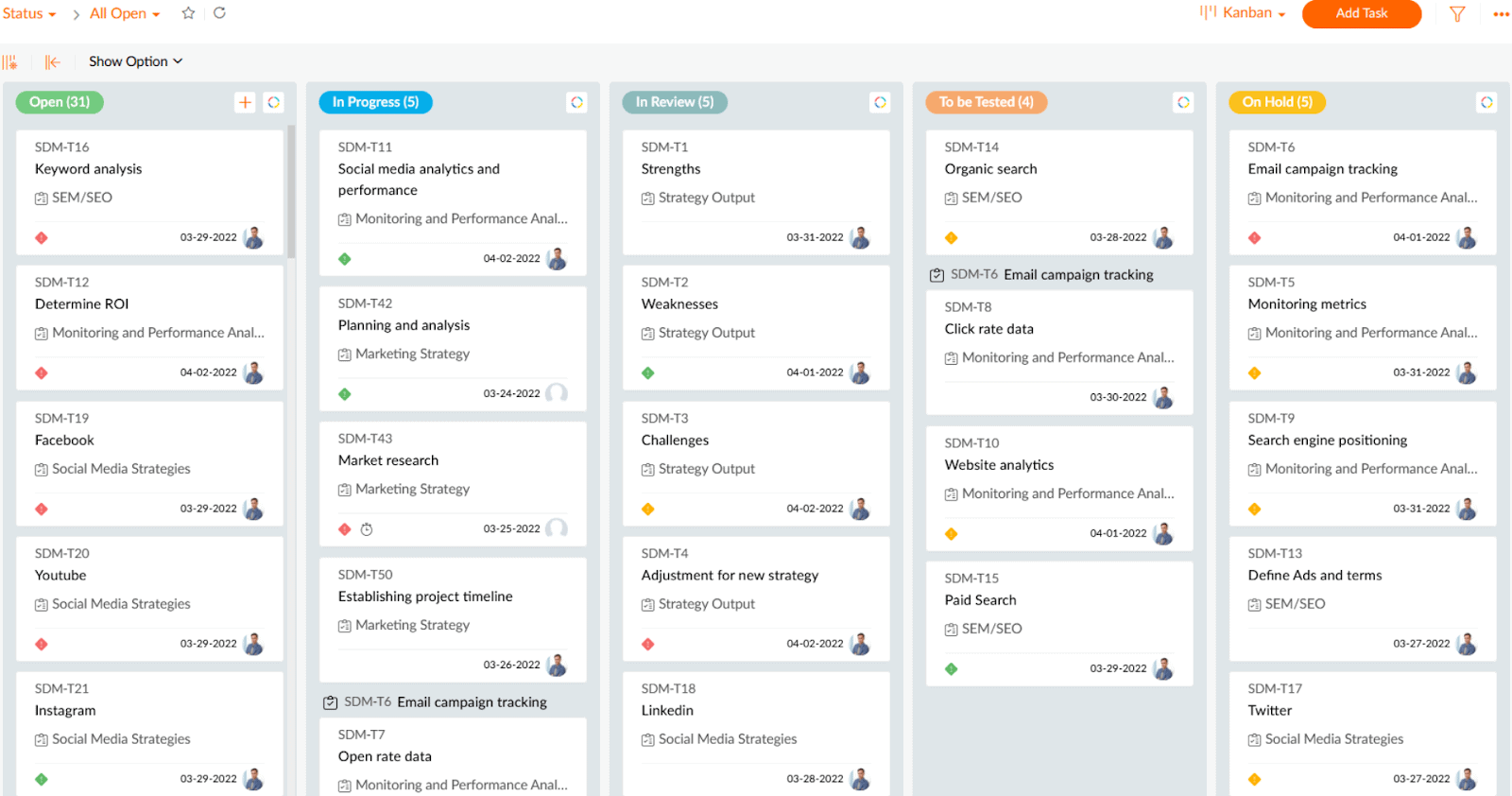 Zoho Projects is the clear choice if you're already a user of Zoho's marketing solutions,
as it integrates seamlessly with the rest of Zoho's ecosystem. That doesn't mean it has little to offer outside these integrations, however.
Zoho Projects is a great standalone solution for fully remote teams.
I was particularly impressed by Projects' communication tools.
For example, the built-in chat is great for commenting on the go, while the page and forum features provide fantastic platforms for broader and long-running discussions. What's more,
Projects lets
you comment under tasks, projects, milestones, and more.
It has a bit of a learning curve, and the UI can be a little awkward to navigate at times. Still, Zoho Projects' communication features are second to none. I recommend the Premium plan for most agencies, as it offers robust features for a very reasonable price.
Features
Issue Tracking. Issue tracking can help you resolve issues faster and improve your efficiency. You can assign custom users to solve issues, upload files, add comments, and more.
Forums and Pages. Asynchronous communication is one of Zoho Projects' strong suits. Pages and forums let you open up different aspects of your projects for discussion with the rest of your team.
Zoho's integrations. Zoho Projects has numerous tools for integrating with the rest of Zoho's ecosystem, including all of its marketing solutions.
Task hierarchy. You can get really specific with the different levels of priority and organization for each task. Zoho Projects lets you create milestones, tasks, subtasks, and issues. This can help you keep your projects' priorities in clear sight and work toward your larger goals more efficiently.
Read our expert Zoho Projects review
for more details.
Marketing templates
N/A
File proofing
No
Collaboration tools

Built-in chat
@ tagging
Forums
Pages

Starting Price

$

4.00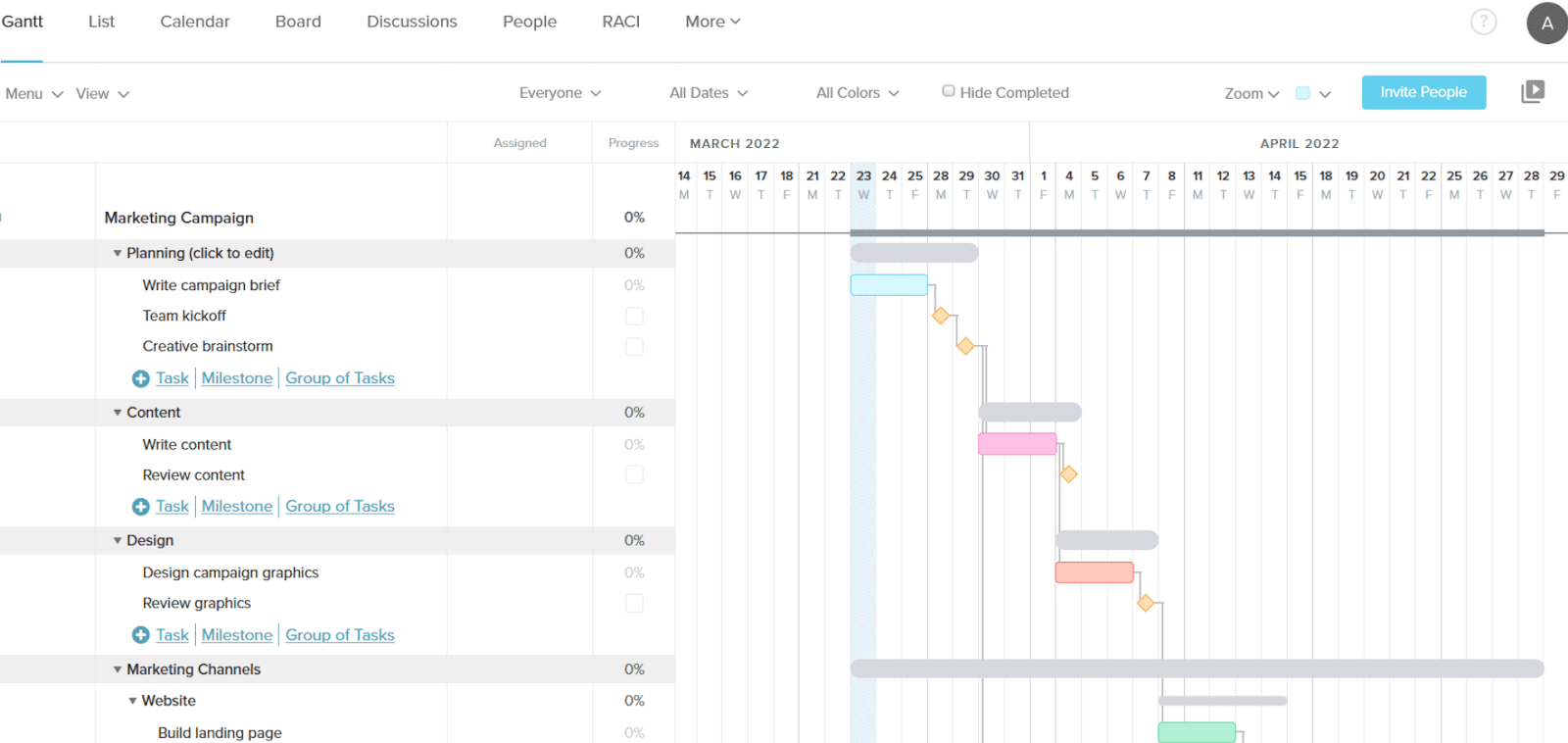 TeamGantt is intuitive software that's great if you want to keep your project management simple.
The easy drag-and-drop features, friendly UI, and vast selection of help material make it ideal if you're looking for a fast Gantt chart solution.
You can create Gantt charts in minutes, set different dependencies, and assign different levels of access to any task across your various teammates.
Combine that with a highly visual interface and you have yourself one of the best tools on the market for planning a long-term project with numerous dependencies, such as a complex social media campaign. TeamGantt isn't the most comprehensive software out there, so I'd look elsewhere if you need more advanced PM features. But
if you're looking for the most intuitive option for creating outstanding Gantt charts, then TeamGantt is the way to go.
Features
Baselines. Baselines are essentially snapshots of your original project chart. As you continue to make changes to your plans, you can easily compare them against the baseline to see if you're on the right track.
RACI matrix. The RACI Matrix allows you to assign different levels of responsibility to assignees on a task. The levels are: Responsible, Accountable, Consulted, and Informed. This can help you organize your team better and identify any potential pain points before they arise.
Project history. You can see every change made to a project under the "history" tab, giving you even more control and oversight.
Automatic dependency updating. If you ever set dependencies out of order, all you have to do is wiggle the original task on the timeline and TeamGantt will automatically rearrange them for you.
Read our expert TeamGantt review
for more details.
Marketing templates
7+
File proofing
No
Collaboration tools

@ tagging
Discussions
RACI chart

Starting Price

$

24.95
Conclusion: Take Your Marketing to the Next Level With Proper Project Management
Good project management, and good project management software, can make a world of difference to your agency. Whether you work locally or remotely, or whether you manage a big team or a small startup, the right tools can help increase productivity, land better clients, and take a ton of stress off your shoulders.
If you need a feature-packed tool that will adapt to your style and grow with your business, monday.com is the best choice.
Its high flexibility, useful integrations, and intuitive UI make it the best option for managing a campaign from beginning to end.
If you handle complex campaigns or work with several clients at the same time, Smartsheet is the way to go.
Its powerful spreadsheet tools and vast template selection make it ideal for bigger, more complex projects. Finally, if you handle a large team and your priority is good communication,
Asana is an intuitive and flexible tool
 that's great for creating a comfy work environment.
It also offers some outstanding integrations for marketing and design teams.
For a quick overview of how all the different software fared in my test, take a look at the comparison table below:
Free Plan
Best Feature
Best For
Starting Price
monday.com

✔

Highly customizable workspace
Teams looking for software that adapts to their work style

$

8.00

Smartsheet

✘

Advanced proofing tools and powerful spreadsheets
Teams that work on several campaigns simultaneously

$

7.00

Asana

✔

Outstanding tools for collaboration within and between teams
Teams with recurring work or long-term relationships with clients

$

11.00

Teamwork

✔

Intuitive but flexible software
Small teams starting out with project management

$

10.00

Zoho Projects

✔

Integrations with Zoho's ecosystem
Remote teams that need constant communication

$

4.00

TeamGantt

✔

Easy-to-use drag-and-drop Gantt charts
Those wanting to plan a campaign step-by-step

$

24.95
FAQ
What is marketing project management software?
Project management software helps you to manage each and every step involved in completing a project, such as planning tasks, communicating with your team, and identifying potential pain spots. Marketing project management software also includes features such as file proofing, client management, and integrations with external apps commonly used by marketers.
Which is the best marketing project management software?
The best marketing project management software will depend on your team, your projects, and your personal work style. Generally, I recommend monday.com for marketers, as it offers powerful features for marketing while still being extremely intuitive and easy to use. If you want to review your options, you can check out our list of the best project management software in 2023.
Can I manage a marketing project for free?
Sure! There are plenty of project management tools that offer free plans. I'd particularly recommend Asana, as its free plan offers unlimited projects and the chance to create teams of up to 15 members. That being said, premium plans will give you superior features, more users, and access to more specialized tools for marketers like file proofing and creative software integrations.
Do marketing teams need project management software?
While not always essential, good project management software can help elevate the performance of virtually any marketing team. Marketers need to produce high-quality content in several formats, communicate clearly with clients, visualize data, and more. Project management software can help you do all of this by organizing your team, your goals, and your progress in an accessible format that you can share with others.