A great portfolio acts as your personal marketing campaign and helps you rise above the competition.
But creating a unique marketing portfolio can be challenging, and you don't want to spend hours making the perfect page from scratch. That's where I come in.
I did the research and found the best marketing portfolio examples to save you time and effort.
I'll share my list of the 16 best marketing portfolio examples that are both eye-catching and practical.
I'll also reveal my secrets and give you a few tips and tricks to make the best first impression.
And if you stick around, I'll tell you more about the top website builders for marketing professionals – which will help you make an informed choice and build a better site. Ready to get inspired? Let's dive right in!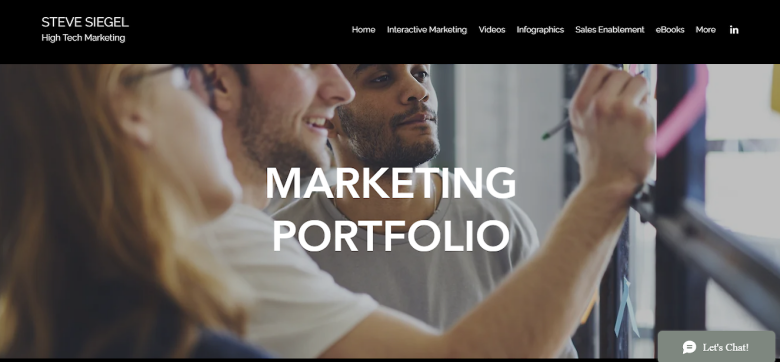 Visit the site at: https://www.sjsportfolio.com/ Steve Siegel is a high-tech marketer who works in the IT industry.
His contemporary website has a nice layout that shows all of his work, like interactive marketing, infographics, sales enablement, videos, and ebooks
. Design-wise,
the website feels clean and uncluttered because of the color contrast of the background, text
, and attractive images. The simple website design helps viewers quickly find what they are looking for without feeling overwhelmed.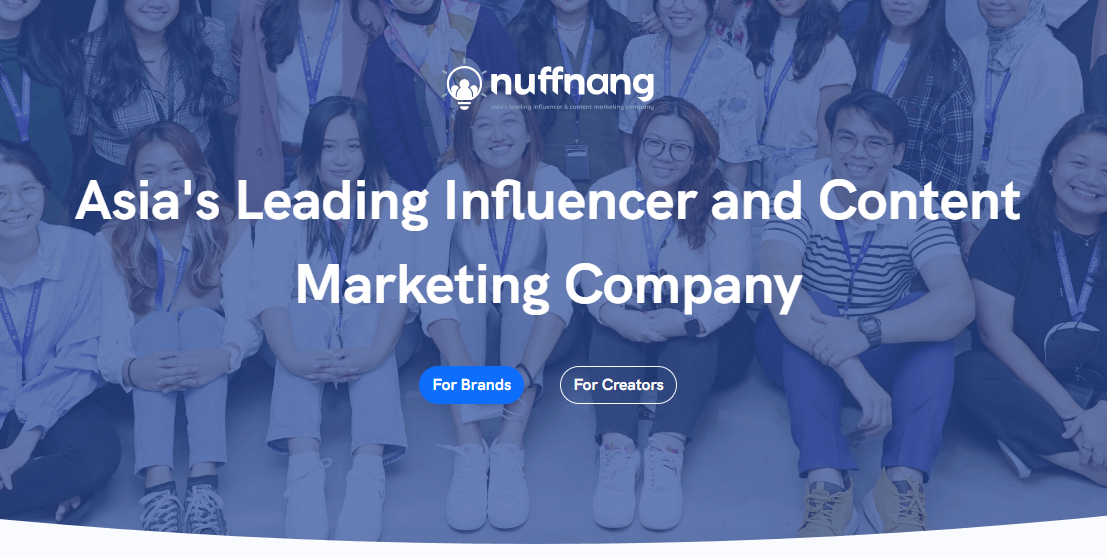 Visit the site at: https://www.nuffnang.com.my/#/home Nuffnang is a platform that connects bloggers and advertisers, creating a network where brands can place their ads and bloggers can earn extra income. Upon visiting the website, you'll find two buttons on the Home Page:
For Brands
and
For Creators
.
Clicking on either will, as you'd expect, redirect you to a tailored page for brands or creators.
Each page contains an abundance of information organized under various menu tabs. You can then easily explore their programs, ebooks, blogs, and other valuable resources.
Pro Tip.
If you don't think you have the skills (or time) to work on a marketing portfolio template, there's no need to panic! With platforms like Fiverr, you can
hire a designer for as little as $5
, and get a great-looking website with zero effort.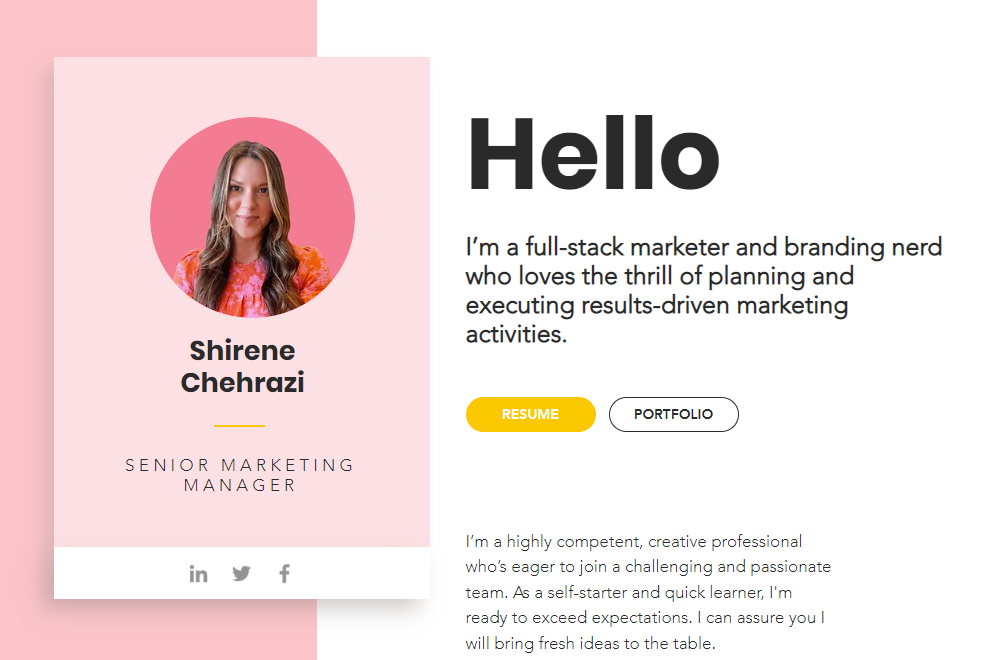 Visit website at: https://www.shirenechehrazi.com/ Shirene Chehrazi's marketing portfolio looks inviting. It boasts attractive color combinations across all sections.
Skillful use of whitespace, cotton candy pink and yellow hues, and black typography create a strong contrast, encouraging visitors to stay longer.
Shirene's website also provides complete access to her downloadable resume, a feature I'd consider adding. As you explore the portfolio, you'll find real examples of her work in branding, marketing, content creation, SEO, landing pages, social media, events, and data analysis. Showcasing actual work samples is crucial, giving potential clients a clear idea of what you can do.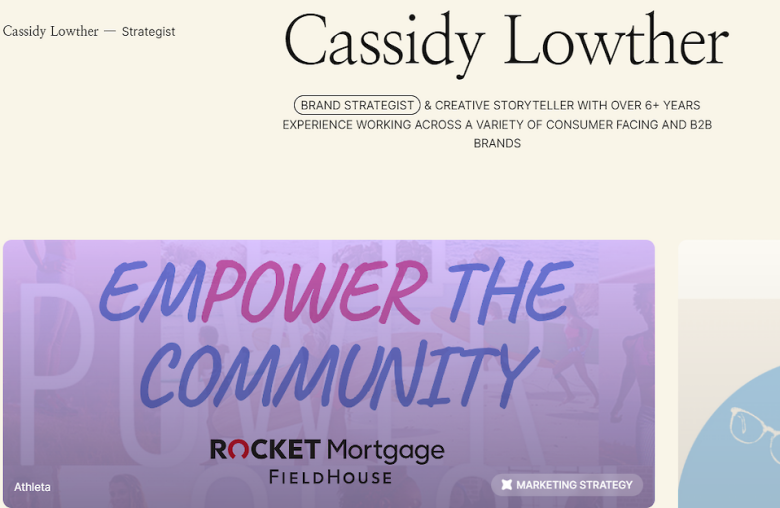 Visit website at: https://www.cassidylowther.com/ Cassidy Lowther prides herself on being a marketing master, and I wholeheartedly agree.
She's nailed the colors, kept things simple, and done an excellent job with the copy.
Her descriptions are to-the-point, and her call-to-action (CTA) buttons are simple but invite users to click. This template offers plenty of opportunities to add impactful blocks of text that show visitors who you are. When building a marketing portfolio, you must showcase your skills, work, unique voice, and communication style. Great color combinations and well-placed elements work wonders, but marketing is also about finding the right voice.
Make sure your text is engaging and well-written to spark interest. You want it to encourage potential clients to stick around and learn more about you.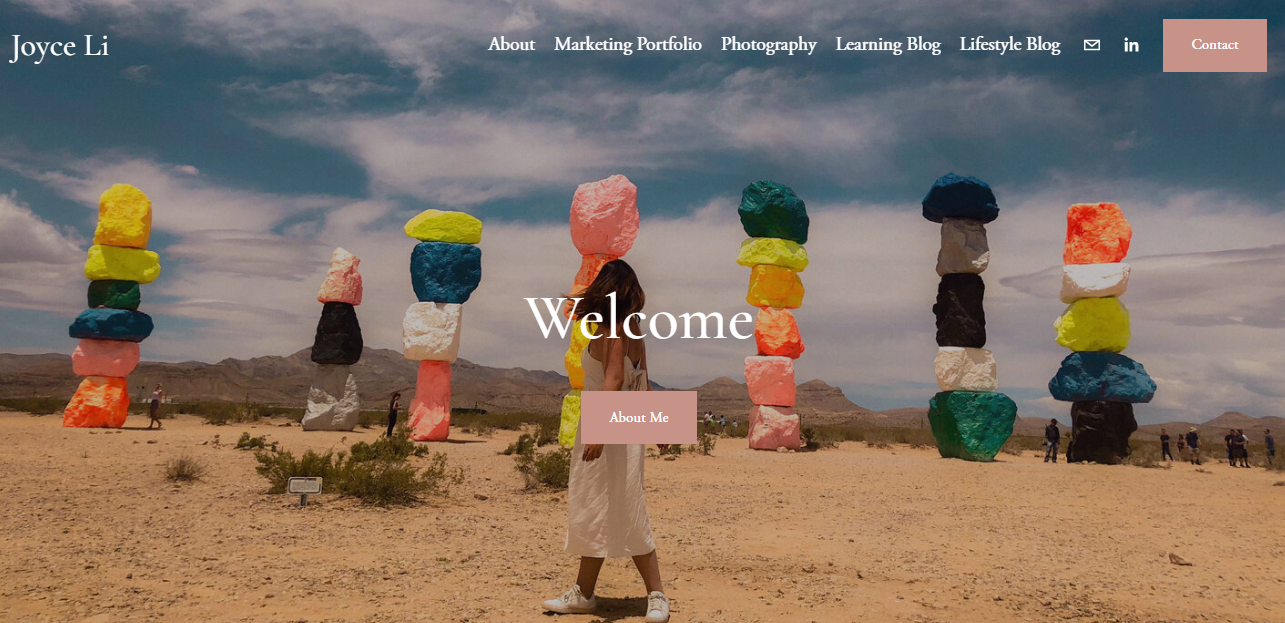 Visit the website at: https://www.xinlinjoyceli.com/ Joyce Lee is a skilled digital marketer, photographer, and life blogger. Several organizations have recognized her talent, as you can see by the certificates displayed in her portfolio. Many people hesitate to showcase diplomas and awards, but displaying them is crucial as they demonstrate your reliability and expertise in the industry.
This template brings your experience and expertise to the forefront.
In addition to her portfolio, Joyce maintains a
Learning Blog
on her website, featuring articles on digital marketing.
Combining a blog with your portfolio highlights your knowledge in a particular field, which enhances credibility and boosts future employment prospects.
Not to mention, search engines love it too so adding content to your website can help boost you in the rankings.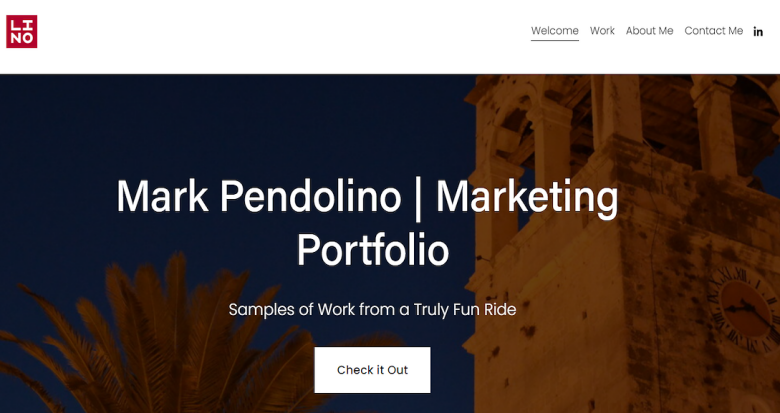 Visit the website at: https://www.markpendolino.com/ This template is an excellent choice for crafting a visually striking and engaging portfolio.
One of its most appealing features is the use of big, bold images that immediately capture the viewer's attention.
These images showcase your work and leave a lasting impression on potential clients. Another standout feature of this template is its large CTA text, vibrant colors, and simple layout. The buttons guide visitors to take action, while the abundant use of color adds energy and excitement to the overall design.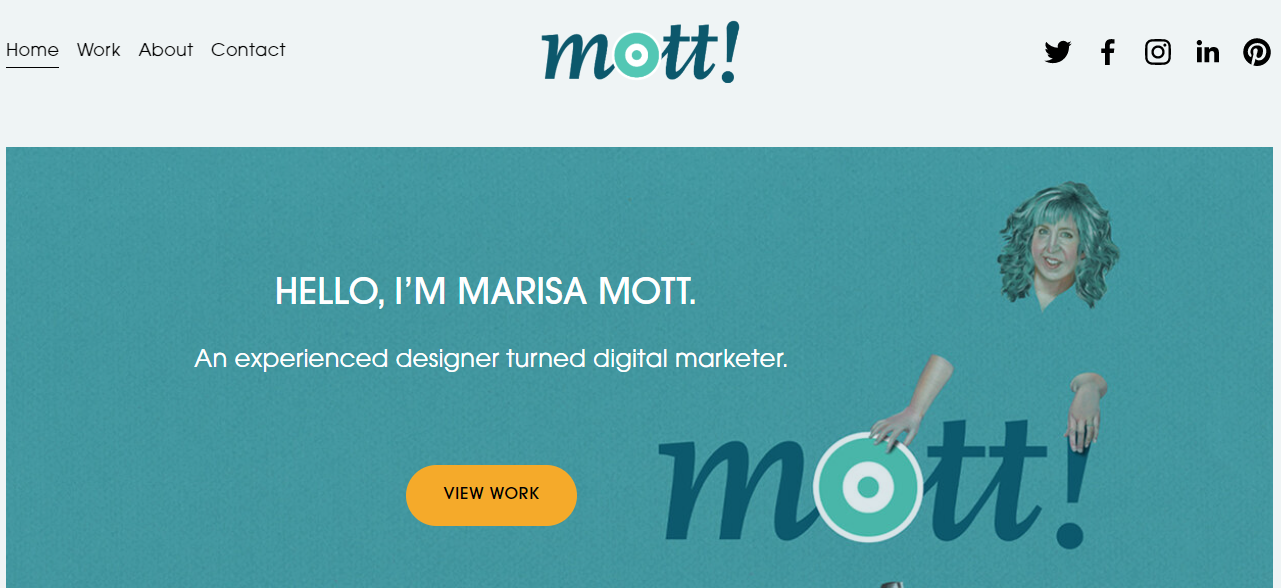 Visit the website at: https://www.memott.work/ Marisa Mott, a former graphic designer turned digital marketer, skillfully employs color contrast between images and typography in her vibrant portfolio. With this template,
I could easily show visitors my workflow with clearly-defined (and image-enhanced) steps.
It's crucial to showcase your past projects, and make your website accessible by providing contact information. Marisa Mott, for instance, has a dedicated
Contact
section and a contact button on each page of her online portfolio. Additionally, she has added buttons to various social media platforms throughout, so you can't miss them.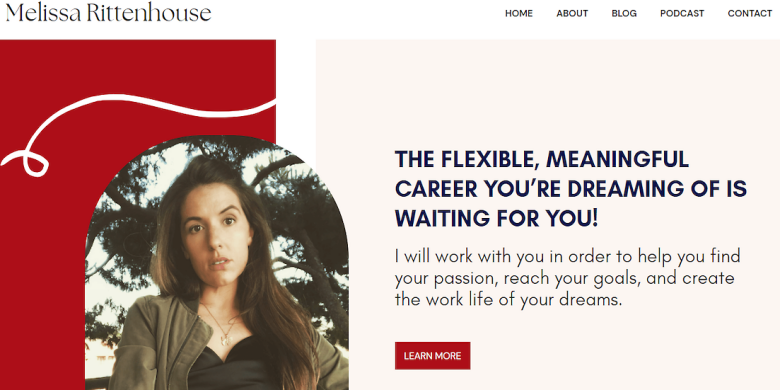 Visit the website at: https://melissarittenhouse.co/ The attractive homepage of this template stands out. It features a photo of Melissa, an eye-catching header, and a CTA button encouraging visitors to learn more.
This simple yet appealing homepage creates a positive, and personal, first impression.
Marissa's marketing portfolio includes a podcast, with episodes available directly on her website. With the current popularity of podcast culture, hosting one yourself can boost brand awareness and pique the interest of potential clients visiting your site.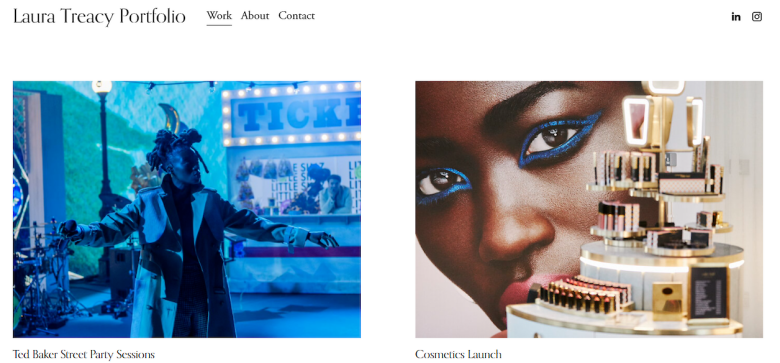 Visit the website at: https://www.lauratreacyportfolio.com/ Laura Treacy is a versatile marketer with expertise in various marketing areas. Her digital portfolio per. What I really like is that
the projects are arranged in a grid layout, keeping the website organized and clean
. One of the things I appreciated with this portfolio is that for every project, Laura explained the work she did with text
and
illustrated it with images of the events, posters and anything else she's done for each campaign.
A clear list of projects you've completed in the past gives potential clients an idea of what to expect from you
.

Visit the website at: https://www.onca.digital/ This marketing portfolio represents a company rather than an individual marketer. Onca draws inspiration from the jaguar, an agile hunter in nature, which in their case, symbolizes the pursuit of marketing opportunities.
The layout allows bright images to tell the story themselves, featuring several successful projects, one next to the other.
Another appealing aspect is the well-organized content throughout the website. As a multi-faceted digital marketing company, Onca uses a drop-down menu under the Portfolio tab to neatly categorize each service. A portfolio with such structured content demonstrates your understanding of tailoring information for a specific audience.
Other Notable Marketing Portfolio Examples
If you're still looking for marketing portfolio inspiration, here are a few honorable mentions that stood out during my research.
11. Dayana Mayfield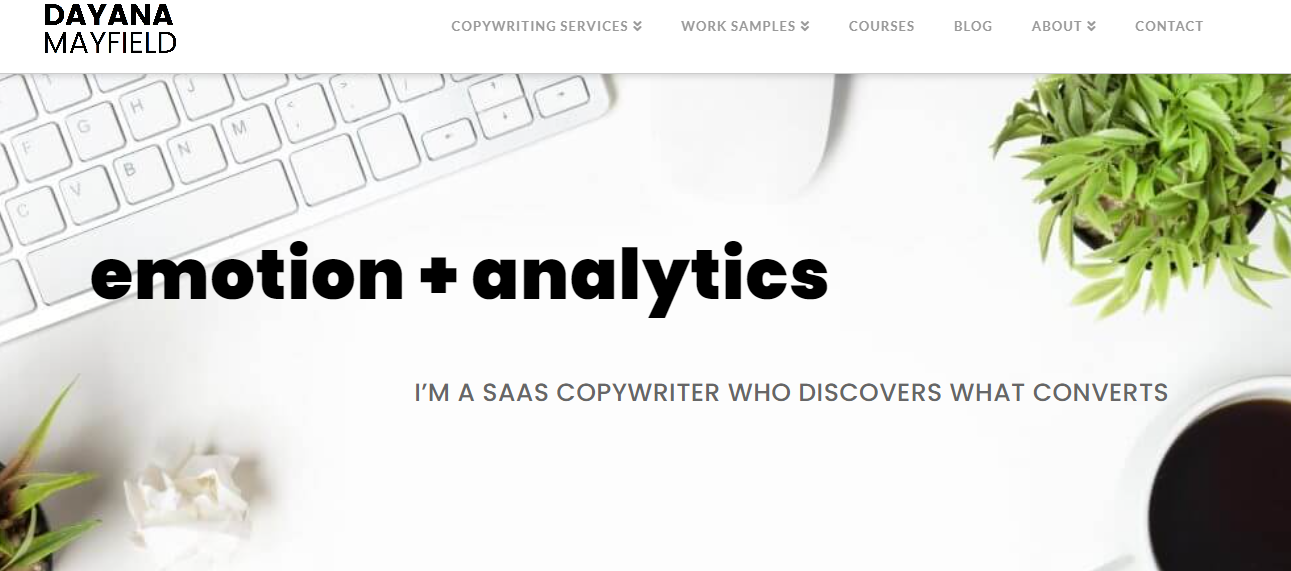 Visit the site at: https://dayanamayfield.com/ If you want to make a bold first impression with your marketing portfolio, look no further than the Dayana Mayfield template.
With its attention-grabbing bold text on the homepage and easy-to-use dropdown menus, visitors know what to expect from the first click.
Plus, the sleek, modern aesthetic with the minimalistic imagery provides the perfect backdrop for your work to shine.
12. Michael Antonak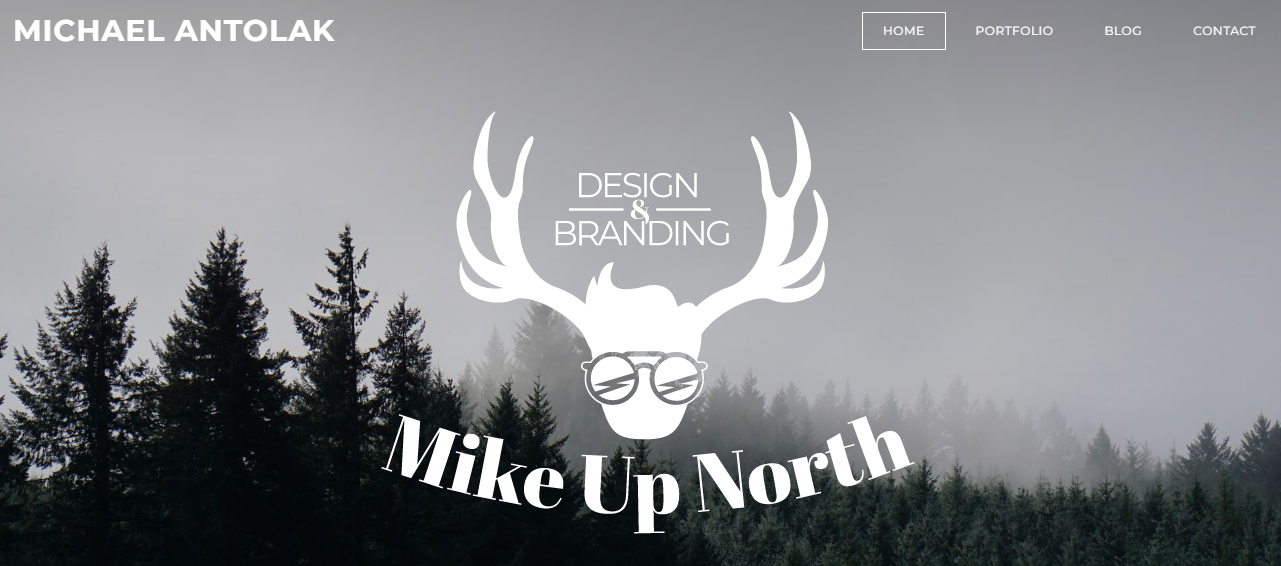 Visit the site at: https://mantolak.com/index.html Michael Antolak has a very creative way of presenting himself.
He uses a simple layout enriched with great typography, logo, and color contrast.
The playful copy throughout is fun and refreshing for visitors too, helping you understand Michael's personality.
13. Duff Watterson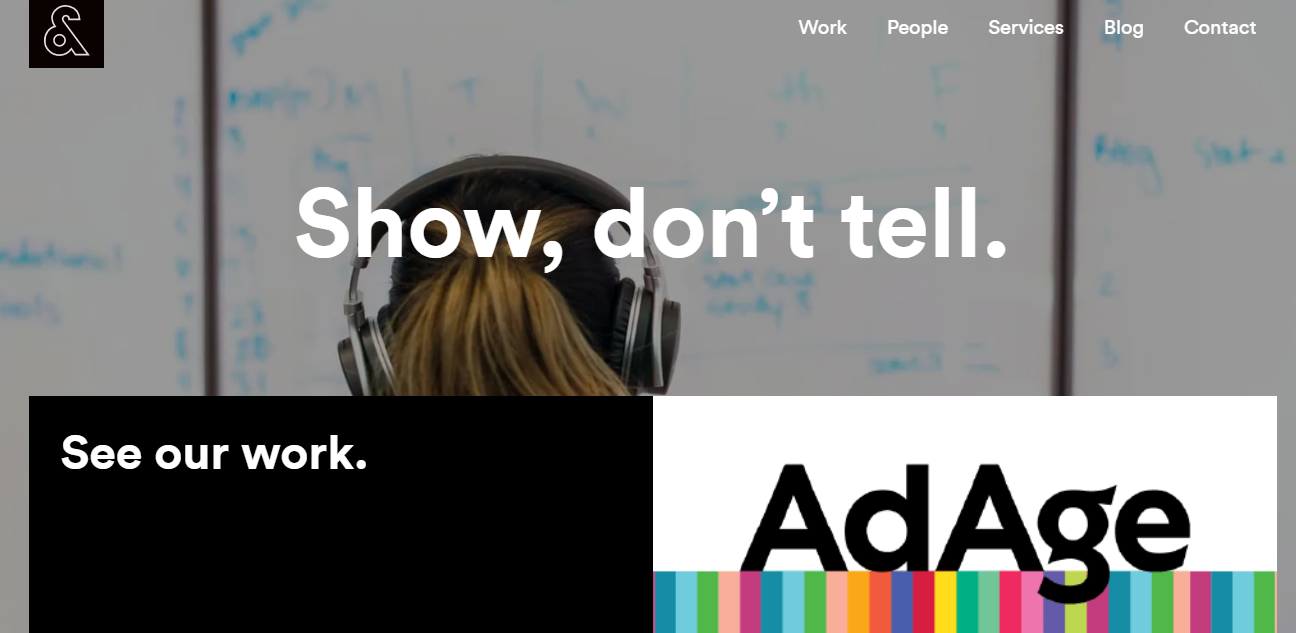 Visit the website at: https://duftwatterson.com/ Duff Watterson is a marketing agency that makes creative solutions for those in need.
They've managed to capture a contemporary, urban vibe in their marketing portfolio.
With in-depth project descriptions, they showcase their work in an engaging and informative way. At the same time, they use high-impact images to help illustrate their story.
14. Kayla Machlica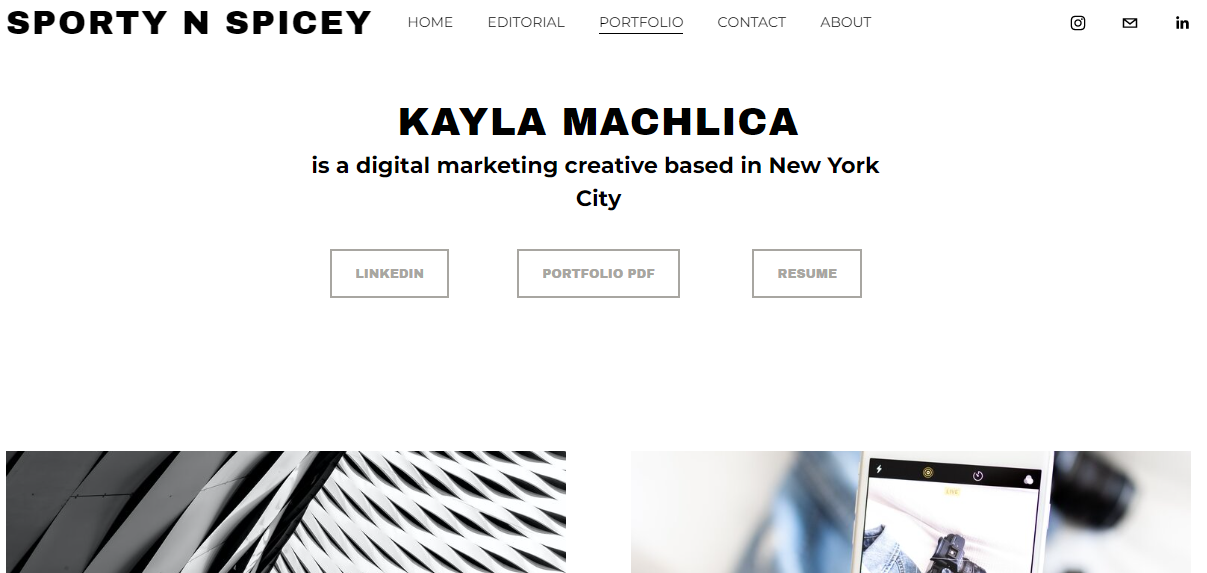 Visit the site at: https://www.sportynspicey.com/portfolio-website Kayla Machlica's portfolio has everything a portfolio needs.
Its straightforward grid layout, simple black-and-white color colour scheme, and excellent navigation make it super easy to view.
Kayla also makes it easy to download her portfolio and resume, making the life of potential recruiters much easier. She neatly displays all her work areas and provides examples of previous projects, giving visitors a clear understanding of her skills and abilities.
15. Feeney Marketing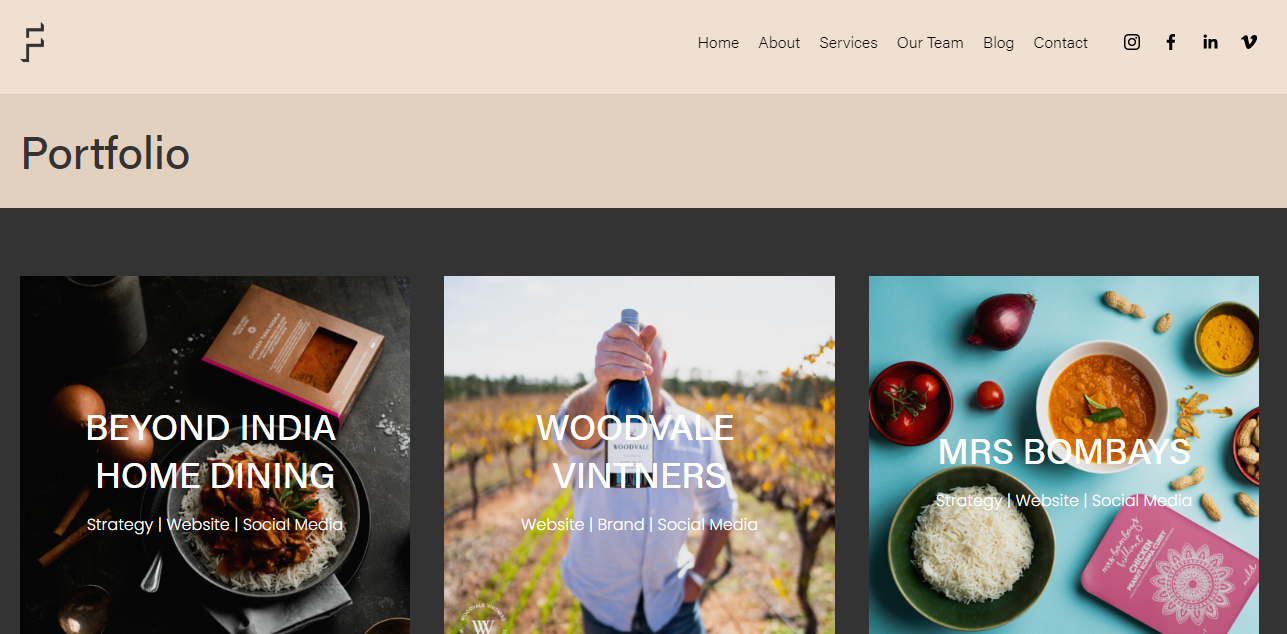 Visit the website at: https://www.feeneymarketing.com.au/portfolio
This agency offers an elegant and refined design with a simple font, making it ideal for showcasing work.
The clickable boxes make it easy for visitors to explore the portfolio, and the team section highlights the talents and skills of each member, fostering trust and showcasing the team's strengths.
16. Outer Banks Media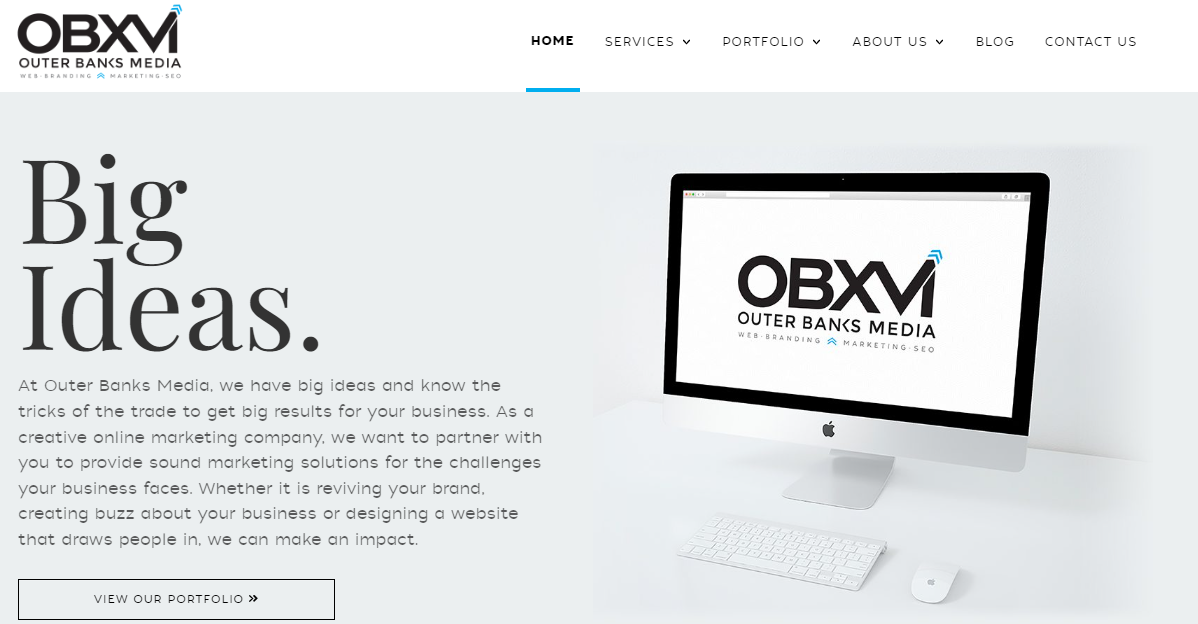 Visit website: https://www.outerbanksmedia.com/ Outer Banks Media's homepage cuts straight to the point.
It presents the company's mission and vision in a few sentences and features a clear CTA to the portfolio.
The website showcases their top work through various projects, each accompanied by detailed descriptions and photographs.
3 Best Website Builders for Marketing Portfolios
A strong online presence is crucial for marketers. However, building a website from scratch can be intimidating, especially if you're not tech-savvy. That's where website builders come in.
The best website builders are user-friendly and allow you to create professional-looking portfolios without any coding knowledge.
These platforms offer a variety of features tailored to marketing portfolios, such as beautiful templates with ample space for imagery and drag-and-drop interfaces.
All the website examples mentioned earlier were built with these three builders. I'll tell you more about them, so you can choose the one that suits you best.
Wix is an excellent option for marketers looking to create a professional and engaging website.
With Wix's drag-and-drop editor, you can customize your website's layout, colors, and fonts to match your brand's look and feel. Plus, there are over 800 templates, so it's easy to find a design that suits your needs without looking like everyone else's website. And if you ever need additional features, Wix has a massive app market with over 250 native and third-party extensions. Not only is Wix incredibly easy to use, but what I love most is that
it also offers a free plan, so you can try out the platform and even publish your site without spending any money.
Whether you're a seasoned marketer or a beginner, I find it really easy to customize pretty much everything so you can create a website that will impress your audience and help you achieve your marketing goals.
Squarespace is the perfect platform for marketers looking to create stunning, professional websites with ease. It has an intuitive drag-and-drop editor which is one of the best I've come across and a selection of high-quality templates,
so it's super easy to craft beautiful HTML5 sites in minutes.
Plus, Squarespace offers an extensive range of customization options (from changing fonts and colors to adding images or videos), so you can tell your story in a way that's visually engaging. What's more, is that thanks to the mobile optimization features Squarespace offers, you can edit your website to work for every single device.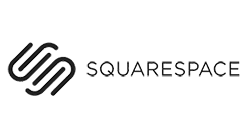 Get $21.00 off your Squarespace plan today!
Don't miss out on this great deal!
70 users used this coupon!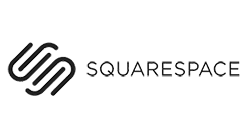 Get
$
21.00
off your Squarespace plan today!
Copy and paste this code at Squarespace
Hostinger's Website Builder is inexpensive, fast, and simple to use. This builder is ideal for showcasing your work because its templates are stunning and they're simple to edit and make your own. If you are a beginner marketer, you probably don't have a big budget for your website. This is where Hostinger comes in handy.
Its plans are reasonably priced, which is great for new marketers with big ideas.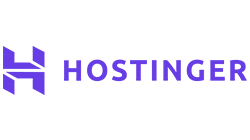 Hostinger Website Builder is now only $2.99 per month!
Sign up for an annual plan and enjoy the savings.
33 users used this coupon!
Show Off Your Personality and Organize Your Content
Your marketing portfolio is essentially a highlight reel of everything you've achieved. So, it should show off your unique personality while communicating your skills, experience, and accomplishments in an organized way. To make sure your portfolio stands out and is easy to navigate, you need to think about how to lay out your menus and where to feature buttons. You'll need some well-written copy, and visually appealing imagery to bring it all together too.
With Wix's huge selection of 800 fully-customizable templates, you'll surely find one that fits your style and aligns with your goals.
FAQ
What is included in a marketing portfolio?
Firstly your marketing portfolio should show off your work and your personality. It is your chance to present yourself to the world. That's why you should craft compelling copy and neatly display your previous projects where visitors can see your skills. Make sure you organize your content into sections to make it easy for visitors to scan through your work..
How do I create a marketing portfolio?
Creating a beautiful portfolio with a versatile website builder like Wix is easy. You only need to choose a template for your marketing portfolio and customize it however you want. You can then add and remove elements and create galleries and contact forms with the drag-and-drop editor.
Is Squarespace good for marketing portfolios?
Absolutely! Squarespace offers many features that can help you craft a beautiful marketing portfolio. For example, there are built-in contact forms to make communicating with potential employers easy, as well as SEO tools, galleries, video embeddings, and other tools to make the most of your online presence.
Which website builder has the best marketing portfolio templates?
My top picks are Wix and Squarespace. Wix offers over 800 templates with a user-friendly drag-and-drop editor, making it easy to create beautiful and unique sites. Squarespace, on the other hand, is known for its professionally designed templates and is a popular choice for artists and creatives. Both platforms offer great e-commerce features as well if you're looking to sell your services online. Check out our list of the best website builders for even more options.