to run this Content Management System (CMS) effectively.
For instance, the first rule of Magento is that you do not run Magento with less than 2GB of RAM.
Contrary to what most hosts will tell you, you need specialized shared hosting plans for your Magento website. Otherwise, you're better off with a VPS or cloud environment. What happens if you try to use Magento with only 1GB of RAM?
Your site crashes… when you try to load the homepage. Or during testing.
And that's if you're even able to install it in the first place.
Our top recommendation for Magento hosting in 2023 is Nexcess
. Its highly scalable cloud environment is the perfect fit for busy Magento stores, and Nexcess' expert management will take care of all the backend technicalities. Keep reading to learn more about Nexcess and our other top picks.
In a hurry? These are the best Magento hosting services for June 2023 :
Nexcess– high-value Magento cloud plans with expert support
FastComet – shared hosting for Magento with lots of CPU and RAM
A2 Hosting – high performance hosting for Magento with an "anytime" money-back guarantee
What We Look For in the Best Magento Hosts:
This is what I've prioritized in my search for the best Magento hosting plans:
Magento compatibility. I've included the hosts that meet the minimum Magento requirements, such as Apache 2.4+ or Nginx 1+ (LiteSpeed also works), PHP 7+ and the entire list of PHP extensions, and a minimum of 2GB of RAM.
PHP-optimized servers. Since Magento is a PHP-based CMS, I looked for the hosts that optimize their servers for running PHP code. Access to OPcache and PHP settings (like memory_limit) are a must, while other types of caching, like Varnish or Memcached, were big pluses.
E-commerce features. Most hosts on this list offer features that are relevant for online stores. This can include built-in CDNs to improve page loading speeds for your customers, some form of auto-scaling to better handle traffic spikes, and regular infrastructure updates.
Expert support. There's no guarantee that your Magento site will be 100% compatible with your hosting environment. But all the providers on my list have tech support agents with deep Magento expertise who will help you figure out the best solutions when something goes wrong.
PCI compliance. PCI compliant hosting helps build trust with your customers, which is why most hosts on my list include it by default. Whenever a customer wants to make a payment, you'll be able to service them on your own platform instead of redirecting them to a third-party payment portal.
Good value. The companies on this list offer high-value Magento hosting plans. Some include managed services by default, while others sweeten the deal with generous resources, all while remaining affordable.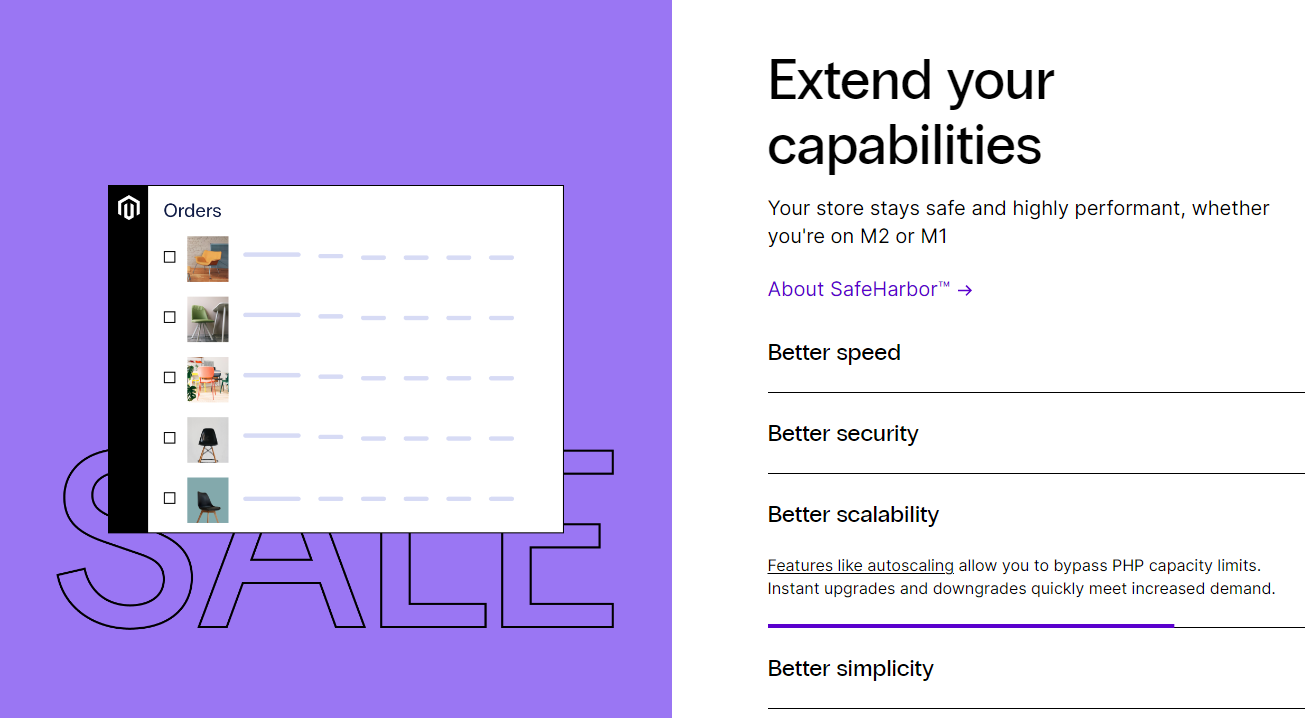 Nexcess' Magento cloud includes plenty of resources, managed service, and free autoscaling
. The XS plan
 comfortably runs Magento and offers a minimum of 25 PHP workers, but when autoscaling is activated, the number of workers can easily reach 50 at a time. 
Autoscaling is an invaluable feature for online stores because it ensures that your website stays fast and responsive, even during traffic spikes.
Whenever your server reaches its PHP worker limit, the Nexcess stack automatically modifies your PHP process cap to better accommodate the increased usage
. Once the traffic surge subsides, your hosting is scaled down. 
As long as the total surge time remains within the 24–hour-per–month limit, you won't pay any extra.
Nexcess' plans are designed for high-performance PHP websites.
The stack runs on Apache 2.4 with NGINX as a reverse proxy. It's compatible with PHP 7 and 8, including the latest stable release.
The only downside is the price – Nexcess is the most expensive option on our list. However, given the features and level of service included, it's definitely worth the extra investment. 
Features
Managed cloud

. Aside from the usual daily backups and automatic software updates, Nexcess' 100% in-house support team will go above and beyond to ensure your Magento stores are fast, safe, and always online.

PHP-optimized servers.

Every Nexcess cloud account comes with advanced static caching via MicroCache repositories. Every plan also comes with the premium Object Cache Pro plugin from Redis, which significantly improves database query performance – ideal for online shops with large catalogs.

Advanced security. In addition to a regularly updated Web Application Firewall (WAF), your online store is protected from malware and other threats with 24/7 network monitoring.
Fully compliant

. The Nexcess platform is PCI, GDPR, and SSAE 18 compliant. Its dedicated compliance experts will help ensure your online store meets all PCI requirements.
See more about Nexcess, including performance results, in our expert review.
Compatible PHP versions
PHP 5.6 to 8.2
RAM

RAM dynamically scales with PHP workers on XS, S, and M plans. A flat 20GB – 32GB RAM is available in higher-tier plans.

PCI compliant
Yes, native
Starting Price

$

49.00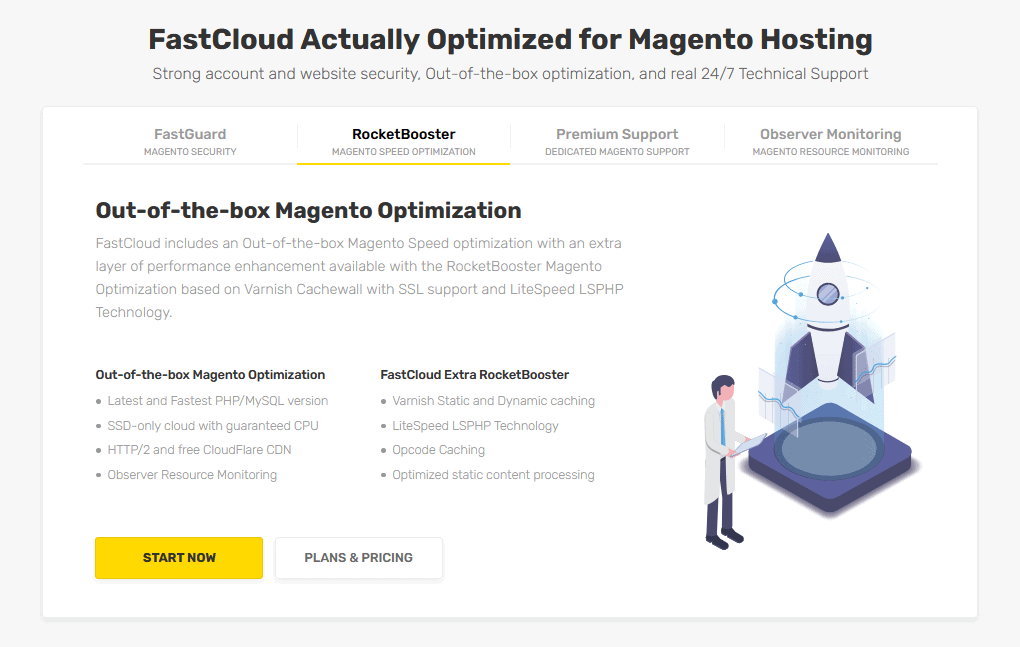 FastComet's budget FastCloud plan gives your Magento store access to a generous 2GB RAM and 2 CPU cores
. For such an affordable shared hosting plan, this is impressive – a lot of budget hosting providers only offer a fraction of these resources. We were a bit skeptical at first, but live chat support confirmed that this is the case.
For even more power behind your Magento store,
I'd recommend checking out FastCloud Extra – not only does it come with 6 CPU cores and 6GB RAM, but it also offers advanced caching optimizations
. This includes Memcached, LiteSpeed Cache, OPcode cache, and more. These are all ideal for Magento, as they speed up PHP processes significantly. Best of all, FastComet's shared hosting plans start at a budget-friendly price, including FastCloud Extra. You'd be hard pressed to find such highly-optimized and resource-heavy plans at similarly low prices. That said, watch those renewal fees – after your initial hosting term is up, your subscription will renew for several times the original price. It's still significantly cheaper than Nexcess, but don't let the spike in cost after renewal catch you off guard.
Features
Streamlined dashboard. FastComet built its own client area on top of cPanel, and it makes managing an online store much easier. You can even use your mobile phone to keep an eye on services, accounts, billing, and more.
Expert support. Use the host's dashboard to get in touch with a support agent anytime. If your Magento site is hacked or infected by malware, the tech gurus will help you recover and secure it.
Built-in CDN. Online ecommerce may enable you to sell to anyone anywhere, but if you want your Magento pages to load fast worldwide, you'll have to use a CDN. FastComet comes with CloudFlare built-in, so you don't have to set it up yourself.
45-day money-back guarantee. You can test FastComet thoroughly for 45 days, completely risk free. If you're not satisfied for any reason during this period, you can get a full refund – no questions asked.
Read more about FastComet's plans in our expert review.
Compatible PHP versions
PHP 5.4 to 8.2
RAM
2GB to 6GB (shared hosting)
PCI compliant
Not native
Starting Price

$

46.16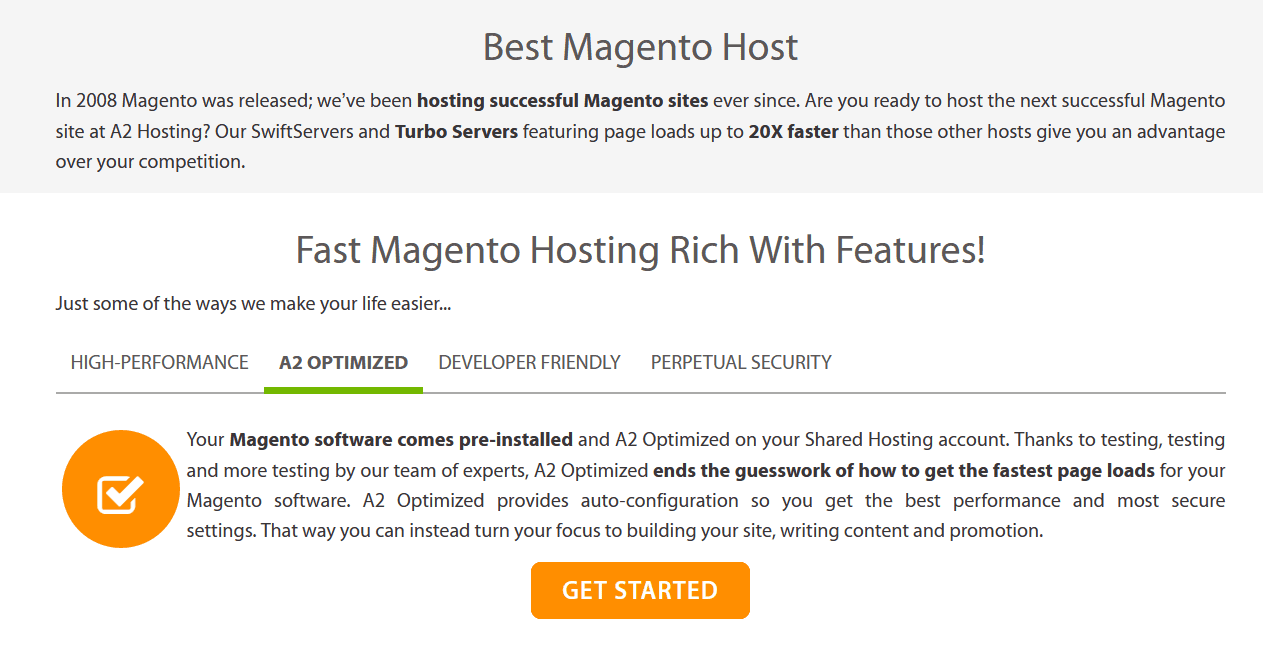 If you want a high-performance Magento hosting plan pre-configured for you, A2 Hosting has you covered.
The company offers out-of-the-box, "A2-optimized" installations of the most popular CMSs, Magento included.
While A2 Hosting offers four shared hosting plans, only two of them are optimized for Magento. These are A2 Hosting's high-tier Turbo Server plans
, which, in addition to LiteSpeed web servers, also come with NVMe storage
. This is an enterprise-grade SSD that will guarantee faster reading and writing speeds for your e-commerce platform. 
A2 Hosting is so confident in its performance (and rightfully so), that it offers an "anytime" money-back guarantee
. This means you can cancel at any point during your contract and still receive a prorated refund for the unused portion. In addition to this, cancellations made in the first month of service guarantee a full refund. 
A2 Hosting's biggest hiccup is in the support department. Whenever I rely on live chat support for a hosting-related problem, I end up more frustrated and confused than before. Thankfully, the ticketing system is more reliable.
Features
Optimized hardware.

All of A2's Turbo Servers are built on premium hardware using AMD EPYC CPUs. Your online store will be able to handle much more traffic than the average shared hosting plan. 

Comprehensive Magento optimization

. The A2 Optimized plugin for Magento includes advanced optimizations such as log disabling, Gzip compression, CSS & JS merging, and more.

LiteSpeed Web Server. A good deal of the best Magento hosts rely on LiteSpeed, and A2 is no different. You can enable the LiteMage extension, which lets you cache pages that were previously uncacheable via Edge Side Includes (ESI). 
A2 Accelerator. Aside from the mandatory OPcache, your e-commerce website will also run on Turbo Cache and Memcached. This guarantees fast delivery for static, HTML content, and improved speeds for database operations. 
Read more about A2 Hosting's support, performance, and features in our in-depth expert review.
Compatible PHP versions
PHP 5.6 to 8.1
RAM
2GB to 4GB (Turbo Servers)
PCI compliant
Not native
Price

$

2.59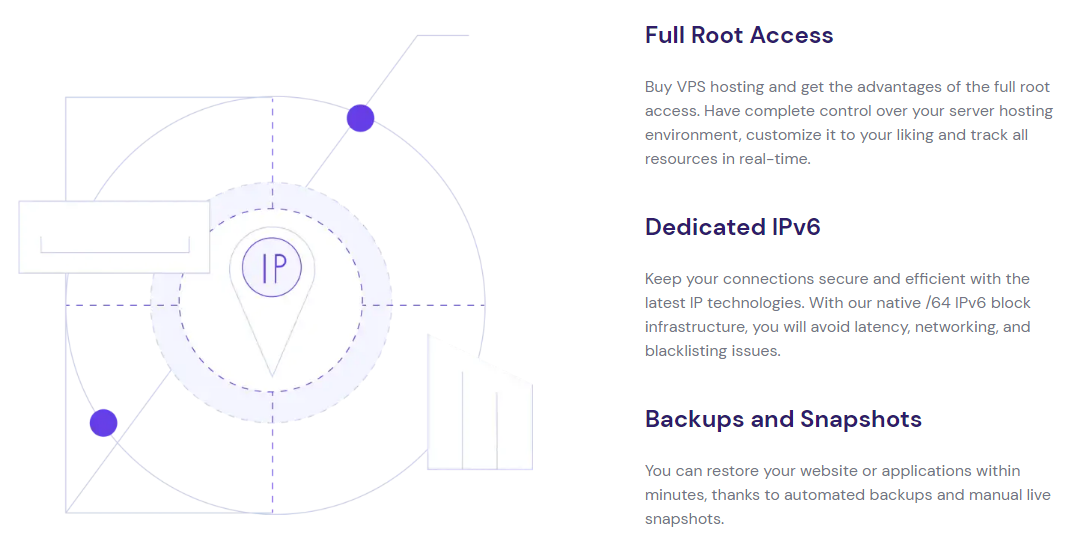 Global coverage.
Despite being a budget provider, Hostinger offers data centers across Asia and South America — locations usually only covered by more expensive hosts. It also covers North America and Europe.
Hostinger is primarily known for its budget shared hosting, but you'll want to avoid this, as it does not offer nearly enough RAM for Magento. Instead,
Hostinger offers highly affordable VPSs for only a little bit extra over the shared hosting plans – it's a surprisingly good deal
. Keep in mind that you will have to go with an annual or longer billing term to get a discounted price.
We recommend the VPS 2 plan, which offers the 2GB recommended minimum RAM for Magento. You'll also get 2 vCPU cores to play with and a generous 2TB bandwidth. Better yet,
you'll get a dedicated IP address and a weekly automatic backup solution thrown in for free
.
However, it's important to note that
Hostinger's VPS plans are entirely unmanaged
. This means you'll need to have the technical knowledge necessary to operate, maintain, and optimize a VPS. On the other hand, you'll have full root access – so you'd be able to customize your server to your store's and your customers' needs.
A free domain name is included with some hosting plans from Hostinger
Features
Based on powerful infrastructure.

Hostinger's VPSs are housed on physical servers running the latest Intel Xeon processors and NVMe SSD drives, ensuring fast performance for your customers.

Free VPS snapshot.

Regardless of the VPS plan you choose, you'll be able to take VPS snapshots. These back up the entire server with a single click. A snapshot is stored for 20 days and can be restored at any time during this period. However, be aware that you can only store one snapshot at a time.

Easy collaboration.

As your store gets bigger, you might want to collaborate with devs, designers, and content writers to expand it. Hostinger's Access Manager lets you create custom-access accounts for your team, while keeping your own account details confidential.

Global coverage.

Despite being a budget provider, Hostinger offers data centers across Asia and South America — locations usually only covered by more expensive hosts. It also covers North America and Europe.
Learn more about Hostinger's strengths and weaknesses in our review
.
Compatible PHP version

You can install whatever PHP version you like

RAM
1GB to 16GB (VPS)
PCI compliant
Yes, native
Starting Price

$

3.99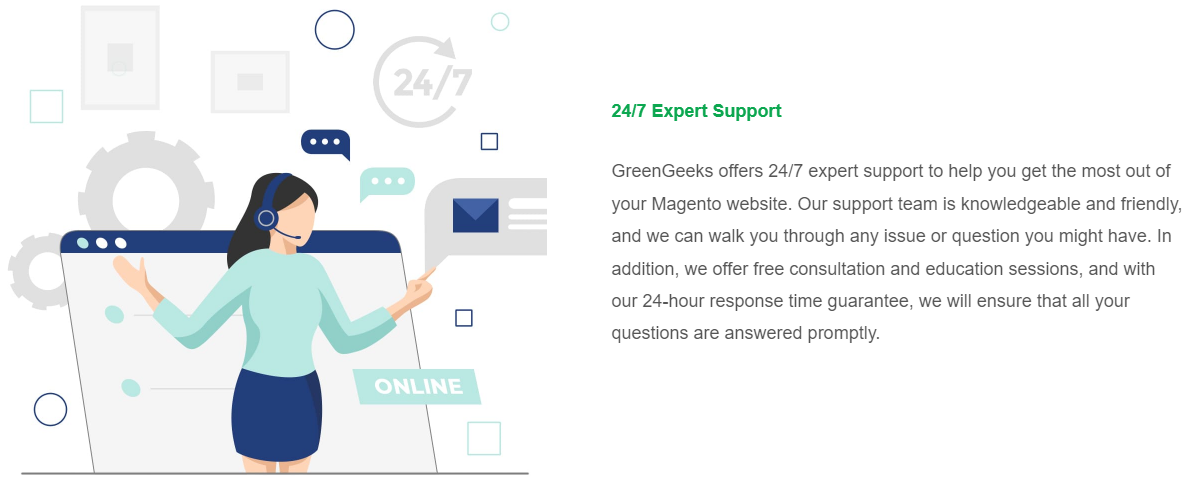 GreenGeeks has some of the best support staff I've come across.
If you think you might need help managing your ecommerce Magento store, you can rely on the customer service reps to lend a helping hand.
In addition, GreenGeeks' shared hosting plans are Magento-compatible. The entry-level plan has just 1GB of memory, so
I recommend you go with the Pro plan, which gives you 2GB RAM and access to 3 vCPU cores
. Like FastComet, GreenGeeks hosts fewer customers per server than most providers, so you'll have access to more resources.
Another great perk is the fact that GreenGeeks is an eco-friendly web host
, which can make it easier for you to appeal to your green customers. For every amperage of power GreenGeeks uses, it purchases three times that in renewable energy credits. It also plants a tree for every new hosting account opened with them. 
That said, GreenGeeks' performance is a little inconsistent. While our test website usually loaded relatively quickly, other times we were waiting over 2.4s just to load a lightweight page. 
A free domain name is included with some hosting plans from GreenGeeks
Features
Nightly backups.

GreenGeeks provides nightly automatic backups with every plan. You can also take manual backups at any time and download them locally via cPanel. 

Unlimited resources. All Magento hosting plans get access to unlimited storage, bandwidth, and email accounts. Ideally, you'll want to optimize content on your Magento website to take up as little space as possible, but knowing you can take up as much space as you need offers peace of mind.
PCI-compliant platform.

As a result of its strict security standards, GreenGeeks is one of the few budget hosts that can help you achieve PCI compliance. Its security features include an advanced AI-driven web application firewall, 24/7 network monitoring, and more.

Scalable resources. GreenGeeks lets you add more RAM to your hosting account whenever you need it. This is a great feature for online stores, especially during the holidays when things can get hectic.
For more information, take a look at our GreenGeeks review.
Compatible PHP versions
PHP 5.4 to 8.2
RAM
1GB to 3GB (shared hosting)
PCI compliant
Yes, native
Starting Price

$

2.95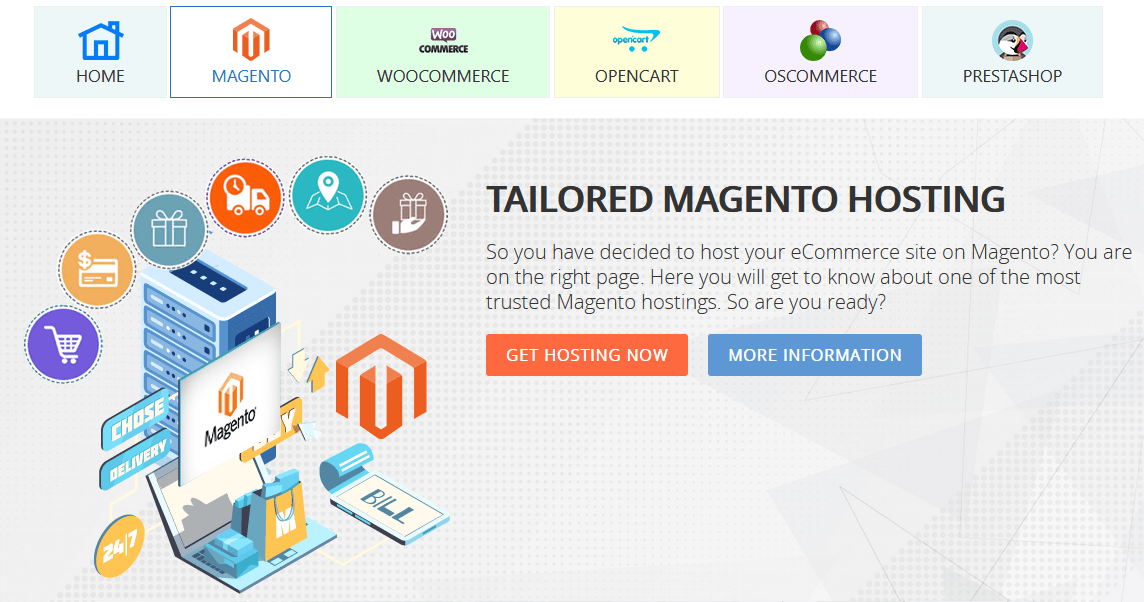 Like Hostinger, InterServer offers affordable access to powerful VPS solutions for Magento. The main difference is that Hostinger requires a commitment of at least a year to get its low prices –
InterServer offers its budget-friendly pricing with cheap monthly billing
. There are no renewal fees, nor any incentive to commit long term.
InterServer's VPSs are also hosted in the cloud
. This gives you even more flexibility – you can scale your resources up at any time and instantly take advantage of more server resources. In addition, if there are any issues with the hardware currently powering your server, you will be automatically redirected to a healthier server, minimizing the impact on your Magento store.
InterServer's shared hosting also works for Magento, and it too comes with an affordable monthly billing plan
. That said, it's only suitable for small Magento stores. It's also worth noting that InterServer only offers data centers in the US, so your store's performance will likely struggle outside North America.
A cheaper alternative to a VPS is InterServer's Standard shared hosting plan. The stack is up to date on all Magento-related technologies, including the latest versions of PHP and MySQL.
The downside with InterServer is that the shared web hosting plan is only suitable for small Magento stores.
 Given the host's underloaded servers, some growth may be possible, but it won't be too long before your website reaches the allotted resource limit.
Features
Secure hosting environment. InterServer uses Virtuozzo, KVM, and OpenVZ technology to isolate VPS accounts from one another. Aside from increased stability for your store, this setup also guarantees top-notch security.
Managed server backups. This is a great paid add-on that lets you create complete metal backups of your Magento websites. The files are encrypted and stored on separate servers, and you can browse them anytime you want.
Managed VPS included. Buying at least 4 slices of InterServer's VPS – which is to say a minimum of 4 vCPUs, 8GB RAM, 120GB SSD, and 4TB transfer – lands you a free upgrade to managed support. This means you can turn to the tech squad for system reinstalls, server-related issues, and more.
One-click Magento installation.

InterServer gives you access to a ton of one-click installation scripts for various apps and CMSs, including Magento. This lets you get started quickly, even on its unmanaged VPS.
Find out more about InterServer's features in our in-depth expert review
.
Compatible PHP versions

You can install whatever PHP version you like

RAM
2GB to 32GB (VPS)
PCI compliant
Yes,  native
Starting Price

$

6.00
Which Magento Host Is Best for You?
As one of the niche CMS solutions for ecommerce, Magento has some pretty steep hosting requirements. While all the companies on my list are viable Magento hosts, some of them might be more suitable for your needs than others. On the other hand,
Nexcess's Magento plans 
offer access to a premium, highly scalable cloud infrastructure.
You even get a trial period of autoscaling every month, but starting up will cost you quite a bit, even on the entry-level plan.
Alternatively,
if you'd like to keep costs low without sacrificing too much performance, try FastComet
. It offers more available RAM and CPU power than any other budget hosting provider on this list.
If you'd like a middle-ground solution, go with A2 Hosting
. It offers much better speeds for your money than FastComet, while still remaining significantly cheaper than Nexcess. It also comes with unlimited websites and NVMe SSD storage to sweeten the deal.
If you don't know which to choose just yet, we've gathered the most important information about the best Magento web hosts in the table below:
Standout feature
RAM
Data center locations
StartingPrice
Nexcess

High-performance cloud Magento hosting with free auto-scaling

Dynamically-scaling RAM on XS, S, and M plans, 20GB to 32GB RAM on high-tier plans

6 in the US, 3 in Europe, 1 in Australia

$

49.00

FastComet

Affordable shared hosting with plenty of RAM and advanced caching

2GB to 6GB (shared hosting)

4 in the US, 3 in Europe, 1 in Australia, 1 in India, 2 in Asi

$

2.74

A2 Hosting

Optimized Turbo Servers with NVMe SSD and an "anytime" money-back guarantee

2GB to 4GB (shared hosting)

2 in the US, 1 in Europe, 1 in Asia

$

2.99

Hostinger

Budget-friendly unmanaged VPS with free backups and dedicated IP

1GB to 16GB (VPS)

1 in the US, 4 in Europe, 2 in Asia, 1 in South America

$

3.99

GreenGeeks

Eco-friendly shared hosting with excellent support

1GB to 3GB (shared hosting)

1 in the US, 1 in Canada, 1 in Europe, 1 in Asia

$

2.95

InterServer

Cheap monthly billing for impressive cloud VPS

2GB to 32GB (VPS)

3 in the US

$

6.00
FAQ
How does Magento hosting work?
Magento hosting works in mostly the same way as WordPress or any other type of CMS-based hosting. The difference is that Magento is entirely focused on ecommerce and includes a lot of features that will help you sell products online. For example, Magento offers pricing promotions, checkout, payment, inventory, and more. If you're new to Magento, I'd highly recommend going with a beginner-friendly Magento host. For example, Nexcess will help manage the more technical aspects of your store, while GreenGeeks' expert support can help guide you through the basics.
Can Magento run on shared hosting?
Compared to other Content Management Systems (CMS), Magento is CPU and memory intensive, which is why most experts recommend VPS and cloud environments. However, you
can
run Magento well on a shared hosting plan – you just need to pick a quality one. 
For example, FastComet offers more than enough RAM and CPU to run Magento on its budget shared hosting plans.
What is the best host for Magento?
If you don't mind paying the premium price, Nexcess' cloud hosted Magento plans are ideal for a busy online store. With PHP-optimized servers and autoscaling, your Magento website will run extremely well on Nexcess.
Looking to keep costs low? FastComet offers budget-friendly shared hosting that works perfectly well for small to medium-sized Magento stores.
Can you get free web hosting for Magento?
Not really. Because of how demanding Magento is as an application, there's no straightforward way to host it for free. Any "free" host that claims to be able to do so is likely scamming you. 
Instead, it's best to choose a quality host with a free trial or money-back guarantee, which will allow you to try out a Magento store completely risk-free. For example, Nexcess offers a 30-day money-back guarantee – if you're not a fan, you can cancel within this period to get a full refund, no questions asked.