some VPS hosts still manage to deliver disappointing performance due to outdated hardware or poor server optimization.
My point is that you can't just choose the first VPS host you find. Even setting aside issues of performance and reliability,
you may find that it simply isn't a good fit for your needs – it might not offer a managed service, for example.
To save you time, I've gone ahead and tested as many hosts as I could, to present you with a list of the top eight with all their standout features. Read on to find out which one is right for you.
Short on time? These are the best VPS hosts for Linux:
Kamatera– Custom-build your server with fast and easy scalability
Liquid Web – Managed VPS with a 100% uptime guarantee
Hostinger – Budget option with impressive performance and reliability
What We Look For in the Best VPS Hosts for Linux
Speedy performance. No one is going to stick around if your site is taking centuries to load. That's why I only picked hosts that offer fantastic performance.
Optional managed service. Running a VPS can be both difficult and time-consuming, especially if you lack the technical knowledge. I took a special interest in hosts that can manage the configuration and maintenance of your VPS for you.
Great reliability. If you're experiencing regular periods of downtime, you may as well be on a shared hosting plan. I've tested the following hosts to ensure that they provide near-perfect uptime.
Affordability. A good VPS plan doesn't need to break the bank. Many of the hosts below offer an affordable starting point.
Scalability. One of the key selling points of a VPS is flexibility. Hosts that provided an easy and quick way to scale your server without downtime earned extra points.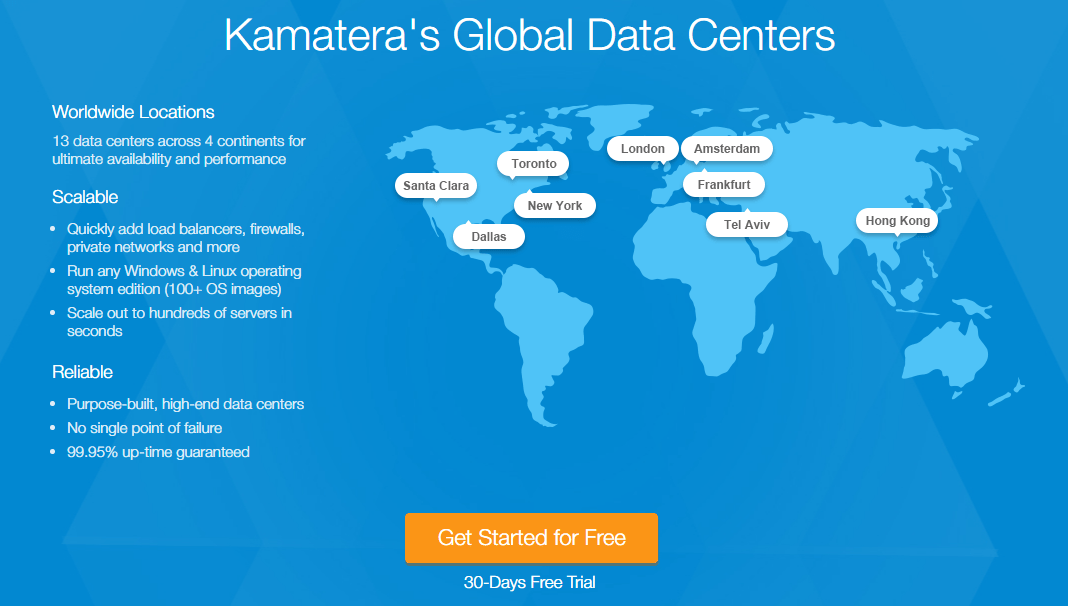 If you need total flexibility, Kamatera is likely a good choice for you. Rather than offering a set of rigid plans,
Kamatera allows you to custom-build your own server
. You can set the exact amount of RAM, CPU, and storage you need, without any restrictions. All servers come unmanaged by default with full root access. While there are server management options available, they exist as expensive add-ons which can end up costing more than your actual server. You can get cheaper and more extensive managed service with many of the below hosts, so Kamatera definitely works better as an unmanaged solution. However, this makes it a poor option for beginners. All servers use powerful Intel Xeon processors, which should result in a fantastic performance.
There are 13 data centers available around the globe
, making Kamatera a great solution wherever your target audience may be.
Features:
Instant scalability. Adjusting your server is easy. You can scale any resource up or down, with changes taking place instantaneously. Your site should experience no downtime.
Preinstalled Linux OS. When building your server, you can choose a version of Linux to be installed and ready to use. The options include CloudLinux, CentOS, Debian, Ubuntu, and more. Some of these may add license fees to your bill, so be careful.
Precise billing. Kamatera charges by the second for your server, or by the minute for block hosting. This means you're always paying exactly for what you use.
Generous free trial. You can try Kamatera's powerful servers risk-free by taking advantage of its 30-day free trial. This allows you to create and run your own VPS, as long as it stays within $100 monthly value.
Data center locations
3 in the US, 1 in Canada, 3 in Europe, 5 in the Middle East, and 1 in Asia
Money-back guarantee
30-day free trial
Uptime guarantee
99.9%
Starting price

$

4.00
Liquid Web's main focus is providing managed service.
Every cloud VPS plan is core-managed by default
– this means the OS and security of your server will be fully installed and managed, but you'll still perform most administrative tasks yourself. Your server will also be monitored 24/7, and if any issues are detected, Liquid Web will fix the issue and get you back online. By paying a small monthly fee, you can upgrade to a fully-managed service. This is ideal for beginners as it includes all the support and assistance you require. However,
the biggest selling point to me was the 100% uptime guarantee
. Even the support service is subject to guaranteed response times, which is pretty unique. If Liquid Web fails to fulfill any of its promises, you may be compensated via service credits.
Liquid Web also offers a 30-day money-back guarantee
on all of its VPS plans.
Features:
InterWorx control panel. While you may also use cPanel or Plesk, the InterWorx control panel comes with an unlimited number of accounts for free.
Built-in security. Liquid Web features a good set of security features, including DDoS protection and a firewall. The exclusive ServerSecure Advanced solution is also available, for fully-managed clients.
Off-server backups. All backups made with Liquid Web are made off-server by default. While you can make account-level backups at any time, full server backups require the affordable Cloud Server Backups add-on.
Option for unmanaged VPS. If you prefer to have complete control over your server, you can choose to keep it fully unmanaged. Your server will still be monitored 24/7, but you will lose all other aspects of managed service.
Data center locations

2 in the US, 1 in Europe

Money-back guarantee

30 days

Uptime guarantee

100%

Starting price

$

15.00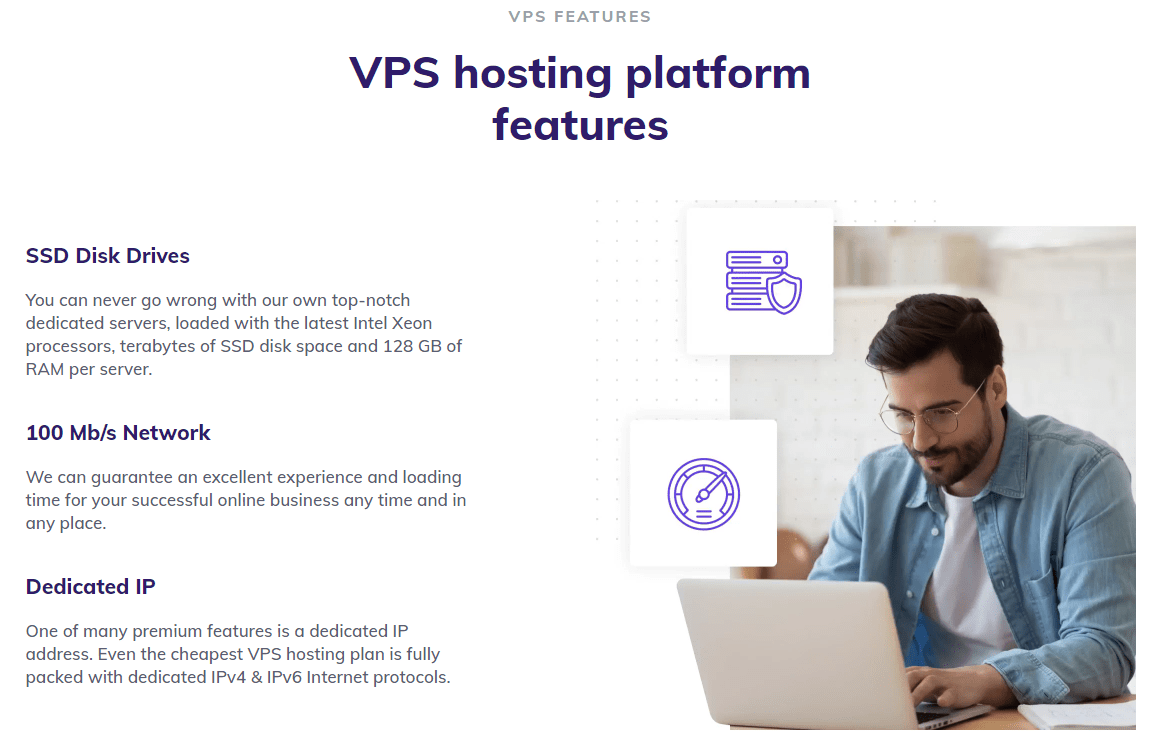 Looking for a budget option?
Hostinger's VPS plans are super-affordable – they're easily the cheapest option
on this list. Despite the low prices, you still get a quality VPS that boasts great performance and near-perfect uptime. Hostinger describes its VPS plans as semi-managed. What this means is that you'll be taking full responsibility for maintenance and security, but you can rely on Hostinger's support team for help with the basics. However, you'll likely be on your own (or checking the knowledge base) for anything technically specific. While it lacks the customizable resources of Kamatera, it's very easy to upgrade your hosting plan for more resources and speed.
Changing your plan does not result in any downtime,
so you can keep serving your site's visitors during the process.
A free domain name is included with some hosting plans from Hostinger
Features:
RAID SSD. All of Hostinger's VPS plans make use of a double RAID configuration. This provides your data with a level of redundancy: if one SSD drive fails, your data will be safe on another.
On-demand snapshot. You can take a full snapshot of your VPS at any time. This backs up the state of your VPS along with all of its files and data. You can restore this at any time with a single click.
Auto-installer. Hostinger provides a VPS control panel that contains a useful auto-installer. You can use this to install popular Linux OS templates, along with CMSs and web apps.
Dedicated IP. Even the cheapest plan comes with a dedicated IP address.
Data center locations

1 in the US, 3 in Europe, 2 in Asia, 1 in South America

Money-back guarantee

30 days

Uptime guarantee
99.9%
Starting price

$

5.99

A2 Hosting features both managed and unmanaged VPS. However, it was the managed VPS plans that drew my attention, for their numerous features and generous resource allocations.
Even the cheapest managed VPS plan includes 150GB SSD space, 2 CPU cores, and 4GB of RAM
, which is
plenty
to get started. The managed service is pretty extensive, including full support, software updates, and extensive security features. Unfortunately, A2 Hosting's managed plans are expensive. If you choose an unmanaged plan, you'll save a ton of money, but you'll need developer-level knowledge to maintain it yourself.
Features:
Impressive technology. If you pay for a Turbo Server plan, you can enjoy a significant performance boost thanks to various tech upgrades. A2 Hosting's Turbo Servers use the latest NVMe SSD drives and AMD EPYC processors, as well as multiple layers of caching tech for maximum speed.
cPanel and Softaculous. Every VPS plan comes with at least one free cPanel account. You also get access to Softaculous, which allows you to install hundreds of popular apps, web scripts, and content management systems (CMSs) easily.
Free site migration. In most cases, A2 Hosting will migrate your site from another service for free. This is a hands-on migration performed by the support team.
Generous refund policy. If you decide to cancel after the money-back guarantee expires, you'll still be eligible to receive a prorated refund for the time left on your contract.
Data center locations

2 in the US, 1 in Europe, 1 in Asia

Money-back guarantee
30 days
Uptime guarantee
99.9%
Starting price

$

2.99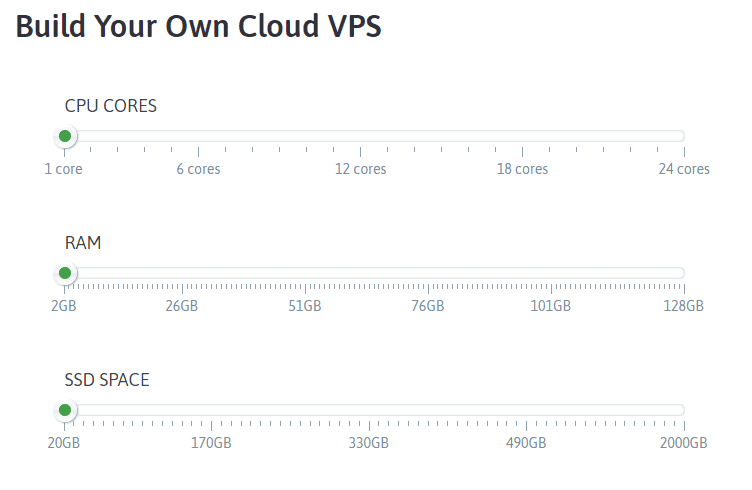 Like A2 Hosting, Scala Hosting also offers both unmanaged and managed VPS. The managed VPS plans are actually the cheaper of the two if you take advantage of its special introductory pricing –
Scala Hosting is actually the cheapest option for managed VPS in this list.
There's a lot to like about Scala Hosting's managed plans. You can custom-build your own server with the exact amount of resources you need, which will then be fully optimized, secured, and maintained for you. Additionally,
my performance tests revealed great speeds and perfect uptime over several months of testing
. Scala Hosting also offers a proprietary control panel called SPanel, which is well-designed and easy to use. However, you have to be wary of the renewal rates – the price of the cheapest plan doubles, for example.
A free domain name is included with some hosting plans from ScalaHosting
Features:
High level of redundancy. To protect against data loss or slow loading, Scala Hosting keeps three copies of your website on three different servers. If any one server slows down or fails, your traffic will be automatically directed to a different one.
Automatic snapshots and remote backups. Your files, email messages, and databases are automatically backed up daily. These backups are stored remotely and can be partially or fully restored through SPanel. Scala Hosting also takes a daily snapshot of your server.
SWordPress manager. Scala Hosting's control panel also features a WordPress manager. This keeps your WordPress software up to date, and provides useful functionality such as site staging and security management.
Unlimited site migrations. Scala Hosting's migration specialists will move an unlimited number of sites for you, with no downtime during the transition(s).
Data center locations

3 in the US, 1 in Canada, 4 in Europe, 2 in Asia

Money-back guarantee
30 days
Uptime guarantee
99.9%
Starting price

$

20.00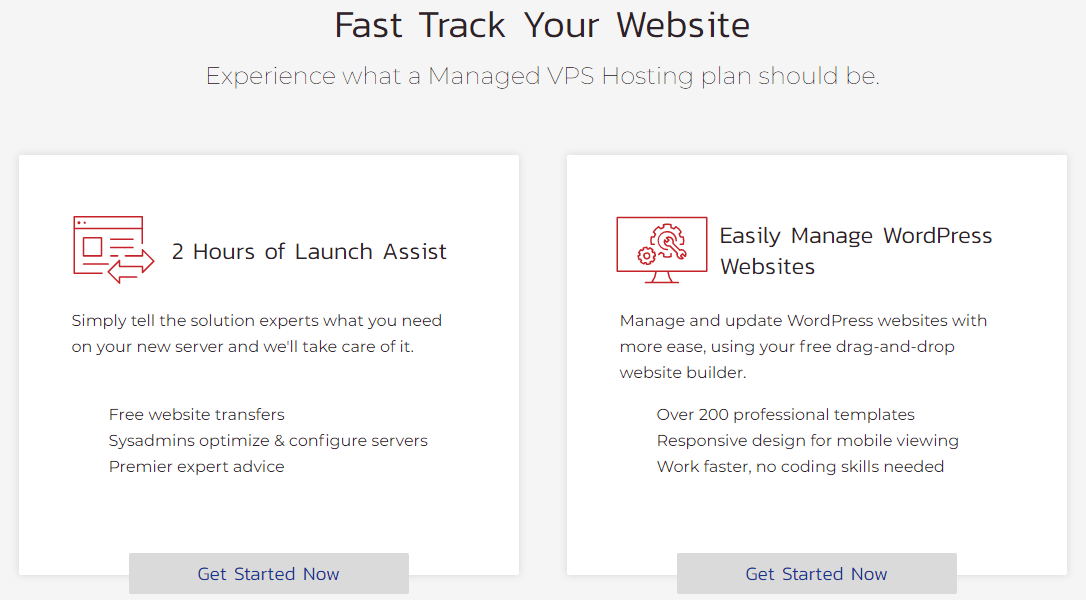 InMotion Hosting offers both managed and unmanaged VPS, and
both are covered by a 90-day money-back guarantee if you pay up front for a semi-annual plan or longer.
The managed plans are quite expensive, but they include plenty of resources.
The cheapest plan
 offers 2GB of RAM, 45GB SSD space, and unlimited bandwidth.
Every plan also includes five cPanel licenses, which will be helpful if you're planning on reselling hosting. InMotion Hosting also makes it easy to get started –
every managed VPS plan comes with access to 2 free hours of the premium Launch Assist service.
Simply tell InMotion's support team what you need – website migration, server optimization, or app installations – and they'll get it done. Unfortunately, InMotion Hosting's server performance tended to be inconsistent during
my tests
, and while it claims to provide 99.99% uptime, it does not offer a formal uptime guarantee.
Features:
UltraStack caching. InMotion provides advanced caching technology with its UltraStack solution. This includes an NGINX proxy and Redis object caching, which can significantly speed up page loading times.
Free domain. If you purchase a semi-annual or longer plan, you get a free domain name registration credit for a year.
Unlimited email and databases. All managed plans come with unlimited email accounts (with spam protection) and unlimited MySQL databases.
BoldGrid site builder. If you're developing a WordPress site, InMotion Hosting provides the useful BoldGrid site builder. This allows you to design a site with easy drag-and-drop functionality.
Data center locations

2 in the US

Money-back guarantee

90 days

Uptime guarantee
None
Starting price

$

24.99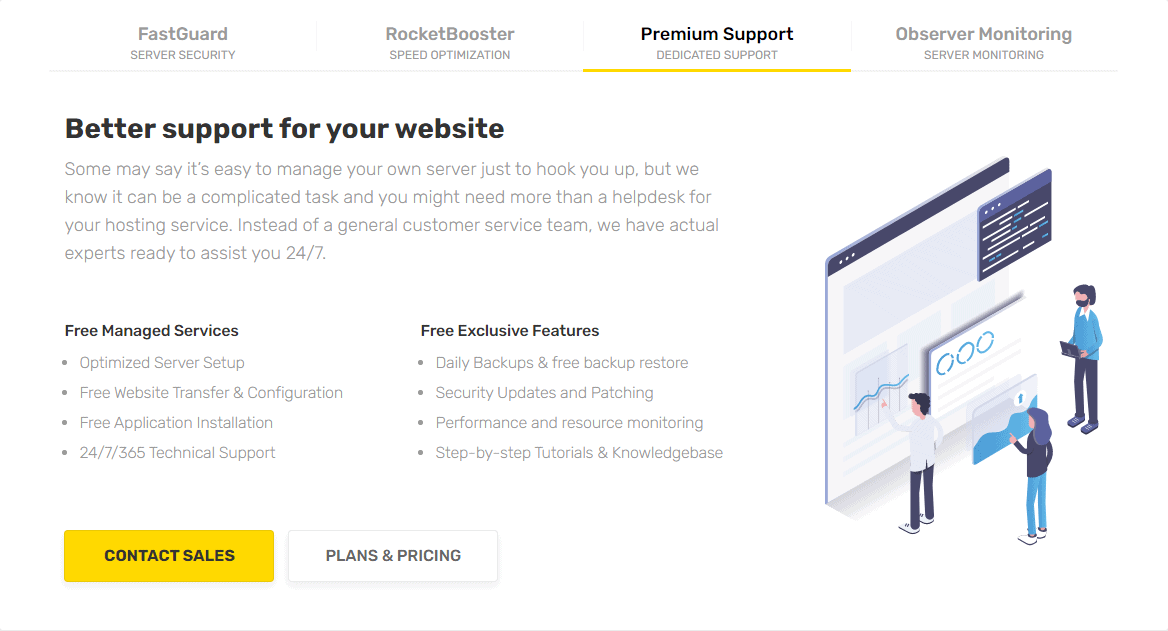 A helpful support service can be absolutely vital to your success. This is something FastComet understands well, as
its managed cloud VPS hosting is backed by a support team that truly goes above and beyond for its customers
. Seriously, I've come to FastComet's support team with complex technical issues before, and they've worked hard to solve problems, even going so far as to fix them for me. When many other hosts will just point you to some semi-relevant documentation, it's very refreshing to receive actual hands-on assistance. FastComet's managed service also excels. While other VPS hosts tend to not provide support or management for anything beyond the OS of your server,
FastComet will configure and provide assistance with third-party apps and plugins
. My only complaint about these VPS plans would be the prices. You can get more resources for less money with most other hosts.
Features:
Automatic daily and weekly backups. Your site and its data will be backed up automatically every day. An extra automatic backup also takes place weekly. All backups are stored offsite and can be restored with a single click.
Wide network of data centers. FastComet features 11 total data center locations, covering three major continents.
Optimized servers. FastComet's cloud VPS servers are pre-optimized for you as part of its fully-managed service. This includes most popular third-party applications, plugins, and modules you may want to have installed.
Extensive security. In addition to the automatic backups mentioned above, FastGuard offers a wide-ranging security solution that is installed and configured for you. It includes a web application firewall, malware scanning, DDoS and botnet attack protection, and more.
Data center locations

3 in the US, 1 in Canada, 3 in Europe, 1 in Australia, 3 in Asia

Money-back guarantee

7 days

Uptime guarantee
99.9%
Starting price

$

46.16

InterServer's Linux VPS plans offer consistently good performance and reliable uptime at budget prices.
While it isn't as cheap as Hostinger's discounted prices for new customers, it can be the more affordable option in the long run
, as InterServer will not ramp up the cost of your hosting plan at renewal time.
With InterServer, you purchase "slices" of a VPS.
Each slice comes with the same set of resources. Purchasing more will allow you access to more resources overall, powering up your VPS. If you buy 4 slices or more, managed service is included at no extra charge. Even with four slices, the price is pretty reasonable, making InterServer a good choice for budget managed VPS too. Keep in mind, however, that InterServer's support service is rather poor. It is slow to respond, especially if you use ticketing support.
Features:
Reliable SSD. InterServer's SSD drives use an ultra-reliable RAID-10 configuration. There's little to no chance that you will experience any data loss.
Cloud-based backups. While there is no free backup solution, you can pay for a premium backup service. This makes it easy to take incremental backups and snapshots of your server, securing them with powerful encryption.
WordPress VPS plans. InterServer also features VPS plans specifically geared towards WordPress sites for the same price. The server is optimized specifically for WordPress.
DirectAdmin control panel. The DirectAdmin control panel is included at no extra charge, but you can pay extra if you want to use cPanel or Plesk instead.
Data center locations

2 in the US

Money-back guarantee

None

Uptime guarantee
99.9%
Starting price

$

6.00
Which Is the Right Linux VPS for Me?
Many hosting providers offer Linux-based VPS hosting, making it challenging to determine their quality without actually signing up for a plan, which can be a significant gamble. Choosing poorly can result in financial losses, and although most companies provide money-back guarantees, experimenting with a new service will consume your valuable time. After my extensive testing, I can assure you that all of the hosts above offer quality VPS plans. It's simply a matter of choosing the one that fits your particular needs. If you're still unsure, here are my recommendations.
Kamatera features a fully customizable and scalable VPS hosting solution
. It's perfect if you're an experienced user who can really make the most out of the freedom it provides. On the other hand,
if reliability and ease of use are your top concerns, Liquid Web's 100% uptime guarantee and impressive managed service make it a great choice.
Looking to save money?
Hostinger is by far the cheapest option to start with.
A2 Hosting's VPS plans include a truckload of resources
, while
Scala Hosting
 offers cheap managed VPS with fantastic uptime
. Want to skip the slow server setup process?
InMotion Hosting
's Launch Assist service will help you personalize a server to your exact needs,
even if you're not well-versed in server configuration.
If you're a beginner to VPS hosting, I'd say FastComet is your best bet, thanks to its fantastic support and extensive managed service
. However,
InterServer
 features no renewal fees on its super-cheap plans, while providing consistently great loading speeds. 
Standout feature
SSD storage
Beginner friendly?
Starting price
Kamatera
Fully customizable and scalable cloud VPS with lots of available data centers
20GB – 4000GB

✘

$

4.00

Liquid Web
100% uptime guarantee with good managed service
40GB – 200GB

✔

$

15.00

Hostinger
Cheapest option with good speeds and real-time scaling
20GB – 160GB

✘

$

5.99

A2 Hosting
Powerful resources with impressive tech in premium plans
150GB – 450GB

✔

$

2.99

Scala Hosting
Budget managed VPS with fantastic reliability
20GB – 320GB

✔

$

20.00

InMotion Hosting
Generous money-back guarantee with a personalized server setup
25GB – 640GB

✔

$

24.99

FastComet
Brilliant tech support with extensive managed service
50GB – 320GB

✔

$

2.19

InterServer
Cheapest option in the long term with consistently good performance
30GB – 480GB

✔

$

6.00
FAQ
Why is VPS hosting so expensive?
VPS hosting tends to be more expensive than shared hosting as there are fewer customers per server, and you receive dedicated resources, as well as more resources overall. If you're looking to save money, check out the great savings on VPS hosting for 2023 on our coupon page.
Do I need VPS hosting?
It depends. If you don't need top loading speeds or near-perfect reliability, or if you're only hosting a single site, a shared hosting plan might offer you better value. If this is the case, take a look at our list of the best web hosting providers in 2023 to see what might make a good fit for you.
Is Kamatera easy to use?
Kamatera features managed service as a paid add-on, which can simplify things significantly. However, it's very expensive. Otherwise, it is only easy to use if you're a developer. Instead, I'd recommend Liquid Web or Scala Hosting – both offer great managed services at lower prices.
Which is the cheapest hosting service?
Hostinger is the cheapest option to begin with, thanks to its discounts for new customers. However, your chosen plan will eventually renew for a significantly higher price. InterServer's plans start at a fairly low price and incur no renewal fees, making it the cheaper option in the long run.