once you look closely, you'll notice its preset server plans lack the essential features you'll find with other hosts
, like a fast network service, multiple levels of security, and user-friendly control panels. That's why looking for alternatives to Kimsufi is a wise idea before making a commitment. To make things easy for you, I tested dozens of services and focused on the key elements that Kimsufi lacks – especially when it comes to value and features.
It's important to choose a hosting provider that won't make you spend more money for add-ons that other services offer for free.
The top five hosts on my list offer much more flexible VPS and dedicated server solutions, stronger infrastructure, consistent uptime, and better support at an affordable cost.
Short on Time? Here Are the Best Alternatives to Kimsufi in 2023:
Kamatera – Powerful cloud VPS servers with high resource allocations.
InterServer – Affordable Windows- and Linux-based dedicated server hosting.
Hostinger – Cheap long-term VPS plans with five OSs to choose from.
What We Look For in the Best Alternatives to Kimsufi
The top hosts on my list had to achieve high scores in these categories:
Reliability. OVHcloud may deliver decent loading speeds, but its uptime can be unstable. Since Kimsufi is powered by OVHcloud, experiencing frequent downtimes is inevitable. That's why I focused on web hosts that have a proven track record when it comes to server availability.
Multiple server locations. Kimsufi has servers in OVHcloud's data centers, which are located in Europe and North America. If your target audience is in Asia, South America, or Australia, you'll want a host with data center locations near these regions.
Efficient 24/7 customer support. Kimsufi isn't the best when it comes to support. You can only contact its staff via ticket system – and only in theory can you expect a response. Support is also limited to business hours only. That's why I picked hosting services that offer multiple support options around the clock.
Customization and scalability. If you're not happy with Kimsufi's preconfigured dedicated servers and want more resources or better hardware, you're better off with one of the hosts from my list.
Refund policy. Kimsufi doesn't offer a free trial or a money-back guarantee, so you won't get the chance to test the service before committing to a plan. The hosts I've listed have a free trial or money-back guarantee.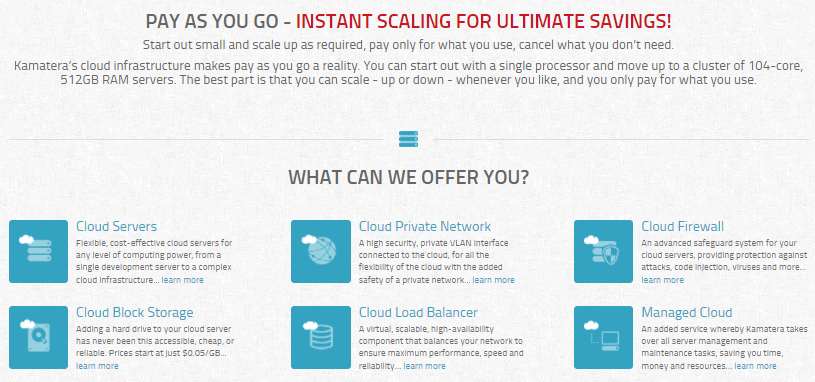 The beauty of Kamatera is that no matter how large or small your project is, Kamatera will have a server for you. That's because Kamatera specializes in highly customizable cloud-based VPS hosting.
Not only does it allow you to custom-build your server to fit the size of your project, but you can also add individual resources later to keep up with your growing business.
Unlike Kimsufi, Kamatera doesn't have fixed price plans. You can use its price calculator to determine how much your server will cost before ordering it – and
there are no hidden fees, so the price you see is the price you'll pay.
Kamatera offers over 1000 server configurations.
You can choose from several different operating systems and control panels, number of vCPUs (up to 104 cores), memory size (up to 512GB), and SSD storage amount. You can even choose whether you want the server managed or not.
Features
Fast deployment. With Kamatera Express, you can create and deploy a server in minutes. You can also start off with a preconfigured server, but you'll still have your pick of data center location and OS.
Managed services. For an additional fee per server, Kamatera can manage your server. There are two levels: basic and extended. On the basic plan, Kamatera will manage your OS (installation, configuration, troubleshooting). The extended plan includes this, plus database and development support.
13 global data centers. There are several global data center options to choose from, including four locations in Israel, three locations in the US, and one in Canada, Germany, the Netherlands, UK, and Hong Kong.
Free trial. Even though Kamatera doesn't have a money-back guarantee, it does have a 30-day free trial. During the trial period, you'll get 1 cloud server, 100GB block storage, and 1000GB of outgoing traffic.
For more on features, see our expert Kamatera review
.
Operating systems available

Rocky Linux, AlmaLinux, CentOS, CloudLinux, Debian, FreeBSD, TrueNAS, FreeNAS, openSUSE, Ubuntu, Windows Server, Windows (plus the ability to install your own licensed OS)

Data center locations

US, Canada, the Netherlands, Germany, UK, Israel, Hong Kong

Customer support

24/7 email, support ticket, and phone

Starting price

$

4.00

In addition to the regular hosting solutions, this host has a wide range of cloud-based hosting plans.
InterServer's affordable dedicated server plans are fairly customizable
– you can adjust memory and hard drive size, bandwidth allotment, and operating system and control panel. There are also a handful of rapid deploy servers that are ideal for quick app installations.
InterServer has three types of VPS hosting: Linux, Windows, and storage.
Each plan can be scaled based on CPU cores, so that the more cores you choose, the more RAM, SSD storage, and monthly bandwidth you'll get. The configurations can go as high as 16 CPU cores, with 32GB of RAM, 480GB SSD storage, and 16TB of monthly bandwidth. You can also choose from 16 different operating systems. Let's talk about performance.
InterServer's data centers are based in the US, and it delivers pretty decent speeds in this region, with average loading times well below 2 seconds.
Surprisingly, though, it also delivers the same loading speeds in Western European countries like France and the UK. Germany and the Netherlands also have good loading times.
Features
Free site migration. Transferring your website from another host to InterServer is completely free and taken care of by InterServer's experts.
Free managed support. InterServer sells its VPS servers by the "slice," which means you can easily upgrade your resources without jumping into a whole new plan. Once you have four or more slices, you'll get managed support for free.
Optimized WordPress VPS. If you need the resources and flexibility of a VPS for your WordPress site, InterServer's plans might be for you. In addition to expert support, you'll get performance-enhancing features such as servers enabled with FastCGI and NGINX, OPcache, and SSD storage.
Fail-safe solutions. InterServer's servers run on a self-healing system, which means that through AI, they have the ability to anticipate system failures and redirect resources to backup nodes before going offline. This is also one of the reasons why InterServer is able to maintain a near-perfect uptime.
Read our full InterServer review for more information
.
Operating systems available

Debian, CentOS, Ubuntu, Arch Linux, Windows, Windows Server, CERN Linux, Funtoo, Gentoo Linux, Openwall, ALT Linux, SUSE, Scientific, Fedora, OpenSUSE, Slackware

Data center locations
US
Customer support

24/7 live chat, Facebook chat, email, support ticket, phone

Starting price

$

2.50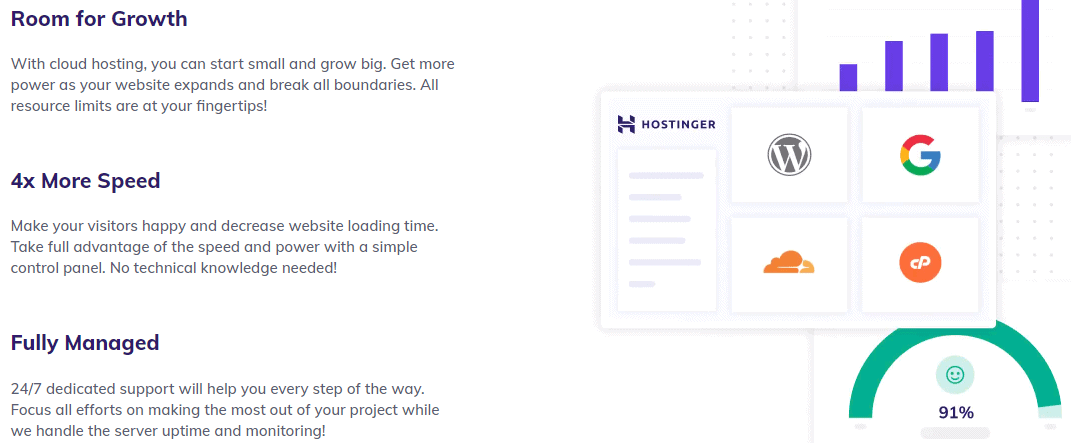 Among its wide range of hosting solutions, Hostinger offers VPS hosting and Minecraft VPS hosting. It also has cloud hosting plans that can be scaled to accommodate any project.
Starting at just

$

9.99

per month, Hostinger offers some of the most affordable cloud plans in the industry.
The most basic cloud plan, Startup, still has enough resources to run a pretty robust website.
You'll get 2 CPU cores, 3GB of RAM, 200 GB of SSD storage, and unlimited bandwidth that can be shared by up to 300 hosted sites.
Free features include a domain (paid for a year), dedicated IP, SSL certificate, Cloudflare CDN integration, account access manager, and daily backups. Before going into how reliable Hostinger's customer support is, it's worth mentioning that
Hostinger's knowledge base is highly comprehensive, with articles and tutorials covering all major topics for each hosting category
. In the very rare case you don't find your answers there, Hostinger's support is available 24/7 through email, live chat, and support ticket. Whenever I turned to live chat, the agent was always able to resolve my issue.
A free domain name is included with some hosting plans from Hostinger
Features
Backups for VPS plans. Unlike Kimsufi, Hostinger's VPS plans include automated backups. You'll also be able to create a snapshot of your server – capturing its state and date at a specific point in time – that can be used to restore your server should something go wrong.
Strong infrastructure. VPS plans run on a speedy 100 Mb/s network. You'll also get LiteSpeed-enhanced servers and NVMe SSD drives.
Exceptional performance. Globally dispersed data center locations allow Hostinger to deliver fast loading speeds in most regions around the world. My colleague's tests showed an average loading speed of 1.5 seconds, and the slowest speed was still under 2 seconds.
Refund policy. If you're not satisfied with any of Hostinger's plans, you can request a full refund within 30 days.
For full performance results, read our Hostinger review
.
Operating systems available

CentOS, Ubuntu, Fedora, Debian, SUSE

Data center locations

US, UK, the Netherlands, Lithuania, Indonesia, Singapore, Brazil

Customer support

24/7 live chat, email, and support ticket

Starting price

$

1.99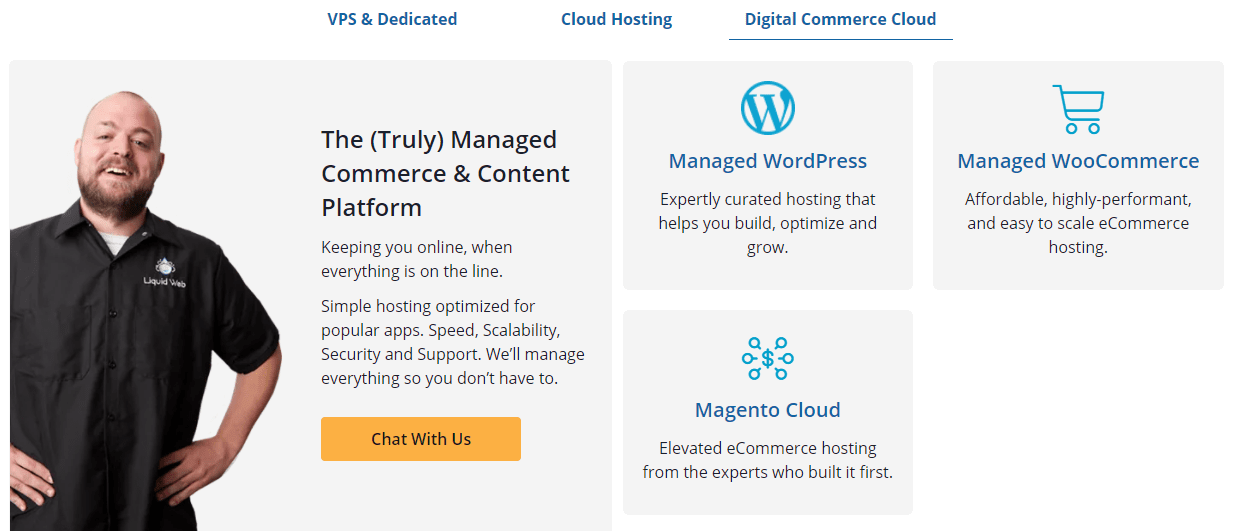 If you're looking for managed cloud hosting (VPS, dedicated servers, WordPress, or WooCommerce), Liquid Web is an excellent option. Liquid Web doesn't offer "starter" VPS plans like Kimsufi, so prices can be significantly more expensive than Kimsufi's offerings. But
for paying a premium, you'll get advanced security features, better resources and infrastructure, server management, and remote backups
with Acronis Cyber Backups.
If you have a small budget, you can sign up for Spark, Liquid Web's entry-level managed WordPress plan.
This plan includes 1 hosted website, 15GB of disk space, daily backups (for 30 days), 2TB of bandwidth, free SSL, unlimited email accounts, and developer tools (SSH access, Git integration, and WP-CLI).
Liquid Web's WordPress plans have a 14-day free trial
.
Features
Support for Linux and Windows. While Kimsufi only offers Linux-based plans, Liquid Web has several hosting solutions for both Linux and Windows, including cloud VPS and managed dedicated servers.
Top-quality infrastructure. Liquid Web's dedicated servers use high-performance hardware such as Intel Xeon Silver 4108 and Intel Xeon Gold 6226R. In comparison, Kimsufi is currently offering Intel Xeon E3 CPUs.
Uptime SLA. While Kimsufi's 99.5% uptime guarantee is around the industry average, Liquid Web goes one step further by guaranteeing 100% network uptime. If you're signed up to a dedicated hosting plan, you'll be eligible for a hosting credit for any downtime experienced.
Support SLA. Liquid Web's SLA also has a response time guarantee. If you don't get an initial response from live chat or phone in 59 seconds or less (and 59 minutes or less from ticket support), you'll be eligible for hosting credits.
Interested in learning more? Read our in-depth Liquid Web review
.
Operating systems available

CentOS, Ubuntu, Debian, Fedora, CloudLinux, Windows Server

Data center locations

US, the Netherlands

Customer support

24/7 email, support ticket, and phone

Starting price

$

15.83

While FastComet's VPS plan options may lack the sheer number of preconfigured servers that Kimsufi offers, they're completely scalable on demand.
There are currently four plans to choose from, which range in size from 1 to 6 CPU cores, 2GB to 16GB of RAM, and 50GB to 320GB of SSD storage. All plans give you the ability to host unlimited websites and come with cPanel, along with a wide range of freebies.
All VPS plans are protected with FastGuard security, which uses advanced AI to continually update its repository of malware and botware
. There's dual protection at the hosting and app level, and your server will be protected from brute-force and DDoS attacks. There's also free SSL and daily backups that are retained for 30 days. Even though FastComet's prices fall on the higher side, it's clear that its resources and value-added features are well worth the price tag. And while Kimsufi doesn't have a money-back guarantee,
all FastComet VPS plans have a 7-day money-back guarantee
.
Features
Free hosting. If you want to move to FastComet but still have remaining time in your previous contract, you'll be eligible for up to six months of free hosting with FastComet while you wait for your contract to run out.
Premium support. Managed VPS plans get the white glove customer service. Free website transfer and configuration, app installations, daily backups and site restoration, and security updates are all included.
Monitor your site through the dashboard. Through the Observer Monitoring Dashboard, you'll be able to track CPU usage, memory usage, uptime, and more – all in real time.
More server locations. FastComet, like Kimsufi, maintains data centers in North America and Europe, and it additionally boasts data centers in Asia. If your target audience resides in this region, opting for FastComet would be the more advantageous choice.
See more standout features in our FastComet review
.
Operating systems available

Linux (with the option to run unmanaged Linux-based OSs)

Data center locations

US, Canada, UK, the Netherlands, Japan, Singapore, Germany, India, Australia

Customer support

24/7 live chat, email, support ticket, and phone

Starting price

$

2.19
If Kimsufi Isn't Right for You, Consider These Alternatives
If you're looking for fully managed VPS or dedicated server hosting and you have a fairly flexible budget, then you should consider Liquid Web.
With
Liquid Web's feature-packed managed plans
, you can spend less time tinkering with server maintenance and more time developing your website or app.
If you're leaning toward a more budget-friendly solution with more scalable options for large operations, Kamatera is an excellent choice.
You'll find that not only do its cloud VPS plans provide you with more resources and server locations worldwide than Kimsufi, but also that you have the freedom to scale your resources at any time. On the other hand,
if you're looking for a beginner-friendly host or have a small to medium-sized website, I'd go with InterServer
. It supports both Linux and Windows OSs, and you get a 30-day money-back guarantee. Still unsure? Use the following table to compare my top recommendations.
Standout Feature
Money-Back Guarantee
Managed Hosting Available
Starting Price
Kamatera

Cloud VPS hosting with customizable servers and scalable resources

30-day free trial

✔

$

4.00

InterServer

Highly affordable VPS hosting sold by the "slice"

30 days

✔

$

2.50

Hostinger

Cheap long-term plans, including VPS, with impressive page load speeds

30 days

✘

$

1.99

Liquid Web

Top-tier infrastructure with 100% uptime SLA

30 days

✔

$

15.83

FastComet

VPS plans with priority support and advanced security features

7 days for VPS and dedicated server plans

✔

$

2.19
FAQ
Which is the best Kimsufi alternative?
For affordable and quality dedicated server hosting, I recommend InterServer. InterServer lets you customize your server, and you can easily adjust RAM, CPU cores, memory, and more before deployment. You'll also get a slew of free premium features like DDoS protection, managed support, and data migration. Plus, there are no setup fees.
Are there free alternatives to Kimsufi?
I wouldn't recommend getting free hosting for your website – especially if you're looking for the type of power and resources you'd get from VPS or dedicated server hosting. Free services simply can't offer this, and you'll probably experience server interruptions and slow loading speeds. If you're looking for reliable web hosting on a budget, take a look at our coupons and deals page for some great discounts.
How do I cancel Kimsufi?
In order to terminate your account with Kimsufi, you'll have to wait until your subscription term ends. You can cancel your subscription before this time, but you won't get refunded for any remaining time on your plan. It's also worth mentioning that it's important to do all the necessary data backups before canceling your account. If you're considering a new web service, take a look at our top 10 web hosting services in 2023 for our pick of the best hosts in the industry.
Which is the cheapest and most reliable Kimsufi alternative?
If you're tight on budget, I recommend Kamatera. It specializes in customizable cloud hosting that provides better quality and higher scalability than Kimsufi's dedicated server plans. With Kamatera, you'll be able to fully configure your server, and you can choose from 13 data centers worldwide.