Perhaps you're not too sure how much you should spend on web hosting, or what to look for in a hosting plan
.
It's important to identify the features you need for your travel blog to avoid paying for ones you don't need
. You may be overwhelmed with way too much information, features, and specs – but it doesn't have to be that way. I've outlined what you should be looking for below, in detail. The main things you will need are: powerful enough server infrastructure to allow your travel blog to support more visitors over time, enough storage for your media files, and good value for money overall.
We've tested and found six of the very best web hosts for travel blogs
to help you make a decision.
Short on Time? These Are the Best Web Hosts for Travel Blogs in 2023
Hostinger – Excellent performance and low prices make Hostinger a great choice for travel blogs with lots of media content.
InterServer – With unlimited bandwidth and storage, InterServer allows you to upload as many travel images as you like.
Kinsta – Kinsta is the best-performing WordPress host on this list thanks to Google Cloud Platform and NGINX caching.
What We Look For in the Best Web Hosts for Travel Blogs
The most important thing to consider when you're shopping for hosting is value for money
– which is more than just price. You need to ensure that the plan has the correct features for a travel blog. So, I've focused on these specific travel-blogging features:
Easy CMS installation. Most travel bloggers use WordPress, which is the most popular content management system (CMS) on the web. It allows you to manage a travel blog in a very straightforward way.
Server caching. Server caching helps your travel blog and its content load much faster from the originating server. It's a process that saves static copies of your pages for future use.
Content delivery network (CDN). A CDN helps your travel blog posts and images load more quickly for your international site visitors. This works by caching content on servers nearer to wherever your site visitors reside.
Adequate storage space. Most hosting plans offer more than enough storage for many hundreds or thousands of images, but if you already have a lot of images to include in your travel blog, you should pay careful attention to this detail.

Hostinger is the lowest-priced host on this list.
It also consistently scores highly in terms of performance and reliability in our testing. But keep in mind that the renewal price will be higher than the price of your initial term (as is the case with most web hosts).
Hostinger's Single Shared Hosting plan works well for travel blogs
as it includes generous amounts of storage and bandwidth. The entry-level shared hosting plan should suffice until your blog starts to get significant traffic. If your website gets really busy, you'll have the option to upgrade to one of Hostinger's virtual private servers.
A free domain name is included with some hosting plans from Hostinger
Features
One-click software installer. Hostinger offers one-click installs of popular website software, including CMSs like WordPress. WordPress offers the easiest interface to manage any kind of blog.
WordPress acceleration. In this case, "acceleration" means that Hostinger's LiteSpeed server infrastructure is specifically designed to load WordPress site pages more promptly.
Site-building wizard. All of Hostinger's plans include access to an easy-to-use WordPress site setup wizard called WP Starter. While not a full site builder, it does help to simplify the process of getting your site up and running.
Free weekly backups. Many hosts do not offer free backups with entry-level plans. Hostinger offers free weekly backups on all but its most expensive shared hosting plan. The more expensive Business Shared Hosting plan offers free daily backups.
Read our expert Hostinger review for more details
.
WordPress Optimized?

✔

Storage

30GB – 200GB

Bandwidth

100GB – Unlimited

Starting Price

$

1.99
Nexcess' cloud-based platform works well
for travel blogs with high or variable traffic flow,
as cloud hosting can scale to meet demand. Its prices are somewhat higher as a result, however, which is why it falls to second spot on this list.
Nexcess managed WordPress hosting service offers above-and-beyond assistance from the support team
– for example, agents can help optimize your WordPress installation so you can get the most out of it. Also, there are tools that help to maintain your site – like the Plugin Performance Monitor, which measures performance changes from plugin installations and updates.
Features
One-click staging site. A staging area allows you to make and test changes on a private copy of your site before making them visible on your live site.
Free daily backups. Nexcess offers free daily backups on all of its plans. This means that your website's contents will be safe in case you break it or it somehow gets hacked.
Nexcess CDN. Even if some of your site visitors aren't close to your website's data center, Nexcess' Edge CDN will cache your travel blog's images and other content on servers all around the globe. This will allow it to load faster in locations away from the data center.
iThemes Security Pro. iThemes Security Pro is a premium security plugin for WordPress that has many built-in features and "smart plugin defaults". This helps secure your travel blog from spam, malicious attacks, and various other threats.
Read our expert Nexcess review for more details
.
WordPress Optimized?

✔

Storage

15GB – 800GB

Bandwidth

2TB – 10TB

Starting Price

$

21.00

If you plan to upload tons of photos of your travel adventures,
InterServer's Standard shared hosting plan offers unlimited bandwidth and solid-state drive (SSD) storage
. So, you'll be able to publish as many blog posts and images as you like – and let your blog traffic grow over time – without worrying about running out of drive space or data transfer allocation. One thing I don't like too much about InterServer is its price after your first month. Even though your first month is very affordable, it nearly triples in price after that. But even with that in mind, the features mentioned above still make InterServer a worthwhile option.
Features
One-click CMS installation. With InterServer's one-click CMS installation, your WordPress-based blog can be up and running in a matter of minutes – but there's also another option (below) that you might find useful.
SitePad website builder. Offered for free with InterServer's standard web hosting plan, SitePad is a drag-and-drop builder that requires no previous coding knowledge. It's another option to build your first website, if you're not interested in using WordPress.
Inter-Insurance. InterServer's "Inter-Insurance" security policy protects your site from being compromised by preventing security issues as much as possible, and investigating them if they arise.
30-day money-back guarantee. InterServer has a no-questions-asked money-back guarantee. If you decide InterServer isn't right for you, you'll have 30 days to cancel your account and services, and request a refund.
Read our expert InterServer review for more details
.
WordPress Optimized?

✔

Storage

Unlimited

Bandwidth

Unlimited

Starting Price

$

2.50

When it comes to WordPress hosting, no host on this list is as solid an option as Kinsta.
Kinsta has possibly the most advanced server infrastructure on this list and is suitable for travel blogs that expect a lot of traffic – but it's also a bit pricier as a result. However,
Kinsta's WordPress-optimized, cloud-based hosting
is superior to that of many other cloud-based hosts as well as regular shared hosting.
Kinsta's hosting infrastructure, built on Google Cloud, helps your image-heavy site load quickly
, making the browsing experience more enjoyable for your travel-aficionado readership.
You should consider Kinsta if you have an established, high-traffic site
that requires excellent performance to serve a high number of monthly blog readers. You get 10GB of storage with Kinsta's entry-level plan – this is more than enough for approximately 4,850 images at 2MB (or 2,048kB) apiece, or around double that at 1MB (or 1,024kB) apiece.
Features
Google's server hardware and data centers. Google Cloud Platform is one of the main reasons Kinsta is a top choice. GCP by itself is not a host for beginners, but Kinsta makes it easy to harness its power with its control panel, pre-optimized server stack, and knowledgeable support.
Cloudflare Enterprise. A $200/month value, included in all Kinsta plans. Cloudflare Enterprise gives you a couple of features that the basic version doesn't, such as Stream Delivery (a video CDN) which will help your video-rich blog posts load faster.
Many global server locations. You can select a server location nearest to your primary audience to ensure your travel blog posts will always load more quickly.
Managed support. Image-heavy WordPress sites can be prone to slowdowns if not optimized correctly. The experts on the Kinsta support team will help with this and any other aspect of your site's optimization.
Read our expert Kinsta review for more details
.
WordPress Optimized?

✔

Storage

10GB – 250GB

Bandwidth

25,000 – 3,000,000 monthly visits

Starting Price

$

24.00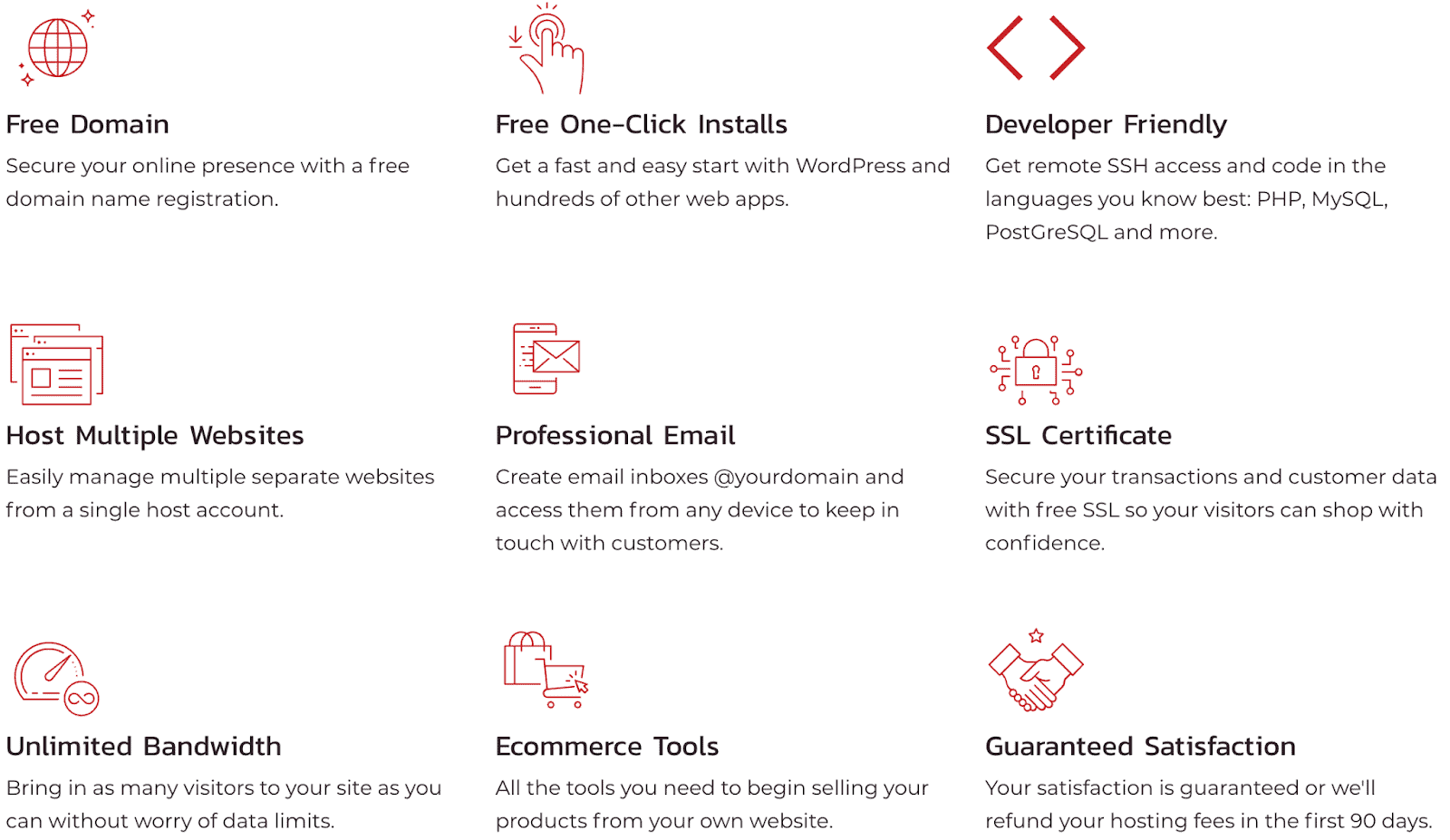 InMotion Hosting's shared hosting plans are very affordable, and offer features appropriate to travel blogs
. Its entry-level Core plan offers 100GB of SSD storage along with unlimited bandwidth, which will support thousands of blog posts, images, and videos. InMotion Hosting surpasses some other providers, such as Hostinger, by offering drive space that is more than three times larger. However, it's important to note that their entry-level plan might not be as budget-friendly. You can take comfort in the fact that the unlimited bandwidth guarantees peace of mind as it accommodates the growth of your site traffic.
InMotion Hosting WordPress Hosting
Features
One-click software installer. InMotion Hosting allows you to install a host of different software easily, including WordPress.
UltraStack. This is InMotion Hosting's advanced server stack that will help your blog posts and images load much faster. That means a more enjoyable experience for your readers, making it more likely they'll return.
NGINX caching. This is server software that caches your travel blog's content to deliver it more quickly, and can help to direct traffic when your site gets busy.
90-day money-back guarantee. One of the most generous in the industry, InMotion Hosting's refund policy will give you three months to try the service. If you decide it's not the right service for you, you can get a no-questions-asked refund.
Read our expert InMotion Hosting review for more details
.
WordPress Optimized?

✔

Storage

50GB – Unlimited

Bandwidth

Unlimited

Starting Price

$

3.29

Though it is slightly more expensive than some of the competition,
A2 Hosting is still a pretty affordable option for travel blogs
.
A2 Hosting's entry-level Startup plan
is ideal for those who need a single website for a travel blog. However, the cheapest plan of A2 Hosting, in my opinion, has one downside – it doesn't provide free backups. This can pose a risk to your site, but you can address it by upgrading to a different plan or utilizing a WordPress plugin specifically designed for this purpose. Should you decide to upgrade, you should think about using A2 Hosting's "Turbo" server technology, which offers quicker NVMe SSD storage and several other performance improvements.
Features
Unlimited bandwidth. Thanks to this, your travel blog will have the freedom to grow over time without worrying about exceeding any bandwidth quotas.
"A2 Optimized" Servers. These are pre-tuned for better WordPress performance, which means your travel blog's content will load more quickly.
Free website builder. This is a handy feature (and a good alternative to WordPress, if you prefer), and can allow you to set up a basic, but decent-looking website in a matter of minutes.
Choice of data center location. A2 Hosting offers you the flexibility to host your website in one of its data centers located in the USA, Europe, or Asia. This choice ensures that your site will load faster for your target audience.
Read our expert A2 Hosting review for more details
.
WordPress Optimized?

✔

Storage

50GB – Unlimited

Bandwidth

Unlimited

Starting Price

$

2.99
Here Are the Best Web Hosting Providers for Travel Blogs
Building your first travel blog should not
be expensive or complicated
. Choosing the right web host for a new blog is largely based on getting the best features for your money. If you're looking for excellent performance and optimization for WordPress-based blogs at the best possible price,
Hostinger is my top recommendation
. In our testing, it scores very highly, and its entry-level plan is the cheapest of any option on this list. Or,
go with InterServer
 if you want to upload lots of photos and videos as it gives you unlimited bandwidth and storage. This will allow your travel blog's site traffic to grow over time, and you won't have to worry about hitting any limitations. If you want top performance on the other hand,
go with Kinsta
.
It is the fastest-performing host on this list, and its server infrastructure is designed specifically for WordPress users. Kinsta's entry-level Starter plan will serve 25,000 monthly visitors which is more than enough for beginner bloggers.
Here's a summary comparison table of all the hosts on this list:
Standout feature
Storage
Bandwidth
Starting price
Hostinger

Great price-performance ratio

30GB – 200GB

100GB – unlimited

$

1.99

Nexcess

Cloud infrastructure to handle traffic spikes

15GB – 800GB

2TB – 10TB

$

21.00

InterServer

Unlimited resources

Unlimited

Unlimited

$

2.50

Kinsta

Top-end performance

10GB – 250GB

25,000 – 2,000,000 monthly visitors

$

24.00

InMotion Hosting

Decent price-performance ratio, and 90-day money-back guarantee

100GB – unlimited

Unlimited

$

3.29

A2 Hosting

Cheaper high-tier plans than most other providers

50GB – unlimited

Unlimited

$

2.99
FAQ
Which web hosting provider is the best for bloggers?
There really isn't a one-size-fits-all (or "best") web host for bloggers. However, Hostinger is my top recommendation as it offers very low prices and blazing-fast performance. If you want to compare all of the most popular web hosts, check out our guide to the 10 best web hosting providers for 2023.
How do I choose a blog host?
A lot of the process of selecting a web host for your travel blog will depend on what your goals are and what you can afford. You'll need support for a blog-based CMS like WordPress and features that support image-heavy websites – have a look at our guide for more details.
Do I need a web host for a blog?
Simply put, yes. Without a web host, a website (and therefore your travel blog) simply cannot exist. Hosting is a space that you rent on the internet so that people can see it online in a web browser. If you're interested in learning more about how to get started, have a look at our in-depth, step-by-step guide to building and launching a brand new website.
Is WordPress the best blogging platform?
WordPress isn't necessarily the best, but here are some interesting statistics. About 40% of all websites on the internet today are built using WordPress (which is pretty significant), and that number is around 95% when it comes to blogs. There's a good reason for that – it's the easiest solution available next to site builders, and it allows you to install plugins to market and enhance your blog.