A DDoS attack can stop your website, app, or hosted game from functioning.
Luckily, attacks can be prevented, and
there are hosting plans for all budgets that include DDoS protection for all kinds of websites.
There may also be additional options to enhance general website security. Pricing choices range from very affordable if you have a basic website or landing page, to premium if you have a high-traffic ecommerce site.
I've compiled a list of the top seven vendors with the best security features, including anti-DDoS measures
such as firewalls, in addition to malware detection and other useful services and features.
InterServer tops my list because it gives you a proprietary security solution
and offers unlimited resources, at a competitive price. Or, read on to find a web host that will meet your specific security needs (and more).
Short on Time? These Are the Best Web Hosts With DDoS Protection in 2023
InterServer – Custom InterShield security, unlimited resources and number of websites for a reasonable price
Nexcess – iThemes Security Pro, premium performance, managed ecommerce hosting
SiteGround – Comprehensive security provisions, user-friendly
What We Look For in the Best Web Hosts With DDoS Protection
I chose seven providers with solid security that give you good value for money. Here are the other features I've looked for from each provider:
Additional security features. Firewalls, malware detection, SSL certificates and automatic virus scans are important aspects of your site's protection.
Backups. Regular backups and storage of data can help to protect your website in the case of an attack. Backups are also useful if you need to revise your site or rollback to a previous version.
Site migrations. Services to migrate your website as-is into a protected web host provide help with what can be a daunting task.
Reliable technical support. 24/7 technical support is essential in the event of an attack. Access to knowledgeable professionals through live chat, email, or tickets is also valuable for needs beyond security issues.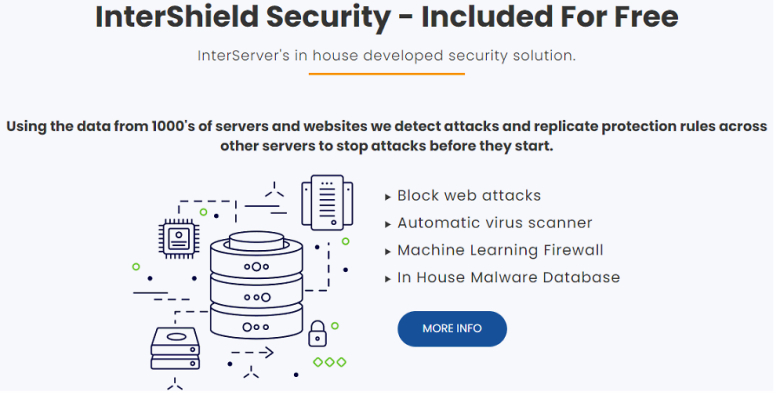 InterServer's very affordable Standard Shared Hosting package includes a proprietary security system and lots of unlimited resources.
The InterShield security suite checks visitors' IP addresses against known blacklists, performs automatic virus scans, and blocks web attacks.
If your site is ever compromised, InterServer will investigate the situation, restore your site,
and make changes to prevent similar attacks in the future. It also has a service-level agreement (SLA) to guarantee network availability.
Your site's content is automatically cached to offer additional protection,
and this also helps with normal surges in traffic if you're running a time-limited promotional campaign on your website, for example. InterServer's standard backup schedule is weekly, and daily backups are available with an additional fee.
Support is available 24/7, and knowledgeable professionals respond quickly via live chat.
Email (ticket-based) support is also available. Detailed tutorials are offered to guide beginners on all aspects of web hosting, such as site migrations and WordPress configuration. Plus, InterServer offers students a free year of hosting, and has entirely free plans for nonprofit organizations.
Features
Up-to-date security features. InterServer offers machine learning firewalls and a malware database.
Host multiple sites. InterServer's entry-level plan allows you to launch and run as many sites as you want – performance may be limited as this is only shared hosting, but this could be handy if you want to launch a range of small-to-medium-sized sites that don't get too much traffic.
Guarantee. InterServer includes a 30-day money-back guarantee on its Standard Web Hosting plan.
Unlimited storage. Unlimited solid state drive (SSD) storage is included even with the shared hosting plan – SSDs are up to 20 times faster than traditional HDDs, and less prone to error as they have no moving parts.
Check out our expert InterServer review for more information
.
Affordability
Budget-friendly
Security
 Comprehensive, proprietary security solution; will diagnose and fix any breaches
Support
24/7 live chat, email, tickets
Starting price

$

2.50

Nexcess is a top provider of WordPress and WooCommerce hosting,
and it offers premium security – including DDoS protection – via a partnership with iThemes. This host is an ideal choice if you want to launch an online store and you expect high traffic. Nexcess'
plans include performance-enhancing features – such as 24 hours of monthly autoscaling for traffic surges
– that are not available from budget vendors.
Automatic updates, daily backups, and free site migration are also included with
Nexcess' managed WordPress hosting plans
.
Additional security features include malware detection and removal and firewall protection.
Features
Content delivery network. Nexcess offers its purpose-built Edge CDN with multiple servers around the world – these servers cache content (like images and code) from your site to deliver them more quickly to visitors located near to these servers.
Multiple data centers. In addition to its CDN, Nexcess has multiple global data centers. If your website targets an audience in, say, the Asia-Pacific region, you can choose the Australian data center.
Contract that guarantees connection. Nexcess plans include a service level agreement that guarantees 100% access to power and connectivity. In the unlikely event of an outage, Nexcess will refund the customer a percentage of the monthly fee.
30-day guarantee. A 30-day money-back guarantee is included with all plans.
Read our expert Nexcess review for more details
.
Affordability
Premium service, multiple tiers and plan terms
Security
Comprehensive protection, monitoring and reporting support
Support
24/7 live chat, email, tickets, phone
Starting price

$

21.00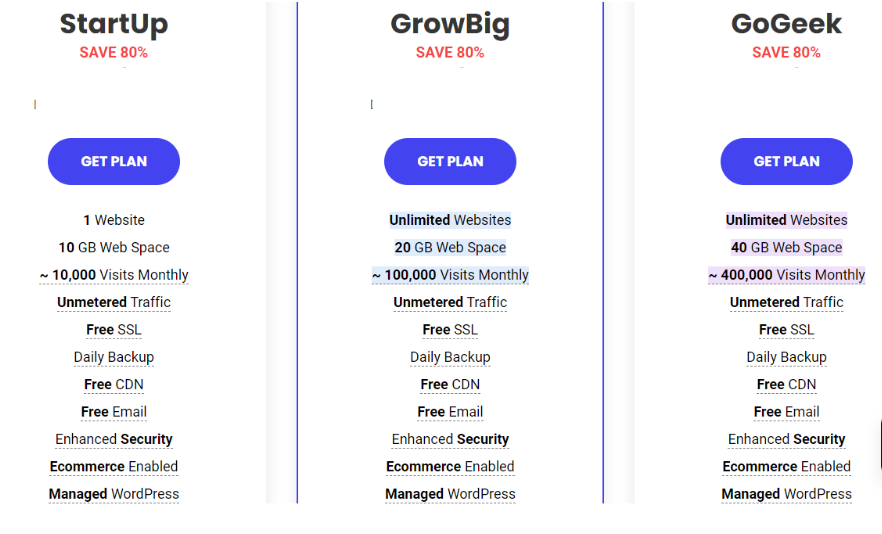 While SiteGround features shared, WordPress, and WooCommerce hosting on three separate website pages, the features, pricing, and number of plans are identical for each of these.
The entry-level StartUp plan will do if you're just starting out with a single website, and the GrowBig and GoGeek plans accommodate more websites
and more traffic. SiteGround has developed the performance-enhancing Optimizer WordPress plugin that is tailored to its hosting platform.
It has also developed a plugin that reinforces website security by preventing unauthorized logins and brute force attacks.
SiteGround's other
security features include a layered approach to protection with custom firewalls, and daily offsite backups.
Your site visitors are monitored and suspicious IP addresses are blocked. System folders are secured by barring malicious scripts from running on the server. SiteGround has a do-it-yourself WordPress website migrator plug-in, but
technical support with your site move incurs an extra fee.
Domain name registration costs a little more here than from other providers.
A free domain name is included with some hosting plans from SiteGround
Features
AI anti-bot system. The AI-driven anti-bot feature helps to prevent unauthorized access to your website(s). It rejects brute force attacks before they can compromise your site, saving hosting resources.
Intuitive interface. SiteGround's Site Tools control panel makes it easy to upload files and manage content. The interface is easy to use regardless of your level of technical ability. You can manage email accounts, automate updates, and boost your website's performance.
High-speed network. SiteGround's use of Google Cloud's elite hosting infrastructure offers your site visitors the potential for fast website loading speed.
Money-back guarantee. You can try SiteGrounds' service to see if it meets your needs – if not, a full refund will be provided if you cancel within 30 days from signup.
If you're interested, our full SiteGround review has more details
.
Affordability
Reasonably-priced
Security
Tailored WordPress plugins to prevent attacks and an AI anti-bot system.
Support
24/7 live chat, phone, tickets
Starting price

$

2.99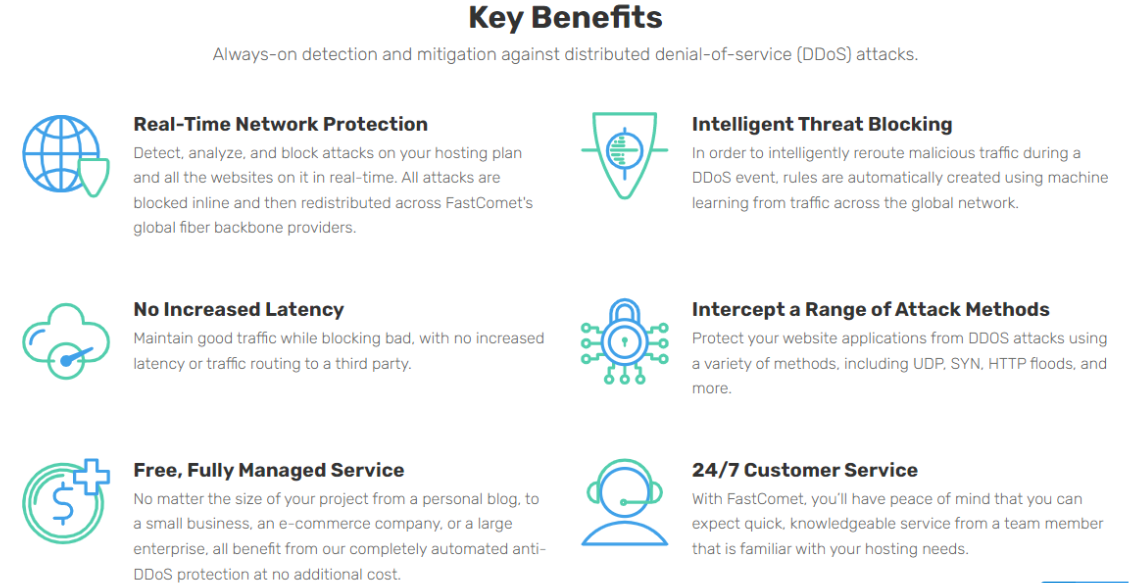 FastComet's online threat mitigation system blocks DDoS attacks with a firewall and traffic redistribution system.
Additional security features include a malware scanner and a machine-learning algorithm to protect your site from known and unknown threats. FastComet's shared hosting plans
provide daily backups that you can access with no restrictions.
Technical support will help you restore your website if it is ever somehow breached. FastComet gives you a choice of server locations in many parts of the world, so
if you want to target audiences in a specific region, you can select the nearest data center.
All plans include up to three website migrations and domain name transfers from other providers at no additional cost.
Features
Secure ecommerce. FastComet offers a range of SSL certificates, and all plans include automated detection of phishing schemes and data encryption. The FastCloud Plus and FastCloud Extra plans offer a warranty on improperly-issued SSL certificates.
Imunify360 security platform. The FastComet servers filter out malicious IP addresses and counteract botnet attacks. This will shield your website and improve performance by excluding harmful traffic.
Extended guarantee. FastComet offers a longer money-back guarantee: you get 45 days to see if the service meets your needs before you have to commit.
Fast technical support. FastComet prioritizes actual human support at all levels of contact. Instant support is available via chat and phone, which may prove to be helpful in fixing problems quickly.
Read our expert FastComet review for more information
.
Affordability
Decent prices on long-range plans
Security
Comprehensive protection with firewalls, malware detection, and reporting
Support
24/7 live chat and phone, also email and ticket support
Starting price

$

2.19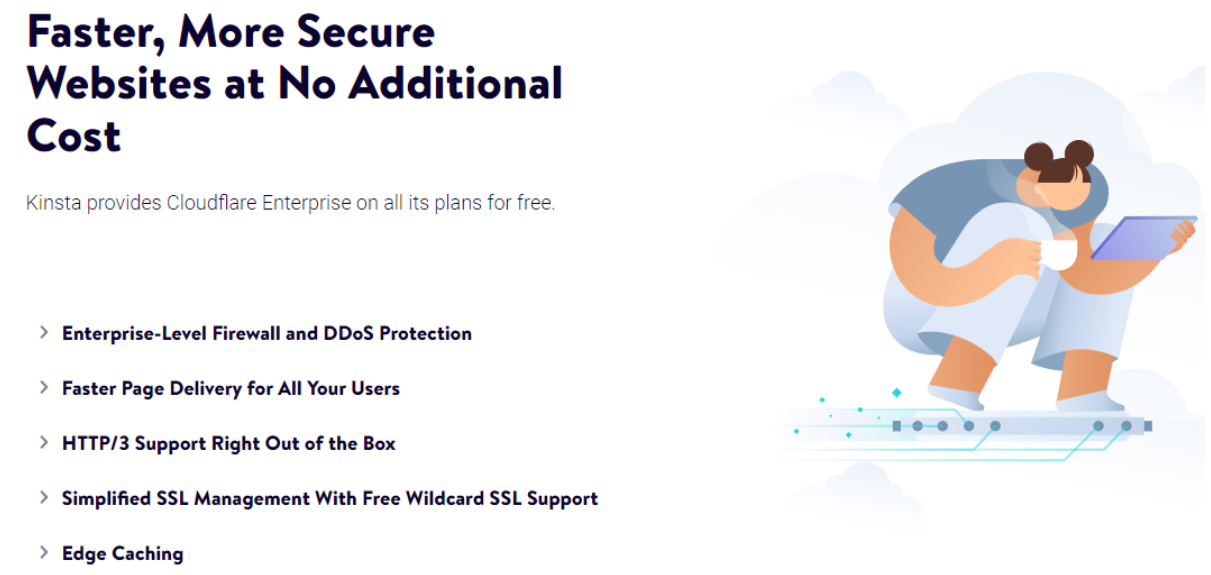 Kinsta is a premium managed WordPress web hosting provider offering outstanding security
, with multiple firewalls and automatic daily backups. Your site(s) will be monitored and protected from malware, and traffic from malicious IP addresses will be blocked. Kinsta's cloud-based infrastructure provides the flexibility to accommodate spikes in traffic, and ensures reliable ongoing access to your website. Plus,
loading speeds for this provider were among the fastest we've ever recorded.
As this is a managed service,
technical support is available for all tasks, from site migration to optimizing your WordPress installation
.The financial investment in this service is significant, but it comes with real perks.
I
f you want the best value for money you can sign up for a full year in advance risk-free, as
a 30-day money-back guarantee
is included with all Kinsta plans.
Features
Integrated CDN access. CloudFlare's CDN is built into Kinsta's platform. The vast size of the Cloudflare CDN provides comprehensive information about where DDoS attacks originate so it can block them. It also improves performance with edge caching on servers closer to your site visitors.
Speed. Kinsta uses Google Cloud's industry-leading infrastructure, which allows it to optimize performance for the heavy workload required by WordPress websites.
Support. High-end technical support is available in seven languages, and is included in all of Kinsta's plans.
Additional services. If you need separate database or application hosting, Kinsta also offers these services with DDoS protection.
Our full expert Kinsta review includes more in-depth information
.
Affordability
Premium
Security
Firewalls, malware removal, and reporting
Support
24/7 live chat, and phone support is also available
Starting price

$

24.00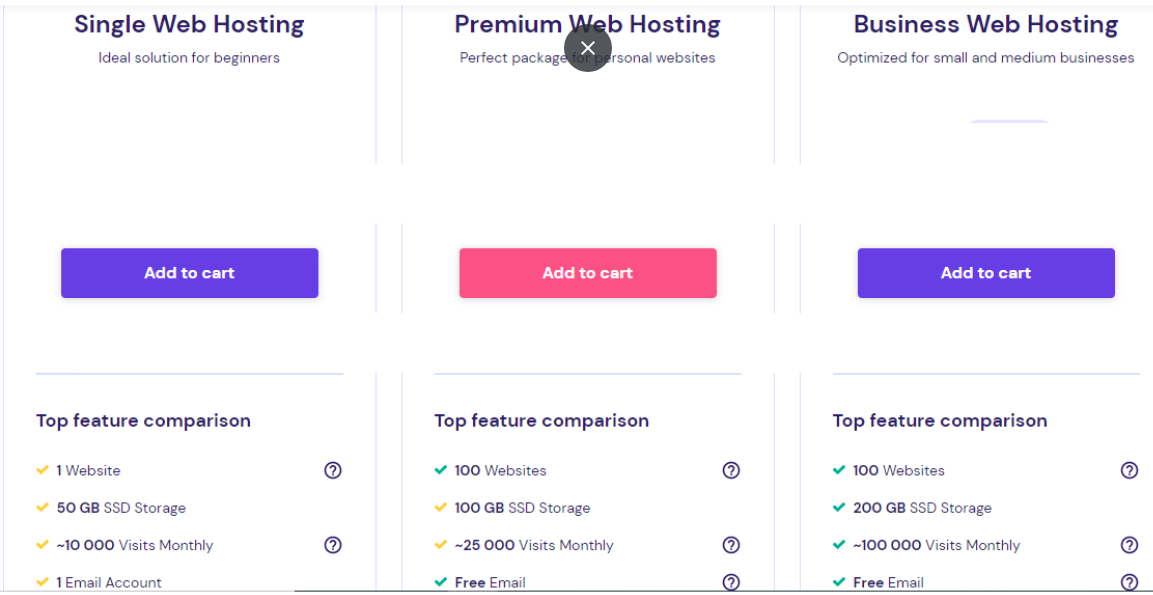 Specializing in shared, optimized WordPress hosting,
Hostinger offers a very good balance between price and performance.
Security includes in-house developed firewalls and an automatic malware scanner to prevent DDoS attacks, included with all plans.
Weekly backups are featured in the basic plan,
but daily backups are available on the Business Web Hosting plan, or can be a paid add-on.
Multiple server locations are available beyond the US and Europe,
including India and Singapore. You can choose a data center to use to reach your customers in those regions. Free website migration is available for all Hostinger web hosting plans.
The fully automated website migration tool is easy to use
, and personal customer support can be requested, but may take additional time.
A free domain name is included with some hosting plans from Hostinger
Features
SSL certificates. Hostinger provides free Let's Encrypt SSL certificates with all plans. These encrypt any user information that is passed between the browser and your site, such as login details or ecommerce transactions.
Server space. At 50 GB, Hostinger has more server space in the entry-level shared plan than many of its competitors.
Intuitive technical support. A site-building wizard is provided to help you install WordPress, along with plugins to optimize your site. The business and premium plans offer additional website administration options, like the ability to manage multiple sites from a single dashboard.
Affordability. Very budget-friendly packages are great for beginners, but you have to sign up for a four-year plan to get the best deal.
Our expert Hostinger review can give you more details
.
Affordability
Very budget-friendly
Security
Firewalls and malware scanning protection in all plans
Support
24/7 live chat, email
Starting price

$

1.99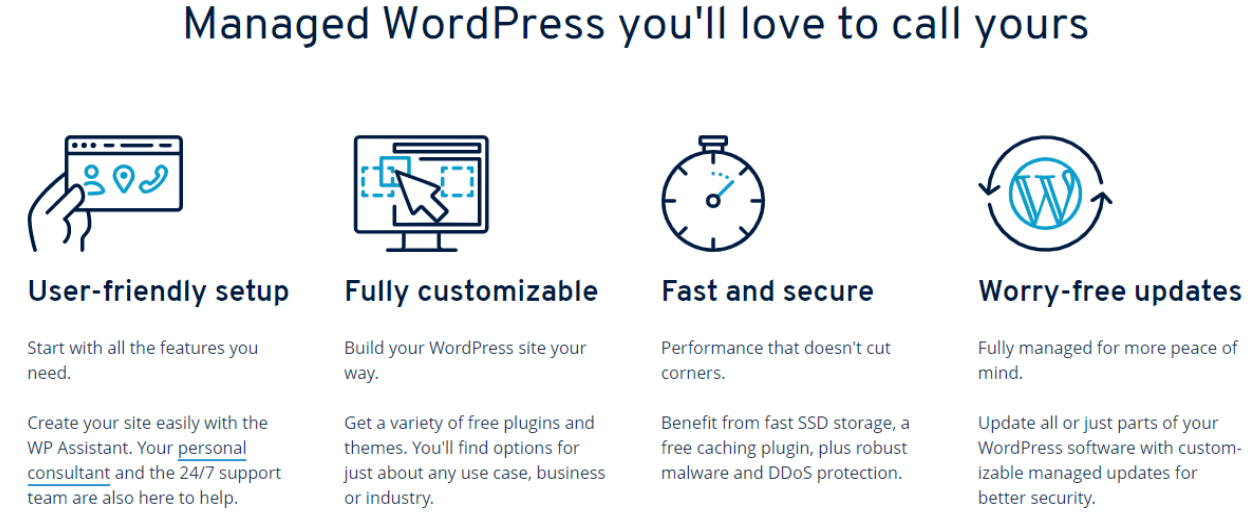 IONOS offers budget WordPress hosting,
offering very significant discounts on already-low prices to new customers.
Malware detection is included with all plans, and malware repair and removal is available in the Boost plan.
IONOS offers a wildcard SSL certificate on all plans.
This can be useful if you're implementing WordPress multisite as it affords protection for multiple subdomains as well as your top-level domain.
Free domain names are included in all initial terms,
but extra fees will apply on renewal. One thing to note is that IONOS does not feature free site migration, whereas most other vendors do. Still, this might not matter to you, especially with the big initial discount – just watch out for those renewal rates.
A free domain name is included with some hosting plans from IONOS
Features
Daily backups. Daily backups are included in all plans, which may be important if your website is compromised, or if you simply want to roll your site back to an earlier version.
Technical support. You get 24/7 support via live chat once you purchase a plan, with the option of activating a dedicated personal consultant. Pre-sales support is only available over the phone.
Server locations. Servers are located all over the US and Europe, but if you want to serve customers in other regions, you may want to consider a different host.
Scalable performance. You can increase your site's performance for a small monthly fee without having to upgrade your entire plan.
If you need more information, read our expert IONOS review
.
Affordability
Very low rates for initial term on selected plans
Security
Basic DDoS protection, daily backups, wildcard SSL certificates; upgrades offer more comprehensive features
Support
24/7 live chat once a plan is purchased, pre-sales by phone only, personal consultant option
Starting price

$

1.00
These Are the Best Web Hosts With DDoS Protection
I've reviewed all the web hosting providers here, and they all have the necessary security to help prevent DDoS attacks and keep your site running smoothly. If you need some more advice, my recommendations are available to assist you in determining the best choice based on your website needs and available budget. If you want a budget-friendly option with a robust proprietary security system,
InterServer is my top recommendation
.
The support team will investigate security issues and restore your site if it is somehow ever compromised. If your main priority is a managed WordPress web host with a solid premium security suite,
Nexcess is best suited to ecommerce sites that get high traffic volume
.
Nexcess also has several data centers and a proprietary CDN to give your site a global presence. On the other hand,
SiteGround is user-friendly and great for beginners
.
It also has an AI-driven anti-bot system that works to prevent unauthorized access to your website.
Or, for a quick overview of all the providers on my list, have a look at the table below
.
Security system
Backups
Money-back guarantee
Starting price
InterServer
AI-driven, proprietary security system
Weekly
30 days

$

2.50

Nexcess
Premium iThemes security prevents attacks
Daily
30 days

$

21.00

SiteGround
AI anti-bot feature, custom firewalls, easy to use
Daily
30 days

$

2.99

FastComet
Counters botnet attacks, malware protection, multiple server locations
Daily
45 days

$

2.19

Kinsta
Integrated Cloudflare CDN, multiple firewalls, premium service
Daily
30 days

$

24.00

Hostinger
Firewalls, malware scanner, great value
Weekly
30 days

$

1.99

IONOS
Malware detection, wildcard SSL
Daily
30 days

$

1.00
FAQ
Can I get free DDoS mitigation?
Many hosting providers offer DDoS protection and some of them are very budget-friendly and easy to use, but the DDoS security is included in the price of hosting and is not truly free. Some providers, like InterServer, have in-house security solutions with competitively-priced plans that give you real value for money.
Is my website protected from a DDoS attack?
All of the providers on my list offer DDoS protection. If your hosting provider includes basic security protections such as firewalls, malware identification and removal, and SSL certificates then your site is likely protected from a DDoS attack.
How do I get the best DDoS protection?
This depends on the number of websites you have, the volume of traffic to each, your available budget, and your technical knowledge level are all important to consider in choosing the best hosting provider for you. Large ecommerce sites with high traffic may benefit from the premium security plan offered by Nexcess, but you can get good secure hosting on a budget from InterServer.
What is hosting with DDoS protection?
Most hosting providers have some kind of security infrastructure to protect your website from DDoS attacks, like firewalls and content caching to serve high rates of traffic. All the vendors on my list have technology to prevent DDoS attacks, and offer varying levels of support.