There are many web hosting providers offering enough storage for large collections of digital media files,
but it's difficult to know which ones offer the best performance for money. And getting started with some of them is way too complicated unless you're a web developer. In this article,
I've compiled a list of
six of the best web hosting services for your photography blog or portfolio
to make your site launch as simple and as affordable as possible. Whether you want to write photography-related blog posts, show off your portfolio, or even sell prints, each web host on this list offers specific features that will have you covered.
Short on Time? These Are the Best Web Hosts for Photographers in 2023
Hostinger – Reliable and cheap hosting with enough storage for photography portfolios and galleries.
Nexcess – High-performance managed hosting; good for selling your photographs.
InterServer – Unlimited data transfer and storage with all plans.
What We Look For in the Best Web Hosts for Photographers
As a photographer, you should look for a decent amount of storage space, high loading speed for your website's content, and a single-click or automatic installation process for WordPress to keep things simple. These are the features I focused on during my testing:
Adequate storage space. Let's face it – with digital cameras producing larger raw files than in the past, and device screens being able to display much higher resolutions than ever, having enough website storage space is critical. I focused on hosts that offer enough drive space to support a huge volume of image-based content.
Fast site loading speed. When you're displaying tens or hundreds of photo previews that link to high-resolution images, you need to ensure that your provider can deliver large files to your site visitors rapidly.
Single-click WordPress installation. WordPress remains one of the most popular platforms for photographers because of how easy it is to use. It also offers many free (and premium paid) photography-specific templates for beautiful online portfolios.
Professional email addresses. Perhaps you'd like to have a domain-specific email address to communicate with your growing client base. The hosts on this list will allow you to set up a business email address to take your site up a notch.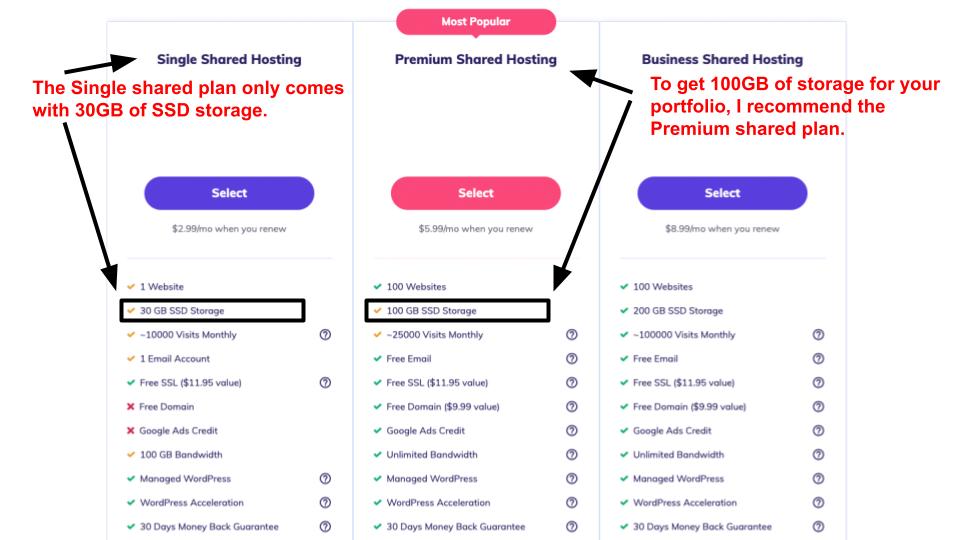 In our testing, Hostinger consistently scored very highly on loading speed and reliability. Its prices are also pretty competitive.
Hostinger's Premium shared hosting plan
is a great option if you want to launch a large portfolio as it gives you 100GB of storage space – otherwise, the Single plan offers 30GB, which may be more than enough. No matter which plan you choose, images should load quickly on Hostinger's optimized servers. I also like that you can install WordPress and other software easily, and that you get
the WP Starter site-building wizard which helps you choose a photography theme,
making it super easy to set up a photo gallery. If you're a beginner, it's nice to have reliable support options, and with Hostinger, you get 24/7 support via live chat which I've found responsive, friendly, and professional.
Features
WordPress optimization. Hostinger uses LiteSpeed servers, which are specifically optimized for WordPress. This will give your site visitors a better experience by allowing your image galleries to load more quickly.
hPanel. This is Hostinger's proprietary control panel. It allows you to install WordPress easily, and to manage all other aspects of your website's back-end environment.
Professional email. Easily set up a professional, domain-specific email address for your photography service instead of using a Gmail account.
Weekly or daily backups. The top-level shared hosting plan offers daily backups, and the basic and mid-tier plans offer weekly backups. This helps to ensure your images and other data remain safe.
Read our expert Hostinger review for more details
.
WordPress optimization?

✔

Storage

30GB – 300GB

Bandwidth

100GB – unlimited

Starting price

$

1.99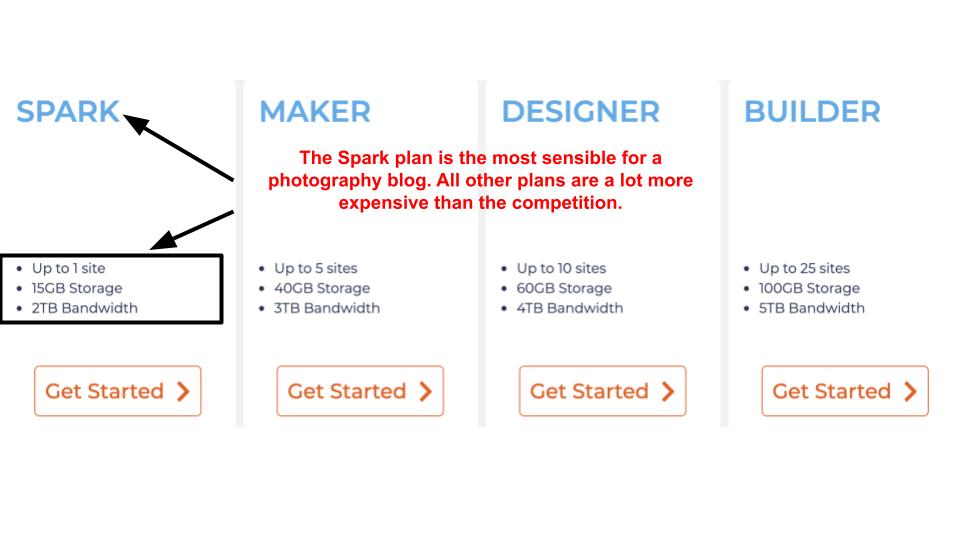 Nexcess is a great choice for WordPress sites with a lot of media files.
It's also a very good e-commerce option
 if you want to sell your images
.
However, its plans are on the more expensive side due to its high-performance hosting stack. Nexcess's WordPress hosting service is also managed. This means
you can receive help from Nexcess support to configure and optimize your WordPress installation
to get the most out of its servers. One example is the Plugin Performance Monitor, an app that can assess each of your pages' load times to help you decide how many photos you should feature in each of your galleries. With the Starter WooCommerce plan,
you get 30GB of storage, which is plenty for a photography portfolio
– plus 2TB of bandwidth. Pages with images on them use significantly more bandwidth than those without imagery.
Features
TinyPNG WordPress plugin. Showcasing full-resolution images on your website isn't recommended because they take so long to download. TinyPNG allows you to compress any .jpg or .png image files, allowing them to load much more quickly.
Nexcess CDN. In addition to compressing your images, a content delivery network (CDN) will cache your content on servers all over the world, allowing your images to load faster for any international visitors that might not be close to your site's data center.
Professional email. If you're also looking for a domain-specific email for your photography business, all of Nexcess's plans include unlimited email accounts.
Staging area. A staging area allows you to test changes – such as to the layout of a masonry-based photo gallery – on a private copy of your site before making them visible on your live site.
Read our expert Nexcess review for more details
.
WordPress optimization?

✔

Storage

15GB – 800GB

Bandwidth

2TB – 10TB

Starting price

$

21.00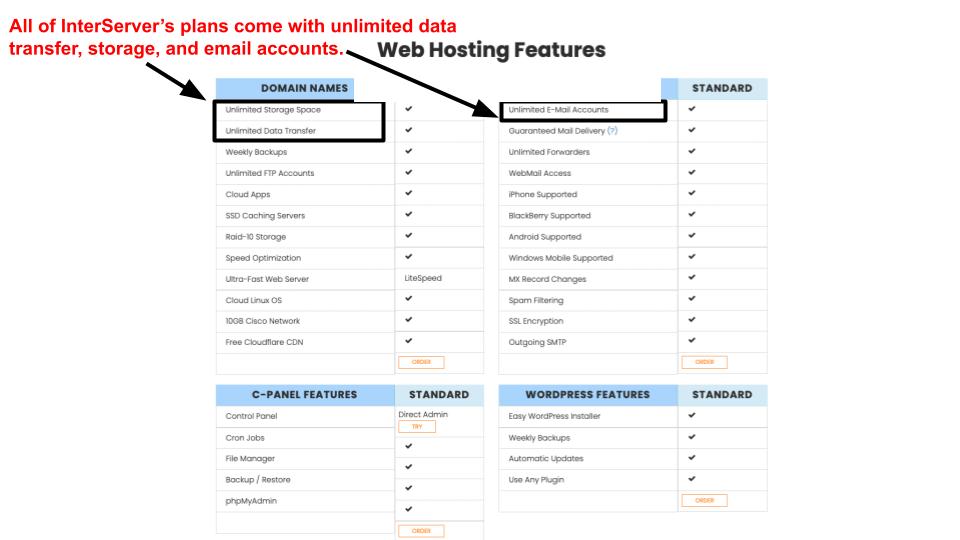 InterServer is one of my favorite web hosts for photography portfolios because of the generous volume of SSD storage you get. Unlike Nexcess,
InterServer's entry-level plan gives you unlimited storage
 – which is great for a large portfolio of high-res images. It also offers unlimited data transfer. InterServer's Standard plan also happens to be one of the cheapest on this list, but it's definitely no slouch. During our tests,
it scored well on loading times and reliability.
Features
Single-click WordPress install. Getting your portfolio or photography blog up and running is made easier with the single-click WordPress install.
SitePad website builder. For an easy drag-and-drop alternative to WordPress, you can use a website builder like the included SitePad to build your photography portfolio.
Inter-Insurance. Inter-Insurance is InterServer's system for prevention and investigation of any security issues with your website or hosting space if they arise, and the restoration of your online portfolio if it is ever compromised.
30-day money-back guarantee. You have 30 days from the time of your purchase to build a site, test how your photos load on this platform, and decide whether or not you want to stay with it.
Read our expert InterServer review for more details
.
WordPress optimization?

✔

Storage

Unlimited

Bandwidth

Unlimited

Starting price

$

2.50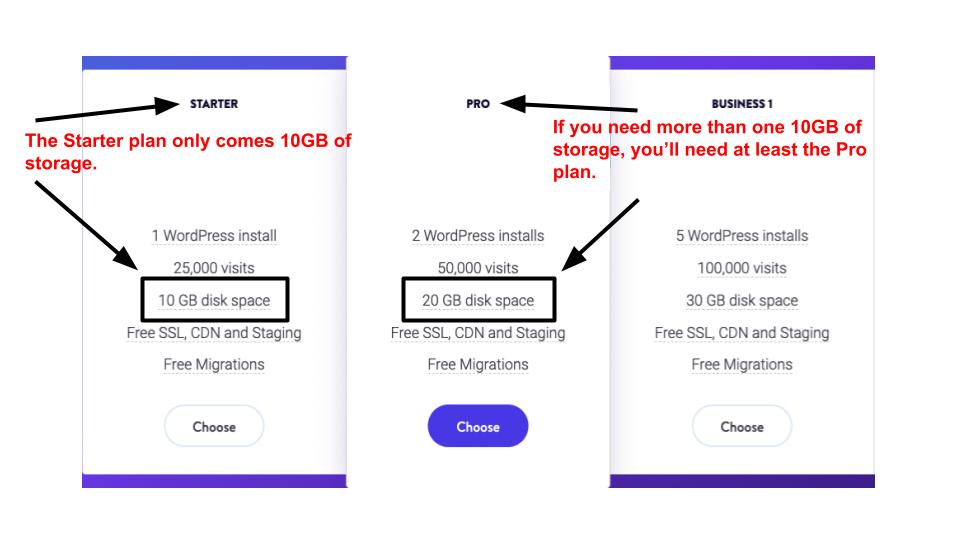 Kinsta has possibly the most advanced hosting infrastructure on this list and is suitable for websites that expect a lot of traffic. It's also a bit pricier than the other options. However, you're getting
WordPress-optimized, cloud-based hosting
 that is superior to regular shared web hosting. Sites hosted with Kinsta load faster, and make the browsing experience more enjoyable for your website visitors and clients.
You should consider Kinsta if you have an established, complex photography website
that requires top performance to serve big traffic surges. You only get 10GB of storage with the most basic plan, but that's more than enough for a niche photography portfolio.
Features
Google Cloud. Getting started on Google Cloud Platform can be intimidating, even for web developers. Kinsta makes it easy to harness GCP's power with its control panel, its optimized server stack, and knowledgeable support.
29 global server locations. You can select a server location nearest to your primary audience to ensure your galleries will always load more quickly.
Cloudflare Enterprise. A $200/month value, included in all Kinsta plans. This CDN allows you to cache your image content on servers nearer to your visitors, enabling faster site loading.
Managed support. Image-heavy WordPress sites can be prone to slowdowns if not optimized correctly. The WordPress experts on the Kinsta support team will help with this and any other aspect of your site's optimization.
Read our expert Kinsta review for more details
.
WordPress optimization?

✔

Storage

10GB – 250GB

Bandwidth

25,000 – 3,000,000 monthly visits

Starting price

$

24.00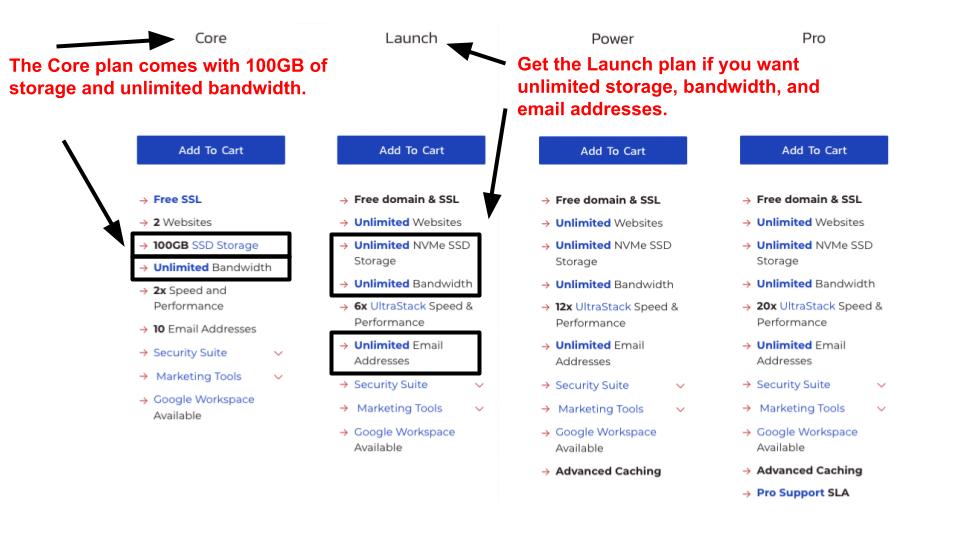 InMotion Hosting offers competitively-priced shared hosting plans that are great for photographers. Even the entry-level Core plan offers
100GB of SSD storage and unlimited bandwidth
 which can easily support a photography blog or portfolio. For the price, you get some pretty impressive features as well.
For example, you get access to support 24/7 in the form of live chat and emails.
A standout feature is
InMotion Hosting's 90-day money-back guarantee.
That's a pretty long period (longer than I've seen elsewhere) and will give you plenty of time to try out the service.
Features
BoldGrid builder. The Bold Grid WordPress website builder offers several photography-oriented themes to get you started, with a more advanced picture gallery plugin that replaces the default WordPress option.
Unlimited bandwidth. You won't have to worry about running out of bandwidth if and when your online portfolio starts to generate more traffic.
NVMe SSD Storage. NVMe storage is great for photo portfolios as it allows for several files to load simultaneously. This should speed up gallery loading times significantly.
Easy WordPress install. Install WordPress quickly and easily with a single click.
Read our expert InMotion Hosting review for more details
.
WordPress optimization?

✔

Storage

50GB – unlimited

Bandwidth

Unlimited

Starting price

$

3.29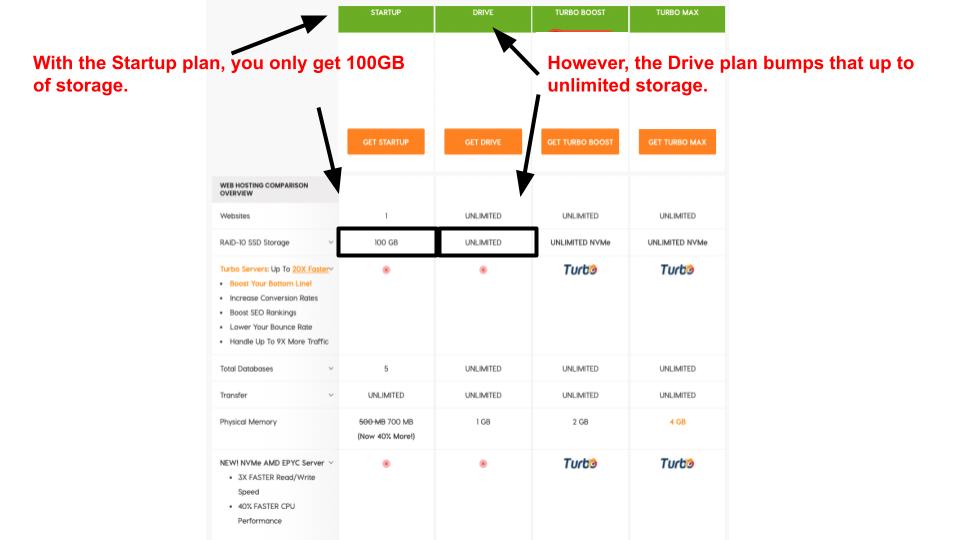 I think it's worth taking a look at A2 Hosting for a variety of reasons – especially for photography portfolios.
Its reasonably-priced Startup plan
 offers a considerable amount of storage at 100GB, along with unlimited bandwidth. This makes it a great option for a photography portfolio. The only possible drawback is that this entry-level plan allows for only one website, which may or may not matter to you.
Features
Turbo hosting. A2 Hosting's "Turbo" configuration uses LiteSpeed web servers and caching which is optimized for WordPress. This technology is available with the two most expensive shared hosting plans, and with all WordPress hosting plans, and will help your WordPress-based galleries load quickly
"A2 Optimized" features. "A2 Optimized" means that you get many automatic image optimizations like compression and caching, reducing the amount of time it takes for your visitors to view your image files.
Lazy loading. Use this feature so that not all the image previews on a given website page try to load at the same time. Visible images at the top of the page load quickly, and the rest load as you scroll down the page.
Site staging. This allows you to clone a copy of your site in order to test new gallery layouts or plugins on your computer and your smartphone before going live with them.
Read our expert A2 Hosting review for more details
.
WordPress optimization?

✔

Storage

50GB – unlimited

Bandwidth

Unlimited

Starting price

$

2.99
Here Are the Best Web Hosts for Photographers in 2023
You can set up a photography portfolio or gallery without the need for complexity or high costs. Choosing the right web host depends on your specific goals for your photography website. If you're looking for a decent amount of storage and optimization for WordPress-based galleries,
Hostinger is my top recommendation
.
It gives you 100GB of storage with even its most basic plan and WordPress acceleration, which is perfect for photo portfolios. If selling your photos is your main priority, consider Nexcess instead.
Nexcess is great for e-commerce
 thanks to its managed WooCommerce and Magento hosting. Or, if you need the best possible performance,
go with Kinsta
.
It gives you everything you need for a photography portfolio, and will serve 25,000 monthly visitors with the basic Starter plan. Here's a comparison of the features of all hosts on my list:
Standout feature
Storage
Bandwidth
Starting price
Hostinger

WordPress optimization for fast-loading galleries

30GB – 300GB

100GB – unlimited

$

1.99

Nexcess

E-commerce plan great for selling photos

15GB – 800GB

2TB – 10TB

$

21.00

InterServer

Unlimited storage and data transfer

Unlimited

Unlimited

$

2.50

Kinsta

Top performance for complex galleries

10GB – 250GB

25,000 – 2,000,000 monthly visitors

$

24.00

InMotion Hosting

Premium BoldGrid WordPress site and gallery builder

100GB – unlimited

Unlimited

$

3.29

A2 Hosting

Image caching, lazy loading, and other photo-friendly perks

50GB – unlimited

Unlimited

$

2.99
FAQ
Where can I host my photography website?
If you need a portfolio website, the Premium shared hosting plan from Hostinger is a great option because of its price and the decent amount of storage space. If you want to sell your photographs, I highly recommend you use the Starter WooCommerce plan from Nexcess to set up an online sales portal for your photos.
How do I create a professional photography portfolio?
There are a few ways to create a professional photography website and portfolio. You can use a standalone website builder like SitePad from Nexcess, or a WordPress-based builder like BoldGrid from InMotion Hosting if you want compatibility with WordPress plugins. Lastly, you could simply install a WordPress theme, like the ones available when you get a Hostinger plan.
Is WordPress good for photographers?
Yes, WordPress is a very good option for photographers because of its extensive customization capabilities. Its free (and premium) photography-oriented themes allow you to showcase your work just the way you want. All the top web hosts offer WordPress-based hosting – you can check out our list of the best web hosting providers in 2023 for more information.
How much does it cost to create a photography website?
Creating a website for your photography business doesn't have to cost a lot. Shared web hosting from Hostinger starts at

$

1.99

per month. You may also want to check out the latest deals for 2023 on our coupon page.