Not all web hosts can give you everything you need for a successful affiliate marketing site. You need specific features to drive visitors to your site – and in this business, every visitor matters.
You need a website host that offers not only sufficient storage space, but also excellent performance. It's all about SEO, and slow loading speeds mean poor rankings on Google. The best hosts provide additional SEO tools that can help you achieve even better rankings.
For this article, I researched all the major web hosts out there to see which ones can give you all the features you need, for the best prices.
What We Look For in the Best Affiliate Marketing Hosts
There are a variety of factors to consider when selecting your web host, but I've narrowed them down to these must-haves:
Reliability: Especially in the affiliate marketing business, it's easy to lose a lot of money due to website downtime. I've singled out hosts that have a great uptime record as well as excellent performance.
Type of hosting: As an affiliate marketer, you want a host that offers a variety of hosting options, such as shared hosting, VPS (virtual private server) hosting, or a physical private server. In other words, you want a site that can grow with you and a host that allows you to switch between the plans as needed.
SSL certificates: SSL, a form of site security that handles sensitive personal information, has been a Google ranking factor since 2014. You have a better chance of ranking higher on search engines by having an SSL certificate on your website, plus you'll earn more trust from your visitors.
Pricing: The best hosts offer the greatest value for your hard-earned money. After all, you don't want your hosting costs to eat into your affiliate earnings. And since it may take a few months for your site to begin earning income, you'll want to try to keep your overhead low.
For more than 20 years, InterServer has offered shared hosting, dedicated servers, cloud hosting, and VPS, giving you the flexibility to grow and feature a variety of products. It's one of those rare hosts that offers a price-lock guarantee, so what you pay now is what you pay for as long as you stay on the same plan with InterServer.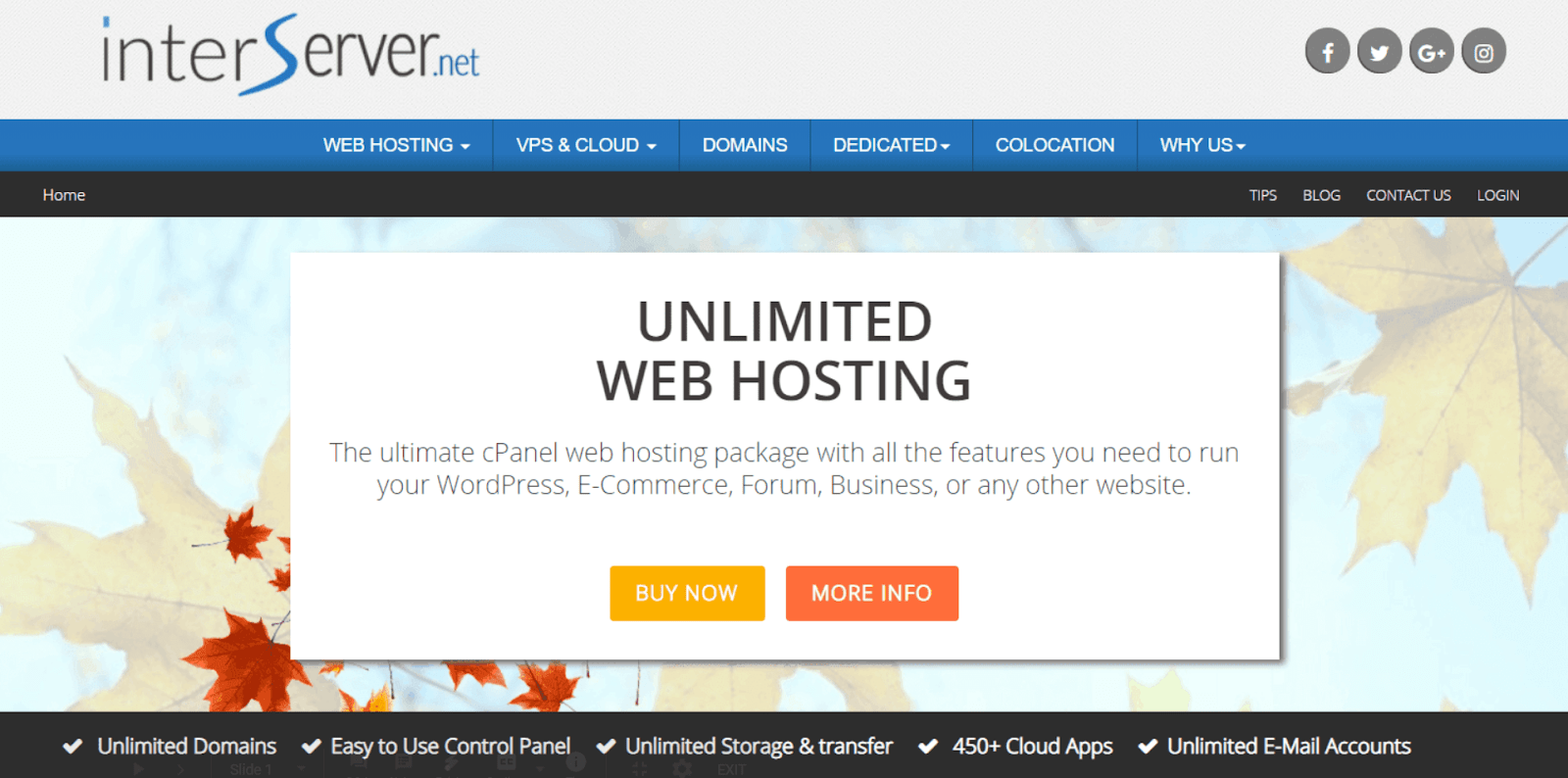 InterServer's data centers are located on both coasts of the US, and it offers unlimited SSD storage (great for site loading speed) and bandwidth for all of its shared hosting plans. It also includes caching and a Cloudflare CDN (content delivery network) to help boost your website loading speeds for visitors around the globe. Plus you get a complete open-source SEO control panel, so you can optimize your site to your heart's content.
InterServer's VPS hosting plan is highly flexible: You can customize everything from your preferred operating system to your control panels and server capacity. However, you will need some technical knowledge to take advantage of full VPS possibilities. Unlike other hosts, InterServer only offers unmanaged VPS, so configuring your server is up to you.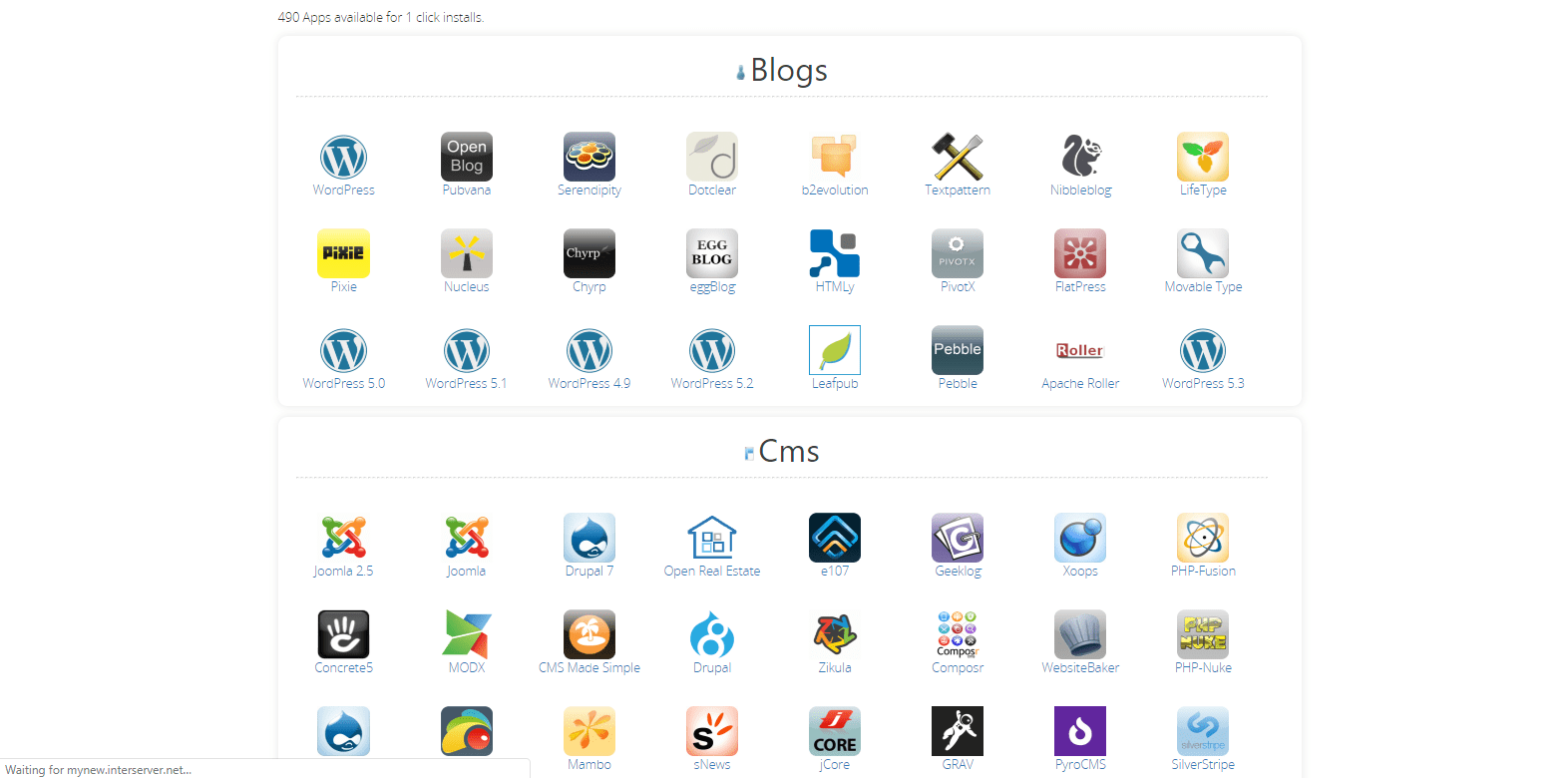 Features
Free migration: If you are a new customer switching from a different host, InterServer will transfer your website for you.
Unlimited domains and email accounts: Create as many niche affiliate websites as you want, and make it easy for your assistants to communicate with their own email accounts.
Free security features: InterServer's proprietary security package, InterShield, will block web attacks and monitor for malware and viruses. It also includes a firewall to keep your site safe.
To see the results of our performance tests, read our full InterServer review.
Based in Lithuania, with SSD servers in seven worldwide data centers and subsidiaries in 178 countries, Hostinger offers not only super-cheap shared hosting plans, but also affordable VPS, cloud hosting, and domain registration services. So if you want to market your affiliate products to customers all over the world, Hostinger gives you plenty of options to make that happen.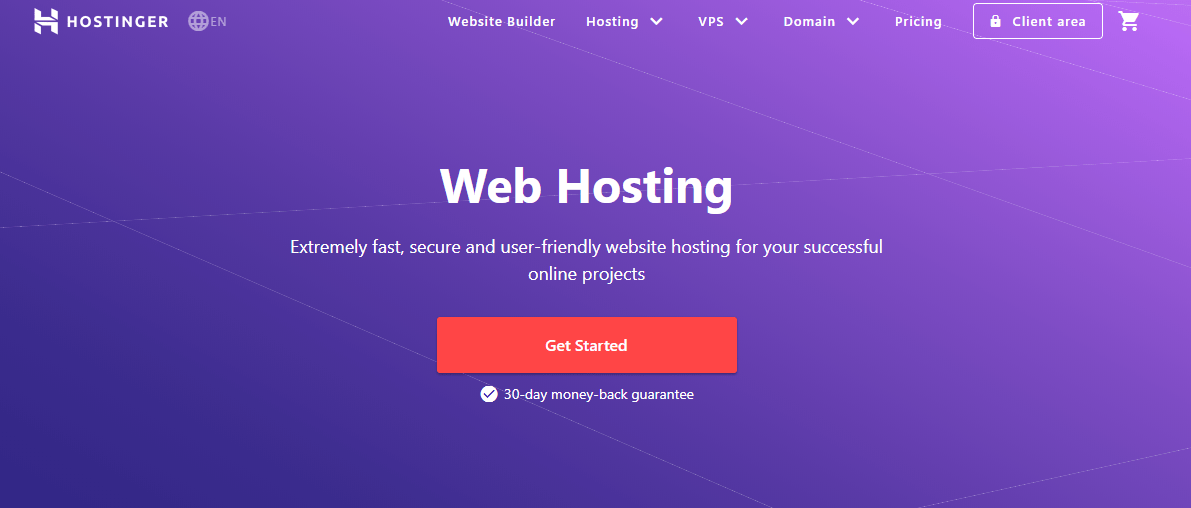 Hostinger's features include unlimited bandwidth and databases, a free site builder and WordPress performance upgrades, free daily or weekly backups, SSL certificates, and a custom control panel.
Hostinger's introductory pricing requires a 48-month commitment, after which your renewal costs will increase. So if you are planning to commit to Hostinger for at least four years, (not a bad idea for affiliate marketing, which takes a while to get off the ground), this will save you money.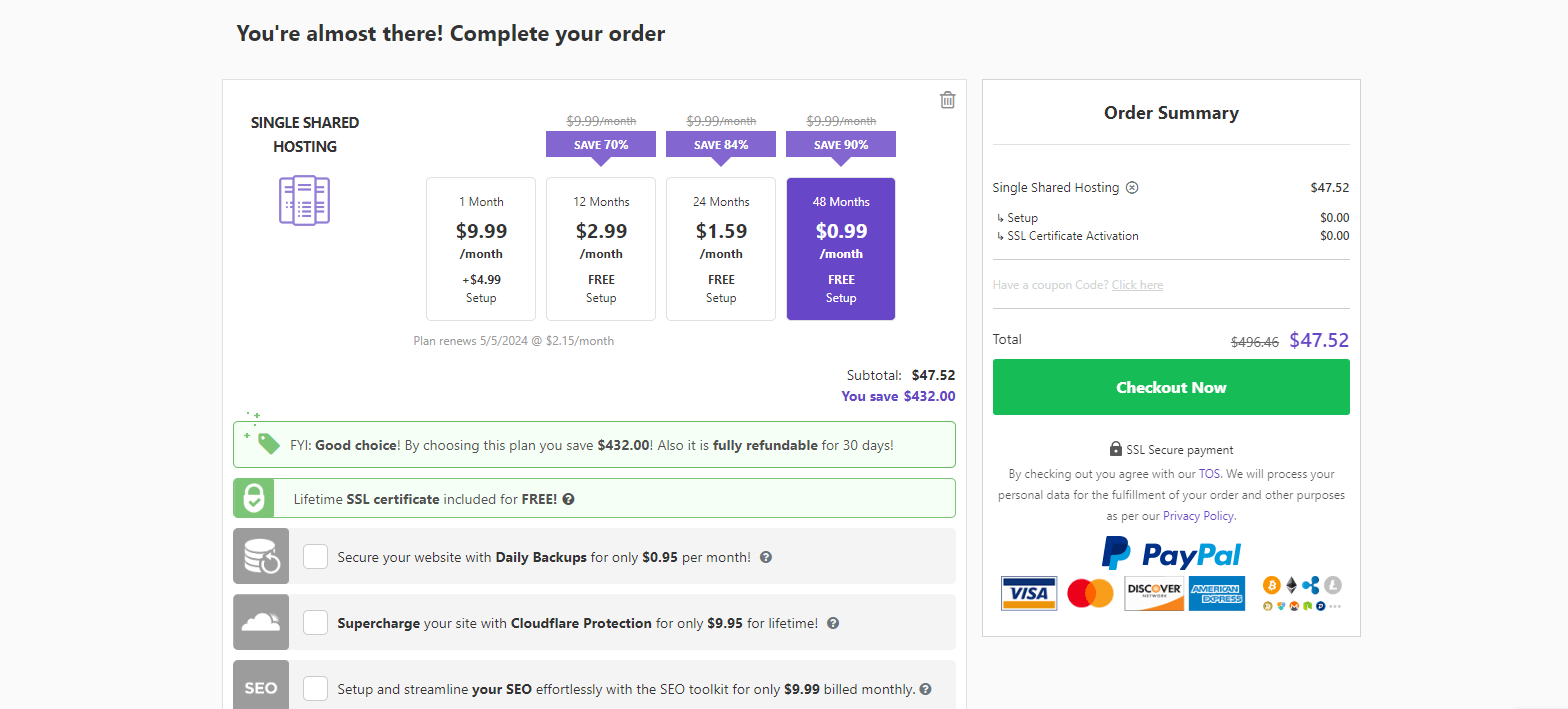 Features
Multilingual customer support: International live chat support is available 24/7.
Excellent pricing: Hostinger offers an extremely low introductory price, and renewal rates remain fairly cheap.
Custom control panel: The customized intuitive dashboard makes it easy for you to manage all of your site hosting needs in one place. It's great for beginners who are not used to the traditional cPanel format.
Website builder: If you're starting from scratch, Hostinger's easy-to-use drag-and-drop website builder, with dozens of templates, makes creating your new site simple.
For a full list of features, see our in-depth Hostinger review.
Located in Ann Arbor, Michigan, with servers in the US, Asia, and Europe, A2 is dedicated to green hosting to help offset server emissions. It offers shared hosting, WordPress hosting, reseller hosting, VPS, dedicated servers, and domain registration.
A2 Hosting's lowest-tier option includes unlimited SSD storage, free SSL, and up to 25 site migrations (depending on your plan level). Its highest tier offers turbo servers with up to 20x faster speeds as well as automatic backups.
A2 Hosting is easy to use if you're a new affiliate marketer, thanks to its website builder and integration with popular CMS (content management systems), such as WordPress, Drupal, Joomla, and Magento.
What really makes A2 hosting stand out, however, is its "anytime money-back guarantee." If you prepay for several years to get a better deal, you can receive a prorated amount back for any unused time. This guarantee, however, does not include additional services such as setup or migration fees or domain registrations.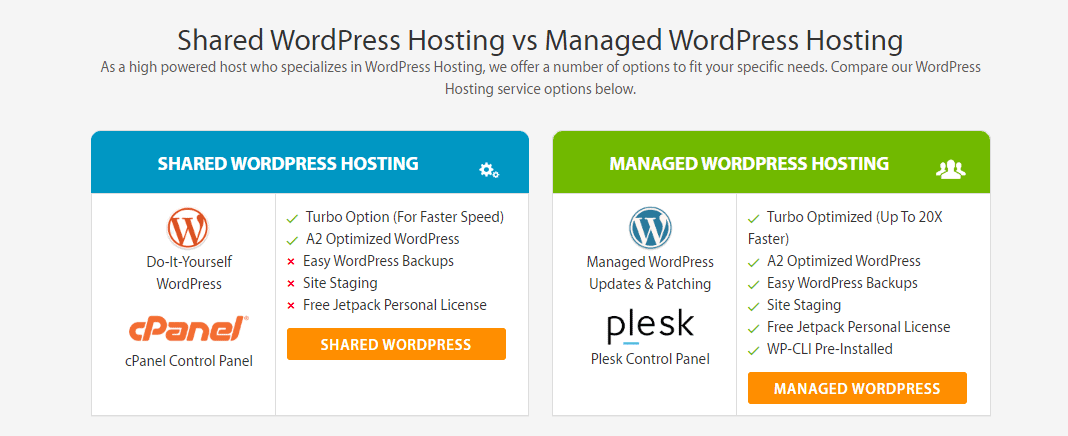 Features
Green hosting: A2 Hosting is 100% carbon neutral and partners with Carbonfund.org to support renewable energy and reforestation.
Site migration: A2 Hosting offers up to 25 site migrations. So if you are trying to move multiple affiliate niche websites, this may be a great option for you.
SEO tools: Perks include the option to use Attracta SEO services for free, which provides an easy-to-use SEO dashboard and immediate submission to search engines.
To learn more about A2 Hosting's pros and cons, read our full A2 Hosting review.
With its user-friendly control panel, hundreds of free apps, and security features including firewalls, intrusion detection, and free Let's Encrypt SSL certificates, this Canadian hosting company has grown rapidly since its founding a few years ago. It offers shared, WordPress, VPS, e-commerce, and reseller hosting.
HostPapa offers extensive support options from 24/7 phone and email support to mail and fax. It has a large library of self-help videos for do-it-yourself affiliate marketers, and its phone support is available in 18 countries and in English, French, Spanish, and German. The Papa Squad Experts also provide guided walkthroughs for customers. We tested HostPapa's support – see the results in our full HostPapa review.
HostPapa's basic shared hosting prices start low, and you get two websites instead of one at the Starter level, as well as 100 GB SSD storage and unmetered bandwidth. Its easy-to-use DIY HostPapa Website Builder includes mobile-friendly templates and is e-commerce enabled.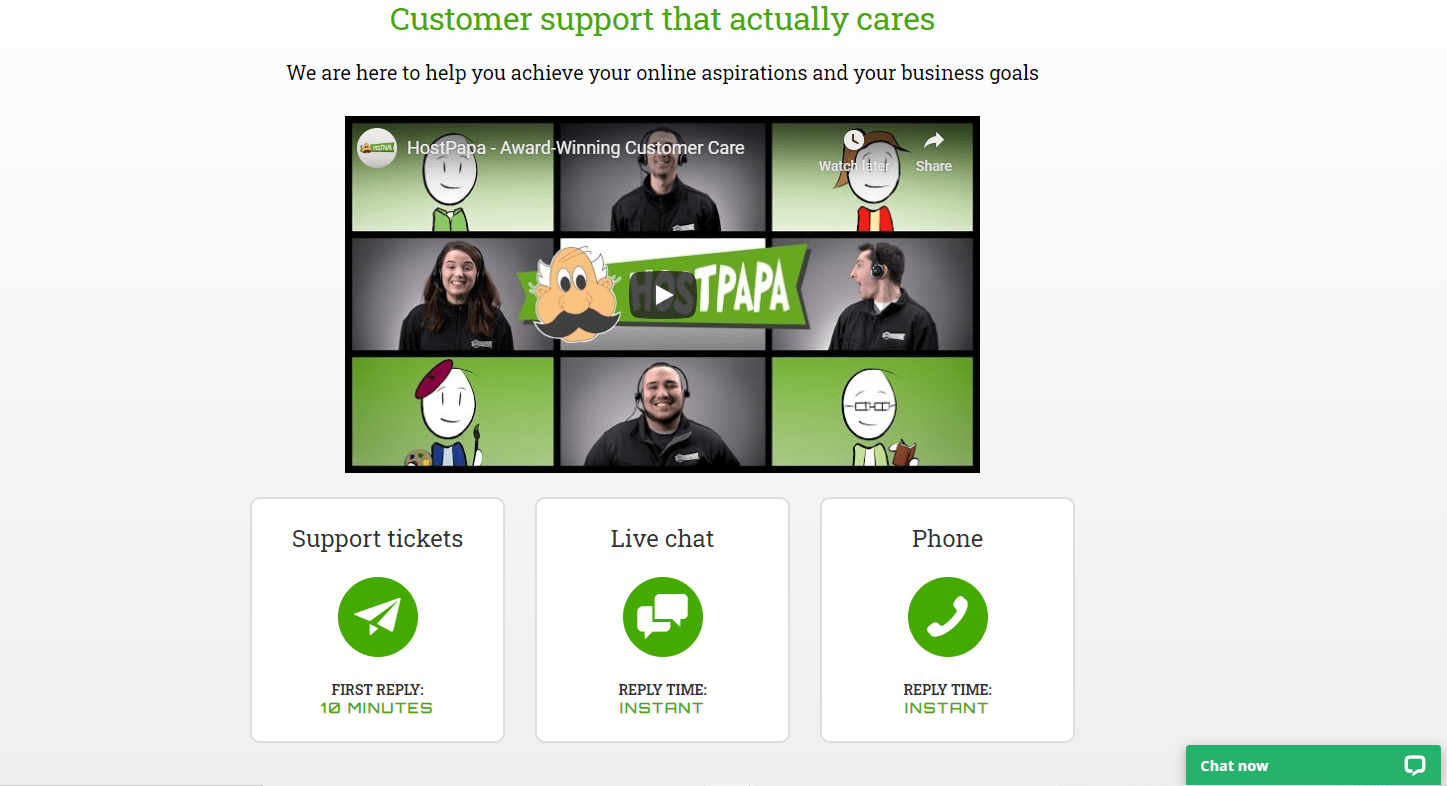 Features
Great perks: HostPapa's plans include two to unlimited websites, a free domain for one year, 100 GB to unlimited SSD storage, unmetered bandwidth, and a free SSL certificate.
Increased security: HostPapa gives you a server firewall, email virus scanning and spam protection, DDOS attack prevention, network monitoring, and brute force detection. Lots of other hosts make you pay for that level of security.
E-commerce-optimized hosting: HostPapa offers one-click installation of free e-commerce tools, such as OpenCart and PrestaShop, making it easy for you to get your site up and running quickly even if you're not a tech expert.
SiteGround is a popular choice for marketers and WordPress enthusiasts. It comes with free domain transfer, free SSL, free email accounts, and many free SEO and analytics tools to help you optimize your site. SiteGround offers shared, WordPress, WooCommerce, and cloud hosting, and has green-friendly data centers located in the US, Europe, and Asia.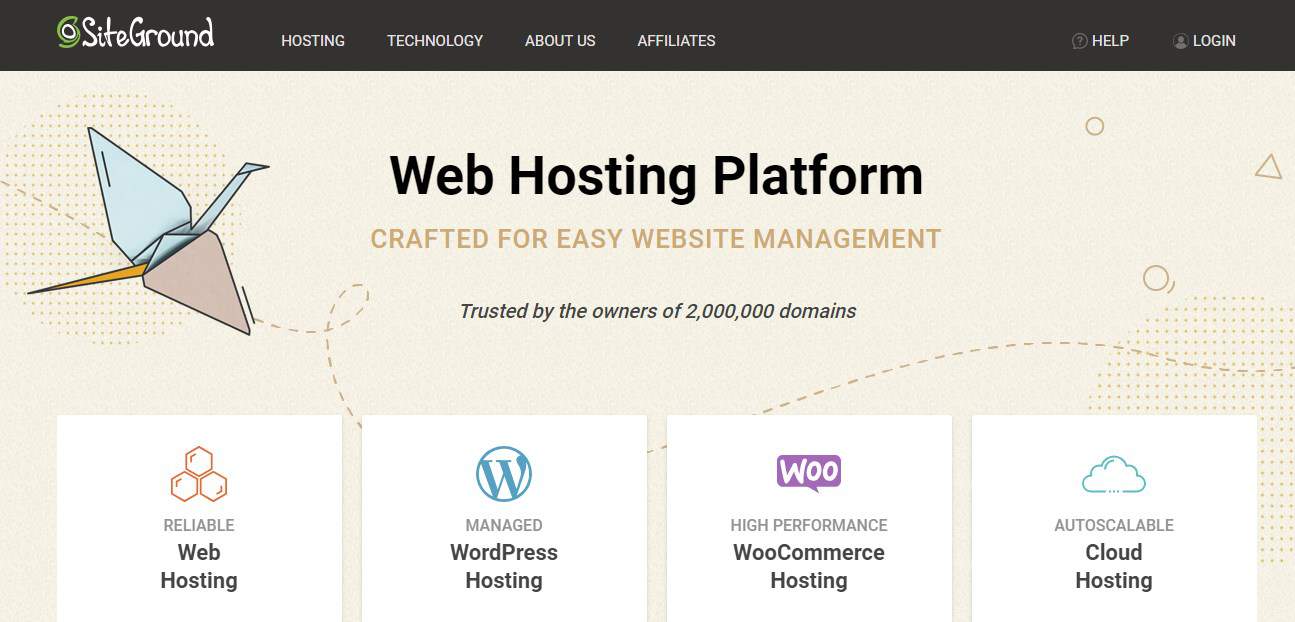 SiteGround limits storage and bandwidth: its cheapest shared hosting package offers 10 GB of storage, with a bandwidth good for up to 10,000 visitors per month. While its prices tend to be higher than many other hosts, its free CDN and high-quality security features, including an AI (artificial intelligence) anti-bot system and custom WAF (web application firewall), give you great value for your money.
Its replacement for cPanel, Site Tools, is handy for affiliate marketers who want full functionality without having to fuss with programming. To see what our expert thought of it, read our full SiteGround review.
Features
Top-notch customer service: Live 24/7 SiteGround chat operators are willing to stay on the line and walk you through any questions you may have.
Speed: SiteGround is consistently among the first adapters of the newest and best speed technologies, from updated PHP and SuperCacher to innovative protocols like HTTP/2 and QUIC.
Security: SiteGround's 24/7 system administration team keeps the platform safe with real-time server health checks every half second.
Known for domain name registration and shared hosting services, GoDaddy is one of the cheaper web hosts, offering fast page loading speeds and decent uptime.
GoDaddy offers WordPress-optimized shared hosting plans, dedicated servers, reseller hosting, and VPS plans. GoDaddy's basic Economy plan offers unmetered bandwidth and 100 GB of storage, while its higher-level plans offer unlimited storage. New users also get a free domain name for the first year.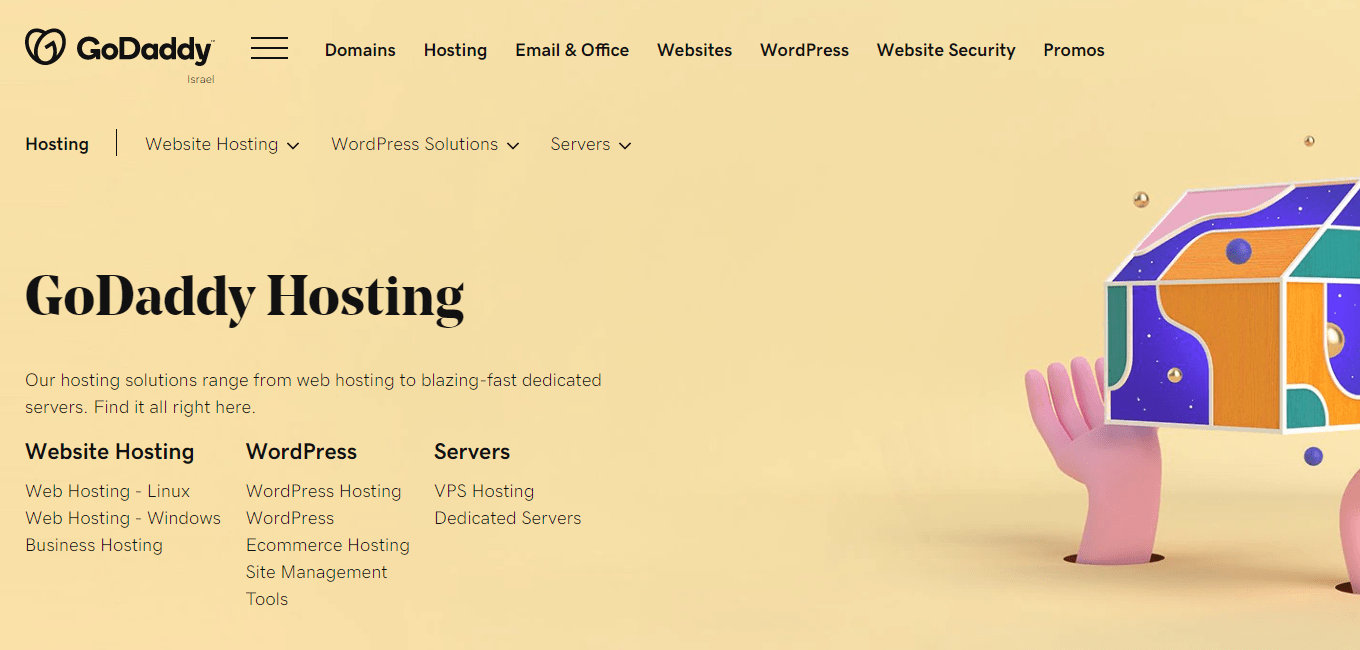 GoDaddy integrates with over 100 popular web applications, including popular content management systems WordPress, Joomla, and Drupal. If you want to use the GoDaddy Website Builder, though, you'll have to sign up for one of the builder plans.
Just keep in mind that popular does not always indicate the highest quality. Aside from questionable customer support, the drawbacks of using GoDaddy include plenty of upsells: GoDaddy charges for site migrations, backups, security, and SSL certificates (an annual fee). In addition, its low starting price requires a three-year commitment, after which renewal prices increase.
Features
Healthy storage space: GoDaddy offers 100 GB storage for the basic Economy plan, and all other shared plans have unlimited storage.
Security. DDoS protection and 24/7 security monitoring are included.
SEO. GoDaddy offers a separate Websites + Marketing plan that includes lots of cool features, such as Google My Business integrations, email marketing, and social media tools.
For a full list of features, see our in-depth GoDaddy review.
As a growing web host with scalable hosting options, Scala Hosting focuses on secure and fast shared, managed VPS, and unmanaged VPS hosting – good for growing websites of all sizes. It uses two data centers, in Dallas, Texas, and Sofia, Bulgaria, to cover a worldwide audience.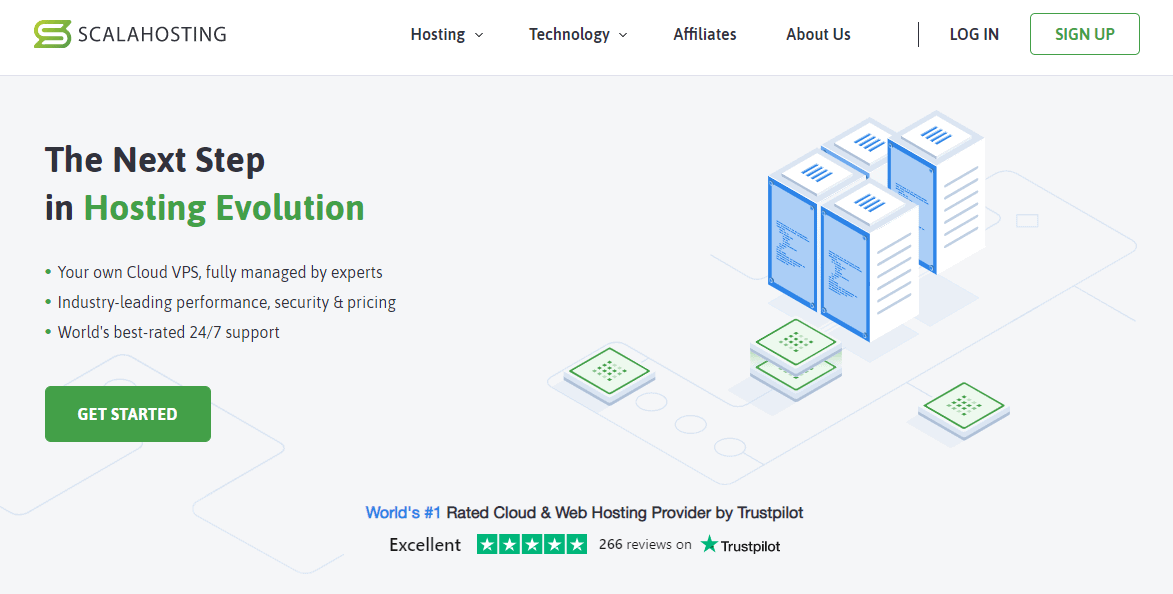 Prices for Scala Hosting's plans are not as cheap as some of the competition, and the host is not yet 100% SSD, which can affect performance speed. But all Scala Hosting plans come with SSL certificates, SShield security packages, unlimited website hosting, a free CDN, and free site migration.
Scala Hosting's Mini shared hosting plan offers 50 GB storage for one website, but all its other shared plans include unlimited storage and websites. Its Advanced plan, which is only a few dollars more, includes a free SEO audit. You can start with a low-cost trial plan for one month with any of its shared hosting plans, and it still offers a 30-day money-back guarantee.
See the results of our performance tests in our in-depth Scala Hosting review.
Features
Easy to use: Scala Hosting uses a proprietary SPanel control panel, which means its saving money by not paying for cPanel – and not passing those costs along to you.
Affordable plans: Scala Hosting offers attractive pricing, particularly for high-traffic websites using VPS.
SEO tools: Its Advanced shared hosting plan comes with a free SEO audit that will analyze your site and provide a report. It also connects with Attracta, a third-party SEO suite.
Which Affiliate Host Is Right for You?
The key to finding the best host is to know what you are looking for in your affiliate site. Of course, every affiliate site owner will benefit from reliable and fast hosting providers, but after that? It depends:
If you want a trustworthy web host with reliable uptime and pricing, not just now but into the future, go with InterServer.
If you're based outside the US and want multilingual customer support options, try Hostinger.
If you're looking for responsive, consistently helpful customer service with representatives who are ready and willing to walk you through any situation, SiteGround is a good choice.
Once you figure out which features are most important to you, it should be easy to make your decision. In case you need a bit more convincing, here's a breakdown of the seven hosts I recommend for affiliate marketing.
FAQ
1. What is the best website builder for affiliate marketing?The best website builder depends in part on your technical skills and familiarity with various website builders. That said, Wix and Squarespace are easy drag-and-drop builders for beginners, while WordPress.com is one of the most popular, powerful, and flexible site builders for everyone, plus it includes plenty of helpful plugins to improve your SEO, create review posts, and more. For more options, don't miss our list of the best website builders right now.2. How do you make money from web hosting?As an affiliate marketer, the best way to make money from web hosting is to promote products and services that would benefit your target audience. Aside from that, you can also create a powerful passive income stream through reseller hosting. For more information about how to set up your own reseller services, check out our top five reseller website hosts.3. Does GoDaddy have an affiliate program?Yes, GoDaddy has an affiliate program through Commission Junction and offers pre-made banners and ads that you can use on your site.4. Which website hosting is best?At the end of the day, it all depends on your needs. If you'd like to dive deeper into some of the hosts covered in this article, or if you're interested in learning about overall hosting comparisons, take a look at the best web hosting services for 2022.