you
.
Picking the right builder is the part where people tend to make mistakes
.
Not every service has the right tools for your project
. The best builder for an online store may not be good for a visual artist, for example. Some builders sacrifice ease of use for features, while others do the opposite. That's where I come in. I've thoroughly tested many leading website builders and gathered
seven top picks you can use to create different types of websites
. Read on to find the one that has the best features for your business or personal brand.
Short on Time? These Are the Best DIY Website Builders in 2023
Wix – The most flexible builder, thanks to its 800+ templates and dozens of customizable page elements.
Squarespace – The best builder for creative professionals, with striking templates and galleries.
SITE 123 – The simplest editing interface, which can help you build a site in under an hour.
What We Look For in the Best DIY Website Builders
These are the features I focused on when testing dozens of popular website builders to find the best do-it-yourself services.
Good templates. If you've decided to build your own website, you need a great foundation. Some builders on this list offer more templates than others, but all of them have good-looking and mobile-responsive options.
Ease of use. Every DIY builder should have an intuitive interface that makes it easy for beginners to create an attractive, functional website. Each site builder on this list qualified as "beginner-friendly" in my testing.
Essential features. You want to make sure your site looks unique and has the right functions for growing your business. All builders listed here let you customize your site's look, and offer features you can add to your template.
Helpful customer support. Responsive customer service is essential, especially for those with limited experience. Phone or live chat is best, but email support is also okay. I tested the customer service of each builder here.
SEO and marketing tools. Even a builder's free or least expensive plan should have basic tools to boost your website's placement in search results, tell you how visitors interact with your content, and help you connect with your audience. All builders here offer some form of this.
A free plan or trial. You should be able to test the service before committing. A free plan is best, but a free-trial period or a money-back guarantee will do.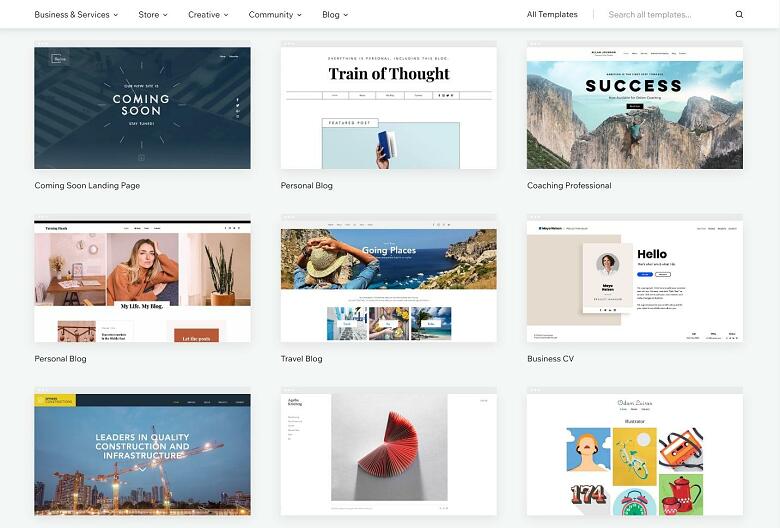 Wix offers more – of everything.
Wix's library of over 800 high-quality templates
dwarfs that of other builders. Many are mobile-optimized, and they're neatly organized by industry. Wix also offers a few "blank" templates for those who prefer to start from scratch. Best of all,
Wix's free plan lets you access all templates
 and editing tools.
Most Wix templates have essential features already built-in
, from contact forms to menus. Additionally, the intuitive drag-and-drop editor lets you add countless other page elements as needed. If you don't like the forms in your template, for example, there are
dozens
of other forms you could add instead. Having so many options may be overwhelming for some, but
Wix's editor and well-made templates keep things as user-friendly as possible.
That's why Wix is a great all-around editor, whether you're a beginner or someone with advanced needs.
Features
Smart website design: Once you answer a few questions, Wix's Artificial Design Intelligence (ADI) tool will build a website for you with customized text and images. All in a matter of minutes.
Personalized SEO plan: Wix SEO Wiz analyzes your website and creates a personalized plan to help you optimize your site for search engines.
App market: All plans can access Wix's app store, which has hundreds of (paid and free) third-party tools. Any additional functionality can be found there, from apps for selling event tickets to live chat apps for connecting with clients.
Advanced business solutions: Ascend is a suite of business tools that includes a CRM, email marketing, an invoice generator, and a video maker. All accounts come with a free Ascend plan, but you'd need to upgrade for its full power.
Read our expert Wix review for more details
.
Good template selection

 Yes,  800+ templates

 Free plan available?

 Yes

 SEO and analytics tools

 Yes

Type of customer service

24/7 email support

Least Expensive Paid Plan

$

16.00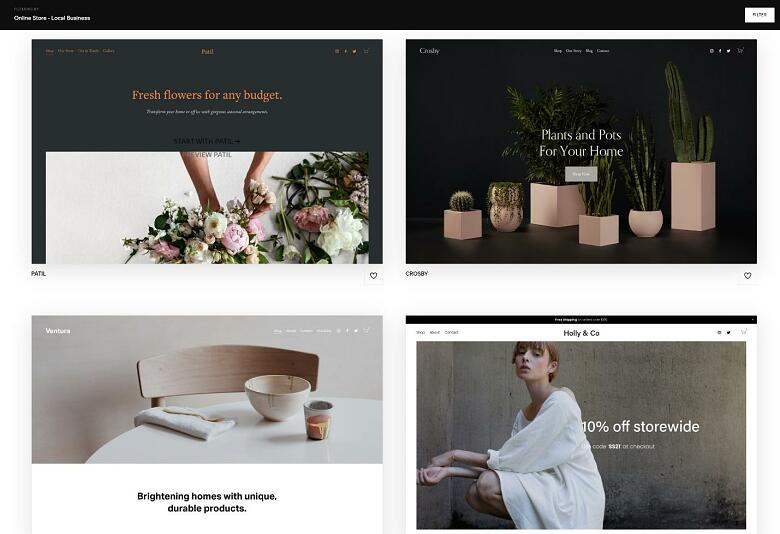 Squarespace's famous templates live up to the hype.
Almost every Squarespace template comes with a striking portfolio
 or gallery you can use to show off your artwork, projects, or products. You choose one of four different layouts – carousel, grid, slideshow, or stack – and then adjust spacing or add interactive elements. Because its templates are the height of contemporary design, Squarespace is best for brands looking to project ultramodern sensibility or creativity. However,
a business trying to project a more traditional image may find other builders offer better-fitting templates
. With that said, there's so much more to this builder than templates.
All plans have unlimited bandwidth and storage
, for example. And Squarespace's e-commerce features give you everything needed to manage an online store, connect with customers, and process payments.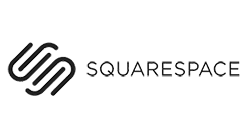 Get 25 % Off Squarespace's Personal Plan
Save 25 % when you sign up for Squarespace's annual plan
561 users used this coupon!
Features
Built-in photo editing: You can adjust an image's brightness, contrast, color saturation, and aspect ratio. You can even change the focal point and add a lightbox effect.
Premium integrations: Squarespace can connect with dozens of third-party extensions. There's a good range of options, from shipping services like ShipStation, to accounting tools like QuickBooks.
Scheduling: Squarespace Scheduling helps your clients and gives you time to focus on your business. Your clients can check appointment availability and book time slots, and you can sync appointments to your Google, iCloud, or Office 365 calendar.
Blogging tools: Squarespace can help you build a stylish blog that engages your audience and helps with SEO. You can save drafts, categorize and schedule posts, and enable reader comments.
Check out our full Squarespace review for more
.
Good template selection

Yes, 200+ templates

 Free plan available?

No, but there is a 14-day free trial

 SEO and analytics tools

Yes

Type of customer service

 24/7 email support

Least Expensive Paid Plan

$

16.00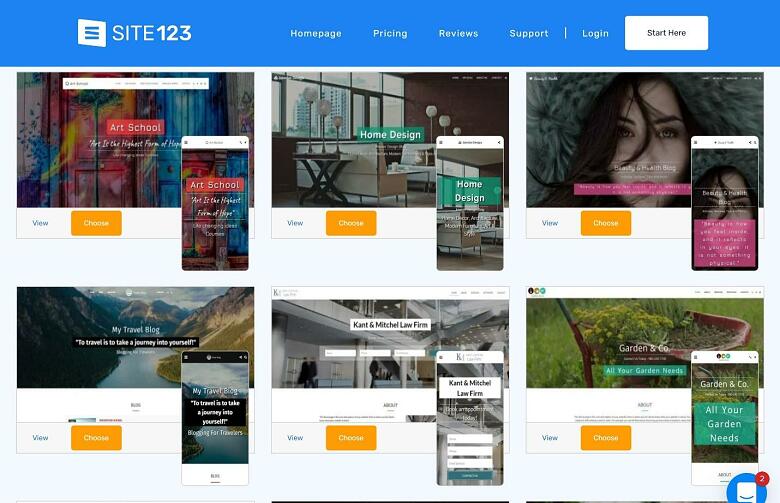 SITE123 has almost 200 responsive templates
, which are organized into 10 different categories, like business, blog, restaurant, etc. Each template comes with features relevant to its niche, so it's easy to get your site online quickly (for example, SITE123 templates for artists have slick galleries). Once you've picked a template, the point-and-click editor is incredibly easy to use. You just move your cursor over a design element (like your site's header or an image), click, and make your changes.
SITE123's free plan gives you all site editing tools
, and you can use it as long as you want. However, while you can add new page elements as needed, you can't change the basic layout of your site much. And because only SITE123's two most expensive plans can process payments, other builders have better value for running an online store. But
if you prioritize ease-of-use, or need to get online quickly, SITE123 can't be beat.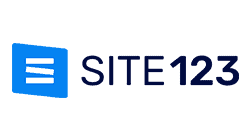 Save up to 50 % on your SITE123 plan!
Limited-time offer - Don't miss it!
76 users used this coupon!
Features
Plugins: You can integrate dozens of third-party tools with your website. SITE123's plugin selection isn't huge, but all the basics are there – like Twitter, Facebook, and Pinterest conversion tracking, or SEO tools like Google Search Console.
Easy contact forms: SITE123 has several pre-built forms, so you can easily swap out your template's offering if you don't like it. Plus, you can use the custom form builder to make something perfectly tailored to your business.
Live chat: Add this feature so potential clients can get answers to questions without having to wait for an email response. Satisfied customers are more likely to commit.
Booking and reservations: The schedule booking tool lets your clients book appointments online, and the reservations tool makes it easy for customers to reserve seats at your establishment.
Learn more from our in-depth SITE123 review
.
Good template selection

 Yes,  about 190 templates

 Free plan available?
Yes
 SEO and analytics tools
Yes
Type of customer service

 Live chat and email support

Least Expensive Paid Plan

$

12.80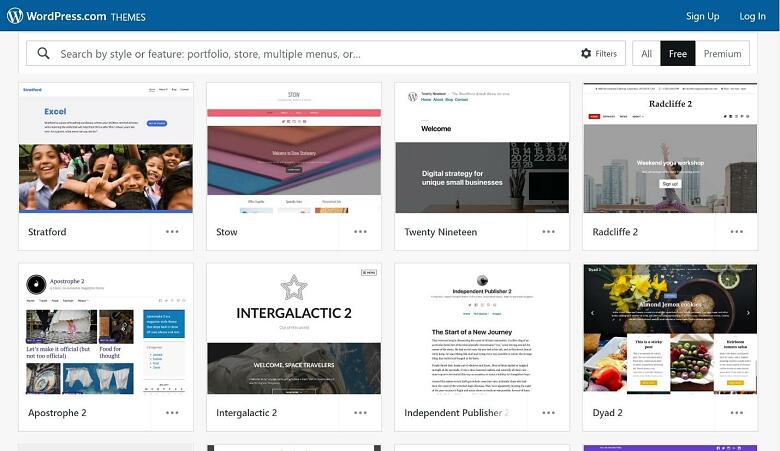 If you want to prioritize blogging, WordPress.com will be a great fit (although it can be used to build any type of site). But
if you like to drag and drop page elements, other builders might be better
. WordPress.com uses a block editor for both site pages and blog posts. You add content blocks (like text, images, or contact forms) to your page, and then click the blocks to edit them.
The block editor is great for making engaging blog posts
, it's less intuitive for designing pages. To make site-wide changes, you use a separate editor, which can be confusing at first. Aside from that, WordPress.com has good value. Even
WordPress.com's cheapest paid plan can take payments
, for example. Of course, you can also use the free plan as long as you want, or try a premium plan risk-free, thanks to WordPress.com's 14-day money-back guarantee.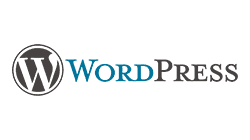 WordPress is now only $4.00 per month!
Sign up for an annual plan and enjoy the savings.
1440 users used this coupon!
Features
Content management: You can add tags to posts, categorize them, schedule them, and automatically share new posts on social media. It's easy to turn your post categories into site pages, for easy navigation.
Engaging blocks: Many of the available blocks make written content more dynamic. For example, there are blocks just for highlighting quotes and verses, making galleries, or creating page headers.
Monetize your site: With any paid plan you can accept credit card payments for subscriptions, memberships, and products you sell online. You can also accept donations.
Plugins: WordPress.com can connect with nearly 60,000 plugins, the most of any builder. There's a plugin for everything, from building a site forum to using a page builder within the WordPress.com interface. However, only the two priciest plans can add plugins.
Read our WordPress.com review for more info
.
Good template selection

Yes, 100s of free and paid themes

 Free plan available?

Yes

 SEO and analytics tools

Yes

Type of customer service

 24/7 email support for all plans, live chat from Premium plan upwards

Least Expensive Paid Plan

$

45.00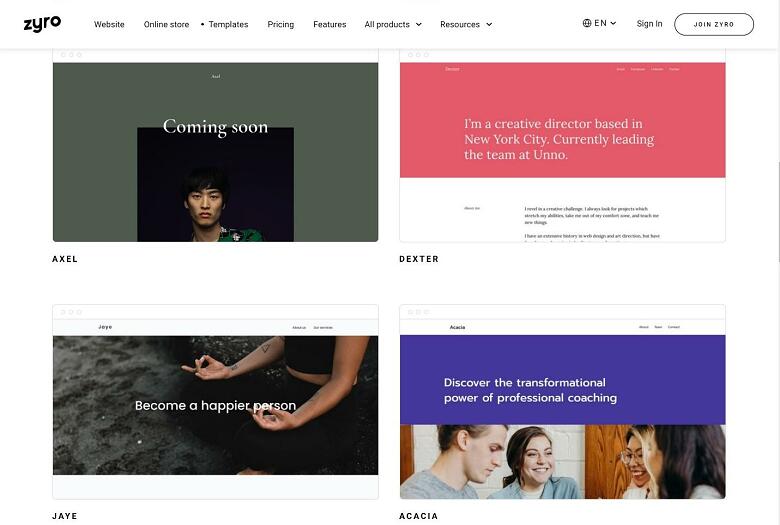 Zyro has useful business features, and its artificial intelligence (AI) features improve ease of use. It does lack some customization power – but if you want to keep your work to a minimum anyway, Zyro will be a great fit.
Zyro plans have a 30-day money-back guarantee
, so you can try it risk-free.
Zyro is unique in that every plan includes a complete suite of AI tools
. I tested three of the tools, with mixed results: the AI business name generator (I got some really odd suggestions for my website); the AI writer for making keyword-rich content (helpful); and the blog title generator (best of all). Aside from AI tools, there's good and bad news. Zyro integrates with few third-party services (less than 10). Plus,
its site editor lacks some basic features – like the ability to crop images
. On the bright side, Zyro offers strong marketing tools: you can talk to customers on Facebook and WhatsApp, plus Google Analytics is included.


Get an additional 10 % OFF any Zyro plan!
This special offer applies on top of Zyro's discounts for annual plans.
40 users used this coupon!

Zyro 10% off custom coupon
Copy and paste this code at Zyro
Features
Logo maker: Another of Zyro's AI tools can help with logo creation. Answer a few questions and the logo maker will generate some design suggestions.
Site heatmap: Upload an image of your website to the AI Heatmap before you publish to get an idea of how people will navigate your site and what content attracts them. It's a useful tool that can help you maximize conversion.
Storage: Although Zyro's first paid plan has limited resources, all other plans have unlimited bandwidth and storage.
Separate mobile editing: Although Zyro's templates are already optimized for all screens, you can edit your site's desktop and mobile versions separately – a unique feature.
Get the full picture from our detailed Zyro review
.
Good template selection

Yes, about 130 templates

 Free plan available?
No
 SEO and analytics tools

Yes

Type of customer service

Live chat or email

Least Expensive Paid Plan

$

2.61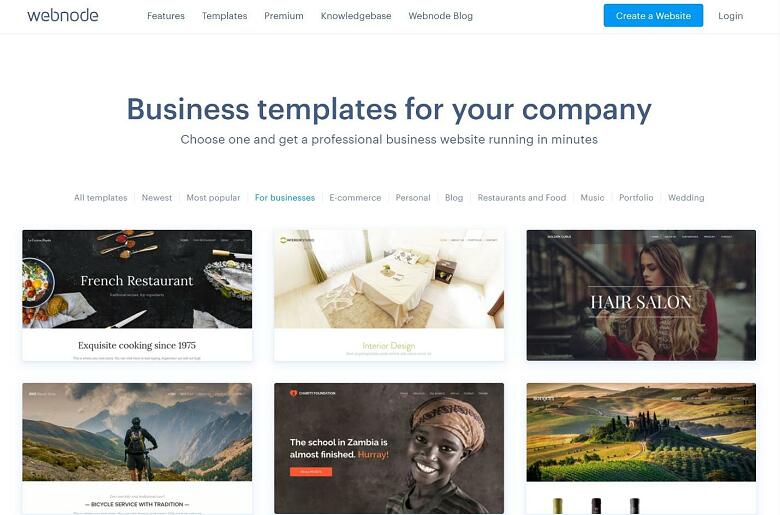 Webnode stands out from the crowd with one big feature:
you can publish your website in up to 24 different languages
. It just takes a few clicks in the editor. While you have to subscribe to a paid plan to unlock this feature, any business looking to target diverse communities or international customers will want to take a closer look. The template designs are modern and responsive, but I found the options for personalizing page elements were limited. Additionally,
Webnode doesn't have an app store
, and it offers relatively little storage for the price (even the second paid tier gets just 500 MB). However, if you want to build a light, fast website,
Webnode's plans are cost-effective
. Webnode also makes doing everything pretty easy, thanks to its pre-built pages and well-prepared templates. In particular, I like how simple it is to create custom forms for connecting with site visitors.

Webnode is now only $3.50 per month!
Sign up for an annual plan and enjoy the savings.
1827 users used this coupon!
Features
E-commerce: Webnode's starting e-commerce plan is relatively affordable, and has everything needed for managing and selling products. Pricier plans have advanced features, like conversion tracking or the ability to offer discounts.
Memberships: Webnode has three paid plans that let you restrict certain pages of your site to approved members. You can edit the registration form and approve or deny submissions.
Backup and recovery: From the Standard plan upwards, Webnode automatically backs up your site, and you can restore it to a previous version at any time.
SEO: You can customize your URLs, create unique page titles and descriptions for search results, and view statistics about site traffic. The pricier plans include Google Analytics.
See our expert Webnode review to learn more
.
Good template selection

Yes, about 100 templates

 Free plan available?
Yes
 SEO and analytics tools
Yes
Type of customer service

Email support

Least Expensive Paid Plan

$

3.90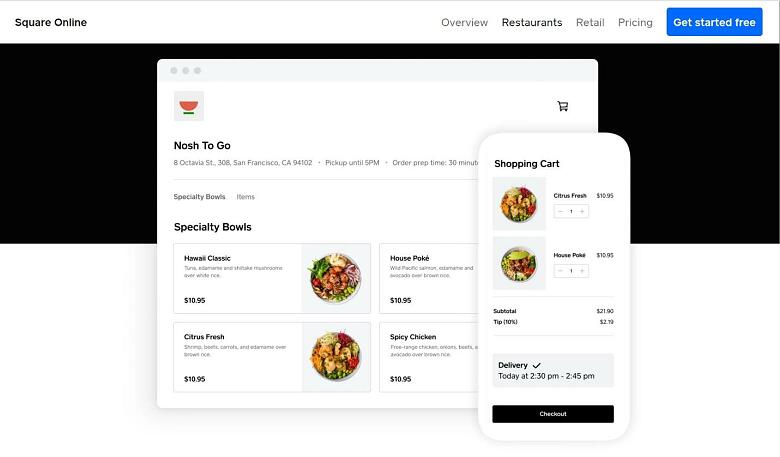 Square Online focuses solely on e-commerce, so while site customization is basic, the store features are powerful. Note that all plans charge transaction
fees, which can add up if you make a lot of sales.
All plans have full e-commerce functionality
: you can manage inventory, offer sales and discounts, schedule appointments, arrange shipping or curbside pick-up, and calculate tax payments. Your site will automatically be mobile-responsive, so your customers will get a quick and easy experience on your store. Square Online takes an
unusual approach to templates –
there's just one template, which is automatically generated after you answer some questions
about your business. You choose either a single or multi-page site and then change fonts, colors, text, and images to get the look you want.
Pro tip:
If you're looking to build or scale up an online store, regular DIY builders may not totally fit your needs. You can check out our list of the
best e-commerce builders in 2023
to see more options.
Features
'Free' plan: The Free plan offers basic e-commerce features (unlimited products, shipping, etc). You're charged per transaction, so it's not truly free – but it's still one of the only ways you can run an online store without a paid subscription.
Secure payments: Square Online is PCI-compliant, which means its sites meet the security standards of the credit card industry. Square Online also provides payment dispute management for free, which can save your business a lot of money.
Nonprofits: Every Square Online plan can accept donations. Square even handles payment confirmation messages, so you can focus on building relationships with your donors.
Multi-channel selling: All plans allow you to list and sell your website's goods directly on Facebook, Instagram, and Pinterest.
See our full analysis of Square Online
.
Good template selection

No; just one template

 Free plan available?

Yes, but with transaction fees

 SEO and analytics tools

Yes

Type of customer service

Live chat and email support

Least Expensive Paid Plan

$

12.00
Choose the Right Website Builder for Your Needs
To pick the best website builder, consider your budget and time constraints, the features you're looking for, and whether a builder's templates match the image you want to project. Take your time to get a feel for the builders on my list – once you publish, it's difficult to move your site to a different service. For having the best combination of ease of use and flexibility,
Wix is my top recommendation
. It has enough templates and features to suit every need, and the sheer flexibility of the site editor makes it easy to ensure your site fits your unique brand.
Squarespace is best for highly visual sites
, particularly for creative professions. Its striking templates are great for showcasing portfolios, and its professional tools can help grow your business. And
if time is of the essence, use SITE123
 to get an attractive site online quickly. It's simple, but that makes for faster editing – plus, it offers sleek templates. If you're still weighing your options though, here's a side-by-side comparison of top features for each of the builders on my list.
Free plan
Best feature
Best for
Starting price
Wix

✔

Flexible drag-and-drop builder

People who want ease of use and customization power

$

16.00

SITE123

✔

Simple editing interface

Beginners or those short on time

$

16.00

Squarespace

✘

Stunning templates and portfolios

Sites for creative industries (photography, design, etc)

$

12.80

WordPress.com

✔

Content management tools

People who want to blog

$

45.00

Zyro

✘

Affordable paid plans

People on a budget

 

$

2.61

Webnode

✔

Ability to publish in many languages

People targeting an international audience

$

3.90

Square Online

✔

E-commerce tools

People who want to run an online store

$

12.00
FAQ
What is the best DIY website builder in 2023?
All things considered, Wix is the best DIY builder for most. It has a vast template library, hundreds of third-party apps, virtually unlimited customization options, and is still easy to use despite all that. To get a better sense of how Wix compares to other great options, you can see our list of the best website builders in 2023.
Which website builder has the best templates?
It depends on the type of site you want to make. Squarespace has the best-designed templates, but they're oriented towards creative industries. Meanwhile, Wix has 900+ templates, so if Squarespace's selection isn't to your taste, Wix will have something for you.
Which DIY website builder is the easiest to use?
It depends on whether you prefer builders with a drag-and-drop editor (like Wix), a point-and-click editor (like SITE123), or a block editor (like WordPress.com). SITE123 is the easiest to use overall, but Square Online is the simplest for online stores.
Should you use WordPress to build your website?
While it offers outstanding flexibility, WordPress is a CMS (content management system), so it's not as user-friendly as a website builder. You'd have to pick a hosting service, keep extensions up-to-date, and get used to its unique interface. If you're a beginner, a regular website builder would be better. You could also try WordPress.com, which offers the ease of use of a website builder but the flexibility of self-hosted WordPress. It already comes with hosting, performance optimization, and SSL certificates, so it saves you time compared to self-hosted WordPress.